Getting access to high-quality leads is a daunting challenge.
But what's even more challenging is managing the acquired leads. 
Ineffective lead management can lead to lost opportunities with all your lead generation efforts going futile. 
To avoid this, you need to invest in a powerful lead management software. 
Lead management tools help you boost conversion rates and grow sales. They empower sales teams to keep track of leads and utilize prospects' data to drive more conversions. 
But with a plethora of tools available on the market, picking one can be a real challenge!
Worry not, as we've got your back. 
This blog lists the 14 best lead management software that offer the right features to keep leads organized and moving forward in the sales cycle. However, before we dive into the comparison, let's explore everything there is to know about this software. 
What is Lead Management Software?
Lead management software tracks and optimizes the movement of leads through the sales process. It ensures that leads do not drop off when they move from one stage to the next. 
The software keeps all the information and previous touchpoints related to leads organized in one place. This data accessibility allows you to personalize engagement and build stronger relationships. In a nutshell, leads database software boosts your conversions and sales by capturing, qualifying, segmenting, assigning, and nurturing leads effectively.
Features of a Lead Management System
A lead management system helps you guide more leads towards the final purchase decision. Some of the features that play an important role in this process include:
Lead capturing

and management of contact information

Communication tools

for team members to share information seamlessly

Reporting & analytics

to track performance

Automation

of repetitive tasks to save time

Task management

and activity reminders 

Customizable

modules such as data fields, dashboards, filters, and views 

Integration

with other business tools to manage all leads from a single place
Benefits of Lead Management
Increased ROI, reduced loss rate, and improved customer retention are some of the notable benefits of lead tracking software. It ensures that important leads do not slip through the cracks and are managed from start to finish. 
There are plenty of reasons for an enterprise to be interested in lead management software, including:
Keep leads effectively moving forward in the

sales funnel

Improve lead capturing and assignment

Boost alignment between sales and marketing teams

Enhance customer experience by tracking preferences and behavior

Know where leads are in the sales funnel and deliver relevant information to them 

Nurture leads effectively since nurtured leads make

47%

larger purchases
Overview of the Top Lead Management Software 
Software
Key Features
Pricing
BIGContacts
Sales pipeline management
Marketing automation
Reporting templates
Webform connection
Starts from $5/user/month
Pipedrive
Automated follow-ups
Sales reports
Pipeline tracking
Communication tracking
Starts from $12.50/user/month
Keap
Lead nurturing
Automated follow-ups
Reporting & analytics
Customer segmentation
Starts from $79/month
monday.com
Automated workflow
Contact management
Sales pipelines
Email templates
Starts from $8/user/month
HubSpot
Visual sales pipeline
Reporting dashboard
Email templates
Contact management
Starts from $45/month
Freshsales
Contact management
Email marketing
AI recommendations
Performance reports
Starts from $15/user/month
Salesforce
Cloud-based access
Pipeline management
Automated emails
Data analytics
Starts from $25/user/month
Zoho CRM
Deal prediction
Contact management
Workflow automation
Lead nurturing
Starts from $14/user/month
BenchmarkONE
Automated processes
Sales pipeline management
Lead segmentation
Task notifications
Starts from $69/month
LeadSquared
Lead capturing
Workflow automation
Reporting dashboard
Mobile CRM
Starts from $25/user/month
HelloLeads
Automated emails
Lead qualification
Lead capturing
Multi-channel engagement
Starts from $12/month
Quickbase
Custom reports
Drag & drop UI
Lead tracking
Cloud-based access
Starts from $600/month
EngageBay
Automated emails
Contact management
Lead scoring
Appointment scheduling
Starts from $11.99/user/month
Zendesk Sell
Segmented lead lists
Pipeline management
Custom reports
Automated emails
Starts from $19/user/month
The Best Sales Lead Management Software
Here's a more detailed comparison of the 14 best sales lead management software: 
1. BIGContacts
BIGContacts is an easy-to-use lead management CRM software that helps small and medium businesses grow considerably. The tool helps sales teams make the most of every incoming lead by aiding contact management and sales pipeline tracking. 
It offers marketing automation, task management, and robust reporting capabilities. With BIGContacts, you can keep your prospects and customers well-engaged and delighted, leading to a significant improvement in your bottom line.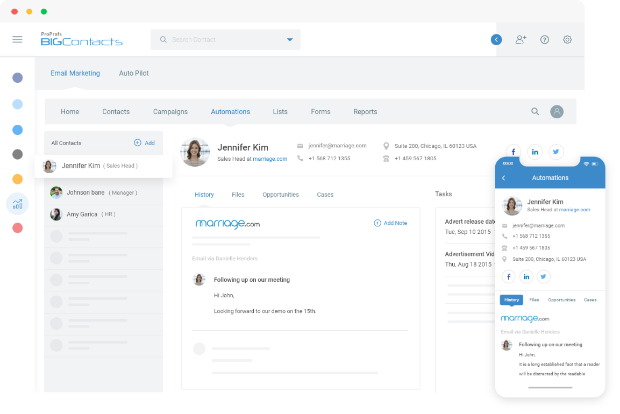 Suitable For:
This CRM application is well-suited for businesses of all sizes, owing to its scalability, affordability, and easy usage.
Key Features:
Schedule personalized

drip emails

to nurture leads effectively 

Automate routine administrative tasks to free more time for selling

Set up instant alerts and reminders for your team members 

Generate insightful reports and analyze trends 

Track and

manage sales opportunities

with a customized sales pipeline 
Pricing:
Big- $5/user/month

Bigger- $15/user/month

Biggest- $25/user/month

Enterprise- Custom pricing 
Pros:
The setup process is quick and easy

Delightful customer support and training resources are available 
Cons:
The mobile application offers fewer features than the desktop version

The speed of the tool lags at times 
Final Word:
BIGContacts is an intuitive tool for managing your leads and optimizing the performance of your sales team. The uncomplicated interface of this sales lead tool further adds to its popularity for small and medium businesses.
Rating:
4.4 out of 5 stars on G2
 Pipedrive is a highly customizable sales CRM that allows you to manage leads easily. It offers automated actions, helping you stay connected with leads and deliver the right information to them. 
The tool provides email templates to save your time. Furthermore, you can get notified instantly when your emails are opened. Pipedrive also offers mobile access, so you do not have to worry about missing out on important opportunities. 

Suitable For:
Pipedrive is suitable for small to medium-sized businesses looking for a powerful pipeline management tool.
Key Features:
Customizable pipeline with a drag and drop feature to keep leads well-organized

Generate high-quality leads

for your business with web forms and chatbots

Use business data more efficiently with sales reports 

Automate emails to keep prospects and customers engaged

Schedule and manage all tasks for your team members 
Pricing:
Starts from $12.50/user/month
Pros:
The software has a short learning curve, making it easy to learn and navigate

Leads can be added to the software manually or imported in bulk
Cons:
It's challenging to prioritize deals within the sales pipeline

Reporting needs to be more detailed
Final Word:
Pipedrive can boost your sales by organizing sales leads using visual sales pipelines. 
Rating:
4.3 out of 5 stars on G2
Keap CRM provides automation capabilities to help enterprises improve their sales outcomes. This customer relationship management platform offers sales pipeline management and marketing automation to get the most out of acquired leads.
Keap is also highly effective in generating insightful reports. Additionally, the software offers appointment scheduling and tracking to help you avoid no-shows and build better relationships with your customers.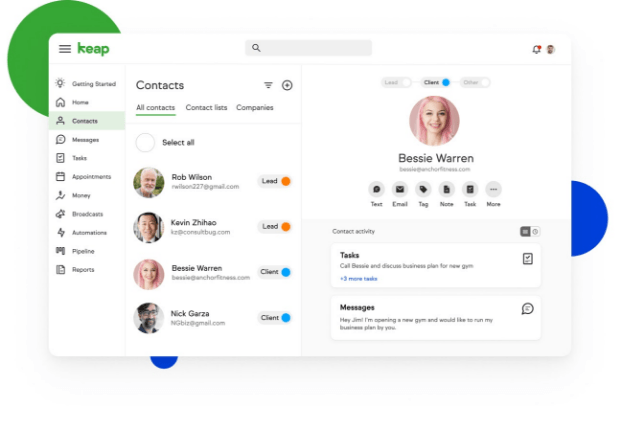 Suitable For:
Keap is the most suitable CRM for eCommerce businesses owing to its integrated invoicing capabilities. 
Key Features:
Automatic lead capturing from various sources 

Segment leads to deliver more personalized emails 

Visualize business data with CRM reporting and analytics 

Automate email follow-ups to connect with prospects at the most suitable time

Schedule appointments and set up reminders for these events 
Pricing:
Starts from $79/month
Pros:
The tool's interface is easy to use

Contacts can be easily tagged, so everyone stays informed about them
Cons:
The software's pricing is expensive

The reporting feature needs improvement 
Final Word:
Keap, a highly reliable CRM system, works well for both growing and established businesses. This automation tool can help companies to form long-lasting customer relationships. 
Rating:
4.2 out of 5 stars on G2
If you require a sales management system that saves time by providing a detailed overview of all leads and tasks in one place, then monday.com is an excellent choice. This CRM tool helps automate repetitive activities, including lead assignment and follow-ups. 
You can use its email templates to reach prospects and customers instantly. The tool also allows you to customize the dashboards to view the most relevant information.  
Suitable For:
monday.com is a sales lead tracking software that works well for organizations of all sizes and industries. 
Key Features:
Get instant notifications for customer actions such as opening an email 

Make forecasts and track sales performance with reports

Capture leads automatically and store their information in your database

Build multiple sales pipelines to track your leads

Automatically log all interactions in one place to track previous communication and preferences 
Pricing:
Free version available
Starts from $8/user/month
Pros:
Ready-made templates are available to help you get started instantly 

Customize the stages of sales pipelines to match your existing process 
Cons:
UI needs to be simplified 

Lacks the ability to automate recurring tasks 
Final Word:
monday.com is a full-featured business management software that can considerably boost your organization's bottom line.
Rating:
4.7 out of 5 stars on G2
HubSpot provides real-time visibility into your sales opportunities, helping you make the most out of them. You can personalize your interactions with all the required information, including previous interactions, notes, and support tickets readily accessible. 
HubSpot also offers a clear sales pipeline view, enabling you to stay on top of all deals. Furthermore, bulk emails and automated actions save considerable time for sales representatives.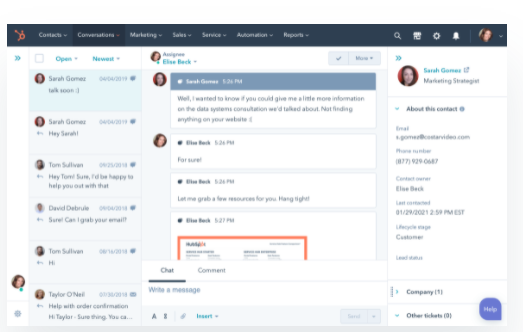 Suitable For:
This free sales lead management software works satisfactorily for beginners. 
Key Features:
Create new tasks and set up reminders 

Automatic enrichment of contact profiles with data sourced from various online platforms 

Share personalized emails with your prospects and customers 

Analyze team and campaign performances with reports 

View all business communications with a universal inbox 
Pricing:
Free version available
Starts from $45/month 
Pros:
Get notified instantly for customer actions so you can connect with them at the perfect moment 

Generate qualified leads for your business with custom web forms 
Cons:
The steep pricing model contributes to the overall cost 

Reports could be more detailed and versatile
Final Word:
HubSpot works well for startups with a limited budget due to its forever free version. However, many of the essential features are unavailable in the free lead management software, requiring you to switch to the higher plans as your business grows. 
Rating:
4.4 out of 5 stars on G2
Freshsales is a well-recognized CRM lead management software with a simple interface and powerful features. Sales teams can use Freshsales to generate more leads, track their intent, and prioritize them accordingly. 
It can considerably shorten your sales cycle and automate repetitive tasks to grow your sales. The tool also offers AI-powered insights and robust analytics that help you leverage your business data more effectively.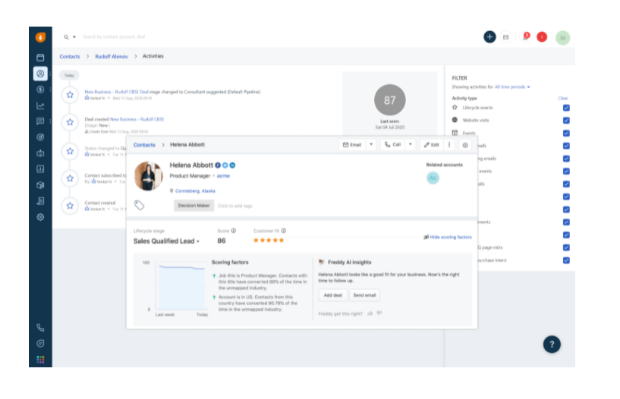 Suitable For:
The functionality offered by Freshsales makes it a highly suitable lead management tool for growing enterprises looking for a scalable application.
Key Features:
Automatically assign leads to the most suitable representative

Prioritize and manage deals present in your sales pipelines

Use pre-built reports or customize the search filters according to your requirements 

Set up automated sales sequences to close deals quickly 

Create custom roles and permissions to limit access to critical customer data 
Pricing:
Free version available
Starts from $15/user/month
Pros:
Use AI-assistant to get deal insights and recommended actions

Access detailed activity timelines including all interactions and touchpoints to drive more meaningful conversations
Cons:
Better customer support is required for the tool

The interface needs to be improved 
Final Word:
Freshsales can accelerate your growth by simplifying and automating key processes. Use it to create personalized experiences that result in improved profitability. 
Rating:
4.6 out of 5 stars on G2
Salesforce enables you to close deals faster by bringing all the required information to a single screen. This cloud-based CRM application aids contact management and helps you build strong relationships with your customers. 
With Salesforce, you can foster team collaboration, stay on top of all deals and boost revenue. The tool helps you automate redundant activities, providing more time for engaging with your prospects and customers.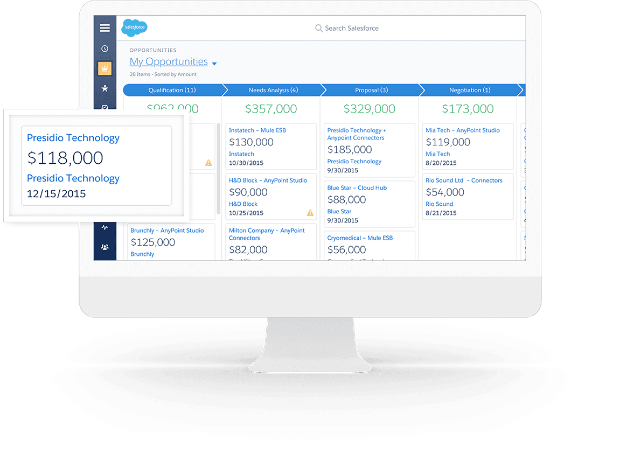 Suitable For:
Large enterprises can significantly benefit from this lead management system software offering a broad range of advanced features. 
Key Features:
Create and manage your sales pipeline to stay on top of all available opportunities

Share personalize messages based on customer actions and preferences

Use AI-based insights to improve customer experiences 

View all previous interactions and essential contact details in one place 

Make use of analytics to discover profitable opportunities and make better business decisions
Pricing:
Starts from $25/user/month
Pros:
Automated sales processes can boost overall productivity and profitability

The mobile application helps you log activities easily and follow up with prospects at the right time
Cons:
The wide range of features are overwhelming for small teams

The learning curve is steep
Final Word:
Salesforce occupies over 19.6% of the CRM market share, which is a testament that it is one of the best lead tracking software for businesses. 
Rating:
3.9 out of 5 stars on G2
Zoho CRM offers a suite of lead management features to grow your sales. Effective qualification and nurturing of leads can help you convert incoming leads into long-term customers. These leads can be collected from multiple sources and stored in a centralized database to make management more effortless. 
The added advantages of this open-source lead management software are its intelligent alerts and predictive analysis.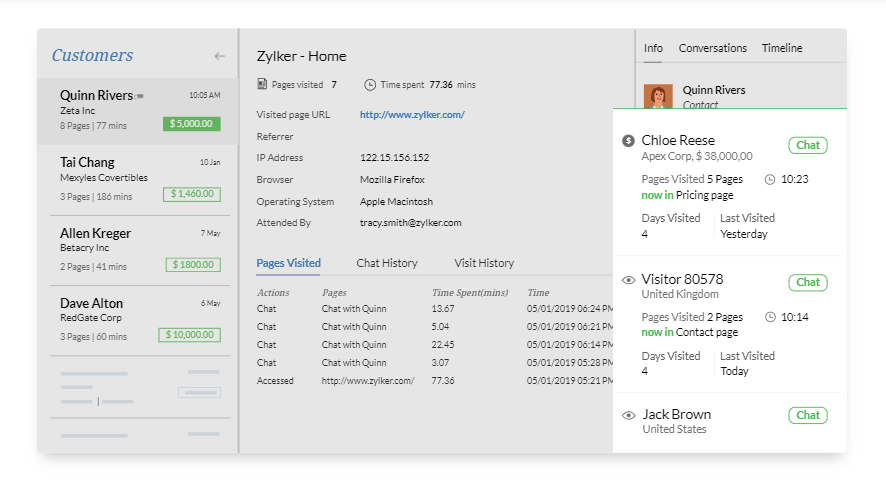 Suitable For:
This lead management software for small businesses works well for teams with less than 3 users. The higher-priced versions offer satisfactory performance and can work well for organizations with more users. 
Key Features:
Predict the outcome of deals and make accurate sales forecasts

Automated tasks reduce time and minimize errors 

Analyze sales data in various formats, including charts, quadrants, etc. 

Create custom workflows with triggers for automated actions 

Identify quality leads and nurture them effectively
Pricing:
Free version available
Starts from $14/user/month
Pros:
AI-powered recommendations help you utilize your time and resources efficiently

Boosts team collaboration by making it easy to share ideas and information 
Cons:
Integration with tools outside the Zoho ecosystem is limited 

The tool's UI is a bit clunky
Final Word:
Zoho CRM is a popular sales CRM offering advanced features such as deal prediction and workflow automation to help your business grow. 
Rating:
4.0 out of 5 stars on G2
BenchmarkONE is an easy-to-use CRM that can drive more sales for your business. With all contact details, communication history, and social media profiles easily accessible, you can improve your interactions with your prospects and customers. 
You can add leads to this CRM system by simply connecting it with your web forms. The tool also offers powerful task management features, including priority lists and notifications to help you work more efficiently.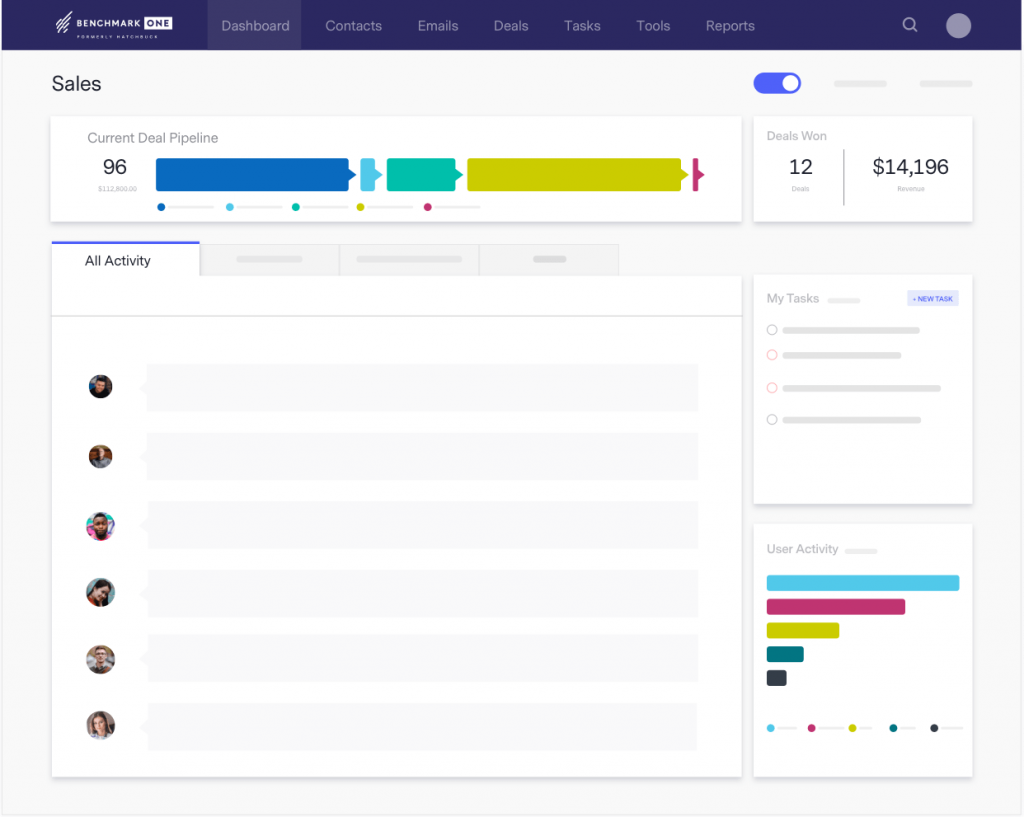 Suitable For:
This is a simple and powerful sales management tool for small businesses. 
Key Features:
Activity tracking such as website visits allow you to reach out to prospects at the right time 

Use the deal pipeline to track if your team is on the right track to meeting sales targets

Score and tag leads to build targeted lists 

Automate email marketing to boost engagement 

Prioritize leads to devote more attention to high-value deals 
Pricing:
Free version available
Starts from $69/month
Pros:
Real-time business insights with a comprehensive dashboard 

Automated tasks and notifications can keep your activities on track 
Cons:
Customer support needs to be improved

Searching for contacts could be made more advanced 
Final Word:
BenchmarkONE can work as a reliable CRM solution for businesses that require a straightforward lead management system with automation capabilities. 
Rating:
4.5 out of 5 stars on G2
LeadSquared allows you to manage all sales opportunities in one place, leading to an increase in your conversion rate. The tool enables you to build sales workflows that help team members stay updated with the next actions. 
Capture leads from multiple sources and prevent them from slipping through the cracks with effective nurturing. By combining several teams, processes, and tasks in one platform, LeadSquared can help you create better customer journeys.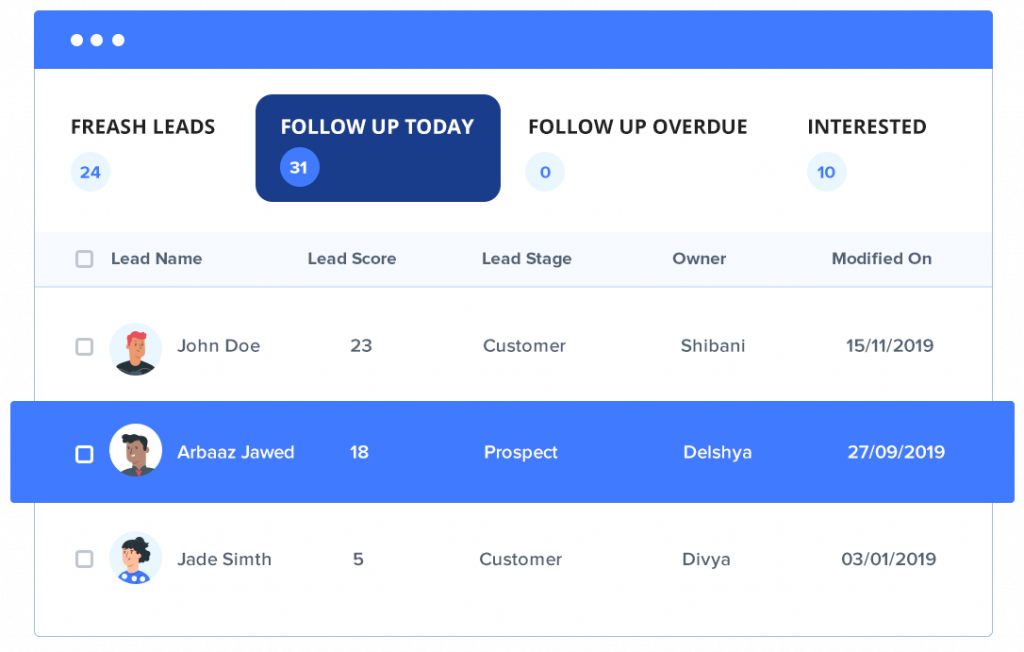 Suitable For:
Both B2C and B2B enterprises can benefit from the lead management capabilities of LeadSquared.
Key Features:
Customize dashboards to measure the effectiveness of campaigns and team members performance

Build a custom sales workflow to improve team productivity

Assign leads to the right sales representatives

Track the opportunities present in every stage of your pipeline with reports

Automate marketing campaigns to convert more leads
Pricing:
Starts from $25/user/month
Pros:
Task priority lists for team members can contribute to improved productivity

Mobile CRM allows sales representatives to work on the go
Cons:
The setup process can be challenging and long

Reporting could be more advanced 
Final Word:
LeadSquared is an effective platform for sales management and marketing automation that can considerably boost your bottom line by streamlining all processes and communication. 
Rating:
4.5 out of 5 stars on G2
HelloLeads is a powerful way of engaging with leads and nurturing them into customers. This simple sales CRM offers a range of lead management features. You can use HelloLeads to capture qualified leads and nurture them with automated email campaigns. 
It also aids customer segmentation and tagging, so you always know which audience group you are working with. Furthermore, you can set up mobile alerts for your team members to stay updated at all times.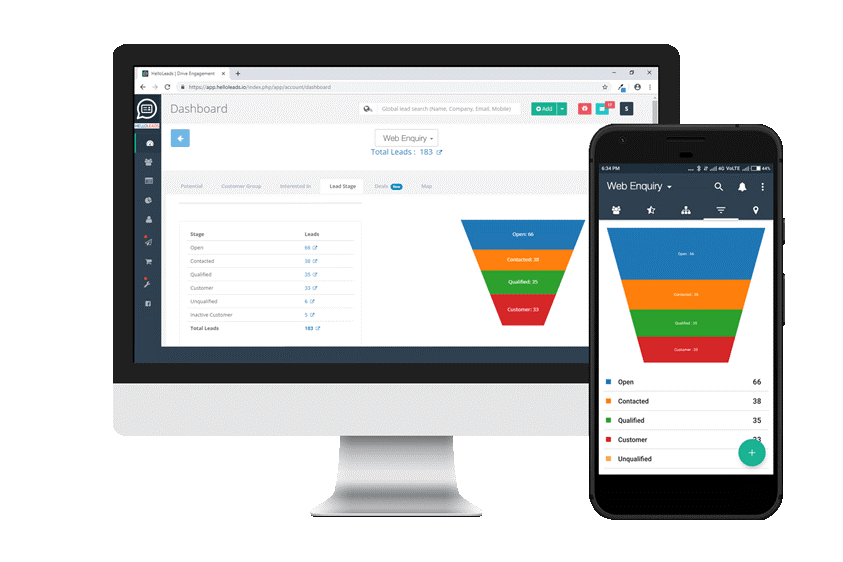 Suitable For:
HelloLeads is a suitable solution for small to medium-sized enterprises looking for a centralized platform for managing all leads and sales-related activities. 
Key Features:
Categorize your leads and qualify them based on defined criteria

Manage tasks and set up follow-up reminders 

Access email templates or create your own templates for future use

Generate performance reports for your team members and campaigns 

Set up user roles and permissions to improve transparency and data security 
Pricing:
Starts from $12/month
Pros:
Data import is quick and hassle-free

Capture leads for a variety of platforms, including calls, Facebook, and WhatsApp
Cons:
The mobile dashboard view is less effective than the web version

Better analytics features could be added 
Final Word:
HelloLeads is an effective tool for keeping customers' data organized. It provides you complete visibility into prospects and customers, allowing you to take better control of your relationships.
Rating:
4.0 out of 5 stars on Capterra
Quickbase is a flexible platform that works according to your requirements. Use a pre-built sales management application or start building your application from scratch. The tool enables you to filter and sort through deals with ease. 
The most significant advantage of this software is its extensive customization. Furthermore, Quickbase allows you to generate detailed reports that provide better visibility into your sales performance.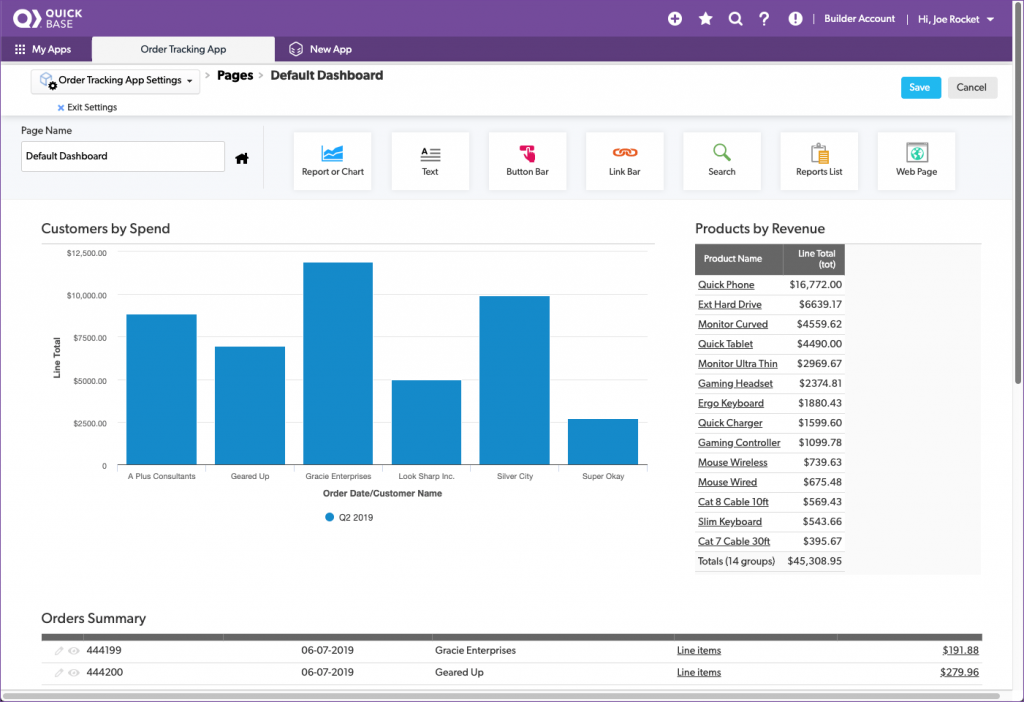 Suitable For:
Quickbase can work as an effective solution for your business if customization and flexibility are your top priorities.
Key Features:
Create custom dashboards with simple drag and drop functionality

Build reports to obtain more visibility into your business operations

Track leads and keep their statuses updated 

Share data and updates with all stakeholders easily

Get real-time insights into your business 
Pricing:
Starts from $600/month
Pros:
Cloud-based, highly scalable software 

Build your own CRM application without coding
Cons:
Reports could be simplified and made easier to customize 

The pricing structure is steep
Final Word:
Quickbase is a customizable sales lead CRM application that grows with your business. You can modify the functionality of this CRM to suit your organization's exact needs.
Rating:
4.4 out of 5 stars on G2
EngageBay is an integrated sales, marketing, and support platform. It helps you identify important prospects, offer them personalized services and convert them into customers. With EngageBay for lead management, you can easily automate repetitive processes to save time and boost productivity. 
All the essential contact information is available in one place, allowing you to transform your customer relationships.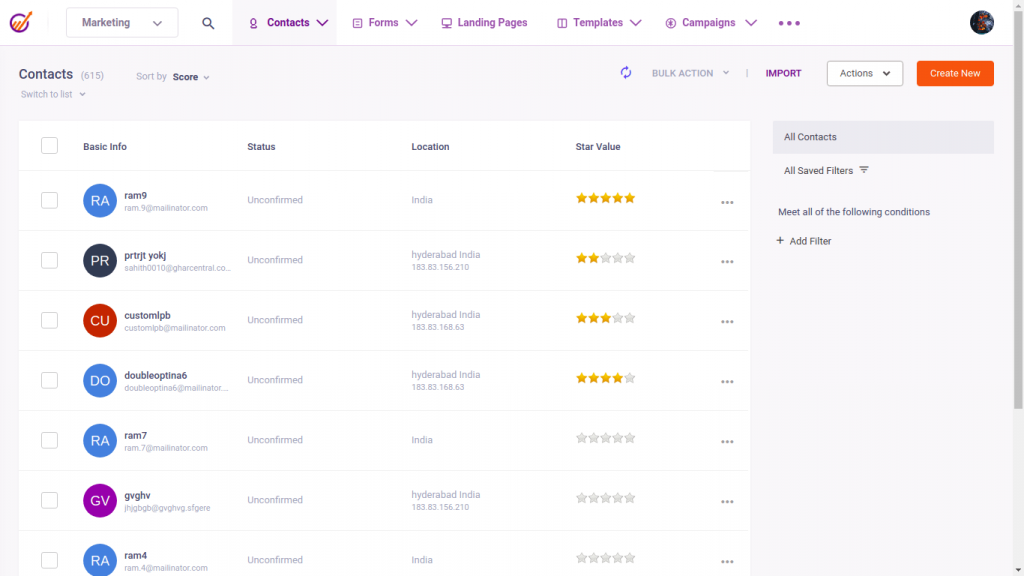 Suitable For:
EngageBay, with its comprehensive sales tracking and management, is suitable for small to medium-sized enterprises. 
Key Features:
Automated email sequences improve

lead nurturing

 

Capture, score, and manage leads effectively

Track deals by setting up multiple sales pipelines 

Plan activities and track projects to meet deadlines 

Segment your customers to improve personalization 
Pricing:
Free version available
Starts from $11.99/user/month
Pros:
Prospects can use the tool to schedule appointments with sales representatives

360° view of customer information help in optimizing experiences 
Cons:
Better and more customizable templates are required

The training manuals available for the tool could be improved 
Final Word:
EngageBay is an all-in-one CRM offering a broad range of sales management features. The tool's intuitive design makes it a popular choice for SMBs.
Rating:
4.6 out of 5 stars on G2
Zendesk Sell streamlines all your sales activities, allowing you to keep track of all opportunities in one place. The tool enables you to track all previous interactions with your prospects and customers, contributing to improved personalization. 
Zendesk Sell also helps you segment your leads effectively. With this sales management tool, your team can plan and track their tasks more diligently.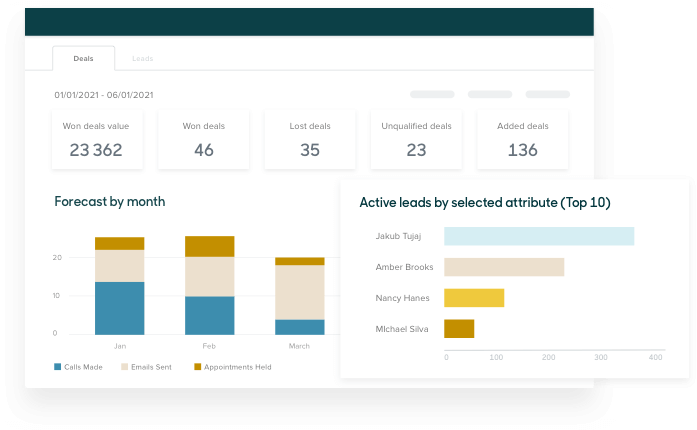 Suitable For: 
Zendesk Sell is most suitable for large enterprises due to its high pricing and 3 user limit on the starter plan.
Key Features:
Set up automated task sequences to avoid unnecessary delays 

Detailed activity reports and analytics help you monitor your sales performance

Predict deal outcomes to make accurate forecasts 

Build a sales pipeline to prioritize important prospects 

Mobile and offline access so you can work from anywhere
Pricing:
Starts from $19/user/month
Pros:
Get real-time notifications for contact actions 

Build segmented lists to improve outreach efforts
Cons:
The help center needs to be upgraded

The mobile application is less functional than the desktop version
Final Word:
Zendesk Sell is a powerful lead management solution that can help your sales team close more deals with ease. 
Rating:
4.2 out of 5 stars on G2
Effective Lead Management For Improved Profitability
Hard-earned leads can go to waste if not managed properly.
This can lead to a drop in your profits and put you off the course of your business growth. For effectively tracking and nurturing these leads, you must select the most suitable software.
The 14 lead tracking systems mentioned above stand out from a long list of competitors. These applications are reliable, efficient, and scalable. However, finding the most suitable solution for your business requires you to consider your objectives and current challenges. A deep understanding of the functionality your team requires can help you find the best lead management software for your business. 
If you require a simple and straightforward tool that takes your lead management to the next level, we would recommend BIGContacts. This lead CRM software is highly intuitive and easy to customize, so it can work best for you.