It takes more than just hard work to succeed in the current dynamic business landscape. You also need smart solutions that boost your productivity and give you an edge.
Case in point- Simple CRM!
From lead management and sales automation to customer engagement and data analytics, these applications can empower you to seize opportunities, nurture leads, and create unforgettable customer experiences.
Picture your operations running smoothly, your team collaborating seamlessly, and your business skyrocketing to new heights.
With our expertly handpicked selection of the 8 best simple CRM tools, this vision becomes a reality. Get ready to unlock the power of simplicity in CRM and say goodbye to scattered data and missed chances.
What Is a Simple CRM?
A simple CRM tool is a software application that helps you manage customer relationships and streamline your sales processes. It provides multiple functionalities to organize and track your customer interactions, manage leads and contacts, and automate sales tasks.
With a simple CRM tool, you can:
Centralize your customer data
Track sales activities and manage your pipeline
Improve communication within your team
Gain insights into customer behavior
Enhance customer engagement
Make informed decisions
Such a tool can help you manage your customer relationships, drive sales growth, and boost overall productivity. Watch this quick video to learn more about CRM tools and what they can do for your business.
The Best CRM Software for 2023- A Quick Glance
| Software | Best For | Pricing |
| --- | --- | --- |
| BIGContacts | Contact management & marketing automation | Starts from $5/user/month |
| EngageBay | Sales, marketing & support collaboration | Starts from $12.74/user/month |
| Salesmate | Customer engagement & sales automation | Starts from $12/user/month |
| Freshsales | Lead nurturing | Starts from $15/user/month |
| HubSpot CRM | Automation & email tracking | Starts from $30/month |
| Pipedrive | Pipeline management | Starts from $9.90/user/month |
| Bitrix24 | Lead management | Starts from $49/month |
| Zoho CRM | Lead scoring | Starts from $14/month |
Top 8 Simple CRM Software for 2023
After grasping the basics of CRM, it's time to delve deeper into 8 leading simple CRM tools that can truly transform your small business.
1. BIGContacts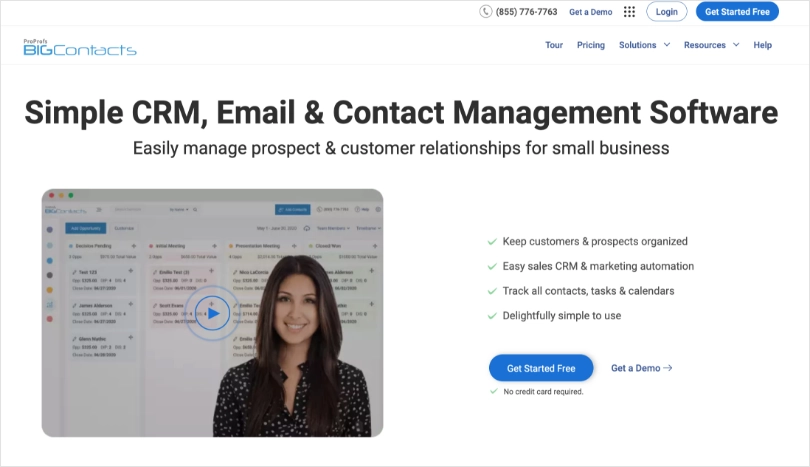 Best For: Contact Management & Marketing Automation
BIGContacts is a simple and scalable CRM solution designed to help you foster stronger relationships with customers. With its intuitive and customizable dashboard, your team can enjoy a clutter-free workspace and effortlessly manage contacts, track the sales pipeline, and accelerate deal closures.
Key Features:
View contact information, emails, tasks, notes, and files from a centralized system.
Visualize leads as they move through the sales pipeline.
Monitor team effectiveness and sales performance with in-depth reports.
Deliver personalized and consistent messaging through automated drip emails.
Keep track of previous touches, upcoming events, and to-do lists without ever missing a beat.
Integrations:
ActiveCampaign, Skype, Mailchimp, Intercom, Zendesk, QuickBooks, etc.
Pricing:
BIG- $5/user/month
BIGGER- $15/user/month
BIGGEST- $25/user/month
ENTERPRISE- Custom pricing
What Is Unique About It:
Stay on top of opportunities with a 360° view of all sales activities and marketing campaigns. Automate repetitive tasks like follow-ups and drip emails, freeing up valuable time and energy with this easy CRM for small businesses.
What Can Be Improved:
Search functionality and the ability to remove duplicate entries
What makes BIGContacts the best tool for contact management & marketing automation:
BIGContacts is a powerful contact management software option with exceptional marketing automation functionality. It enables effortless organization of contact data with features such as static and dynamic lists, tags, advanced filters, custom fields, and dashboards.
Additionally, you can automate follow-ups, reminders, and drip emails, thereby enhancing efficiency and maximizing campaign success.
Reasons to Buy BIGContacts:
24×7 customer support and uninterrupted mobile access
A simple, drag-and-drop interface that's super easy to navigate
Reviews & Ratings:
Hayk B.- Reliable CRM with robust reporting
Mark F.- BIGContacts: It's not bad
2. EngageBay

Best For: Sales, Marketing & Support Collaboration
EngageBay is an all-in-one marketing, sales, and service automation platform for small and medium-sized businesses. Use it to store unlimited contacts and their details in a unified hub. Leverage customer segmentation to deliver hyper-personalized content to your customers. Additionally, benefit from email marketing and analytics tools for comprehensive campaign management.
Key Features:
Schedule appointments without any hassle and keep them synchronized with your calendar.
Score your leads and build logical workflows to accelerate your sales process.
Get real-time data on your customers to improve your engagement strategy.
Use behavioral customer segmentation for highly targeted campaigns.
Set up automated email sequences to warm up leads and drive them to conversion.
Integrations:
Shopify, Twilio, Stripe, QuickBooks, JotForm, etc.
Pricing:
A free plan with limited features is available for 15 users.
Paid plans start from $12.74/user/month.
What Is Unique About It:
Boost collaboration between sales, marketing, and support teams with a single platform to target prospects at every step. Apply filters for advanced customer grouping and launch targeted campaigns for increased conversions.
What Can Be Improved:
Email templates & help center
What makes EngageBay the best tool for team collaboration:
EngageBay automates marketing, sales, and customer support processes, maximizing efficiency across the board. It ensures that you spend less time on administrative tasks and more time delivering exceptional customer experiences.
Reasons to Buy EngageBay:
Shared access and collaboration tools to streamline workflows
Automated lead scoring & customer behavior tracking
Reviews & Ratings:
Mark W.- The best all-in-one CRM sales + marketing for the value
Elmira A.- Powerful and user-friendly CRM platform
3. Salesmate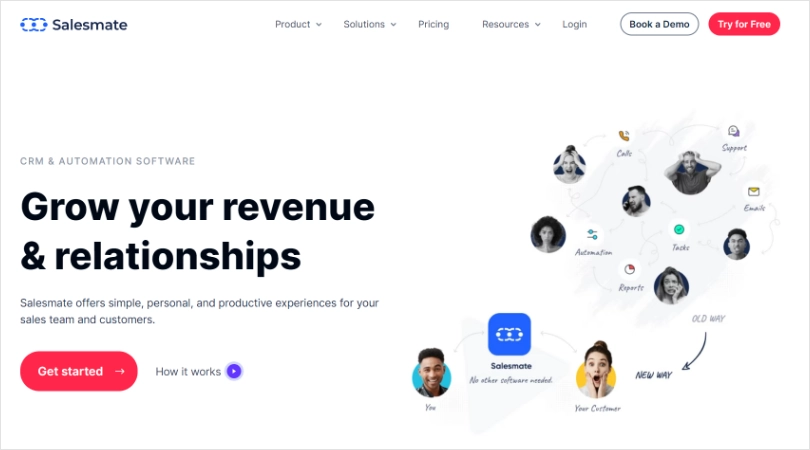 Best For: Customer Engagement & Sales Automation
Salesmate can significantly enhance your lead management efforts with targeted emails and automated follow-ups. Track all your contacts and every conversation on a single platform to sell better and convert faster. This simple CRM software also offers custom reports that give you a peek into your business performance.
Key Features:
Create multiple pipelines to keep track of all available opportunities.
Send bulk emails and text messages without any manual effort.
Organize your calendar and share it with prospects to schedule meetings.
Use sales sequences to automate follow-ups and sell faster.
Set and visualize sales goals to maximize your ROI.
Integrations:
ActiveCampaign, BigCommerce, Gmail, Formstack, etc.
Pricing:
Starts from $12/user/month
What Is Unique About It:
You can set up email templates to save time and schedule the delivery of your emails to prospects and customers. Swiftly move leads in your sales pipelines with the simple drag-and-drop interface.
What Can Be Improved:
Reporting abilities & intuitiveness
What makes Salesmate the best tool for engagement & sales automation:
Salesmate offers a suite of engagement and productivity tools to enhance your business performance. Use built-in calling and smart emails to stay connected with your customers. Make accurate forecasts and keep track of your sales progress with customizable reports.
Reasons to Buy Salesmate:
Reusable sales playbooks and activity automation
Power dialer for built-in call automation
Reviews & Ratings:
Jason R.- Absolutely a lifesaver
Joachim M.- Excellent interface and support
4. Freshsales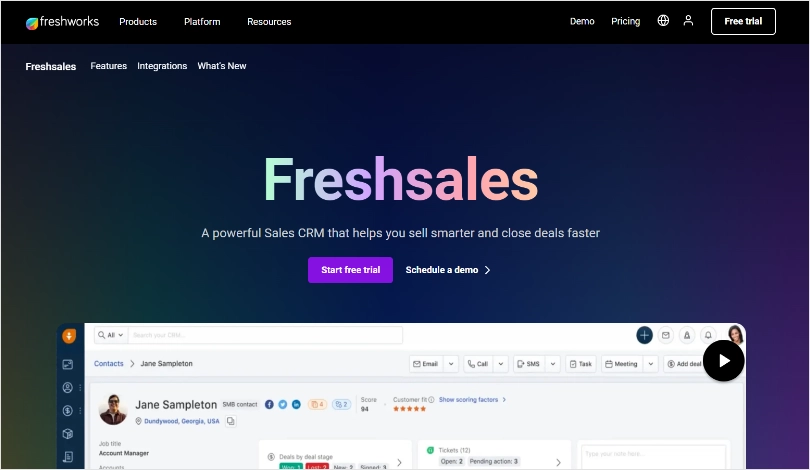 Best For: Lead Nurturing
Freshsales is a powerful tool to boost lead nurturing and convert prospects into long-term customers. The tool helps you capture leads' information through web forms and drive personalized interactions across email, chat, phone, and SMS. Its AI-powered insights provide unmatched visibility into deals to help you grow your business.
Key Features:
Set up sales pipelines for effortless management of your leads.
Send personalized emails and track metrics, such as email open rates and link clicks.
Access detailed activity timelines to keep track of previous and upcoming interactions with leads.
Use custom fields and notes for storing additional information about your prospects and customers.
Regulate access to sensitive contact data by setting user roles and permissions.
Integrations:
Magento, Mailchimp, QuickBooks, Stripe, PayPal, etc.
Pricing:
A free plan with limited features is available for 3 users.
Paid plans start from $15/user/month.
What Is Unique About It:
Use AI-powered lead scoring to identify profitable accounts and accelerate follow-ups. It works seamlessly with Slack, allowing your teams to collaborate on projects effortlessly.
What Can Be Improved:
High loading time & clunky interface
What makes Freshsales the best tool for lead nurturing:
Leverage automated email campaigns to engage prospects at the right time. Benefit from detailed reports and website visitor tracking for valuable insights. You can assign leads to sales representatives and track their progress throughout the sales pipeline.
Reasons to Buy Freshsales:
Contact profile enrichment with social media data
Automatic lead assignment for timely follow-ups
Reviews & Ratings:
Jose J G.- Great CRM platform for startups and growing businesses
Steven S.- Review for Freshsales
5. HubSpot CRM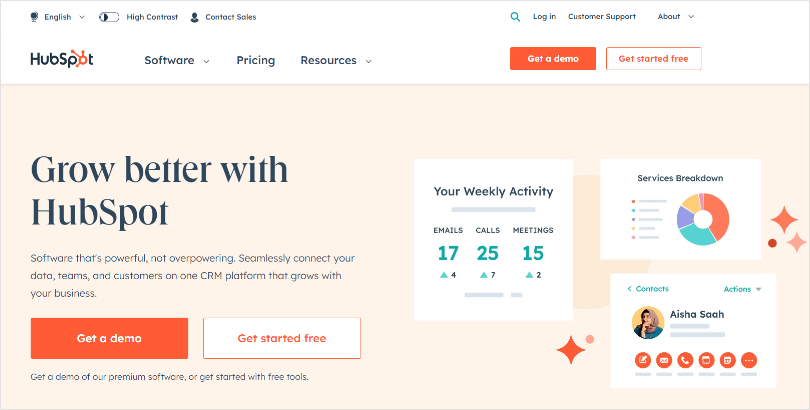 Best For: Automation & Email Tracking
HubSpot CRM offers seamless contact management, enabling efficient organization and segmentation. Its lead scoring system helps prioritize the right prospects to boost conversions. You can even automate emails based on a prospect's stage in the sales cycle. This ensures personalized messaging that helps you achieve top-of-the-mind brand recall.
Key Features:
Turn your best emails into templates for future use.
Closely track when a lead opens the email for highly-targeted and timely follow-ups.
Access a universal inbox to view every customer interaction from a single place.
Stay updated with essential information on the go with the mobile CRM.
Create and manage sales pipelines to increase sales productivity.
Integrations:
Gmail, Outlook, Zoom, Mailchimp, Google Contacts, Qwilr, etc.
Pricing:
Free for 5 users.
Paid plans start from $30/month.
What Is Unique About It:
What sets HubSpot CRM apart is the seamless integration of sales, marketing, and customer service tools, creating a unified platform for streamlined operations. Additionally, its extensive marketplace of integrations and plugins expands the CRM's functionalities.
What Can Be Improved:
Reporting capabilities & the steep pricing model
What makes HubSpot CRM the best tool for automation & email tracking:
HubSpot's automation tools streamline workflows, saving time and effort. Email tracking enables real-time notifications, ensuring timely follow-ups. Features like email templates and personalization improve productivity and customer engagement.
Reasons to Buy HubSpot CRM:
Bulk and personalized emails to nurture leads
Automatic customer profile enrichment with information from multiple sources
Reviews & Ratings:
Jerica G.- Excellent platform for business growth and success
Katy Jane M.- A super easy intuitive platform
6. Pipedrive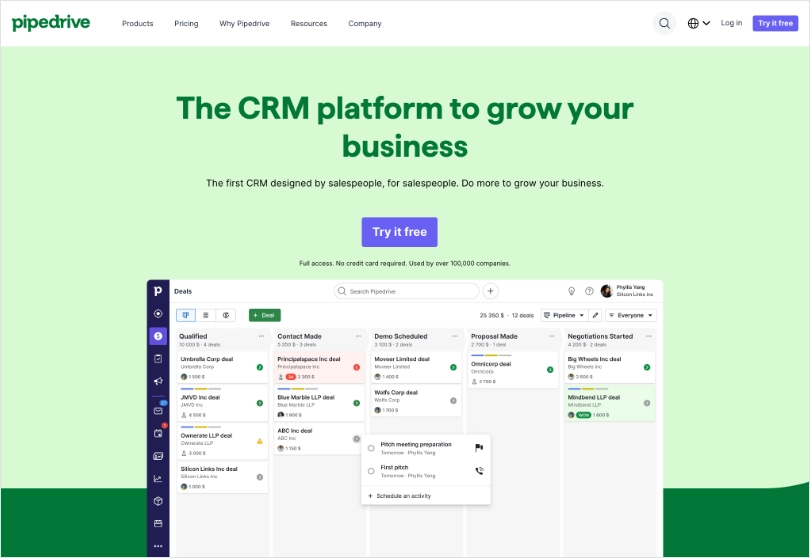 Best For: Pipeline Management
Pipedrive is an all-in-one sales platform designed to help your sales team clock more revenue and grow your business. This simple CRM system enables you to visualize your sales pipeline and track leads as they progress toward conversion. You can customize the pipeline stage for each lead and focus on actions that can bring you more sales.
Key Features:
Track your deals and sales on the go with the tool's Android and iOS-friendly mobile apps.
Get valuable insights into your leads from social sources such as LinkedIn.
Get real-time suggestions based on your previous sales performance.
Automate administrative tasks and improve your sales staff's efficiency.
Create personalized email sequences for enhanced engagement.
Integrations:
Zapier, DocuSign, Microsoft Teams, Trello, etc.
Pricing:
Starts from $9.90/user/month
What Is Unique About It:
Pipedrive is an industry-agnostic tool, meaning it is so flexible and customizable that any business across any industry can use it for any purpose. You can use it to create multiple sales pipelines.
What Can Be Improved:
Customer response times & reporting tools
What makes Pipedrive the best tool for pipeline management:
The visual pipeline provides a clear overview of deals and stages, aiding in efficient tracking and prioritization. Customizable pipelines and automation capabilities streamline workflows, while robust reporting and analytics offer valuable insights for optimizing sales performance and driving revenue growth.
Reasons to Buy Pipedrive:
Sync with popular calendars such as Google Calendar, Microsoft Outlook, and Microsoft Office365
Filter and categorize leads for effective segmentation and targeting
Reviews & Ratings:
Gustavo S.- Increasing sales with Pipedrive
Joseph V.- Pipedrive works for us!
7. Bitrix24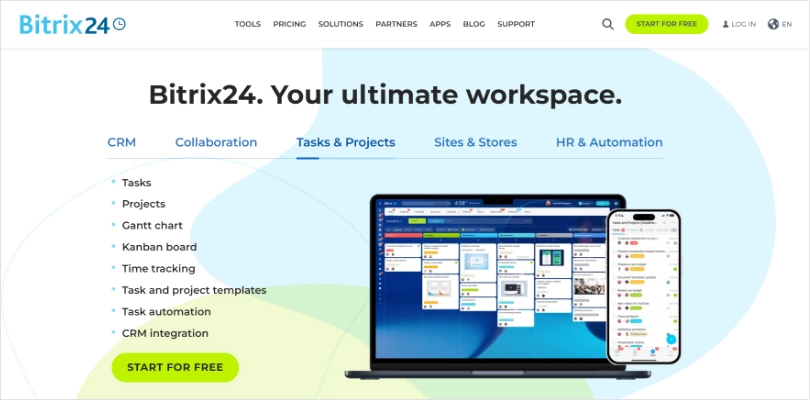 Best For: Lead Management
Bitrix24 offers a one-stop platform to manage your leads and track how they move through your sales pipeline. You can automate workflows and let your teams work more effectively toward acquiring and converting leads. With a drag-and-drop dashboard, Bitrix24 allows you to build custom pipelines that are aligned with a customer's stage in the sales funnel.
Key Features:
Get a detailed breakdown of all your deals as they move from awareness to purchase.
Use customizable triggers to move leads forward in your sales pipeline.
Launch ads on Facebook and retarget your prospects right from your CRM tool.
Create customer segments and run hyper-targeted email marketing campaigns.
Use built-in analytics to gain deeper insights into business performance.
Integrations:
Mailchimp, Zapier, PayPal, Twilio, etc.
Pricing:
A free plan with limited features is available.
Paid plans start from $49/month
What Is Unique About It:
The CRM tool incorporates communication features such as live chat, email integration, and internal messaging. This facilitates seamless communication within the team and with clients, improving collaboration and customer engagement.
What Can Be Improved:
Customer service & automated alerts
What makes Bitrix24 the best tool for lead management:
Bitrix24 allows you to capture leads from multiple sources, such as website forms, email, social media, and more. It provides a centralized lead management system where you can store and organize all your leads.
Reasons to Buy Bitrix24:
Task assignment & progress tracking for enhanced performance
Built-in reporting & analytics to track key business metrics
Reviews & Ratings:
Becky F.- Simple and intuitive CRM without many complications
Aya K.- Collaborative communication tool
8. Zoho CRM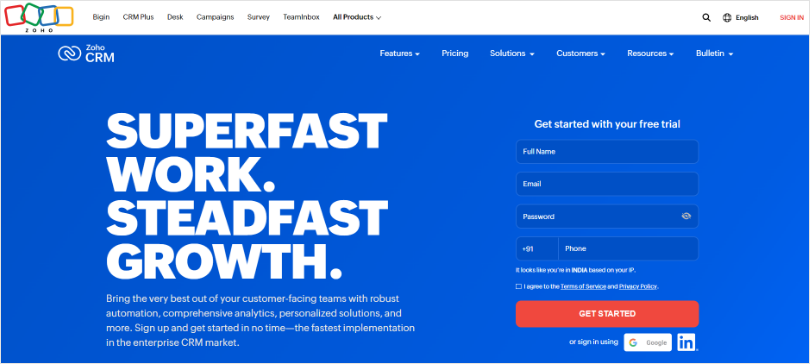 Best For: Lead Scoring
Zoho CRM offers robust features for integrating sales and marketing activities, allowing you to automate and optimize your customer engagement strategies. You can design email campaigns, track email open rates, and automate follow-up actions based on customer responses.
Key Features:
Engage in contextual conversations across your customers' preferred channels.
Create groups and allow your teams to manage projects together under one roof.
Get real-time notifications to keep a close watch on sales signals.
Generate detailed reports to get deeper insights into sales performance and make informed decisions.
Integrations:
Slack, Shopify, Mailchimp, Twilio, etc.
Pricing:
Starts from $14/user/month
What Is Unique About It:
Zoho CRM allows you to implement lead-scoring mechanisms based on predefined criteria such as engagement level, demographics, and behaviors. This helps prioritize leads and assign them to the appropriate sales representatives for personalized follow-up and conversion.
What Can Be Improved:
Customer support & user interface
What makes Zoho CRM the best tool for lead scoring:
Zoho CRM allows you to implement lead-scoring mechanisms based on predefined criteria, such as engagement level, demographics, and behaviors. This helps prioritize leads and assign them to the appropriate sales representatives for personalized follow-up and conversion.
Reasons to Buy Zoho CRM:
Quick access to information with Zoho's AI-powered sales assistant- Zia
Customizable sales process automation, such as sending quotes, creating sales orders, and updating deal stages
Reviews & Ratings:
Saqlain M.- CRM for Small Business
Juan E.- Efficient customer management with Zoho CRM
6 Essential Features of a Simple CRM Tool
Selecting a simple CRM for a small business requires a deep understanding of its essential features. Here are some essential features that form the foundation of every CRM tool.
1. Automation
Manual work eats up the time of small teams, meaning the real work suffers. Modern CRM tools automate most repetitive tasks, such as follow-ups, reminders, and drip emails. This leaves your team with more time and energy to focus on managing customer relationships.
2. Intuitive & Customizable Dashboard
The best simple CRM tools have one thing in common – a user-friendly dashboard. It offers a clean and organized space that can be customized to display the most relevant information at a particular time.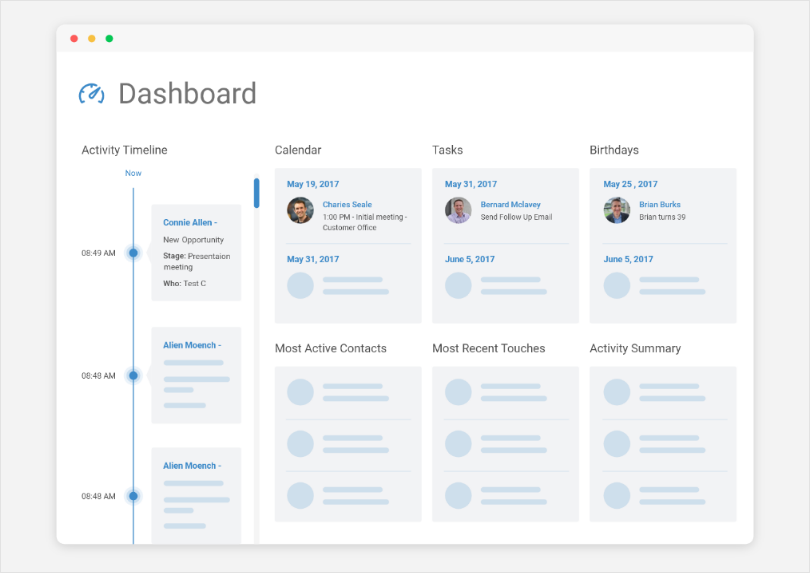 3. Smart Reports & Analytics
All the hard work put into acquiring and managing leads can go in vain if you don't keep a firm track of your campaign performance. All basic CRM systems have a built-in reporting system that helps you track key performance metrics to improve campaign performance.
Some advanced applications like BIGContacts also enable you to create highly customizable reports using smart filtering options.
4. Activity & Task Management
It's natural for your sales team to have piles of tasks and activities on their plates every single day. Activity tracking and task management are integral features of CRM that let your team prioritize critical tasks and ensure that important opportunities do not go unnoticed.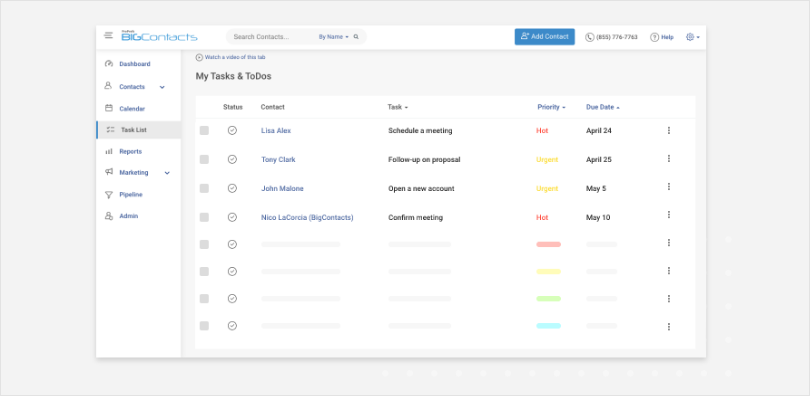 5. Calendar Tracking
Important events might get brushed under the carpet when there is a mountain of tasks to manage. This can result in a huge loss for your small business. The calendar module gives your sales staff a 360° view of all to-do tasks, invitations, and upcoming meetings so they can plan smarter and work more effectively.
6. Integrations
Robust integration capabilities enable you to synchronize data with platforms such as email providers, marketing automation software, customer support systems, and project management tools. This way, you can centralize information, automate processes, streamline communication, and improve collaboration across your organization.
Integrations empower your CRM system to become a powerful hub that seamlessly integrates with your existing technology stack, enhancing productivity and enabling you to deliver exceptional customer experiences.
How Can Simple CRM Help Your Small Business?
Small businesses usually have only a few people committed to running the sales and marketing departments. With such a small team managing all of the customer interactions, things can go wrong at any moment. And what happens then?
Customer experience suffers!
A power-packed CRM system minimizes this risk by streamlining the entire contact management process, leaving no room for errors. It provides an all-in-one space where your sales staff can keep their ears to the ground and take informed actions necessary for driving business growth.
So, replace those complicated spreadsheets with a simple sales CRM and reap the following benefits right away.
Improve Productivity:
Multitasking can reduce productivity by up to 40%.
In a rush to manage multiple tasks, your team's productivity can take a hit, ruining the customer experience. A simple CRM allows your team to pull up contact information and prioritize leads that need nurturing. Furthermore, by automating manual tasks, CRM frees up your team's time and lets them focus on sales-driven activities.
Increase Sales Through Data-Driven Decisions:
Being a small business, you do not have the luxury of making wrong decisions and getting away with them. Most basic CRM software offers reporting and analytics options that help measure what worked well and what could be done better with your sales campaigns.
Such insights take the guesswork out of the window, so you can make practical decisions to boost sales performance.
Grow Profits:
The chances of your sales staff missing important follow-ups and losing high-value deals are high when there are more tasks on their plate than they can accommodate. That's where CRM helps. By automating tasks such as follow-ups, reminders, and promotion emails, CRM ensures that every potential sale reaches the completion stage and adds to your profit.
Boost Customer Retention:
With CRM, managing customer relationships is smooth sailing. You can run highly-targeted automated marketing campaigns and even identify upselling and cross-selling opportunities based on customers' purchase history.
Key Considerations While Choosing a Basic CRM System
You've to be careful and thoughtful during the search process to ensure you find a worthwhile investment. Here are a few considerations to take into account when choosing a basic CRM system:
Ease of Use:
The tool should be easy to set up and use, with no headache of downloads and installations. Specialized training or coding skills should not be required to use the software.
Core Features:
A simple CRM system should offer all the essential features, from contact management and sales pipeline to customizations and automation. Check for all necessary features before making the call.
Listed on Top Review Websites:
The tool should be listed on top platforms such as Capterra and G2. It should have received positive and genuine user reviews, helping you get a first-hand account of its performance.
Favorable Pricing:
Evaluate the pricing structure of the CRM system to ensure it aligns with your budget. Look for transparent pricing plans, consider additional costs, and keep scalability in mind.
Free Trial:
Opt for a free trial to assess the tool's usability. Utilize this opportunity to evaluate how the CRM system integrates with your existing workflows and whether it meets your specific requirements before making a commitment.
Revolutionize the Way You Connect, Engage & Convert!
Having a simple yet powerful CRM system by your side ensures you're always on the winning side. It serves as a reliable weapon for your sales team, automating workflows, centralizing contact information, and providing valuable sales insights.
However, it's essential to tread carefully during the selection process of the best simple CRM software.
The wrong CRM tool can hamper your relationships with potential and existing customers, causing more harm than good. That's why it's crucial to analyze your current sales process, pinpoint the recurring obstacles, and find a tool that aligns perfectly with your team's requirements.
Remember, selecting the right CRM tool is an investment in your team's success and customer satisfaction.
So, take the time to choose wisely and unlock the full potential of a CRM system that perfectly suits your needs. With a customizable tool like BIGContacts by your side, you'll have the winning edge to achieve sales excellence and foster lasting customer relationships.