Best Simple CRM Options for 2023
This is what you came for—the good stuff.
Here is the list of the Best Industry Leading Simple CRM software that can help manage your business easily.
1. BIGContacts
2. HubSpot CRM
3. Bitrix24
4. Zoho CRM
5. Pipedrive
6. Freshsales
7. EngageBay
8. Salesmate
Maybe that's exactly what you needed— eight best Simple CRM Software. Great. But maybe you're looking for more. Maybe, you want some of our useful tips for picking up an Easy CRM. The features you should be checking out in the tools. Or maybe you want to hear what the benefits are and how it can boost your Business. Then you should continue reading. Definitely.
What is a Simple CRM?
Many different CRM systems are available on the market, ranging from simple to complex. Simple CRM systems may only include basic features like contact management and lead tracking. More complex CRMs may also include features such as sales force automation and marketing automation.
The best CRM depends on the needs of that particular business. A startup might do well with a simple CRM system that is easy to use and doesn't require a lot of training.
Notable Features of an Easy CRM Tool 
Selecting a simple CRM software for your small business requires first-hand knowledge of its essential features. 
Here are some of the notable features that form the foundation of every CRM tool: 
Manual work eats up the time of small teams, meaning the real work suffers. Modern CRM tools automate most repetitive tasks such as taking follow-ups, sending reminders, and drip emails. This leaves your sales folks with more time and energy to focus on managing customer relationships. 
Intuitive & Customizable Dashboard 
 The best simple CRM tools have one thing in common – a user-friendly dashboard. It offers a clean and organized space that can be customized to display your sales team's needs at a particular time. 
Smart Reports & Analytics 
All the hard work put into acquiring and managing leads can go in vain if you don't keep a firm track of your campaign performance. All basic CRM systems have a built-in reporting system that helps you track key performance metrics to improve campaign performance. 
Activity & Task Management 
It's natural for your sales team to have piles of tasks and activities on their plates every single day. Activity and task management is a key feature of CRM that lets your team prioritize critical tasks and ensure that important opportunities do not go unnoticed. 
Important events might get brushed under the carpet when there is a mountain of tasks to manage. This can result in a huge loss for your small business. A CRM calendar gives your sales staff a 360° view of all to-do tasks, invitations, and upcoming meetings so they can plan smarter and work more effectively.
A Quick Look at the Best CRM Software for 2023
Software
Key Features
Pricing
BIGContacts
Contact management
Pipeline tracking
In-depth reports
Starts from $5/user/month
HubSpot CRM
Email templates
Targeted follow-ups
Automated call logs
Starts from $45/month
Bitrix24
Customizable triggers
Facebook ads
Targeted emails
Starts from $39/month
Zoho CRM
Contextual conversations
Real-time notifications
Performance insights
Starts from $10/user/month
Pipedrive
Seamless mobile app
Real-time suggestions
Task automation
Starts from $12.50/user/month
Freshsales
Custom fields
Roles and permissions
Auto-assignment of leads
Starts from $13/user/month
EngageBay
Push notifications
Behavioral customer segmentation
Email sequences

Starts from $11.99/user/month
Salesmate
Bulk emails
Schedule meetings
Sales sequences

Starts from $12/user/month
Top 8 Simple CRM Software for 2023
Finally, after learning the basics of CRM, we can now dive into deep waters and explore the leading CRM tools that can be life-changing for your small business. 
1. BIGContacts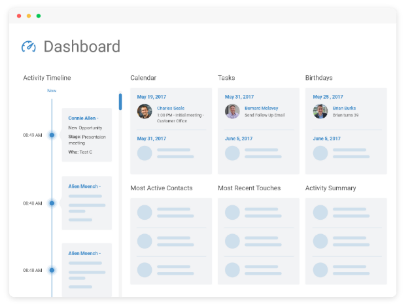 BIGContacts is a simple and scalable CRM system that can help you build a deep bond with your potential and existing customers. It comes with an intuitive, customizable dashboard that gives your sales team a clutter-free workspace where they can manage contacts, monitor the sales pipeline, and win deals faster.  With a 360° view of all sales campaigns and marketing activities, you will never miss out on important opportunities. The tool allows you to automate recurring tasks such as follow-ups, reminders, and drip emails, saving your valuable time and energy.  With 24×7 support, seamless mobile access, and robust integrations, BIGContacts can be a perfect partner for your business growth. 
Key Features: 
View contact information, customer emails, tasks, and files on one unified platform. 

Track leads as they move forward in the sales pipeline.

Measure team productivity and sales performance with in-depth reports.

Deliver personalized and consistent messaging through automated emails.

Keep track of previous touches, upcoming events, and to-do lists, without ever missing a beat. 
Pros: 
24×7 customer support and uninterrupted mobile access.

Simple, drag and drop interface that's super easy to navigate.
Cons: 
The need for a better system to identify and eliminate duplicate entries. 

Search functionality can be improved. 
Pricing:  BIGContacts offers 4 price plans: 
Big

– $5/user/month

Bigger

– $15/user/month

Biggest

– $25/user/month

Enterprise

– Custom Pricing
2. HubSpot CRM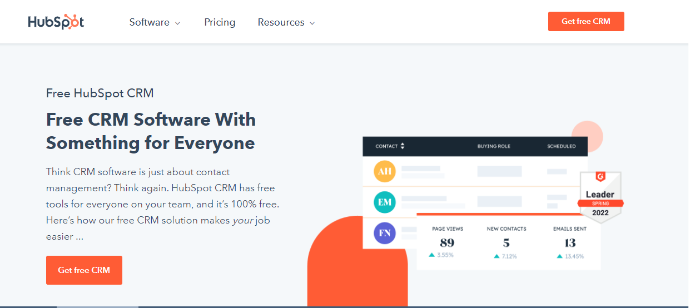 HubSpot is a highly popular CRM system that is easy to use and offers all the necessary tools you need to strengthen customer relationships. HubSpot's Sales Hub helps you keep a firm track of customer emails and calls from one single platform.  You can automate the process of sending emails based on a prospect's stage in the sales cycle. This ensures personalized messaging that helps you achieve top-of-the-mind brand recall. 
Key Features: 
Turn your best emails into templates for future use. 

Closely track when a lead opens the email for highly-targeted follow-ups.

Automatically log sales calls in your CRM. 

Create helpful content for your sales team to close deals faster.
Pros: 
Nurture leads and target them with personalized messaging through bulk emails.

Pull out information from multiple sources and add value to your customer profiles.
Cons: 
A lack of depth in the reporting system. 

The pricing model is a little complicated, and plans can be expensive for small businesses. 
Pricing: 
3. Bitrix24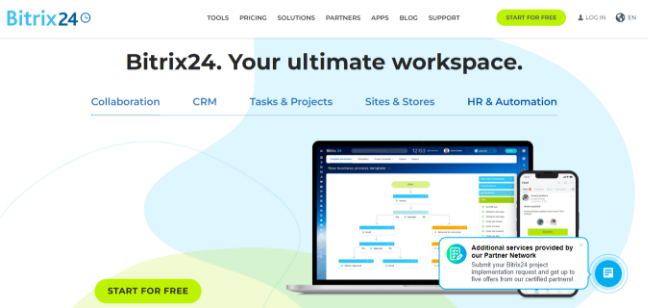 Bitrix24 offers a one-stop platform to manage your leads and track how they move through your sales pipeline. You can automate workflows and let your teams work more effectively towards acquiring and converting leads.  With a drag and drop dashboard, Bitrix24 allows you to build custom pipelines that are aligned with a customer's stage in the sales funnel. In addition to this, the tool's built-in analytics helps you evaluate and optimize your marketing efforts. 
Key Features: 
Get a detailed breakdown of all your deals as they move from awareness to purchase. 

Use customizable triggers to move leads forward in your sales pipeline.

Launch ads on Facebook and retarget your prospects right from your CRM tool.

Create customer segments and run hyper-targeted email marketing campaigns.
Pros: 
You can source leads from social media platforms and engage with them right in your CRM. 

You can integrate Bitrix24 with dozens of tools and even create your own apps with REST API. 
Cons: 
Setting up automated alerts is a bit complicated.

Customer support can be improved. 
Pricing: 
Free

– Free plan with unlimited users
4. Zoho CRM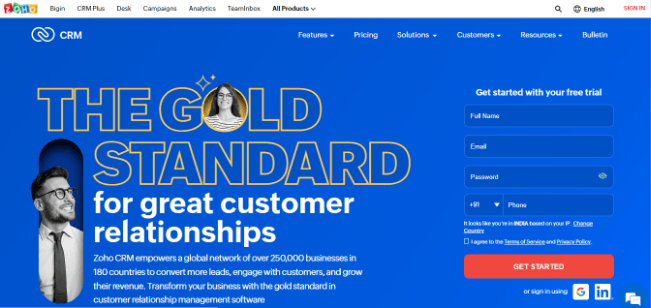 Zoho CRM is another simple CRM system that is worth considering. It allows you to design your CRM's interface just the way you like and connect with customers across channels, such as live chat, social media, email, and calls. You can set triggers for instant actions such as welcome emails and product demos. Such triggers ensure that your sales team never drops the ball and stays on top of all important activities. 
Key Features: 
Engage in contextual conversations across the channels your customers prefer.

Create groups and allow your teams to manage projects together under one roof.

Get real-time notifications and keep a close watch on sales signals.

Get real-time insights into sales performance and make informed decisions.
Pros: 
You can fully customize your CRM with Canva. 

Get faster access to information with Zoho's AI-powered sales assistant – Zia. 
Cons: 
Some users feel that Zoho's customer support takes too long to respond. 

 Saving personal documents in your CRM is not possible. 
Pricing: 
Standard

– $10/user/month
5. Pipedrive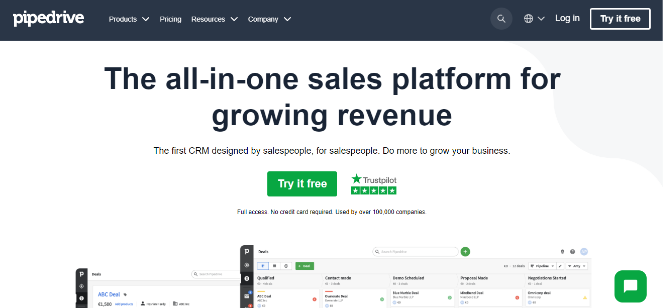 Pipedrive is an all-in-one sales platform designed to help your sales squad clock more revenue and grow your business. This simple CRM system enables you to visualize your sales pipeline and track leads as they progress towards conversion. You can customize the pipeline stage for each lead and focus on actions that can bring you more sales.  Pipedrive is an industry-agnostic tool, meaning it is so flexible and customizable that any business across any industry can use it for any purpose. 
Key Features: 
Track your deals and sales on the go with the tool's Android and iOS-friendly mobile apps.

Get valuable insights into your leads from social sources such as LinkedIn. 

Get real-time suggestions based on your previous sales performance.

Automate administrative tasks and improve your sales staff's efficiency.
Pros: 
Easily sync Pipedrive with popular calendars such as Google Calendar, Microsoft Outlook, and Microsoft Office365. 

Make customer calls right from your CRM, which are then automatically recorded in your contact list. 
Cons: 
Sluggish response rate at times. 

Reporting system could be improved. 
Pricing: 
Essential

– $12.50/user/month
6. Freshsales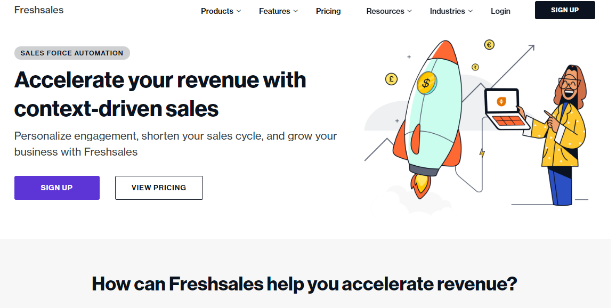 Freshsales is a powerful tool to boost lead nurturing and convert prospects into paying customers. The tool helps you capture leads' information through web forms and engage in contextually-relevant conversations across email, chat, phone, and SMS.  Its AI-backed deal insights provide unmatched insights into the deals you should be focusing on to grow your business. Another interesting aspect of Freshsales is that it works seamlessly with Slack, allowing your teams to work in collaboration on projects. 
Key Features: 
Closely track sales activities, including interactions, meetings, and more. 

Set up custom fields to add additional information about leads. 

Monitor data access by setting user roles and permissions.

Auto-assign leads to the right people in your sales team. 
Pros: 
The tool allows you to enrich contact profiles by automatically sourcing information from social media. 

You can effectively engage with prospects at the right moment with contextual in-app and push messages. 
Cons: 
Some users find the tool clunky to use, as per online reviews. 

Longer load time when there is a huge customer database. 
Pricing: 
Free

– Free plan with basic features 
7. EngageBay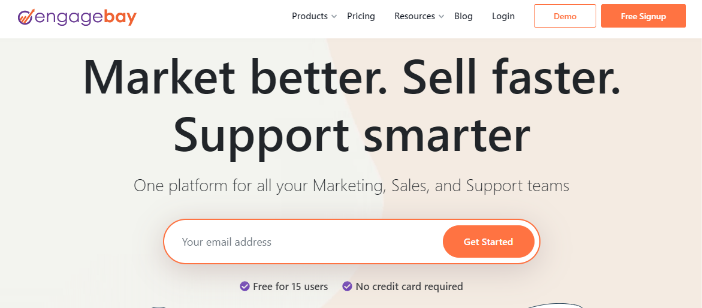 EngageBay allows you to store unlimited contacts along with their details in one unified platform. As a free CRM software, it boosts collaboration between your sales and marketing teams by giving them a single platform to target prospects and engage meaningfully with them at every step.  What more? EngageBay takes lead nurturing to a whole new level with customer segmentation that helps deliver hyper-personalized content. You can apply various filters to group customers, and launch targeted campaigns to drive conversions. 
Key Features: 
Deliver the right message to your contacts with push notifications at the right time.

Use behavioral customer segmentation for highly targeted campaigns.

Set up email sequences to warm up your leads and drive them to conversion.

Simplify boring and mechanical tasks with workflow automation. 
Pros: 
Score your leads and build logical workflows to accelerate your sales process.

Real-time data on your customers, so you can make practical decisions. 
Cons: 
Email templates could be more user-friendly and responsive. 

Some users find the help center isn't comprehensive or useful.  
Pricing: 
Free

– Free plan with limited features
8. Salesmate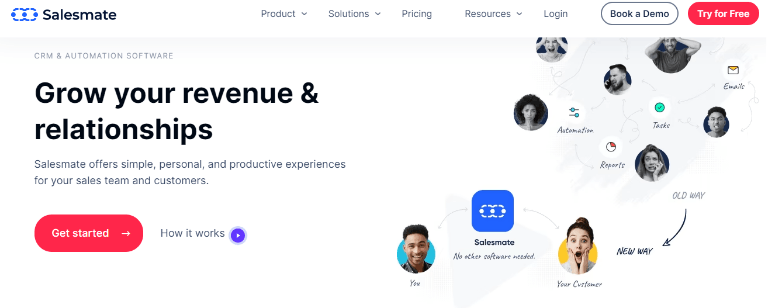 Salesmate can significantly enhance your lead management efforts with targeted emails and automated follow-ups. You can track all your contacts and every conversation on a single platform to sell better and convert faster. Your team can be freed from repetitive tasks with reusable sales playbooks and activity automation.   Salesmate also offers custom reports that give you a peek into your sales and team's performance. With 700+ integrations with popular tools like Clearbit, Chrome, and Google Calendar, among others, Salesmate can strengthen your sales process. 
Key Features: 
Send bulk emails and texts without any manual effort. 

Organize your calendar and share it with prospects to schedule meetings.

Use sales sequences to automate follow-ups and sell faster. 

Tailor every Salesmate module to fit your unique needs. 
Pros: 
The power dialer automatically dials contacts, saving you from the back and forth and the context-switching. 

User-friendly and easy-to-navigate interface. 
Cons: 
Reporting capabilities across channels could be enhanced. 

Some users find the tool-less intuitive and more cumbersome as per online reviews. 
Pricing:
How Can a CRM Boost Your Small Business?
Small businesses usually have only a few people committed to running the sales and marketing departments. With such a small team managing all of the inbound and outbound customer communication, things can go wrong at any moment.  And what happens then? 
Customer experience suffers! A power-packed CRM system minimizes this risk by streamlining the entire contact management process, leaving no room for errors. It provides an all-in-one space where your sales staff can keep their ears to the ground and take informed actions necessary for driving business growth. 
If you are still not convinced of the benefits a CRM can shower on your small business, we have data-backed proof for you. In a study conducted by Capterra, CRM proves to be highly effective for customer retention and satisfaction. 

So, replace those complicated spreadsheets with a simple sales CRM and reap the following benefits right away: 
Improve Team Productivity 
Multitasking can reduce employee productivity by 40%. In a rush to manage multiple tasks, your sales team's productivity can take a hit, ruining the customer experience.  A simple sales CRM allows your team to pull up contact information and prioritize leads that need nurturing. Furthermore, by automating manual tasks, CRM frees up your team's time and lets them focus on sales-driven activities. 
Increase Sales Through Data-Driven Decisions
Being a small business, you do not have the luxury of making wrong decisions and repenting later. You have to always be on your toes and be mindful about every action you take. Most basic CRM software come with strong reporting and analytics that help measure what worked well and what could have been better with your sales campaigns.  Such insights take the guesswork out of the window, so you can make practical decisions to boost sales performance. 
Read More: How to Improve Sales Performance
The chances of your sales staff missing important follow-ups and losing high-value deals are high when there are more tasks on their plate than they can accommodate. That's where CRM helps. By automating tasks such as follow-ups, reminders, and promotion emails, CRM ensures that every potential sale reaches the completion stage and adds to your profit. 
Your existing customers can feel left out if you don't pamper them with the same attention you offered when they were new to your business. Your love for your existing customers shouldn't fade away once they start bringing in money. Instead, it should only grow with time, allowing them to stay loyal to your business.  With CRM, managing customer relationships is a smooth sail. You can run highly-targeted automated marketing campaigns and even identify upsell and cross-selling opportunities based on customers' purchase history.
Key Considerations While Choosing a Basic CRM System
Picking the right CRM system can be challenging. You've got to be careful and thoughtful during the search process to ensure you find a worthwhile investment.  Here are a few considerations to take into account when choosing a basic CRM system:
Ease of Use –

The tool should be easy to set up and use, with no headache of downloads and installations. Specialized training or coding skills should not be required to use the software. 

Core Features – A simple CRM system should comprise all the essential features,  from contact management and sales pipeline to customizations and automation. Check for all necessary features before making the call. 
Listed on Top Review Websites

– The tool should be listed on top platforms such as Capterra and G2. 

Honest User Reviews

– The tools should have received positive and genuine user reviews from real users on platforms like Capterra and G2. Such reviews are a good source to learn about a tool's performance. 
Streamline Your Sales Process With a Simple CRM System 
The process of managing leads is more challenging than acquiring them. You are just one interaction away from closing a sale or losing a deal during lead management. A simple yet powerful CRM system ensures that you are always on the winning side.  It is a solid weapon for your sales team to win deals by automating workflows, unifying contact information, and generating sales insights.   However, using the wrong tool can deteriorate your relationships with potential and existing customers.  That's precisely why you should be prudent during the software selection process and zero in on a tool that closely matches your requirements. Analyze your existing sales process, identify the bottlenecks you regularly encounter, and select a tool that feels like the perfect fit for your team.  Investing in a configurable and flexible tool like BIGContacts can be a game-changer for your sales process. It has all the right features, an intuitive interface, and integrations you will find incredibly helpful.