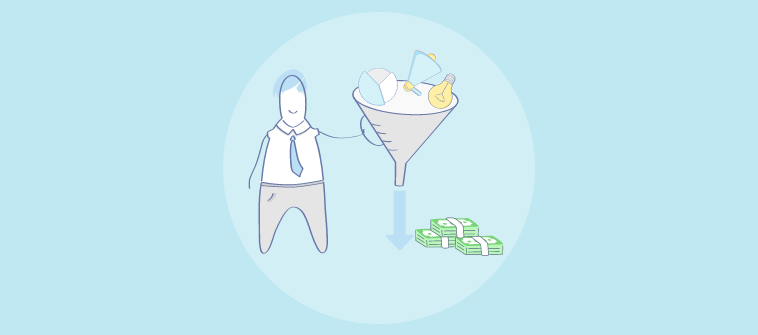 Are you a B2B business struggling with long and complicated sales processes? Do you often feel you don't have control over the sales journey of your hard-earned leads and are all your marketing efforts going down the drain?
You are not alone! These are the common challenges most B2B organizations face.
Adopting the best CRM for your B2B business can be life-changing!
The best CRM marketing software provides a one-stop platform where you can closely monitor sales progress, nurture prospects through personalized campaigns, and take them down the sales funnel. And most important of all, it helps you build strong customer relationships that last a lifetime.
This detailed guide will take you through the 15 best CRM for SaaS, service, and many other businesses. But before we jump into the list, let's understand the basics of what a B2B CRM is and how it can benefit your business.
The right CRM tool can bring numerous benefits to your business. It can automate repetitive tasks so you can fully focus on sales-driven activities. Contact data can be seamlessly managed on a common platform. You can also identify bottlenecks in the sales process using in-depth reports and prevent them from amplifying.
What is a B2B CRM?
A B2B CRM is a tool that helps companies maintain long-term relationships with existing and potential clients. It streamlines the sales process by bringing all client information under a single roof, where teams can collaborate on deals and take them down to the conversion stage. Since B2B sales processes are complex and time-taking, the right CRM equips you with insightful sales data so you can prioritize deals that matter the most and make informed decisions at every stage of a prospect's journey.
Why Do You Need a B2B CRM?
Without a dedicated CRM platform, your team will be stuck in an endless loop of emails and calls. They will have to manually carry out menial tasks such as taking follow-ups and scheduling meetings. In addition to this, your team will always be busy juggling multiple spreadsheets to search contact details and track sales activities. All these challenges combined indicate how crucial it is to deploy the best SaaS CRM with robust automation capabilities and top-notch features. Let's elaborate more on the importance of CRM for B2B companies by looking at the benefits it can provide.
Benefits of a B2B CRM
One missed follow-up, and you may end up losing a high-value client. One wrong email and your chances of converting a lead might come down to zero. The right CRM software has the capability to take care of these challenges so your team can fully focus on building long-lasting client relationships. Let's explore some of the top benefits that you can reap by deploying a CRM tool:
1. Automate Repetitive Tasks
Repetitive tasks such as data entry, taking follow-ups, and setting reminders for every prospect can eat up a lot of your team's time. This can be a big productivity killer as your team will not have time to focus on things that really matter. The best CRM for SaaS companies comes with powerful automation capabilities triggered based on contacts' actions and behaviors. This means you can automatically send personalized follow-ups depending on a prospect's stage without hampering other important tasks.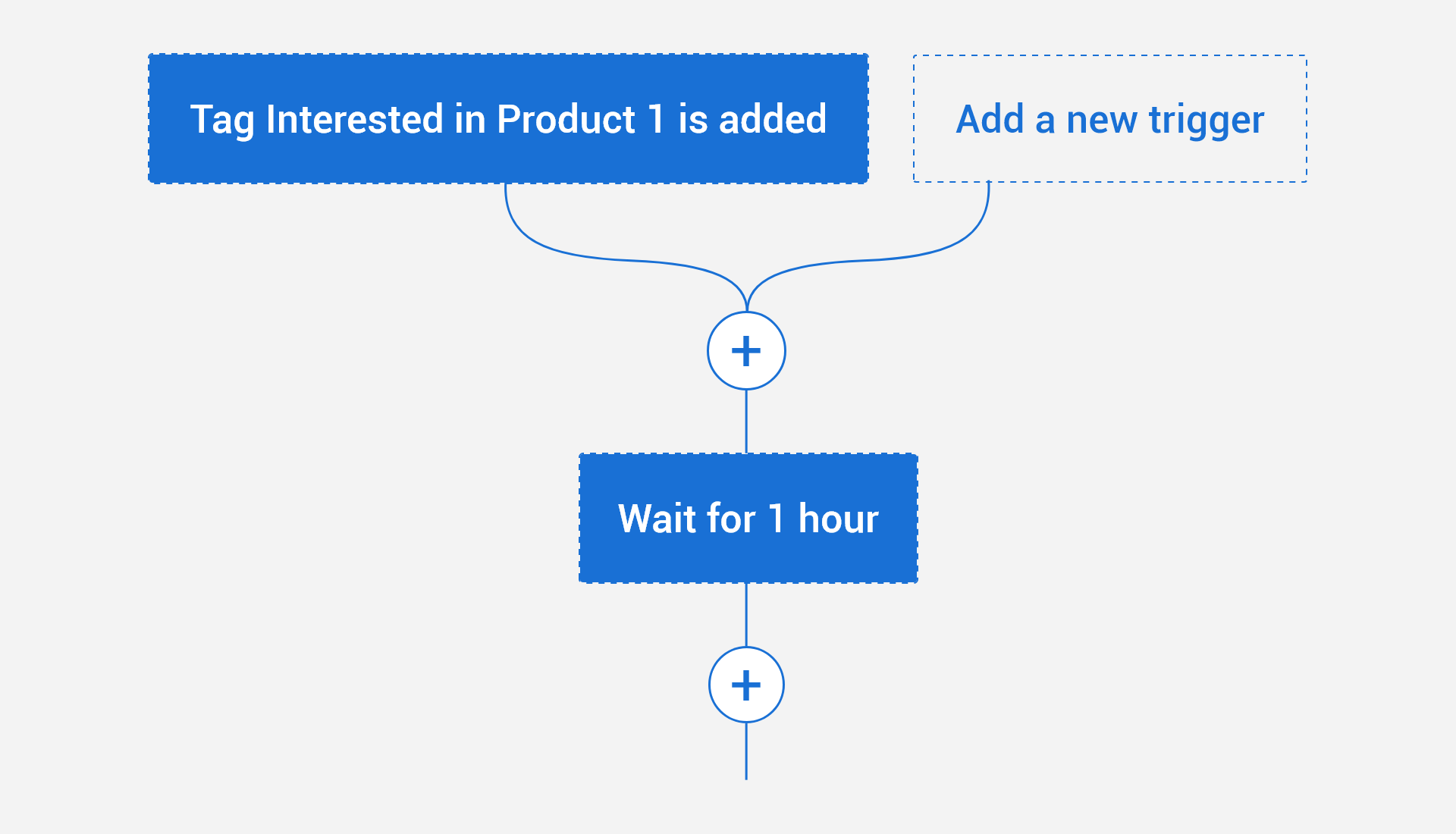 2. Seamlessly Manage Client Data
Spreadsheets and sticky notes have their own benefits. But as a growing B2B business with massive client data, a CRM will be a more appropriate solution for you. It brings your client data, including their email addresses, pain points, and previous interactions, to a centralized platform. Such a contact management software solution provides your team with quick access to all the details they need to carry out contextual conversations and make the right sales pitches.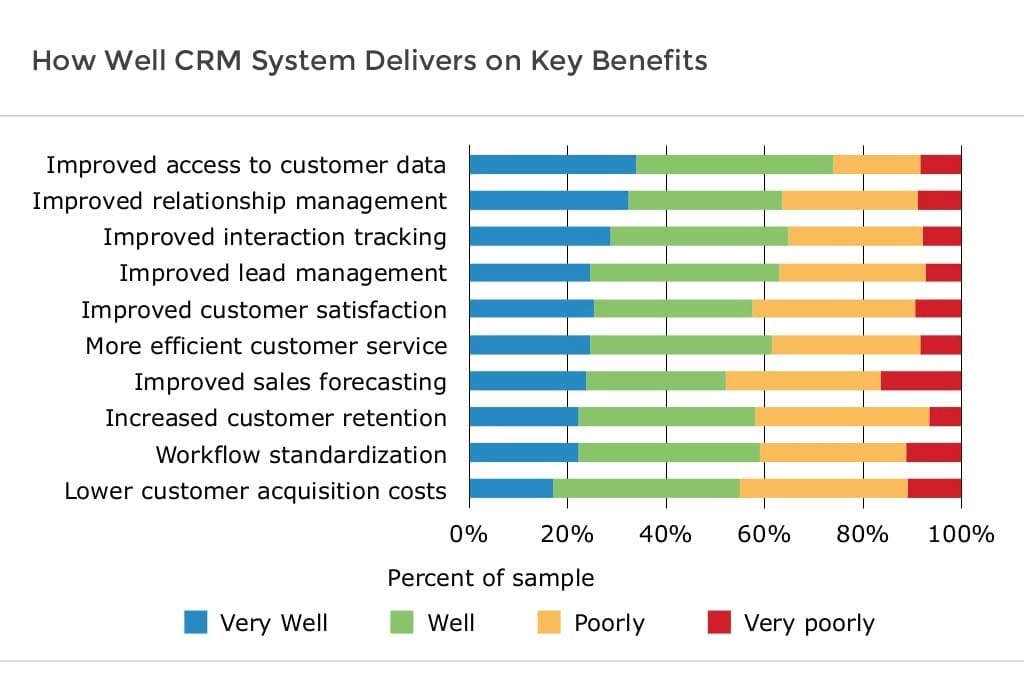 3. Identify Roadblocks in Your Sales Process
If your sales figures are sinking and you have no idea of the causes, a CRM tool can be helpful. The best CRM for B2B companies offers built-in reports that give a bird's eye view of all sales activities. This way, you can identify what's working and what's not in your sales process. You can also track which prospects dropped out at which stage and which of them got converted into customers. With the right data up your sleeves, you can make more informed decisions, build better sales strategies, and boost your profit.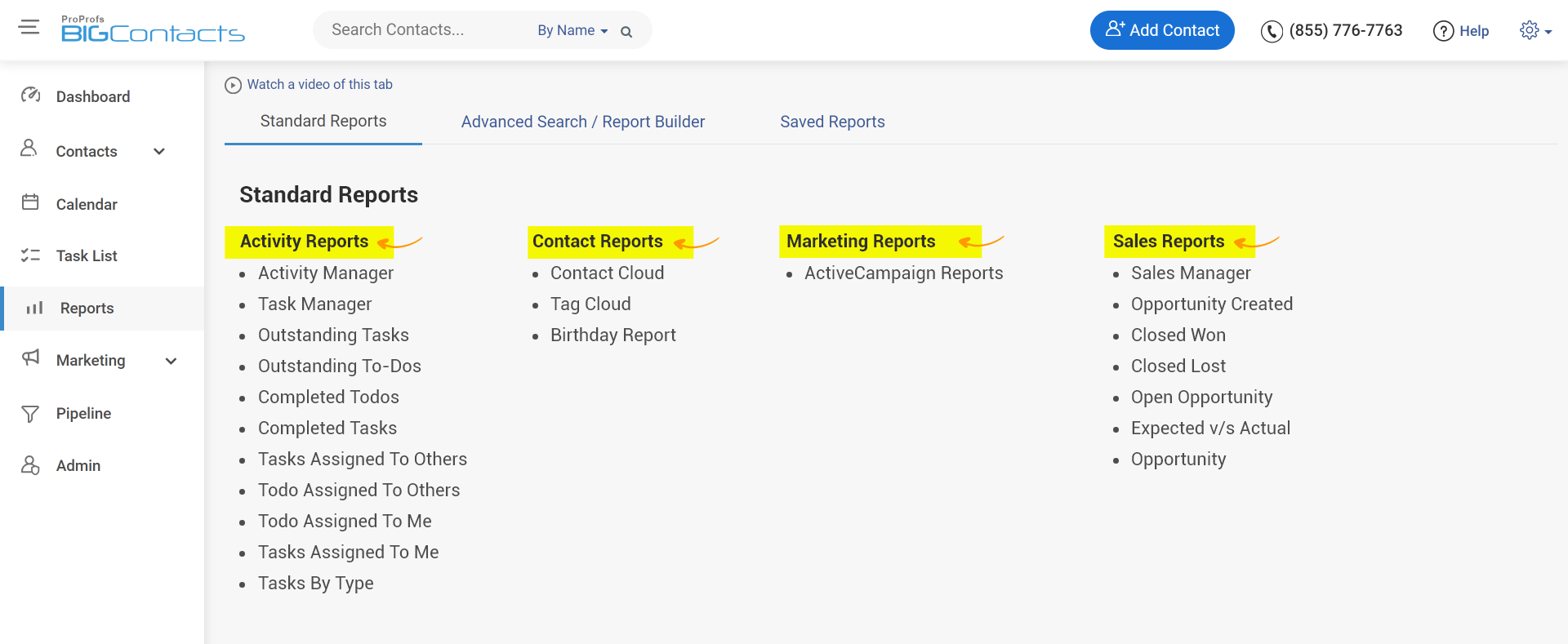 4. Launch Targeted & Personalized Campaigns
A one-size-fits-all approach doesn't work in all scenarios and for all kinds of clients. As a B2B business, you have to keep in mind that every client is at a different stage in the sales funnel and has different needs. By deploying the best CRM tools, you can segment contacts into specific lists based on their location, browsing habits, and history with your organization. The different segments help you build targeted campaigns that can strike the right chords with your contacts, improve communication, and ultimately boost your sales.
For a lead to convert, it's critical for teams to work in collaboration. Modern B2B CRM software brings all contact data to a centralized location. This makes it easy for teams across marketing, sales, and support departments to come together and work towards a common goal of building solid customer relationships. The teams will be on the same page, and their unified efforts will lead to faster conversions and sales.
5. Closely Track Deals in a Visual Sales Pipeline
Opportunities are bound to slip through your fingers if not monitored closely. This often results in a loss of sales and business. With the right CRM tool, you can keep an eye on deals in a visual pipeline that provides a 360° view of all sales activities. It is easy to measure progress as deals pass through different stages of the sales cycle. With a clear view of a contact's history, social media activities, and sales progress, you can win more customers through personalized engagement.
Read More: Top 7 Ways CRM Software Helps You Manage Tasks & Workflow in 2023
Overview – 15 Best B2B CRM Software
Software
Key Features
Pricing
✔️BIGContacts

Visual sales pipeline

Drip email campaigns

Reports & analytics

Starts from $5/user/month
✔️ActiveCampaign

Lead scoring

A/B testing

Email personalization

Starts from $9/month

✔️HubSpot CRM

Insightful reports

Drag and drop editor

Customizable sales pipeline

Starts from $7/user/month
✔️Salesforce CRM

Sales forecasting reports

Automatic lead scoring

Automated workflow processes

Starts from $25/user/month

✔️Pipedrive CRM

Workflow automation

Built-in reports

Live email notifications

Starts from $9.90/user/month

✔️Nutshell CRM

Automated follow-ups

Drag and drop leads

Automated reminders

Starts from $16/user/month

✔️Monday.com
1. Automated processes 2. Alerts & reminders 3. Reporting & analytics
Starts from $8/user/month
✔️Insightly CRM

Data visualization

Customizable workflows

Rich activity timeline

Starts from $29/user/month

✔️Zoho CRM

Actionable reports

Record meetings

Contact segmentation

Starts from $10/user/month
✔️Freshworks CRM

Predictive contact scoring

Automatic contact enrichment

Roles and permissions

Starts from $12/user/month

✔️Copper CRM

Real time alerts

Contact segmentation

Multiple pipelines

Starts from $25/user/month

✔️Salesflare CRM

Drag and drop leads

Automatic profile enrichment

Roles and permissions

Starts from $29/user/month

✔️LessAnnoying CRM

Google Calendar sync

Custom fields

Centralized dashboard

Starts from $15/user/month

✔️Microsoft Dynamics 365

Contextual pipeline

In-the-moment insights

Deal manager workspace

Starts from $1500/tenant/month

✔️Monday.com

Gmail and Outlook sync

Custom dashboards

Easy data import

Starts from $10/seat/month

✔️Nimble

Built-in calendar

Automatic profile enrichment

Pipeline management

Starts from $19/user/month
Top 15 B2B CRM Tools You Can Consider in 2023
If you are tired of searching for the best CRM for your SaaS business, this list will give you a sigh of relief. Explore the 15 leading CRM software along with their features and make an intelligent decision.
1. BIGContacts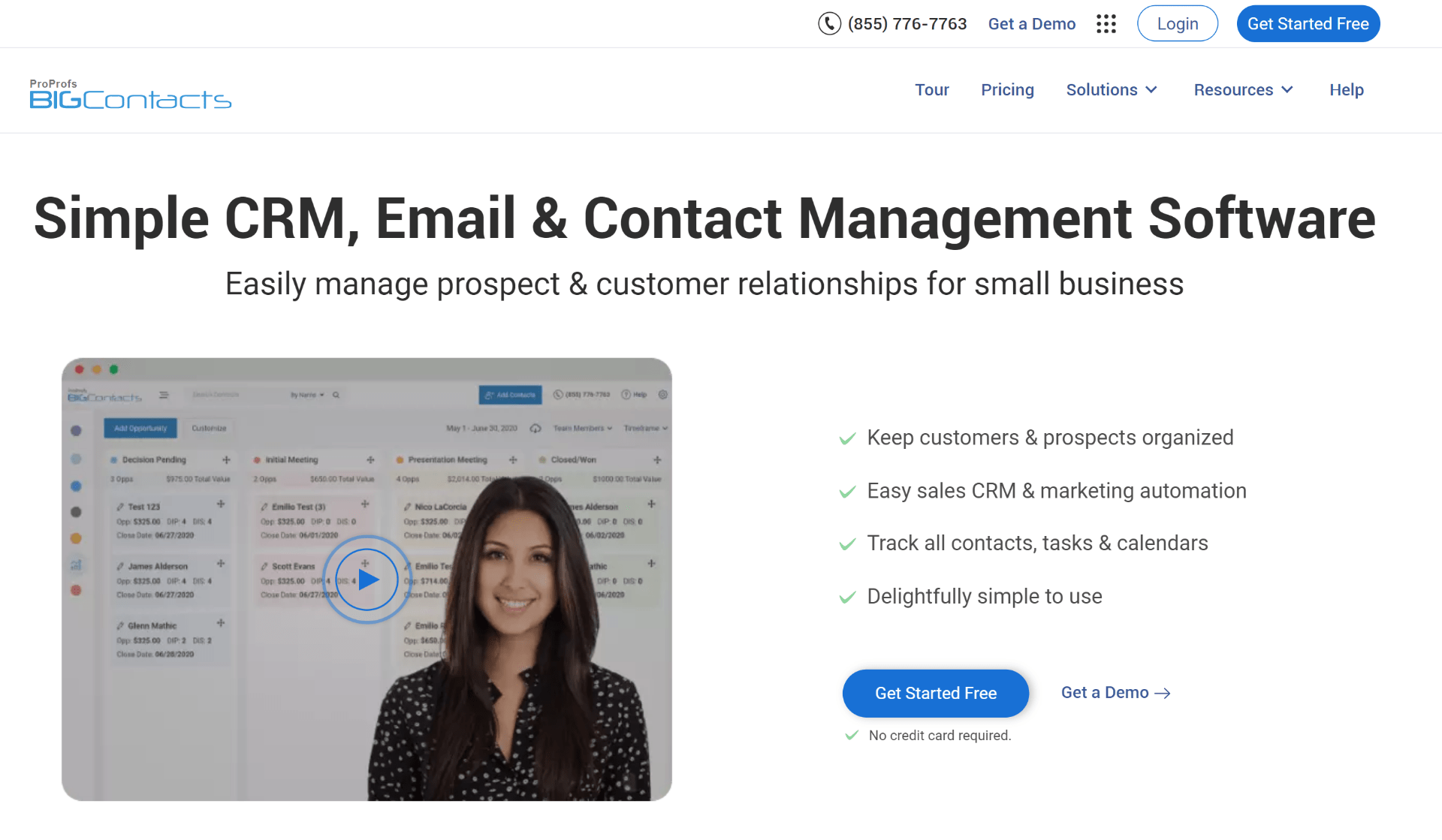 BIGContacts is a simple and versatile CRM software that helps B2B businesses nurture leads, improve sales, and build strong customer relationships. The tool allows you to centrally manage all contacts and track them closely as they move through the sales funnel. You can build a custom sales pipeline and target prospects with personalized emails based on their stage in the sales cycle, which helps boost conversions. Moreover, BIGContacts offers remarkable automation capabilities and insightful reporting, ensuring a worthwhile experience.
Key Features:
Get a 360° view of all customer details and communication history in one place.

Track leads across all stages with a visual sales pipeline.

Craft personalized drip email campaigns to target prospects at the right time.

Automate recurring tasks and set reminders to make work easier for your team.

Monitor the performance of your marketing campaigns through built-in and custom reports.
Pros:
Easy to set up and fully customizable.

Manage leads on the go with the tool's mobile version.
Cons:
Needs better search and deduplication features.

Lacks AI-powered lead scoring.
Pricing:
2. ActiveCampaign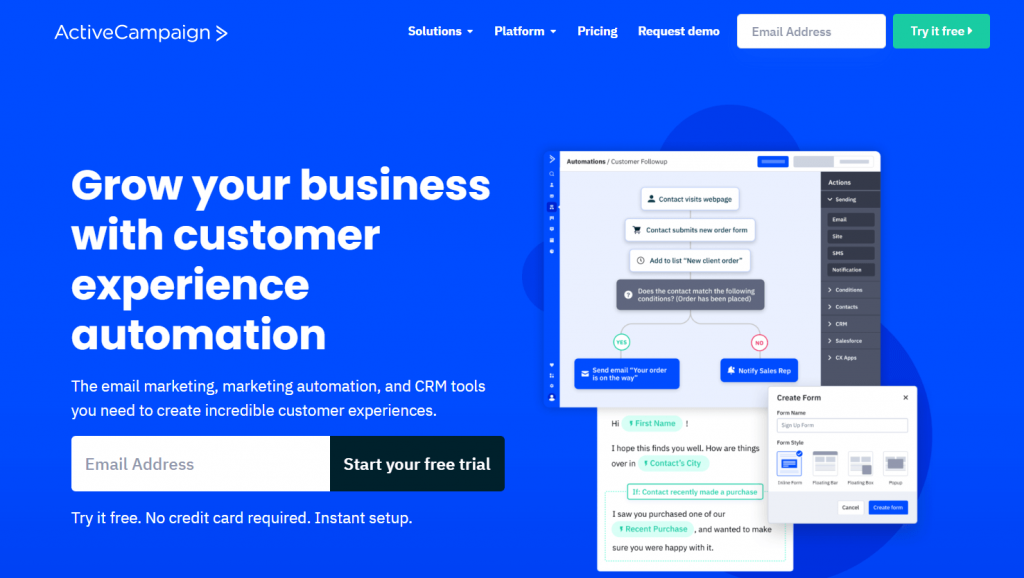 ActiveCampaign is a leading CRM for B2B companies designed to help you deliver memorable customer experiences across different stages. The tool's powerful automation capabilities take care of menial tasks, so you can stay laser-focused on sales. Contact details are automatically updated, and you can instantly view a prospect's history to conduct contextual conversations. ActiveCampaign also integrates with powerful tools like Zendesk and Calendly.
Key Features:
Stay up to date with your customer's journey through a sales pipeline.

Automatically engage with contacts at the right time based on their lead score.

Get data-backed insights into your pipeline and make the right forecasts.

Run A/B tests on your automation workflows and learn what works best for you.

Nurture relationships with prospects through personalized one-to-one emails.
Pros:
Allows you to set lead scoring rules based on parameters like site visits, email opens, and form submissions.

Integrates with several external applications.
Cons:
Glitchy user interface and steep learning curve.

Reporting could use improvement.
Pricing: Starts at $9/month.
3. HubSpot CRM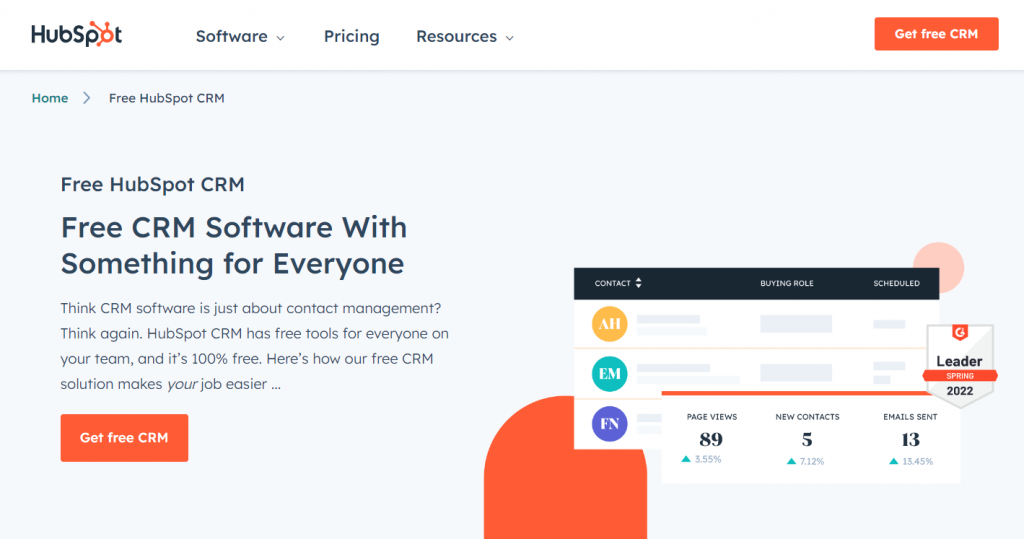 HubSpot CRM is an easy-to-use tool designed for sales leaders and marketers of B2B organizations. The tool allows you to set sales workflows to automate manual tasks like rotating leads and creating tasks. You can also keep a firm track of all emails and take timely follow-ups. What makes HubSpot the best B2B CRM is that it offers important features like reports and pipeline management free of cost.
Key Features:
Target prospects at the right time and date through scheduled emails.

Sort prospects using specific criteria and provide custom views to your sales team.

Get access to a lead's complete history and personalize your sales campaigns.

Customize your sales pipeline using drag and drop editor.

Get detailed insights into individual and team performance.
Pros:
Track and convert leads on the move with HubSpot's mobile app.

Turn repetitive sales emails into templates to fast-track your campaigns.
Cons:
Lacks UI customization options.
Pricing: Starts from $45/month.
4. Salesforce CRM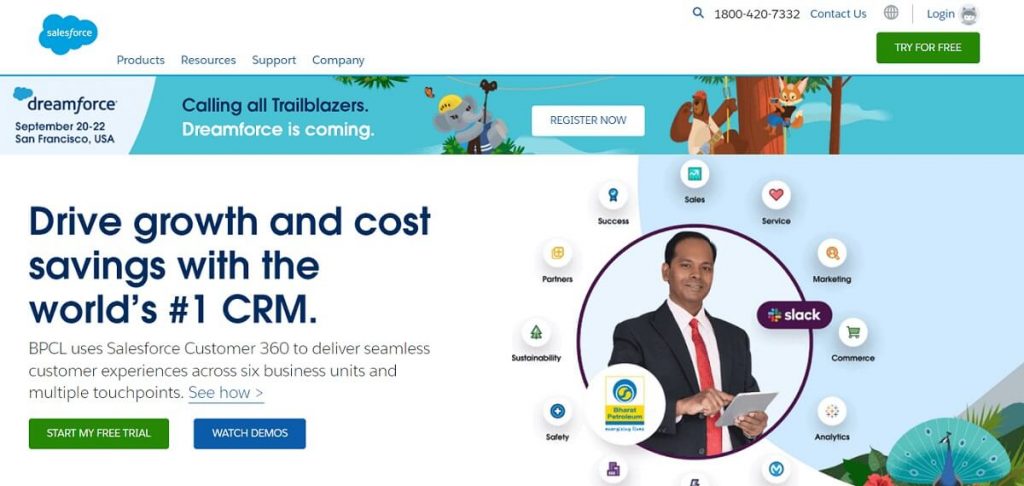 Salesforce CRM is another tool worth your attention in 2022. This CRM goes by the name – Customer 360 and provides a unified view of all your prospects and customers. By providing quick access to your contacts' history, preferences, and interests, the tool helps you conduct contextual conversations and deliver hyper-personalized experiences. You also get multiple pipeline views and customizable reports to keep a firm track of your sales campaigns.
Key Features:
Get access to customers' social media activities to uncover valuable insights.

Customize sales forecasting reports through simple drag and drop.

Set up automatic lead scoring and route qualified leads to the right agents.

Automate workflow processes for different stages of the sales pipeline.

Collaborate on opportunities and stay on top of all activities in a social feed.
Pros:
Engage with prospects on the go with Salesforce's mobile app.

Access engagement metrics and monitor campaigns closely on an interactive and graphical dashboard.
Cons:
Interface gets slow when multiple tabs are opened.

Requires developer support for some functionalities.
Pricing: $25/user/month.
5. Pipedrive CRM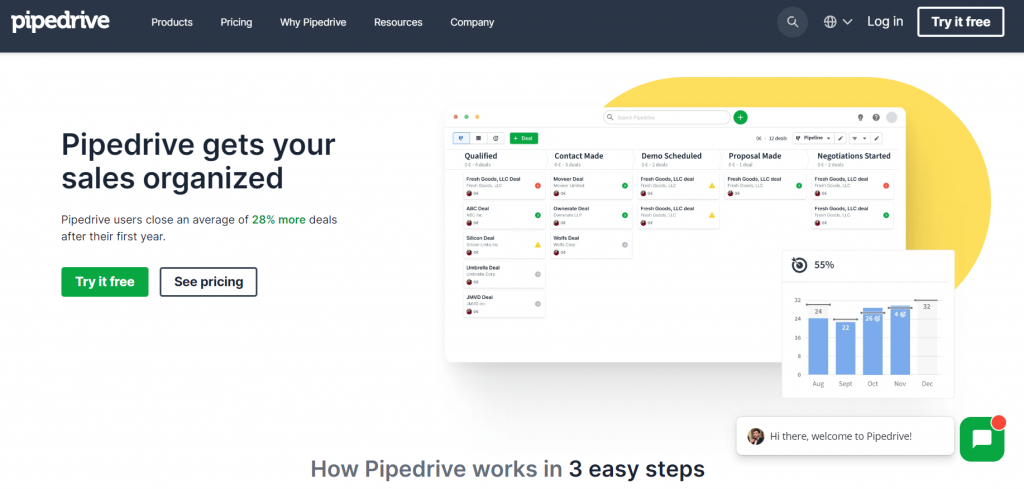 Pipedrive is a popular CRM for B2B companies with robust pipeline management capabilities. The tool allows you to visualize the sales pipeline and update deals through simple drag and drop. You can schedule reminders for critical sales activities and collaborate with teams to close deals faster. The sales pipeline can be customized through custom stages and fields to ensure it matches your sales cycle.
Key Features:
Set triggers to automate your workflow for repetitive tasks.

Get actionable insights into winning patterns and bottlenecks in your sales campaigns.

Get live notifications every time emails are opened, and links are clicked.

Customize sales processes for different stages of a lead's journey.

Easily pull contact data from platforms like LinkedIn, Google, and Twitter.
Pros:
Offers a sales assistant that provides performance tips and progress updates on your sales campaigns.

Connect Pipedrive to your favorite tools and develop custom features using the free API key.
Cons:
Templates for marketing emails lack variety.

The tool can be glitchy and sluggish at times.
Pricing: Starts at $9.90/user/month.
6. Nutshell CRM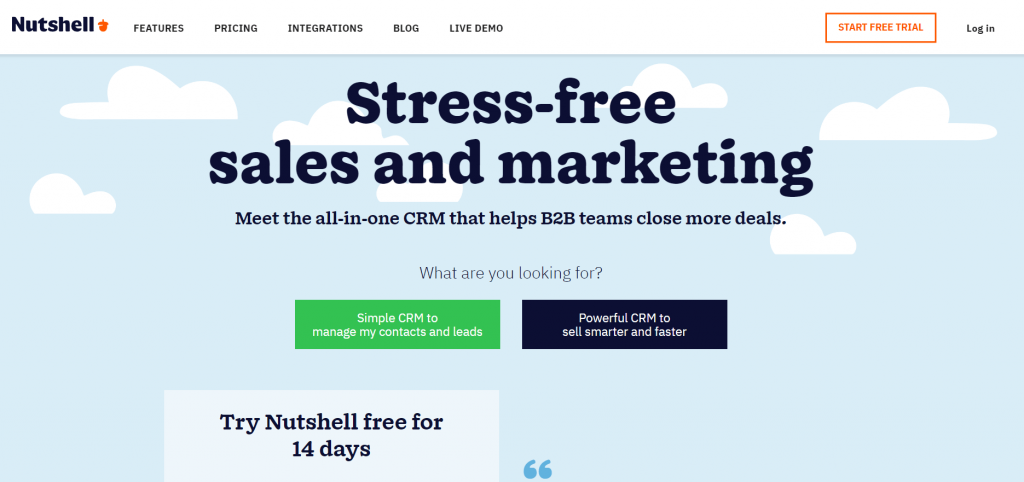 Nutshell is one of the top CRM systems designed to help B2B teams to track, prioritize, and convert leads faster. The software provides a flexible pipeline management system with board, list, and chart views that give a complete picture of your contacts. The tool's personalized email sequences can be automatically triggered to capture the attention of prospects. You also get insightful reports to see how your campaigns are shaping up and identify any potential roadblocks.
Key Features:
Trigger sales sequences and conduct follow-ups automatically.

Drag and drop leads and mark them as won, lost, or canceled.

Tag colleagues in conversations for better collaboration on deals.

Filter reports by product, agent, or lead source to identify successes and failures.

Set automated reminders and help your team complete tasks on time.
Pros:
Import your contacts and emails from any source – Google Contacts, spreadsheets, Salesforce, etc.

Automatically enrich contact records with their social media information.
Cons:
Search delivers inaccurate results at times.

It is difficult to organize multiple documents under customers' profiles.
Pricing: Starts at $16/user/month.
7. Insightly CRM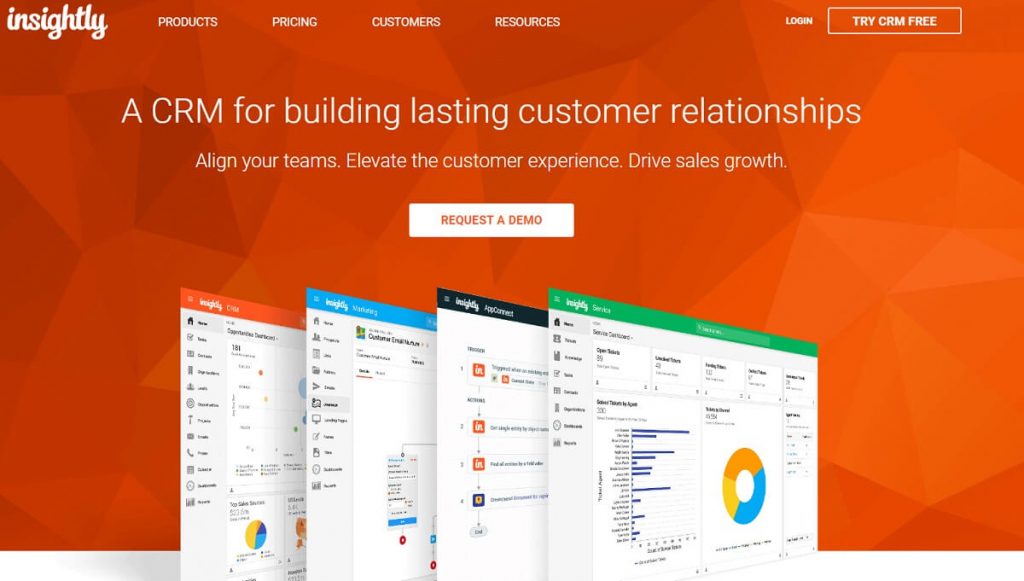 Insightly is a leading CRM tool for B2B relationship management. Simple to set up, this software helps you create unforgettable experiences using features like workflow automation and lead routing. Using business intelligence, Insightly allows you to unearth useful insights and track the progress of your sales goals. This easy-to-use tool comes with a drag-and-drop interface to help you customize dashboards and workflows.
Key Features:
Create data visualizations to track progress and gain useful sales insights.

Route leads automatically to your sales reps for quick follow-ups.

Customize views and sales workflows to match your unique business needs.

Track all marketing activities through a rich activity timeline.

Send bulk emails to your contacts and track their open and click rates.
Pros:
Manage campaigns on the go with the tool's Android and iOS-friendly mobile app.

Build and deploy custom apps for your teams on the Insightly platform.
Cons:
Customer support and help documentation could be improved.

Uploading contacts is a little slow when done in bulk.
Pricing: Starts at $29/user/month.
8. Zoho CRM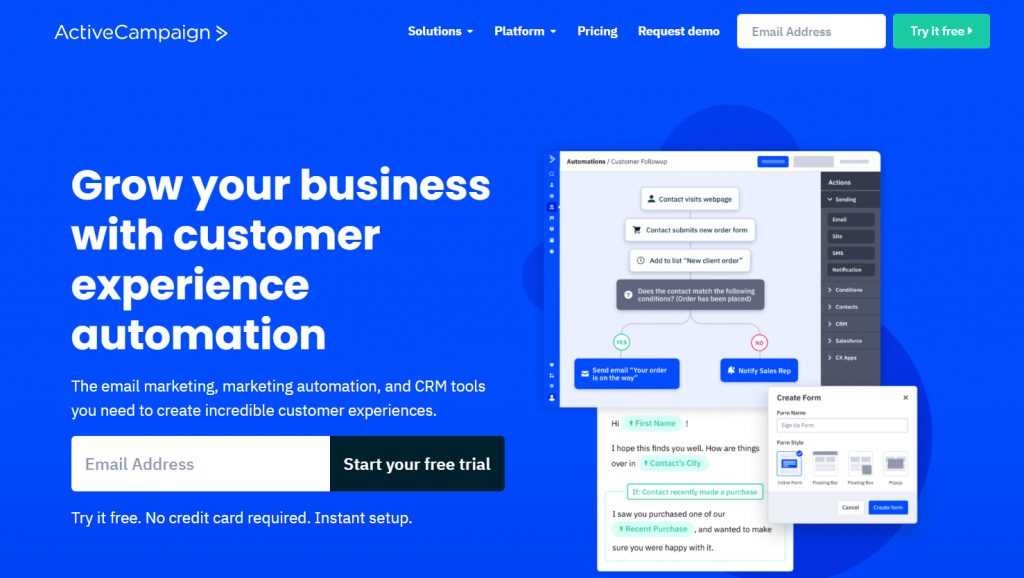 Zoho CRM has emerged as the front runner in the enterprise CRM market, thanks to its robust automation, advanced personalization, and analytics. What makes this software one of the best marketing CRM is its powerful integrations with over 500 third-party tools that help you explore the full potential of Zoho. It is a pretty simple tool using which you can manage deals as they pass through the sales cycle and close them faster.
Key Features:
Generate actionable reports to measure your sales campaigns' performance in real-time.

Automate repetitive processes so your team can focus on building relationships.

Respond to @mentions, send emails, and engage via live chat – all from one single platform.

Record meetings with customers and keep your teams informed.

Segment your contacts into buckets based on predefined criteria.
Pros:
The tool works well with help desk software like Zendesk and Zoho Desk, allowing sales and support teams to deliver a consistent experience.

Zoho's AI assistant – Zia, suggests the best time to call customers to ensure that your efforts don't go waste.
Cons:
Steep learning curve.

Telephony integrations could use improvement.
Pricing: Starts at $10/user/month.
9. Freshworks CRM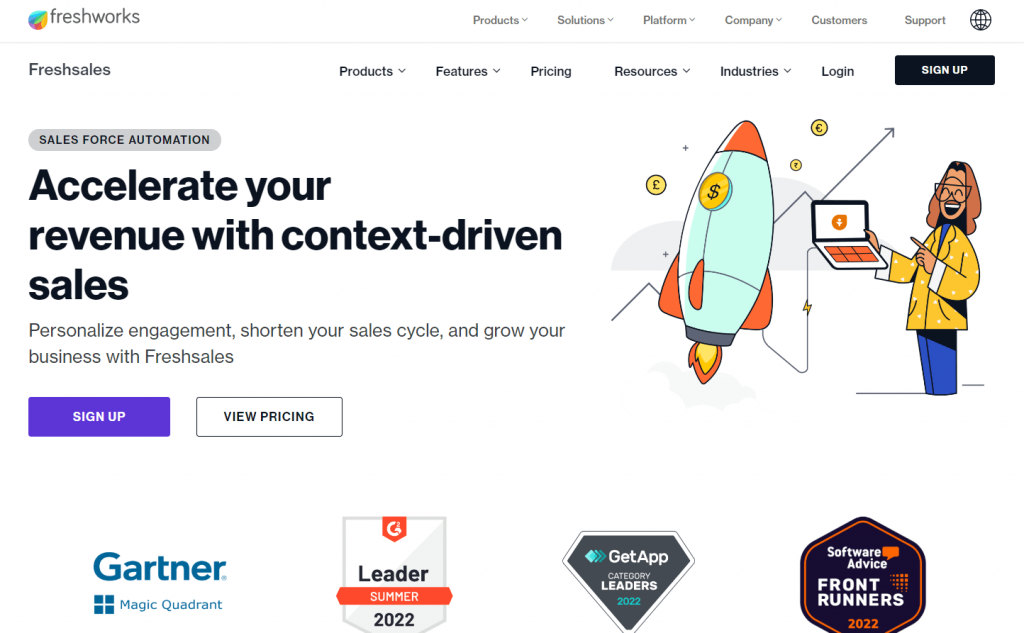 Freshworks CRM is a popular tool for B2B customer relationship management. It gives a 360° view of your customers so that you have all the context you need to deliver personalized experiences. Using this tool, you can automate mundane tasks, so there is more time to focus on things that really matter. Freshworks's integration with Slack enables teams to work together on deals and conversions.
Key Features:
View and manage customer data in the language of your choice.

Focus on high-value deals with predictive contact scoring.

Regulate data access by setting roles and permissions for your team members.

Automatically enrich contact profiles with their social media information.

Set conditional triggers to automate repetitive tasks.
Pros:
Find the best deals and get accurate suggestions with the tool's AI assistant – Freddy.

Build multiple sales pipelines with unique stages that match your sales cycle.
Cons:
Limited custom fields to capture additional information.

The tool slows down when working with a lot of data.
Pricing: Starts at $12/user/month.
10. Copper CRM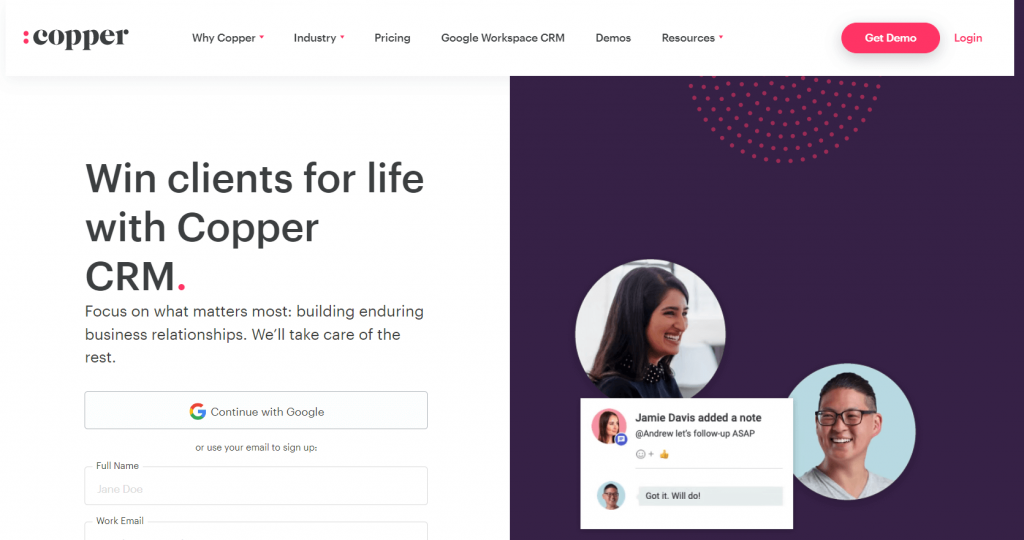 Copper CRM is another B2B CRM software notable for its Google Workspace integration. Whether it's Gmail, Calendar, or your Google Drive, you never have to switch tabs to add and manage contacts. The tool provides a complete history of all contacts, so you have all the details needed to carry out contextual conversations. You also get a live activity feed that keeps you updated with every minute detail of your contacts.
Key Features:
Add tags to group contacts into different categories.

Get real-time alerts and notifications on leads that need your attention.

Monitor when a hot lead opens your email and send timely follow-ups.

Automate tedious tasks with a sales workflow.

Build multiple pipelines to track prospects and never miss out on deals.
Pros:
Provides a built-in project management tool to help your team collaborate on deals and build customer relationships.

Nurture leads and take them down the sales funnel with Copper's user-friendly mobile app.
Cons:
Doesn't provide click-to-call functionality.

Not the best choice for companies that do not use Google Workspace extensively.
Pricing: Starts at $25/user/month.
11. Salesflare CRM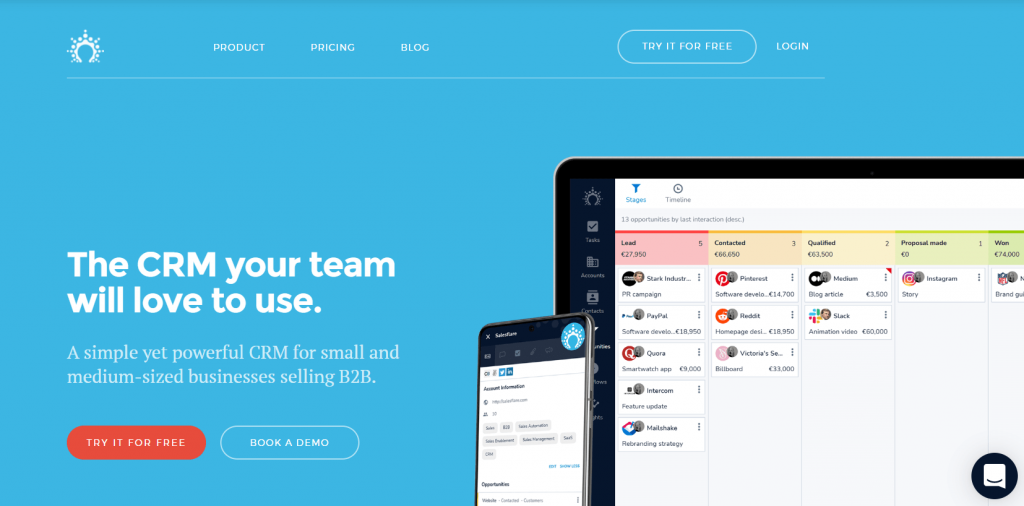 Salesflare is a powerful CRM for B2B designed for small and medium-sized businesses. This tool can automatically source contact data from emails and social profiles and add it to your database. As Salesflare connects seamlessly with your Calendar and mobile phones, it logs your meetings and phone calls with contacts, saving you tons of time. By giving you a smart overview of all your opportunities, the tool helps you take necessary actions on time.
Key Features:
Drag and drop leads in the sales pipeline depending on their stages.

Prioritize prospects based on the lead scores and send personalized follow-ups.

Automatically gather contact information from social profiles.

Set roles and permissions to control the data your team can access.

Track when prospects open and click on your emails.
Pros:
Get real-time notifications about deals and manage them on the go with Salesflare's mobile app.

You can get both revenue and team performance insights through its built-in reports.
Cons:
Speed can be a bit slow at times.

User interface has room for improvement.
Pricing: Starts at $29/user/month.
12. Less Annoying CRM

If you are a small business looking for a fuss-free CRM solution, then Less Annoying CRM is a good bet. With the help of this tool, you can put a full stop to your never-ending chase for customers and focus on building B2B relationships. The tool helps you create custom pipelines to manage deals and get full visibility into where a relationship stands. Less Annoying CRM is fully customizable and offers you the flexibility to manage contacts just the way you want.
Key Features:
Track notes, tasks, and pipelines from one single screen.

Sync with Google Calendar and easily schedule your events and tasks.

Get updated details of all leads, including their status, priority, and contact info.

Set custom fields to gather contact information and keep your database organized.

Control which users can access what in your CRM.
Pros:
Get an offline spreadsheet copy of your data with a one-click export option.

The tool takes full responsibility for data security, software updates, and backups.
Cons:
Lacks a mobile app for on-the-go contact management.

Basic reporting features.
Pricing: Starts at $15/user/month.
13. Microsoft Dynamics 365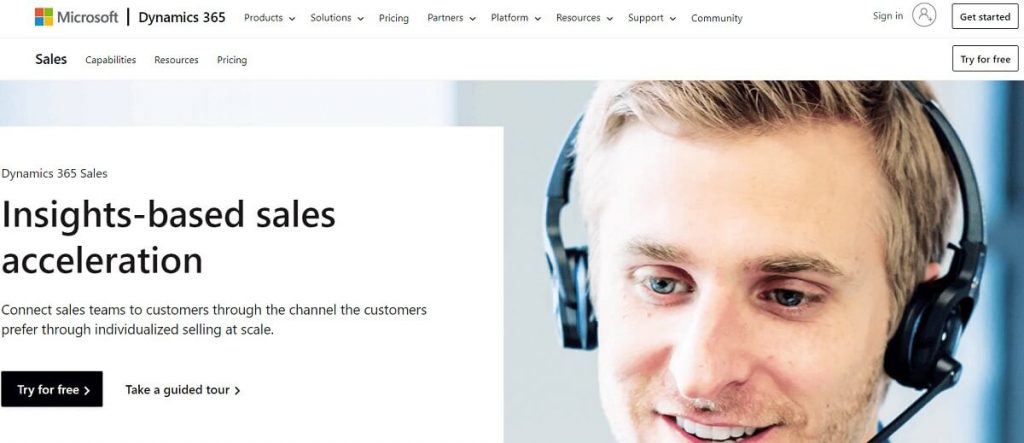 Microsoft Dynamics CRM is another b2b customer relationship management tool designed to help you optimize and convert opportunities. You can use it to target customers strategically across channels and carry out contextual conversations that strike the right chords. The tool provides AI-powered suggestions for your next actions, keeping you hyper-focused on high-value opportunities. Moreover, you also get a high-level overview of all customer conversations that aid your relationship management efforts.
Key Features:
Build a strong and contextual pipeline with a sales accelerator.

Get in-the-moment insights into customer calls and manage your relationships efficiently.

Improve workflow efficiency by collaborating with all relevant stakeholders.

View the right deals with the right context in the deal manager workspace.

Trigger key actions to seamlessly manage your sales activities.
Pros:
Prioritize leads using lead scoring models.

Build custom dashboards that display the right data and help you sell faster.
Cons:
Steep learning curve due to complex functionalities.

Sometimes, small changes can require expert assistance.
Pricing: Starts at $1500/tenant/month.
14. Monday.com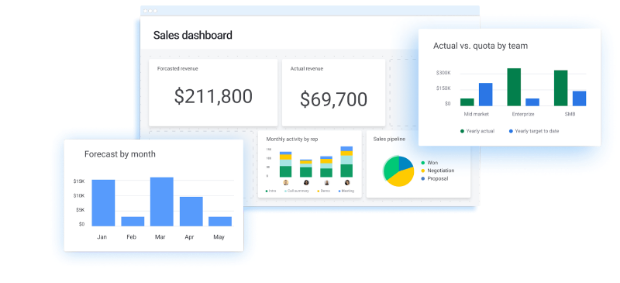 Monday.com offers a simple CRM platform with customizable dashboards and power-packed integrations. It provides complete visibility into your sales pipeline, along with the capability to edit stages and add extra columns. You also get to automate tedious tasks like assigning leads to reps and setting reminders. The best part is you don't need development's assistance to set it up. The tool is pretty simple to install and can help you in all stages, from pre-sale to post-sale.
Key Features:
Sync the tool with Gmail or Outlook to automatically log emails in your CRM.

Get real-time notifications every time a lead opens or replies to an email.

Build custom dashboards to access deal progress and team performance instantly.

Integrate with your favorite tools to centralize your team's work.

Quickly import data from Excel or through API.
Pros:
Get instant alerts for duplicate lead entries.

No-code automation that takes care of all your manual work.
Cons:
Automations are restricted to a specific number of actions.

Android application gets slow when working with lots of data.
Pricing: Starts at $10/seat/month.
15. Nimble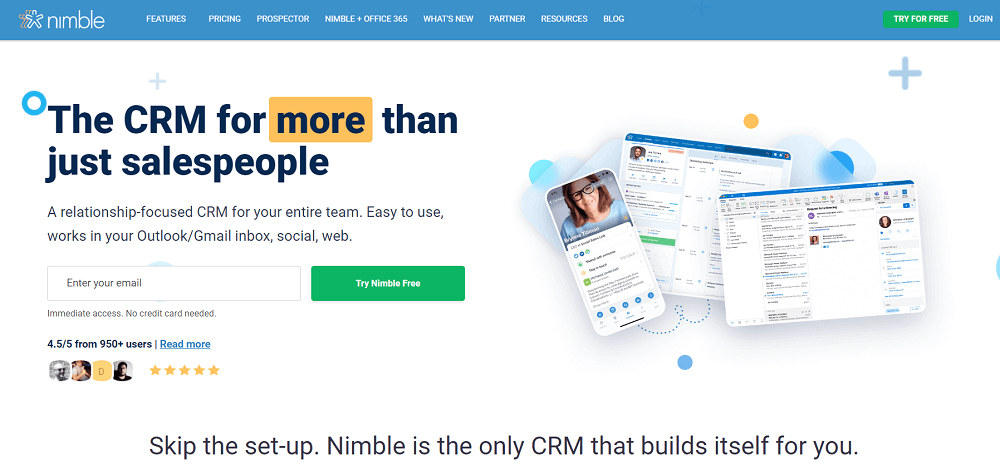 Nimble is a relationship-focused CRM for B2B that works seamlessly in your Outlook and Gmail. The tool automatically syncs tasks and events with deals, keeping your team always up to date. You can bring in contact data from over 160 apps on one single platform and segment them into specific lists. You also get a table of scheduled and completed activities to keep your team on top of all important tasks.
Key Features:
Get a 360° view of all your leads, including their social handles and deal status.

Get a complete picture of your upcoming events and meetings with a built-in calendar.

Manage your pipeline, tasks, and appointments on one single dashboard.

Enrich your database by automatically adding social profile links of your contacts.

Get insights into projected and historical revenue to identify opportunities that need your attention.
Pros:
Access contact information on the go with Nimble's mobile app.

Offers 100+ integrations to boost your marketing and sales efforts.
Cons:
User interface is a bit tricky for new users.

Some email templates seem outdated and can be improved.
Pricing: Starts from $19/user/month.
Pivot Your B2B Business Towards a Brighter Future
The life of a B2B business is replete with challenges – long-drawn sales processes, less control over the sales journeys, and a tough time building lasting customer relationships. Add to this the tough competition existing in the B2B world, and you have the perfect recipe that guarantees failure. Adding the right CRM tool to your tech stack can offer some ray of hope. Many CRM software for small business are designed to bring more transparency in your sales process and give your team all the data they need to sell successfully. The tools listed in this blog are evaluated thoroughly so you can make an intelligent decision. Compare the tools on their features and pricing, and shortlist the ones that you think are worth considering. If ease of use, along with robust features and affordable pricing, is what you want, BIGContacts can be an excellent choice. If you are looking for a customizable and fuss-free tool, Less Annoying CRM can be a remarkable option.
Do you want to make more sales?
BIGContacts is the #1 contact management software & CRM to close more sales.