CRM tools have become indispensable for businesses across industries. A testament to this is the projected growth of the CRM global market revenue, which is expected to reach 49.6 billion USD by 2025. While this has resulted in plenty of up-and-coming CRM options, not every one of these will be the right choice for your business.
Quite a conundrum, isn't it? An easy way out is to opt for a customizable CRM! Various attributes of such a tool can be adjusted to match the specific needs of your organization, so you can make effective utilization of the software. Misalignment between your needs and your tech stack can hamper productivity and put your profitability at risk. This is why we have put together this comprehensive comparison guide of the 8 best custom CRM software available on the market to help you make the right decision.
In a Nutshell
Customizable CRM options offer a wide variety of customization options that help you adapt the tool according to the unique needs of your business.

Such tools can contribute to enhanced customer relationships as well as employee satisfaction.

Since every business has its own expectations and requirements from its tech stack, it is better to go for a tool that is easy to customize.

Some of the best customizable CRM options that can work well for your business are compared below.

Find the features, pricing, pros, and cons of these customized CRM solutions to make an informed decision.
What Is a Customizable CRM?
The term customizable CRM includes customer relationship management applications that can be easily adapted according to individual needs. Various modules and features of such applications can be modified to align with the user requirements. These include-
Pipeline stages

Data fields

Access roles & visibility permissions

Automated workflows

Templates

Reports

& dashboards

Integrations with other business applications
And much more. Customizable CRM software will work according to your needs and not the other way around. Such a tool will suit the unique processes of your organization, so you can make the most out of its deployment.
Comparison Chart of the 8 Best Customizable CRM
| | Custom Fields | Customizable Templates | Automated workflows | Pricing | Free Trial |
| --- | --- | --- | --- | --- | --- |
| BIGContacts | ✓ | ✓ | ✓ | Starts from $5/user/month | 15 days |
| Zoho CRM | ✓ | ✓ | ✓ | Starts from $15/user/month | 15 days |
| Apptivo | ✓ | ✓ | ✓ | Starts from $8/user/month | 30 days |
| Nutshell | ✓ | ✓ | ✓ | Starts from $16/user/month | 14 days |
| Bitrix24 | ✓ | ✓ | ✓ | Starts from $46/month | 30 days |
| Close | ✓ | ✓ | ✓ | Starts from $25/user/month | 14 days |
| Pipedrive | ✓ | ✓ | ✓ | Starts from $9.90/user/month | 14 days |
| Zendesk Sell | ✓ | ✓ | ✓ | Starts from $19/user/month | 14 days |
8 Best Customizable CRM Software
Let's take a look at the 8 most customizable CRM options and the functionality they offer.
1.
BIGContacts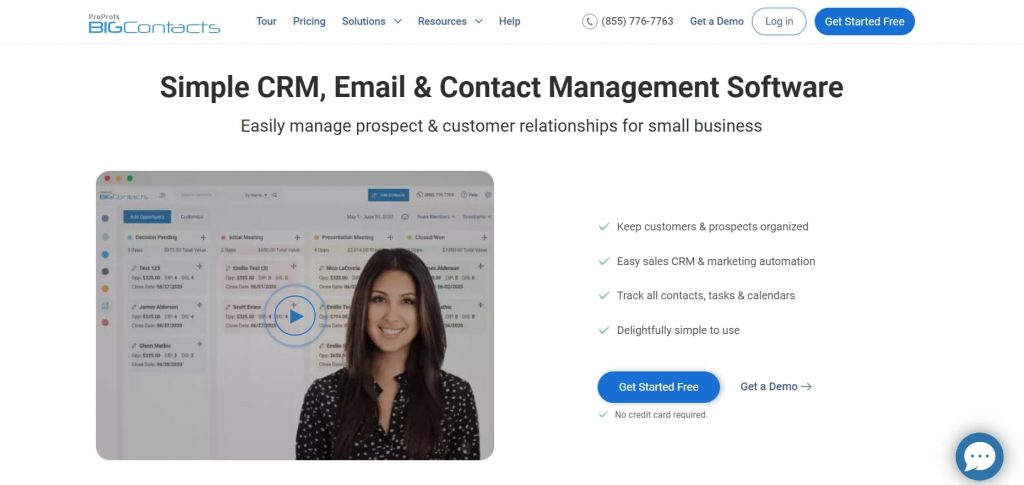 For businesses that need a flexible and intuitive CRM tool, BIGContacts is a second-to-none solution. This easy-to-use CRM is an effective choice for small to medium businesses and startups with dynamic needs. The tool offers features such as contact management, pipeline tracking, task & workflow automation, business analytics, etc., which add up to exceptionally cohesive customer experiences.
Key Features:
Customize the stages of the sales pipeline to track leads efficiently

Modify user roles and permissions based on your organizational hierarchy

Set up automated workflows with custom triggers, recurring tasks, alerts, etc.

Maintain detailed contact records with custom fields to store the most relevant information

Choose from pre-built reports or create custom reports using advanced filtering options
Pros:
Work from any device using the mobile version of BIGContacts

Delightful customer support and extensive training resources are available
Cons:
Lacks AI-based lead scoring and routing

The loading speed can drop at times
Pricing:
Big- $5/user/month

Bigger- $15/user/month

Biggest- $25/user/month

Enterprise- Custom pricing
2. Zoho CRM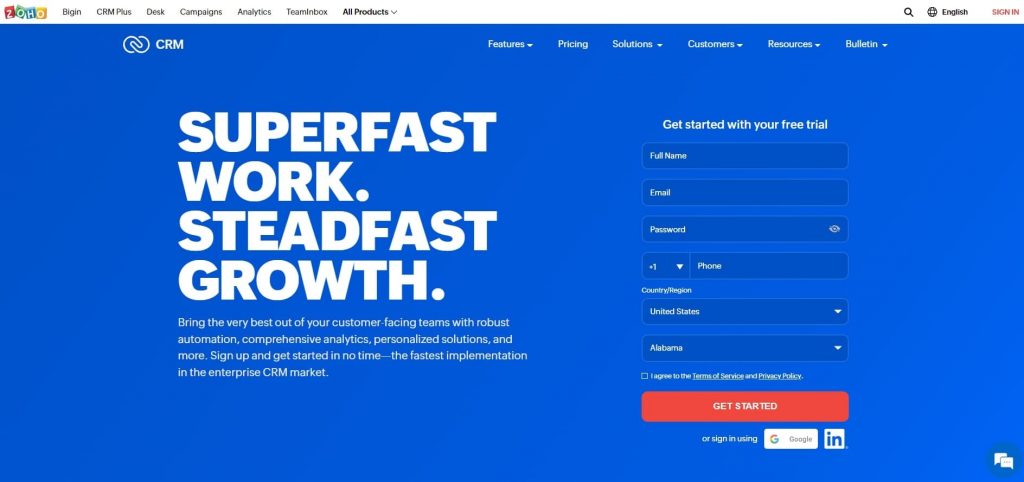 Zoho CRM ranks high on the customization scale. The tool offers custom layouts, fields, and views, so you can adapt them according to your organization's specific needs. It lets you manage leads, automate workflows, and forecast sales. You can also use it to orchestrate personalized customer journeys that yield an increase in your business's bottom line.
Key Features:
Use advanced filters to create custom views according to your needs

Create unique page layouts for multiple processes

Customize data validation rules and business functions

Craft automated marketing and sales workflows

Build reporting dashboards that display the most relevant data
Pros:
Duplicate custom settings from one CRM account to another

The tool offers an AI-powered assistant
Cons:
Customer support is not highly responsive

Customizing email templates can be difficult
Pricing:
Free plan available

Plans start from $15/user/month
3. Apptivo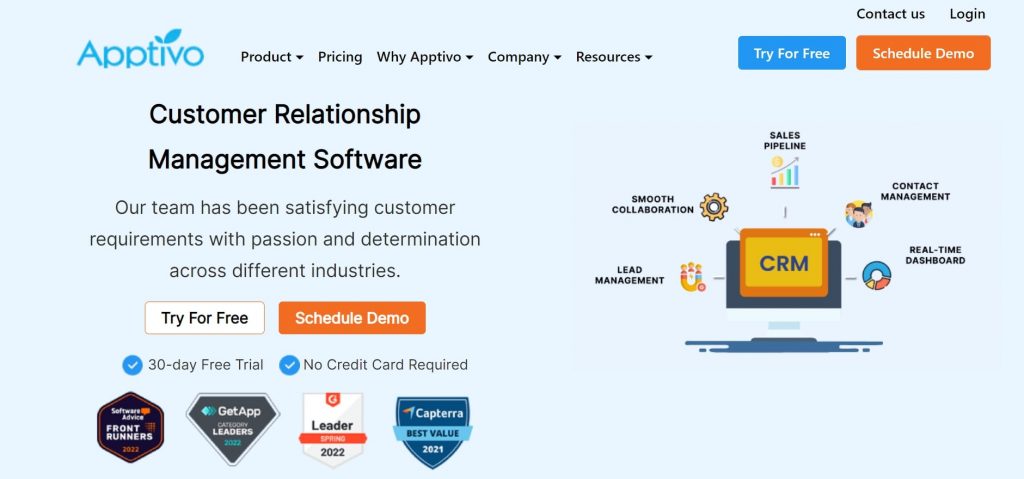 Apptivo is a powerful CRM with sales automation capabilities. You can customize various modules of this solution to align them with your business processes and objectives. Apptivo offers lead management, deal tracking, pipeline management, and performance reporting features. The CRM solution keeps your data centralized and easily accessible, contributing to stronger customer relationships.
Key Features:
Customize views and layouts based on your requirements

Create automated email sequences to enhance engagement

Include custom fields in your contact records

Track opportunities using a visual pipeline

Build dashboards and forecast reports that suit the exact needs of your organization
Pros:
Make configurations to the system with a simple drag-and-drop interface

Integrate the tool with a number of business applications, including G Suite and Office 365
Cons:
Set-up can be slow and challenging

The interface can be difficult to navigate initially
Pricing:
Starts from $8/user/month
4.
Nutshell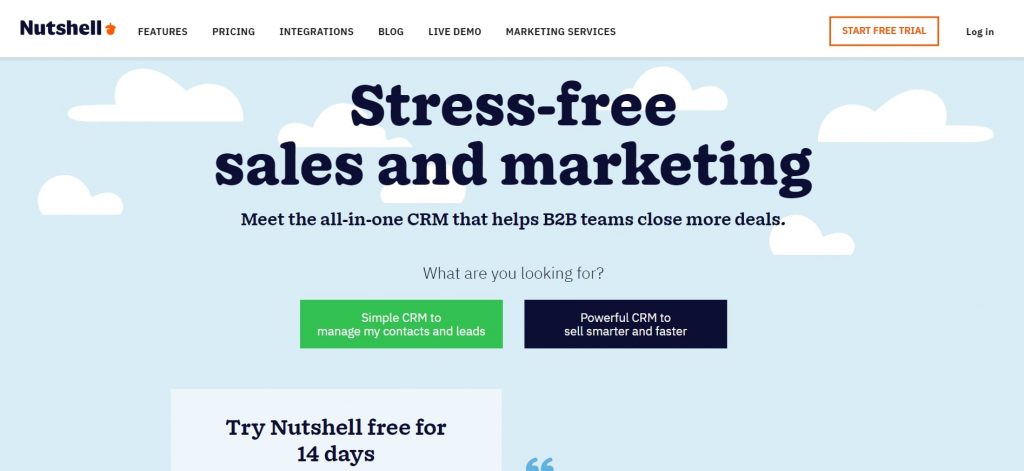 Nutshell is a feature-packed CRM solution that brings sales, marketing, and support teams together. The platform is highly customizable, so you can easily adapt it according to the processes that you already have in place. Nutshell offers powerful contact management, pipeline tracking, and automation capabilities to strengthen your relationships with customers.
Key Features:
Choose from different pipeline views such as list, map, chart, and board

Create an automated sales workflow to enhance your organizational efficiency

Customize marketing emails to make them more engaging and personalized

Create custom webforms and embed them on your website to improve lead generation

Generate and download reports that present the most relevant business metrics
Pros:
Create segmented lead lists to improve targeting

Drag and drop deals to keep their status updated
Cons:
The interface of the mobile app needs improvement

Requires more advanced deduplication features
Pricing:
Starts from $16/user/month
5.
Bitrix24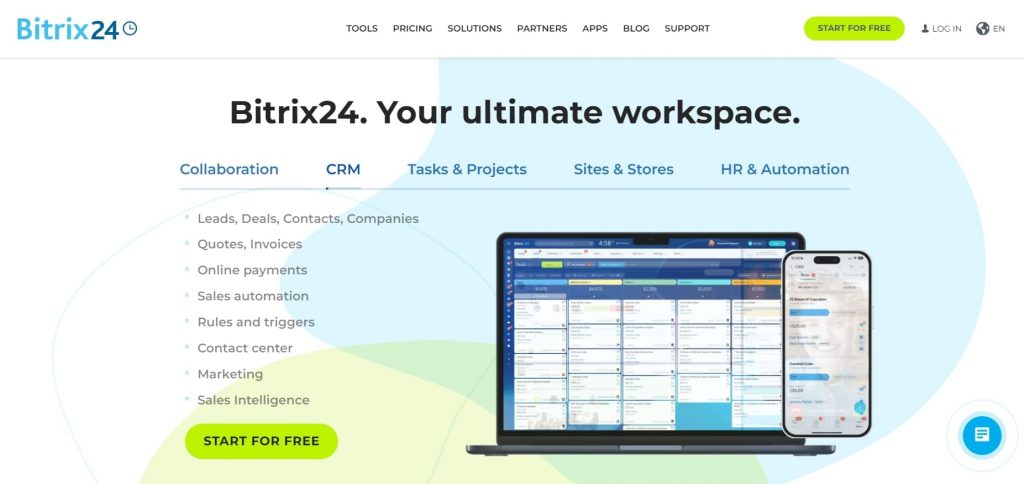 Bitrix24 is a comprehensive and customizable CRM solution that lets you manage a multitude of business processes from a single place. Use it to create automated workflows, run marketing campaigns, and track communication history for contacts. Bitrix24 is also a reliable solution for real-time sales management, performance analysis, and project tracking.
Key Features:
Define custom rules and triggers for business workflows

Set up a unique sales pipeline that matches your existing sales cycle

Segment contacts into lists and run targeted email campaigns

Generate detailed reports to analyze the effectiveness of different business processes

Use custom web forms to capture leads and add them to your CRM database automatically
Pros:
Manage deals using a simple drag-and-drop interface

View essential business information remotely with the mobile application
Cons:
Customer support response times are high

Scheduling automated notifications is challenging
Pricing:
Free plan available

Starts from $46/month
6.
Close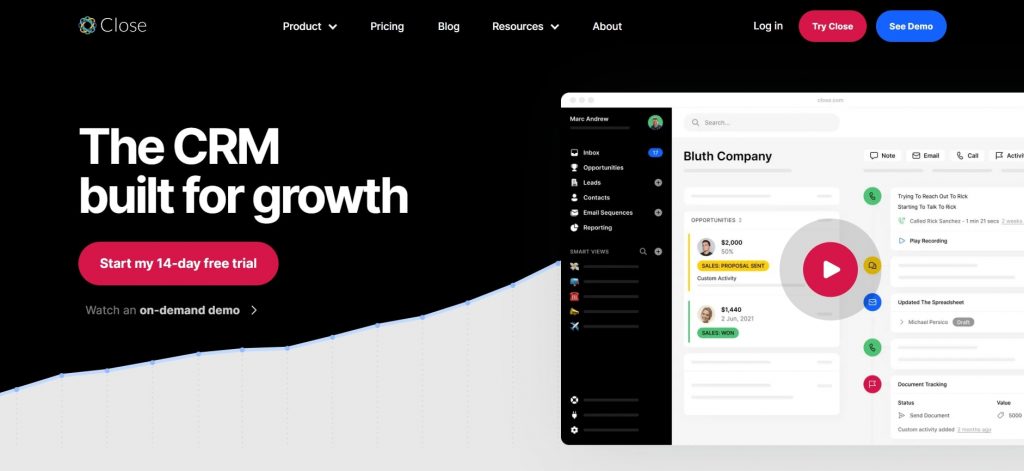 Close CRM is a powerful solution for increasing sales and enhancing business profitability. It offers a customizable pipeline view that lets you manage deals efficiently. You can also use it to craft custom email sequences that drive better engagement for your customers. Close also lets you create custom smart views by filtering data.
Key Features:
Create automated call and email sequences and integrate them into your workflow

Build sales pipelines to track available opportunities with ease

Use custom fields for storing contact data

Set up email templates and save them with your team for future reference

Generate reports that track the most important business performance metrics
Pros:
Define custom user roles and permissions for team members

Prioritize leads based on the most appropriate metrics
Cons:
The interface needs simpler navigation

More detailed and specialized reports are required
Pricing:
Starts from $25/user/month
7. Pipedrive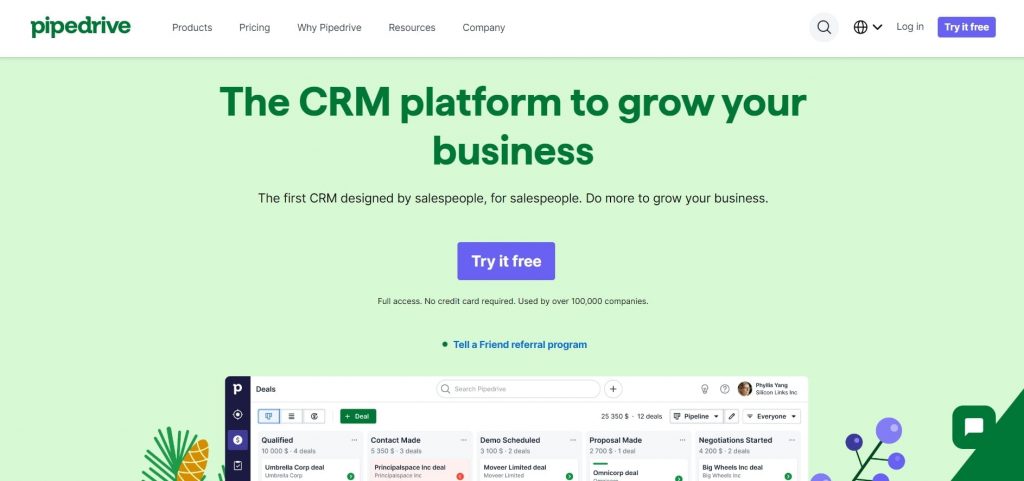 If you need a CRM solution that lets you create and manage a number of sales pipelines, Pipedrive is a highly effective choice. The platform will allow you to grow your business by automating sales processes and administrative tasks. It also lets you visualize performance with reports, make accurate forecasts, and access important business data remotely.
Key Features:
Include custom fields in pipelines and manage leads with a drag-and-drop interface

Create custom reports to monitor important business functions

Use advanced filters and grouping options to keep data well-organized

Build segmented lead lists and personalize engagement accordingly

Save time with customizable email templates
Pros:
Set up automated reminders for tasks and events

Automatically populate contact records with data from online sources like LinkedIn
Cons:
Limited training and help resources are available

Lacks advanced reporting capabilities
Pricing:
Starts from $9.90/user/month
8.
Zendesk Sell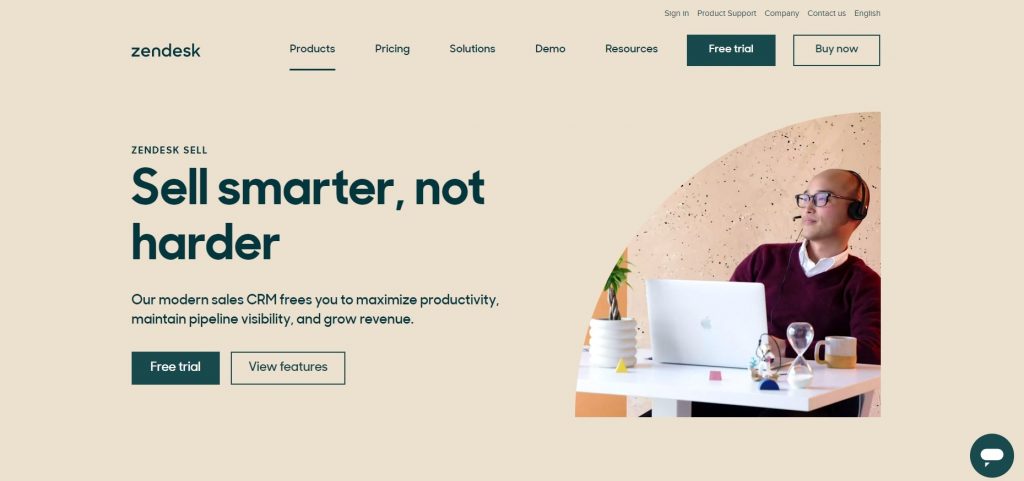 Zendesk offers a sales CRM tool that is customizable to a great extent. Zendesk Sell can help you manage your pipeline efficiently, enabling you to increase your revenue growth. The application offers contact management, activity tracking, and forecasting capabilities. You can use Zendesk Sell to access relevant business data from anywhere and personalize experiences for customers.
Key Features:
Build a custom sales pipeline for lead management

Create custom sales reports to track relevant metrics

Set up automated tasks and triggers to improve productivity

Define custom objects and relationships

Craft personalized dashboards with drag-and-drop widgets
Pros:
Integrate with your existing solutions or build apps using Zendesk frameworks

Stay on top of business data from anywhere with the mobile app
Cons:
Custom views and settings cannot be duplicated for another user

Customer support is ineffective
Pricing:
Starts from $19/user/month
Keep Business Processes on Track With the Best Customizable CRM
Any business process can only be perfected if you have the right tools at your disposal, and CRM is no different. With every business differing in needs, customization becomes a critical part of CRM selection. This list of the 8 best customizable CRM will allow you to find a tool that works effectively for your exact needs. All of these CRM options can be easily redefined according to your needs, keeping your workflows efficient and your business profitability high. However, you must also ensure that you only opt for scalable tools like BIGContacts that can keep up with the dynamic needs of your organization. This will save you from the hassle of looking for a new solution every time your business makes some strides.
Do you want to make more sales?
BIGContacts is the #1 contact management software & CRM to close more sales.