Bringing in high-quality leads is a challenging business process. However, your work is far from being over when you get access to these leads.
More often than not, marketing leads do not have the adequate information to make the final purchase decision. If not provided with relevant information at the right time, these leads are likely to fall through the cracks, leading to your time and efforts being wasted. This is where lead nurturing software can be of advantage. Such tools ensure that the leads you acquire are converted into closed deals, leading to an enhancement of your bottom line.
In this blog, we compare the 12 best lead nurturing solutions that can help marketing teams zero in on the best prospects and convert them into loyal customers.
What is Lead Nurturing Software?
Lead nurturing software help engages with leads based on their position in the sales cycle with relevant supporting content, enabling you to convert them into customers. Lead nurturing helps communicate with prospects using targeted interactions, resulting in improved sales outcomes.
An effective lead nurturing system automatically delivers relevant information to leads based on their source, current stage, and preferences. It empowers you to build stronger relationships with your prospects and earn a credible position in the marketplace.
A lead nurturing tool makes it easy to align your marketing content with the customer journey. This ensures that you focus on the right leads and prevent the loss of important opportunities. With lead nurturing, you can not only move leads from one stage of the sales funnel to the next but also create a loyal customer base for your business.
Understand the Benefits of Lead Nurturing Software
80% of leads never make it to the purchase decision stage.
The cause- ineffective nurturing.
While most marketers put significant effort into generating leads, they ignore nurturing them effectively. Lead nurturing involves delivering tailored content to leads to support them in the buyer's journey. It helps strengthen the relationships between the enterprise and the leads.
Here are some of the most significant benefits that lead nurturing software has to offer:
Convert incoming leads into ready-to-purchase prospects.

Manage sales opportunities

effectively to enhance the conversion rates.

Nurtured leads have a

47%

higher average order value than non-nurtured leads.

Understand your prospects' needs and deliver appropriate solutions.

Include multiple touchpoints and channels in the nurturing plan, helping you reach prospects when and how they prefer.

Segment

contacts into distinct categories to enhance targeting.

Retarget previous visitors through multiple channels, including email and social media.

With the

lead nurturing automation

capabilities of such a tool, you can eliminate the need to perform repetitive tasks manually.
A Quick Look at the Best Lead Nurturing Software
Software
Key Features
Pricing (Starts from)
BIGContacts
1.Pipeline management
2. Automated follow-ups
3. Reporting & analytics

$5/user/month
HubSpot
1. Pipeline management
2. Automated profile enrichment
3. Email marketing


$45/month
Salesforce
1. Marketing automation
2. Pipeline management
3. AI-powered insights


$25/user/month


Zoho CRM


1. Marketing automation
2. Customer segmentation
3. Sales prediction

$14/user/month
Pipedrive
1. Custom pipelines
2. Activity reminders
3. Sales forecasting


$12.50/user/month


Freshsales
1. AI-powered insights
2. Automated sequences
3.In-depth analytics

$15/user/month


Insightly
1. Workflow automation
2. Lead routing
3. Custom dashboards


$29/user/month


Bitrix24
1. Sales automation
2. Webform connection
3. Custom pipeline


$39/month
Copper
1. G Suite integration
2. Automated tasks
3. Pipeline tracking


$25/user/month
EngageBay
1. Lead scoring
2. Email sequences
3. Appointment Scheduling

$11.99/user/month


Nutshell
1. Email templates
2. Marketing automation
3. Reporting & analytics


$20/user/month
Keap
1. Marketing automation
2. Pipeline management
3. Appointment scheduling

$59/month


12 Best Lead Nurturing Software of 2023
Studies show that 73% of leads that your marketing team brings in are not sales-ready.
These leads have certain questions and inhibitions that must be addressed for them to move forward in the sales funnel. This requires an effective software that makes it easy to connect with leads and deliver relevant content that encourages them to convert.
Here is a detailed analysis of the 12 best lead nurturing tools that you can choose for your organization.
1. BIGContacts
BIGContacts CRM offers powerful lead nurturing by making it easy to track preferences and utilize them to craft personalized experiences. It empowers you to craft automated drip email campaigns using contact actions as triggers to keep leads moving in the right direction. The lead nurturing software also provides pipeline tracking so you can stay updated with where the prospects currently stand in the sales cycle.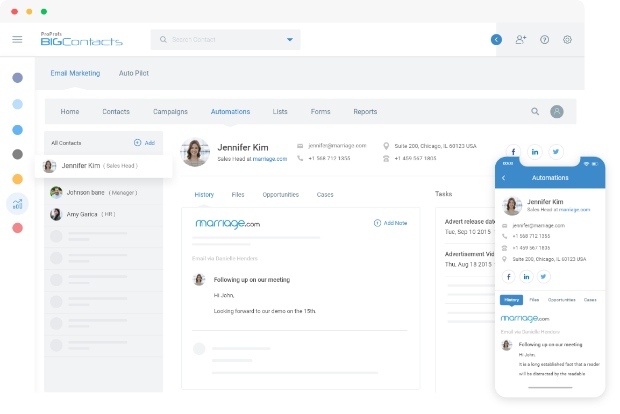 Key features:
Automate email sequences and align them with your buyer's journey.

Track leads easily with a visual sales pipeline, including custom stages.

Analyze performance with intelligent reports.

Personalize email campaigns with the help of contact records automatically enriched with social media accounts.

Track previous touches, notes, and upcoming tasks for all prospects and customers in one place.
Pricing:
Big- $5/user/month

Bigger- $15/user/month

Biggest- $25/user/month

Enterprise- Custom pricing
Pros:
Delightful customer support and effective help resources are available.

Access essential information on the go with the mobile version that automatically adjusts according to your device.
Cons:
It lacks AI-powered lead-scoring features.

Better deduplication functionality is required.
2. HubSpot
HubSpot, a leading marketing solution, can significantly enhance your lead nurturing efforts. It allows you to leverage contact data to create hyper-personalized experiences, which in turn boosts your conversion rate. Track the engagement of your nurturing campaigns with reports. HubSpot allows you to automate routine tasks and save email templates for future use.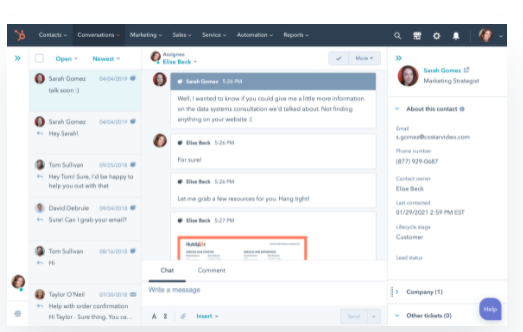 Key features:
Gather more leads for your business with web forms, live chat, and landing pages.

Use the drag-and-drop editor to customize your emails.

Keeps deals organized with a visual sales pipeline.

All the interactions with prospects, including calls, emails, meetings, etc., are logged automatically.

Get instant notifications for lead actions such as opening emails.
Pricing:
Free version available
Starts from $45/month
Pros:
Automatically enrich contact records.

Use bulk emails to nurture prospects.
Cons:
The pricing structure of the tool is very steep.

It lacks in-depth reports and A/B testing.
3. Salesforce
Salesforce offers a 360° view of all leads so that you can craft relevant nurturing campaigns with ease. It empowers you to view all leads in your pipeline and nurture them into customers using personalized engagement. Salesforce offers real-time updates, so you remain aware of where the leads stand in your sales process.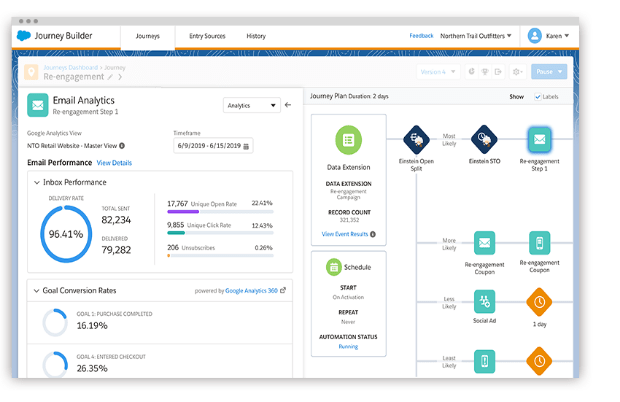 Key features:
Create custom workflow automation using a drag and drop interface.

Manage marketing campaigns across channels from a single platform.

Keep the statuses of deals updated at all times with mobile access.

Track the performance of your lead nurturing efforts with the robust analytics capabilities of the tool.

Gain valuable insights into prospects from social media platforms including Twitter, LinkedIn, etc.
Pricing:
Starts from $25/user/month
Pros:
Real-time forecasts allow you to utilize your time and resources efficiently.

The tool offers extensive customization, so you can change various modules to suit your organization's needs.
Cons:
Seeking customer support can be challenging.

The implementation process is long and complex.
4. Zoho CRM
Zoho CRM automates lead nurturing to grow your sales. The tool keeps your CRM data synchronized with your marketing campaigns. This lead tracking software helps deliver more relevant content to the leads and encourages them to make the final purchase decision. Zoho CRM also enables you to segment customers into categories to enhance personalization efforts.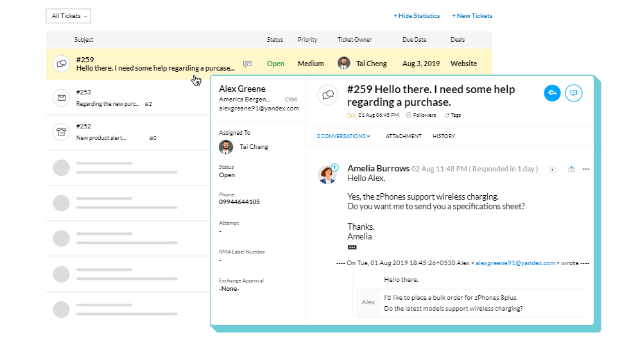 Key features:
Set up email sequences for nurturing your leads.

Create and store email templates to save time and connect with leads effectively.

Craft automated workflows with multiple rules to enhance organizational productivity.

Get real-time notifications for customer activities and interactions.

Track your progress and make accurate business decisions with robust reporting and analytics.
Pricing:
Free for 3 users
Starts from $14/user/month
Pros:
Use AI predictive analytics to score leads.

Segment leads into lists and share personalized emails with them.
Cons:
Limited workflows can be created.

It requires features for bulk email campaigns.
5. Pipedrive
Pipedrive is a sales management CRM that allows you to build and manage multiple sales pipelines. You can customize the stages of these pipelines and move deals with a drag and drop interface. The tool enables you to put your lead nurturing efforts on autopilot by setting custom triggers and actions.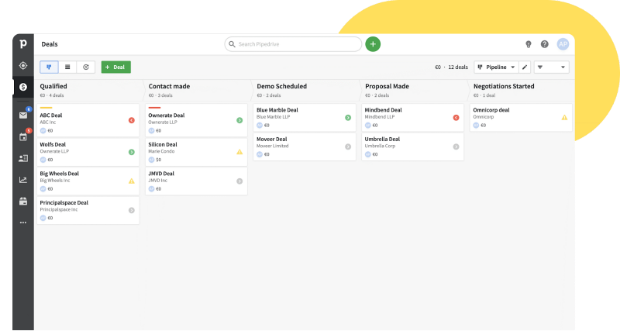 Key features:
Automate repetitive tasks such as scheduling meetings or sending follow-up emails.

Choose from ready-made templates or create templates and store them for future use.

Use the Smart Docs feature to create and share proposals, quotes, and other important documents quickly.

Tag leads to focus on high-priority deals.

Get visual activity timelines for your prospects to follow up with them at the right time.
Pricing:
Starts from $12.50/user/month
Pros:
Set up email and mobile notifications to stay updated with upcoming tasks.

Make calls directly from the CRM system. These calls are automatically logged in the contact records.
Cons:
The mobile application has performance lags and bugs.

More in-depth reports are required.
6. Freshsales
Freshsales, a sales CRM platform, can effectively enhance lead nurturing for your business by making it easy to reach out to prospects with highly personalized information. Automate outreach campaigns with email sequences. The tool offers an AI-powered assistant that recommends next best actions and predictive lead scoring.
Key features:
Capture leads with web form connection.

Use built-in tracking functionality to measure the effectiveness of your marketing campaigns.

Two-way synchronization of all your CRM and email inboxes helps you connect with the right people at the right time.

Get alerted in real-time for email opens and clicks.
Pricing:
Free version available
Starts from $15/user/month
Pros:
Contact profiles are automatically enriched.

Use bulk email customization to reach out to a large number of people with targeted content.
Cons:
Technical support for the tool is below par.

Editing email templates should be more user-friendly.
7. Insightly
Insightly CRM helps craft personalized experiences, resulting in enhanced conversion rates. Track the sources that bring in the best leads and modify your lead generation strategy accordingly. Use the CRM system to access detailed activity timelines for your leads and modify your nurturing efforts accordingly. Automate processes to be more efficient with your time.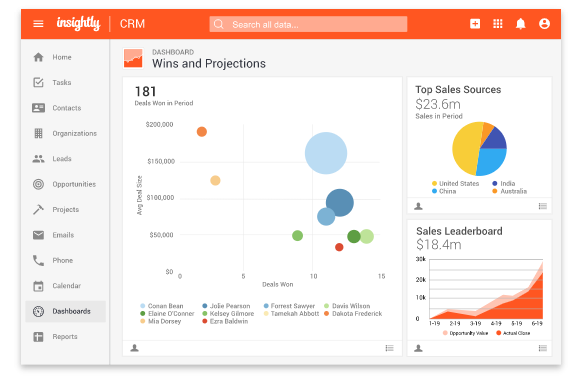 Key features:
Route leads to the right representative instantly.

Get real-time insights into the performance of email marketing campaigns.

Create automated workflows with multiple custom steps and conditions.

Visualize business data using custom dashboards and reports.

Work on the go with the mobile application.
Pricing:
Free for 2 users
Starts from $29/user/month
Pros:
Share bulk emails with segmented lists of leads.

Scan business cards to avoid manual data entry.
Cons:
Bulk import of contacts into the system is slow.

Tags for contacts are case-sensitive. This leads to the formation of duplicate records in the system.
8. Bitrix24
Bitrix24 can help marketing teams enhance their productivity by making it easy to capture and convert leads. With complete visibility into the movement of leads through the sales pipeline, you can optimize your lead nurturing efforts with ease. Bitrix24 also empowers you to automate routine business processes, freeing more time to engage with prospects.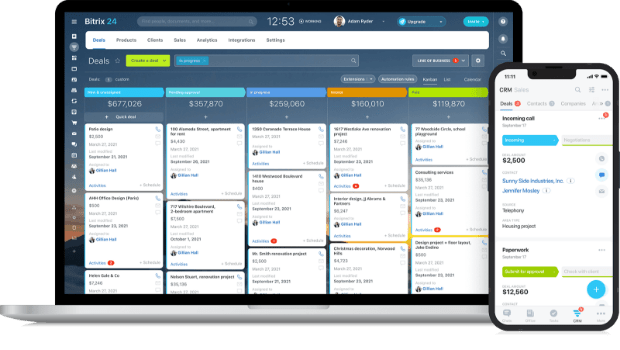 Key features:
Capture more leads for your business by adding custom web forms.

Run a variety of marketing campaigns using channels such as ads and emails.

Move leads forward in the sales process automatically based on custom triggers.

Customize the stages of the sales pipeline.

Analyze the ROI of marketing campaigns to determine which channels work best for your business.
Pricing:
Free version available
Starts from $39/month
Pros:
Collaborative features such as Gantt charts, to-do lists, and shared calendars enable team members to work together seamlessly.

Engage with prospects using social media platforms directly from the CRM system.
Cons:
Scheduling automated alerts can be challenging.

Support response time is high.
9. Copper CRM
Copper is an excellent lead nurturing CRM solution for businesses that work extensively with Google applications. It lets you track the win probability for leads and prioritize them accordingly. Copper helps you tag and sort your leads, enabling you to offer highly personalized nurturing content.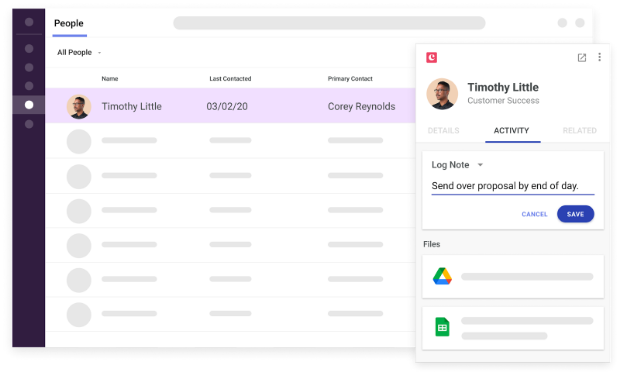 Key features:
Synchronize data between the CRM and your Google applications, including Gmail, Calendar, and Drive.

Access detailed activity timelines for every contact to stay updated with all previous interactions.

Automate repetitive activities such as logging calls, creating tasks, and generating reminders.

Use a visual pipeline to track deal sizes and sort them accordingly.

Ready-to-use reporting templates help you track essential metrics quickly.
Pricing:
Starts from $25/user/month
Pros:
The set-up and onboarding process is straightforward and quick.

The bulk leads import makes adding leads to the CRM system easy.
Cons:
The tool offers limited functionality for businesses that wish to work outside the Google workspace.

It lacks an in-built one-click calling feature.
10. EngageBay
EngageBay enables you to set up multiple sales pipelines to track leads. The tool lets you score leads and modify this score based on their activity. This ensures that your time and resources are utilized for the most promising opportunities. It further improves lead nurturing with segmentation to help deliver well-targeted information.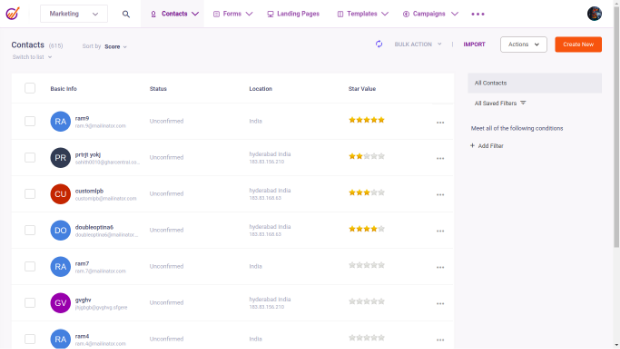 Key features:
Automate sales sequences to nurture more leads quickly.

The email tracking functionality alerts you when emails are opened, or any other related action is taken.

Let leads schedule appointments at their convenience.

Use predictive lead scoring to identify and focus on high-value leads.

Capture leads with the help of pre-designed or custom web forms.
Pricing:
Free version available
Starts from $11.99/user/month
Pros:
The intuitive interface and easy navigation make EngageBay a popular choice for SMBs.

Track email open rates to optimize your upcoming marketing efforts.
Cons:
Editing email templates should be more user-friendly than it currently is.

It lacks the ability to automate recurring tasks.
11. Nutshell
Nutshell acts as a centralized repository for your business data that displays all contact information, notes, emails, etc., from a single place. This CRM lead nurturing solution offers multiple pipeline views, helping you choose how you wish to track your leads. The tool makes it easy to nurture leads into customers by setting up automated email sequences.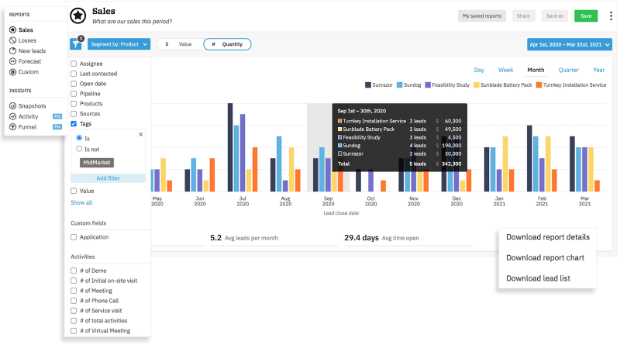 Key features:
Use email templates to engage with prospects quickly.

Capture leads directly from your website.

Stay updated with every action your team members take with instant notifications.

Monitor business performance with customizable reports.

Share personalized marketing emails and track their engagement with your prospects and customers.
Pricing:
Starts from $20/user/month
Pros:
Importing data to the CRM system is easy.

The tool has a robust reporting system.
Cons:
Better bulk email functionality is required.

The tool offers limited customization.
12. Keap
Keap offers powerful marketing automation features to help you capture and nurture leads easily. The tool provides email templates, automated sequences, and segmented lists to enhance lead nurturing. Use this robust CRM system to stay on top of all leads and guide them to the final conversion stage with ease.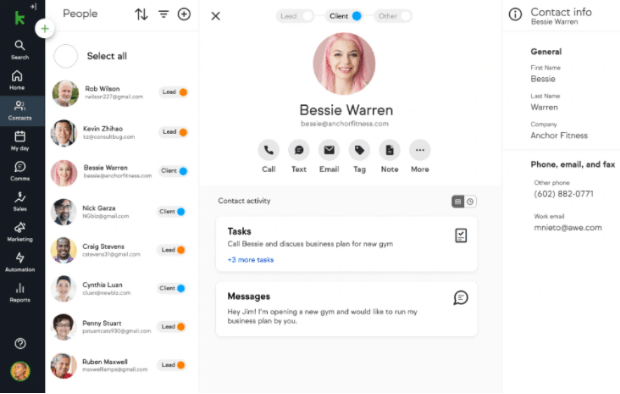 Key features:
Move leads in your pipeline by simply dragging and dropping them.

Scheduled reminders ensure that important deadlines are never missed.

Segment leads to delivering highly targeted content.

Visualize business data and gain valuable insights with CRM reporting & analytics.

Close more deals with the help of automated text marketing.
Pricing:
Starts from $59/month
Pros:
Empower leads to schedule appointments with your team.

Use the advanced automation builder to create custom workflows.
Cons:
The tool's interface feels outdated and needs improvement.

Reporting needs to be more detailed.
How do BIGContacts Help in Nurturing Leads?
BIGContacts is a highly intuitive and customizable CRM solution that empowers businesses to grow sales by delivering personalized experiences. With features such as automated follow-ups and segmented lists, this lead management software can steer your leads in the right direction.
Some of the features that help BIGContacts stand out from the other tools are:
Contact Management
BIGContacts, with its efficient contact data management system, ensures meticulous organization of contact details, notes, emails, related tasks, and more for individual leads. This comprehensive approach enhances personalization capabilities, allowing you to easily access and manage crucial contact data in one centralized location.
Email Marketing
Using the email marketing functionality of BIGContacts, you can stay connected with your prospects and customers. Such consistency in communication makes for better nurturing and an enhanced conversion rate. Create drip email campaigns to reach out to prospects effectively.
Automation
Move deals down your sales funnel by automating repetitive tasks. BIGContacts automates routine activities, so your team can focus on engaging with high-value prospects. This also contributes to improved productivity and reduced inconsistencies in business operations.
Reporting
Your lead nurturing strategy must be continuously monitored and optimized. BIGContacts offers robust reporting and analytics with pre-built templates to help you track the performance of your lead nurturing campaigns and identify areas for improvement.
Mobile Access
BIGContacts is optimized for all mobile devices, making it easier for you to stay connected with leads on the go. By making it easy to find information and log changes from any mobile device, BIGContacts helps make lead nurturing significantly easier.
Accelerate Your Business Growth With Lead Nurturing
Lead nurturing helps you turn incoming prospects into highly-paying customers that remain with your business for years to come.
For effectively nurturing your leads, you must have the right software at your disposal. The 12 lead nurturing software listed above can help you attract, engage and convert leads effortlessly. They can help you guide leads down the sales funnel by offering personalized and relevant content at every step of the way. You can also use procreate brushes to design images and other visuals for your campaigns and nurture leads further.
Compare the core functionality of these tools against your team's specific needs to find the most optimal solution for your business. Pay attention to the ease of navigation and scalability of the tool you invest in.
BIGContacts is a highly reliable lead nurturing platform for businesses that need an uncomplicated tool. Its cutting-edge automation capabilities and delightful customer support can assist you in completely transforming your customer outreach efforts.