If there is one thing that business owners want full control over, it's customer data.
The entire journey from lead generation to client retention depends on how meticulously you manage customer data and how smartly you put it to use.
This brings forth the million-dollar question that every business is seeking the answer to.
What is the perfect replacement for old-school techniques like spreadsheets and emails to optimally manage customer records?
Customer database software offers the exact solution you need. From consolidating customer details on a central point to helping you keep a close eye on all interactions, this software can aid your sales, marketing, and support departments in more ways than one.
If you are thinking of investing in customer database software but are unsure of where to start, you've landed in the right place. We have collated a list of the top 11 customer data management tools to help you make the right decision that you will not regret.
Here's a quick comparison table of their key features and pricing.
Software
Features
Pricing
BIGContacts
Powerful automation
Reports & analytics
Static & dynamic lists
Starts from $5/user/month
Zoho CRM
Built-in analytics
Mobile app
Targeted emails
Starts from $10/user/month
HubSpot CRM
Email templates
Customizable reports
Task automation
Starts from $45/month
Freshworks
Instant alerts
Email templates
Auto-populate customer records
Starts from $13/user/month
Salesforce
Social feed
Activity timeline
Track KPIs
Starts from $25/user/month
Zendesk Sell
Workflow automation
Email sequences
In-depth reports
Starts from $19/user/month
Pipedrive
Task automation
Email templates
Activity Calendar
Starts from $9.90/user/month
Keap CRM
Mobile app
Automate Follow-ups
Detailed reports
Starts from $59/user/month
Monday CRM
Sync with Gmail & Outlook
Instant notifications
Insightful reports
Starts from $8/seat/month
Apptivo CRM
Custom fields
Pre-designed templates
Multiple sales pipelines
Starts from $8/user/month
Bitrix24
Customizable rules & triggers
Omnichannel campaigns
Task & project management
Starts from $39/month
What is Client Database Software?
Client database software is a tool that allows you to store, manage, and track large volumes of customer data on a centralized dashboard. It provides a 360° view of all customer details, such as their names, email addresses, purchase history, and previous communication with your company.
With valuable client information right at your fingertips, you can closely track customer behavior, launch targeted email marketing campaigns, and stay on top of all customer updates.
Notable Features of Customer Database Software
The first step to selecting customer database software that perfectly fits your business needs is knowing its key features.
Here are some of the notable features that you should look out for:

Contact Management –

This is a crucial feature that lets you manage all customer data on one unified platform. You can add custom fields to store important contact details, log previous conversations, and automatically enrich customer records with their social media profiles.

Task Management – All your tasks are listed on a centralized dashboard so you can easily prioritize high-value activities that matter the most and get work done quickly. You can also set alerts and reminders to stay on top of important tasks.
Team Calendar –

A full-featured team calendar allows you to keep a firm track of your meetings, upcoming events, and to-do lists. A quick bird's eye view of all events can help you be more efficient and organized with customer-focused activities.

Automation – Recurring activities are energy-draining. Moreover, they leave you with less time to focus on vital tasks. The best customer database tools automate activities like follow-ups, reminders, and drip emails, boosting your team's productivity and performance.
Reports & Analytics –

Built-in reports give comprehensive insights into all your contacts, marketing campaigns, sales, and much more. These insights can aid informed decision-making, sales forecasting, and monitoring team performance.

Seamless Integrations – Third-party integrations are vital to explore the full potential of customer database software. Integrations with synchronization tools support effective contact management and help you take bulk actions with ease.
How to Create a Customer Service Database
Managing a massive volume of customer data can get cumbersome in the absence of a step-by-step approach. Here are some simple steps to create a customer service database that is meticulously structured and easy to access:
Step 1: Identify the Data to be Collected
What kind of data would you like to add to your customer database? The data can include names, email addresses, phone numbers, purchase history, last conversations, and much more. Decide what you want to add, and then move on to the next steps.
Step 2: Capture Customer Data
Once you know what needs to be captured, you can dive right into the process by identifying the best channels to source the data. For example, you can populate customer details from social media, emails, spreadsheets, and web forms with a CRM tool.
Step 3: Keep Your Database Minimal & Accurate
Data overload can be overwhelming for your teams. Too much information is difficult to process in one go and can even lead to poor decisions. A better idea is to keep your database structured with only high-priority information. With a CRM deployed, you can even add custom fields to store information that matters the most.
Step 4: Structure Your Contact List
Searching for customer details from a long list of contacts is a cumbersome process. To make the process a tiny bit easier, you can segment contacts by creating static and dynamic lists. While dynamic lists are automatically updated every time there is a change in contact details, static lists need to be manually updated.
Step 5: Regularly Maintain Your Database
Customer databases require regular clean-ups so that your teams have the most relevant information on display. With the support of a CRM tool, you can find your most and least engaged customers, active and inactive contacts, and other such insights. Regular check-ups help keep your database accurate and your marketing efforts in the right direction.
ore it centrally using customer database software.

Adopt a systematic approach to data backup and recovery.
Astounding Benefits of Customer Service Database Software
Customer data is the foundation of all your marketing and sales efforts. If this data is not managed carefully, your outreach campaigns can go terribly wrong.
That's precisely why you need to employ customer service database software. Let's look at the top benefits that can be derived from this tool.
Streamline Customer Communication
Communicating with customers across multiple channels is an ordeal. Your team can view all customer details on a single dashboard with customer database software. You can carry out contextual conversations with customers based on their purchase history and previous interactions right from within the tool.
Saves You From Complicated Spreadsheets & Emails
Let's be honest. Digging through spreadsheets and emails to find a single piece of information is both exhausting and time-consuming. Customer database software gives a centralized and home to your customer data, minimizing the risk of losing important files and making information access a matter of seconds.
Keep a Close Track of Profits
If you are a small business with a growing customer base, keeping an account of the money coming in and going out might be a painstaking task. Customer database software offers a built-in bookkeeping system that allows your accounts team to monitor financial reports closely. Quick access to sales receipts, payments, invoices, etc., helps you stay on top of all financial transactions.
Improve Your Marketing Strategies
Without knowing who your customers are and what they really want, creating marketing campaigns is like throwing darts in the dark. As customer preferences and interests change, so should your marketing campaigns.
A full-fledged customer service database helps you track changing customer behavior and trends. You can use the data to tweak your marketing campaigns so that they strike the right chords with your customers.
Take Your Customer Support Several Notches Higher
Did you know that poor customer service was the root cause of over 62% of customers leaving brands in the year 2018?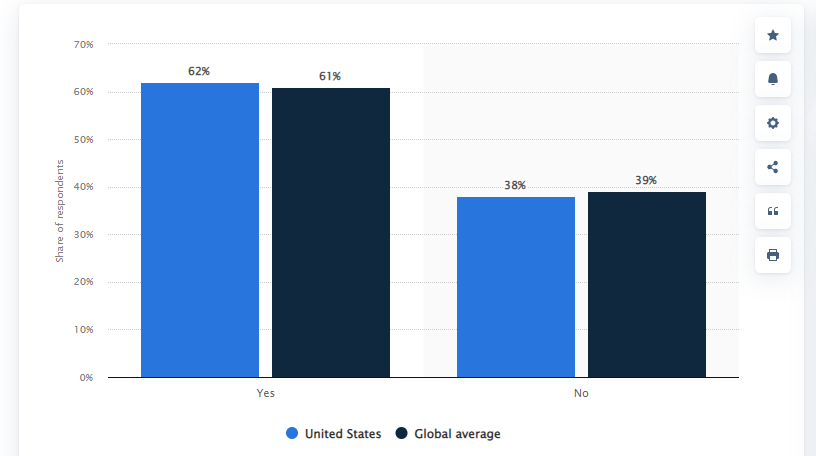 Customer database software can prove to be a gamechanger for your customer support process. Along with all client data, you can also keep an eye on complaints and issues raised – all from one single dashboard. This empowers your support team to deliver impeccable services at every stage of the customers' journey.
11 Best Customer Database Software Systems for 2023
1. BIGContacts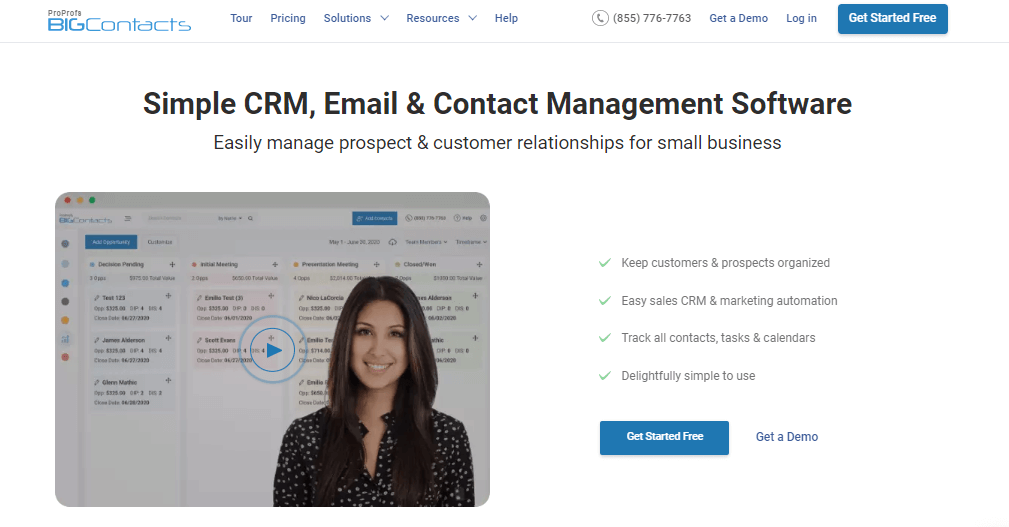 BIGContacts is a simple customer database software that provides a 360° view of all your customers and sales activities. The tool allows you to add custom fields to all contacts and includes information such as email addresses, phone numbers, job titles, and much more. You can also take notes, track all email exchanges, and schedule meetings with customers – all from a single dashboard, without shuffling screens.
The simple interface, customizable workflows, and robust automation capabilities are other striking features that give BigContacts an edge over other tools on the market.
Key Features:
Automatically populate customer records with their social media profiles.

Get an up-to-the-minute account of all sales activities on a centralized dashboard.

Automate recurring tasks and maximize your team's productivity.

Access customer history and previous communication to build personalized experiences.

Integrate with your favorite email marketing, synchronization, and CRM tools.
What is Unique About BIGContacts
Connect BigContacts with synchronization tools and keep the discrepancies at bay.

The drag and drop interface makes it easy for users to work with the tool.
Pricing:
Big – $5/user/month

Bigger – $15/user/month

Biggest – $25/user/month

Enterprise – Custom pricing
Get Answers to All Your Questions. Sign Up to Learn More.
2. Zoho CRM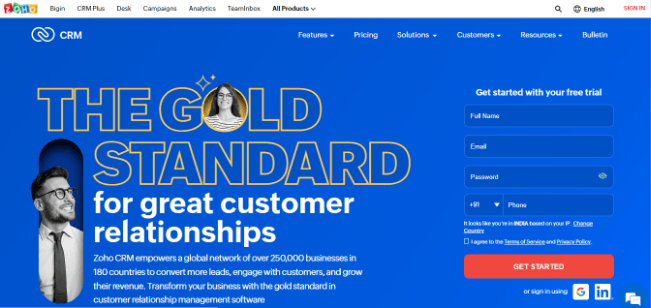 Zoho CRM is another customer database software worth a shot. Designed to strengthen customer relationships, the tool allows you to contact customers across their favorite channels and deliver personalized experiences. You can also segment customers based on predefined criteria and identify the right opportunities for upselling and cross-selling your products.
Segmenting and searching for customer details is made easier with the tool's keyword tagging feature. In addition to this, you can also add a unique visual identifier for seamless categorization.
Key Features:
Built-in analytics to analyze and boost your campaign performance.

Segment notification for posts from prospects and customers.

Record meetings with customers on the go with the tool's mobile app.

Send targeted emails based on customers' previous engagement and purchase history.
Why We Picked It, What is Unique About Zoho
Make and attend calls from Zoho CRM and even monitor your team's performance with built-in call analytics.

You can connect Zoho CRM with your help desk software to keep tickets in sync with your sales data.
Pricing:
Starts from $10/user/month
3. HubSpot CRM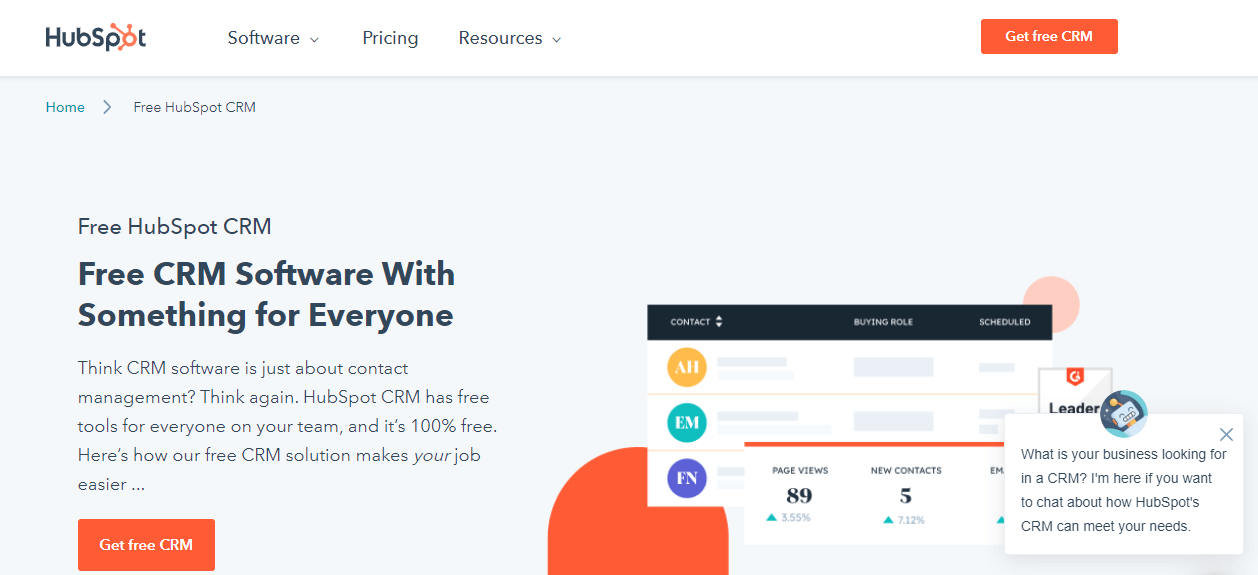 HubSpot CRM is a popular client database software that allows you to schedule meetings with customers right from within the CRM. Not just meetings, you can even schedule emails for a specific date and time to ensure maximum customer engagement.
For contact management, HubSpot CRM sets default properties for each customer record to store crucial information such as email addresses, phone numbers, etc. You can also set custom fields to add more details about each customer, which further helps in delivering hyper-personalized experiences.
Key Features:
Turn sales emails into templates for future use.

Generate customizable reports to monitor high-level sales metrics.

Automate tasks like follow-ups and improve your team's productivity.

Get real-time insights into your sales performance through reports.
Why We Picked It, What is Unique About HubSpot
Enrich customer profiles by collating information from multiple sources.

Create records and display only the information your sales team wants to see with the tool's drag and drop interface.
Pricing:
Starts from $45/month.
4. Freshworks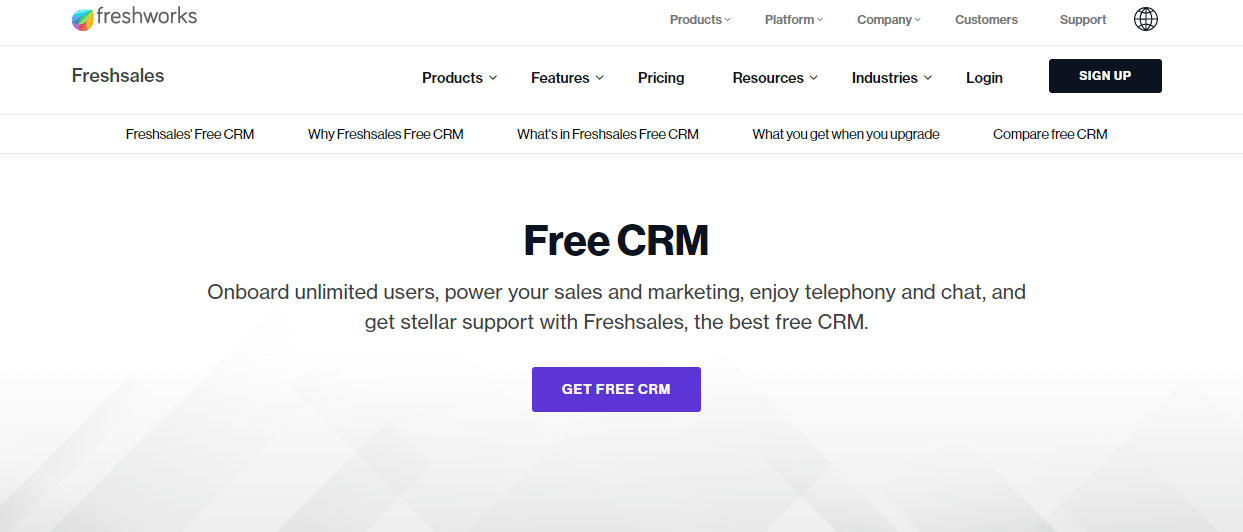 Freshworks is designed to boost personalized engagement with customers through contextual conversations at every step of their journey. The tool helps you communicate with customers on their favorite platforms and send highly targeted messages based on their behavior.
As one of the best customer database software, Freshworks gives a 360° view of all contact information. You can watch their lifecycle stages closely, run targeted campaigns, and deliver real value.
Key Features:
Automatically convert sales emails into contacts.

Get instant alerts every time prospects perform a specific action on your website.

Automatically enrich customer records with social profiles and other information available publicly.

Let your team work in collaboration using alerts and reminders.
Why We Picked It, What is Unique About Freshworks
Rank your contacts based on their engagement level and deliver personalized experiences.

Group and manage contacts based on parameters such as geography and deal sizes.
Pricing:
Free version available.
Paid plans start from $13/user/month.
5. Salesforce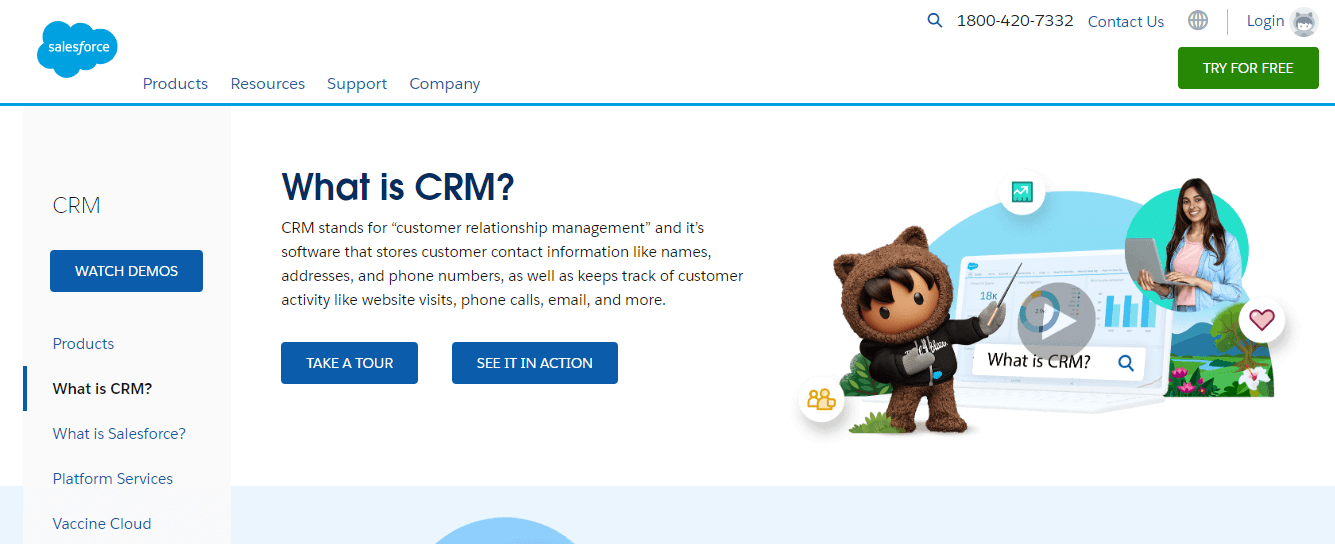 Salesforce works with Slack to help sales, marketing, and other customer-facing teams collaborate and stay on top of all customer communications. This customer information software gives a shared view of all your customers along with details like their interests, preferences, and history.
The tool pulls in data from social profiles to make your customer records more comprehensive. Furthermore, you can access customer data, make calls, and organize meetings on the go with the tool's mobile app.
Key Features:
Integrate with Outlook or Gmail to gain a holistic view of all customer communications.

Stay up to date with important projects with an easy-to-access social feed.

Keep track of your opportunities with a rich activity timeline.

Track important KPIs and keep your sales pipeline in good health.
Why We Picked It, What is Unique About Salesforce
Track customer accounts and collaborate with teams on-the-go with the tool's mobile app.

You can modify the data charts shown in reports to see the most relevant information.
Pricing:
Starts from $25/user/month.
6. Zendesk Sell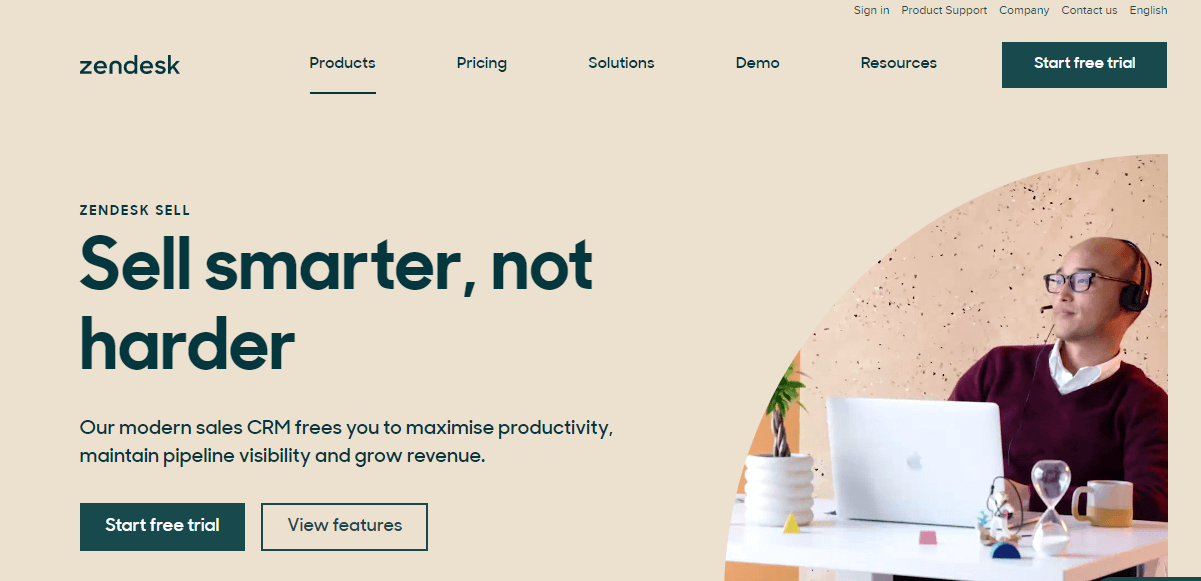 Zendesk Sell is another leading business database software that provides a one-stop solution for all your CRM needs, right from contact management and activity tracking to lead generation. With a centralized dashboard, you can view all details about your customers, including their stage in the buying journey, and deliver contextually-relevant experiences.
The tool allows you to filter contacts and set up email sequences to boost your outreach efforts. You can automatically send bulk emails to the filtered list of customers, which frees you up for more important sales-focused activities.
Key Features:
Set trigger-based actions to automate your workflow.

Build email and task sequences for automatic follow-ups.

Get in-depth insights into your sales pipeline and identify areas of improvement.

Streamline task management for your sales team using a task player.
Why We Picked It, What is Unique About Zendesk Sell
Sync your existing email with Zendesk CRM and stay on top of all customer communication.

Offers native integration with Zendesk Support
Pricing:
Paid plans start from $19/user/month.
7. Pipedrive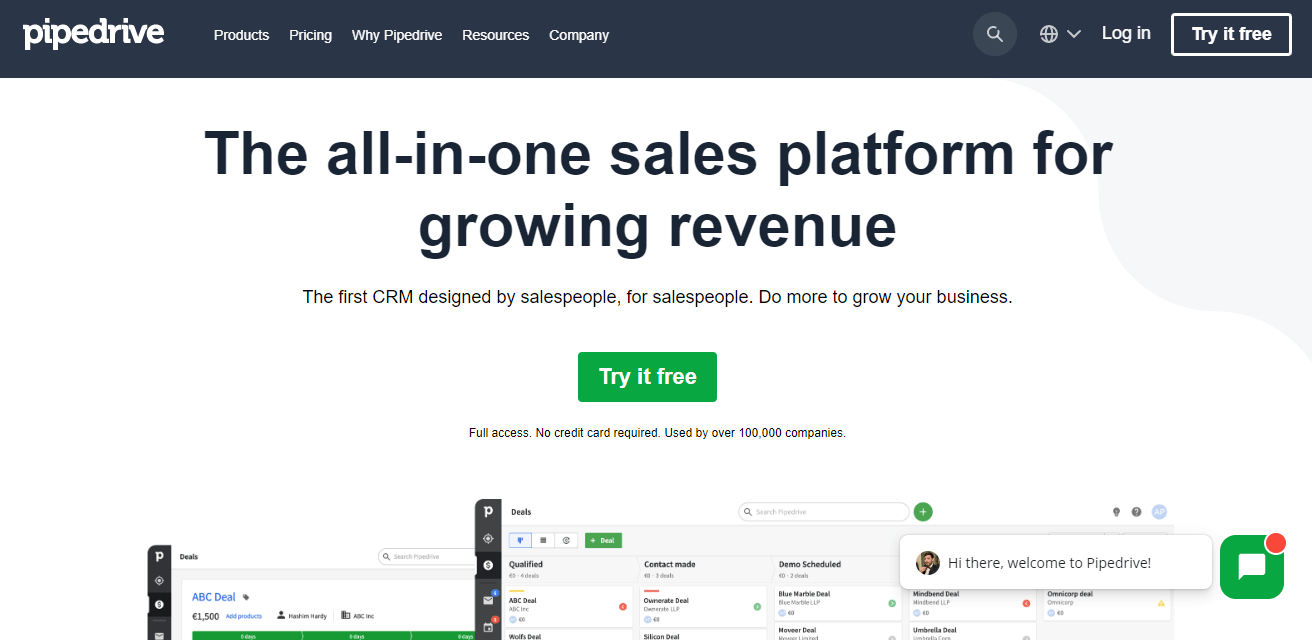 Pipedrive is an all-in-one platform designed to grow your business. Its signature sales pipeline is a notable feature that can reduce your manual work. You can divide all contacts into segments and connect them with deals. The dashboard offers a holistic picture of contacts' purchase history, last communication, and other critical details, so you can trigger personalized messages at the right moment.
This sales database software offers email automation to connect with customers at the right time and manage all their communication from one user-friendly platform.
Key Features:
Automate repetitive tasks such as deal creation and ownership transfer.

Create emails quickly with ready-to-use templates.

Manage all sales-related activities with Activity Calendar.

Send bulk emails to groups of 100 contacts at once.
Why We Picked It, What is Unique About Pipedrive
Attach files to contacts or deals to conduct contextual conversations.

Integrate with Google Maps to get quick information about your contacts' location.
Pricing:
Paid plans start from $9.90/user/month.
8. Keap CRM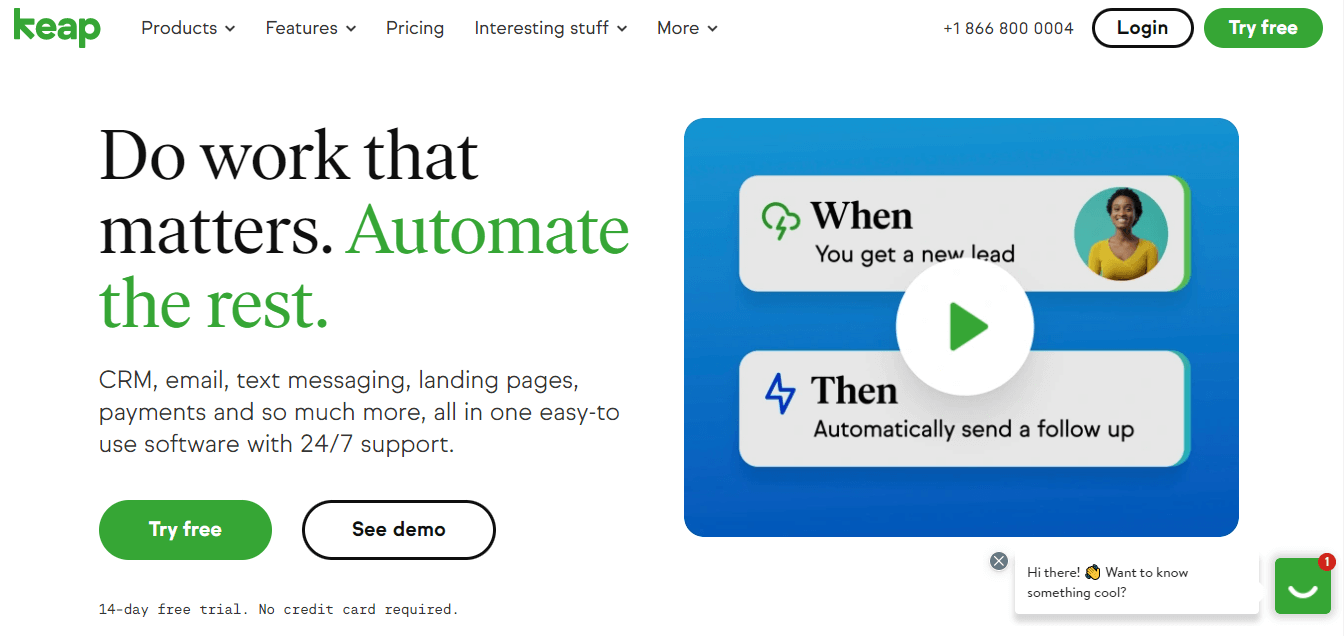 Keap CRM is one of the best customer database software for small businesses that is supported by robust automation features. The tool can help you systematically capture and organize all customer information under a common roof. The data is automatically captured through lead forms, landing pages, and social media, so you don't have to put in manual efforts.
You can tag and segment contacts for targeted messaging based on customer activity and behavior. The best part is that Keap integrates beautifully with thousands of apps, promising a superior experience.
Key Features:
Access customer data on the go with Keap's mobile app.

Automate follow-ups and send personalized messaging to customers.

Track trends and visualize growth with detailed reports.

Build customizable pipelines that are in sync with your CRM.
Why We Picked It, What is Unique About Keap
Get stunning email templates with pre-designed layouts and styles.

Get your contacts seamlessly migrated to Keap with the help of their expert coaching team.
Pricing:
Paid plans start from $59/user/month.
9. Monday CRM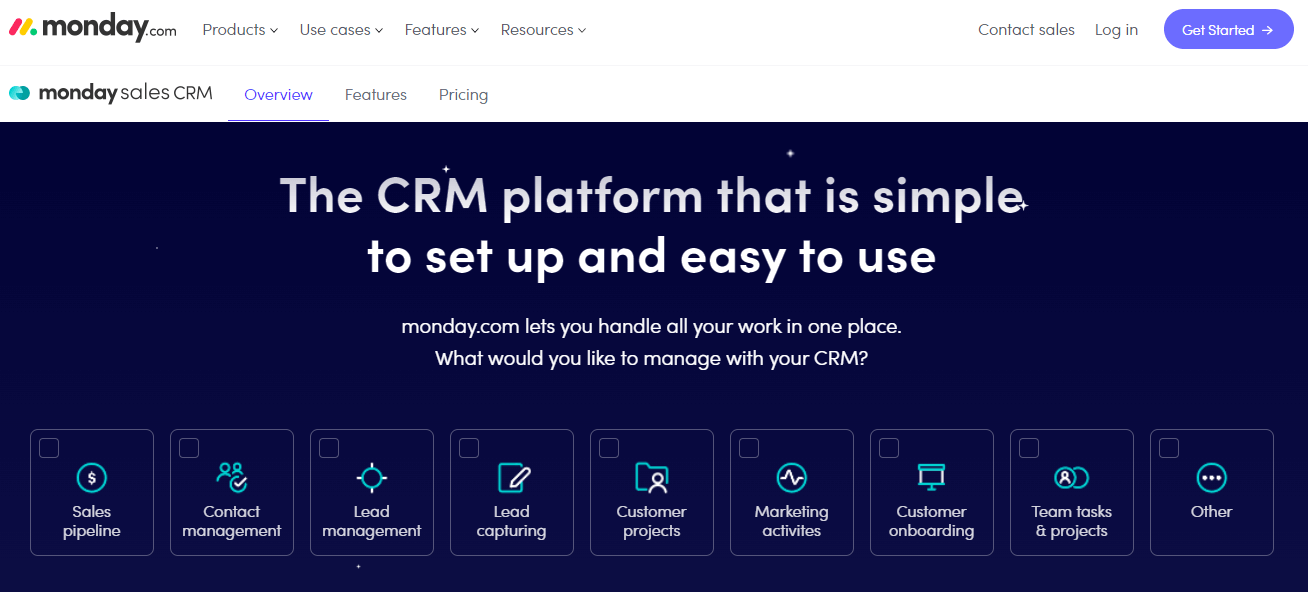 Monday Sales CRM is a highly flexible and intuitive platform for managing customer communication. As a popular customer database software, it provides a centralized space for all customer details and email exchanges. Repetitive work such as follow-up emails and setting reminders can be automated using this tool.
The tool also allows you to manage multiple pipelines, edit deals, and customize dashboards to reflect your sales process. The robust external integrations can be leveraged to explore the full potential of this CRM software.
Key Features:
Sync your Gmail and Outlook with Monday CRM to automatically log emails.

Get instant notifications every time a lead opens or responds to your email.

Manage all sales-related activities, including calls, meetings, and notes, in one place.

Gain deep insights into deal progress, sales forecasts, and team performance.
Why We Picked It, What is Unique About monday.com
Create emails quickly with personalized templates.

Set customizable workflow automation.
Pricing:
Free plan available.
Paid plans start from $8/seat/month.
10. Apptivo CRM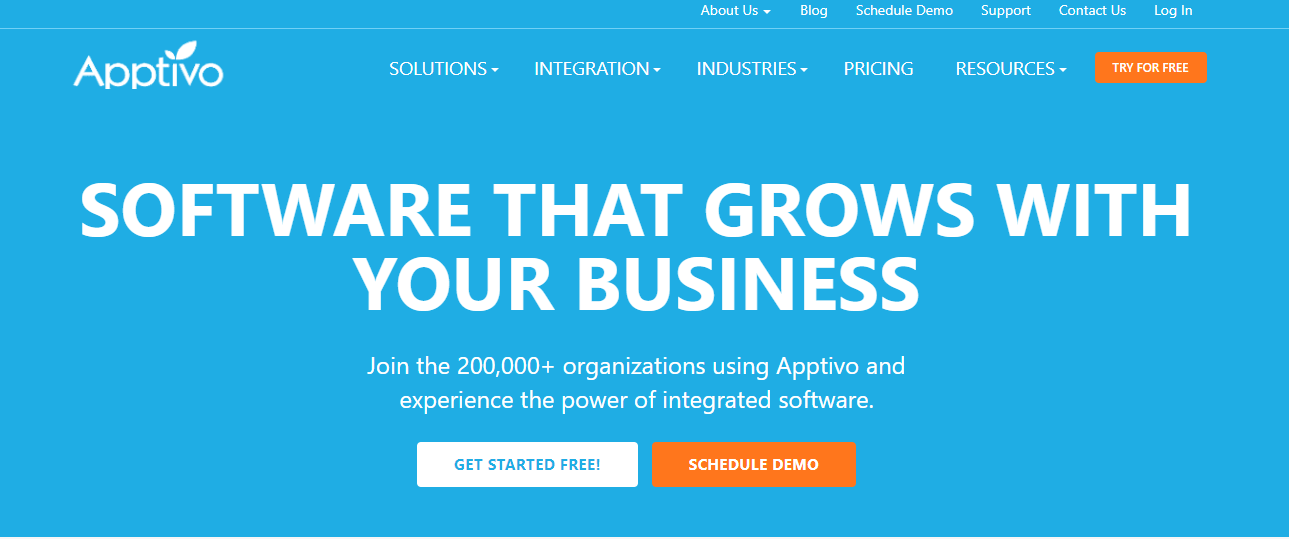 Apptivo CRM is another tool that's designed mainly for small businesses. With all your contacts placed under a single roof, you can collaborate with customers on the go, take follow-ups, and stay on top of all conversations. The tool allows you to customize the duplication rules so that your customer information database is accurate and clean.
Moreover, Apptivo and G-suite sync is a huge help when it comes to importing and exporting customer data. Data can move bi-directionally between both the tools, without putting any manual effort.
Key Features:
Create custom fields to add additional information about contacts.

Create and send emails to customers in seconds with pre-designed templates.

Keep a firm track of customer data with built-in reports.

Create, track, and manage multiple sales pipelines on a single dashboard.
Why We Picked It, What is Unique About Apptivo
Customize the tool's navigation to suit your working style.

Offers a wide range of integrations with third-party apps.
Pricing:
Paid plans start from $8/user/month.
11. Bitrix24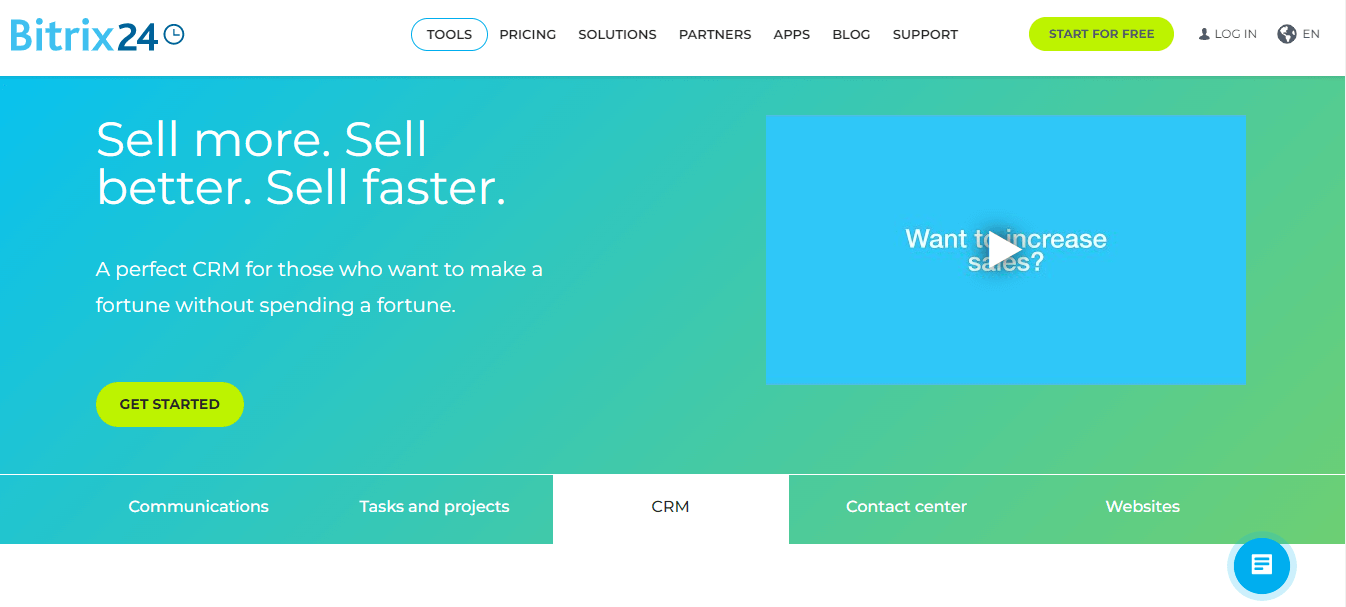 Bitrix24 is another top-rated customer data management software that helps you manage your contacts with a simple drag and drop interface. Equipped with over 30 tools, this CRM software lets you run successful marketing campaigns across channels such as emails, phone calls, Facebook, and many others, right from within your CRM.
You can easily automate workflows and sales funnels, collaborate internally with the sales team, and discuss work-related matters from a single dashboard. Bitrix24 is an all-in-one platform that offers space for team communication, along with customer management.
Key Features:
Move deals through the sales pipeline with customizable rules and triggers.

Set up omnichannel marketing campaigns to connect with customers.

Manage your team with built-in task and project management.

Organize meetings and schedule appointments using the built-in calendar.
Why We Picked It, What is Unique About Bitrix24
The tool offers a holistic ecosystem for customer data management, team collaboration, and project management.

Store all customer-related documents in an online workspace and share them easily across teams.
Pricing:
Free plan available.
Paid plans start from $39/month.
Deliver Exceptional Customer Experiences With the Right Data Management Software
Customers demand personalized experiences that make them feel special. That can happen only when your outreach efforts are highly-targeted to their interests and preferences.
This is why capturing and managing customer data the right way is so crucial.
With customer database software, you can keep those messy spreadsheets away and embrace a more systematic way of managing customer records. The above-mentioned list of tools is curated after rigorous research and taking into consideration the challenges businesses face in maintaining customer data.
The first step to picking the right tool is identifying your requirements.
Once you do that, you can dive into the details of each tool and compare their features, pricing, and, most importantly, ease of use. This will give you more clarity into what will work best for your business.
For example, if you need a fuss-free tool with stellar features like automation and reports, BIGContacts will fit the bill. If you need a tool that offers project management along with customer data management, Bitrix24 will be the right choice.