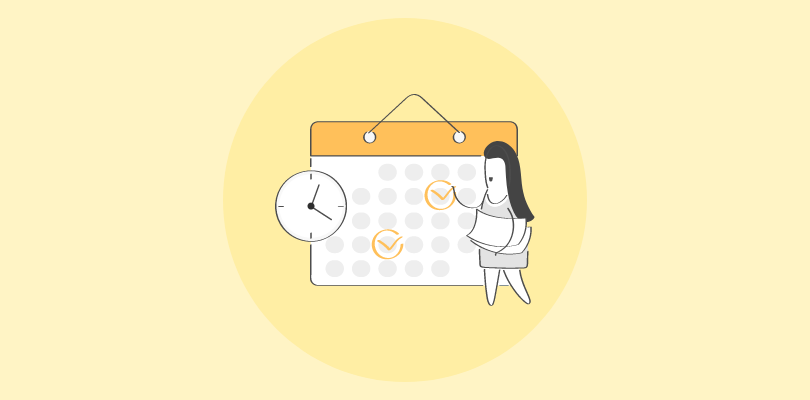 As someone who's deep into the professional grind, I get the scheduling struggle – the endless emails and calls just to sync up. But there's a fix: automated appointment scheduling software.
Picture this – no more hunting for that perfect meeting time or missed appointments.
I've got the lowdown on the 12 best appointment-scheduling software options in this blog. They're not just about meetings but nailing your calendar game.
Here's a quick overview of the best scheduling software that will help you say goodbye to double bookings and hello to smoother client connections!
| Appointment Scheduling Tool | Best For | Pricing |
| --- | --- | --- |
| BIGContacts | Appointment Scheduling for Small Businesses & Startups | Starts from $5/user/month. |
| Calendly | Group Scheduling | Free for one calendar. Paid plans start from $8/user/month. |
| Doodle | Group Polls | Free for 1 user & offers 1 booking page. Paid plans start from $6.95/user/month. |
| SimplyBook.me | Service-Based Businesses | Free for 1 user with limited bookings. Paid plans start from $8.25/month. |
| Setmore | Self-Booking | Free for 4 users. Paid plans start from $5/user/month. |
| Square Appointments | Custom Booking Websites | Free for a single location. Paid plans start from $29/location/month. |
| Picktime | Calendar Synchronization | Free for 3 users. Paid plans start from $2.25/user/month. |
| YouCanBook.me | Customizable Schedules | Free plan with 1 linked calendar. Paid plans start from $10.80/calendar/month. |
| Acuity Scheduling | Customizable Intake Forms | Starts from $16/month. |
| TimeTap | Client Management | Starts from $22.45/month. |
| Fresha | Beauty & Wellness Services | Free (limited to business types such as salons & spas). |
| Vagaro | Salon, Spa & Fitness Appointments | Starts from $25/month. |
12 Best Appointment Scheduling Software
Over the course of the last decade, I got the chance to work with multiple appointment scheduling tools. While some impressed me, others were simply a waste of time and money.
Drawing from my hands-on experience with the best platforms, I've curated an exclusive list of meeting scheduling software to guide your choice. It is backed by thorough research, insights from colleagues, unbiased third-party reviews, and client testimonials.
1. BIGContacts
– Best Appointment Scheduling Software for Small Businesses and Startups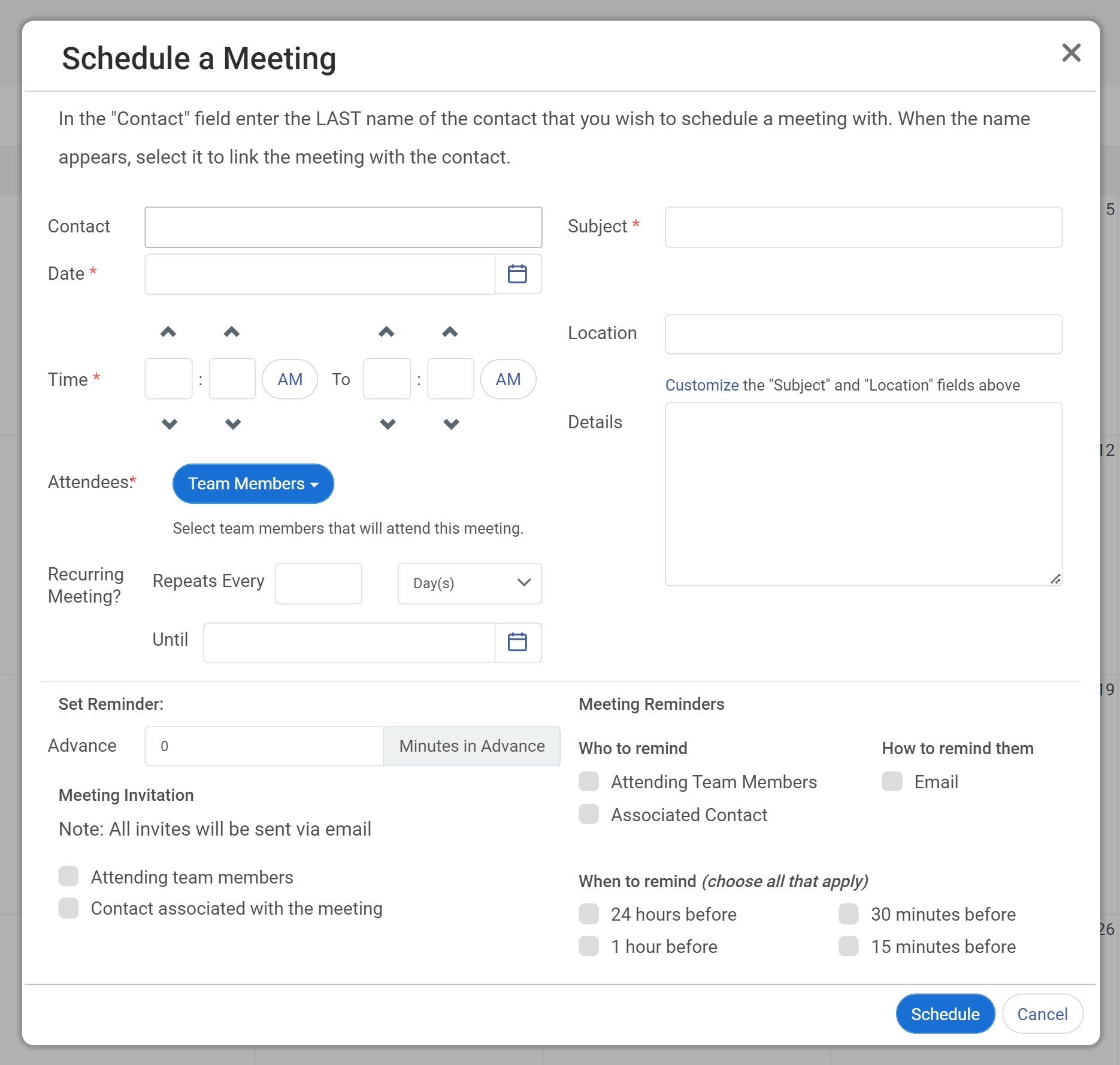 Source: BIGContacts
BIGContacts CRM is a productivity powerhouse that has revolutionized how I approach my day-to-day tasks and interactions.
The comprehensive to-do lists help me stay organized, while the customizable calendar views offer a way to schedule appointments that perfectly fit my schedule.
What truly stands out is the automation for recurring tasks and workflows – it's like having a personal assistant handling the routine work. And timely alerts and reminders ensure that no important task slips through the cracks.
Moreover, BIGContacts isn't just for individual use; it's a team player. With its collaborative features, the entire team stays synchronized. We're always on the same page, effortlessly coordinating tasks and appointments.
What You'll Like:
All upcoming meetings can be tracked with shared or individual calendar views

Automation of repetitive actions such as manual data entry, meeting reminders, and recurring events

Details like attendees, location, subject, additional notes, etc., can be added while scheduling meetings from the calendar directly.

To-do lists with priority statuses of upcoming tasks and events make it easier to manage operations.

Activity manager

reports

help track individual and team performance.
What You Won't Like:
Lacks native integration with tools like Slack and Calendly

Searching for existing templates can be challenging
Pricing:
2.
Calendly
–
Best for Group Scheduling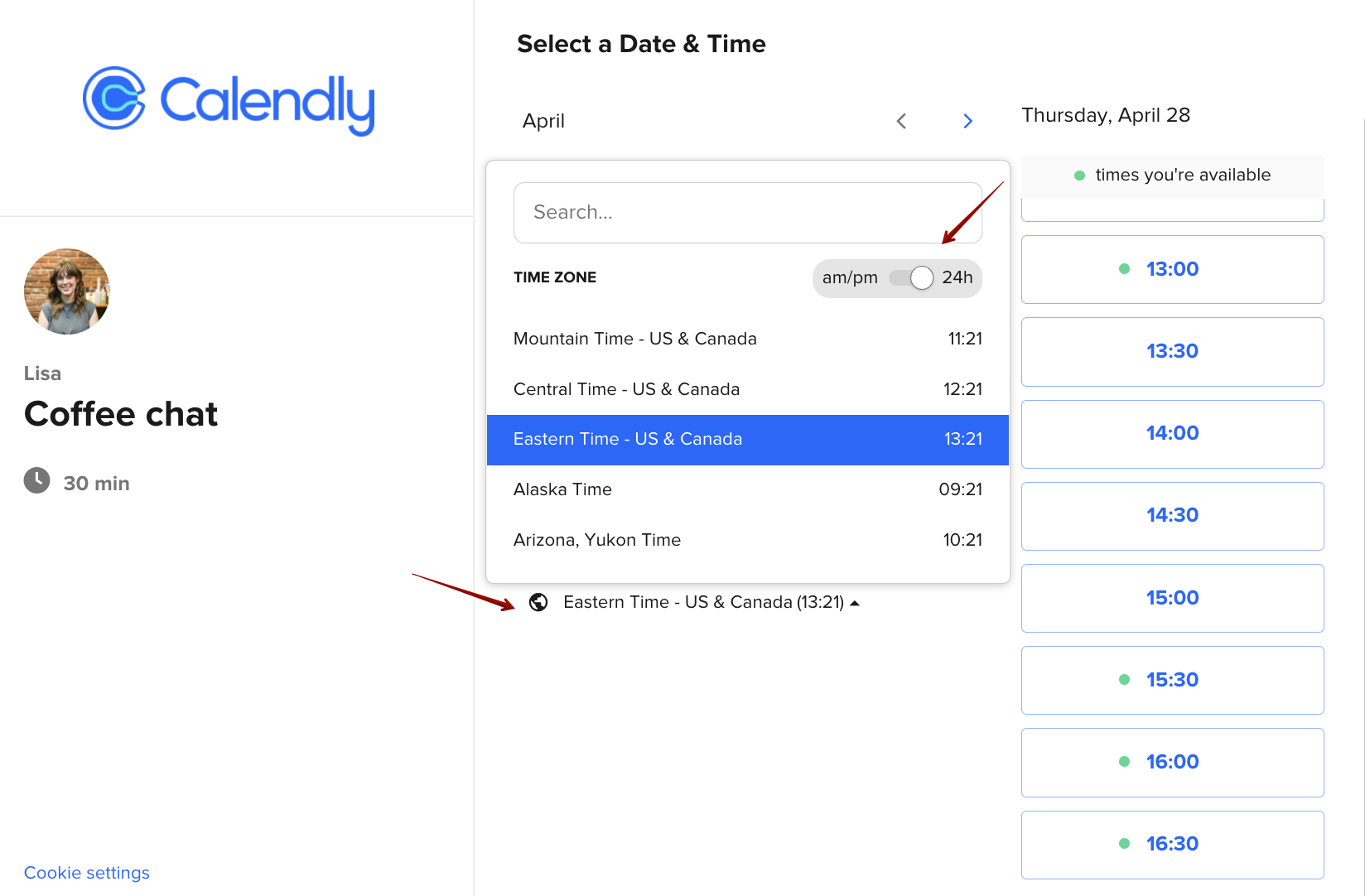 Source: Calendly
Calendly is a great appointment-scheduling software for multiple users that I have come to rely upon. The convenience it offers is truly exceptional.
It works well for sharing your availability with meeting participants via links and enabling them to schedule appointments without any back and forth.
The thing that I really like about it is its multi-person scheduling abilities. With collective scheduling features like team pages, co-hosted meetings, and automated assignments, my team has seen a significant improvement in productivity.
What You'll Like:
Clients can be qualified before they schedule appointments using routing forms

Invitees can pick a suitable time slot using booking links

Templates are available for pre-call questionnaires or post-meeting interactions

Advanced security features like two-factor authentication and single sign-on (SSO) keep your data safe
What You Won't Like:
Customization options for the scheduling page could be more extensive

In-person and virtual meeting types can't be included in the same appointment
Pricing:
Free for one calendar. Paid plans start from $8/user/month.
3.
Doodle
–
Best for Group Polls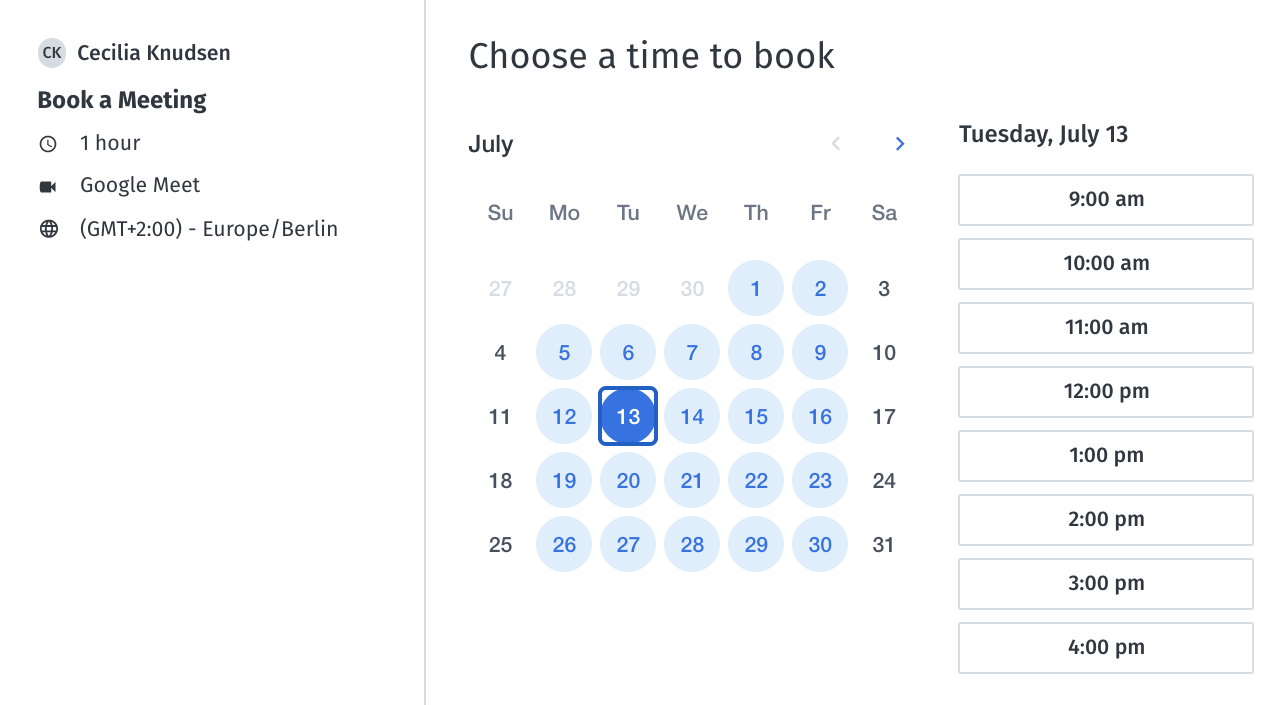 Source: Doodle
Doodle is a web-based scheduling tool that allows you to create polls and invite participants to vote on their preferred meeting times.
This makes it easy to find a time that works for everyone and avoids scheduling conflicts. Once you've found a time that works for everyone, Doodle automatically adds the event to your calendar and sends out invitations to all attendees.
I love the fact that you can send reminders and follow-ups to attendees before and after the event.
What You'll Like:
Shared calendars improve internal collaboration

Custom branding options for booking pages and meeting invitations

Scan your availability across Google Calendar, Microsoft Office 365, and iCal from a single place

Use activity reports to track the performance of your team members

The calendar is updated automatically when events get confirmed
What You Won't Like:
The tool's loading speed can drop at times

The interface is not intuitive, and it takes some time to get used to the application
Pricing:
Free for 1 user & offers 1 booking page. Paid plans start from $6.95/user/month.
4.
SimplyBook.me
–
Best for Service-Based Businesses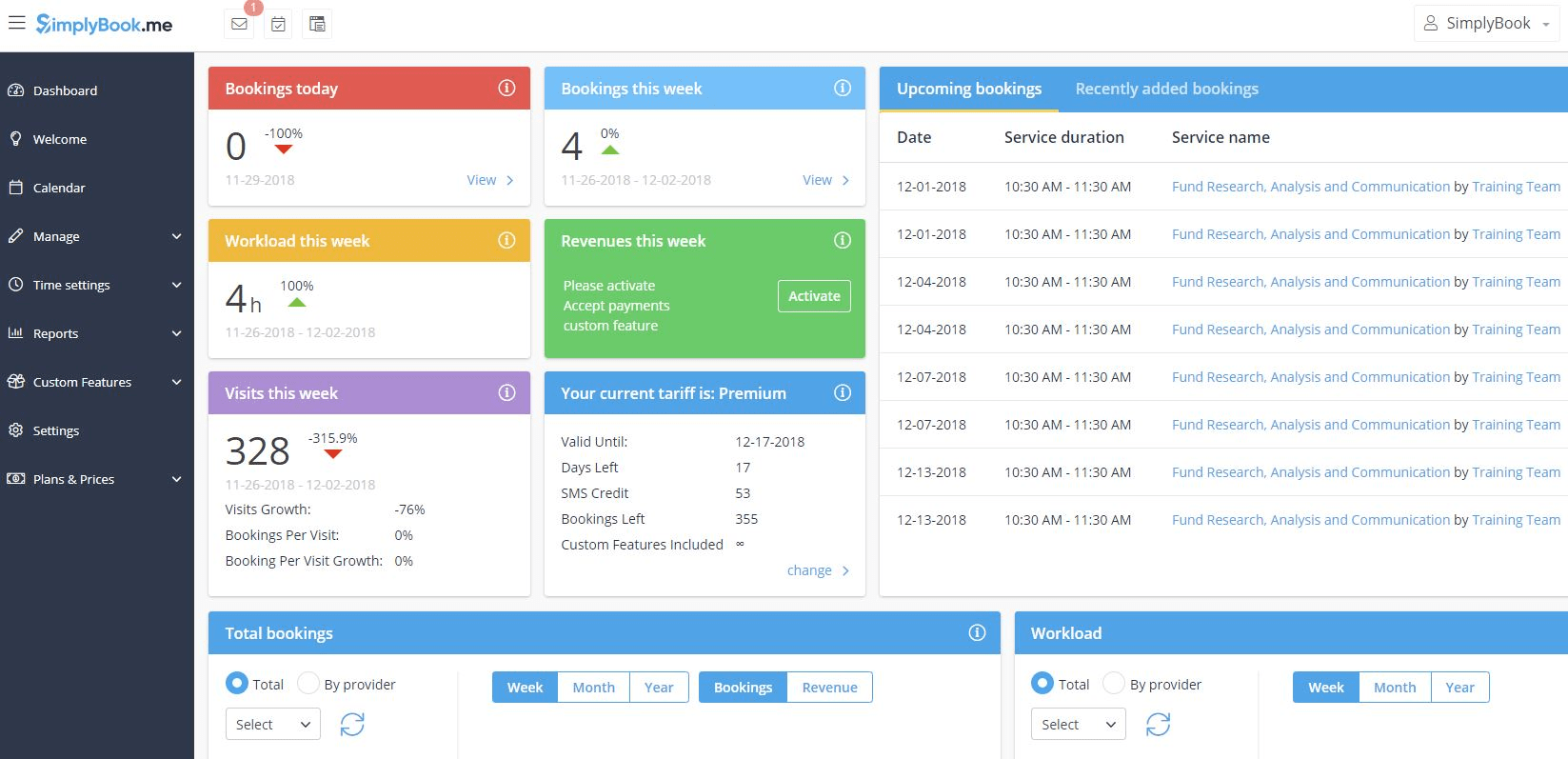 Source: Simplybook.me
If you are looking for simple scheduling software for a service-based company, I think SimplyBook.me can be an excellent option.
The tool is great for creating highly customized booking widgets, providing a seamless experience to clients. It facilitates booking through booking pages, your website, or social media channels.
Another feature that I really like is the ability to track booking and site visits, as well as the most popular service providers. This information comes in handy when making important business decisions.
What You'll Like:
Avoid double booking by syncing booking pages with Google or Outlook calendars

Attendees are notified whenever appointments are booked, canceled, or rescheduled

Online payment and deposits can be accepted through PayPal or Stripe

A range of pre-built templates are available that cater to different industries

All the meeting-related information can be added to the Calendar page using notes and comments.
What You Won't Like:
The add-ons are expensive

The setup process is complicated and time-consuming
Pricing:
Free for 1 user with limited bookings. Paid plans start from $8.25/month.
5.
S
et
m
or
e
–
Best for Self-Booking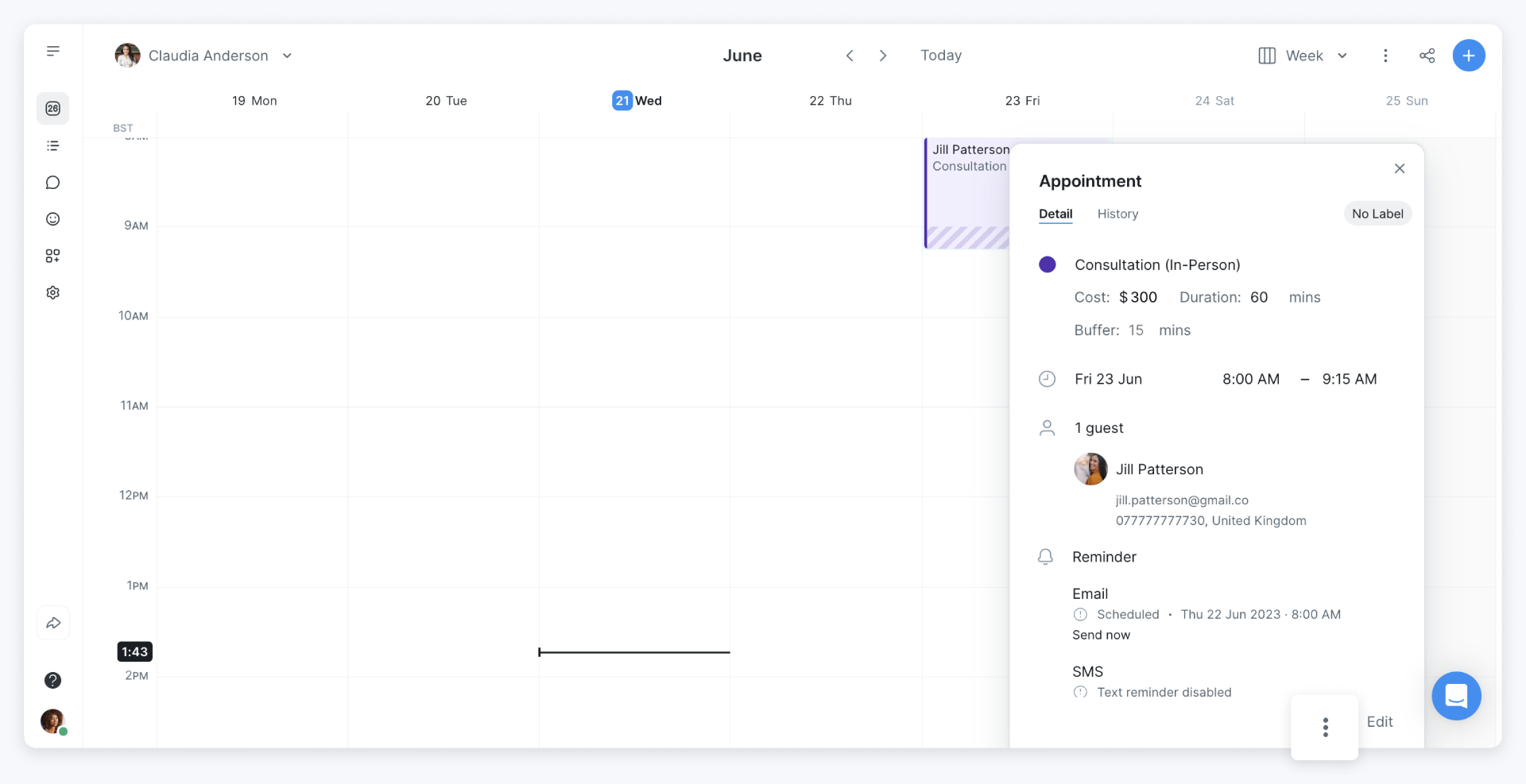 Source: Setmore
If you need an online scheduling tool to enable your clients to book appointments based on their schedules, Setmore is a great option. It also lets your team track these appointments using a comprehensive calendar view.
Setmore offers a desktop app for Windows and macOS, which allows you to schedule appointments, connect with customers, and accept secure online payments.
You can also accept appointments 24/7 through a custom booking page, access your full company calendar, including staff schedules, edit customer contact information on the move, and get instant booking notifications straight to your smartphone.
What You'll Like:
Payments can be accepted directly from the booking page

Custom booking pages empower clients to book appointments conveniently

Automatic confirmations include all the essential details

It's easy to set up recurring appointments and event reminders

Connect the tool with applications such as Facebook, Instagram, Stripe, WordPress, Google Calendar, etc.
What You Won't Like:
Lacks integration with PayPal

Setup and navigation take some getting used to
Pricing:
Free for 4 users. Paid plans start from $5/user/month.
6.
Square Appointments
–
Best for Custom Booking Websites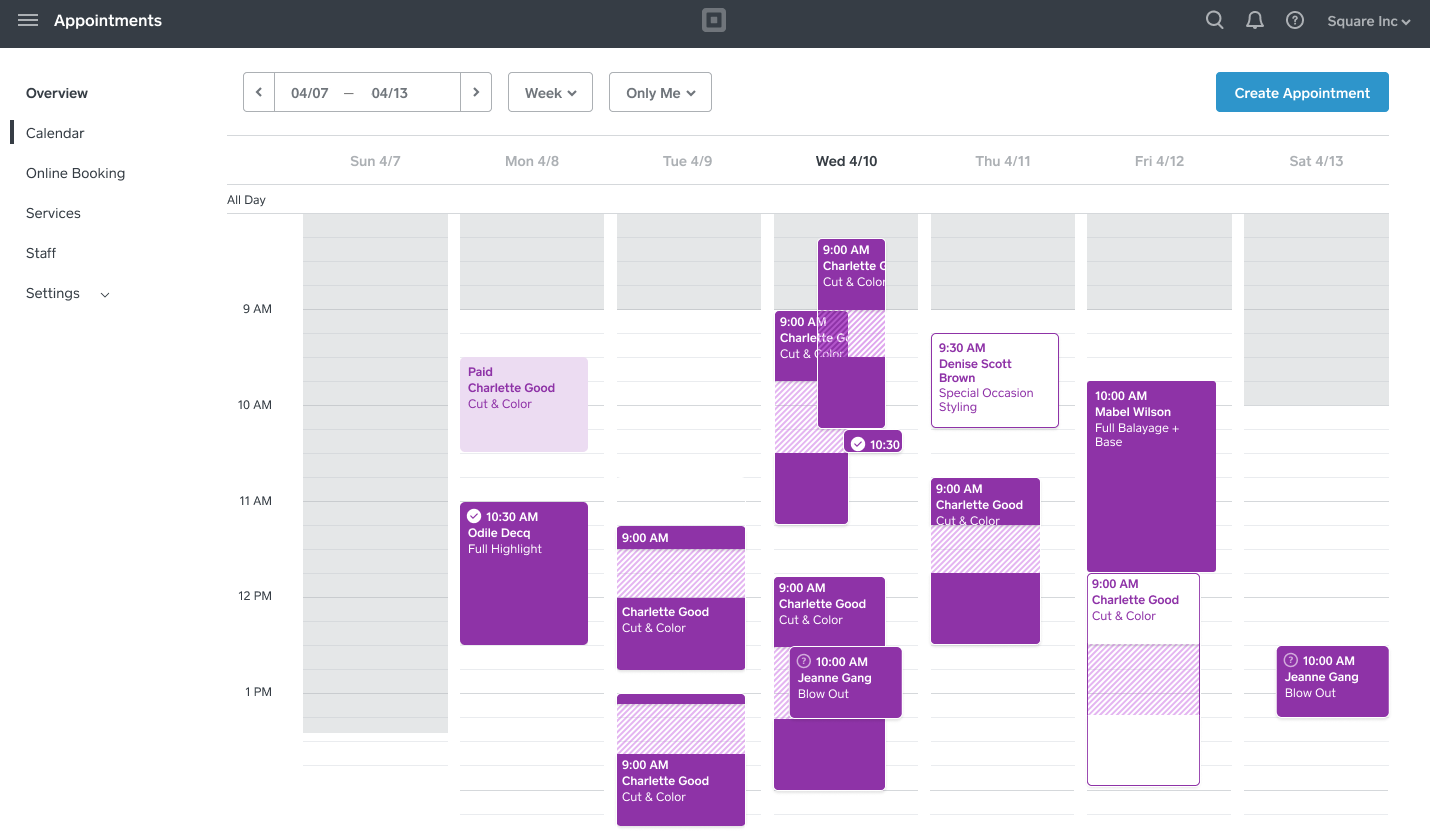 Source: Square Appointments
Square Appointments proves to be a highly effective solution for creating a custom website to enable clients to schedule appointments. I like how easy it is to modify the color, layout, and other functionalities of the meeting booking system.
Another notable feature of Square Appointments is the ability to deliver automatic appointment reminders to customers via SMS or email.
Additionally, the tool's payment collection feature is quite impressive. I like how the tool streamlines the online payment processes by helping you manage transactions directly within the platform.
What You'll Like:
Dedicated mobile application for managing payments and bookings on the go

The automated messaging system responds to clients instantly

Google Calendar connection keeps all meetings synchronized with your personal calendar

Single checkout for multi-staff appointments and automatic tip-splitting

Clients can book appointments directly from your Instagram page or your business website
What You Won't Like:
Limited customization options when it comes to branding and user interface

Transaction fees for processing payments made through the platform can become a noticeable operational cost
Pricing:
Free for a single location. Paid plans start from $29/location/month.
7.
Picktime
–
Best for Calendar Synchronization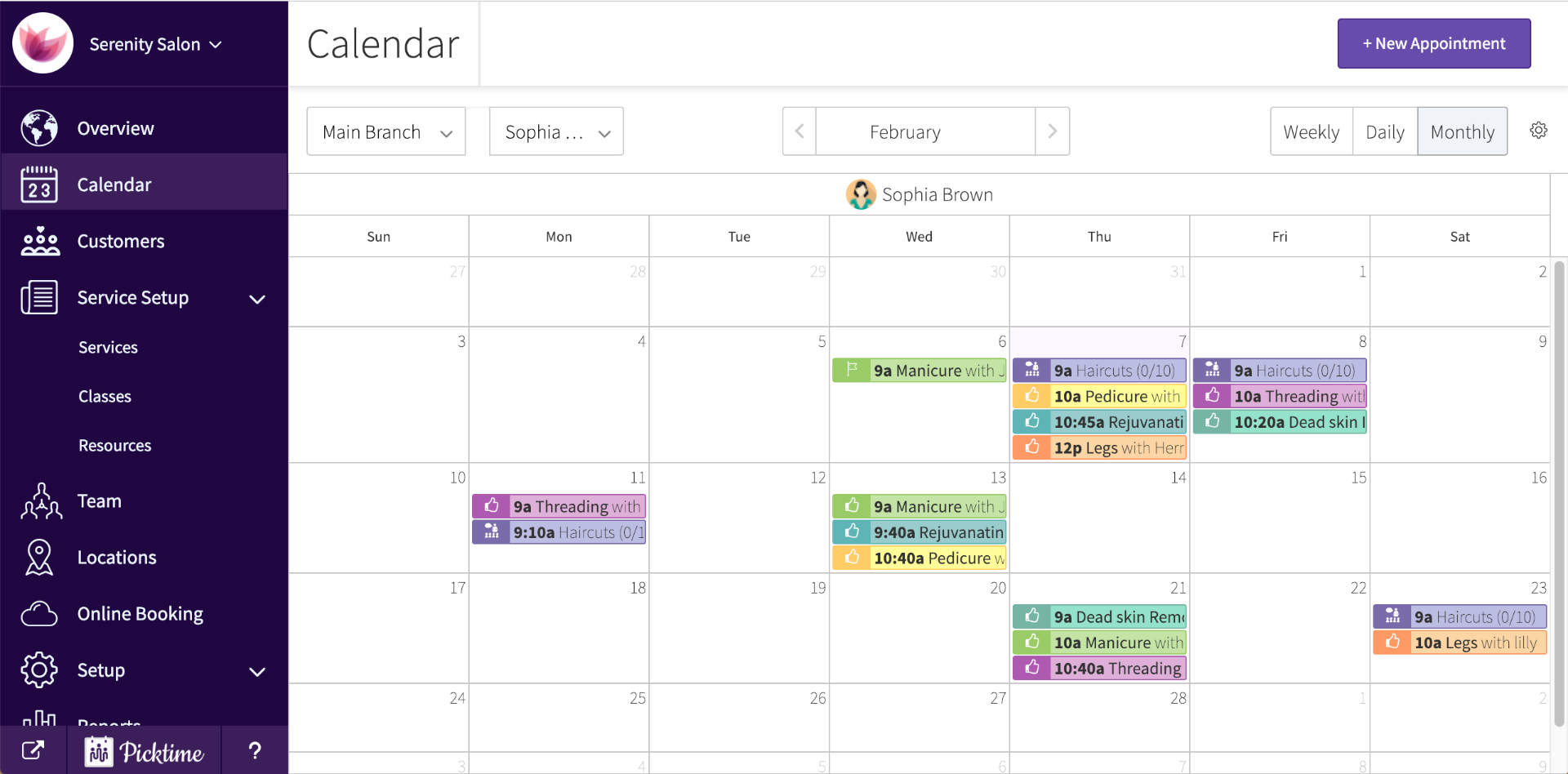 Source: Picktime
Picktime is a game-changer in scheduling and organization. Its intuitive interface lets you effortlessly set up appointments, meetings, and events, eliminating scheduling conflicts.
The seamless calendar integration with Google, Outlook, Office 365, Exchange, and iCloud ensures you never miss an important date.
Moreover, with its group scheduling feature, coordinating with colleagues is a breeze. From its user-friendly design to its time-saving capabilities, Picktime is the ultimate scheduling companion, simplifying your life and boosting your productivity.
What You'll Like:
24/7 online scheduling through custom-made booking pages and forms

Payment acceptance and processing through PayPal, Stripe, or Square

Multi-location management from a single dashboard

Automatic reminders help reduce no-shows

In-depth reports display the effectiveness of your business activities
What You Won't Like:
Intrusive pop-up ads on the booking window can hamper the overall experience

Export functionality for contacts needs improvement
Pricing:
Free for 3 users. Paid plans start from $2.25/user/month.
8.
YouCanBook.me
–
Best for Customizable Schedules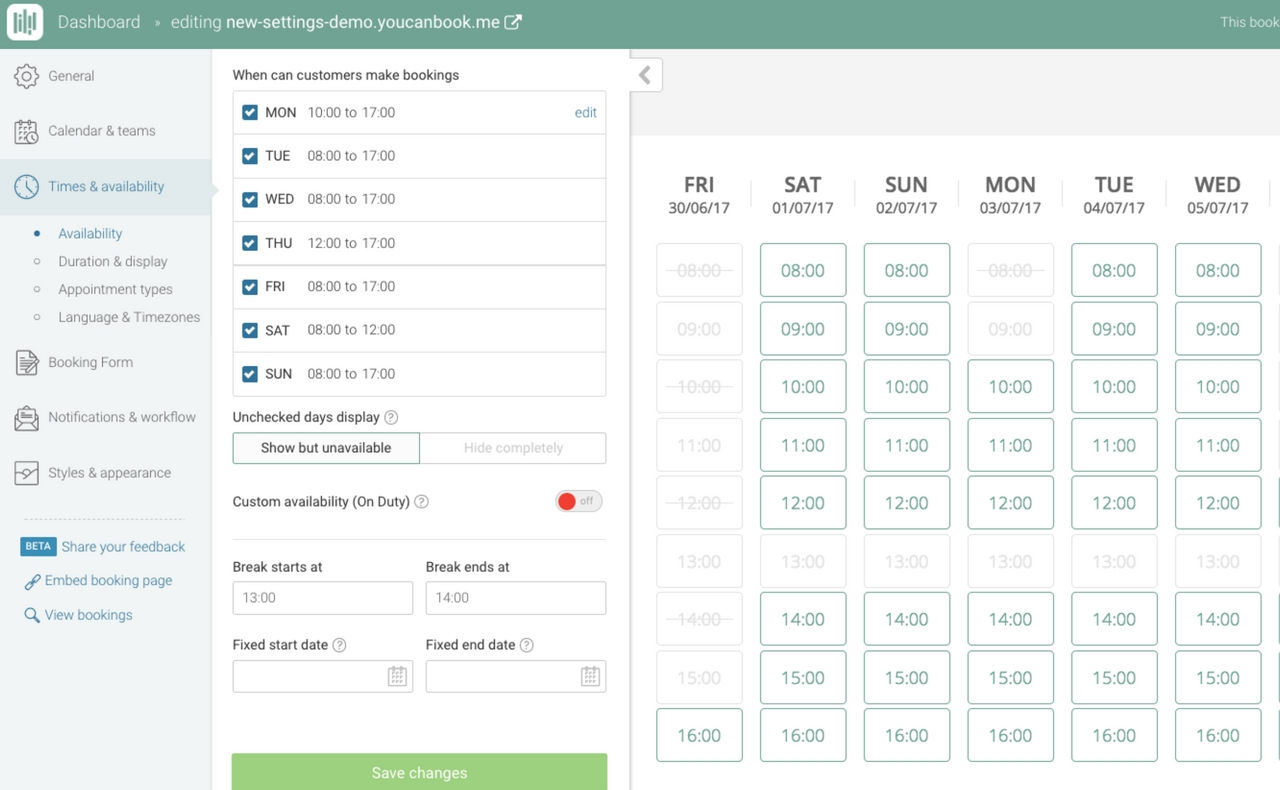 Source: Youcanbook.me
YouCanBook.me simplifies the appointment booking experience by syncing with Google, iCloud, or Microsoft calendars.
I could easily set up a customized weekly schedule, which gave me complete control over meeting times. The tool also has a social sharing feature to deliver the booking page via Facebook, Twitter, LinkedIn, or email.
It helps reduce no-shows with branded confirmation emails and timely reminders. I also like the ability to set prices for bookings and accept payments online through Stripe or PayPal.
What You'll Like:
Supports multiple booking scenarios, such as team bookings, group bookings, round-robin bookings, tentative bookings, etc.

Regular or flexible weekly schedules ensure ultimate control over when meetings are scheduled.

Seamless integrations with Google Calendar, Gmail, Stripe, Zoom, and more

Automated confirmations, reminders, and follow-up emails

Custom booking pages that work seamlessly across devices
What You Won't Like:
It does not have a native mobile app

Setup and training are complex
Pricing:
Free plan with 1 linked calendar. Paid plans start from $10.80/calendar/month.
9.
Acuity Scheduling
–
Best for Customizable Intake Forms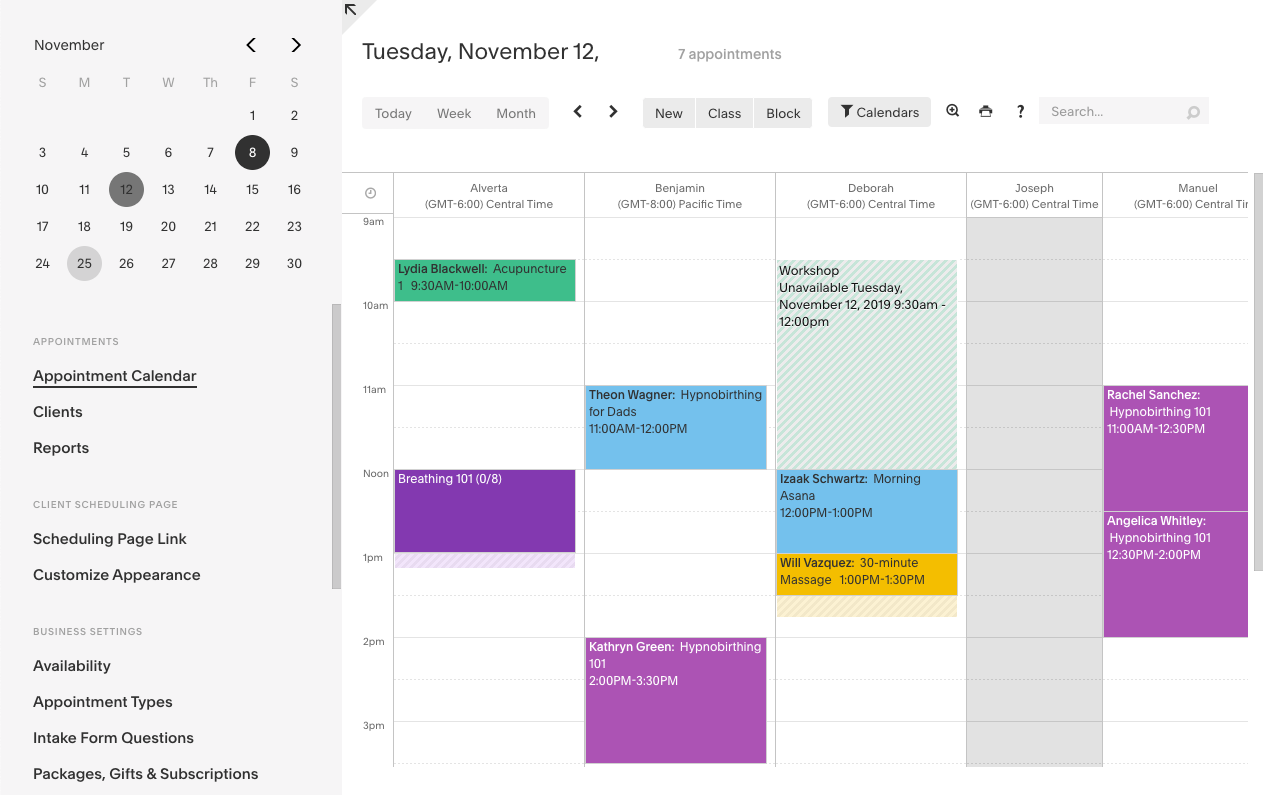 Source: Acuity Scheduling
As someone who values efficiency highly, Acuity Scheduling especially stood out to me.
The best part about this tool is the customizable intake forms that are offered to clients at the time of booking. These forms help you find out everything you need to know before the appointment.
The platform simplifies the scheduling process, allowing clients to book appointments while also giving you the freedom to customize your availability. You can also manage multiple locations and employees from a single location.
Features such as automated reminders and online payment integration further enhance the booking experience through Acuity Scheduling.
What You'll Like:
Custom forms help collect specific client information and preferences

Group Scheduling enables clients to book appointments for multiple people at once

Clients can easily view availability and book appointments online, reducing the back-and-forth communication

Timely reminders minimize no-shows and enhance overall attendance

Google Calendar synchronization ensures that your schedule is always up-to-date
What You Won't Like:
Setting up complex integrations requires technical expertise

Users seeking highly tailored designs might find the customization options to be somewhat limited
Pricing:
10.
TimeTap
–
Best for Client Management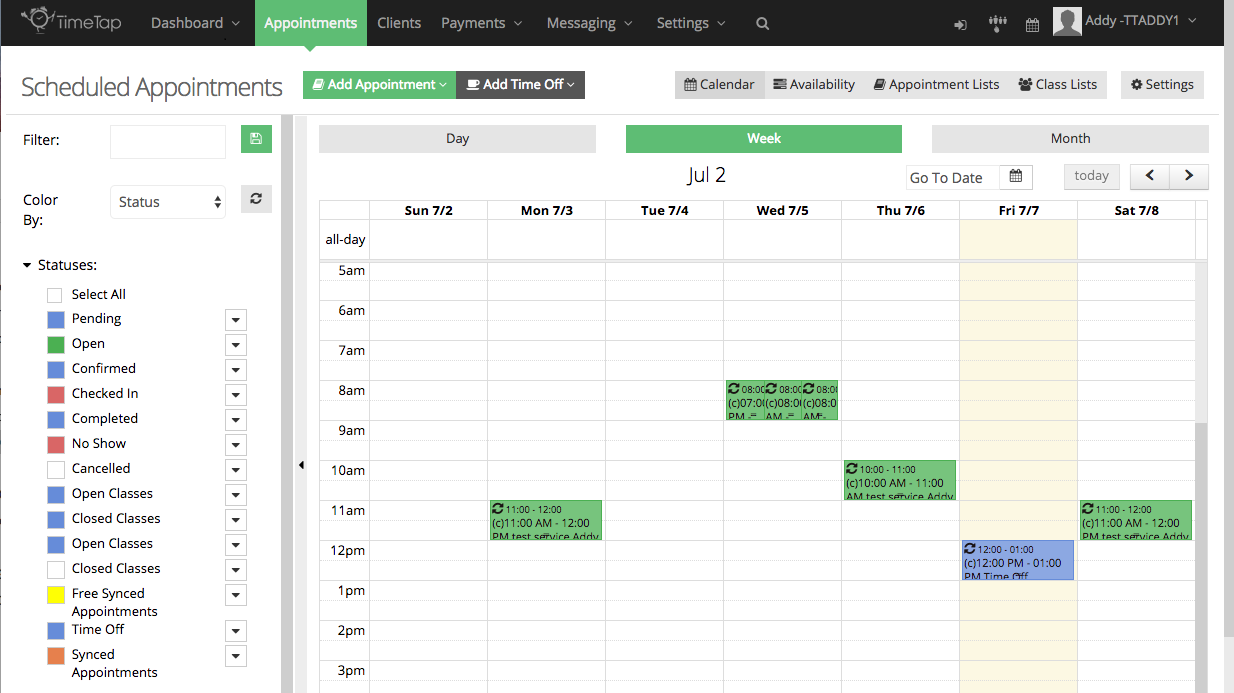 Source: Timetap
For teams that need a tool that combines client management and appointment scheduling, Timetap takes it home, in my opinion.
One of its standout features is personalized client profiles that store essential information about each client, such as contact details, preferences, and appointment history. This not only fosters a personalized experience but also enables you to understand better and anticipate client needs.
The tool also offers calendar synchronization, real-time availability updates, integration with popular calendar apps, and the ability to accept payments during booking. Its robust reporting and analytics provide valuable insights into booking trends and customer behavior.
What You'll Like:
Businesses with multiple locations can easily manage appointments across different branches from a centralized platform

Seamless payment processing allows clients to pay for services during booking

Email and SMS notifications keep both clients and staff informed

Custom forms enable you to collect necessary information from clients before appointments
What You Won't Like:
Advanced features like resource allocation and multi-location support can be challenging to set up

Booking page customization is somewhat limited
Pricing:
Starts from $22.45/month.
11. Fresha
–
Best for Beauty & Wellness Services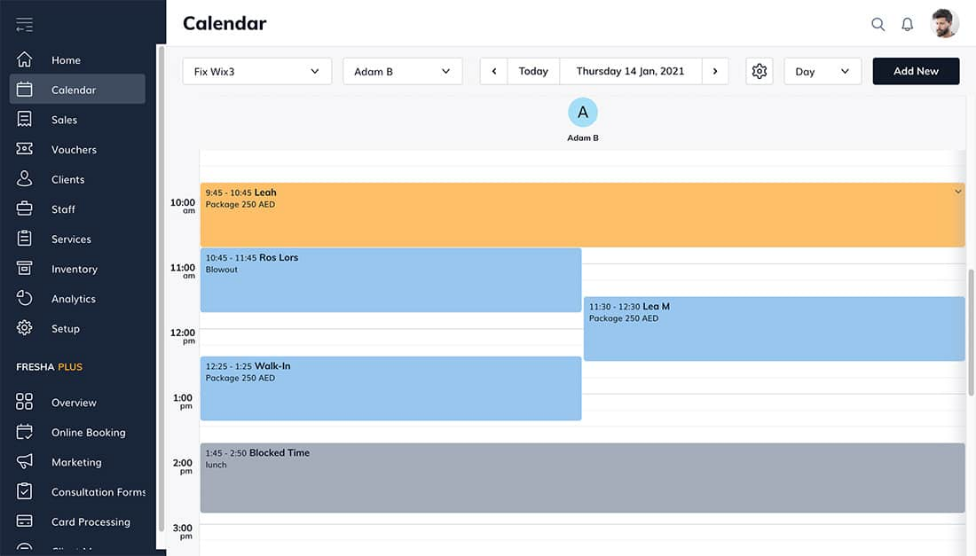 Source: Fresha
One aspect I find particularly valuable about Fresha is the accessibility it provides to both customers and service providers.
The app lets clients book appointments on the go, making it incredibly convenient for them to engage with their favorite local beauty and wellness spots. They can browse through available appointment slots, select specific service providers, and book appointments with just a few clicks.
On the other side of the equation, service providers can manage their schedules, track their earnings, and access insightful analytics.
What You'll Like:
Offers dedicated mobile apps for both professionals and clients

Bookings and changes made on one device are instantly reflected on all other devices linked to the account

Automated reminders and confirmation systems reduce no-shows and last-minute cancellations

The integrated payment gateway simplifies the payment process for both clients and service providers

Service providers can access data on appointment trends, revenue streams, and customer behavior
What You Won't Like:
Lacks advanced group scheduling options

Custom intake forms are missing
Pricing:
Free tool for limited business types such as salons & spas.
12. Vagaro
–
Best for Salon, Spa & Fitness Appointments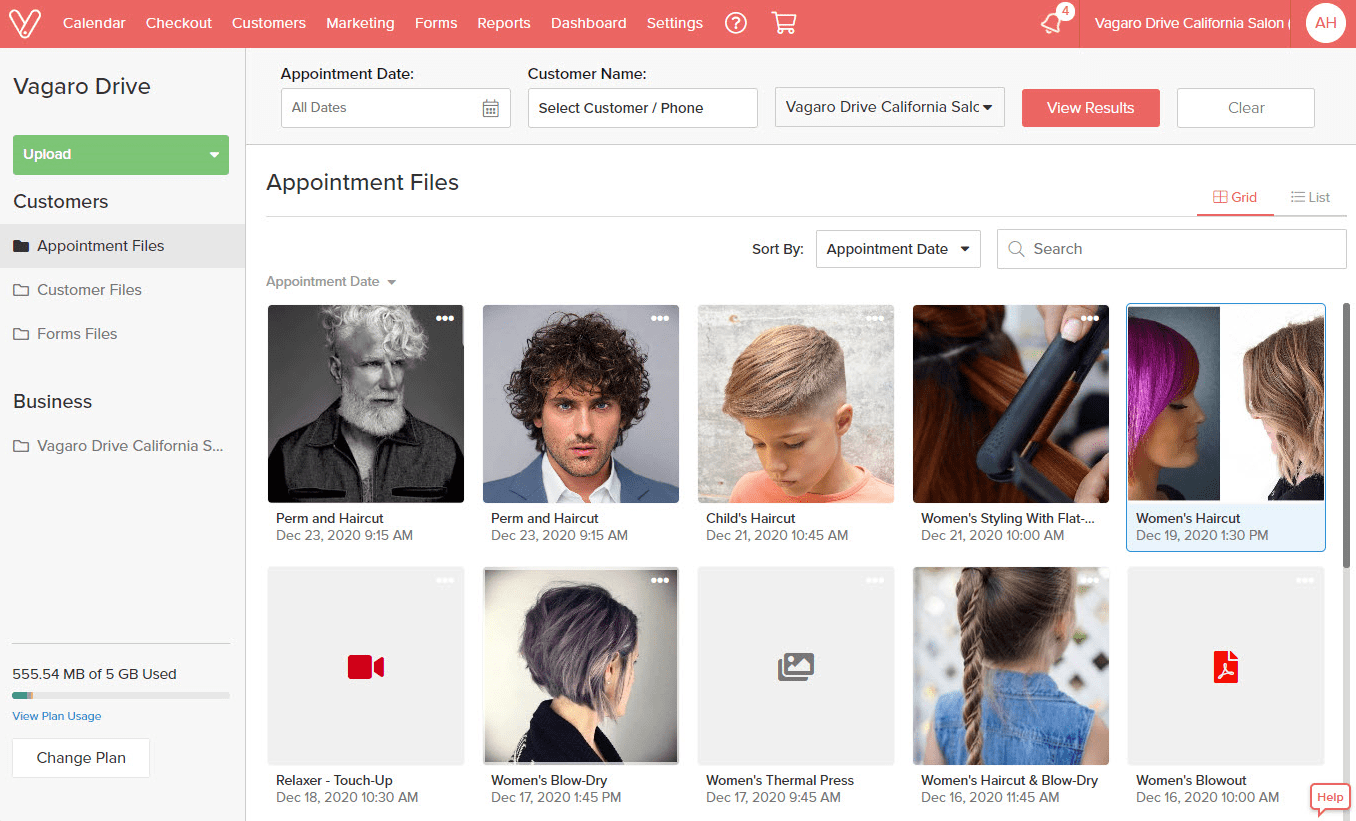 Source: Vagaro
In my opinion, Vagaro is an excellent choice if you are looking for efficient appointment scheduling apps for beauty and wellness professionals.
One of its standout features is the point-of-sale (POS) capabilities. With a few clicks, you can securely process payments, manage invoices, and even offer gift certificates or packages.
The automated reminders and confirmations ensure that no-shows become a thing of the past, freeing up valuable time. Additionally, personalized email marketing campaigns help connect with clients in a more meaningful way, sharing promotions, updates, and even birthday wishes.
What You'll Like:
Automated reminders, confirmations, and personalized email marketing campaigns

Staff management features help organize schedules, track performance, and allocate resources

Detailed reports on revenue trends, appointment history, and customer behavior

The integrated POS system enables secure and efficient payment processing

The autopay functionality enables businesses to set up recurring membership
What You Won't Like:
Only limited to a few business types

It comes with a higher price tag, especially for smaller businesses or individual practitioners who are on a tight budget
Pricing:
Starts from $25/month for 1 bookable calendar.
How to Choose an Online Appointment Booking System
Since there isn't a one-size-fits-all calendar scheduling software, it is best to opt for a tool that meets your specific needs. I would suggest you consider factors such as-
1. Features Alignment
Ensure the software offers features that match your business needs, such as online booking, staff management, and reminders.
2. Ease of Use
Opt for a user-friendly interface that both you and your clients can navigate seamlessly.
3. Integration
Look for software that integrates with your existing tools, like calendars and payment systems.
4. Customer Support
Reliable customer support ensures you can troubleshoot issues swiftly.
5. Cost-effectiveness
Assess pricing plans to ensure they align with your budget and provide value for the features offered.
6. Mobile Accessibility
Mobile apps or responsive designs are crucial for on-the-go management.
7. Security
Ensure the software employs robust security measures to protect sensitive client data.
8. Reviews
Research user reviews and seek recommendations from industry peers to gauge real-world experiences.
Which Is The Best Appointment Scheduling Software?
In conclusion, your decision regarding the best software for scheduling appointments should be tailored to your specific objectives, taking into account the preferences and needs of your clientele. After careful consideration, I've outlined three standout options to simplify your selection process:
Option A: BIGContacts
BIGContacts offers a comprehensive and customizable appointment scheduling solution, ensuring seamless interactions and efficient calendar management. With its intuitive interface and advanced features, such as contact management, reminders, and team coordination, BIGContacts is suitable for businesses of various scales.
Option B: Calendly
Calendly stands out with its user-friendly design and automated scheduling capabilities. The platform's integration with popular calendars and its ability to sync availability across time zones make it an attractive choice for hassle-free appointment bookings.
Option C: Setmore
Setmore offers a robust suite of scheduling tools, including online booking, staff management, and client reminders. Its user-friendly interface and mobile app compatibility ensure that you can efficiently manage appointments both in the office and on the go.
In the end, based on my experience, I recommend BIGContacts as the optimal calendar scheduling software. I suggest you opt for a free trial of various appointment scheduling tools to find one that takes your scheduling process to new heights.
Learn More About Appointment Scheduling Software
What is an appointment scheduler?
An appointment scheduler is a digital tool that helps schedule and manage appointments efficiently. It allows users to book, modify, or cancel appointments online, streamlining the scheduling process. Such systems enhance organization, reduce scheduling conflicts, and improve customer experience by offering easy access to available time slots.
What are the features of an appointment scheduling system?
An appointment scheduling system provides a range of features, including online booking, calendar synchronization, automated reminders and workflows, customer notifications, activity reports, and integrations with other tools. Users can efficiently manage appointments, leading to smoother workflows and improved customer engagement.
What are the benefits of an appointment scheduling tool?
An appointment scheduling tool brings multiple advantages. It optimizes time management, reduces no-shows with reminders, improves customer satisfaction through convenient booking, and centralizes appointment data. This results in increased operational efficiency, improved client relationships, and overall business growth.
How much does appointment scheduling software cost?
The cost of appointment scheduling tools varies widely depending on factors such as features, user count, and scalability. Prices can range from affordable monthly subscriptions to more comprehensive plans.
Do appointment scheduling tools offer multi-timezone support for businesses operating globally?
Yes, most online appointment booking systems offer multi-timezone support. This is especially beneficial for businesses operating globally or serving clients across different time zones. It ensures accurate scheduling and eliminates confusion when dealing with clients or colleagues in various parts of the world.
How customizable is the appointment scheduling interface to match our brand's look and feel?
Appointment scheduling tools like BIGContacts often provide a high degree of customization. They allow you to tailor the interface to match your brand's aesthetics, including color schemes, logos, and even fonts. This branding consistency enhances customer recognition and reinforces your business identity across all touchpoints.
Is data encryption used to protect information transmitted through the software?
Reputable appointment scheduling systems are GDPR-compliant solutions that prioritize data protection. Robust encryption protocols are employed to safeguard sensitive information during transmission. This ensures that customer and business data, including personal details and appointment records, remain confidential and compliant with regulations, bolstering customer trust.
Do you want to make more sales?
BIGContacts is the #1 contact management software & CRM to close more sales.