Keeping track of contact details, tasks, birthdays, appointments, etc., can be a tedious and cumbersome job, especially if done manually for a large number of people.
This is why more businesses are moving toward dedicated address book software that streamlines data management.
Address books have seen a paradigm shift from heaps of files and hard-bound notebooks to advanced online platforms. These books are no longer only meant to record contact data but have transformed into dynamic solutions that make data retrieval easier and automate interactions.
In the digital age, there are countless address book software options available, ranging from simple, bare-bones programs to complex, feature-rich solutions. In this blog, we'll be exploring 9 of the best address book software options available in the market, each with a unique set of features, advantages, and pricing.
In a Nutshell
An address book tool helps you consolidate all contact details related to your business connections.
A fundamental advantage of such a tool is unified access to business information, which results in improved communication and stronger relationships.
Some of the features to look for in address book software include contact management, segmentation, label printing options, file storage, etc.
Address book management software has significantly evolved over the years. Simple spreadsheets that consolidate contact information have now been replaced by dedicated software with advanced capabilities like cross-device data synchronization and automated follow-ups.
Find a detailed comparative analysis of the 9 leading address book software to find one that suits your needs the best.
What Is Address Book Software?
An address book software is a digital tool that enables individuals and organizations to store, manage, and organize their contact information. This information can include names, addresses, phone numbers, email addresses, and other details relevant to keeping in touch with friends, family, colleagues, and clients.
Address database software is a crucial tool for individuals and organizations alike, serving as a repository for contact information and facilitating communication and networking.
Here is the dashboard of BIGContacts to help you better understand the capabilities of an address book tool.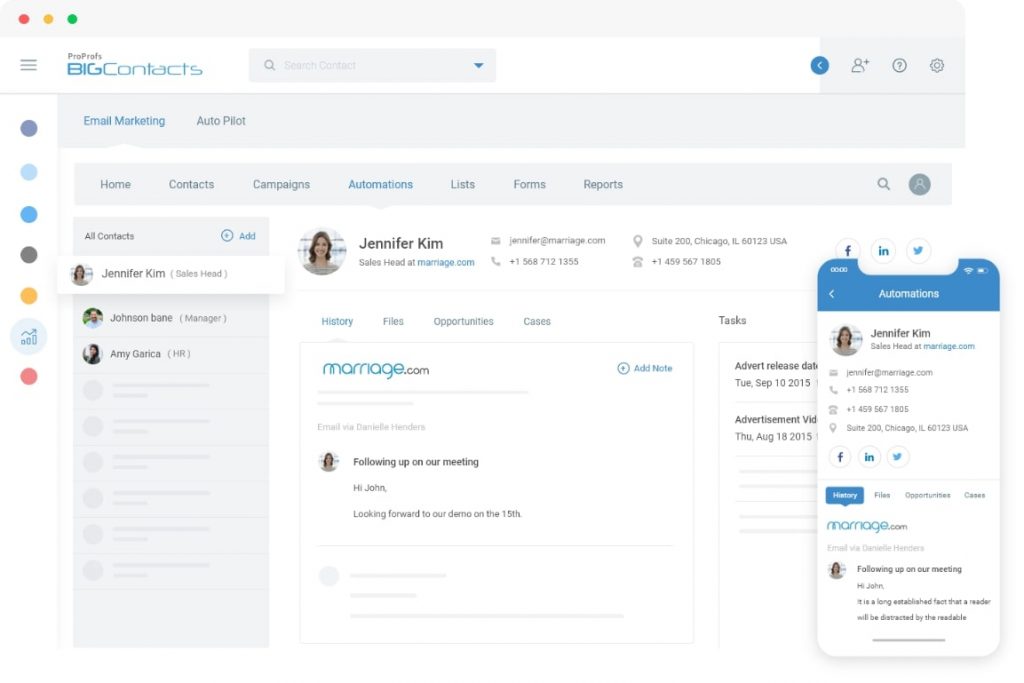 You can access contact information such as phone numbers, email addresses, physical addresses, files, open tasks, social media profiles, and other associated information related to contacts from a single screen. This will help you drive more personalized engagement, which in turn will result in stronger relationships.
Types of Address Book Software
Address book software can range from minimalistic programs to complex systems. There are various types of address book software available, each with its own features and capabilities. Some of these include:
One of the simplest address book options is the classic "Contacts" app that comes pre-installed on most smartphones. This free address book software provides a basic interface for storing contact information and is ideal for a minimal number of contacts.
For those who need more advanced features, such as the ability to categorize contacts and send bulk messages, there are more complex solutions available. For example, Microsoft Outlook offers robust contact management capabilities, including the ability to categorize contacts, schedule appointments, and send emails.
Google Contacts is another popular option, with a user-friendly interface and the ability to sync contacts across multiple devices. Additionally, it allows users to search their contacts by various criteria and save their contact information in Google Drive for easy access.
For businesses and large organizations, CRM (customer relationship management) software, like BIGContacts, is a comprehensive solution for managing customer data, including contact information. These systems often include features such as lead tracking, deal management, and reporting, making them ideal for organizations looking to optimize their sales and customer service processes.
Ultimately, the best address manager software for you will depend on your specific needs. Whether you're looking for a simple, straightforward solution or a complex, feature-rich system, there are plenty of options available to meet your needs. Be sure to consider your specific requirements and budget when selecting this software.
6 Benefits of Address Book Management Software
Full-fledged address book management powered by reliable software presents a hoard of benefits to businesses. Some of the most advantageous of these are:
1. Bring Relevant Information Together
A primary benefit of using address book software is that it allows users to easily access and manage their contact information from one central location. With the ability to search and categorize contacts, users can find the information they need and make connections with ease.
2. Synchronize Data
Address book management software can keep your contact data synchronized and backed up. This helps you access updated information readily without having to make manual edits across different devices and platforms.
3. Anytime, Anywhere Access
You can easily locate relevant contact information with just a few clicks using your address book software. Moreover, you can access this information from any remote device, which further enhances the usability of your data.
4. Ensure Data Security
Reliable address book management tools offer powerful data security and encryption options to maintain the confidentiality of sensitive data. This will keep your data safe. Furthermore, custom user roles and permissions ensure that only authorized personnel can access your contact data.
5. Sort Through Data With Ease
Keeping the database clean and looking up information becomes comparatively easier when you have a robust tool with advanced filtering and sorting options at your disposal. This will also help you gain valuable insights to improve future performance.
6. Get in Touch
Most address book software facilitates communication. This means that they allow you to engage with people at the right time with more relevant content. This impacts the effectiveness of your interactions and helps you drive more favorable outcomes.
Address Book Examples
Before we explore the best address book software, let's look at some examples of address books that you can create and manage using these tools.
Personal Address Books: These address books are designed for individuals who need to manage a large number of personal contacts.
Business Address Books: Designed to help organizations manage large amounts of customer and client data, business address books are a prerequisite for any enterprise's success.
Employee Address Books: These address books specifically contain information about an organization's employees.
9 Best Address Book Software
Explore an in-depth comparison of the 10 best online address book software options to find the most reliable solution for your business.
1. BIGContacts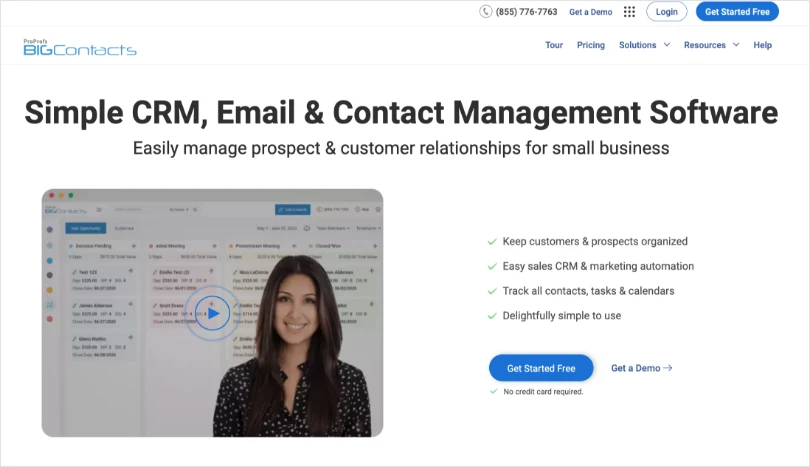 BIGContacts is a state-of-the-art contact management system that can help you keep your address book well-organized and easily accessible across devices. The tool offers advanced automation, filtering, and segmentation features, helping you make the most out of your contact database. You can also generate detailed reports and analyze your business data effectively.
Rating:
G2- 4.5/5
Capterra- 4.3/5
Key Features:
Access comprehensive contact dashboards, including a detailed activity timeline.
Use custom fields and notes to store additional information in your contact records.
Automate tasks, alerts, and follow-ups to enhance your overall efficiency.
Enrich contact records with social media profiles automatically.
Group similar contacts and use lists and tags to keep your database well-organized.
Pricing:
Big- $5/user/month
Bigger- $15/user/month
Biggest- $25/user/month
Enterprise- Custom pricing
BIGContacts Plan Summary:
| | | | | |
| --- | --- | --- | --- | --- |
| | BIG | BIGGER | BIGGEST | ENTERPRISE |
| Contact Capacity | 1000 | 10,000 | 50,000 | Unlimited |
| Custom Fields | 6 | 20 | 50 | Unlimited |
| Tags | 10 | 50 | 300 | Unlimited |
| Automated Alerts | ⨯ | ✔ | ✔ | ✔ |
| Webform Connection | ⨯ | 10 | 20 | 100 |
| Social Profile Search | ⨯ | ⨯ | ✔ | ✔ |
2. Pobuca Connect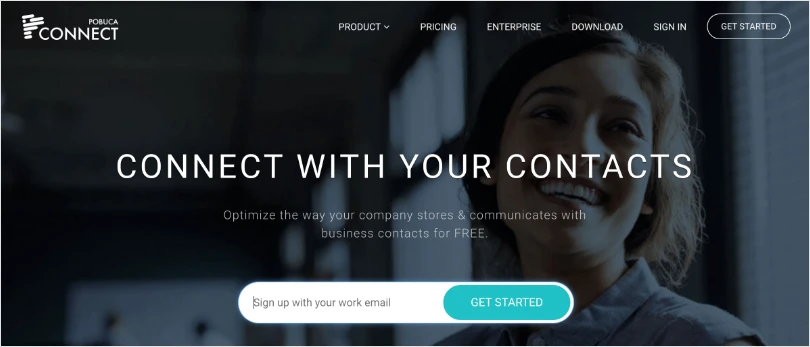 Pobuca Connect is a feature-packed solution that helps businesses manage contact information and keep it synchronized across devices. The tool lets you set customer communications reminders, define user roles, and maintain activity logs. Pobuca Connect also enables you to add comments to contact records and collaborate with team members on shared address books.
Rating:
G2- 4.0/5
Capterra- 4.4/5
Key Features:
Add contacts by scanning business cards, using email signatures, or importing them.
Maintain contact lists for effective targeting.
Define access roles and permissions for address book users.
Search and update contact information using the built-in bot.
Automatically enrich contact profiles using social media and the web.
Pricing:
Free plan available
Paid plans start from $2.5/user/month
3. Free Address Book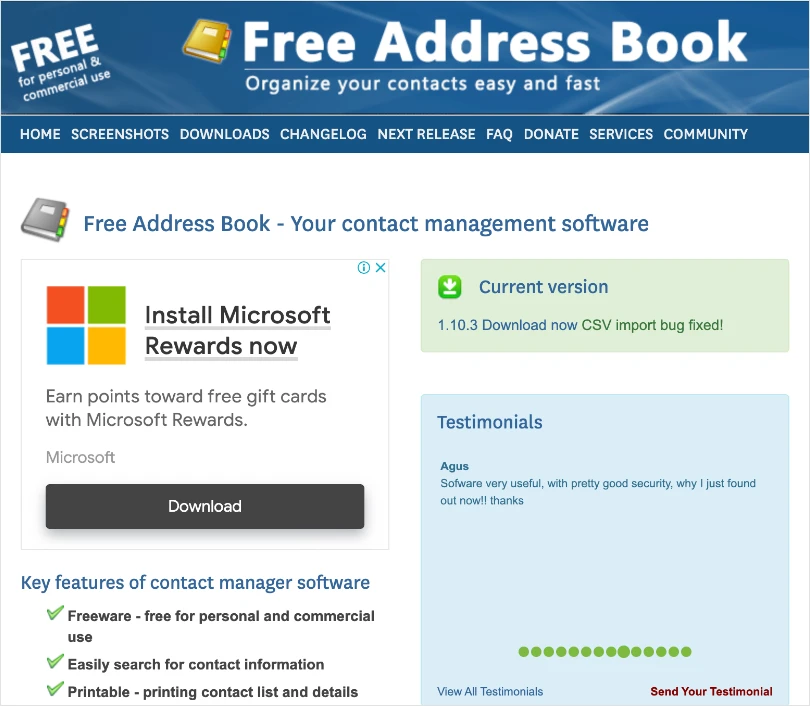 Free Address Book, as the name suggests, is a free tool for personal and commercial contact management usage. You can use it to maintain detailed contact records, including addresses, phone numbers, birthdays, email addresses, photos, etc. Free Address Book also helps you create and manage contact groups for more organized operations.
Rating:
G2- 4.2/5
Capterra- 4.2/5
Key Features:
Create custom fields to store additional information.
Segment contacts into groups for more targeted interactions.
Receive reminders for important events such as birthdays.
Import and export contacts as CSV files.
Easily print contact lists and details.
Pricing:
4. C-Organizer
C-Organizer is a user-friendly and customizable solution for managing your contact address books that comes with powerful task-planning functionality. Use it to search and sort through business data to find relevant information instantly. You can also attach or link to external files, set up notifications, and organize tasks into a tree-like structure using C-Organizer.
Rating:
Key Features:
Encrypt and password-protect sensitive information in your address book.
Use advanced filters and sorting options to find relevant information quickly.
Share your address book with other team members and track real-time changes.
Plan tasks, set recurrences, and monitor progress using the calendar module.
Group contacts to keep your contact database well-organized.
Pricing:
5. My Personal Address Book

My Personal Address Book is a powerful tool for keeping track of relevant contact information, as well as reaching out to these contacts. Licensed by Microsoft, the tool lets you create unlimited address books, helping you avoid any clutter in your database. You can also print your address books, including envelopes and labels addressed to contacts.
Rating:
Key Features:
Create an unlimited number of address books.
Print address books in various sizes based on your requirements.
Send emails and make calls from within your address book.
Encrypt sensitive business information to ensure data security.
Get driving directions to contact locations using the system.
Pricing:
Free Standard & paid Premium versions available
6. E-Z Contact Book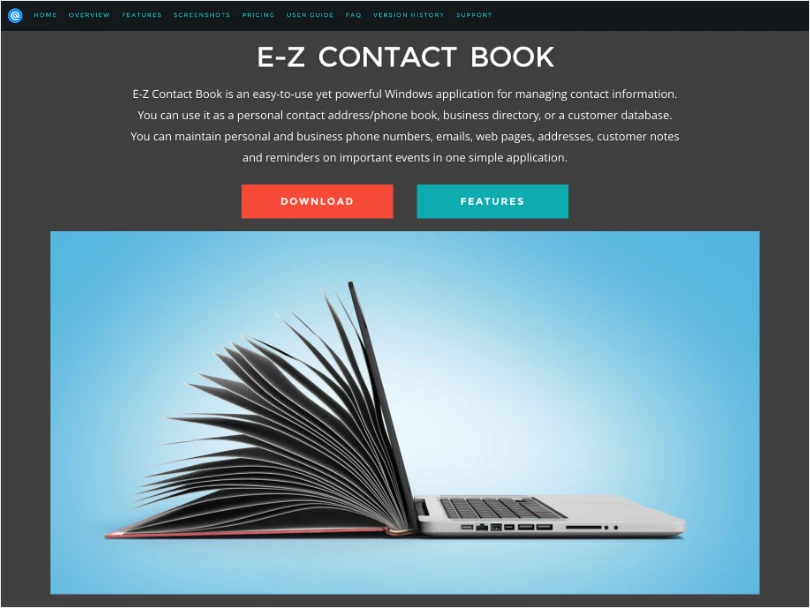 E-Z Contact Book is a Windows application for address book management. Use it to keep track of contact information, maintain notes, and set up reminders. The tool allows you to import contact information in bulk, saving you from tedious manual data entry. You can also benefit from the built-in calendar view to keep track of important events.
Rating:
Key Features:
Get notifications for important events and reminders for recurring tasks.
Send emails and locate addresses without leaving the system.
Keep information synchronized and seamlessly updated across devices.
Search through the data easily with a fast "wildcard" search engine.
Sort and categorize contacts into distinct groups based on any attribute.
Pricing:
7. Stat Trak Address Manager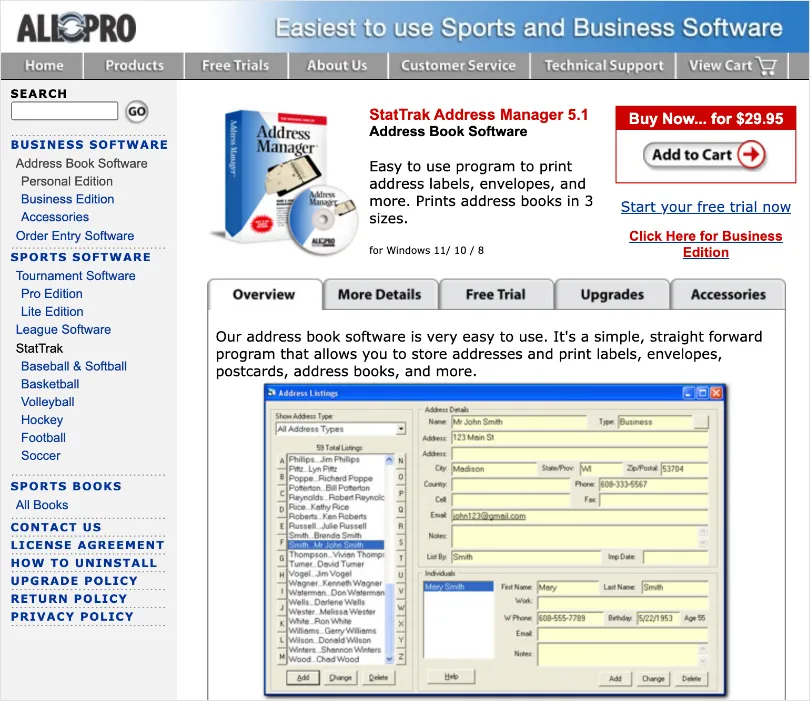 Stat Trak Address Book is a simple and intuitive software for storing contact information, printing address books, and generating detailed reports. It's easy to search through the data and print address labels or envelopes using this application. You can also store additional information as notes and choose from different address types to make your database more organized.
Rating:
Key Features:
Choose from various addresses, labels, and envelope types.
Analyze business data with in-depth reports.
Track upcoming events such as birthdays and get timely reminders.
Use the advanced search, sort, and recall options to save time.
Add custom images and logos to contact records.
Pricing:
8. Efficcess

Efficcess is a personal information management system that helps you manage your contacts, tasks, notes, etc. Store sensitive information using passwords, keep notes, group information hierarchically, and get notifications for upcoming events. The tool lets you sync information across multiple devices, helping you stay organized and updated at all times.
Rating:
Key Features:
Customize the look and layout of the address books.
Keep track of upcoming birthdays, appointments, and other important events.
Use custom fields or notes to store additional information.
Ensure data security with encryption, backup, and restore functionality.
Manage tasks and set their hierarchy to become more productive.
Pricing:
9. Handy Address Book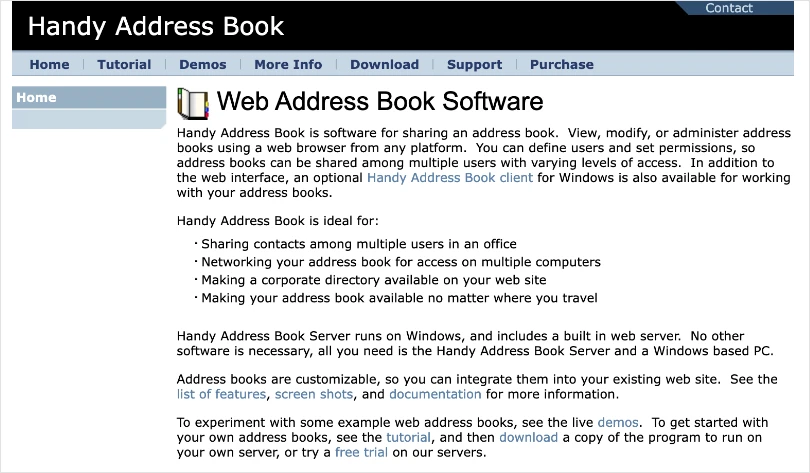 Handy Address Book lets you manage and share address books using a web browser from anywhere. The tool lets you define custom permissions, enabling you to share sensitive contact information securely. This web-based address book also offers easy import of information from other contact management systems.
Rating:
Key Features:
Define user roles and permissions to ensure data security.
Add custom address books to your existing website.
Keep contacts in your address book organized using categories.
Use advanced search, filtering, and sorting options to manage your address books better.
Modify the names of existing fields or add custom fields.
Pricing:
Maximize Profits With Powerful Address Book Management Software
Address book management is an essential aspect of running a successful business. It will help you build meaningful relationships with customers, clients, and partners. With the right address book software, you can streamline your communication processes, improve customer engagement, and ultimately drive profits for your business.
In order to select the most effective solution out of the available options, make sure to keep your unique needs in mind. These include contact storage capabilities, automation features, data import/export facility, sharing options, etc.
Opt for a scalable and intuitive application such as BIGContacts that will eliminate busywork from address book management, helping you focus more on what matters- building relationships that stand the test of time.
Do you want to make more sales?