A common goal for sales teams across industries is establishing a continuous influx of quality leads.
But in the effort to gain more leads, many businesses tend to overlook how these leads are being managed.
Generating quality sales leads is only half the battle won!
You also need to manage them effectively and guide them towards conversion.
Sales lead management is a strategic process that takes into account the activity of the leads and optimizes the selling pitch to ascertain conversion.
As easy as it may sound, not many businesses are able to achieve this!
For effective management of leads, you need to understand your ideal customers, find leads that match with this persona, and nurture them effectively.
Sales lead management may seem overwhelming at first, but it can be highly rewarding with the right strategy in place.
In this blog, we cover 10 tips on how to manage sales leads and keep them moving through the sales cycle to bring in more revenue.
What Is a Sales Lead?
Before we discuss lead management tips, it is important to establish what 'lead' actually means.
Essentially, any individual or organization that has the potential of converting into your client can be termed as a lead.
Leads have to display some interest in your product or service and should intend to buy it. Leads are not the same as prospects since they have already indicated some form of interest in your business.
There are multiple channels to acquire leads for your business, including forms, pop-ups, cold emails, etc. Whether acquired through advertising or third-party sources, any potential customer qualifies as a sales lead as long as they are interested in your services.
Once your team has contacted the lead, and their genuine interest in your business is ascertained, the lead becomes qualified.
What is Sales Lead Management?
Whether it's a critical customer detail that you couldn't get your hands on or a follow-up email that you were too busy to send, there's a lot that can go wrong with your sales process.
So, how do you ensure maximum efficiency and avoid any major losses due to such errors?
The answer is pretty straightforward- with an effective lead management process.
Sales lead management encompasses all the activities ranging from lead generation to conversion. This process involves all the efforts that go into tracking and managing prospects.
Management of leads involves the following:
Generating Leads


The first step to lead management is generating enough leads for your team to work on. These leads can be gathered when prospects depict interest through various marketing channels, including social media platforms, websites, PR events, etc. You also need to acquire adequate information about these leads, including their preferences and how your business can solve their problems.

Tracking & Distribution


Once you have a steady stream of incoming leads, you need to categorize and prioritize them based on the likelihood of their conversion. Once this classification is complete, you need to assign the leads to the most appropriate salesperson for a quick follow-up.

Nurturing


Lead nurturing refers to the actions that help convert leads into customers. Since leads are not likely to make the purchase decision right after the first impression, your sales team needs to contact them regularly with relevant follow-ups. Effective nurturing is integral to the success of your lead management program!
Why is Sales Lead Management Important?
Despite the constant influx of leads, you may not be seeing actual results in your business's profit.
The reason behind this may be the ineffective management of these leads.
Disorganization in sales leads can significantly hamper your sales team's efficiency and sales performance. Without an effective sales leads management system in place, all your leads are going to go haywire.
Here's why learning how to manage sales leads can be highly beneficial for your team:
Focus on the Right Deals


The profitability of your sales efforts comes down to how well you are able to manage your leads. Effective management of leads can bring order and organization to the sales process. It can help salespeople identify which leads carry a higher value. By zeroing on these prospects, lead management can help bring in more revenue for your business.

Achieve Better Productivity


Your sales team can maximize its productivity by implementing an effective lead management process. By devoting time and attention to leads that are more likely to convert, sales representatives can close more deals and drive more profits for the company.
Nurture Leads Effectively


Lead management can considerably affect the bottom line of your business. By tracking the needs of your prospects to optimize your engagement, it can help ensure that more leads are converted into sales.

Improve Team Performance


With a lead management system in place, all your team members can access essential data such as previous interactions with the leads, purchasing preferences, etc., to offer a better quality of service. It can aid collaboration and help teams across the organization communicate effectively.

Read More: 3 Ways to Improve Within Your Sales Team
10 Tips to Manage Your Sales Leads Efficiently
To see your leads translating into real profits for your business, you need to implement the following lead management best practices:
1. Know Your Prospects

Not knowing what actually qualifies as a lead is one of the biggest productivity challenges for businesses. Your sales and marketing teams have to be on the same page regarding what they consider a qualified lead.
Setting clear guidelines and references for your sales and marketing professionals can help you access leads that match your expectations and avoid wasting any time on prospects who are unwilling to make a purchase. Before learning how to track sales leads, you should devote adequate time to clearly define what qualifies as a lead.
2. Identify Lead Sources

You need to be aware of where the most leads are coming from to identify what's working best for your business. This can help you utilize your marketing budget more judiciously.
Your lead sources could include paid advertising, offline marketing channels, social media, etc. By keeping an eye on which marketing channels are performing well, you can ensure that your resources are put to good use. 
3. Invest in a Lead Management Tool
A lead tracking and management software such as a CRM can align your sales objectives with your business operations. CRM leads management can bring all your data to one platform, allowing your sales team to access it readily.
It can also help personalize your interactions with the leads to improve your closing rate. With an effective lead management system, you can better manage every opportunity and ensure that no lead goes unnoticed. A CRM tool can automate multiple processes that can help your lead nurturing efforts.
4. Collect Information From Prospects

You need to have access to relevant information associated with the leads for managing your sales optimally. This information can be obtained through forms, surveys, or any other form of interaction. Collecting this data is crucial to keep your marketing and sales activities aligned with what the leads expect.
This information can also help you assign and distribute leads more effectively, leading to better sales lead management. It can also help your sales team better understand the leads and modify their approach accordingly.
5. Segment Leads Effectively

Lead segmentation is critical for effective management. You can divide leads based on specific criteria, their interests, or any actions taken by them. You can also score these leads based on their characteristic behavior with the help of lead tracking solutions. This can help you demarcate hot leads from the rest.
Classifying leads can help your sales representatives identify which leads require more attention. You can segment the leads based on what information they are seeking or other behavior, including email open rate, filling forms, etc. 
6. Distribute Leads on Time

Sales representatives contacting leads within an hour of generation are 7 times more likely to have a meaningful conversation with them.
This brings to light the importance of the timely distribution of leads.
Responding to leads quickly can establish a credible position for your business. The leads can get relevant information on time, which makes for a better experience. If you do not want your leads going cold, focus on being quick and efficient while assigning them to salespeople. 
7. Include Lead Nurturing Content
The chances of the lead not being ready to buy your products right off the bat are phenomenally high.
To counter this, you need effective lead nurturing.
All your management efforts should complement lead nurturing. For this, you need to include relevant supporting content in your management strategy. This can help you improve your drip campaigns and guide more leads towards conversion. Personalized marketing content can help reduce the length of your sales cycle and significantly boost your conversion rate.
8. Monitor Your Performance
If you do not measure the performance of your sales lead management system, you will never find out if it is working well for your business.
Keep a close eye on how your lead management strategy is performing and incorporate changes whenever necessary. You need to decide which metrics are the most important to track. Hold regular meetings with your sales team to identify roadblocks in the process and make the required adjustments in your management strategy. You can use the CRM tool to generate custom reports to track various metrics such as sales cycle length, acquisition cost, etc., for measuring the progress of your sales activities.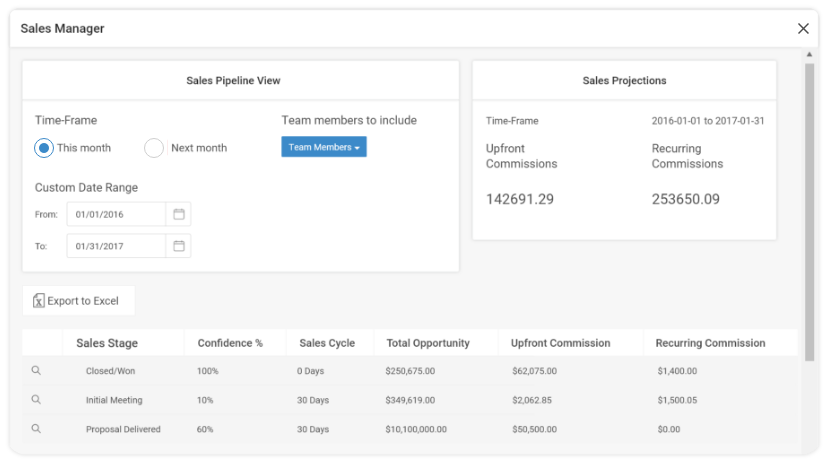 Read More: 6 Powerful CRM Reports to Run For Driving Sales
9. Focus on Forming Relationships
If you wish to make the most out of all the available leads, you must adopt a more personalized approach. Treating every prospect as a customer can help you gain more loyalty and form long-lasting relationships.
Be responsive, helpful, and accommodating when interacting with the prospects. Effective engagement is a critical component of lead management. If you continue to treat leads as just numbers, they are likely to switch to a competitor that is more involved and interested in them. To avoid this, you need to ensure that your leads know how much value they carry for your business.
10. Strive for Continuous Improvement
"Growth and comfort do not coexist" – Ginni Rometty
Your lead management strategy has to evolve continuously as your business continues to expand.
With time, your lead sources, buyer persona, and other associated factors are likely to change. It is imperative that your lead management strategy changes with it. Adaptability can keep lead management solutions functional for a long time!
Why Is BigContacts the Best CRM to Manage Sales Leads?
While the answer to how to manage sales leads may vary for different enterprises, they all require one thing in common- a powerful lead management tool. 
With the right tech stack, you can keep your leads organized and in control. A lead management tool can help you generate, qualify, nurture and track sales leads effectively. In addition, it can provide centralized access to essential information related to prospects, allowing sales representatives to optimize their sales pitches. 
For a tool to accomplish all of this, it has to be functional, easy-to-navigate, scalable, and adaptable.
A sales lead management software that ticks all of these boxes is BIGContacts.
Here are some of the best features of this CRM tool that make it a reliable solution for lead management-
Easy to Use

Designed for simplicity and efficiency, BIGContacts can make lead management extremely convenient and uncomplicated for your team. By eliminating the repetitive administrative tasks, BIGContacts can help your sales team devote more time to selling. This leads database software has a clean and intuitive interface that can save time and maximize employee productivity.

Visual Sales Pipeline

The most effective way of managing your leads is with the help of a custom sales pipeline. BIGContacts allows you to build a sales pipeline with custom stages to match your sales process. You can use this pipeline to view where each opportunity currently stands and what steps you can take for the lead conversion process. It can be used for lead prioritization to gain better productivity by devoting more time and resources to hot leads.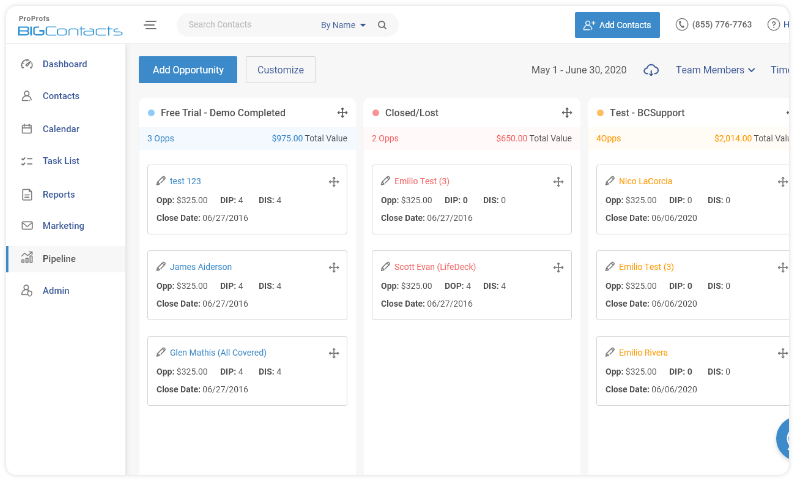 Automation

Automation of repetitive business processes can boost productivity and help you take better control of your sales process. BIGContacts' automation capabilities can help you deliver relevant content to prospects at the most suitable time. You can automate specific actions for leads as they continue to move through your sales pipeline stages.
Integrations

BIGContacts work in perfect sync with various business applications. You can connect it with your favorite business tools to manage everything from a single platform. BIGContacts also offers advanced integrations, including email marketing and helpdesk, to help you form stronger relationships with prospects and customers.
Collaborative Tools

BIGContacts offers several collaborative tools that can help all of your team members stay on the same page. Efficient internal collaboration can contribute to improved productivity and help avoid any customer frustration. Everyone from your team can access essential data, share updates, and view pending tasks using BIGContacts. It can also enable you to establish a consistent workflow for your sales team.
Reports

With BIGContacts, you can generate customized reports to track the performance of your sales processes. You can view the details for the activity for individual leads and save these reports for future use. BIGContacts provides more visibility into your sales process by helping you track relevant metrics and identifying what drives conversions.

Mobile Access

You can view essential information anywhere with the mobile version of BIGContacts CRM. This can help you stay updated with the developments associated with the leads. Mobile access is critical for following up with leads on time. It can help everyone across the organization view essential information on the go!
Sales Lead Management – Made Easier With BIGContacts!
If you are tired of losing promising opportunities to competitors, it's time you look into how your sales leads are being managed. 
Contrary to what many people believe, managing sales leads through spreadsheets is outdated and inefficient. You need a learn how to manage sales leads with a dedicated CRM solution to keep track of all your leads. 
With the help of powerful prospect management software such as BIGContacts, you can optimize your sales management efforts to drive more conversions and revenue. You can also use the automation capabilities of CRM to get things done quickly and efficiently. 
Investing in a CRM solution for lead management can be a decision that significantly affects the long-term success of your business. 
Take better control of your sales processes by choosing the right lead management solution!