While more businesses are now pushing towards achieving bigger sales targets, very few of them are able to see actual results.
The reason-
They tend to overlook a crucial aspect: sales productivity.
The productivity of sales representatives has a significant role to play in the success of any enterprise, regardless of its size or industry type. It determines how quickly the sales team is able to produce results and how satisfactory these results are.
But why should you measure this productivity?
Your team's deal-closing rate alone cannot work as a good enough indicator of business growth. You also need to measure how efficiently they are able to do so.
When a lot of repetitive and time-consuming tasks enter your sales cycle, the overall productivity of your sales time is compromised, putting your revenue at risk.
Maximizing productivity can, therefore, help improve the bottom line for your business.
This sales productivity blog lists the most effective ways to increase productivity by using your time in the most impactful way. It also highlights the role of having an effective CRM in place to optimize your productivity levels.
What is Sales Productivity?
In spite of all the efforts put in, only 24.3% of sales representatives are able to exceed their sales targets. This can be directly correlated to sales productivity, which measures how quickly your team members can achieve their goals. Just like any other measure of productivity, sales productivity can be determined by the results produced compared against the resources utilized.
In simple terms, the sales productivity formula is a ratio of how much sales you close to the amount of work put in for making these sales.
Sales representatives have to overcome multiple sales productivity challenges before they see any results. From challenging prospects to the stress of not being able to meet targets, most salespeople struggle with the same question- How to increase sales productivity?
While the answer may vary for different sales representatives, one thing that most people get wrong is the presence of unnecessary and time-consuming tasks in their workflow. As a result, they are left with little to no time to engage with their customers effectively.
This translates into lowered sales productivity and, consequently, a decline in sales.
This leads us to the most reasonable way of maximizing productivity- the inclusion of sales productivity applications.
What Are the Benefits of a Sales CRM Software?
Most sales representatives only get to spare one-third of their time in a day to talk to prospects. The rest of their time goes into other administrative tasks, including data entry, research, etc. This brings to light the importance of a sales productivity software that can perform these repetitive tasks, saving time for salespeople to form genuine connections with the prospects.
This is where a customer relationship management tool can prove to be of advantage.
It can help you stay on top of things by taking relevant actions promptly to avoid any deals from falling through the cracks. Overcoming productivity challenges can be made easier with the implementation of the right technology.
A CRM solution can help you organize and utilize your data more efficiently.
Contrary to what you might think, an abundance of data can hamper productivity. If you have a large volume of customer data, but it is scattered across spreadsheets, you will never be able to access the right information at the right time!
Adding to this, a sales CRM can do a lot for your business, including:
Measuring relevant KPIs
Creating and assigning goals
Automating administrative tasks
Strengthening the organization's workflow
Personalizing interactions for prospects and customers
Tracking performance of individuals
What is the Best Sales Productivity Strategy?
The best sales productivity strategy has to take into account various metrics that help identify if your sales efforts are producing the required results. This can help you discover what drives the best outcomes and save time by focusing on what works best for your sales.
Some of the best sales productivity metrics that you can track include:
Time spent selling
Time spent performing other tasks
Closed revenue
Win rate
Customer response time
Number of contact touches
Sales cycle length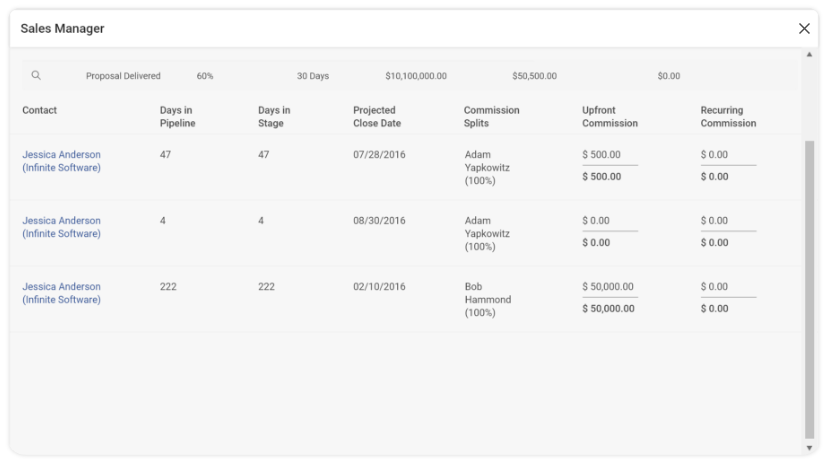 Here are some other features that your sales productivity strategy must include:
It should align with the objectives of your business.
It should include automation to save time and effort.
It should include a plan on how to drive sales.
It should have the scope of being updated with time.
It should include training and retraining for sales representatives.
It should be uncomplicated, easy to repeat and avoid information overload.
It should embrace technology to improve productivity further.
Above all, it should be designed keeping in mind the problem that your sales representatives face.
How to Improve Your Sales Productivity?
Sales productivity statistics show that only 5-10% of leads convert into opportunities. The problem isn't that salespeople aren't working enough. Instead, it results from the absence of a repeatable and consistent sales process that can drive productivity.
While maximizing productivity is on top of the priority list of every sales representative, most of them are lost on how to go about it.
So how can you increase sales productivity for your business?
Here are some tips for you to accomplish this-
Use the Right Technology:
Working with the right tools and technology can bring more order to your sales operations. This can increase the sales productivity of your team. Tools such as CRM eliminate any unnecessary steps, automate processes and help sales representatives make the most out of their time.
Establish a Consistent Workflow:
You need to clearly define every stage of your sales process to improve the productivity of employees. Having a repeatable process is one of the fastest ways to increase sales. Comprehensive strategies to improve sales can also help you discover any hurdles in the sales cycle and get rid of them. You should also provide appropriate documentation and guidelines to help salespeople overcome any obstacles during selling.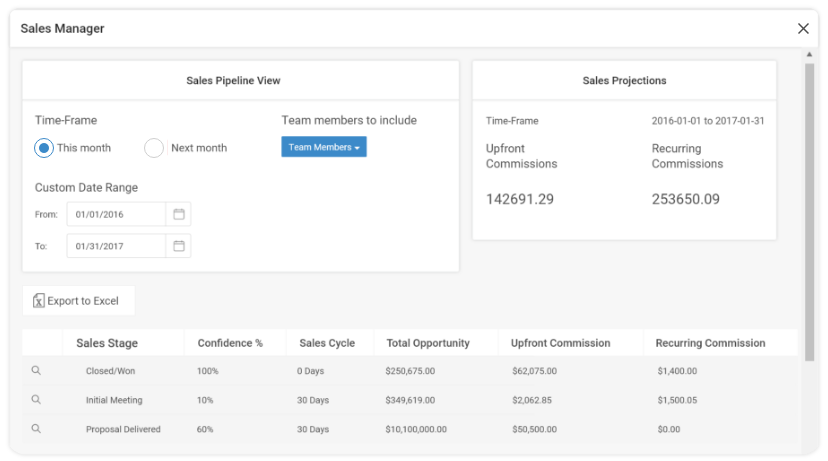 Read More: How to Create Powerful Sales Documentation to Support Your Sales Team
Set Realistic Goals:
The most important way to increase salesman productivity is to set realistic targets. You need to be clear about what you wish to accomplish and how you plan to do so. It is also essential to set specific performance metrics to track the ongoing progress of your sales activities.
Prospect Leads Effectively:
If you do not have enough good opportunities available, no amount of effort you put in will help your revenue.
This is why you need to prospect your leads well. If you wish to increase sales team productivity, make sure you are devoting your time and attention to qualified prospects that are more likely to convert into customers.
Offer Sales Training:
Your sales reps have to understand every stage of the sales cycle. This can help them identify areas they can improve upon and use their time more effectively for driving sales performance. Sales training is, therefore, imperative to enable your team to deliver more consistent results. You need to train representatives to use the best selling strategies and reach out to prospects at the right time with the best pitch. This training should not just be limited to onboarding and should be an ongoing process. Therefore, you should invest in regular retraining to keep your team updated.
Read More: How to Create a Strong Sales Training Program for your Business
Keep up With Change:
A lot of businesses do not scale their sales processes with their expansion. This leads to outdated sales strategies that are not able to bring about satisfactory results. For increasing sales productivity & performance, you need to upgrade your workflow and sales processes with time.
While you may be tempted to keep doing things the conventional way to avoid any disruption, it will harm your success in the long run. Reevaluating and refreshing your sales productivity strategy is, therefore, required to drive sales performance.
Optimize Email Interactions:
Whether you are scheduling a meeting or following up with cold leads, you need to keep a close eye on how you are engaging with the prospects. Being precise, resourceful, and upfront in your emails can save time for your business as well as the prospects.
Clearly define what purpose you wish to accomplish with the personalized emails. This can help you engage with prospects better and get in their good books.
Read More: How to Improve Sales Performance
How Does CRM Improve Sales Productivity?
Integrating technology into your sales process can strengthen your team's productivity by making important information accessible at the right time. You can also track the position of every prospect and gain insights into how to engage with them more effectively.
The best way of increasing sales productivity is by strengthening your workflow. This can ensure that deals do not slip through the cracks and you make great strides in terms of revenue and customer satisfaction.
A CRM tool can make this possible by aligning sales processes to achieve better results. It can also help sales representatives identify the best time for reaching out to prospects to close more deals. You can sell more effectively by getting a clear picture of what your prospects like, their preferences, and concerns.
Here are some ways in which CRM productivity can work for your business:
Time Management:
Time management is an issue that most salespeople struggle with.
Even with several leads available, they are not able to achieve their sales target. This is because most of their time goes into performing tasks that do not generate revenue directly.
These tasks can get in the way of selling and distract salespeople from actually closing deals.
Additionally, a significant amount of their time goes into looking for relevant information to personalize customer interactions. This time can be conserved with the implementation of the cloud based CRM for small business that stores all important information in one place so that sales representatives can find it easily.
Furthermore, a CRM system can perform various tasks that save time. This could include scheduling meetings, generating follow-up reminders, or automatically capturing contact data.
You can use a CRM as a time management software as well to find out low-impact tasks that take up more time and eliminate them if they are not working for your business.
Prioritization becomes a whole lot easier with a sales productivity tool!
Automation:
Companies that have top-performing sales are two times more likely to have invested in automation.
Automation of redundant tasks can help reduce the time that goes into manually entering or updating data. You can also generate automated reminders to prevent deals from slipping through the cracks by getting in touch with them on time.
CRM also allows you to set up marketing automation campaigns to capture more leads and follow up with them easily. You can automatically capture data, prospect more effectively and engage with prospects timely with CRM automation.
Monitoring:
Although how the sales performance is measured would vary from business to business, one thing that every organization realizes is-
You need to measure how well your sales efforts are paying off.
This is important because you need to be aware of any bottlenecks in the process and know what works well for your business to build a consistent and repeatable sales process.
By monitoring various sales productivity metrics, you can identify which stages you drop the most leads in, which sales representatives have the highest conversion rates and how close you are to achieving your sales targets.
While you may have a lot of data available, it is of no use to you unless you can sort and view it according to your needs.
CRM can help you generate custom sales reports to monitor key metrics. These can include tasks completed, activities assigned, or a complete overview of the sales process.
You can also use the analytics feature of CRM to make better decisions for your business and increase sales performance.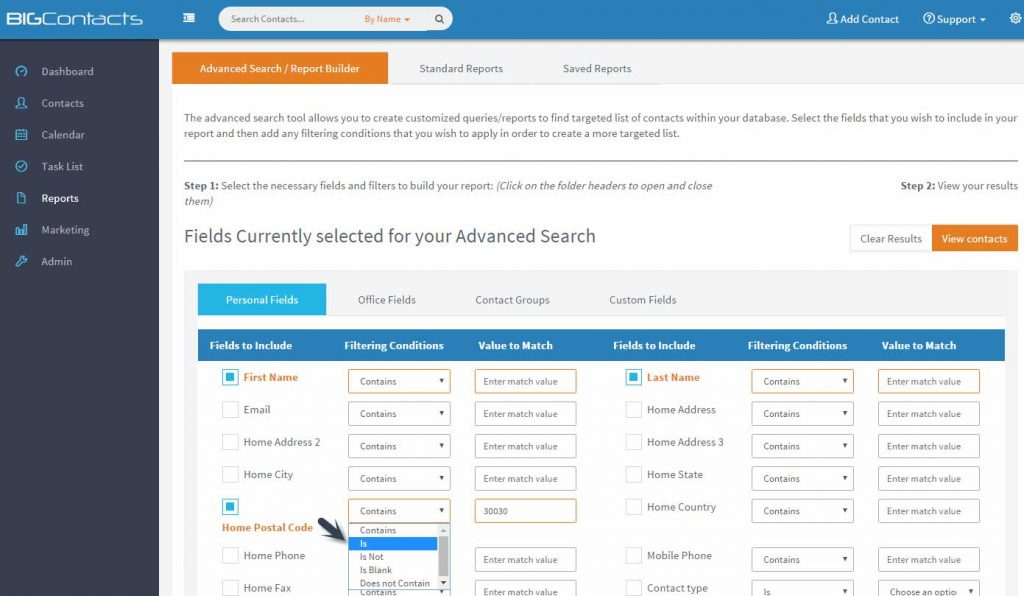 Read More: 6 Powerful CRM Reports to Run For Driving Sales
Customization:
The best part about using a CRM system to maximize your sales productivity is that it can be adapted however you prefer.
You can add custom data fields to make your contact profiles more comprehensive and relevant.
CRM also allows you to customize the sales pipeline based on your sales cycle. This can help you efficiently monitor the position of each prospect and take the appropriate steps to convert them into customers.
You can use a CRM to implement time blocks, segment prospects, and modify the sales process in a way that is the most suitable and productive for your team.
CRM gives you access to templates that you can customize to make your interactions more personalized without spending too much time.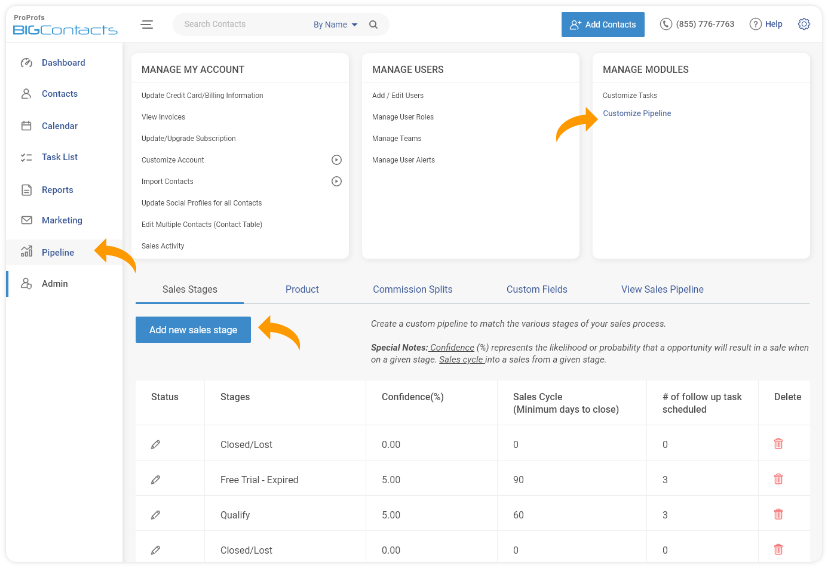 Collaboration:
To achieve better results faster, all departments of your organization have to work together. Seamless collaboration between teams across the company can remove any scope of miscommunication or inefficient customer service.
When all teams of your organization work in perfect sync, the conversion rate, and customer retention levels automatically increase. For this, all the departments, whether it is sales, marketing, or customer service, have to be perfectly aligned and be in constant communication.
CRM can make this easier by providing unified access to updated data in one place. It also becomes easy to take notes for each contact, communicate with team members, assign tasks to them, send group emails, track tickets, etc., with the help of a CRM system.
You can use mobile CRM to stay updated with important information on the go!
This can help you prepare for meetings faster and more efficiently. As a result, you are likely to close more deals.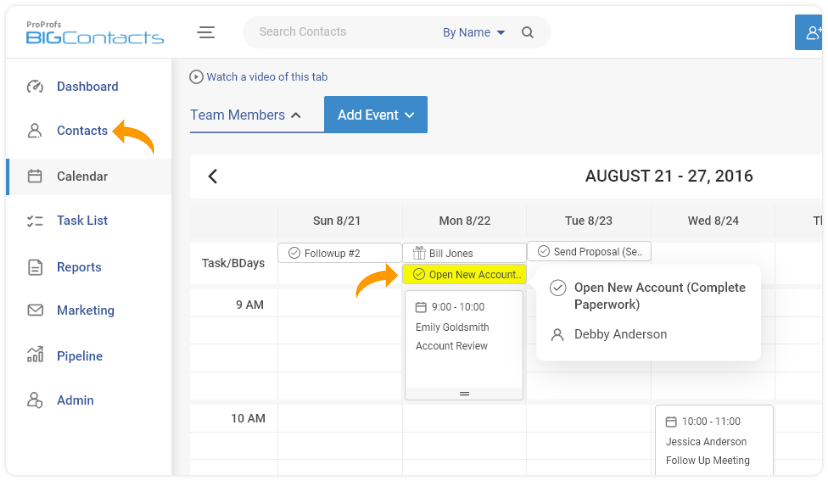 Read More: How to Improve Sales Performance
Boost Your Sales Productivity to Advance the Growth of Your Business!
Having a CRM system in place can help you in improving sales productivity and keeping things on track at all times. With the right tech stack, you can stay up to speed with what your prospects are searching for and how to deliver it effectively.
The easiest way to increase your productivity is by having a positive attitude. You need to keep your team motivated to put in their best efforts towards increasing sales. Organizations that encourage and reward their sales representatives are likely to stay ahead of the game.
Remember-
"The top salespeople are usually the ones with the most activity; it doesn't guarantee you will close more deals, but if you have no activity, you won't be closing any deals." – Colleen Honan, Chief Sales Officer, Brainshark.
Productivity isn't something that you can maximize in a day. You need to constantly make efforts to enhance the sales productivity of your business. Make sure to invest in a scalable and reliable CRM solution to get the most out of your efforts towards maximizing sales efficiency!
Do you want to make more sales?
BIGContacts is the #1 contact management software & CRM to close more sales.