Nurturing customer relationships is critical for business success. But, maintaining these relationships can be tricky and demanding.
From customer preferences to previous interactions, there's a lot to keep in mind when engaging with customers. This is where CRM comes in.
But exactly what is CRM? And how does the software fit into the bigger picture for your business?
CRM is a system that provides centralized access to customer data, helping boost sales and strengthen relationships. By tracking and storing all customer information in one place, you can craft delightful customer experiences that result in enhanced loyalty.
Designed for improving customer relationships, CRM tools have now expanded far beyond their traditional role. They can now enable collaboration between team members, analyze performance data, and automate sales and marketing efforts. Learn more about CRM and how different businesses can build their brand and boost sales using the right software.
In a Nutshell
In its initial stages, every business uses some form of data management to store and manage its client data. While conventional methods like spreadsheets may work for some time, things soon become challenging as the customer base grows. This is where CRM comes in.

CRM software can be used for a variety of purposes. These range from automated email follow-ups with clients to track their position in the sales funnel. The tool also centralizes all related client data, making it possible to personalize interactions.

In this blog, we cover all the aspects of CRM and tips for its successful implementation.
What Is CRM Software?


Customer Relationship Management or CRM software enables businesses to manage interactions and processes related to customers, helping build long-lasting relationships. Essentially, CRM works as a data repository where all contact information, communications, and preferences are stored.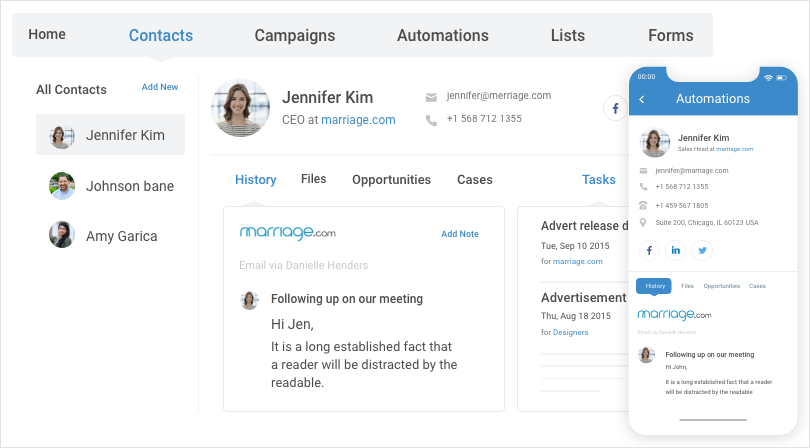 All the customer interactions across multiple platforms are logged against the contact records in the CRM to ensure that no important details are missed out. All the leads generated through various sources are also stored in the system.
The software then gathers relevant information for these leads from social media, website channels, email, and search engines. It absorbs multiple pieces of information and categorizes them into different sections for enhanced usability.
For a better understanding of how a CRM system works, let's look at the following scenario-
Suppose a client visits your website and fills out a contact form for website development. The customer's contact details are transferred from your website to the CRM. If the potential customer indicates a specific time or medium for contact, it triggers a series of events. An automated email for the call confirmation with the company's information and notification to your support staff/sales team will be sent. The outcome of the scheduled meeting can be stored as notes in the CRM. The actions taken by the client will be updated, and the sales team can use that information to contact the potential customer.
All in all, a CRM system aims to save a company's time and resources in the most efficient way by making it easier to view and manage customers' data.
Who Can Benefit from CRM?
Customer relationship management helps individuals and organizations manage their interactions with prospects and customers efficiently.
However, CRM is much more than a contact or address book.
It is a technology with multiple functions empowering your team to build excellent relationships with customers. The software collects complete information from different departments and centralizes this information to give a 360-degree view of each customer in real-time.
Right from the implementation point, a CRM tool becomes the perfect companion to grow business with each customer. As the customer records are updated regularly in the software, it is easier for teams to help customers at any point, from pre-sales to after-sales support.
Irrespective of its scale or size, every enterprise needs to manage its customer relationships. Additionally, the improved organization that CRM provides can propel business growth.
The widespread popularity of CRM can be seen from the exponential growth of the industry, with its overall revenue estimated to reach 97.90 billion USD by 2025.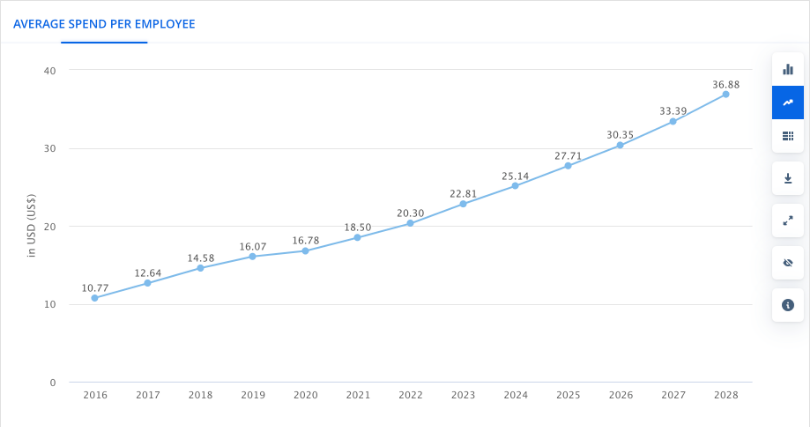 CRM systems have been adopted by businesses across the board to maximize profitability, whether it's startups or well-established enterprises.
Small businesses & startups
CRM systems can prove to be especially effective for small businesses that have a limited number of people managing all the operations.
For small businesses, it is important to get the most out of every dollar and minute spent. By acting as a repository of customer information and a platform for managing all business processes, CRM software can help small business owners save time and resources that go into using multiple tools.
With the reporting & analytics module of CRM software, small businesses can monitor their progress and make the required amends to their business strategy. The improved data access makes it easy to personalize customer experiences and tailor them to the specific needs of the target audience.
Read More: 20 Best CRM for Startups in 2023
Large enterprises
Large enterprises, on the other hand, can obtain maximum benefit from a CRM system by boosting collaboration across the organization. By tracking and managing all activities, keeping data updated, and allowing the team to collaborate, a CRM system can be the all-in-one solution for driving growth.
When working with a large team and volumes of data, keeping things uniform and updated can become challenging. This is where a CRM system can prove to be of great value to large businesses. Every division of the organization, including sales, marketing, and customer service teams, can work together on a single platform.
Read More: Benefits of CRM: Why CRM is Important for Your Business
Overcoming Business Challenges with CRM
A Gartner survey revealed that 80% of industry leaders use CRM.
This is a result of a broad scope of business objectives that a CRM system can help accomplish.
Without a CRM tool, you may find it challenging to:
Manage customer data and interactions from a single platform

Keep track of customer needs & preferences to deliver personalized solutions

Enable internal communication & collaboration among various business departments

Deliver timely updates & notifications to team members

Track sales opportunities & move them forward in the sales funnel
An efficient CRM tool can overcome all these challenges, allowing you to boost your bottom line.
A CRM system can schedule, track and manage all calls, meetings, and events. This ensures that no important event is missed. Additionally, it updates the data in the team calendar so everyone has a clear idea of the upcoming events and meetings.
Since all the communications are logged in one place, it becomes easy to keep track of the customer's expectations, preferences, and current positions. This helps personalize experiences, leading to reduces churn rate and long-lasting customer relationships.
Along with managing tasks and activities, CRM also helps automate repetitive tasks such as manual data entry and notifications, improving organizational efficiency and freeing up more time for acquiring new customers.
CRM in Action: Best Examples
Here are some examples of excellent CRM strategies at play that you can learn from to make more bang for your buck.
1. Amazon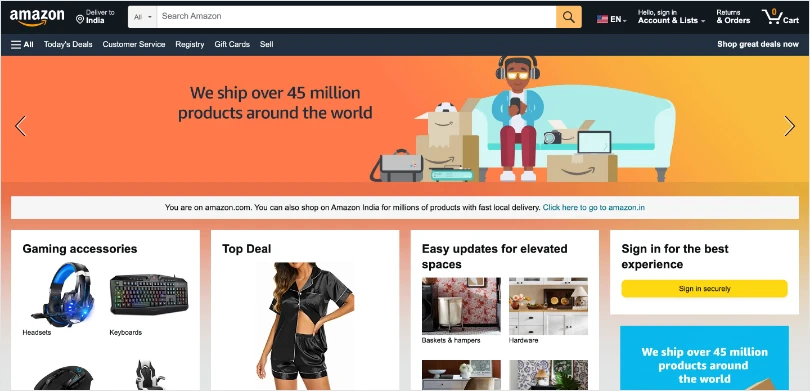 Amazon, the e-commerce giant, effectively demonstrates how a powerful CRM strategy can result in a loyal customer base that keeps coming back.
Key Takeaways:
Amazon captures the personal data of its customers and uses it to personalize services and on-site experiences. This also makes it possible to deliver relevant offers and promotions.

The company reduces the need for customer support by enabling its customers to readily access all information related to their previous purchases and resolve queries in a jiffy.

The recommendation engine uses the data stored in the CRM system and behavior tracking to show relevant products to the user.
2. CoachDeck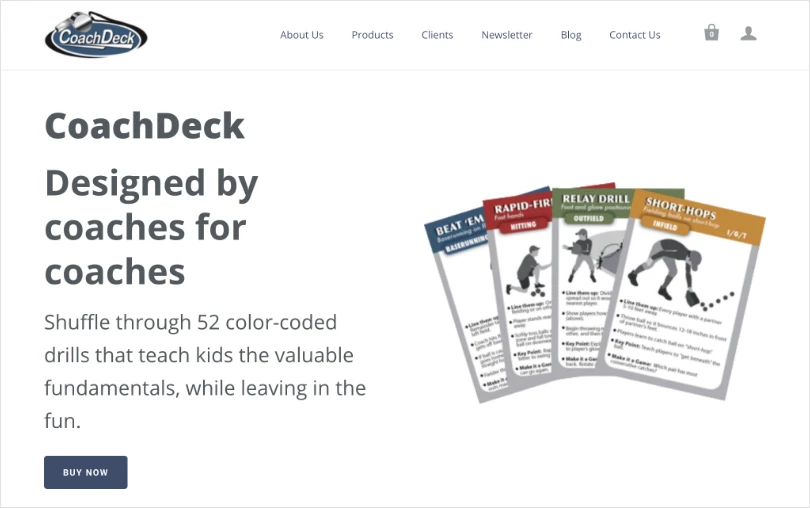 CoachDeck, a leading provider of drill cards for youth sports coaches, leverages a powerful CRM system- BIGContacts, to delight its users.
Key Takeaways:
The CRM system helps the company access detailed contact activity timelines to track previous engagements.

The company uses email templates to save time and automates its outreach campaigns to follow up with clients at the right time.

Easy access to communication history and preferences allows CoachDeck to personalize its solutions to a great extent.
The Advantages of CRM: How it Simplifies Sales, Marketing & Support
Customer support, marketing, and sales support function better with a CRM system in place. Discover how these teams can leverage CRM software to craft more unified and satisfactory customer experiences.
Sales
CRM works as a centralized database for leads and their associated information. It can also be used to create, maintain, and enrich contact profiles, aiding personalized communication. The sales team can use the system to score and prioritize leads based on intent and previous engagement.
CRM logs all interactions associated with a contact record in one place, allowing any team member to access them. This eliminates any communication gap even if the responsible sales executive is not available.
You can also streamline and automate various sales functions, such as capturing lead data or sending email follow-ups based on specified rules. Additionally, the sales pipeline management capabilities of a CRM tool can help you visualize the movement of leads through your sales cycle. Detailed sales reports can be generated to identify areas of improvement in the sales process.
Read More: A Definitive Guide to Sales Management
Marketing
A CRM system can support your marketing endeavors by helping automate a variety of tasks. With CRM's marketing automation, you can schedule emails or updates to be delivered based on actions. Keep existing customers engaged through various channels such as social media, emails, etc. CRM also helps you identify which channels bring in the best leads so that you can utilize your marketing budget more judiciously.
The marketing strategies in CRM are all about identifying and targeting profitable customers so that your team can delight them with perks and offers. Refine your marketing campaigns using customer segmentation enabled through CRM and let them receive the information they are most interested in.
Your email marketing campaigns, when integrated with CRM, can easily take your business to the next level. The automation features let you interact with your customers about different things, such as unpaid invoices or pending purchases. So your team won't have to design and send these emails manually. You can rely on the robust automation that is an integral part of CRM marketing to optimize customer relationships.
Support
Efficient customer service can improve customer loyalty and help you retain more customers.
Customer support teams can use CRM with help desk functionality to manage and resolve tickets. Customer service CRM software can track all previous interactions and purchase behavior to help customer support teams prioritize high-priority tickets. It also saves customers from the frustration of having to repeat their requirements or issues to different executives over and over again.
Additionally, with access to details of existing customer information, you can share relevant emails to encourage repeat purchases. It is easier for sales teams to upsell or cross-sell a customer when the data related to the customer's buying habits are easily accessible.
The Key Capabilities of CRM
It takes months to find a customer and seconds to lose one.
Understanding what CRM is and how to use it effectively can enable you to keep customers engaged and loyal.
Today, CRM tools have evolved into much more than simple data repositories. These tools now facilitate data and sentiment analysis, make it possible to deliver hyper-personalized experiences, and automate repetitive business functions.
Some of the key capabilities of a CRM tool are discussed below.
1. Contact Management
CRM can work as a cheat sheet to improve your outreach efforts, offering insights and details about your existing and potential customers. From the name, email address, mobile number, birthdays, and designations, to social media accounts, previous contact history, and other activities, your team can view the complete profile of the customer from a single place.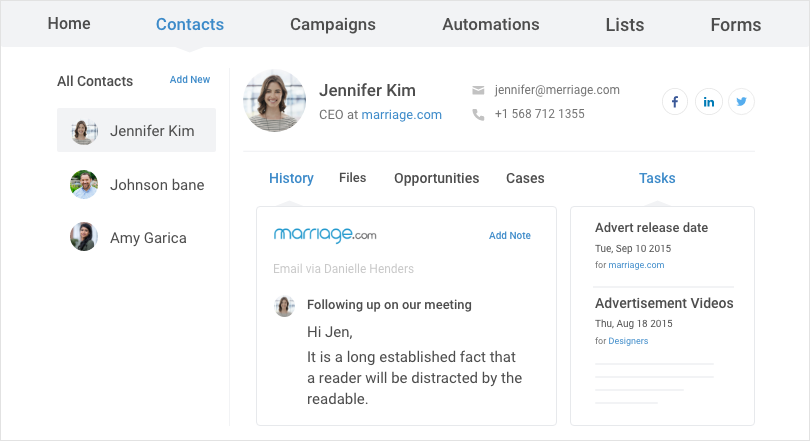 Read More: From Chaos to Control: What Is Contact Management & How to Capitalize on It
2. Task Management
CRM helps manage all tasks and activities to improve organizational efficiency. Tasks can be assigned based on their priority status and the resources available. Individual and team calendar views help keep track of upcoming meetings or activities and identify which team members are associated with which tasks.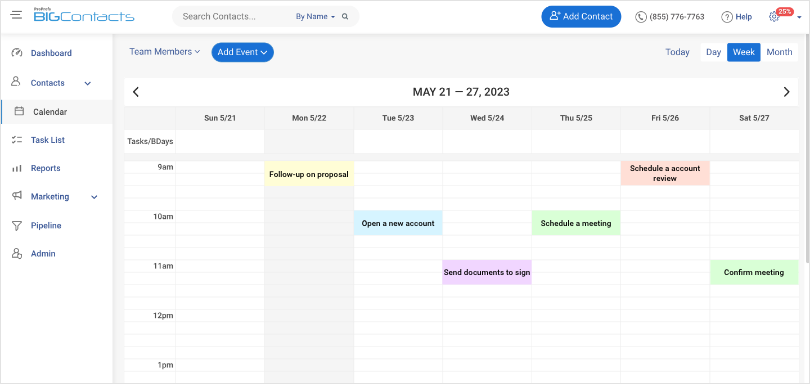 3. Workflow Automation
CRM helps streamline workflow and automate tedious tasks. This can establish a standardized process and ensure equitable distribution of tasks. Additionally, automation eliminates human errors or delays and frees up time for more critical tasks. It also boosts collaboration within the organization by aiding information sharing and bringing every division to one platform.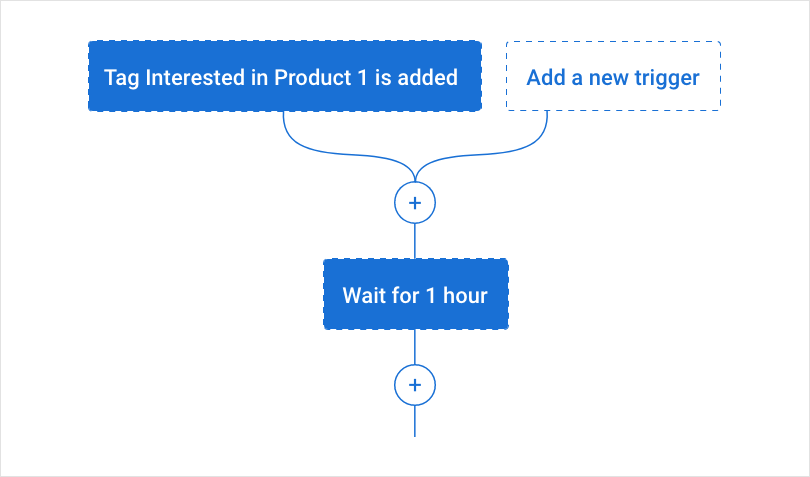 4. Email Marketing
Use a CRM tool to craft automated drip email campaigns. These emails can be tailored to suit the specific needs of the audience group you are targeting. CRM with integrated email marketing capabilities makes lead nurturing and customer retention significantly easier. You can set custom triggers for these automated campaigns, ensuring the right emails at the right time.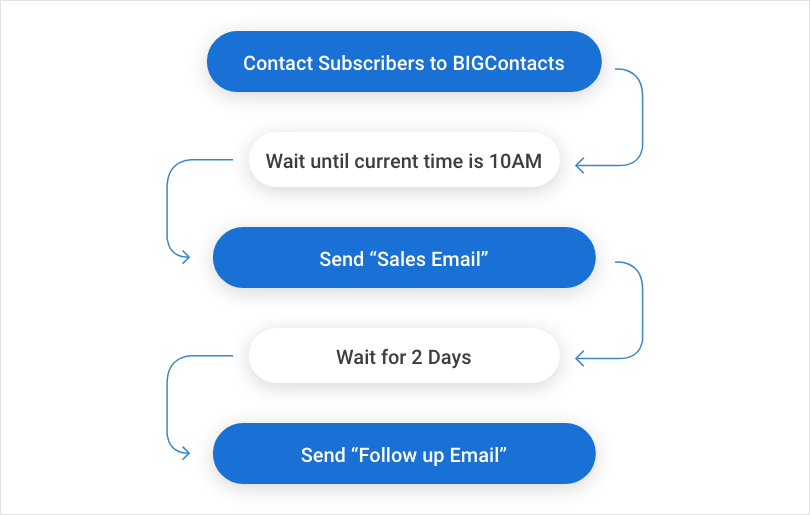 5. Pipeline Tracking
CRM enables pipeline management, helping you attain better visibility into available sales opportunities. Use a CRM application to create a custom sales pipeline that makes it easy to visualize and track the movement of leads. This also enhances the overall effectiveness of the sales team since all the required information is instantly accessible from a single place.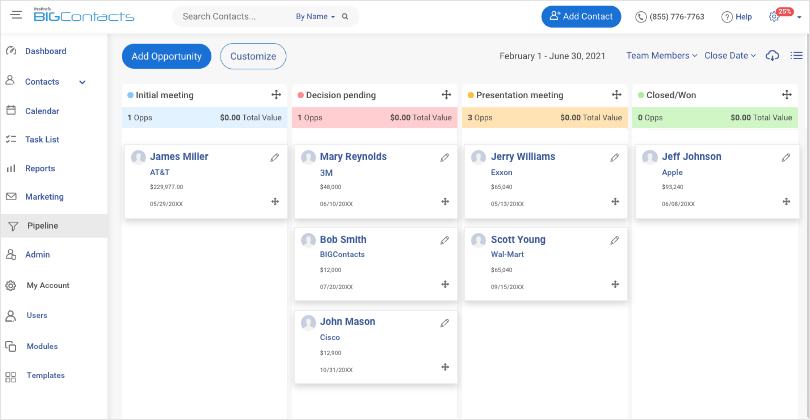 6. Instant Alerts
CRM keeps everyone updated with alerts and notifications to ensure that important opportunities are never missed. Updates can be shared with all team members, and the progress of activities can be tracked with a CRM system in place. This contributes to enhanced internal communication and allows your business to deliver exceptional customer experiences.
7. Reporting & Analytics
With powerful analytics and custom reporting, you can track any relevant metric. CRM allows you to generate reports that analyze the performance of campaigns, business operations, and team members. These insightful reports can provide an overview of the business activities and help you make better decisions.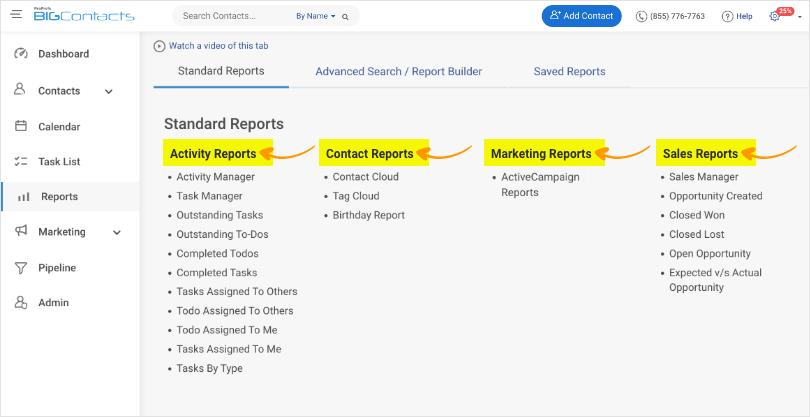 8. Integrations
CRM can be connected with other business tools such as chat/call support software, contact books, analytics tools, etc. This can keep data updated across multiple platforms, allowing you to avoid any discrepancies and customer frustration.
9. Mobile Access
Mobile access is an essential feature of CRM systems that helps you stay updated with relevant information on the go. It will enable you to log changes instantly and manage upcoming tasks from anywhere. Mobile CRM also improves data sharing and team collaboration.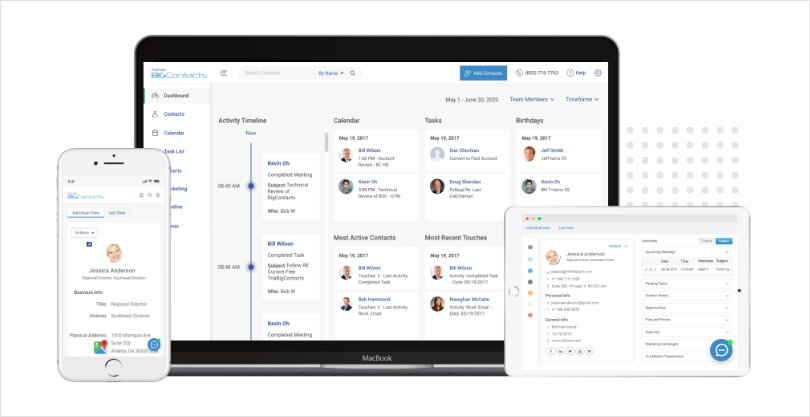 Choosing the Right CRM Software
According to Gartner, ease of use (55%), pricing (54%), and functionality (51%) are the top three criteria influencing the CRM purchase decision for software buyers.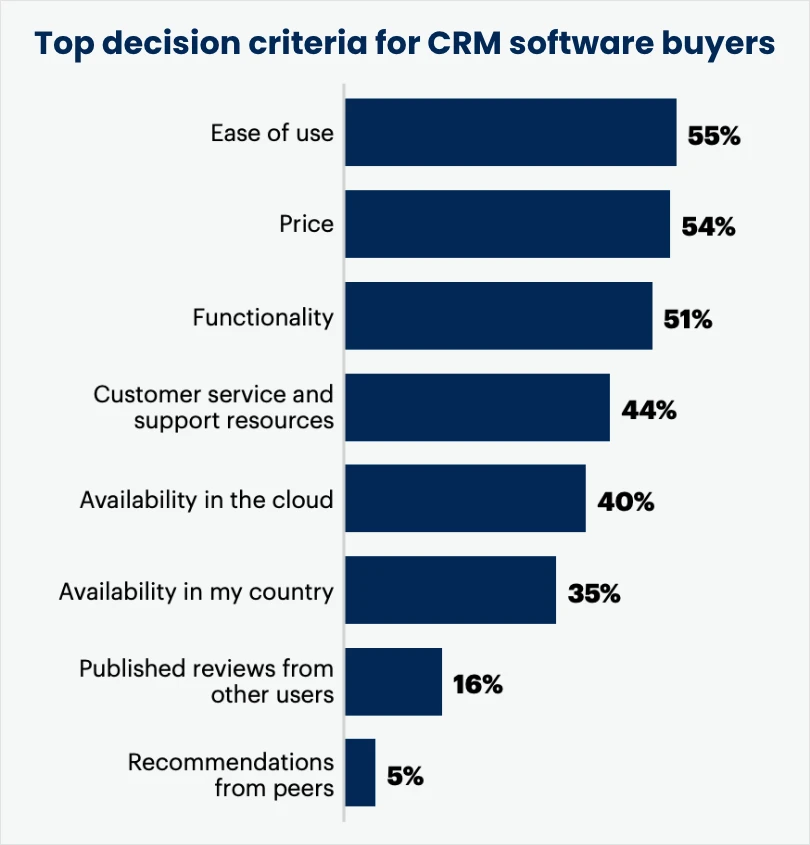 When it comes to CRM, there is no dearth of options. This makes it all the more difficult to choose an appropriate solution. The simplest way to go about this is to focus on your business's unique needs.
Do you need a tool that provides in-built email marketing solutions? Or is your top priority finding a tool that automates customer communication? How will the tool fit into your business expansion strategy?
Look for the answers to such questions before making the final purchase decision. Take time to analyze your business needs and then compare available CRM options.
Following are some steps to help you choose the right CRM solution for your business.
1. Know What You Need
Every business has different goals and, consequently, different expectations from CRM. To find the best tool, begin by analyzing your pain points and defining business objectives.
What is the most crucial objective of your CRM implementation? Are you looking to improve productivity, enhance experiences, track leads, or automate processes?
Take your needs into account and then assess different tools against these requirements to find the most effective software.
2. Get Your Team Onboard
The adoption of CRM is a major change that may be uncomfortable for some team members. For a smooth transition from your conventional methods, you need to get everyone involved.
Having an effective implementation strategy is essential, as you might not have a technical team to get the software underway. The learning curve should be easy as most of your team members who are going to use the software will be from a support/sales background. It is always better to choose a CRM tool that involves easy installation and adapts to your existing processes readily.
3. Get a CRM With Remote Access
Mobile access is one of the most critical features that you should consider in a CRM tool. In today's fast-paced and competitive world, you need to have data at your fingertips to connect with your customers at the right time. A CRM with remote access can keep contact data synchronized and help your team access it immediately from any mobile device.
4. Check Compatibility With Your Current System
The tool that you pick should offer easy migration to help you move your existing data with ease. Moreover, you should look into the type of integrations that the CRM software offers. This can help you ensure that the tool is compatible with other tools like marketing automation, helpdesk, account management systems, etc., that you currently use.
5. Consider Reporting Capabilities
The CRM system should enable you to generate insightful reports to make better decisions. Custom reports tracking various metrics can help you track the performance of your sales and marketing efforts and identify key areas for improvement. Efficient reporting and analytics will provide you with enhanced visibility into your processes and help you make more accurate sales and revenue forecasts.
6. Look for Marketing Integration
A CRM system with email integration and marketing automation capabilities can help you reach out to prospects more effectively. You can create and manage drip email campaigns to make your outreach more targeted and relevant to your customers. Go for a tool that offers custom templates, bulk emails, and email tracking functionalities.
7. Find a Tool Within Your Budget
Find a CRM that fits within your budget while providing a good return on investment. You can easily find several affordable tools that meet your budgetary requirements.
Consider the pricing plans offered by multiple CRM vendors to find one that is ideal for your business. Also, keep in mind the total cost of ownership, including any hidden costs, such as additional fees for add-ons, upgrades, or technical support.
8. Go for a Security Compliant Tool
The EU General Data Protection Regulation (GDPR) makes it important to have a CRM tool with inbuilt GDPR compliance. So, all the data collected by the CRM software won't be a violation of any privacy law. You can ask for customers' consent to store their personal details in your system.
Doing this manually will consume a lot of time and can be sloppy. But with the help of CRM software, you can quickly set up and communicate with your customers by following GDPR guidelines. It helps in building trust as you handle the customer's data with respect.
Read More: How to Choose a CRM in 24 Ways (Step-by-Step Checklist + Free Guide)
Getting Started with CRM
CRM can facilitate business growth and drive better profits for your business. However, to access such benefits, you need to find a suitable tool with advanced features. You also require a detailed implementation plan that gets everyone on board with the system.
Find the most optimal tool based on your requirements, import data, and train your staff effectively. It is also important to routinely monitor the progress of implementation, seek feedback from your team, and address challenges promptly.
Leading software vendors like BIGContacts come with a free trial. The best way to get started with CRM is to make use of this free trial to find out if the tool fits your specific needs. Test out all the features and functionalities to invest in the most optimal solution.
Moreover, reliable customer support and powerful documentation can further simplify the customer relationship management process. Investing in a powerful CRM offering such capabilities will add immense value to your business by keeping your data secure and accessible.
FAQs
1. Can CRM software be customized to my business needs?
Yes! Most CRM options are extensively customizable, allowing you to modify various modules such as user roles & permissions, data fields, email templates, and workflows. This can help you tailor the CRM system to meet your specific business needs.
2. How do I choose the right CRM software for my business?
In order to choose the most effective CRM for your business, consider your specific needs and goals, such as sales management, marketing automation, or customer service. Evaluate the features, pricing, and ease of use of different CRM options, and make sure to read online reviews and get recommendations from other businesses in your industry.
3. What is the cost of implementing CRM software?
CRM pricing is highly variable and depends on numerous factors, such as the size of your business, the features and level of customization you require, and the vendor you choose. Some CRM systems have a monthly or annual subscription fee, while others charge a one-time licensing fee. Additional costs may include customization, training, and support services.
4. How can I train my employees on how to use CRM software?

To train employees on how to use CRM (Customer Relationship Management) software, provide them with detailed documentation and resources, conduct hands-on training sessions, and offer ongoing support and feedback. It's also helpful to incentivize and encourage employees to use the CRM regularly.
In addition to initial training, it's crucial to offer regular retraining sessions to ensure that employees are up-to-date. This can be particularly helpful when introducing new hires or when implementing major updates to the CRM system. Retraining can help maintain a high level of proficiency and engagement among employees.
5. When is the best time to implement CRM?
Some indicators that your business may be in need of CRM software are:
Your customer data is scattered across multiple platforms, making it difficult to access it at the right time

Your employees find it difficult to work together and share information

Important details get lost, leading to inefficiencies in your operations

There's no way for you to track the effectiveness of your activities