Nurturing customer relationships is the key to success for any enterprise.
However, maintaining these relationships can be tricky and demanding. 
From customer preferences to previous interactions, there's a lot to keep in mind when engaging with the customers. 
A system that provides centralized access to this data can boost sales and strengthen relationships. 
This is exactly what CRM tools help accomplish.
By tracking and storing all customer information in one place, CRM can help businesses craft delightful customer experiences.
Designed for improving customer relationships, CRM tools have now expanded far beyond their traditional role. They can now enable collaboration between team members, analyze performance data, and automate sales and marketing efforts. 
As technology is aiding the world of the Internet, CRM systems are making the headlines.
But exactly, what is CRM software? Let's dive right into it to learn about CRM and how different businesses can build their brand and boost sales using the right software!
What is CRM?
Customer Relationship Management or CRM definition encompasses all the tools and techniques used to optimize customer relationships.  
In simple terms, these tools enable businesses to acquire more customers and build long-lasting relationships with them. 
Essentially, CRM works as a data repository where all contact information, interactions, and preferences are stored. 
But why is CRM important, and how is it better than other ways of maintaining contact information?
Only having the customer's name and email address isn't enough to provide a good customer experience. With the help of an old Excel spreadsheet system, you can just track details like name, phone number, email, address, website, and date of purchase/contact.
But, when you look at a CRM platform, you can store and track additional details like:
Company size

Different contacts of the same company

Social media information

Previous interactions

Sales pipeline

Pending actions and deadlines

Insightful reports and much more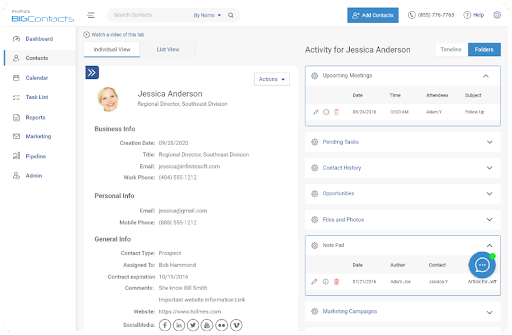 A Complete Guide to Customer Relationship Management
Customer relationship management helps individuals and organizations manage their interactions with prospects and customers efficiently.
However, CRM is much more than a contact or address book.
It is a technology with multiple functions empowering your team to build excellent relationships with customers.
The software collects complete information from different departments and centralizes this information to give a 360-degree view of each customer in real-time. The customer support and sales team can easily view or analyze this data to improve customer experiences.
Right from the implementation point, a CRM tool becomes the perfect companion to grow business with each customer. As the customer records are updated regularly in the software, it is easier for teams to help customers at any point, from pre-sales to after-sales support.
What Does a CRM System Do?
CRM offers the following functionality to improve a business's profitability:
Task Management
CRM helps manage all tasks and activities to improve organizational efficiency. Tasks can be assigned based on their priority status and the resources available. A combined team calendar helps everyone keep track of upcoming meetings or activities and identify which team members are associated with which tasks.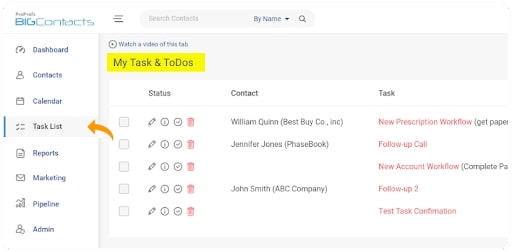 Lead Management 
CRM is the central database for all leads and their associated information. It can help enrich contact profiles by collecting data from sources such as social media. Additionally, your sales team can use CRM to score and prioritize leads based on their intent and previous engagement.
Integrations
CRM can be connected with other business tools such as chat/call support software, contact books, analytics tools, etc. This can keep data updated across multiple platforms, allowing you to avoid any discrepancies and customer frustration. 
Therefore, always make sure to invest in a CRM tool that offers multiple integrations to enhance your productivity. 
Reporting & Analytics
With powerful analytics and custom reporting, you can track any relevant metric. CRM allows you to generate reports that analyze the performance of campaigns, business operations, and team members. These insightful reports can provide an overview of the business activities and help you make better decisions.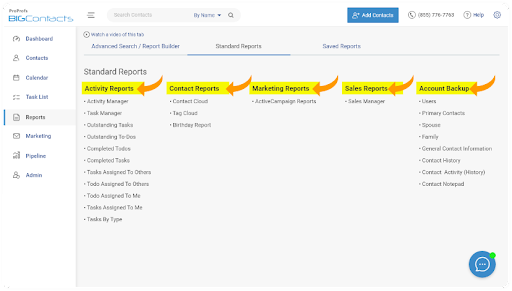 Sales Tracking
CRM tracks customer interactions. Based on the set business rules, it can automate certain functions of the sales funnel to notify about follow-ups and gather new data. This is helpful and integral for obtaining and converting new leads. Additionally, the sales pipeline of a CRM tool can help you visualize the movement of leads through your sales cycle and identify areas of improvement.
Marketing Functionality 
A CRM system can support your marketing endeavors by helping you automate a variety of tasks. With CRM's marketing automation, you can schedule emails or updates to be delivered to the prospects based on their current position. Additionally, you can keep existing customers engaged through various channels such as social media, emails, etc. CRM also helps you identify which marketing channels bring in the most leads so that you can utilize your marketing budget more judiciously.  
Workflow Automation
CRM helps streamline workflow and automate tedious tasks. This can establish a standardized process and ensure equitable distribution of tasks. Additionally, automation eliminates human errors, delays and frees up time for more critical tasks. It also boosts collaboration within the organization by aiding information sharing and bringing every division to one platform.
How Does a CRM Platform Work?
After having defined what is a CRM system, let's take a look at how it actually works.
All the customer interactions across multiple platforms are logged against the contact records to ensure that no important details are missed out.
Leads generated through multiple sources are captured and stored in the CRM system. 
The software then gathers relevant information for these leads from social media, website channels, email, and search engines. It absorbs multiple pieces of information and categorizes it into different sections for better understanding.
For a better understanding of how a CRM system works, let's look at the following scenario- 
 Suppose a client visits your website and fills out a contact form for website development. The customer's contact details are transferred from your website to the CRM. If the potential customer indicated a specific time or medium for contact, it triggers a series of events. An automated email for the call confirmation with the company's information and notification to your support staff/sales team will be sent. The outcome from the scheduled meeting can be stored as notes in the CRM. The actions taken by the client will be updated, and the sales team can use that information to contact the potential customer.
All in all, a CRM system aims to save a company's time and resources in the most efficient way by making it easier to view and manage customers' data. As the technology is designed to provide a profitable solution, CRM will direct the sales team towards high-quality leads.
Benefits of CRM Software
Having access to all customer data in one place allows businesses to stay organized and streamline their processes. 
By improving access to this data, CRM software can boost customer satisfaction and retention. 
The benefits of CRM software are available for all departments of an organization, including customer support executives, marketing teams, and salespeople.
Here are the most significant advantages of implementing a CRM system:
Strengthens Customer Support & Retention
The probability of an existing customer making a purchase is 60 -70%, while that for new customers is only 5-20%. This is why it is important for businesses to focus on customer retention. 
 Efficient customer service can improve customer loyalty and help you retain more customers. 
Customer support teams can use CRM systems to manage and resolve tickets. Customer service CRM software can track all previous interactions and purchase behavior to help customer support teams address high-priority customer tickets on time. 
Additionally, with access to details of existing customers information, you can share relevant emails to encourage repeat purchases. It is easier for sales teams to upsell or cross-sell a customer when the data related to the customer's buying habits are accessible.
Keeps Everyone on the Same Page
Customers have a frustrating experience when they have to repeat their issues or requirements to different executives over and over again.
CRM logs all details associated with a contact record in one place, allowing any team member to access them. This eliminates any communication gap even if the responsible sales executive is not available.
Improve Productivity 
CRM keeps everyone updated with alerts and notifications to ensure that important opportunities are never missed. It also helps reduce response times by automating emails. With ready-to-use templates and automated actions, you can offer a quick and delightful experience to your customers. Updates can be shared with other team members, and the progress of activities can be tracked with a CRM system in place. The task management and calendar tracking capabilities of CRM further contribute to increased productivity.
Build Detailed Contact Profiles 
Your outreach efforts can significantly improve with all information readily available. CRM can work as a cheat sheet, offering insights and details about your existing and potential customers. From the name, email address, mobile number, birthdays, designations, preferred languages, to social media accounts, previous contact history, and other activities, your team can view the complete profile of the customer.
This proves helpful in personalizing the communication and can save a lot of time and frustration for customers and your teams. Simply put, you will know who your customers are and what they want or expect from you.
Ensures Data Security 
The EU General Data Protection Regulation (GDPR) makes it important to have a CRM tool with inbuilt GDPR compliance. So, all the data collected by the CRM software won't be a violation of any privacy law. You can ask for customers' consent to store their personal details in your system. Doing this manually will consume a lot of time and can be sloppy. But with the help of CRM software, you can quickly set up and communicate to your customers by following GDPR guidelines. It helps in building trust as you handle the customer's data with respect.
What is CRM marketing?
Customer support, marketing, and sales support go better with a CRM module in place. Each of your team members can work efficiently with complete information about the prospect's interaction.
Who spoke last time to a customer? 
What was their concern?
 Is there a deadline for resolution? 
What about the follow-up mail/call? 
What's the next step?
Now, if you have answers to these questions before interacting with the customer, the conversation will go smooth, and customer relationships will improve. To give all the answers to your questions at the right time, CRM keeps things simple and organized. Everyone can work together more effectively to provide the best customer experience.
The marketing strategies in CRM are all about identifying and targeting profitable customers so that your team can delight them with perks and offers. Refine your marketing campaigns by customer needs and let them receive the information they are most interested in.
Your email marketing campaigns, when integrated with CRM, can easily take your business to the next level. The automation features let you interact with your customers about different things, such as unpaid invoices or pending purchases. So, your team won't have to design and send intuitive emails manually. You can rely on the robust automation that is an integral part of CRM marketing to optimize customer relationships.
Significance of CRM for Small Businesses
CRM systems can prove to be especially effective for small businesses that have a limited number of people managing all the operations. 
By tracking and managing all activities, keeping data updated, and allowing the team to collaborate, a CRM system can be the all-in-one solution driving the growth of small businesses.
Here are some ways in which CRM can be of advantage to small businesses and startups:
A CRM system can schedule,

track and manage all calls, meetings, and events

. This ensures that no important event is missed. Additionally, it updates the data in the team calendar so everyone has a clear idea of the upcoming events and meetings. 

Since all the

communications are logged in one place

, it becomes easy to keep track of the customers' expectations, preferences, and current position.

Along with managing tasks and activities, CRM also helps

automate repetitive tasks

such as manual data entry, freeing up more time for acquiring new customers.  

For small businesses, it is important to get the most out of every dollar and minute spent. By acting as a repository of customer information and a platform for managing all business processes, CRM software can help small business owners

save time and resources

that go into using multiple tools. 

With the

reporting & analytics module

of CRM software, small businesses can monitor their progress and make the required amends to their business strategy. 

The improved data access makes it easy to

personalize customer experiences

and tailor them to the specific needs of the target audience.
Getting Started With CRM
To get the most out of a CRM system, you need to implement it effectively. 
You need a detailed implementation plan to ensure that everyone gets on board with the system and is able to utilize it effectively.
For seamless integration of CRM software into your business process, you need to:
Find the most optimal tool based on your requirements

Import all contact data to the CRM system

Offer training to staff members 

Routinely monitor the progress of implementation

Seek feedback from your team and address any challenges 
Read More: 11 Best Implementation Practices for CRM Success
Finding the Right CRM
When it comes to CRM software, there is no dearth of choices. 
This leads to confusion among business owners looking for the most optimal solution for their business.
There are certain essential features that you need to consider when choosing a CRM tool. These include your business size, number of team members, expansion strategy, budget, etc. 
While several factors affect the success of a CRM system, here are ways to find the best CRM system for your business:
1. Identifying What You Need
To find the best CRM tool, you need to begin by analyzing your pain points. By having a clear understanding of the problems that you are looking to solve, you can easily find a suitable tool. 
Every business has different goals and, consequently, different expectations from CRM. 
What is the most crucial objective of your CRM implementation? Are you looking to improve productivity, enhance experiences, track leads or automate processes? 
Take your needs into account and then assess different tools against these requirements to find the most effective software.
2. Get Your Team Onboard
Adoption of CRM is a major change that may be uncomfortable for some team members. 
For a smooth transition from your conventional methods, you need to get everyone involved. Make sure to get everyone on the same page about the implementation plan. 
Having an effective implementation strategy is essential as you might not have a technical team to get the software underway. The learning curve should be easy as most of your team members who are going to use the software will be from a support/sales background. It is always better to choose a CRM tool that involves easy installation and adapts to your system in a user-friendly way.
3. Get a CRM With Remote Access
Mobile access is one of the most critical features that you should consider in a CRM tool. In today's fast-paced and competitive world, you need to have data at your fingertips to connect with your customers at the right time. A CRM with remote access can keep contact data synchronized and help your team access it immediately from any mobile device. 
4. Check Compatibility With Your Current System
The tool that you pick should offer easy migration to help you move your existing data with ease. Moreover, you should look into the type of integrations that the CRM software offers. This can help you ensure that the tool is compatible with other tools like marketing automation, helpdesk, account management systems, etc., that you currently have.
5. Consider Reporting Capabilities
The CRM system should enable you to generate insightful reports to make better decisions. Custom reports tracking various metrics can help you track the performance of your sales and marketing efforts and identify key areas for improvement. Efficient reporting and analytics can provide you enhanced visibility into your processes and help you make more accurate sales and revenue forecasts. 
6. Look for Marketing Integration
A CRM system with email integration and marketing automation capabilities can help you reach out to prospects more effectively. You can create and manage drip email campaigns to make your outreach more targeted and relevant to your customers. Go for a tool that offers custom templates, bulk emails, and email tracking functionalities.
7. Find a Tool Within Your Budget
You can easily find several affordable tools that meet your budgetary requirements. Consider the pricing plans offered by multiple CRM vendors to find one that is ideal for your business.
8. Make Use of Free Trials
Most customer relationship management tools offer a limited free trial of the product. To better understand the tool and analyze its effectiveness for your business, make use of this free trial. Test out the features and functionalities of the various tools to find the most optimal solution. To get a better idea of the usability of any software, go through its user reviews and ratings.
Which Type of Businesses Need CRM?
Now that we have established what is CRM and what benefits it offers, let's answer the more pressing question-
Who needs CRM?
Pretty much, businesses of all kinds can benefit from a CRM system.
From startups to well-established enterprises, CRM systems have been adopted by businesses across the board for maximizing profitability. 
Irrespective of its scale or size, every enterprise needs to manage its customer relationships. Additionally, the improved organization that CRM provides can propel business growth. 
Small businesses can benefit from the powerhouse of management capabilities that CRM is. They can use the tool to keep track of all incoming leads, move them through the sales cycle and build long-term relationships. 
Large enterprises, on the other hand, can obtain maximum benefit from a CRM system by boosting collaboration across the organization. When working with a large team and volume of data, keeping things uniform and updated can become challenging. This is where a CRM system can prove to be of great value to large businesses.  
FAQs
When is the right time for CRM implementation?
A common doubt that businesses have is when is the right time to start working with a CRM system. 
In its initial stages, every business uses some form of data management to store and manage their client data. While conventional methods like spreadsheets may work for some time, things soon become challenging as the customer base grows. 
Therefore, it is best to adopt a scalable CRM system right from the start. 
Other indicators that your business may be in need of CRM software are-
Your customer data is scattered across multiple platforms, making it difficult for your team to access it at the right time.

Your employees find it difficult to work together and share information. 

Important details get lost, leading to inefficiencies in your operations.

There's no way for you to track the effectiveness of your activities. 
These are a few of the many reasons why your business may need CRM.
Why should I choose BIGContacts?
BIGContacts is an easy-to-use CRM solution that simplifies customer relationship management and boosts productivity. This CRM tool can add immense value to your business by keeping your data secure and accessible. Every division of your organization, including sales, marketing, and customer service teams, can work together on a single platform.
Some of the reasons that make BIGContacts a suitable choice for your business:
Keeps information organized

Allows sales opportunity tracking

Alerts & notifications

Comprehensive dashboard for managing everything 

Smart reports 

Powerful integrations 

Automation capabilities
What is the pricing structure of BIGContacts CRM?
BIGContacts is an affordable CRM tool with a pricing structure that works well for small and medium businesses. 
The annual pricing options for the tool include:
Big- $5/user/month

Bigger- $15/user/month 

Biggest- $25/user/month

Enterprise- Custom pricing
Facilitate Your Business Growth With a Powerful CRM System!
Remember- It takes months to find a customer and seconds to lose one.
Understanding what is CRM and how to use it effectively can enable you to keep customers engaged and loyal.
An effective CRM system can reduce your churn rate by helping your form long-lasting relationships with your customers. This can drive growth and increase profitability for your business.
With automated processes and reminders for your team members, a CRM tool can help boost your organizational efficiency. 
You can use a CRM tool to optimize your sales processes and retain more customers. 
However, to access all these benefits, you need to find a suitable tool with advanced features. 
Take time to analyze your business needs before comparing different CRM solutions. This can help you find the most functional tool that transforms your customer relationships.