Collecting client data is an integral part of any business's operations.
From basic spreadsheets to advanced customer data management systems, every business uses some form of data collection and management for their prospects and customers. However, very few of them are able to keep this information organized.
To do so, they require a powerful customer relationship management or CRM system.
CRM technologies are constantly evolving.
What started as contact management software has now expanded to include advanced functionalities like marketing automation, reporting, communication tracking, task management, etc.
The significance of CRM technologies can be understood from multiple perspectives.
This blog covers the three most important roles: sales representatives, clients, and management.
We also highlight why CRM for Small Businesses is required and how to leverage it for increased revenue and business growth.
What is CRM Technology?
Before we get into CRM features and benefits, let's take a closer look at what it actually is.
Access to customer information isn't enough to improve your sales.
It's about how effectively you leverage this data for business growth.
CRM tools are designed to help businesses make the most out of customer data.
In simple terms, CRM or customer relationship management refers to strategies and tools that empower businesses to strengthen relationships with prospects and customers.
CRM technology facilitates contact management for businesses. This helps them deliver more personalized services that translate into better profits and more customer retention.
CRM technology applications provide centralized access to all customer information and aid omnichannel engagement with prospects and existing customers.
Using a CRM tool, businesses can store key information that can be used to optimize customer experiences and drive more conversions. This information can include contact details, job title, previous purchases, communication history, preferences, etc.
Additionally, CRM software boosts productivity for organizations by automating repetitive tasks and streamlining all business processes.
Customer Experience Management With CRM
CRM technologies help manage and optimize customer journeys to drive more sales and retain more customers.
All the information related to prospects and customers is centrally located for anyone to access. These comprehensive contact profiles can be leveraged to build stronger customer relationships.
You can easily track which team member worked on an account previously or view communication history to optimize your future interactions.
To better understand what CRM technology is, let's take a look at the role it plays in various stages of a customer lifecycle:
Lead Generation:
Leadsquared defines lead as "an individual or organization with an interest in what you are selling."
Sounds pretty simple, right?
However, 61% of companies believe that lead generation is the most challenging marketing aspect of their business.
An effective CRM tool can improve lead generation for your business by helping identify and capture leads from sources such as web forms, surveys, emails, etc.
Lead Scoring:
Prioritization of prospects is important to avoid wasting time and resources on low-quality leads. You can use a CRM system to score leads based on their willingness to make the purchase.
Once the prospects have been scored based on their intent, they are termed as sales-qualified leads and are passed on to sales representatives.
Lead Nurturing:
Nurturing leads effectively can boost the bottom line of your business.
With a CRM system, you can track the position of every lead in your sales pipeline and personalize experiences for them. Automating relevant content to be delivered to prospects at the most appropriate time can help nurture them and drive them toward conversion.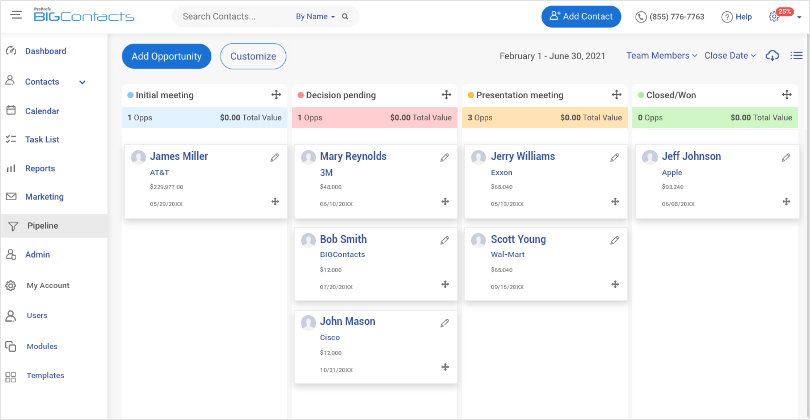 Marketing Campaign Management:
Plan, track, schedule, and manage your marketing campaigns with the help of a CRM system. You can keep track of customers' preferences and previous purchases to offer relevant marketing information, such as promotional offers. CRM helps you personalize your emails to make them more informative and engaging for the target audience.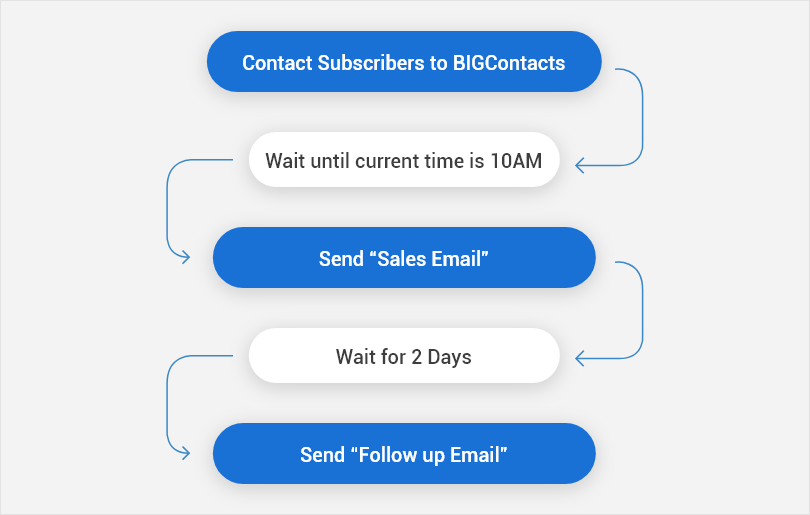 Post-Sale Support:
Foster long-term relationships with your customers by focusing on post-sale support. With customer relationship management technology, you can resolve customer tickets, keep customers engaged and encourage them to make repeat purchases.
Benefits of CRM Technology
CRM systems offer a multitude of benefits to businesses.
From increased data organization to streamlined business processes, there is a lot that can be accomplished with CRM.
Some significant benefits of using CRM systems are:
Quick Access to Data:
Instead of scouring for information from multiple spreadsheets and databases, you can access the required information immediately. All the emails, invoices, files, notes, and other additional information are automatically logged against the respective contact records. This 360° view of all customer data enables you to improve your outreach efforts and keep track of customer actions.
Increased Revenue:
Increased revenue is one of the most significant benefits of CRM for sales. CRM can help improve your profitability by enabling you to close more deals. It can keep your pipeline functional and healthy to make sure that more leads are converted to customers.
In addition to that, it also helps you stay connected with existing customers to get up-selling opportunities to improve your revenue further. By investing in customer relationships, you can expect promising returns for your business.
Higher Customer Satisfaction:
With CRM, customers do not have to repeat the same information to multiple executives. This eliminates customer frustration and makes for more satisfactory experiences.
Additionally, customers feel valued when they receive services tailored to their specific needs. CRM provides centralized access to all information associated with the customers, including their social media activity and communication preferences, which can be used to make upcoming interactions more personalized and, consequently, more favorable for your business.
Enhanced Productivity:
Automated processes, task management, and enhanced collaboration can contribute to improved efficiency. Your team can be more productive when they have the right technology at their disposal. CRM tools can help team members track the due dates, current status, and priority level of various tasks to ensure that things get done on time. They can also be used to track progress and eliminate any possible roadblocks from business operations to enhance productivity further.
Better Visibility:
Smart reports enable you to get more visibility into your business processes. You can choose from pre-made templates or choose custom filters for generating reports. For instance, you can easily generate a report with all the contacts that previously contacted your business or the ones that dropped out of your sales funnel at a specific stage. With all this information available at your fingertips, you can optimize your efforts going forward.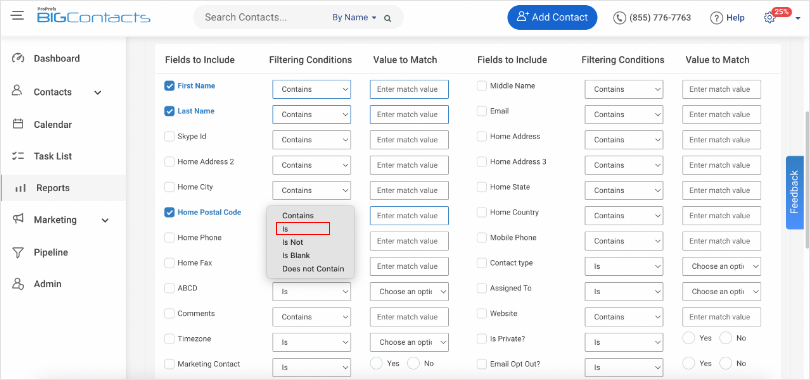 Essential Features of a CRM Tool
The most effective way to find a suitable CRM for your business is to keep your business objectives in mind.
When looking for a CRM solution, find answers to questions such as
How easy is it to operate the tool?
How is the tool's learning curve, and what type of training does it offer?
Does the tool meet your budgetary requirements?
Does it offer all the features and functionalities that you require?
Is the tool capable of growing with your business?
… and the list goes on.
Since making this decision can be overwhelming, there are certain essential features that you can look for to find suitable solutions. These include:
Reporting Capabilities:
An efficient CRM tool offers robust reporting capabilities that can help you make use of available data to get better visibility into your business. It can also help you make more accurate sales and revenue forecasts. With customer reports, you can track any metric that you want. Powerful analytics can help you make more informed decisions and increase your profitability.
Automation:
In this fast-paced world, every customer expects instant services.
Unnecessary delays can result in lost opportunities.
To keep things moving at all times, invest in a CRM that offers automation. This can help you reach out to prospects and customers at the right time. You can set custom triggers to advance prospects in your sales cycle and avoid any delays in response time.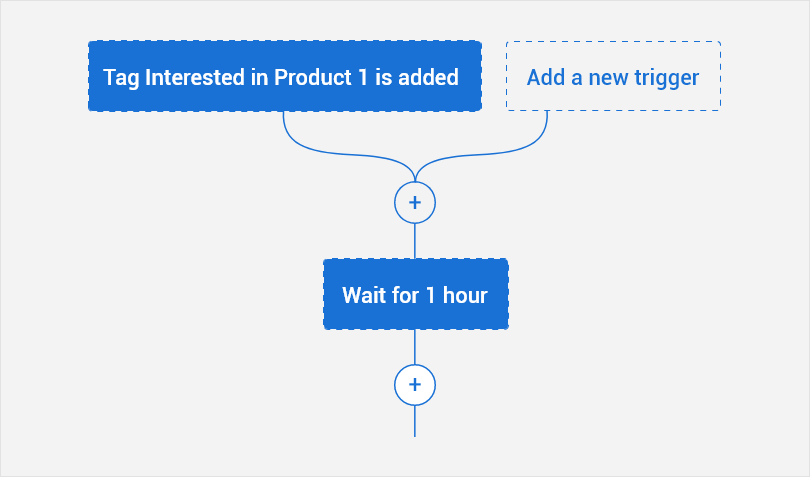 Task Management:
A CRM system that enables you to keep track of all tasks and activities can enhance productivity for your team and help you achieve targets quicker. With a combined team calendar and to-do lists, everyone can stay aware of upcoming tasks and pending activities. A CRM tool can boost accountability and help everyone keep track of their progress. Additionally, CRM can also be used for setting task reminders so important deadlines are never missed.

Third-Party Integrations:
Another functionality to look for in a CRM tool is the type of integrations that it offers. A tool that seamlessly integrates with your existing business systems can save you from the trouble of getting acquainted with new tools.
Choose a CRM application that offers multiple integrations with other types of tools, such as marketing automation, outreach, analytics, customer service, etc.
Collaborative Tools:
One of the fundamental features of any CRM system is team collaboration.
A tool that allows you to share data and updates with other team members can strengthen internal communication and help everyone stay on the same page. Better collaboration can contribute to improved customer satisfaction and enhanced productivity for the organization.
Marketing Integration:
Look for a CRM system with marketing integration to stay connected with your prospects and customers. By tracking customer interactions and preferences, you can optimize your marketing efforts to be more effective and relevant.
Remote Access:
With customer data remotely accessible, sales executives can get up to speed anywhere, anytime. They can prepare for sales meetings on the go and brush up on their client's knowledge whenever required.

Understanding CRM From 3 Perspectives
Having already described the importance of having a CRM system, let's take a closer look at how a CRM affects different people associated with a business-
Sales Representatives:
The first CRM perspective that we look at is that of a sales representative.
CRM can boost revenue by over 41% per sales representative.
This shows the direct correlation between CRM and the performance of sales representatives.
An effective CRM system that provides centralized access to client data can help sales executives optimize their pitches to close more deals. They can view previous purchases, communication history, buying preferences, social media activity, etc., for all their contacts in one place. This data can be accessed remotely, which means that sales reps can brush up on client information before meetings.
Additionally, they can stay more organized by using the CRM calendar to track all pending activities, upcoming calls, meetings, etc.
Here are some of the benefits that CRM can provide to sales reps-
Automated activity reminders

Lead prioritization and tracking

Remote data access

Visual sales pipeline

Custom reports

Enhanced team collaboration
Clients:
Let's move on to customer perspectives for CRM.
Although clients do not directly interact with the CRM system, they significantly benefit from it as well.
Let's look at a scenario where a sales team does not use a CRM system.
Information gets lost in emails and memos, and customers do not get what they are looking for. There are also unnecessary delays in response time. Additionally, any personnel change leads to loss of data, and clients have to state their needs and expectations over again.
In this situation, customers have a frustrating experience since they have to repeat the same information several times.
To avoid this, businesses need effective management of contact data.
This is where CRM can come in handy.
It can help craft better customer experiences and retain more customers in the long run, providing opportunities for up-selling.
Management:
We now take a look at another perspective of CRM implementation and usage – the company's management.
Just like customers, the management derives indirect benefits from CRM.
The team productivity levels spike with the implementation of a CRM system. It also impacts the overall efficiency and profitability of the organization.
The entire organization can work in seamless collaboration by sharing data and updates effectively. This enhanced productivity can contribute to increased revenue and accelerate business growth.
Choosing the Right CRM Technology
Now that we have listed the benefits of CRM from various perspectives, it's also important to address the importance of investing in the right application.
To get the most out of CRM technology, you need to ensure that you are working with the right tool in the first place.
Choosing a CRM application is not an easy decision.
You need to take several factors into account when selecting the tool, including your team's size and requirements, current challenges that you wish to overcome, and the scalability of the application.
Here are some proven techniques to help you find the most suitable CRM technology for your business:
Choose a CRM tool that can be customized according to your requirements.
Carry out a detailed analysis of the features you require before comparing different CRM tools.
Look for a tool that offers reliable customer support and documentation.
Go through the reviews posted for the tool on various platforms before you choose it.
Make use of the free trial.
Implementing CRM Technology
Finding the right CRM system is just half the battle won.
The next step is implementing it effectively.
These implementation practices can help you integrate the tool seamlessly into your business:
Data Migration:
Maintaining the integrity and accuracy of data is essential when switching to a CRM system. Make sure that the data is free of redundancies and inconsistencies before you migrate it to your CRM software.
User Adoption & Training:
The next crucial step in the implementation of CRM is driving user adoption of the tool. Offer training support to ensure your team members are comfortable with the change and are able to utilize the CRM tool to its full potential.
Testing & Feedback:
Monitor the progress of the implementation process with reports and analytics. By identifying how your implementation plan is working in real time, you can make the required changes to your strategy to make it more effective. Seek feedback from your team members to find out other ways to improve the implementation of the CRM system.
Resource Allocation:
An important thing to keep in mind during the implementation is being aware of the requirements and risks associated with it. Since adopting CRM technology is a major change, you need to allocate enough time and resources to the implementation process. Proper training and adoption may take time. Therefore, it is essential that you begin the process by analyzing the estimated timeline, training resources, and budgetary requirements of the implementation.
Maximizing CRM Performance
Once you set up the CRM system, you have to make sure that it remains functional and healthy.
To maximize the performance of your CRM system, you need to follow some proven strategies. These practices ensure that your CRM system is being utilized effectively and is able to generate promising results.
Focusing on the following can help you get the most out of your CRM software:
Effective Implementation:
Find a CRM tool with easy setup and implementation to ensure that it integrates effectively with your existing systems.
Setting Realistic Goals:
Include realistic goals in your CRM strategy to keep things on track at all times. Without a clear action plan, your CRM efforts are likely to remain unorganized and ineffective.
Staff Training:
Effective onboarding and routine training are essential to help your team members use the CRM tool properly.
Automation:
CRM enables you to automate time-consuming tasks. Make use of the automation capabilities of your CRM tool to save time and resources.
Additionally, this reduces the number of errors, increases the speed of business operations, and contributes to increased productivity.
Track Progress:
To ensure that you are on the right track, monitor relevant key performance indicators routinely. With intelligent reports, you can identify trends and areas of improvement.
Stay Organized With CRM Technology
CRM technologies enable businesses to take advantage of customer data and use it more than just as a mailing list.
With CRM, your business can realize its true potential and stand out from the competition.
Customer relationship management can empower you to make more sales and keep your customers returning to your business for repeat purchases.
Being aware of all the benefits and challenges of CRM can help you utilize the technology effectively. Make sure that you consider your objectives and the functionality offered by various CRM products before investing in one for your business.