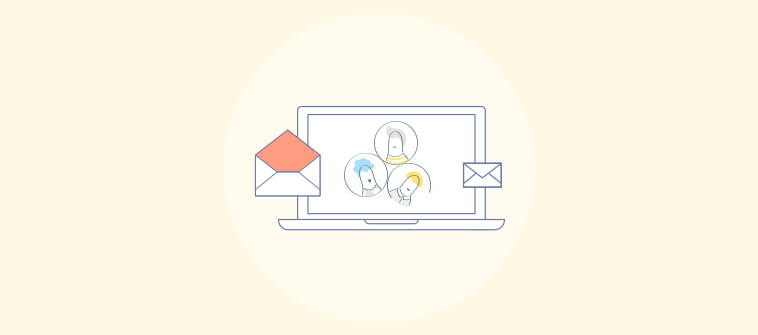 When you hear the term 'lead generation,' a variety of channels flash in your mind.
Whether it's the conventional television and radio advertisements or contemporary social media platforms, there are many options to choose from.
One such channel that has gained tremendous popularity (and rightly so) is CRM.
Now, you may be already aware of how a small business CRM tool can affect a business's customer relationships.
But how does it fit into the picture when it comes to lead generation?
Lead generation is a term that encompasses all the efforts that go into capturing quality leads that can be converted into customers.
A powerful lead generation CRM solution can help businesses do so by gathering leads from multiple sources and tracking their movement through the sales funnel.
This comprehensive guide can help you discover how a CRM system can help you generate leads for your business and close more deals.
What is a Lead?
Before getting into more detail about CRM's role in lead generation, it is crucial to define what a lead is clearly.
Any individual or company that expresses interest in your business can be referred to as a lead. You do not require detailed information about the business entity for it to qualify as a lead. The only thing you need to find out is whether they have the interest and intent to make the final purchase.
Sound simple, right?
In reality, it is slightly more complicated than that.
While you may pride yourself on the number of leads you get, they are of no use if they are low-quality leads that are not likely to make the purchase.
This is why it is vital to establish criteria for what qualifies as a lead. Your marketing and sales teams must agree upon the definition of a sales lead. This can help avoid the wastage of time and effort in pursuing low-value leads.
Types of Sales Leads
To convert more leads into sales, you need to implement the most appropriate selling techniques. Being aware of the types of leads in sales can help you determine which approach would work the best for that particular lead.
Leads can be broadly classified into:
Information Qualified Leads (IQL)-

Information-qualified leads are the ones that have shared some details about them to get more information about your product or service. You have a limited idea about the needs and preferences of these leads.
Marketing Qualified Leads (MQL)-

These leads are acquired through marketing channels and have more information about your business than IQLs. They have expressed interest in your business and need to be nurtured. Once MQLs are attracted through marketing efforts and are considered to be a good fit, they are handed over to the sales team.

Sales Qualified Leads (SQL)- Once the lead is close to making the final decision, it is termed as a Sales Qualified Lead. SQLs have a high chance of a conversion. Acting upon these leads timely and effectively can help you close more deals.
What is Lead Generation?
A simple way to define lead generation is to refer to it as the process of attracting people that have the likelihood of converting into customers.
There are various channels to acquire these leads, including paid as well as unpaid methods. The more leads you generate, the better will be your sales outcomes.
You also need to collect relevant information about these leads, including their contact information, relevant interests, etc.
Methods of Lead Generation
Businesses have several channels to acquire leads. Based on how the leads are generated and approached, they can be classified as outbound and inbound.
Outbound methods involve reaching out to potential customers directly, whereas inbound strategies focus on educating and engaging with the relevant audience. Cold calls, ads, billboards, etc., are examples of outbound lead generation methods, while blogs, social media, etc., are inbound lead generation channels.
Let's discuss some of the lead generation channels in more detail.
Television/ Newspaper Ads
Conventional advertising methods such as television ads, newspaper ads, billboards, etc., are still effective in taking your business to a broad audience. Interested leads can then contact you for more information.
Events
Events can be an excellent channel to get in touch with people who would be interested in your business. Seminars, conferences, etc., can help collect information about prospects and build stronger relationships with them.
Emails
With email marketing, you can easily convert contacts into leads. The emails have to be engaging and informative. This can encourage the recipient to take the next action in the sales process. Include relevant information and clear CTAs in your emails to drive more leads to your business.
Social Media
Social media can work well for online leads generation by helping you reach a large number of prospects. You can use social media to capture leads and direct them to your website, blog, etc., for more details. It can enable you to engage with prospects more effectively and offer more personalized services. You can use app for social media posting to cut down your efforts.
Blogs
Blogs that are engaging, informative, and optimized for search engines can work as great channels for gathering leads. By educating the audience about the product, its features, and associated details, blogs can help you gain the position as an industry expert and, consequently, earn the trust of the audience.
PPC Advertising
Pay-per-click advertisement is an effective way of driving traffic to your website. You can include relevant keywords in these ads to attract qualified prospects to your landing page, where they can acquire more information.
Why is Lead Generation Important?
61% of marketers consider lead generation to be the biggest challenge for them.
However, it continues to be a top priority for all businesses.
So, what is it about lead generation that makes it so important?
Sales teams need a steady influx of leads to meet their targets.
However, you cannot expect leads to just turn up out of nowhere. You must have a consistent and strategic approach to drive relevant traffic to your business.
Without a repeatable and well-defined method for generating leads, your sales team will struggle to find prospects to convert into customers. Lead generation is therefore critical for your revenue generation as well as business growth.
It can help you expand your reach by enhancing visibility and helping you reach out to more people who can become your customers. Additionally, it can help you improve the quality of your leads by targeting the right audience with relevant, engaging, and informative content.
What is CRM?
Customer relationships have always played an integral role in determining the success of businesses across all industry verticals.
CRM tools are designed to help businesses manage these relationships more effectively. Centralized access to customer data in one place contributes to improved day-to-day efficiency and deeper customer relationships.
Along with contact management tool features, CRM also offers task and activity tracking that helps all team members stay on the same page. It also allows taking notes, sharing updates, tracking pending tasks, and monitoring the progress of business operations.
CRM can remove the manual effort required for data entry by automatically capturing data. Furthermore, the remote access offered by a CRM tool enables everyone to stay updated with information on the go.
Does Your Business Need Lead Generation CRM?
A CRM tool can help you capture and convert leads. Additionally, it can enable you to retain these customers in the long run. It can help you achieve more productivity and close more deals.
Being aware of your team's pain points and your business objectives can help you determine if investing in a CRM is beneficial for your business.
If you are still on the fence about a CRM lead generation solution for your business, here are some questions you should ask yourself-
Does your team struggle with internal collaboration?

Do you need centralized access to contact data?

Do you require better sales tracking?

Are you having problems tracking client interactions?

Have your conversion rate or customer retention levels taken a hit?
If you have encountered any of these challenges, it's time to look for a suitable CRM solution that can help you overcome them.
Benefits of Lead Generation CRM
Lead generation aims at bringing in prospective customers that are interested in your business and are willing to take the next step.
A systematic lead generation process is therefore crucial for maximizing the revenue of an enterprise. A CRM can play a significant role in establishing and maintaining this process.
Here are some of the advantages that a lead generation CRM system offers:
Add Leads Directly From Your Website
A lead CRM eliminates the manual effort required to add leads. You can capture leads and their associated information directly from your website and log it in your CRM system. Any lead that fills your web form gets its information stored automatically in the CRM system.
Assign Leads to Sales Representatives
With a CRM, you can assign tasks to team members with ease. CRM enables you to track the number of leads every sales representative is working with. You can identify which sales representatives would be the best equipped to handle the leads and assign them accordingly.
Get Notified
You get notified every time a lead enters your sales funnel. These instant alerts can help you get in touch with leads at the most suitable time. Keep track of how the leads move through your sales funnel with a CRM tool.
Better Personalization
With a CRM system, you can access all important information about the leads in one place. This can contribute to improved customer experiences and higher conversion rates for your business.
Reporting and Analytics
An efficient CRM tool allows you to measure the results of your interactions with its reporting and built-in analytics. You can keep an eye on all sales activities and view how close the leads are to conversion.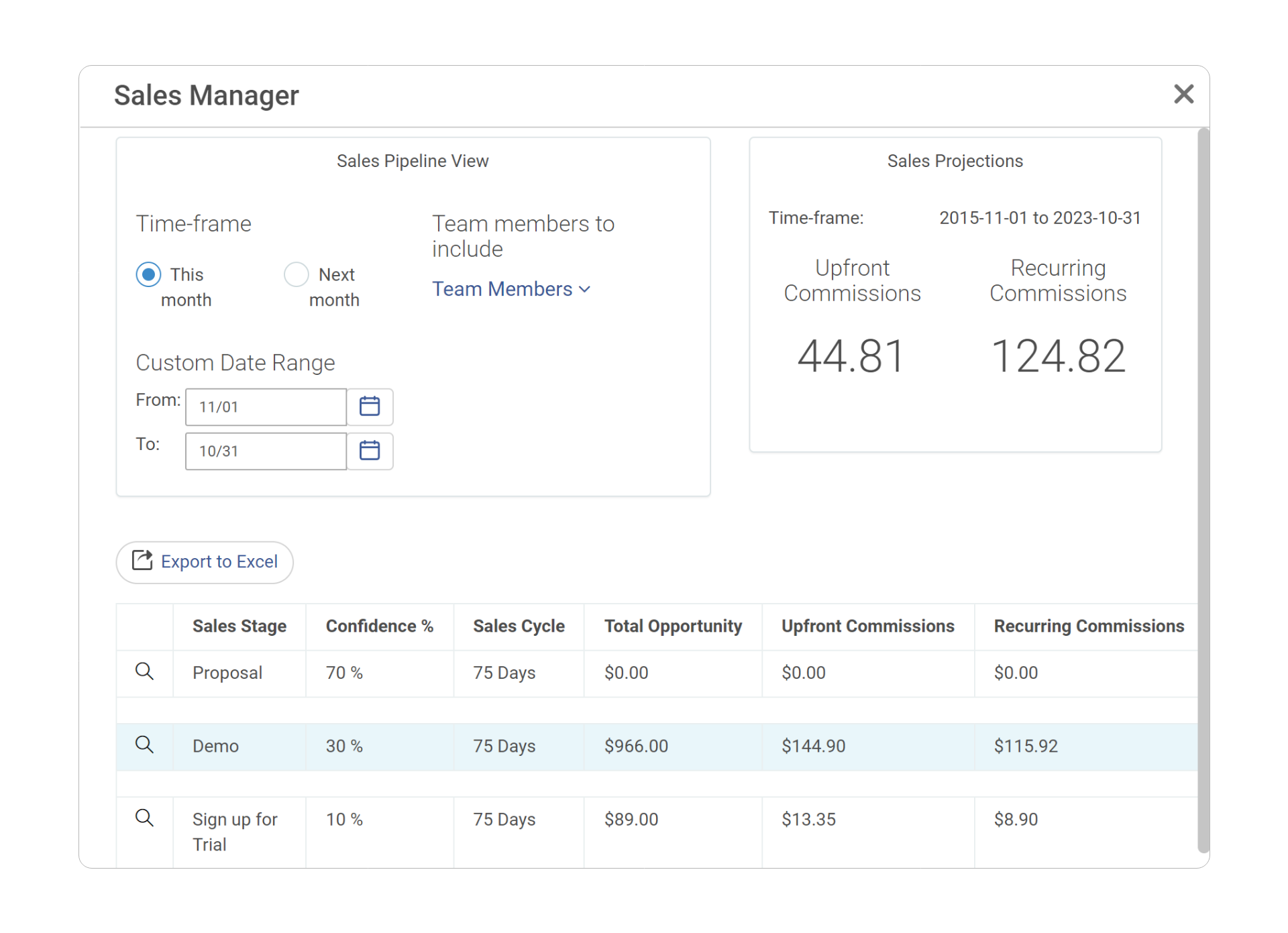 Prioritization
CRM not only allows you to gather leads but also provides the information required to qualify them. It can help prioritize high-value deals by allowing you to view the status and information related to every lead in one place.
Enhanced Collaboration
With lead generation CRM software, all your team members can collaborate better. This is a result of the easy sharing of updates, improved data accessibility, and efficient activity tracking. Remote access to data further enhances team communication and productivity.
Automation
80% of businesses that use an automation tool are able to generate more leads. The automatic abilities of a CRM can eliminate manual effort and bring more efficiency to the lead generation process.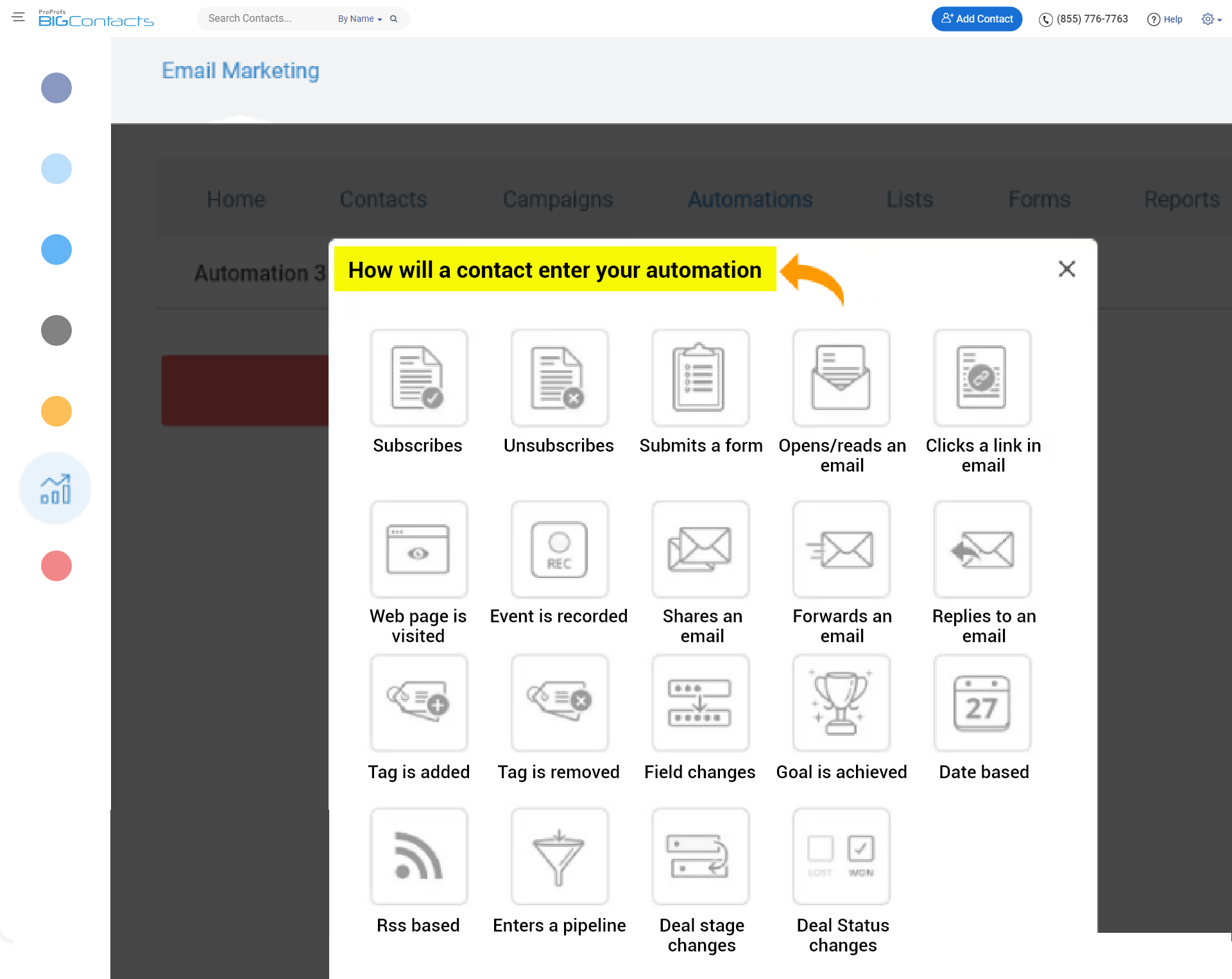 How to Improve Lead Generation With CRM
Streamlining your lead generation efforts can be made significantly easier with a CRM system.
However, to make the most out of a lead generation CRM, you must implement the following best practices-
Build a Sales Pipeline
Use the sales pipeline feature of CRM to manage your leads. By visualizing where every lead stands in your sales cycle, you can eliminate any guesswork and modify your approach accordingly. View the lead's current stage, any previous touches, their preferred mode of communication, and other important information that can help you process leads.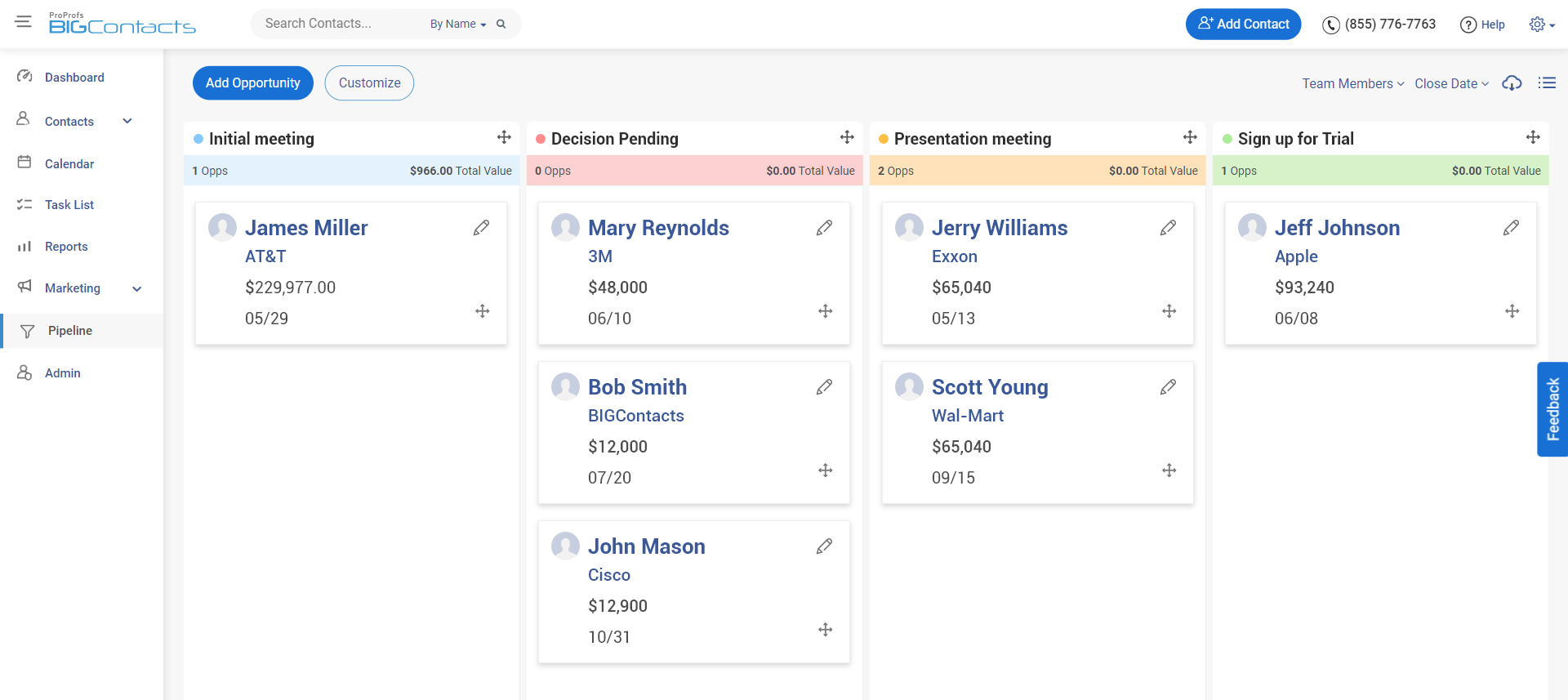 Make Use of Automation Tools
When using a CRM tool, make sure you use the automation tools to achieve better results. By eliminating manual and repetitive processes from your workflow, you can devote more time to creating better relationships with the leads and guiding them toward conversion.
Store Data for Future
Even if a lead doesn't convert into an opportunity, you can store that contact in your CRM and use it in the future. CRM automatically stores contact data and logs all previous interactions against the contact record so you can pick up where you left off.
Improve Marketing
CRM can help improve your marketing efforts by providing deeper insights into the behavior and preferences of leads. It can provide you with the required information whether you need to optimize landing pages, emails, or other marketing content. You can easily segment your target audience to deliver more relevant and valuable content.
Integrate Social Media Channels
A CRM that offers social media integration can provide you the opportunity to connect with a large number of potential customers. With CRM, you can engage with leads across multiple social media platforms. It can also assist you in delivering personalized solutions based on the social media activity of the leads.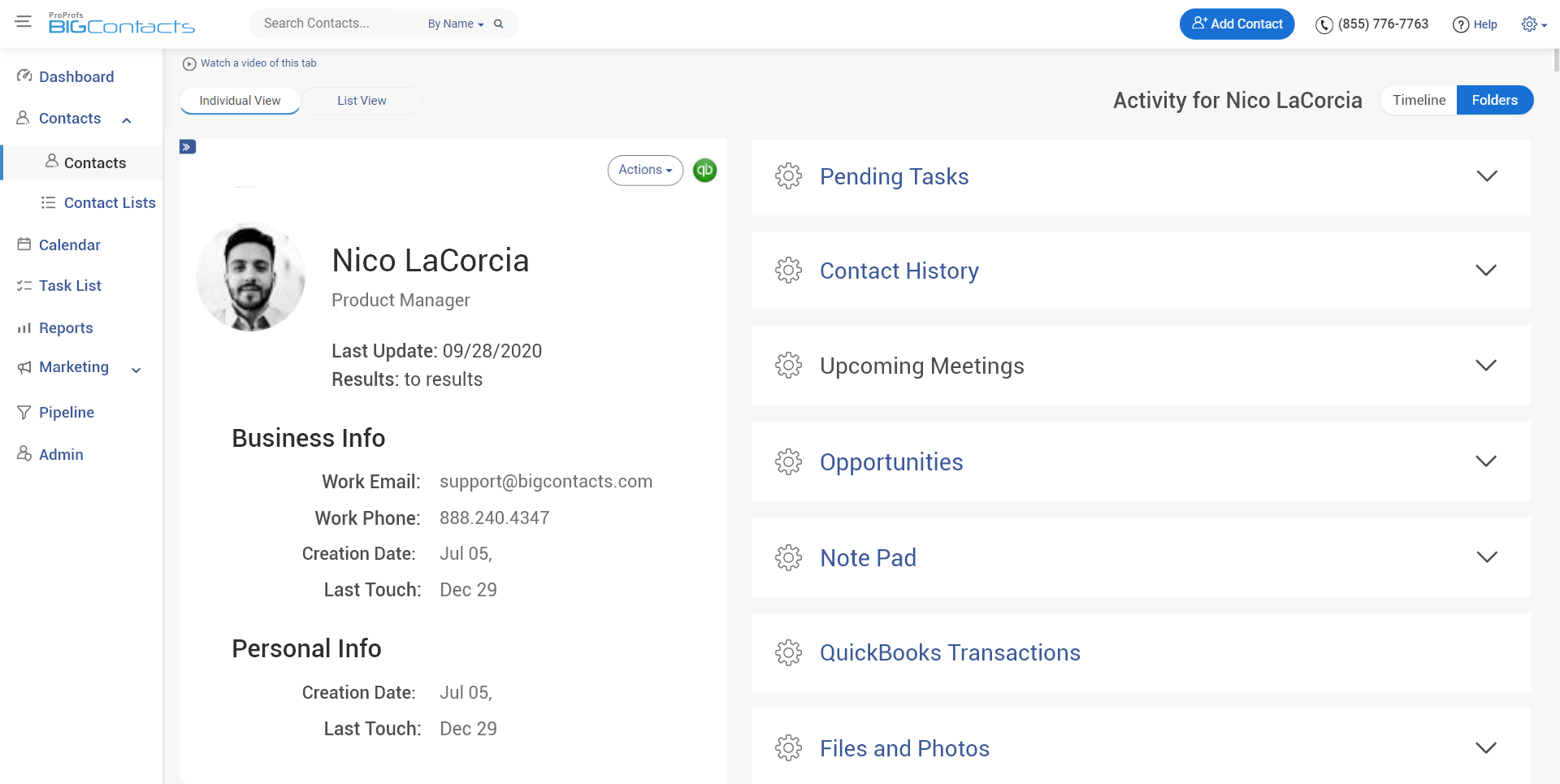 Follow-up on Time
Just putting in effort to garner leads isn't enough. You also have to focus on the quality of your interactions to see actual profits. A CRM system can enable sales representatives to get in touch with the leads at the right time, leading to conversions.
Choosing the Right Lead Generation CRM System
While there are plenty of CRM tools available, they aren't equally effective.
To choose the most suitable tool, you need to take your business needs and objectives into account.
This decision carries a lot of weight and determines the success of your lead generation efforts. Therefore, it is important to devote adequate time to researching various products before you find the most optimal solution.
Pro-tip: It is tempting to go for a tool offering the most advanced features. However, such a tool will get in the way of your work by being too complicated. Therefore, you must identify your business needs and then look for a tool that ticks all the boxes for you without being too difficult to navigate.
Here are some of the most important features you need to consider when choosing a lead generation system-
Automation

Integrations

Reporting

Mobile Accessibility

Collaborative tools

Sales Pipeline
Some of the best practices that can help you choose the right tool for your business are-
Set specific business goals and find a tool that can assist you in meeting these goals.

Make sure that you seek input from your team members before selecting the tool.

Compare the pricing, features, reliability, and scalability of different products before investing in one.

Pay attention to the type of customer support offered by the vendor.

Consider the reviews and ratings of the tool.
Drive more sales with lead generation CRM!
Only with the right technology can you expect your business to keep up with the competitive marketplace.
If your goal is to find high-quality leads that transform into profitable customers, you must choose a powerful lead-generation CRM solution.
The tool that you pick to generate business leads needs to align with your business requirements. It should be uncomplicated, quick, and efficient. Furthermore, it should offer features such as social media integration, automation, reporting, etc., that can enhance your lead generation efforts.
BIGContacts is a simple yet effective CRM that can help you meet your sales targets with ease. With an easy-to-use interface and advanced features, including pipeline management and email marketing, BIGContacts can help your business grow consistently. Let BIGContact do the work for you while you focus on forming meaningful relationships with your customers!
Do you want to make more sales?
BIGContacts is the #1 contact management software & CRM to close more sales.