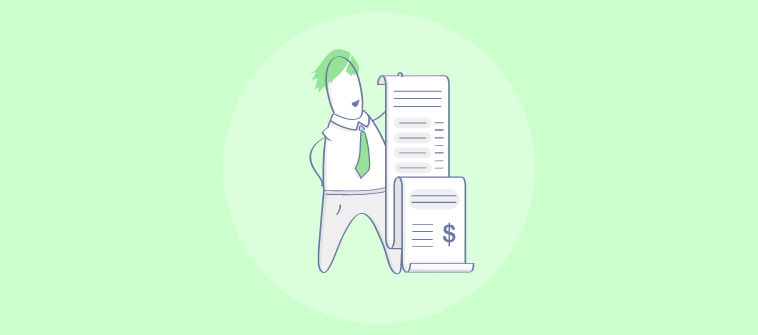 Once you set out to invest in a CRM application, you're likely to wonder-
How much will this change set us back?
CRM pricing is an important point of consideration when selecting the right tool for your business.

Customer relationship management systems enable organizations to manage and utilize customer data to build long-lasting relationships. These tools contribute to more personalized customer experiences and increased business efficiency.
With more companies realizing the importance of investing in a dedicated CRM solution for enhancing customer satisfaction and retention, a range of CRM vendors offering varied pricing models have emerged. But the question 'What is the actual cost of CRM?' still remains unanswered.
In this detailed guide, we explain the factors that affect the overall pricing of your CRM system. We also compare the functionality and various tiers of the 10 leading CRM software to help you make a well-informed decision.
How Much Does CRM Cost?
CRM tools perform a broad range of functions, ranging from contact management to task automation. They help increase sales and customer retention by driving personalized interactions.
CRM pricing varies based on a number of factors. These include:
The type of functionality you require

The number of people using the tool

The scalability of the tool

The extent of customization offered

Availability of advanced features
Most CRM tools are priced on a per-user basis. You can also choose between monthly, yearly, and lifetime subscription payment options based on your needs and the scope of the CRM implementation for your business.
CRM software pricing for small businesses usually begins from $5/user/month. This can go up to $300/month for fully-featured CRM applications with premium features. This broad range of prices helps businesses of any size find a tool that fits their budgetary needs.
Free plans for CRM are available as well. However, these plans offer limited functionality and are restrictive in several respects, including contact storage capacity, advanced automation features, etc. This is why it is advisable for growing businesses to go for a paid tool that meets expectations without being too heavy on the pockets.
Choosing a CRM Supplier- What to Keep in Mind
With organizations increasing IT spending by over 5.1% in 2023, appropriate allocation of the budget has also gained more importance.
Choosing the right CRM supplier is a crucial component of this.
The type of vendor you choose can make or break your CRM adoption process. The effectiveness of the CRM supplier will inevitably affect the implementation and usage of the software. This makes the selection process a high-stake business endeavor that requires considerable thought and analysis.
Here are some factors to keep in mind when selecting a CRM supplier:
Do they offer 24/7 assistance through the channels you prefer?

Are reliable support resources and documentation available for the tool?

Does the customer support team respond to your queries immediately and efficiently?
The answers to these questions will find the right CRM vendor that aligns with your demands and objectives.
CRM Pricing Comparison of Top 10 Software Options
Check out a detailed comparison of the pricing tiers of the top 10 CRM tools that you can consider for your business.
1. BIGContacts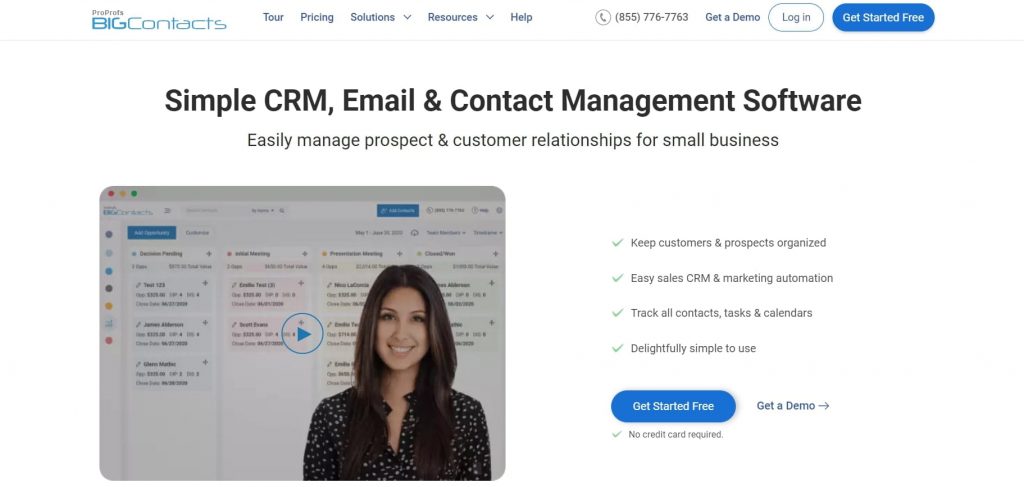 BIGContacts by ProProfs is a trailblazing CRM offering a host of features that strengthen customer relationships and boost organizational productivity. These include contact management, workflow automation, email marketing, pipeline tracking, reporting, task management, etc.
Along with this wide range of features, BIGContacts also offers several integration options that enhance its usability. The tool is one of the most cost-effective options, making it a popular choice for small to medium-sized businesses, as well as startups.
BIGContacts has a 15-day free trial and the following 4 pricing plans:
BIG

– This is a highly affordable plan priced at $5/user/month. It offers all the basic features, such as task and workflow management, custom fields, and calendar tracking.

BIGGER

– This plan is valued at $15/user/month and includes features like webform connection, custom pipeline, reports, etc.

BIGGEST

– This plan costs $25/user/month. The BIGGEST plan offers improved contact and file storage, more email templates, and automated processes.

ENTERPRISE

– A custom-priced enterprise plan is also available for BIGContacts. It offers unlimited storage capacity and all the advanced features, including automation and social profile search.
2. Salesforce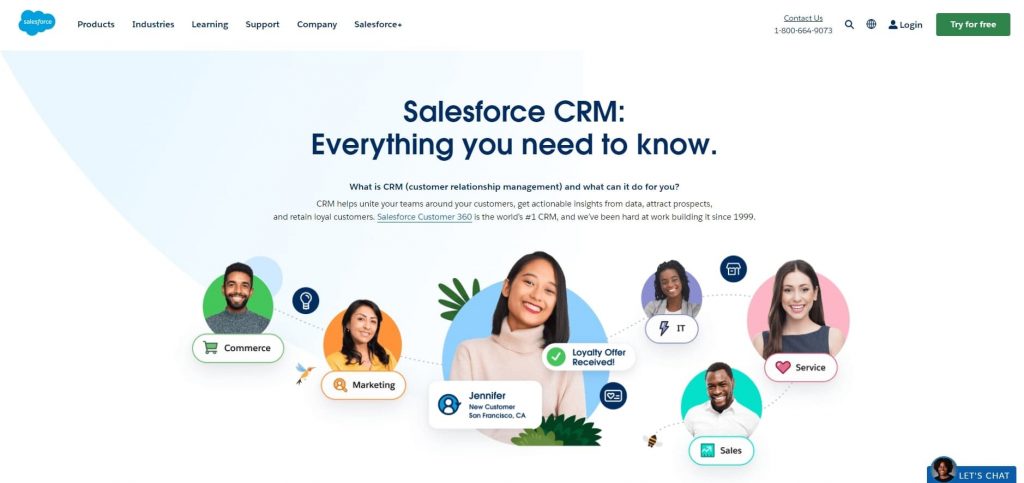 Salesforce is an AI-powered platform that supports your sales, marketing, and service operations. It lets you make better decisions regarding your customer journeys and touchpoints with real-time data analysis and intelligent insights.
This is a premier CRM solution that works effectively for large organizations. The tool's pricing lies on the higher end owing to its comprehensive range of CRM features that help enterprises scale their complex operations.
Salesforce offers a 30-day free trial and has the following pricing options:
Essentials

– The basic plan costs $25/user/month and lets you manage your accounts and opportunities effortlessly. Track all communications by syncing the CRM system with your Gmail and Outlook inboxes.

Professional

– This plan costs $75/user/month. The Professional plan offers all the essential features of Salesforce, as well as excellent pipeline management and forecasting capabilities.

Enterprise

– The Enterprise plan, which is priced at $150/user/month, includes advanced automation workflows, making it a powerful choice for businesses looking to improve their productivity.

Unlimited

– This plan offers the widest range of features, including AI-based sales insights and lead scoring. The plan costs $300/user/month.
3. HubSpot CRM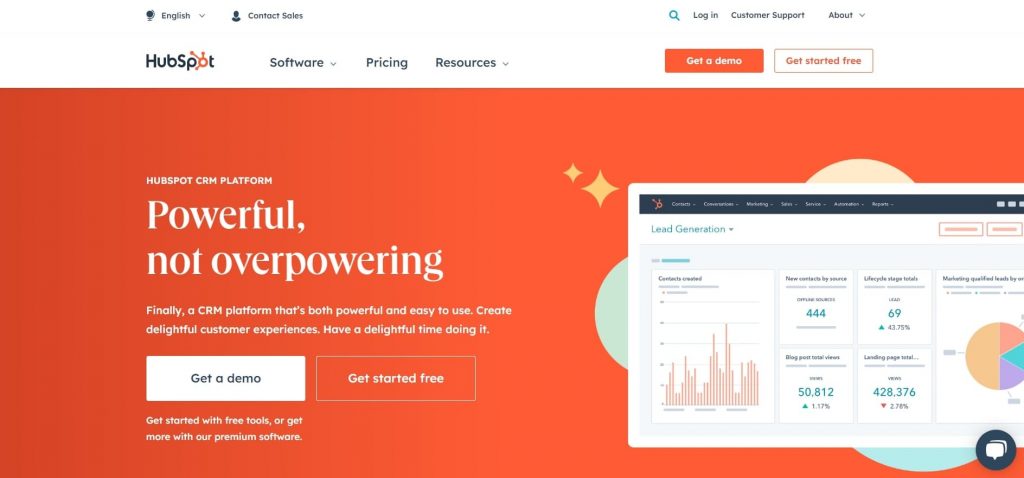 Next on our list is HubSpot, which is another widely popular CRM solution that works well for businesses across industries. The tool offers features that augment the operations of sales, marketing, and support teams.
HubSpot CRM offers pipeline management, lead management, appointment scheduling, sales automation, help desk integration, reporting dashboard, and email marketing. It also lets you view detailed activity timelines for contacts, so you can optimize customer engagement.
A free version of the tool is available. If you need more advanced features, you can go for the following paid plans:
Starter:

Costing $45/month, the Starter plan of HubSpot CRM offers features like email marketing, contact segmentation, reporting dashboard, shared inbox, and meeting scheduling.

Professional:

Priced at $1,600/month, the Professional plan is inclusive of features such as user management, sales automation, custom reporting, analytics, and email scheduling.

Enterprise:

The Enterprise plan costs $5,000/month. It provides unlimited automated actions, A/B testing, custom reporting, predictive lead scoring, and shared inboxes.
4. Keap CRM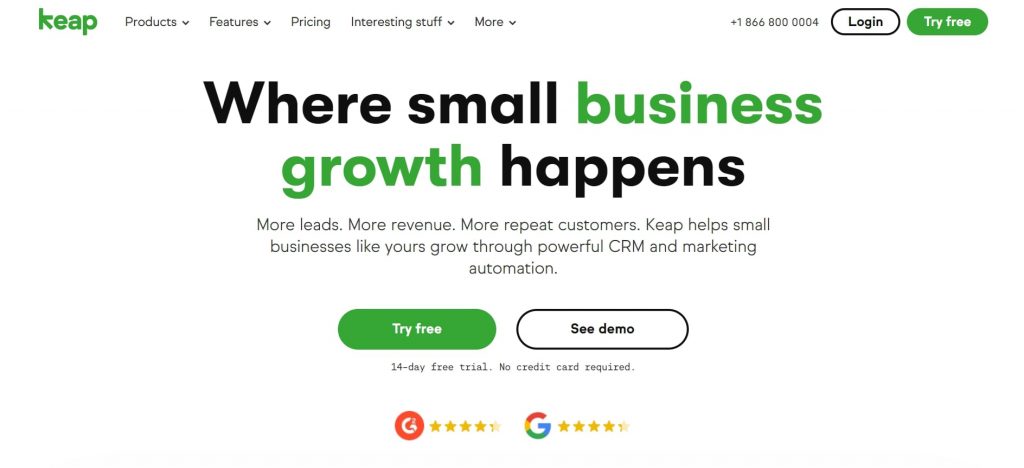 Keap CRM offers powerful sales and marketing automation features. Use the tool to craft exceptional customer experiences that yield an increase in your sales and retention. Keap makes it possible to grow your lead lists and convert them into long-term customer relationships using personalized engagement.
The CRM application allows you to tag and segment your customers, create automated follow-up sequences with custom triggers, process payments, and generate detailed reports to monitor business performance.
After a 14-day free trial, you can opt for any of the following plans:
Pro

– The plan costs $129/month and works best for growing businesses with dynamic needs. Find features such as email marketing, lead management, and pipeline tracking.

Max– Go for the Max plan, priced at $199/month, if you need advanced marketing analytics and upselling opportunities. It also includes sales pipeline management, automated follow-ups, payment tracking, and lead capture.
Max Classic

– Max Classic is suited for well-established enterprises looking for advanced eCommerce and sales solutions. It offers lead scoring, shopping cart management, order forms, pipeline automation, etc.
5. Zoho CRM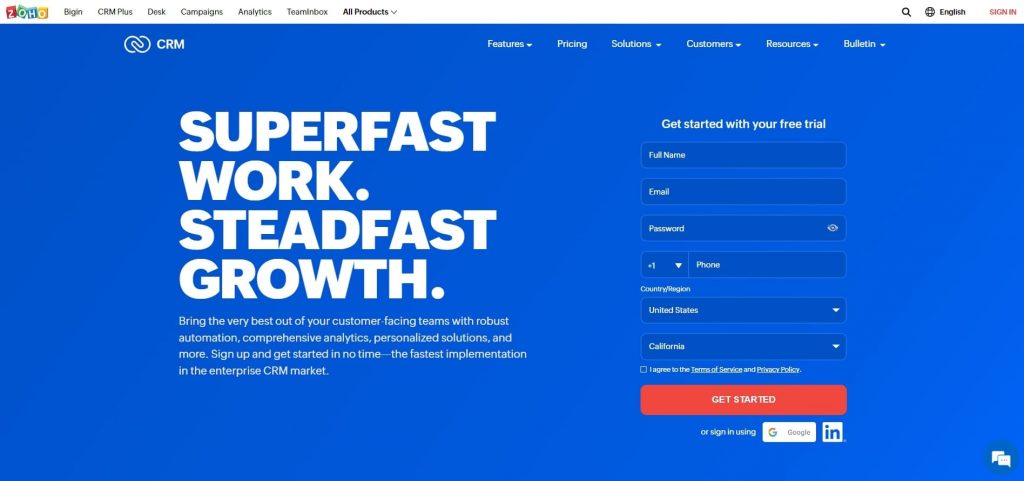 Zoho CRM elevates your customer relationships with its powerful automation, predictive sales, customer segmentation, and team collaboration features. It lets you customize your layouts, views, and filters according to your business needs.
Use Zoho to manage leads, make deal predictions, automate marketing campaigns, and analyze business performance. The tool also enables you to drive omnichannel customer engagement, communicate with team members, and work remotely using the mobile application.
Zoho CRM has a 15-day free trial. The pricing plans available for the tool are listed below.
Free

– A free version of Zoho CRM offering the basic CRM features is available for 3 users.

Standard

– The plan costs $14/user/month and lets you set up multiple sales pipelines, use advanced filters, define workflow rules, and run bulk email campaigns.

Professional

– The Professional plan costs $23/user/month and includes features such as automatic validation rules, real-time email notifications, pre-defined and custom reports, and social profile integration.

Enterprise

– Costing $40/user/month, the Enterprise plan lets you segment your audience, set up autoresponders, and customize modules.

Ultimate

– Priced at $52/user/month, the Ultimate plan for Zoho CRM provides advanced business intelligence, automated workflows, webform analytics, marketing campaign attribution, and role-based hierarchy.
6. Pipedrive
Pipedrive is an effective CRM solution for sales teams and professionals. It offers excellent pipeline management capabilities, along with powerful automation features. The tool is highly customizable, so you can adapt it according to your organization's existing processes.
Use Pipedrive to create custom reports, unify all leads' data and communications, and work remotely. The CRM system also enables your customers to schedule appointments and experience more personalized buying journeys. You can automate sales workflows and witness a considerable boost in your bottom line with Pipedrive.
Pipedrive has a free trial for 14 days and the following plans:
Essential

: This plan costs $9.90/user/month and includes fundamental CRM features such as lead and pipeline management.

Advanced

: Priced at $19.90/user/month, this plan allows you to create advanced and automated workflows with custom triggers.

Professional

: The Professional plan for Pipedrive costs $39.90/user/month. Make revenue predictions, create custom reports, and get e-signatures for your documents using this version.

Enterprise

: The Enterprise plan is extensively customizable and costs $59.90/user/month. It offers unlimited open deals, user permissions, custom fields, and reports.
7. Pipeline CRM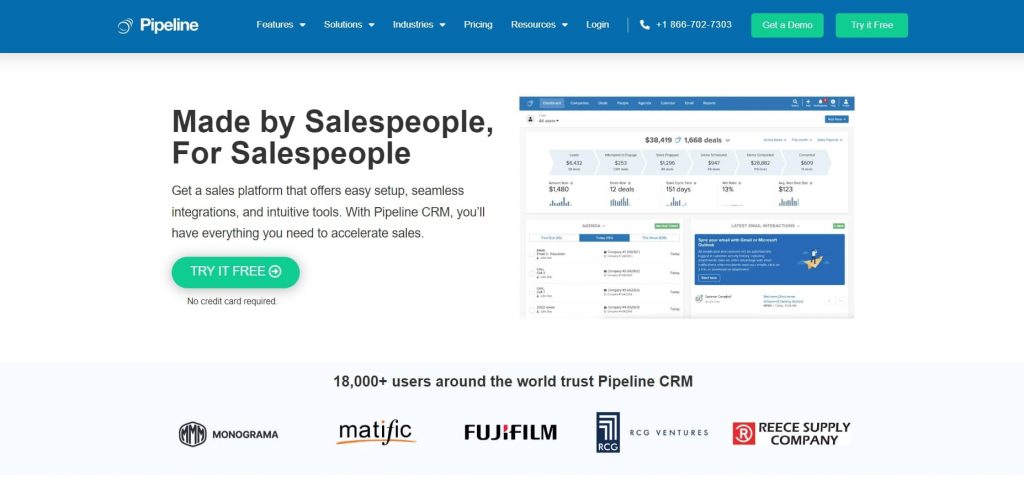 Pipeline CRM includes powerful sales management features that allow you to bring in more revenue. The tool lets you view all your deals and their associated information in one place, making it easy to guide them to the finish line.
Use Pipeline CRM to make data-driven business decisions with in-depth reports. Keep your emails synchronized and view updated information from anywhere. Customize user roles, fields, stages, views, and other modules based on your needs.
Pipeline CRM has a 14-day free trial and the following 3 pricing tiers:
Start

: The plan costs $25/user/month and lets you manage leads efficiently. It offers pipeline management, activity reporting, email tracking, and task templates.

Develop

: The Develop plan costs $33/user/month. It includes features such as contact deduplication, automation, goals dashboards, milestone tracking, custom fields, etc.

Grow

: The advanced Grow plan costs $49/user/month and is inclusive of features like automation, analytics, email templates, and campaign management.
8. SugarCRM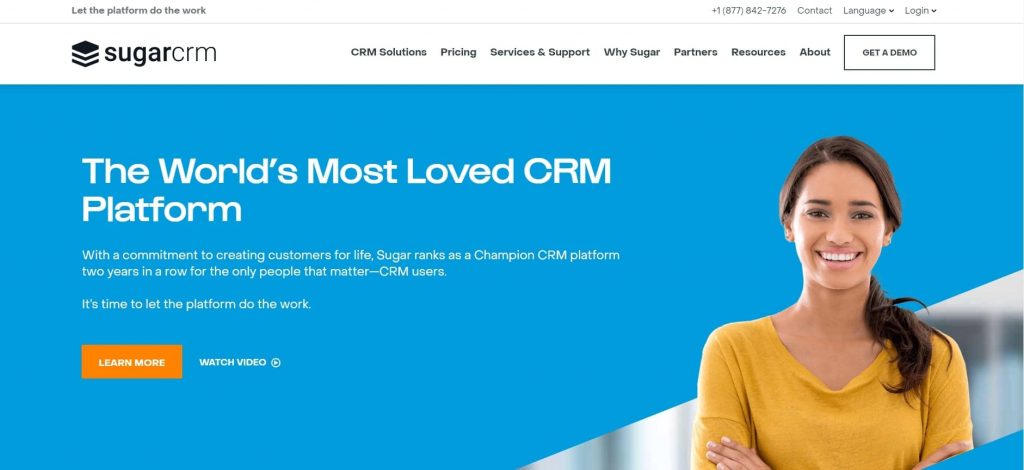 SugarCRM speeds up your sales process and lets you boost your conversion rates. It offers sales and marketing automation, forecasting, and AI-powered insights. You can enable omnichannel customer engagement and streamline organizational processes using SugarCRM.
Use the tool to understand customer sentiment and improve satisfaction. Get real-time alerts for contact activities and take the most appropriate actions at the right time. SugarCRM also offers predictive lead scoring, so your representatives know which deals are worth paying more attention to.
SugarCRM offers a 7-day free trial and the following pricing options:
Sell Essentials

– Priced at $49/month, Sell Essentials offers reliable lead management, pipeline tracking, and business analytics.

Sell Advanced

– The plan costs $80/month and offers improved process management. It also includes effective prioritization capabilities, so you can focus on the right deals at the right time.

Sell Premier

– Sell Premier is available at $135/month and includes progressive features like guided selling, data enrichment, and predictive forecasting.
9. Nutshell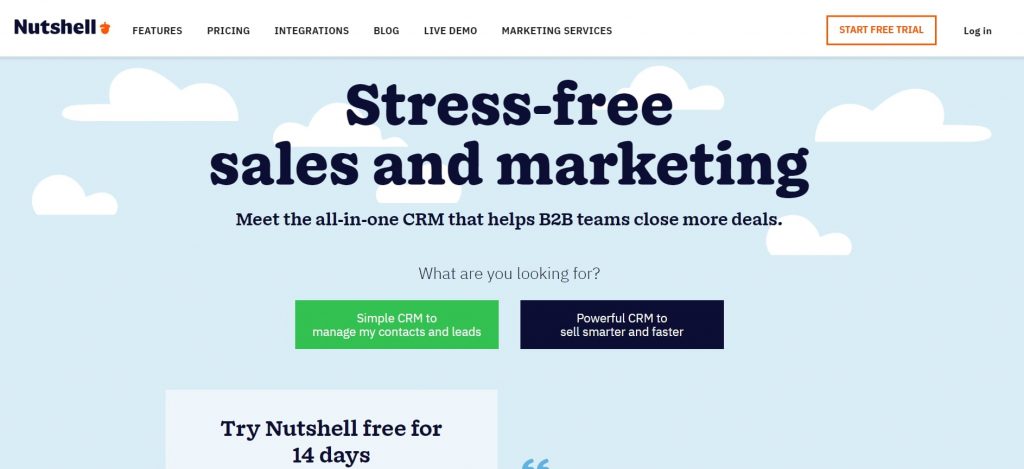 Nutshell CRM has excellent sales and marketing automation features, making it a reliable choice for businesses looking to boost their lead conversion rate. It provides customizable reports, email templates, and webform connections. The powerful contact and pipeline management features make it a tool worth the investment.
You can create automated email sequences, enable team collaboration, and capture more leads using Nutshell. It also lets you segment your audience and drive personalized marketing campaigns for better engagement.
The free trial for Nutshell lasts for 14 days, following which you can opt for any of these two plans:
Nutshell

– This plan costs $16/user/month and offers all the basic CRM features such as contact management, email sync, pipeline tracking, and business reporting.

Nutshell Pro

– Priced at $42/user/month, this plan offers more advanced functionality. You can use it to create advanced automation flows and email sequences, make in-app calls, and generate in-depth reports.
10. monday.com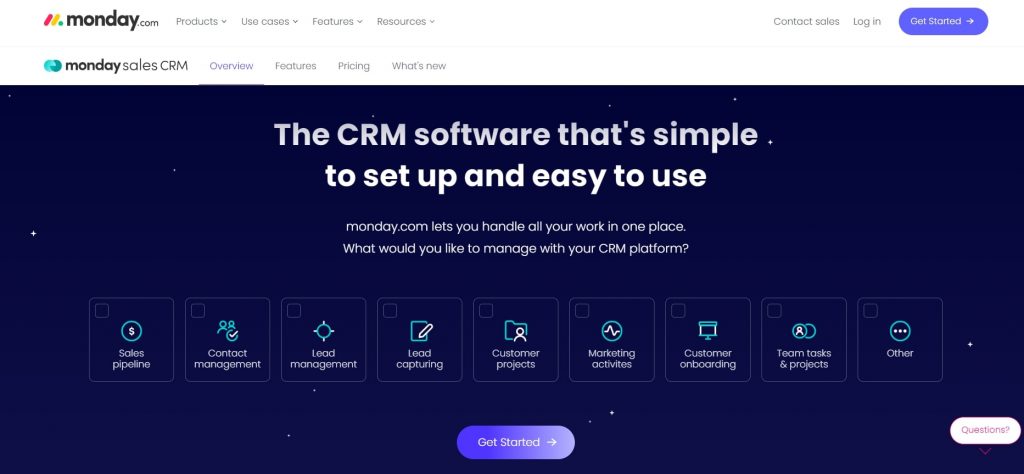 monday.com is a customizable CRM solution that centralizes all business data and processes. It lets you manage your sales pipeline, contact data, client communication, team members, and projects from the same place.
The tool suits businesses that wish to automate repetitive tasks and get more done in less time. It offers powerful lead management, email synchronization and tracking, sales forecasting, and a range of other useful CRM features.
The free trial for monday.com lasts 14 days. Following this, any one of these 5 pricing options can be considered.

Individual-

This is the free plan which only offers 2 seats. The plan offers features such as webform connection and up to 200 free items for managing your contacts and projects.

Basic-

Priced at $10/user/month, this plan offers unlimited pipelines and customization options, making contact management significantly easier.

Standard-

The Standard plan is offered for $14/user/month and includes functionality such as automation, activity tracking, and invoice management.

Pro-

The Pro plan is available at $24/user/month. It provides advanced features such as forecasting and sales analytics. The plan also lets you track emails and create custom automation workflows.

Enterprise-

The plan includes enterprise-level functionality. It offers features such as advanced reporting & analytics, automation, custom user permissions, and a number of integration options.
Keep Your Profitability Intact With an Economical CRM Tool
Every organization has unique needs pertaining to its relationship management efforts. This is why the best way to find the most effective tool is to focus on your requirements.
The detailed CRM pricing comparison provided above will help you find a tool that fares well with your organization's existing processes. A budget-friendly tool that supports your unique workflows and needs will keep your profits high and expedite the growth of your business.
Another sure-shot way of finding the right CRM solution for your business is to go for flexible software like BIGContacts. Such an adaptable and affordable solution can easily scale your business processes and help you keep up with the dynamic industry requirements without costing you an arm and a leg.
Opt for the free trial of any CRM software to get a first-hand experience of its usability. This helps you make sure that you get the best return on your investment.
FAQs
1. Which CRM is the best for my small business?
Small businesses can significantly benefit from an affordable CRM tool like BIGContacts that is easy to use and customize. With plans starting as low as $5/user/month, the tool can enable small businesses to strengthen their customer relationships without making any large upfront investment.
2. What are the types of CRM?
CRM tools can be classified into the following categories based on the function that they serve.
Collaborative CRM

: Collaborative CRM essentially focuses on bringing the entire organization together and making customer relationship management a shared process. These tools enable communication between different business departments, contributing to more cohesive customer experiences.

Analytical CRM

: Analytical CRM tools are focused on deriving relevant insights from available customer data and utilizing them to improve business profitability. These tools include advanced reporting and business intelligence features that enable businesses to make well-informed decisions.

Operational CRM

: Operational CRM tools streamline sales, marketing, and service processes. They enable an effortless exchange of information between business units, making customer experiences more refined. These tools eliminate delays in an organization's workflow and make it easier for businesses to engage with customers in a timely manner.
Do you want to make more sales?
BIGContacts is the #1 contact management software & CRM to close more sales.