"The customer changes every day, so we need to remain keenly interested in the customer and evolve to remain relevant." –  Mike Motz.
Disorganized contact data is an ordeal that worries even the most well-established businesses. While every organization collects data related to its connections, managing it can be a nightmare without the right tools and strategies.
Where is the email you sent to a particular customer from last week?
Who was the point of contact in your company for this repeating client?
Which engagement channel does the contact tends to be most active on?
If such questions usually go unanswered in your organization, it is time to rethink how you manage contacts and their data. 
Effectively organizing and collecting contact information helps you grow your customer base and build long-lasting connections. This ultimate guide on managing contacts covers all the bases you need to see productive outcomes. We list the best ways to manage contacts and compare top-rated contact management software that you can use to strengthen your business connections.
In a Nutshell 
Keeping contact data well-organized is a key business function that requires a dedicated tool and an effective strategy. 

Proper organization and tracking of customer information and communications can help you strengthen relationships, thereby increasing your business profitability. 

There are several software solutions that can help you create and manage digital records of your contacts.

Our top 5 picks for contact management tools are BIGContacts, HubSpot, monday.com, Streak, and Zoho. Find an in-depth comparison of these tools in the guide below.
Effective Contact Organization- How Does It Concern You
Whether it is existing, current, or potential customers, you need an efficient system to keep their details arranged.  If your contact records are all over the place, you won't be able to- 
Engage with them at the most appropriate time

Deliver personalized solutions 

Track activity and interaction history 

Run business operations smoothly 
This is why it is crucial to learn how to manage contacts and maintain a comprehensive database of their information. 
According to Software Advice, 29% of businesses struggle with keeping data organized and consider this as the major pain point. As a result, these businesses resort to tools such as CRM to overcome this challenge.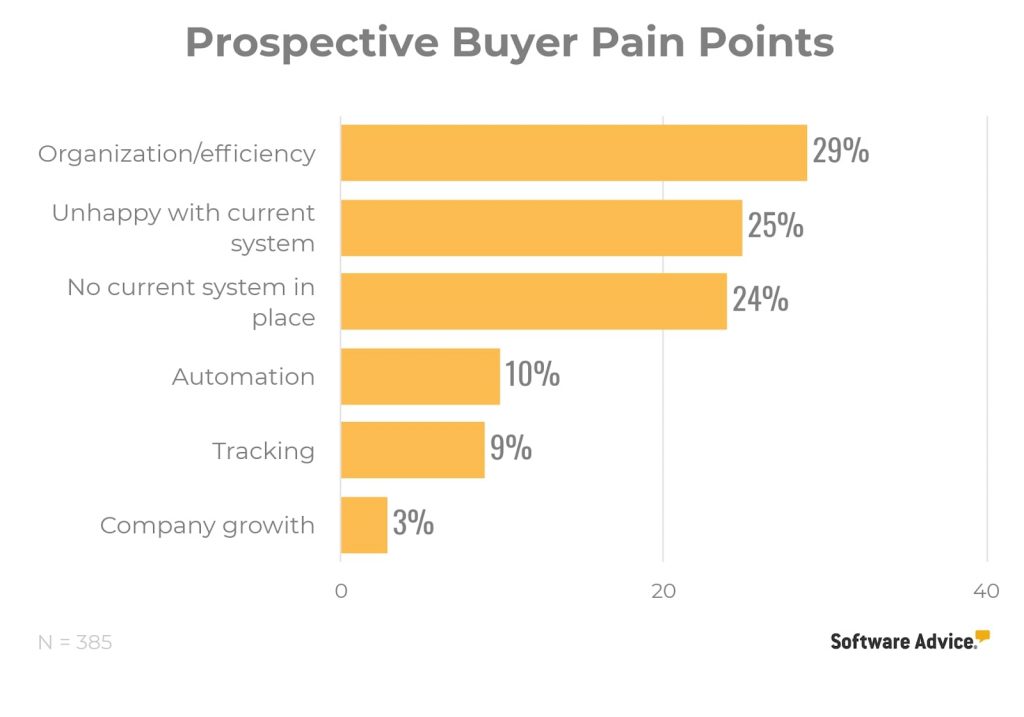 Such a tool will keep your contact information well-compiled, enabling you to close more deals and retain more customers. This will also significantly reduce the amount of manual work that goes into contact organization.  
Take the contact dashboard of BIGContacts, for example.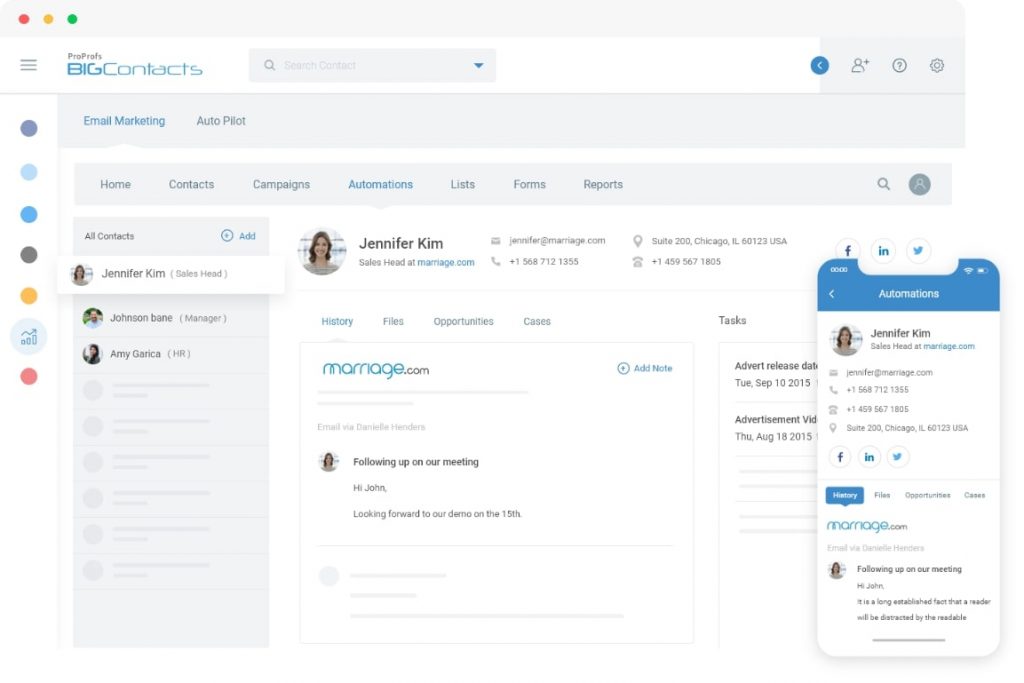 All the essential information related to contacts, including their phone numbers, email addresses, location, social media profiles, associated tasks, activity history, files, notes, etc., are displayed from a single screen. 
Such efficient organization of business connections enables you to personalize all outreach activities and never lose touch with important contacts. 
8 Best Ways to Organize Client Information 
Having covered the significance of organizing contacts, we now come to the more important question- 
How to accomplish efficient organization?
Your contact management strategy should be a multi-pronged approach that takes into account the unique needs and growth objectives of your organization. Here are some steps to enhance the efficiency with which your business manages contact records.
1. Centralize Access to Data
The first and foremost thing to ensure is centralized access to contact data. Scattered data can cause inefficiencies in business operations. When your team has to jump between multiple platforms to access information, engagement is bound to get delayed. Avoid this by implementing a system that keeps information centrally accessible and ready to use.
2. Filter & Segment Contacts
All contacts have different needs and expectations. This is why your contact database should be well-segmented and categorized. Use smart filters and lists to group related contacts together and drive more targeted interactions. This allows you to deliver the most relevant information to the right contacts at the right time.
3. Add Custom Fields & Notes
An effective technique to keep contacts organized is to include custom fields in your records. This enables you to store all the essential information you require in one place. You can also store additional information as notes and access them from within the contact records at any time. 
4. Enrich With Social Profiles 
Over 3.6 billion people use social media globally.
This makes social listening a crucial part of contact management. Integrating social media profiles into contact records allows you to deliver more personalized solutions. You can keep better track of customer preferences and needs by monitoring their social media activity. This connection also allows you to engage with contacts using the channel that they prefer.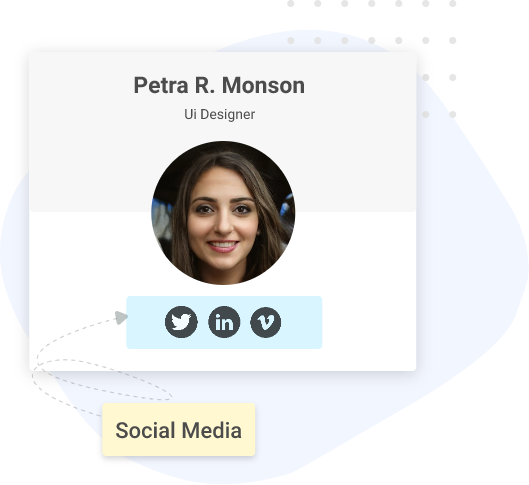 5. Keep Data Clean 
Perform regular audits to ensure that your contact database is up-to-date and clean. Eliminate redundant contacts or connections that are no longer interested in engaging with your business. This will keep your database free of any irrelevant profiles, allowing you to be more productive and drive more efficient business engagement. 
Read More: How to Keep Your CRM Data Clean: 10 Best Practices to Get Started
6. Ensure Security 
An essential step of keeping contacts organized is ensuring that only authorized people can access it. Define user roles that limit visibility and editing permissions for sensitive business information. This will ensure the integrity of your contact data and allow you to keep it secure.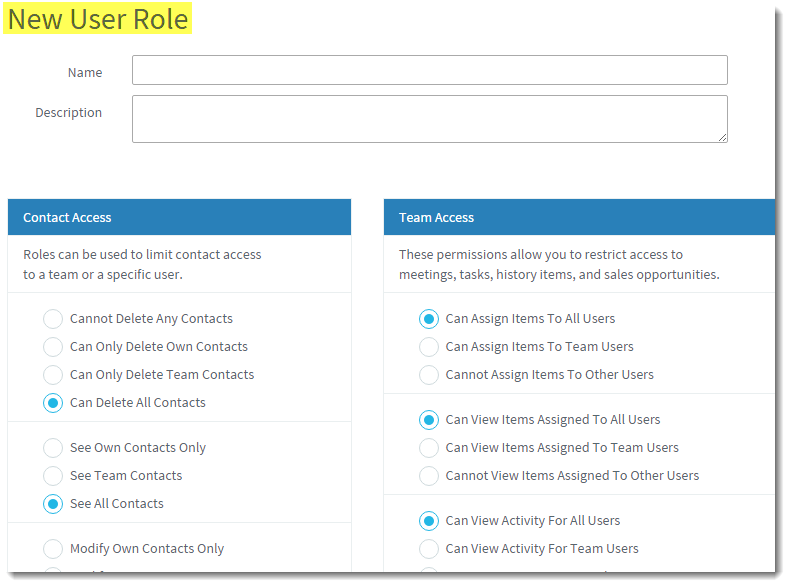 7. Enable Synchronization & Updates 
It is vital to keep data well-updated at all times. Log all the changes instantly to avoid missing out on any vital information. Choose a contact management system that enables automatic updates and synchronization of your business data. 
8. Invest in the Right Tools 
Lastly, you need to find the right software to organize and manage your contacts. Such a tool should be customizable according to your needs and should enable you to eliminate redundant activities. Opt for an effective CRM tool that keeps your data seamlessly updated and helps you drive better engagement with your contacts.
5 Best Tools to Organize Contacts
Here is a detailed comparison of the features and functionalities of the 5 best contact management software.
1.
BIGContacts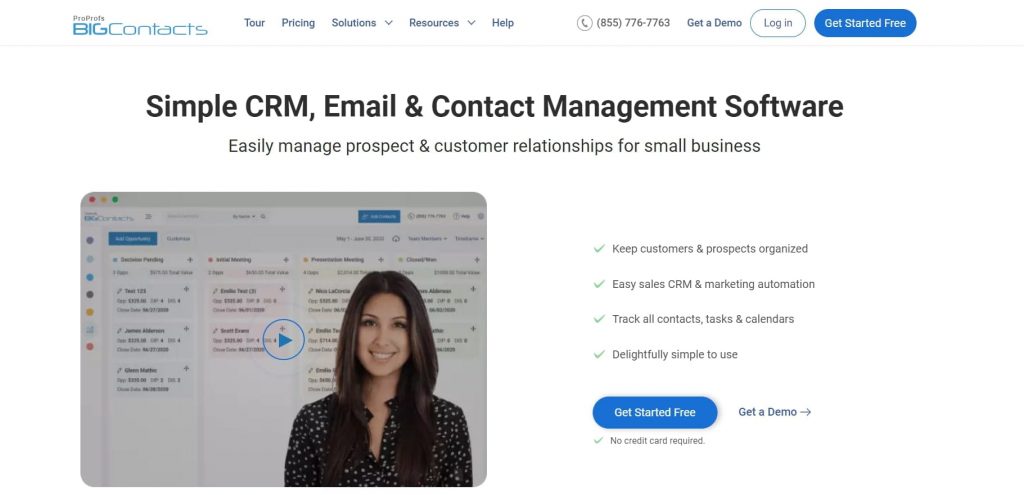 BIGContacts by ProProfs is an intuitive solution for contact management and marketing automation. The platform enables you to maintain detailed contact records and drive personalized engagement with these contacts. 
The tool can be used to automate repetitive tasks, follow-up emails, alerts, etc., so you can take advantage of all important opportunities and meet deadlines. Moreover, BIGContacts integrates with a range of business applications, allowing you to keep your data effortlessly synchronized.
Key Features:
View all contact information, files, activity history, emails, notes, tasks, etc., from a single dashboard

Use tags, filters, and lists to segment contacts

Engage at the right time with automated drip email sequences 

Create activity and performance reports to track the effectiveness of contact engagement efforts

Connect webforms to capture and store leads directly 
Pros:
Enrich contact records with social profile search 

Add custom fields to contact profiles to store the most relevant information
Cons:
Emails with images take slightly longer to load 

Advanced contact deduplication features are missing 
Pricing:
Big- $5/user/month

Bigger- $15/user/month

Biggest- $25/user/month

Enterprise- Custom pricing 
2.
HubSpot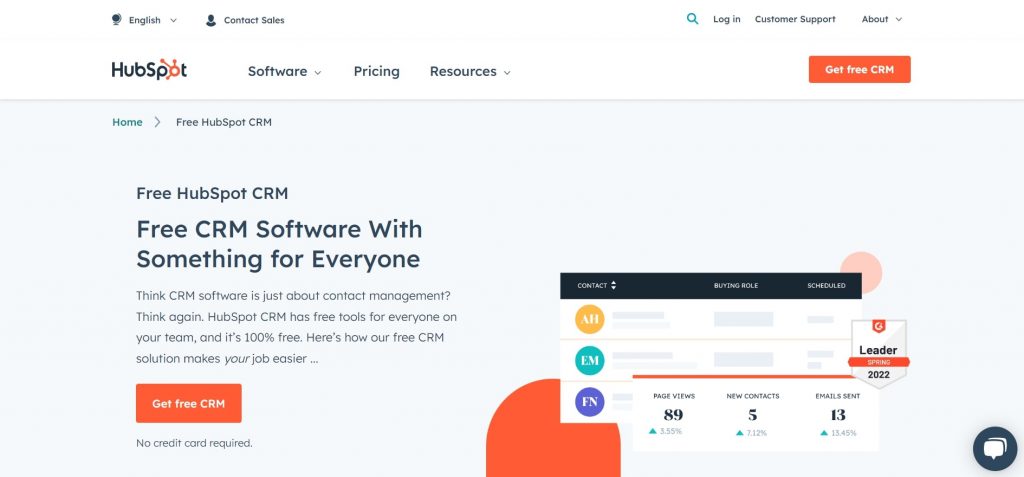 HubSpot is a comprehensive CRM solution that works reliably well for contact management. The tool can benefit sales, marketing, and support teams to keep data organized and easily accessible. 
With HubSpot CRM, you can eliminate manual work from your processes and free up more time to engage with your contacts. The platform offers effective lead generation, helpdesk management, pipeline tracking, and process automation. 
Key Features:
Track contact details, past conversations, and open tickets from a single place 

View all communications from one place using the universal inbox

Detailed activity timelines provide a complete overview of all tasks and interactions for individual contacts

Personalize marketing emails and support solutions based on customer preferences

Enable your contacts to schedule meetings with your business at their convenience
Pros:
Access contact records remotely using the mobile app 

Track business performance with reports and built-in analytics 
Cons:
Pricing is steep

Customizing email templates can be challenging 
Pricing:
Free plan available

Paid plans start from $45/month
3.
monday.com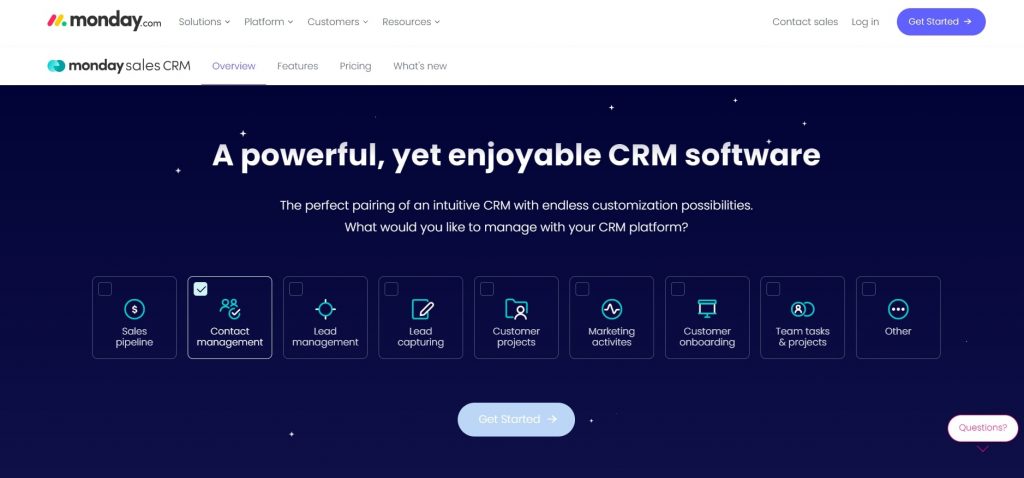 monday.com is an effective tool for organizing contact data and automating business operations. It centralizes all your interactions with contacts, making them easier to track and manage. You can easily import contact data into the system and keep it effortlessly updated at all times. 
Along with helping keep data organized, monday.com also enables you to manage your sales pipeline, onboard customers, and manage projects.
Key Features:
View contact records and their associated details in one place

Create custom automations to get things done faster

Receive alerts for duplicate records and merge them easily 

Set up email templates to save time and ensure consistency 

Customize fields, pipeline stages, dashboards, and other modules according to your organization's needs 
Pros:
Get instant notifications for customer actions such as email opens or clicks 

Integrate the tool with several applications such as DocuSign, Hootsuite, etc. 
Cons:
The mobile app needs improvement in performance 

A limited number of automation actions can be performed 
Pricing:
Free plan available

Paid plans start from $10/user/month
4.
Streak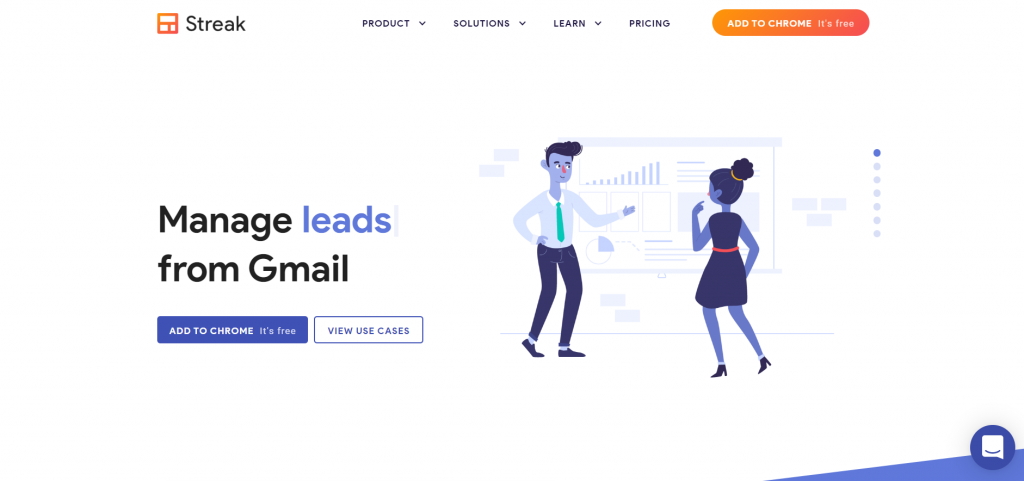 Streak CRM works effectively for businesses requiring a system to organize and manage their contacts. The most beneficial aspect of this CRM application is its ability to work within Gmail. 
With Streak, you can manage your contacts, tasks, pipeline, and communication effortlessly. The tool also enables you to schedule the delivery of emails so that you can engage with contacts at the most appropriate time.
Key Features:
Track all emails, files, notes, tasks, etc., from one place 

Customize pipeline stages and fields according to your existing workflow 

Import data from Google Sheets and CSV files effortlessly 

Define custom user roles and permissions to ensure data security 

Create contact groups to enhance segmentation
Pros:
Access information related to contacts, tasks, and pipelines remotely 

Integrate the tool with applications such as G Suite and Zapier
Cons:
Customer support is substandard

Link clicks and attachment download tracking is challenging

 
Pricing:
Free plan available

Paid plans start from $15/user/month
5. Zoho CRM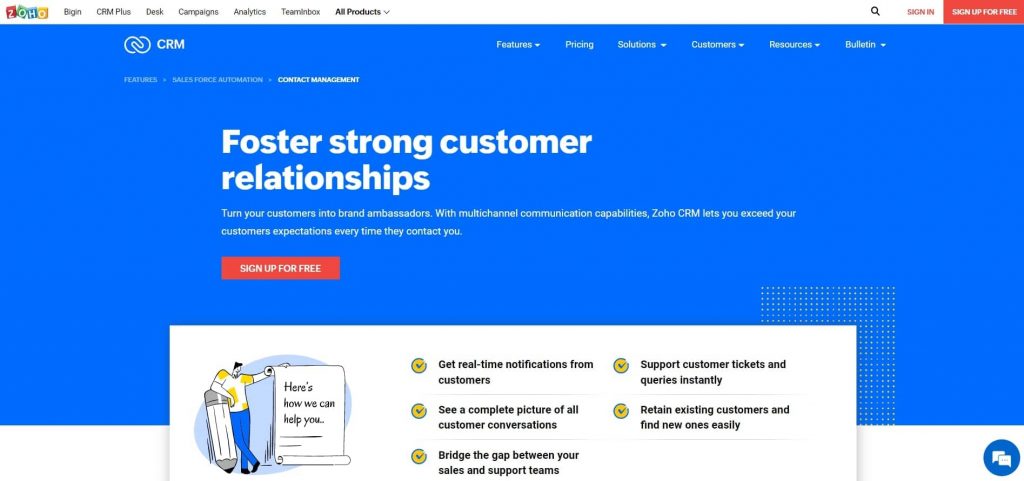 Zoho CRM is a leading solution for contact management owing to its vast range of features, including process automation, data enrichment, deal prediction, and business analytics. 
With Zoho, you can receive instant notifications for contact activity and engage with customers across multiple channels from within the CRM system. The tool also provides powerful segmentation capabilities, so you can keep your contact database well-organized. 
Key Features:
Send out personalized emails and use analytics to gauge their effectiveness

Use the AI assistant to get actionable insights into your contacts and workflows

Customize layouts, fields, views, workflows, and other components of your CRM system 

Get real-time notifications for contact activity to improve your engagement efforts 

Make accurate forecasts and deal predictions to focus on the more important account s
Pros:
Log information even when you're out of the office using the mobile app 

Integrate with your helpdesk software to manage contacts and tickets from the same platform 
Cons:
The interface of the tool is clunky

Customization of email templates can be a challenge 
Pricing:
Free plan available 

Paid plans start from $15/user/month 
Unlock Exponential Business Growth With Contact Management 
Before selecting any solution to manage contacts, make sure to carry out a thorough analysis of your organization's needs. 
What is the volume of data you need to organize?
What actions are you looking to automate?
How do you plan on reaching out to contacts?
Find the answers to questions like these before finalizing your contact organization software. 
It would serve your business better to go for a flexible tool like BIGContacts that not only helps your team be more productive but also ensures your organization's continual growth. Such a tool will enable you to manage your contacts and keep them current and secure. It will also help you expand your professional network and help you run your business smoothly.
FAQs
1. Are contact management systems secure?
Most contact management systems are highly secure solutions that ensure the credibility of your customer information. Such tools allow you to define custom user permissions for your team members, so you can ensure that sensitive data can only be viewed by authorized personnel. Several contact management systems also provide mandatory login, data encryption,  and restricted access, which further enhance the security of critical business data. 
2. How long does setting up contact manager software take?
Several factors affect the time it would take for you to set up your contact management system. These include- 
The type of training resources available 

The quality of customer service offered by the vendor 

The extent of customization & automation you require

The tools you wish to integrate with the system 

The data you have to import 
A robust tool such as BIGContacts will help you get started in almost no time. 
3. Why is contact information important for businesses?
Collecting and managing customer information presents a host of benefits to businesses. Access to this data helps personalize interactions, which leads to improved customer relationships. Businesses that track the needs and preferences of customers can deliver more relevant services, which in turn results in an enhancement in their customer retention and loyalty.