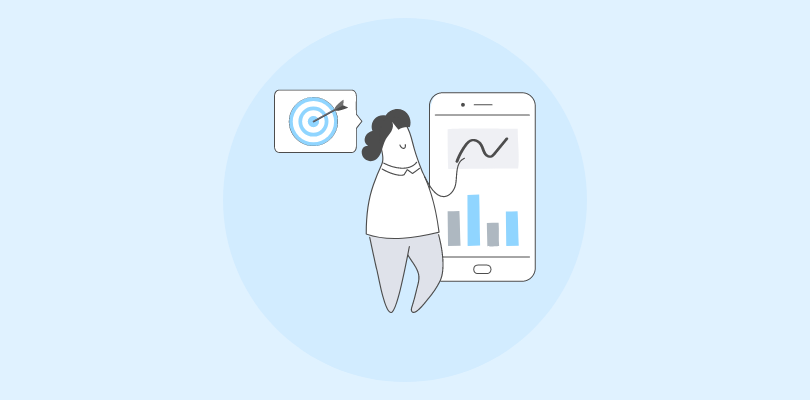 When you list high-stake business functions that impact the bottom line, sales management is bound to be ranked high.
An effective sales process is what helps your business sustain itself. You may have the best product or service to offer. But, unless you are able to sell it to the right people, there is no way for your company to thrive in the marketplace.
Sales management involves everything from hiring the right people to creating sales playbooks. It is a comprehensive process that takes into account all the actions associated with guiding a lead from acquisition to conversion. In the absence of a strong system of checks and balances, your sales activities are bound to go haywire. This is why you must start building a sales management plan today!
Discover the ins and outs of the process in this detailed guide. Explore the benefits of a well-founded management plan and understand the importance of deploying a powerful sales management system.
What Is Sales Management?
Sales management refers to the process of organizing the sales staff, operations, and strategies. It involves developing a sales plan, coordinating processes across the organization, and monitoring the performance of sales personnel.
A powerful sales management strategy helps maximize your selling potential. It comprises all the activities that help you sell. These include:
Hiring & training sales staff

Setting sales goals & objectives

Pre-sales interactions

Sales forecasting

Performance tracking & optimization
What Is a Sales Management System?
A sales management system is a tool that helps track and optimize the sales process. Such a system makes it easier to access sales-related information and brings the entire team together. It also helps drive better profits by creating a cohesive strategy for coordinating sales activities.
Take BIGContacts CRM, for example. Here is what the tool's dashboard looks like.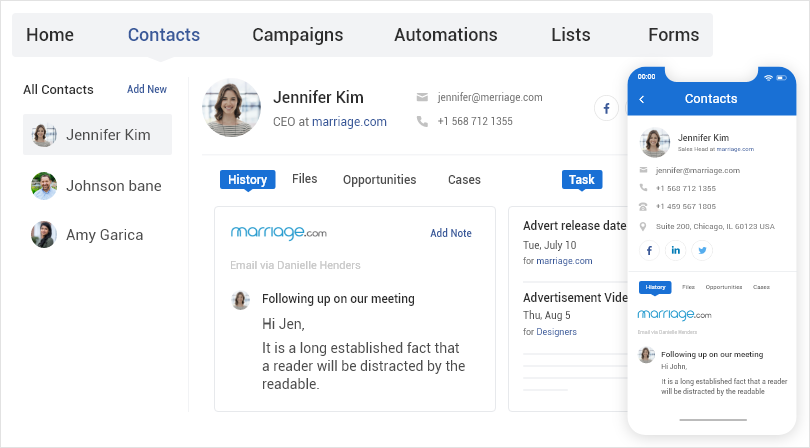 Sales representatives can use this system to view all the essential data and take relevant action. They can also track previous interactions, manage their day-to-day tasks, and view upcoming client meetings using this tool. BIGContacts aids all the steps of the sales management process, including planning, strategy development, activity management, and analytics.
This brings us to the fundamental characteristics that a sales management system should possess.
Manage and consolidate

contact data

, making it easier for sales representatives to access it as and when needed

Visualize sales opportunities with a pipeline

Automate repetitive tasks to reduce manual errors and increase productivity

Enable the entire sales team to collaborate and share information effortlessly

Track the performance of the team and individual members

Integrate with your tech stack for seamless transfer of data

Aid post-sales interactions for better retention
What Is the Sales Management Process?
The strategies and techniques that you deploy to manage your sales operations and workflows comprise the sales management process.
"Sales is an outcome, not a goal. It's a function of doing numerous things right, starting from the moment you target a potential prospect until you finalize the deal." – Jill Konrath, Sales Strategist.
This goes on to show the importance of a defined process that keeps things moving forward without any delays or inconsistencies.
A well-planned process for managing sales can give you a competitive advantage, as well as pave the way for the long-term success of your business. Developing a sales process with clear procedures helps your team know exactly what actions to take to convert potential customers into sales. This boosts transparency and keeps employee morale high.
Sales management processes entail coordinating sales operations, creating the sales pipeline, assigning tasks to team members, defining a clear and repeatable sales workflow with automated actions, and generating detailed reports.
The stages of a sales management process can be demarcated as follows:
Lead generation

Qualification

Lead nurturing & follow-up

Sales closing
Benefits of Sales Management
Sales teams are constantly on the lookout for ways to keep pace with industry trends and improve their closing rate. Active management of the sales process can help accomplish this and a lot more.
It can help your sales representatives make the most out of every day and opportunity. By keeping all sales operations on track at all times, a well-founded management process leads to improvement in overall business growth.
Some reasons why you should consider focusing on sales management are listed below.
Increase Revenue:
Managing all sales processes efficiently contributes to a significant increase in your bottom line. When you fine-tune all the aspects of your selling process, deals are less likely to fall through the cracks, enabling you to make more revenue.
Manage Data Efficiently:
45% of sales professionals believe that incomplete client data is their biggest challenge. Sales management systems help store and manage all customer data in one place, which enhances its usability. This data can be leveraged to drive more personalized sales interactions.
Define the Course of Action:
Having an effective sales management plan in place provides your team with a clear understanding of the actions that need to be taken. It helps them stay aware of the best practices to guide leads down the sales funnel.
Keep Track of Prospects:
Sales management allows you to gain a thorough understanding of who your ideal customer is and how to guide them through the sales process. It lets you track the movement of leads throughout the sales pipeline and uncover actions that help close deals promptly.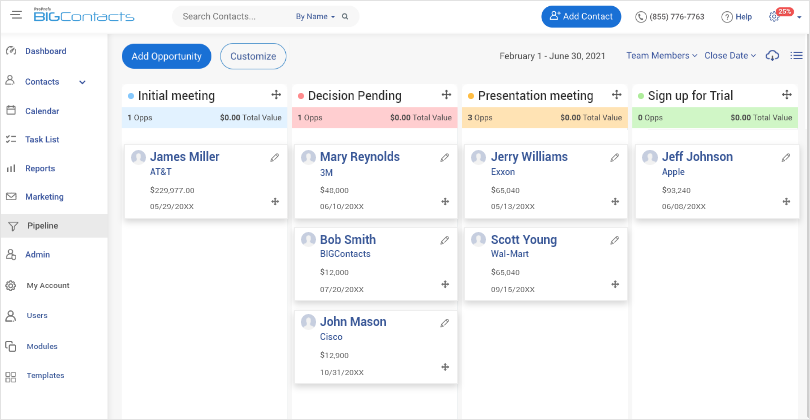 Accurate Forecasting:
Sales management also enhances your business's long-term growth. It lets you derive actionable insights from historical data and use them to make accurate projections. Such forecasts allow your team to work in the right direction and allocate resources judiciously.
Convert Leads Quickly:
Managing sales reps and coordinating operations have a positive impact on conversion rate. It enables you to close more deals quickly by discovering and eliminating any possible roadblocks from the process. Moreover, you can discover actions that enable conversion and include them in your future sales plans.
Read More: Best Practices for Sales Opportunity Management
Improve Productivity:
A well-established management process contributes to enhanced productivity for sales professionals. It lets them stay updated with upcoming meetings, tasks, and other activities to ensure that they never drop the ball with potential sales.
Sales Management Tactics
Sales management is integral to ensuring continuous improvement in business profits. It enhances all the operations that combine to form your overall sales process. Having shed light on the importance of sales management, we now come to the more important question-
How do you actually go about it?
Here are some of the sales management best practices and strategies to help you out.
1. Set Clear & Attainable Goals
"Goals are the fuel in the furnace of achievement." – Brian Tracy.
Begin with the end in mind. What is it that you are looking to accomplish? Is it a reduction in the length of your sales cycle or a 50% increase in your business revenue?
Setting SMART goals will help your sales team be more productive and have a clear roadmap to success. To set the most accurate and achievable goals, you must be aware of your ideal customer profile, buyer journeys, and the existing pain points of your sales team.
2. Find a Management Tool
A powerful sales tracking and management tool will empower your team to close more deals. Such a tool helps automate repetitive tasks, provides you complete visibility into available opportunities, lets you deliver your sales outreach efficiently, and allows you to gauge your progress routinely.
3. Hire the Right People
To ensure that your sales numbers remain soaring high, you need to focus on your sales force. Hiring pragmatic and professional sales staff is the first and the most important step in sales expansion. Competent sales professionals will empower your business to hit the ground running and establish an enhanced reputation for your business in the marketplace.
4. Invest in Training
According to McKinsey & Company, leading companies are 80% more likely to achieve their revenue goals due to sales training programs.
Training is thus a crucial component of sales management. Equip your sales team with the right tools and techniques to navigate their way through the selling process. Also, include regular retraining exercises in your sales strategy.
5. Automate Workflows
One of the most powerful ways to maximize your sales effectiveness is to establish automated workflows with custom triggers.
Automation will help you achieve the planned sales number quickly and effortlessly. It will enable you to meet customer expectations and reduce the manual administrative work for your sales team.
6. Track Progress Routinely
Routine progress tracking is a crucial aspect of managing sales processes. Generate reports and analyze sales data to identify areas of improvement in your sales strategy.
Strive for exponential business growth by regularly reviewing your ongoing operations and straightening out any possible roadblocks. Such reporting and analytics will also help sales leaders make more profitable business decisions.
Drive Uninterrupted Business Growth With Sales Management
When done right, sales management can result in more conversions. It enables you to meet the projected sales targets by streamlining operations and unifying the entire team.
To make sure that your sales management efforts produce the expected results, you need to use a dynamic sales management system. This allows you to coordinate the sales process, organize sales staff, and optimize performance. When selecting such software, make sure to take advantage of the free trial period to determine how well the tool fares with your organization's needs. Also, focus on the tool's customizability, ease of use, and automation capabilities.
An adaptable and intuitive tool such as BIGContacts checks all these boxes. It can augment all your sales operations, helping close more deals and build lasting relationships. Your sales team can utilize it to keep track of opportunities and upcoming meetings. What's more? Delightful customer support is available 24×7, so you can drive productive results without any disruptions.
Get more out of your sales process with thorough planning and coordination enabled by the right sales management software.
FAQs
1. What do you mean by Sales Management?
Sales management involves workforce development, operation enhancement, and performance tracking. It helps bring order to sales activities and keeps data synchronized across the entire team. Sales management helps you achieve your targets and lets you monitor the effectiveness of ongoing activities to improve future performance.
2. What are the Five Functions of Sales Management?
The functions of sales management include:
Setting targets & goals for your sales workforce

Creating an adaptable sales plan

Training & motivating the sales staff
Implementing the strategy

Analyzing current performance & making decisions
3. What are the Types of Sales Management?
Sales management can be approached with various methodologies. For instance, your sales manager strategies could belong to any of the following types:
Directive sales management

Analysis-focused management

Field sales management

Strategic sales management
4. How do you Enable Sales Management?
Sales management requires proper planning, strategizing, training, and analysis. In order to manage sales effectively, you need dynamic sales management software and a well-crafted strategy. These have to be adapted according to your existing sales process and aligned with your long-term growth objectives.
Do you want to make more sales?
BIGContacts is the #1 contact management software & CRM to close more sales.