Regardless of the industry type, maintaining a steady incoming stream of sales leads is one of the biggest challenges that salespeople face.
With so much time spent looking for leads and determining if they would be a good fit as a customer, important sales opportunities usually get missed out on.
Prospecting is a critical business component that significantly impacts revenue and therefore requires dedicated personnel for the job.
A sales development representative (SDR) is a specialized individual responsible for finding prospective customers and initiating contact with them.
SDRs do not close the deal. Instead, their efforts are concentrated on prospecting and qualifying. This segmentation helps sales teams achieve better efficiency since different people are responsible for finding and converting leads. The sales executives can save the time wasted on prospecting and work on perfecting their selling pitches.
This blog talks about SDRs, their job responsibilities, the skills required to stand out as an SDR, and the challenges faced by them. It also delves into a day in the life of a sales rep, and the role a sales rep management software such as CRM plays in it.
Sales Development Representatives (SDRs)
Sales development representatives are responsible for prospecting and qualifying leads.
These professionals are designated for finding new leads and educating them about the business. For this reason, SDRs need to have adequate knowledge of the company and be aware of customer expectations.
In simple terms-
While the sales executives are responsible for closing the sales, the role of an SDR is to find and hand over leads that are likely to make the purchase.
Sales development representatives assist sales professionals in closing deals by helping find and qualify leads. These reps are the first point of contact for potential customers. Consequently, a lot of responsibility lies on the shoulders of SDRs. They have to be resourceful, engaging, and efficient.
SDRs have to research the prospect well before getting in touch with them. This can save time and resources for sales teams since they do not have to spend time prospecting or qualifying and can devote more attention to selling. Once the SDRs have qualified the leads, they become Sales Qualified Leads that are passed on to executives for conversion.
Responsibilities of a Sales Development Representative
40% of salespeople believe prospecting is the most challenging part of a sales process.
This is the job that sales development representatives are entrusted with.
They have to look for prospects via multiple channels, including cold calling, events, social media platforms, or referrals. Additionally, they have to follow up with potential customers that have expressed interest in the business.
Essentially, the job of an SDR involves getting in touch with prospects, understanding their requirements, determining if they would be a good fit, and passing the qualified prospects along to the sales team.
They are also responsible for educating the potential customers about the business and how it can benefit them.
Summing up SDRs pass over qualified prospects to sales executives, who then drive the lead toward conversion.
Let's delve deeper into the role an SDR plays at various stages of a sales cycle-
Prospecting:
In a typical sales cycle, leads are converted to customers. SDRs participate in the lead generation process by finding and reaching out to potential prospects.
Qualification:
The next step is determining whether the acquired lead would be a good fit for the business. For this, SDRs have to find out the expectations of the prospective customers, what challenges they face, and if they match their buyer's persona. They are responsible for doing the groundwork that forms the basis of lead qualification.
Reaching Out:
First impressions in sales usually go a long way.

SDRs have to find the most optimal channel for initiating contact. Hyper-targeted interactions provide significantly better results than a generalized outreach. Therefore, they have to personalize the selling pitch for every client to see more positive outcomes.
Following-Up:
95% of leads are converted after the sixth call. This shows the importance of effective follow-ups in the sales process.
The job of an SDR does not end at finding qualified prospects.
They also need to follow up with the prospects effectively in order to move them forward in the sales cycle.
Moving Leads Along:
Once the lead has been qualified, it has to be handed over to the sales team. The account manager responsible for converting the lead into a customer is then brought up to speed with all the necessary information.
Essential Skills for a Sales Development Representative
Being a sales development representative requires one to be dedicated and organized. There are several other skills that a sales development rep needs to master, including:
Building Relationships:
SDRs should be good communicators. They must be able to modify their interactions for every client. A crucial part of an SDR's job is gaining the trust of the prospects to build long-lasting relationships. They have to make leads realize how valuable they are to the business. This can be done by reaching people using a variety of channels and communicating with them effectively.
The reps should also demonstrate expertise to be able to earn credibility. They should be capable of answering any queries that may come up during the interactions.
Listening Actively:
Being a sales development rep is not just about being a good talker. Active listening is just as important. An SDR has to pay attention to the needs and expectations of the prospect. A simple pitch bragging about how good a product or service is won't have a significant impact on the prospect. However, a representative that pays attention to the pain points of the prospect will.
Consistency:
Sales reps need to be consistent in their efforts. They have to be resilient and face challenges with great tenacity. Bad interactions are inevitable. Sales reps mustn't get discouraged easily and keep their head in the game even if they fail sometimes.
Meticulous Planning:
The daily schedule for sales rep requires them to be well-organized and disciplined. They should be able to manage all tasks, meetings, and calls efficiently. Losing track of important tasks or meetings can cost a business profitable opportunities. Time management and the ability to plan ahead are therefore must-have skills for SDRs.
Overcoming Rejection:
When working as a sales development rep, rejection is unavoidable. Being able to bounce back from these rejections quickly is important. Sales development representatives should strive to improve their skill-set by learning from their mistakes. They should optimize their selling pitch, keeping in mind what worked well and what didn't.
Adaptability:
The truth is that not everything is going to go as planned. Sales development reps have to be quick on their feet and make the best out of what's available. They have to modify their approach if a better opportunity presents itself. Adaptability is, therefore, an extremely critical skill for SDRs.
Passion for Learning:
To perform well as a sales development representative, an individual must demonstrate inquisitiveness and a passion for learning new things. They have to stay updated with the latest developments in the industry. With relevant insights into market trends and customer expectations, they can improve their selling pitches.
Challenges Faced by Sales Development Representatives
The job of an SDR may be rewarding, but it is definitely not one without any challenges.
Sales Development Representatives have to overcome several challenges to perform well. Some of these include:
Perception:
Sales development representatives have a terrible reputation for being persistent or overbearing sellers. However, without capable SDRs, businesses cannot function properly. They have to overcome this misconception by getting in touch with the prospects effectively without being pushy.
Technology:
The number of types of sales tools used by sales teams has gone up by 300%.
However, finding the most optimal tech stack still remains a big challenge for businesses. The tools have to be easy to set up and use. Additionally, they should have a short learning curve and should offer reliable training resources for sales reps.
Feedback:
Obtaining necessary feedback to be aware of the effectiveness of their sales efforts is another challenge faced by SDRs. To optimize their performance, sales development reps should get insights into relevant metrics.
Collaboration:
Proper communication within the organization is critical for improved sales performance. The sales and marketing teams have to communicate efficiently to ensure there are no gaps in alignment between them.
Tools for SDRs
Sales development representatives can maximize their productivity by adopting sales process management software that add value to their daily operations.
With the right technology, SDRs can work more efficiently. They can keep track of their activity calendar, modify how they connect with the prospects or other team members and automate a variety of tasks that are time-consuming and repetitive.
Here are some sales activity management software that should be a part of the daily operations of a sales development professional:
Prospecting Tools:
SDRs need a prospecting tool to get access to leads. Tools such as LinkedIn Sales Navigator, Leadfeeder, Quora, etc., can work as great solutions for prospecting.
Productivity Tools:
Effective task management and collaboration tools can boost the productivity of sales representatives. Such tools help keep things from veering off track. Some of the productivity tools that can be used by SDRs include Slack, Calendly, and SalesLoft.
Qualification & Enrichment Tools:
Only getting prospects does not guarantee sales. Businesses need to offer personalized experiences to encourage them to make the purchase. Enrichment tools can help SDRs collect the information required for personalizing interactions. Additionally, qualification tools can be used to score leads to prioritize high-value prospects.
CRM:
Customer Relationship Management is an all-encompassing solution that can get everything done from a single place, so SDRs do not have to rely on multiple tools. It can provide centralized access to all data, help track calendars, view upcoming tasks, and set reminders. CRM can also be used to get in touch with prospects and for taking notes that can be accessed by other team members.
It also helps track the performance of existing activities with powerful reporting & analytics. With an efficient CRM system in place, SDRs can view all the previous interactions with a prospect and modify their outreach accordingly. A powerful sales tracking CRM tool such as BIGContacts can help SDRs meet targets quicker by providing remote access to essential data and automating repetitive tasks.
A Day in the Life of a Sales Development Representative
Now that we have highlighted the key responsibilities, necessary skills, challenges faced, and tools used by sales development representatives, let's take a closer look at how they work on a day-to-day basis.
A sales development representative's responsibilities extend beyond a typical 9-5 desk job. They have to find prospects for the business proactively. Their job description entails everything from administrative tasks, scheduling meetings, researching opportunities, and traveling extensively for client meetings.
This position is ideally suited for well-organized individuals that can efficiently manage their time and juggle multiple things simultaneously. The job also requires the ability to handle pressure well and adapt to changing circumstances.
An SDR's day involves the challenging job of finding new prospects and selling the product or service to them. To do this successfully, they have to keep all information organized and follow a proper routine. A CRM for sales reps can make this easier by aiding task management, generating reminders, and providing remote access to the necessary data.
Let's step into the shoes of an SDR- Henry, and experience a typical day in his life.
7:00 A.M – Planning
Henry wakes up in a hotel room, ready to begin another day of calling on clients and following up with leads. Over coffee, Harry uses his mobile device to pull up the CRM calendar. There, he finds a list of scheduled appointments and client calls on his dashboard, along with a few last-minute notes from his sales manager. He takes special note of any changes to his schedule, always looking for an opportunity for some additional follow-up with clients that need nurturing.
8:00 A.M – Scheduling Activities
Observing via his calendar that the client he was scheduled to meet with at 9:00 has asked for a re-schedule to next week, Henry quickly confirms the new appointment time by emailing the client. At the same time, he schedules the meeting time into his calendar for the correct day and time. Scanning through his customer database, Henry finds another client whose office is near his current location. Since he now has an opening in his schedule, he calls the client and asks if he can stop by for a quick chat about a new product line that may be of interest.
8:45 A.M – Preparing for the Meeting
After the new appointment is made, Henry takes a few minutes to refresh his memory about the client he is about to meet. Using his CRM software, he accesses all the information he needs about the client, including what products the client has recently shown an interest in and how the client has interacted with the company in recent months via multiple social media channels. Henry makes a quick note of highlights and drives to the appointment with confidence.
10:00 A.M – Meetings With Clients
After a successful interaction with his client, Henry switches gears to meet with scheduled client number 2. Confirming via his CRM dashboard that there are no client fires to put out, he can conduct his appointment without distraction.
During the appointment, his client mentioned a problem with a previously purchased product that needs to be addressed. Henry quickly schedules the appropriate person in customer service to communicate with the client and offer any needed support. After receiving confirmation of the appointment before he leaves the client, Henry and the client are both satisfied that the issue will be addressed. Once the appointment is over, Henry schedules a note for himself to follow through with the customer service rep later.
11:00 A.M to 1:00 P.M – Emails, Appointments & Day-to-Day Tasks
Henry's day progresses as he has mapped out. His appointments are on time, and the meetings are productive and targeted specifically for each client. He also takes this time for stand-up meetings with his team. Between meetings, Henry is able to access the contact information for several other clients and quickly set up calls and appointments for the next few days. He also keeps up with his email correspondence since his email account is integrated with his CRM dashboard for maximum efficiency. He drafts personalized follow-up emails for his clients. These emails are recorded in the CRM system, and his client information is updated accordingly.
2:00 P.M – Filling In
Henry receives a call from his sales manager, who tells him that Sam, another salesperson on the team, has become ill and has had to leave for the day. The problem is that Sam has an appointment scheduled with an impatient client. With a few taps of the screen, Henry quickly reads the client's notes and speeds up to the account. He prepares for the meeting by understanding the challenges faced by the client and how their services can address them. He tells the sales manager that he has an opening at 3:30 and will be glad to help Sam out. The sales manager makes a mental note that Henry is a good team player.
4:00 P.M – Updating Notes
After a successful meeting with Sam's client, Henry makes notes in the CRM about the meeting agenda and the client's state of readiness to make a purchasing decision. When Sam returns to work, Henry's careful notes will help him satisfy the client's needs more efficiently. Meanwhile, the sales manager puts a favorable note in Henry's file for an upcoming personnel review.
4:15 P.M – Planning Ahead
Henry takes some time to schedule and plan for upcoming tasks. He reviews his day and works on improving his pitch if he feels it requires any changes. He makes a list of all the pending tasks, checks their priority status from his CRM system, and sets reminders for important deadlines.
End of Day – Wrapping Up
Henry checks in one last time to make sure he has contacted all the clients scheduled for the day. He takes a few minutes to update his calendar and let the sales manager know about any pressing issues. It is important that he ties any loose ends and glances at his tasks for tomorrow before calling it a day.
Significance of CRM for SDRs
The role of a CRM system is clearly evident throughout Henry's day. He uses it to track his calendar, schedule appointments, and manage interactions with clients.
Salespeople have to be efficient, diligent, and organized. A CRM system can empower SDRs to achieve better results by keeping all information organized, helping track tasks, and boosting collaboration with other team members.
CRM can help SDRs by providing the following benefits:
Email Tracking:
Communication tracking is one of the most significant advantages of a CRM system.
Think of yourself as an SDR with several clients to manage.
You have to keep track of multiple emails and ensure that all the clients receive follow-ups at the right time.
Without personal task management software that keeps all your communications organized and readily accessible, things will go haywire in no time.
CRM helps SDRs get rid of such troubles since all the previous interactions are stored against respective contact records. This allows sales reps to improve their upcoming interactions and optimize them according to the clients' needs.
The email marketing functionality of sales management CRM can help-
Use templates to save time

Personalize emails for improved experiences

View previous touches

Set up automated follow-up emails
Task Management:
SDRs have multiple tasks to juggle at the same time. They need the most efficient tools that can help them get things done on time.
CRM can enable them to track and manage all their upcoming tasks with ease. Effective CRM task management helps SDRs ensure that no important opportunity is missed out on.
CRM also provides instant notifications and reminders that enable sales representatives to get in touch with prospects at the right time. With a detailed view of all tasks and to-dos, SDRs can achieve better productivity and keep things running smoothly. Additionally, they can automate various tasks and reminders to improve the effectiveness of their daily operations.
Improved Data Access:
All the data related to the prospects can be stored and accessed easily with a CRM. This sales management software helps representatives stay updated at all times. They can easily track all previous interactions, preferences, notes, and files for contacts in one place. This information can be helpful in qualifying leads.
Additionally, CRM provides remote access to data so SDRs can prepare for meetings on the go.
Improved Outreach:
CRM works as a sales management solution that helps SDRs connect with prospects via their preferred communication channels. It can also enhance personalization by helping track all interactions, preferences, and social media activity of the prospects. Tailored communication not only grabs the attention of the prospects but helps them realize that the business cares about their likes and interests. Such messaging can significantly improve the number of prospects an SDR brings in.
Track Performance:
The performance of an SDR is measured by the number of qualified leads they bring to the table. Sales rep CRM software can measure their progress and track the effectiveness of their sales efforts. Powerful reporting and analytics can help them track how many well-qualified prospects they could add to the sales pipeline, allowing them to get better visibility into their performance.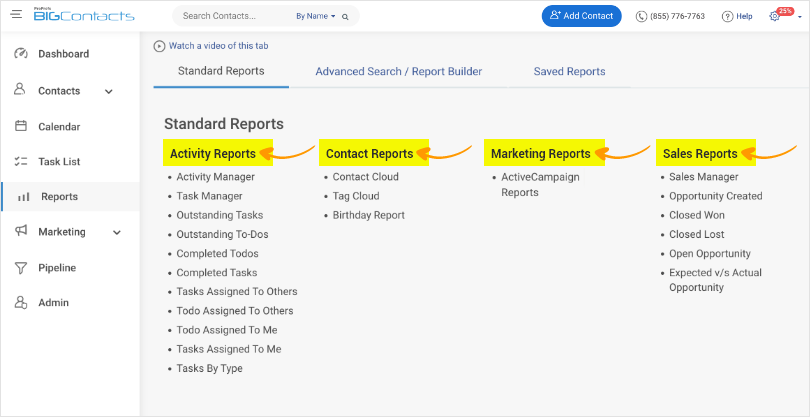 Sales Development Representatives- a Valuable Addition to Sales Teams!
Exceptional organizational skills, a disciplined routine, and the ability to build trustful relationships are some of the many essential qualities that a sales development representative should have.
The roles and responsibilities of SDRs make them an integral part of any sales team. The overall success of a sales team depends on how many leads the sales development representatives are able to qualify.
Diligent sales development representatives can boost conversion rates and accelerate business growth. Such an important position requires highly committed and well-qualified sales professionals.
It is critical that SDRs find the most effective technology to supplement their sales efforts. BIGContacts CRM is one of the best CRMs for sales reps to stay on top of all tasks, optimize their outreach efforts, and qualify prospects efficiently. The easy-to-use interface of the tool can help them achieve better results without being complicated or overbearing.