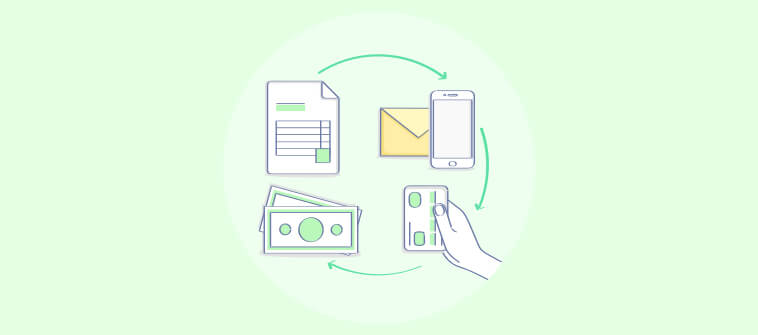 While there is no one-size-fits-all strategy that works well for every sales team, there needs to be some consistency in how a team approaches its leads.
This is what a sales process strives to accomplish.
With a clear framework of activities that move prospects closer to conversion, a sales representative can make more sales in less time.
Sales representatives need a well-defined structure to stay organized and equipped to deal with prospects. By acting as a playbook for representatives, a sales process can boost productivity and help them meet their targets.
However, building a sales process is not an easy task.
You must take your business needs into account and build a process that makes selling easy. This requires a deep understanding of the challenges encountered by your team and discovering possible solutions to overcome them.
This blog will cover what sales processes include and how they can prove to be of advantage to your business. We have also listed the steps to build a consistent sales process for your business and the role a powerful CRM tool can play in sales process management.
To get started, let's explore what is sales process in more detail.
What is a Sales Process?
The sales process definition describes it as a repeatable and structured approach to guide prospects toward conversion.
With a straightforward sales process, representatives can be aware of the actions required to close the deal.
Essentially, it serves as a framework for salespeople to guide prospects toward the final purchase. With a clear roadmap to converting leads, your sales team can work more efficiently.
Why Do You Need a Sales Process?
Before we delve into the steps that make up a successful sales process, it's essential to answer the more pressing question-
Why do you even need a sales process?
A straightforward answer to this question is efficiency.
Think of it like this-
You have plenty of leads coming in. However, many of these leads drop off your sales cycle and do not make it to the final stage.
You wish to find out what is causing this, but without a standardized process, there is no way to demarcate various stages and determine what is resulting in these lost stages.
This is just one of the several instances where a well-established sales process can prove to be of advantage.
You need to follow a defined process to ensure that your sales activities do not go to waste and yield the expected results.
A sales process can help your team be aware of actions that drive conversions. It can help everyone stay aware of what's coming next, so they can be better equipped to take the necessary sales steps.
Here are some benefits of having a clearly-defined sales process-
More Conversions:
Harvard Business Review reveals that companies with a defined sales process witness 18% higher revenue growth than their competitors.
This is a result of a clearly laid out plan that takes into account customer expectations and empowers sales representatives to convert more leads.
Understand Customer Needs:
A sales process provides you the opportunity to optimize customer experiences and make them more personalized.
A sales process is designed around customer needs and expectations. With valuable insights into customer behavior and preferences, you can craft delightful experiences that drive conversions.
Discover Roadblocks:
A sales process offers more visibility into sales activities, helping you stay updated with everything that is happening.
With a clear understanding of how leads move through the sales funnel, you can identify stages where opportunities are stalled and take the necessary steps to improve pipeline velocity.
Improve Productivity:
A clear roadmap to conversions eliminates time wasted on unnecessary activities and boosts productivity. The sales process helps qualify leads more effectively, ensuring that precious time is not wasted chasing after leads that do not match your buyer's persona.
Engaging with the right prospects increases the chances of conversion and helps sales reps meet their targets on time.
Make Accurate Forecasts:
A sales process can be a powerful tool in forecasting.
It simplifies monitoring the performance of sales representatives and tracking the movement of opportunities through your sales pipeline, helping make accurate forecasts.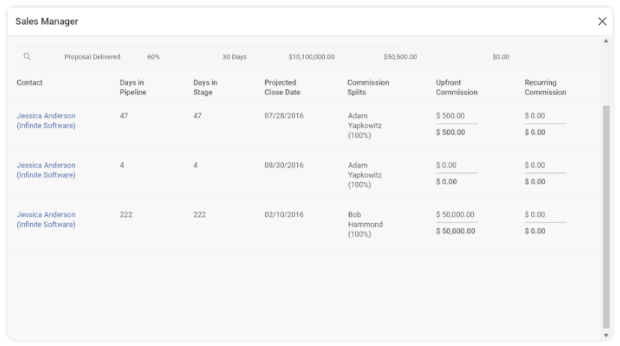 Quicker Onboarding:
A well-established sales process helps new sales reps understand how to drive more leads toward the final purchase.
They can discover the actions required at every stage and quickly adapt according to the existing process.
Sales Process Steps
A sales process can have multiple steps based on how a sales team approaches the prospects. Every stage of the process involves certain actions that help guide the prospective customer to the final decision stage.
While the exact sales process may vary based on the business requirements and industry type, the basic structure of the process remains the same. This comprises the following sales process steps –
1. Prospecting
Any individual or organization that has demonstrated some form of interest in the business and has the potential to convert into a customer is termed as a lead.
Prospecting is the process of actively looking for these potential customers. Sourcing for new customers is the most vital component of the process. There are multiple outlets used by sales professionals to look for leads that they can work upon. These include cold calls, referrals, events, inbound marketing, web forms, surveys, etc.
2. Researching
Once you have acquired the leads, the next step is acquiring more information about them and examining their intent.
Questions that you must ask about the prospect include-
How does your product/service fit into the picture?
Sales reps have to research the company in detail. They also have to initiate contact with the prospect to determine how likely they are to make the purchase eventually.
3. Qualification
The next step of the sales process is using the acquired information to qualify prospects.
Not every lead that you acquire will be a good fit for your sales process.
Therefore, lead qualification carries tremendous significance and is one of the most vital steps in the sales process.
You can use various lead qualification frameworks such as BANT (Budget, Authority, Need, Time), CHAMP (Challenges, Authority, Money, Priorities), ANUM (Authority, Needs, Urgency, Money), etc., to qualify leads as hot or cold. This can help sales reps prioritize high-value leads and utilize their time more efficiently.
4. Creating a Pitch
Once the prospect has been deemed suitable for the sales process, they have to be contacted by the sales representative with the selling pitch.
They must be provided a product demonstration to help them understand the product's functionality and how it can solve their problems.
Every proposal has to be tailored according to the specific needs of the prospect. This is a time-intensive process that requires sales representatives to understand the prospective customer's needs and preferences clearly.
This can be accomplished with the help of CRM tools. For example, BIGContacts helps sales professionals collect social media profiles of the contacts and keep the data organized in one place. The social media activity of the prospects can then be utilized to personalize the upcoming interactions.
5. Evaluation
Once the proposal and demonstration have been delivered to the prospect, they begin evaluating the product against their business requirements.
At this stage of the sales process, the sales representatives should be ready to answer questions related to the product. They should be prepared to address possible objections that the prospect may have about the product. The representatives have to follow up with the prospects regularly and ensure that they are provided the required assistance for making the purchase.
6. Negotiation & Closing
Once the sales team has delivered a value proposition to the prospect, helped them realize the importance of the product, and built trust, it's time to close the sale.
This step involves proposing the final quote and negotiating the terms of the deal.
If the prospect makes the final purchase, the deal is marked closed.
7. Post-Sale Relationship
A sales representative's responsibility extends beyond just closing the sale.
They also have to ensure that the business retains the customer.
Customer retention is 6-7 times less costly than acquisition.
For this reason, sales teams have to engage with the existing customers and continue to deliver value to them. The customers also have to be forwarded to the respective customer service executive to ensure that their issues are resolved promptly.
An effective post-sale relationship with customers can provide repeat and up-selling opportunities that can be quite profitable.
Sales Process Flowchart
The following flowchart lists the stages that a sales process is made up of. While you can choose to include additional steps per your needs, the basic skeleton remains the same for most businesses.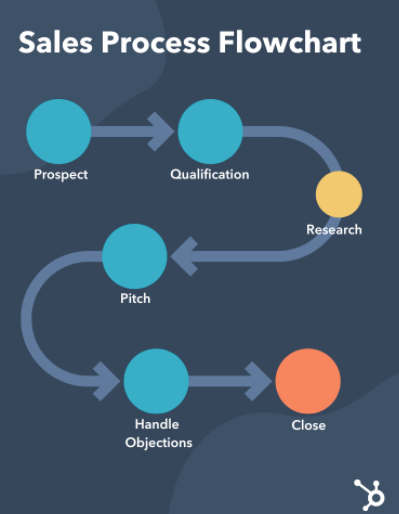 Characteristics of a Strong Sales Process
A sales process can bring in more revenue for your business.
However, for this, you need a functional process flow that aligns with your needs and takes into account the buyer's journey.
Here is a checklist of must-have characteristics of an effective sales process-
Measurable:
The sales process has to include relevant metrics that help measure its effectiveness.
Customer-Oriented:
The best sales process is built with the end in mind. Since the end goal of the sales process is to get more customers, it should align with their needs and expectations.
Flexible:
Business environments and objectives are ever-evolving. Therefore, you must have an agile sales process that is accommodating to change.
Repeatable:
The sales process should be easy to repeat. A consistent process flow can help sales representatives make the most out of it.
Clear:
The sales process has to be clear and devoid of any discrepancies. A confusing process will only lead to unnecessary delays, resulting in lost opportunities.
Creating a Sales Process
Now that you have a fair idea of what a sales process is, it's time to understand how to build one for your business.
Creating a sales process can help your team stay organized and accountable.
To map out a sales process for your business, you need to-
Understand How Things Work Currently:
Even if you do not have a standardized sales process, it is highly likely that your sales team follows some form of routine for converting leads.
Understand the approach undertaken by your sales team. Make a note of how they generate and manage leads.
Discover actions that are effective in converting leads and include them in your sales process.
Make sure that the process you build is not entirely alien to what your sales team is used to working with.
Know Your Goals:
The most critical step of building a sales flow process is to be aware of your requirements and goals. You need to begin the sales process development with your business objectives in mind.
Find out:
The challenges faced by your team
Industry requirements and market trends
Key performance indicators
Customer profiles & expectations
Long-term growth objectives
Taking these factors into account can help you develop a structured and comprehensive sales process to maximize your sales.
Get Sales Reps Onboard:
Your sales representatives are the ones that are going to use the sales process routinely.
Therefore, it is crucial to involve them in the creation of the process.
Understand their concerns regarding the existing process. Seek their feedback on ways to optimize the selling process and boost sales productivity. Find out where the most opportunities get stalled, what are the common objections that the clients have regarding the product, and which aspects of the process are the most inefficient for the sales representatives.
Building a process that aligns with the needs of the sales team can drive adoption.
You also need to help some sales representatives realize the benefits of a well-structured sales process to encourage them to use the process.
Build a Sales Process:
Once you have acquired the necessary information, you need to put it together to build the sales process.
Map out your sales process with all the stages that you wish to include in it.
By clearly defining the broad stages of your sales process, you can enable sales representatives to visualize the course of action they need to take to convert leads into customers.
Outline Steps for Each Stage:
Once you have outlined the major milestones for your sales process, you also need to draft detailed action plans for individual steps in the sales process.
Identify what actions are needed to move prospects along and which stages cause the most delays or lost opportunities.
Use this information to define detailed steps for each stage of your sales process.
Visualize Customer Journey:
Having a clear picture of the customer journey can help you create a more effective sales process that takes into account the needs and pain points of the customers.
You need to look at your sales process from the customer's point of view to get a better idea of what they need at every stage of the decision-making process.
How well do your operations fit with their needs?
Is there a gap between what they are looking for and what you are offering?
Do your sales actions align with your customer journeys?
Answering these questions can help you build a sales process that produces the desired results, i.e., increased sales.
Include Relevant Metrics:
Now that you have put in all these efforts toward building your sales process, you also need to ensure that it is accomplishing what you hoped it would.
Therefore, you need to test and improve your sales process routinely.
Figure out which sales metrics carry the most significance for your business and include them in your sales process.
With key performance data available at your fingertips, you can tweak your sales process to optimize results.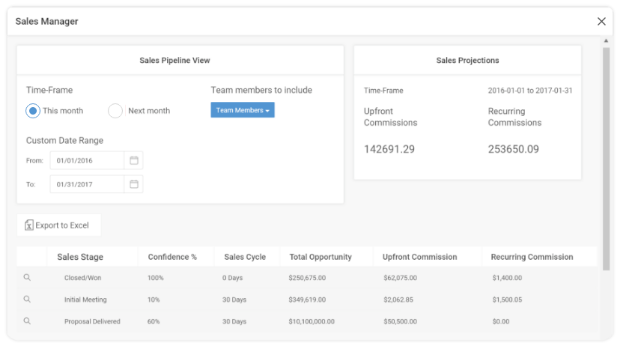 Ways to Enhance Your Sales Process
The sales process for your business should continue to evolve with your business. You need to ensure that it is working in alignment with your business objectives.
There are various ways to keep the sales process functioning to its maximum potential. For example, a customer-oriented approach to the sales process can work wonders for your business.
Additionally, it can help to set time-bound goals for your team and adopt a collaborative approach that keeps everyone on the same page. Use various sales pipeline management practices to ensure that your pipeline is functioning properly.
While there are several other ways to improve effectiveness, here are some of the sales process best practices that you should consider:
Measure Performance:
The process will always be a work in progress.
Regular maintenance and performance analysis is critical to keep your sales process functional.
Run sales reports to track relevant metrics and measure the effectiveness of your sales efforts routinely.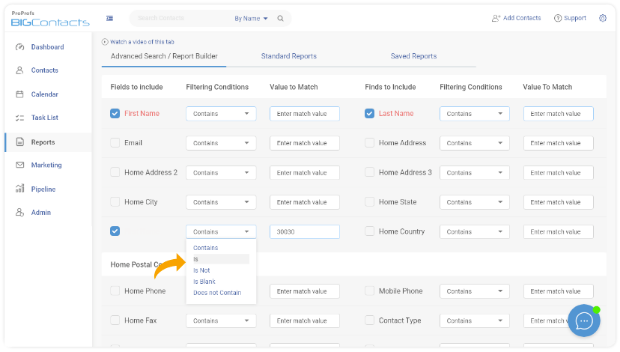 Establish Clear Criteria:
You need to clearly define the criteria for moving a prospect to the next stage of the sales process.
Any ambiguity in this criteria can compromise the efficacy of the sales process.
Therefore, be precise in defining the exit criteria for every stage in your process to avoid any confusion.
Seek Feedback From Sales Reps:
Your sales representatives witness the effectiveness of the sales process in real time.
Therefore, there is no better source for acquiring insights into the process than sales representatives.
Seek regular feedback from them to discover ways of improving the process to make it more productive.
Use a CRM Tool:
Using the right technology is undeniably crucial for the success of your sales process.
In the absence of a powerful tool to manage and track your sales activities, things can quickly go out of hand.
Implementing a CRM system can help your sales team devote less time to administrative tasks and focus more on selling.
It can be used to keep the sales workflow process on track and find out ways to enhance its performance further.
The following functionalities of a CRM system can help your sales process optimization-
Pipeline management

Activity tracking

Custom reminders

Reporting & analytics

Collaborative tools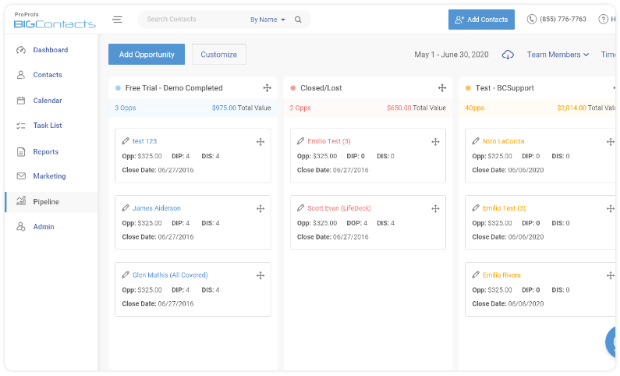 Automate Repetitive Tasks
Leverage sales process automation to improve sales performance further.
There are several ways to use automation to enhance your sales process.
For instance, you can automate data capturing to eliminate manual data entry for new leads. This not only increases efficiency but also frees up more time for sales reps to engage with the prospects. You can also automate lead distribution or build an automated sales lead process for the team.
Additionally, you can automate the movement of prospects from one stage to the next based on specific triggers. This can keep the leads moving along without any unnecessary delays.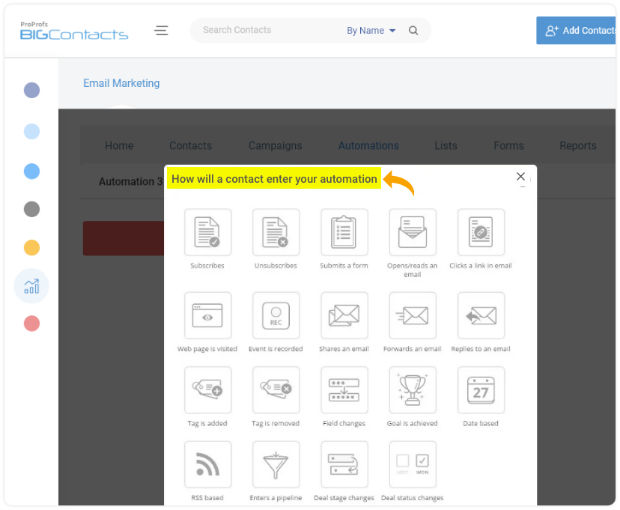 Where Do Businesses Go Wrong?
Without a well-mapped process of sales, everything is bound to go haywire.
However, even with a formal sales process, some businesses fail to see the expected increase in their numbers.
The reasons for these are plenty. From ineffective implementation to a lack of proper research, there's a lot that can go wrong.
Some of the common mistakes that businesses make when building their sales process are-
Considering It to Be Static:
The biggest mistake that anyone can make with a sales process is considering it to be static.
Your sales process has to be continuously improved based on regular feedback from reps and sales outcomes.
Not Defining Every Action & Step:
It is essential to define every action and step of the process clearly. This can help your sales team be sure of what actions to take when moving deals along.
Lack of clarity can lead to inefficiencies and affect your profits. Therefore, it is crucial to define every aspect of the sales process and leave no room for misinterpretation. Offer documentation to help sales professionals understand the process better.
Not Measuring Performance:
Not measuring relevant metrics will lead to you being unaware of any problems in your sales process.
By measuring the performance of your sales process, you can identify if it needs any adjustments. Identify which metrics carry the most weight for your business and track them regularly to ensure that your sales efforts are on the right track.
Lack of Alignment With Other Business Divisions:
Making sales is not a standalone process.
This means that you need to align your sales process with other business processes.
For instance, your marketing team can provide you with insights into customer behavior to supplement your sales process.
Therefore, you need to establish a process that helps your sales team collaborate with other departments.
Not Focusing on the Customers:
The sales process has to be customer-centric for it to work.
Make sure that the process focuses on providing value to the customers and building relationships with them. Merely chasing after numbers may work in the short term but will prove to be ineffective in the long run. Therefore, make sure that you build a strong sales process that is customer-centric and will remain functional for years to come.
Lack of Automation:
More than 30% of sales activities, including planning, qualification, and post-sales activities, can be easily automated.
With automation, you can utilize your time and resources more optimally. Businesses that do not make use of automation in their sales process miss out on improved efficiency and reduced costs.
Avoiding these mistakes can help you build a functional process that can bring in more profits and help you achieve your business goals.
Difference Between Sales Process and Sales Methodology
Both sales process and methodology are terms that you will come across quite frequently in business circles.
A common misconception is that these two are synonymous.
Although they are intertwined, the sales process and methodology are far from being the same thing.
The sales process, as we explained earlier, is the entire process of reaching out to prospects and converting them to customers. It is a step-by-step process that helps drive leads toward conversion.
Sales methodology, on the other hand, is the approach that a sales representative adopts within the sales process.
Based on the requirements of the sales process, a sales representative may use a number of methodologies to increase their sales numbers, including:
Challenger Sales-

This methodology involves educating the prospect, tailoring the proposition according to the prospect's needs, and staying in charge of the conversation.

Inbound Selling-

This sales methodology involves connecting with the prospect at various stages of the sales process and personalizing interactions with them.

SPIN (Situation, Problem, Implication, Need)

– This methodology revolves around discovering the prospects' challenges and helping them realize how your product can solve their problems.

SNAP (Simple, Invaluable, Align, Priorities)

– This sales methodology makes it easy for prospects to buy by keeping things simple and aligned with their needs.

Sandler Selling-

This methodology involves building a trusting relationship between the sales executive and the prospect by handling objections effectively.

Solution Selling-

This methodology focuses on establishing the significance of the product as a possible solution for the challenges faced by the prospects.

Conceptual Selling-

This is based on the notion that people make a purchase based on the concept that they have of the product.
Reimagine the Way Your Sales Team Works!
A consistent sales process can remove inefficiencies and help your sales team be more productive.
When building a sales process, take time to identify your business needs and establish a repeatable process that helps you close deals faster. Continuously monitor this sales process and adapt it according to changing consumer behavior and market trends.
By being specific with your goals and incorporating feedback from sales representatives, you can establish a sales process that boosts your revenue.
Another key takeaway here is to ensure that the process perfectly aligns with your customer journeys.
A powerful CRM and sales tracking software such as BIGContacts can enhance the productivity of your sales process and help you meet your sales targets effortlessly. With automated processes, visual pipelines, task tracking, instant alerts, and forecasting capabilities, it can transform your sales process and help you make the most out of it!
FAQs
Let's take a look at some of the frequently asked questions about sales processes-
Q. What are some of the metrics that can be tracked to measure sales process performance?
To ensure that your sales process is functioning properly, you need to measure specific metrics. While the most significant metrics vary as per business needs, here are some of the standard metrics that you can choose to include-
Sales cycle length

User adoption

Customer acquisition cost

Win rate

Customer lifetime value

Conversion rate per stage
Q. How can a CRM system impact my sales process?
There are several aspects of a sales process where a CRM tool can prove to be of advantage such as-
CRM can be connected with webforms to capture leads intelligently.

It can be used to qualify prospects to save time and resources.

By acting as a repository of data, CRM can help personalize customer interactions.

The sales pipeline helps visualize customer journeys.

The reporting & analytics module of CRM can be used to track the performance of the sales process.

It can boost collaboration within the sales team and also enable them to collaborate with marketing professionals.
Q. What makes BIGContacts a suitable solution for managing my sales process?
BIGContacts is an efficient CRM solution that can boost the productivity of your sales team and help you establish a standardized sales process.
You can use BIGContacts to manage your sales pipeline or build custom workflows for your sales team that help improve day-to-day efficiency. Additionally, the reporting module allows you to keep track of your sales process and monitor its effectiveness.
The following features make BIGContacts a suitable CRM for any business-
Comprehensive contact management

Sales pipeline management

Delightful customer support available via chat, call, or email

Easy-to-use interface

Automated tasks & reminders

Activity tracking & team calendar

Powerful integrations

Customizable modules, fields & views

Instant alerts & notifications

Affordable pricing structure

Mobile access to data
Do you want to make more sales?
BIGContacts is the #1 contact management software & CRM to close more sales.