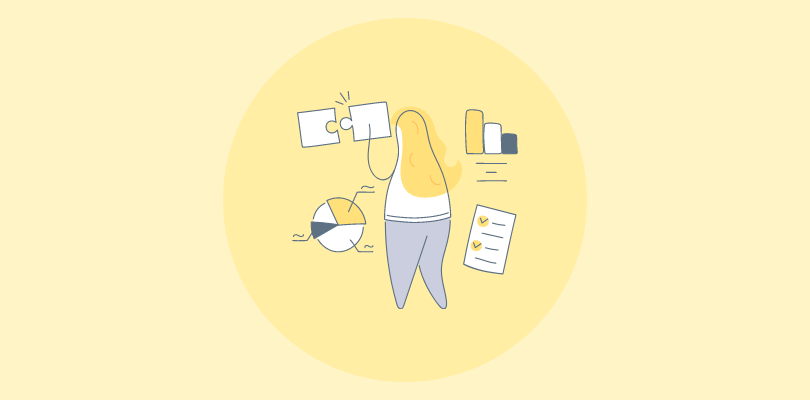 Do you ever feel like you're efforts in sales are going in vain despite leaving no stone unturned?
You're constantly prospecting, emailing, and calling, but it doesn't seem to lead to more deals.
If so, you're not alone.
Sales is a tough game, and it's only getting tougher.
That's why it's more important now than ever to find the right sales engagement platforms to help you enhance engagement, automate processes, and close more deals.
A small relief – I've already done that math for you!
In this blog post, I'm going to share 7 reliable sales engagement software that can help you improve sales efficiency and boost revenue.
Here's a first glance at these tools-
Checklist of the 7 Best
Sales Engagement Platforms
As a seasoned sales professional, I've had the chance to work closely with managers, directors, and sales representatives from different industries. This list below has been crafted based on personal experience, as well as recommendations from industry peers.
1.
BIGContacts
–
Best for Pipeline Management & Email Marketing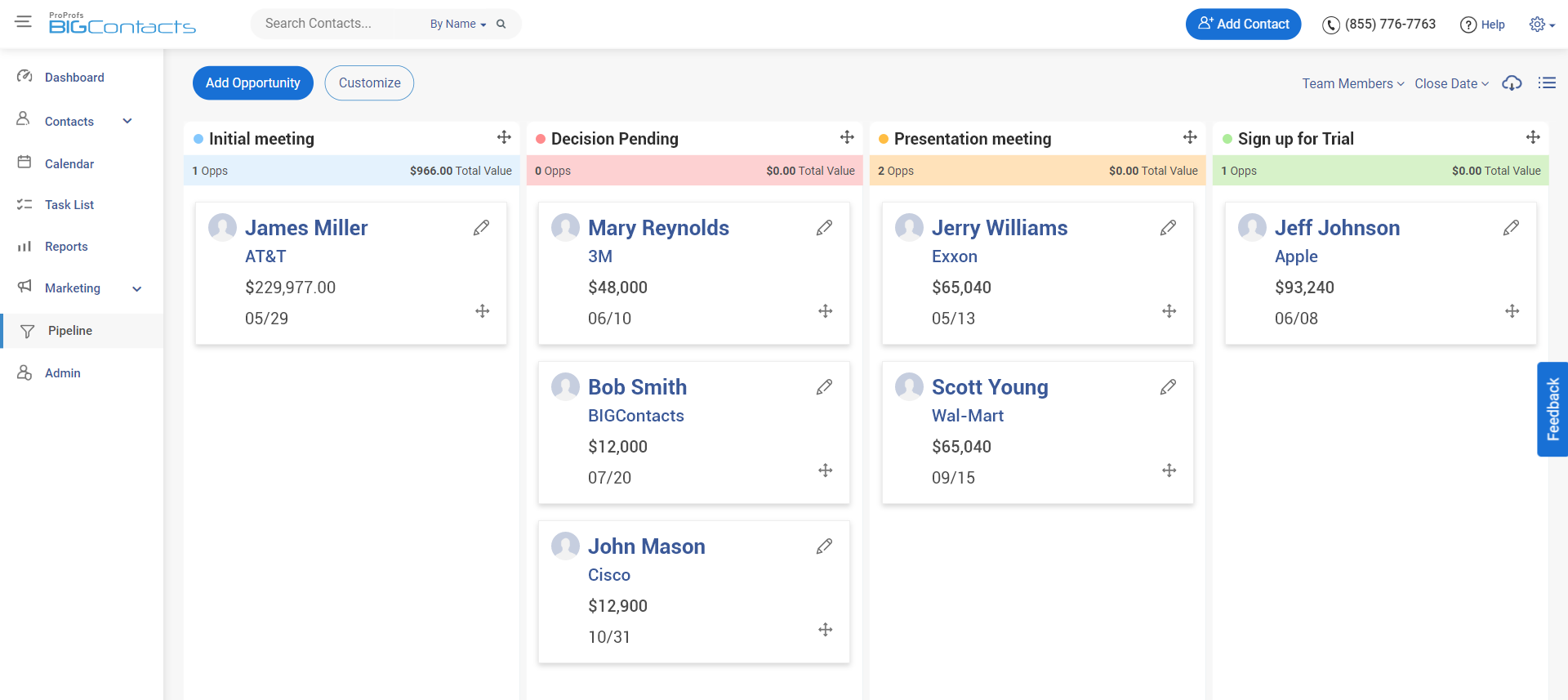 (Source)
BIGContacts is the one CRM that I've worked with for over a year now. It's the perfect blend of powerful features and ease of use, which is ideal for small businesses like ours!
One of the things I love most about the tool is its sales pipeline management capabilities. It gives me a clear view of where each lead is in the pipeline.
For example, we have a custom sales pipeline, which includes stages like 'Lead Generation,' 'Qualification,' 'Demo,' 'Negotiation,' and 'Closed Won.' As leads move through the pipeline, BIGContacts automatically sends personalized emails with relevant information.
Another great feature of BIGContacts is its email marketing capabilities.
I can easily create and manage drip email campaigns and automate their delivery based on certain set criteria or triggers. Plus, it's easier to track the outcomes of these campaigns with detailed reports.
What You'll Like:
Automated drip email campaigns nurture leads with personalized emails

The ability to move deals in the pipeline with a drag-and-drop interface

Captures all communications with contacts, including notes, calls, meetings, tasks, files, etc.

Ready-to-use and custom reports that track engagement levels and team performance

Offers meeting reminders with a number of options as to who, when, and how you notify
What You May Not Like:
The 15-day free trial seems short to explore the software inside out

The software requires a stable and constant network connection so as not to lose progress.
Pricing:
Starts at

$5/user/month

. A 15-day free trial is available. No hidden costs.
2.
HubSpot Sales Hub
–
Best for Sales Automation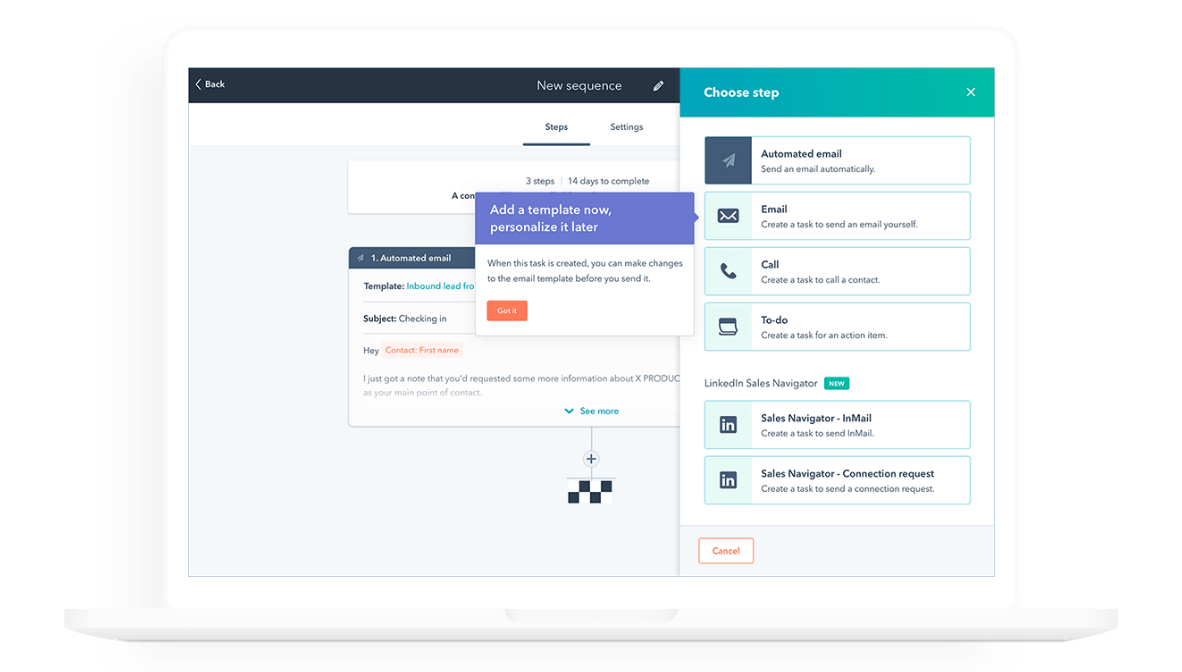 (Source)
I've heard that HubSpot Sales Hub is one of the best free sales engagement platforms. So, is the free plan worth its hype?
Let's start with sales automation- a stand-out attribute of the software. It let me set up a series of automated, personalized emails and follow-up tasks to stay on top throughout the sales process.
Here's an example of how I used it to close a deal:
I had a lead interested in one of our products but needed some time to think about it. Instead of manually following up, I used HubSpot to create an email sequence that sent him relevant content and reminders at regular intervals. This helped me engage without being invasive or annoying.
But here's the catch- this is one of the many features that require you to get the paid plans, i.e., it's not available in the free plan, unfortunately.
What You'll Like:
The sales pipeline provides a holistic view of prospects and deals

It helps you stay organized by monitoring all calls and emails directly from the platform

Best-performing emails can be saved as templates to save time and effort

Conversational intelligence optimizes your engagement with prospects

Enables prospects and customers to self-book appointments with meeting scheduling links
What You May Not Like:
Some users feel the free plan seems impractical as it misses several features like sales automation, custom reporting, analytics, etc.

The platform has a steep learning curve, which can be challenging for new users.
Pricing:
A free plan is available (without features like automation, integration, etc.). Paid options start from $18/month.
3.
Salesforce Sales Cloud
–
Best for Engagement Intelligence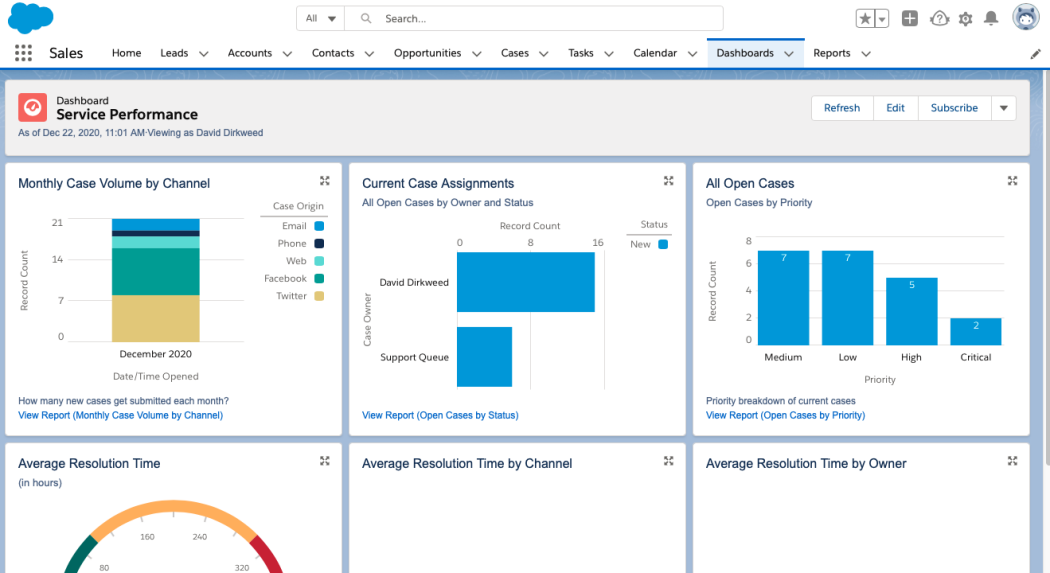 (Source)
Salesforce has one of the most popular sales engagement tools- the Sales Cloud.
I had a brief meeting with an old friend two weeks ago, working in a US-based eCommerce firm. From his extensive experience using Salesforce, I remember he praised its 'engagement intelligence' feature.
The feature will tell you if a customer has opened an email, clicked on a link, or visited your website. It will also notify how long they spent on each page and what content they viewed.
This information is invaluable as it lets you personalize follow-up communications and ensure you send the right content at the right time.
The platform also has impressive reporting capabilities. It provides a wealth of dashboards to analyze sales data and make informed decisions. You can even create custom reports to have unparalleled visibility into sales performance.
What You'll Like:
It helps you stay organized by streamlining workflows and prioritizing tasks based on real-time data

Personalizes outreach at scale with features like email templates, sequence builders, dynamic content, etc.

AI-powered recommendations to help sell smarter

Real-time visibility into sales performance that identifies areas for improvement

Mobile-friendly software that suits today's hybrid and remote work environment
What You May Not Like:
The starter plans lack features like workflow automation, advanced pipeline management, etc.

Some users have reported minor issues when accessing customer support
Pricing:
Starts at

$25/user/month.
4.
Salesloft
–
Best for Building Sales Pipelines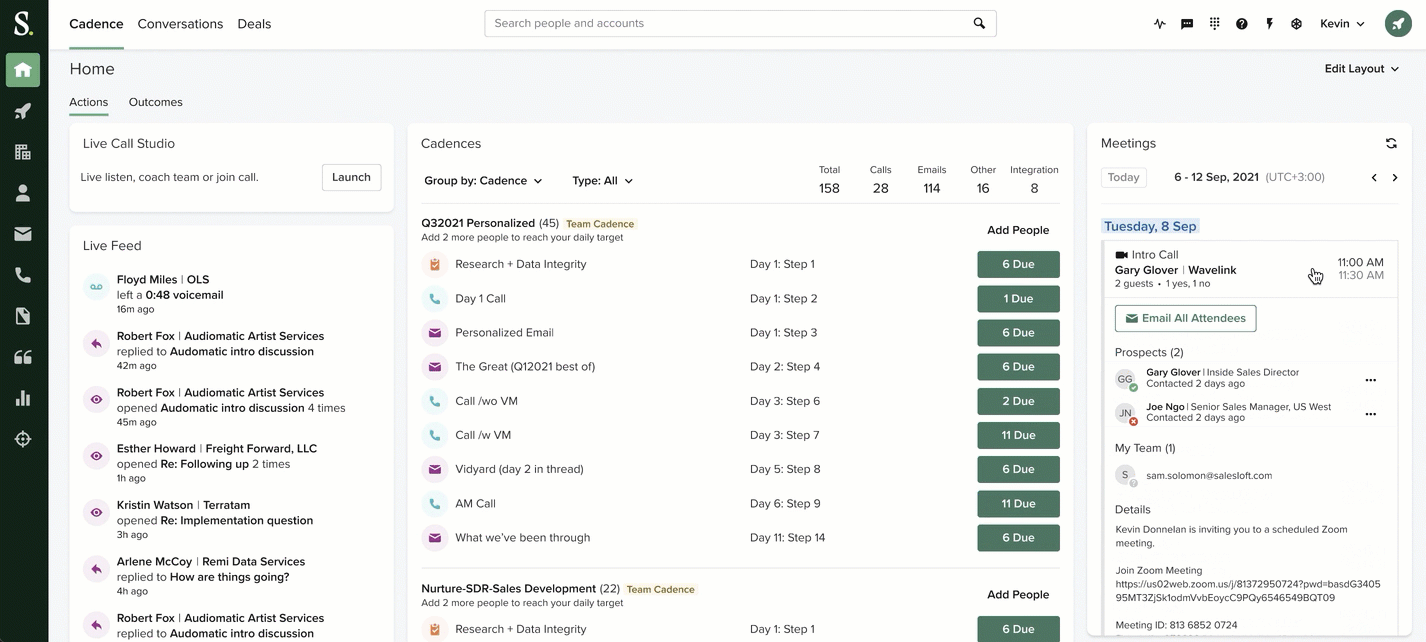 (Source)
Building a pipeline can be a daunting task, especially if you're doing it all manually. That's where Salesloft comes in.
I read feedback from different review sites to understand how the software works.
With SalesLoft, you can easily identify new prospects, track their engagement with your content, and nurture them through the sales process. It also lets you create personalized campaigns for different market segments.
The software lets you automate the sales process by scheduling tasks, reminders, and follow-ups for each stage of the cycle. It also has a number of features that can help you qualify leads and prioritize pipelines.
Browsing around a bit more, you'd also find its email tracking capabilities useful.
For instance, you can see which subject lines or calls to action generate more responses or which days or times are best for sending emails.
What You'll Like:
Personalized interactions with advanced segmentation and customization feature

The in-depth reporting feature tracks key metrics, such as email open rates, click-through rates, etc.

Improves forecasting accuracy for deals using insights such as deal stage, pipeline coverage, sales velocity, etc.

Allows you to see all of your deals in one place and track their progress in real-time

Automates repetitive tasks like sending follow-up emails, scheduling meetings, etc.
What You May Not Like:
To know about pricing, you must request a demo, which can be time-consuming

Some users feel the UI needs some improvements in terms of performance
Pricing:
5.
Zendesk Sell
–
Best for Lead Generation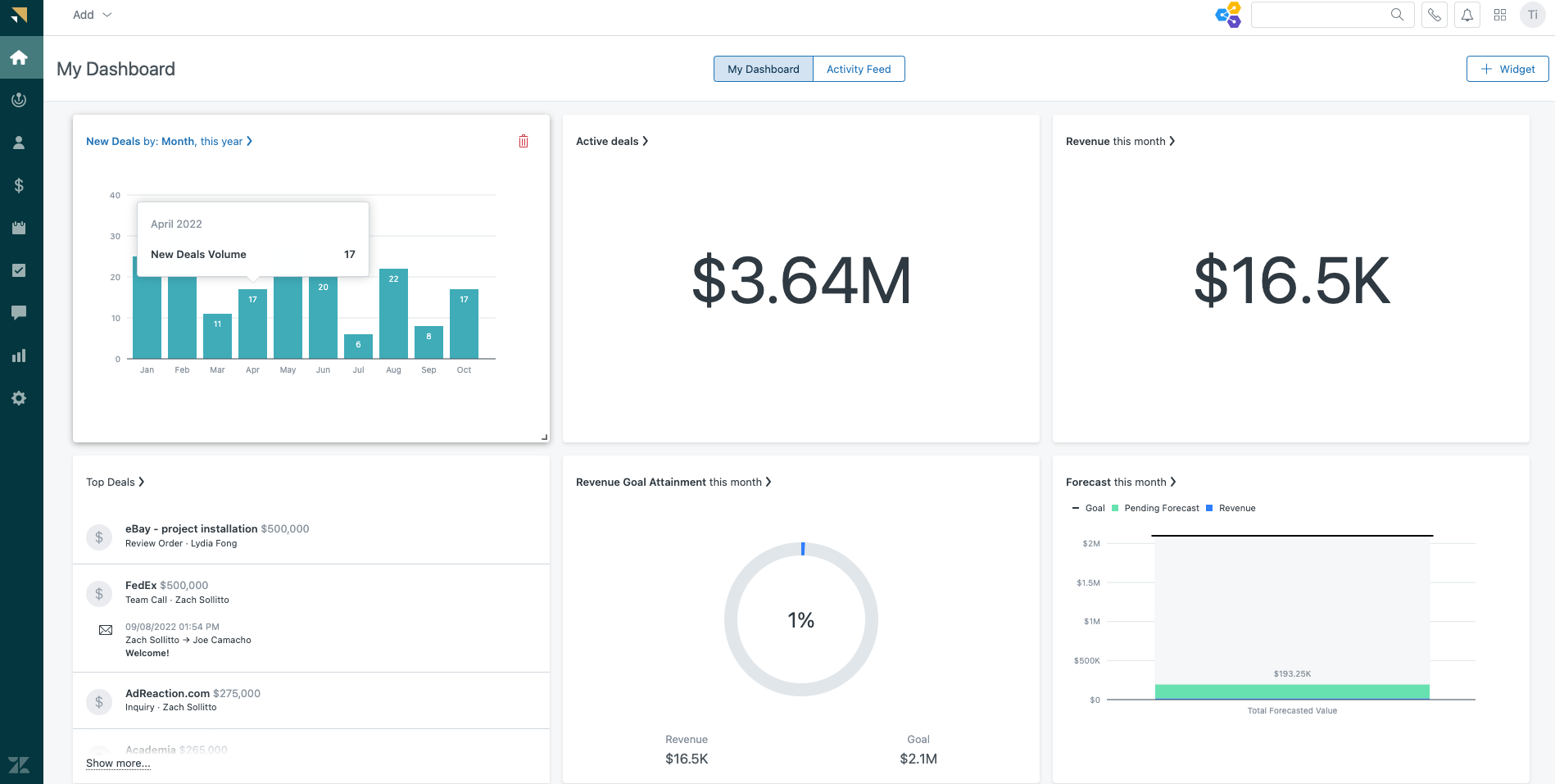 (Source)
Zendesk Sell was one of the first outreach sales engagement platforms I used years ago. Fast forward to the present day, I tested it to see if the software has improved over the years. Well, it definitely has!
The lead generation tool. It's a new addition that looks promising, especially for someone who struggled to build a lead list and automate engagement with them.
I used to spend hours scouring for and qualifying prospects. But now? I can get this done in a few minutes using the tool – it's that efficient!
Another amazing thing about the tool is that it allows me to automate my outreach. I can build email sequences that are tailored to specific lead segments.
Besides, it also lets me filter leads by industry, demographics, title, etc. This way, I can create targeted lead lists and drive more relevant engagement.
What You'll Like:
It gives you a complete view of your sales pipeline, enabling you to see where leads are in the sales process and identify bottlenecks

Allows sales reps to create smart lists and templates to automate their outreach

Email automation features let you build custom sequences for specific lead segments

The ability to track metrics like lead conversion rates, sales cycle length, etc., helps improve sales strategies

The mobile app facilitates remote access to leads, deals, and tasks
What You May Not Like:
You only get up to 2 customizable sales pipelines in the starter plan

Some users have reported that customer support is slow and unresponsive
Pricing:
Starts at

$19/agent/month

.
6.
Freshsales
–
Best for Sales Sequence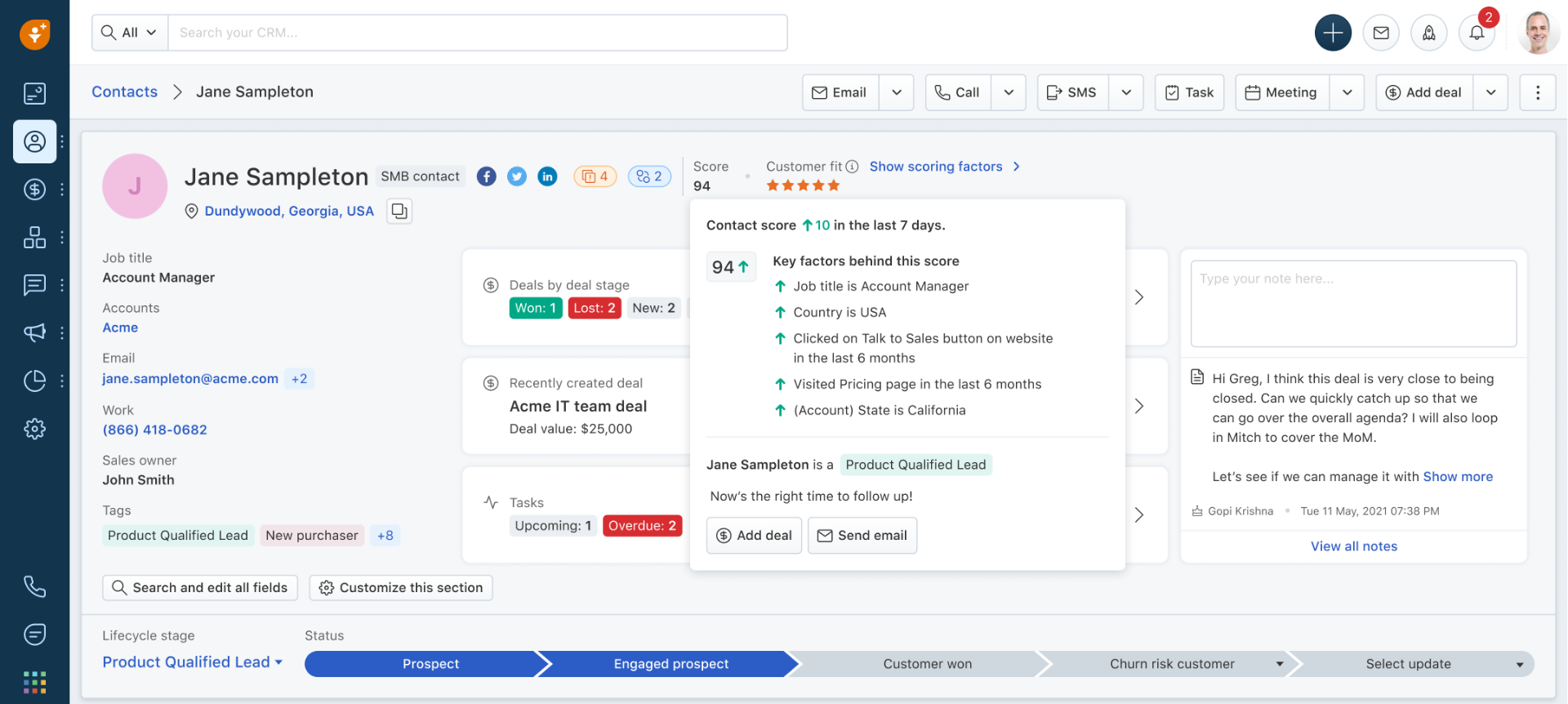 (Source)
I recently attended a virtual conference by Freshworks, where I came across their sales engagement application – Freshsales.
One of the features that caught my eye was 'sales sequences.'
These are automated workflows that help salespeople like me manage outreach better. It allows me to create a series of scheduled sales touchpoints, such as emails, phone calls, SMSes, and reminders, to optimize sales processes and ensure consistent customer interactions.
The conference also showcased some other regular but useful features of the tool, including lead scoring, email tracking, etc.
So, if you're a salesperson looking to automate outreach and close more deals, Freshsales can be a good choice.
What You'll Like:
It gives a 360° view, including emails, interaction history, and preferences of your contacts to make sales engagement more personalized

An organized view of the sales pipeline to easily track and prioritize leads

Detailed reporting and analytics feature to help you identify areas for improvement

AI-powered insights and recommendations to improve sales engagement, identify and upsell opportunities, etc.

The ability to engage with prospects on the go using the mobile application
What You May Not Like:
The free plan misses several features like workflow automation, sales sequences, contact scoring, etc.

Compared to its competitors, Freshsales offers fewer third-party integrations.
Pricing:
A free plan is available (3 users only). Paid options start at

$15/user/month

.
7.
Zoho SalesIQ
–
Best for Lead Scoring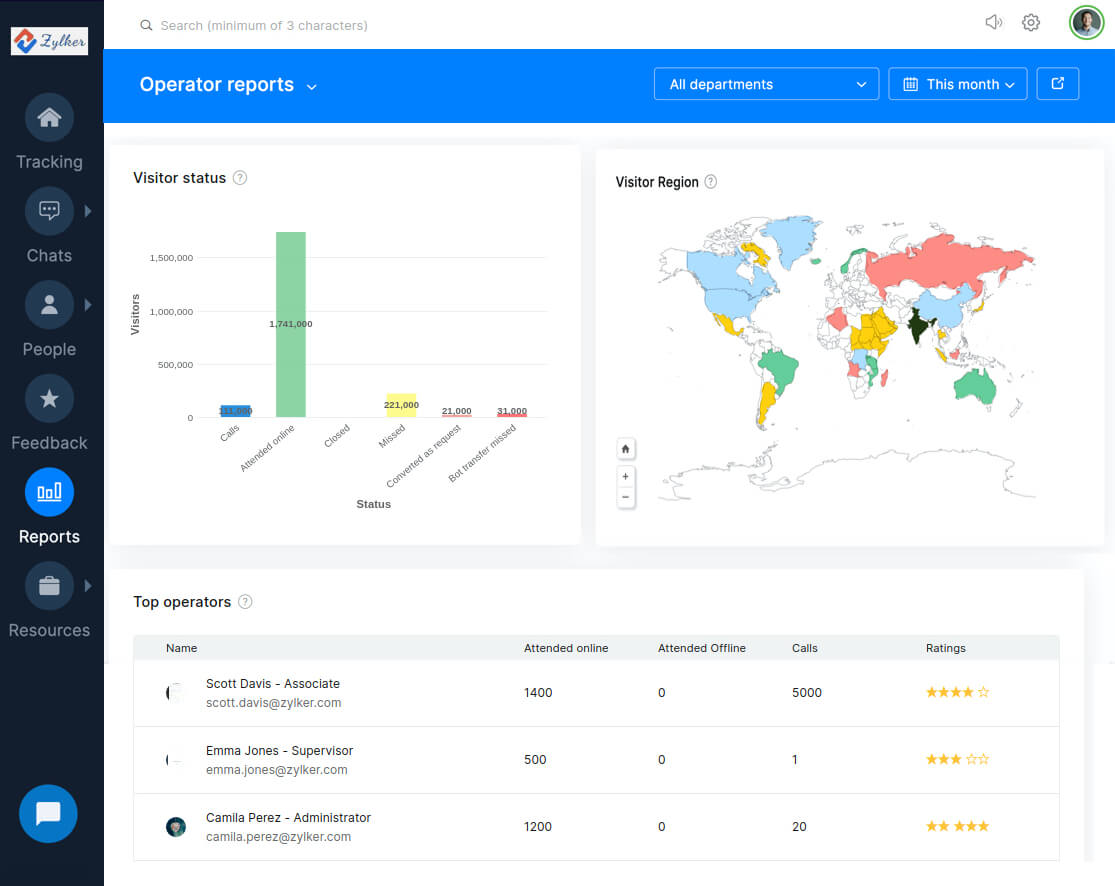 (Source)
Based on multiple recommendations by industry peers, I decided to try Zoho SalesIQ.
The tool's lead-scoring capability is definitely a highlight. It lets you prioritize sales engagement by assigning a value to each lead based on their level of interest and potential.
For example, let's say you have two visitors on your website: Lisa and Jon.
Lisa is browsing through products, clicking on different pages, and spending a lot of time on the site. Jon is just looking at the homepage, scrolling, and about to leave. Zoho SalesIQ automatically assigns a higher score to Lisa than Jon, indicating that she is more likely to buy from you.
This is a game-changer because instead of wasting time on unqualified leads, you can focus on the ones most likely to convert into customers.
What You'll Like:
Visitor behavior tracking on your website, including their location, pages visited, etc.

Assign scores to leads based on their engagement level with your website

Automated repetitive tasks such as lead nurturing, follow-up emails, appointment scheduling, etc.

Detailed reports on chat volume, visitor engagement, agent performance, etc., to help you optimize the sales funnel

Integration with popular CRM systems, such as Salesforce, Zoho CRM, and HubSpot, enables data syncing in one place.
What You May Not Like:
The free version misses out on several features like lead scoring, chatbot support, etc.

Occasional bugs and glitches, like not receiving alerts when someone tries to communicate
Pricing:
A free plan is available (limited monthly visitors). Paid options start at

$17/operator/month

.
Which is the Best Sales Engagement Tool?
Delivering high-quality sales interactions is a top priority for businesses across different industries. And with the right sales engagement platform for your business, you can make the most out of every opportunity.
To sum things up, here are my top three choices from the list above-
Option A: BIGContacts
BIGContacts CRM offers robust features and ease of use, making it ideal for small and medium-sized businesses. It facilitates pipeline management, providing a clear view of where each lead is in the pipeline so that you can engage more effectively. The software also has email marketing capabilities, allowing you to create drip email campaigns and automate them based on specific criteria or triggers.
Option B: Salesforce Sales Cloud
Salesforce's Sales Cloud offers an engagement intelligence feature that provides valuable insights into customer behavior, such as whether they opened an email, clicked on a link, etc. The platform also offers a wealth of dashboards to analyze sales data and make informed decisions, including custom reports for improved visibility into sales performance.
Option C: Zoho SalesIQ
Zoho SalesIQ is a CRM that offers lead-scoring capabilities, allowing you to prioritize sales engagement by assigning a score to each lead based on their level of interest and potential. It also provides real-time reporting and other advanced features in its paid version, which can further enhance your sales engagement capabilities.
Now, here's the main question – Who takes the crown? Well, I'd say BIGContacts.
That's because it is a simple-to-use software tool, has great affordability, and comes with a responsive customer service team. The features it offers also make it one of the best value-for-money products in the lot.
Learn More About Sales Engagement Software
What is sales engagement software?
Sales engagement software is a cloud-based platform that helps you automate, streamline, and personalize interactions with prospects and customers across the entire sales cycle.
A professional sales engagement platform like BIGContacts provides a centralized hub for managing sales activities – such as email outreach, social media engagement, meeting scheduling, etc.
What are the features of a sales engagement solution?
Sales engagement tools offer a wide range of features, including –
Lead scoring and qualification

Email outreach

Social media engagement

Meeting scheduling

Sales analytics
How do you choose the best sales engagement system?
Here is a compact summary of how to choose the best sales engagement system for your company:
Identify your needs:

What features are most important to your sales team? Knowing what you need can narrow down your options.

Consider your budget:

It's essential to find a system that

fits your budget

and needs.

Read reviews:

This helps you get a sense of what the system is like to use and how well it works with other users.

Get a demo / free trial / free plan:

Most sales engagement systems offer

demos

,

free trials, or even free plans. This is a great way to try out the system and see if it's a good fit for your team.
Ease of use:

Your sales reps should be able to spend their time selling, not trying to figure out how to use their sales engagement system.
What are the benefits of using sales engagement software?
Some of the most common benefits of using sales engagement applications are –
Improved personalization:

You can personalize customer interactions by using data to

segment your audience

and send targeted messages. This can lead to higher engagement rates and conversion rates.

Increased productivity and efficiency:

With a sales engagement app, you can automate repetitive tasks. This frees up time to focus on more strategic activities, such as building relationships with prospects and closing deals.

Better insights:

Your sales team gets insights into their

sales pipeline

, performance, and opportunities for improvement. This information can be used to optimize their sales process and close more deals.
What does a sales engagement software cost to a small business or startup?
There is no fixed price for sales or lead engagement software, and it can cost from less than $10 to more than $100 per month. It depends on the vendor and the features offered.
For example, an affordable product like BIGContacts only costs $5 per user per month. It's a great option for startups and small businesses looking for a simple software solution to manage sales engagement.
Do you want to make more sales?
BIGContacts is the #1 contact management software & CRM to close more sales.