Pipedrive is a CRM tool that can help businesses visualize and manage their sales pipeline effectively. It is one of the most well-known names in the CRM industry, offering advanced features such as email marketing, automation, etc.
However, its popularity alone cannot warrant its success for every enterprise.
Every business has different expectations from the best CRM tool.
This is why, regardless of all the benefits that Pipedrive provides, it may not be a suitable CRM solution for your company.
You must consider several features when choosing a CRM solution. While Pipedrive may seem like a good choice initially, there are chances it may not offer the specifications that you are looking for.
In this blog, we have compared the key features, pricing options, and advantages of the ten best Pipedrive alternative software that you can try instead!
Overview of the Top 10 Pipedrive Alternatives
Software
Key Features
Pricing
BIGContacts
Email marketing
Pipeline management
Custom field & views
Lead capturing
Reporting & analytics

Free Trial- 15 days
Big- $5/user/month
Bigger- $15/user/month
Biggest- $25/user/month
Enterprise- Custom pricing
Hubspot
Visual sales pipeline
Task management
Prospect tracking
Customizable contact records
Comprehensive dashboard


Free for unlimited users
Starter- $45/month
Professional- $800/month
Enterprise- $3,200/month

Zoho CRM
Workflow automation
Intelligent predictions
Lead management
Collaborative tools
Mobile application

Free for 3 users
Starter- $14/user/month
Professional- $23/user/month
Enterprise-$40/user/month
Ultimate- $52/user/month

Salesforce
Automated tasks & processes
Opportunity tracking
Cloud-based access
Workflow management
Alerts & notifications

Essentials- $25/user/month
Professional- $75/user/month
Enterprise- $150/user/month
Unlimited- $300/user/month

Nutshell
Email marketing integration
Contact management
Pipeline management
Marketing automation
Collaborative tools

Starter- $19/user/month
Pro- $35/user/month

Insightly
Communication tracking
Lead capturing & nurturing
Drag & drop UI
Workflow automation
Remote access


Plus- $29/user/month
Professional- $49/user/month
Enterprise- $99/user/month

Zendesk Sell
Visual sales pipeline
Mobile CRM
Direct calling
Powerful integrations
Marketing automation

Sell Team- $19/user/month
Sell Professional- $49/user/month
Sell Enterprise- $99/user/month

Freshworks
Contact management
Business intelligence
Email marketing integration
Customizable interface
Lead capturing

Free for unlimited users

Growth- $15/user/month
Pro- $39/user/month
Enterprise- $69/user/month

Monday.com
Customizable dashboard
Automated emails
Advanced reporting & analytics
Mobile application
Task & activity tracking

Free for 2 users

Standard- $10/user/month
Pro- $16/user/month
Enterprise- Price variable

Nimble
Detailed, custom contact records
Email personalization & tracking
Instant notifications
Sales pipeline management
Team calendar & task management

$19/user/month
What is Pipedrive?
Pipedrive is an efficient sales CRM solution that helps businesses drive leads toward conversion.
This CRM tool focuses on sales pipeline management and allows sales representatives to keep track of every available opportunity.
Pipedrive has been a popular CRM choice for businesses that need a clutter-free tool that maximizes their selling potential. It is packed with advanced features such as email integration and custom reporting. You can also use Pipedrive to automate repetitive tasks to save time and increase productivity.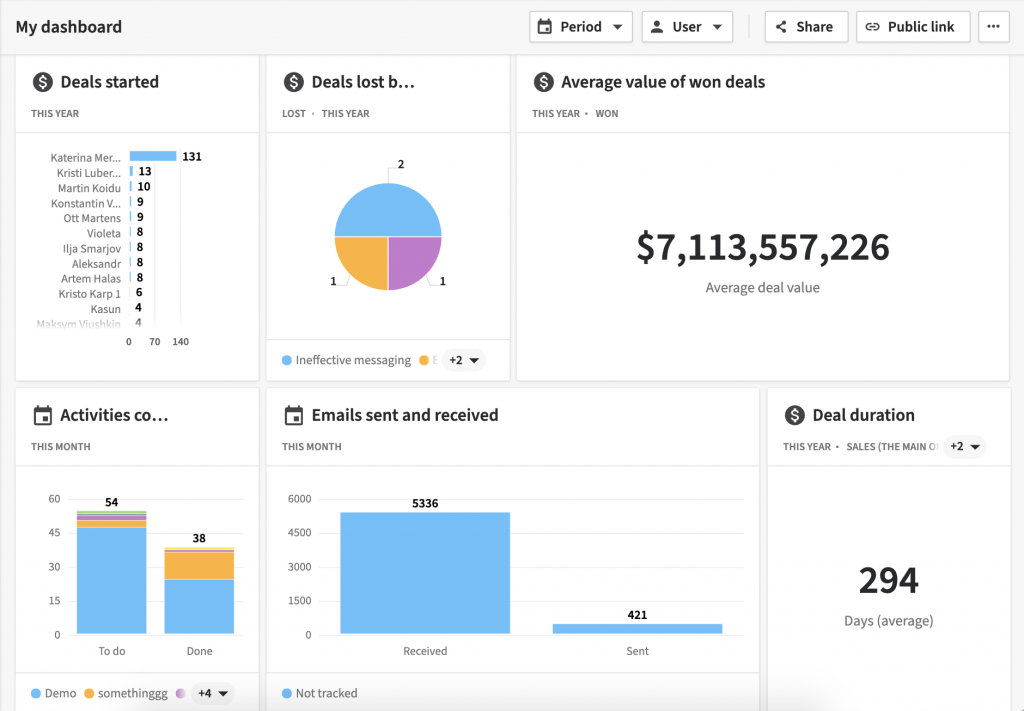 Special Features of Pipedrive-
Lead Management
Customizable sales pipeline
Mobile CRM
Communication tracking
Built-in analytics
Task reminders
Easy data migration
Pricing-
The following pricing tiers are available for Pipedrive CRM-
Essential- $12.50/user/month
Advanced- $24.90/user/month
Professional-$49.90/user/month
Enterprise- $99/user/month
Why Look for Pipedrive Alternatives?
The implementation of CRM can drive sales up by 29% and shorten the sales cycle by 8-14%.
However, you need a tool that perfectly aligns with your business objectives to see these numbers changing into real profit for your enterprise.
Remember- There is no one size fits all solution when it comes to CRM.
Although Pipedrive is a good CRM solution, it may not be the right choice for your business.
Here are common reasons why businesses have to look for Pipedrive best alternative:
More Affordable Pricing
Most of the advanced features of Pipedrive, such as automation, forecasting, etc., are only available for the higher-paid versions. Pipedrive also does not offer a free plan. If budget is a concern for your business, you should consider more affordable options such as BIGContacts which provide the same value as Pipedrive for significantly lower prices.
Better Customer Support
A common reason why people look for Pipedrive CRM alternatives is customer support failing to meet their expectations. Pipedrive only offers onboarding support for higher-paid versions. This can lead to frustration and have customers looking for other options that provide reliable and prompt customer support.
Ease of Usage
If you do not find the interface of Pipedrive suitable for your business operations, you can find other tools that are much more customizable. A CRM tool that gets in the way of your processes and further complicates things is bound to cause a loss of productivity.
Improved Reporting
Some of the reporting features of Pipedrive are not as efficient and intuitive as you would expect. Since pulling some reports is difficult and time-consuming, it is better to look for alternatives if you want more relevant and comprehensive insights for your business.
Strengthened Internal Collaboration
There are chances of your team finding the tool restrictive in terms of collaboration. If that is the case, you need to find a tool that makes it easy for all your team members to work on a unified platform.
Our Selection Criteria for the Best Pipedrive Alternatives
Choosing one out of the numerous Pipedrive alternative software can be a daunting task for your team.
There are countless things to consider and so many options to go through.
To help you make the best decision, we have compiled a list of better alternatives to Pipedrive CRM, keeping in mind the following-
Pricing
For a tool to be a reliable Pipedrive alternative, it has to match its pricing. We have only included tools that offer high value for money and competitive pricing.
User Reviews
To better understand how functional and satisfactory the tools are, we have considered the user reviews for the tools from reliable sources such as Capterra and GetApp.
Ratings
We have also considered the product rating for various tools before making the final selection for the best alternatives to Pipedrive.
Functionality
The tools should match the core functionality of Pipedrive to qualify as suitable alternatives. We have considered multiple features, including email tracking, data syncing, task management, analytics, and easy setup for making the selection.
Read More: Free CRM Comparison Spreadsheet (+ How to Choose a CRM)
Essential Features to Look for in Pipedrive Alternatives
Investing in the right CRM solution can streamline all your operations, helping you attain better productivity and retain more customers.
To find a suitable Pipedrive alternative for your business, you need to look for the following features:
Pipeline Management
Pipeline management offers you the ability to customize and visualize the sales pipeline to get a clearer picture of all the opportunities your team is working with.
Integrations
The CRM must connect effectively with other business applications to create a comprehensive user experience and save time.
Customization
Custom data fields, views, modules, user roles, etc., can help you adapt the CRM according to your needs.
Scalability
The tool should have the ability to grow with your business. Investing in a scalable CRM can be significantly profitable for your enterprise in the long run.
Automation
Automation of manual tasks like data entry can free up time for more critical tasks that can bring in more revenue and help you keep customers satisfied.
Contact Management
The CRM tool should help create a comprehensive database with all essential information, including contact details, address, social media activity, previous engagement, etc.
Workflow Management
A CRM tool that streamlines your workflow and helps keep everything on track can result in improved organizational efficiency.
Alerts & Notifications
You can stay updated with all recent developments and never drop the ball with prospects by choosing a tool that offers instant alerts and notifications.
Lead capturing
The CRM tool should provide you with centralized access to quality leads collected from multiple sources, including websites, forms, etc.
Email Marketing
A powerful CRM tool integrated with email marketing can help you connect with prospects and customers through personalized emails, driving more conversions.
Mobile CRM
With mobile CRM, you can get access to essential contact information anywhere, anytime! You can work on the go and never miss out on important updates with remote access to CRM data.
Read More: 24 Things to Consider When Choosing a Small Business CRM
Top 10 Best Pipedrive Alternatives and Competitors
If you find Pipedrive to be getting too limited for your business operations, it's time to invest in a more scalable, easy-to-navigate, and affordable CRM solution.
Here are the ten best Pipedrive alternatives that you should check out!
1. BIGContacts
BIGContacts by ProProfs is a powerful CRM solution designed for small to medium-sized enterprises. This uncomplicated contact management tool is changing the landscape of customer relationship management. BIGContacts can help you manage and customize your sales pipeline easily. Additionally, it offers marketing automation, reporting & analytics, workflow management, popup email form, helpdesk integration, and social media tracking to improve your customer relationships further. The cherry on top of this Pipedrive alternative is that all of its advanced functionalities are offered at highly affordable prices.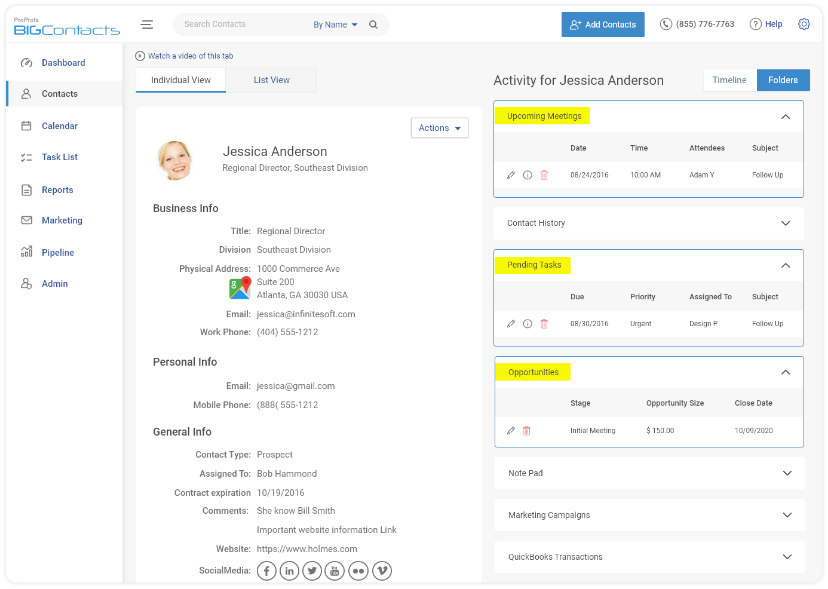 Best Features of BIGContacts:
Sales and marketing automation
Powerful integrations, including Skype, MailChimp, etc.
Email and letter templates
Team and individual calendar view
Mobile CRM
Webform connection for lead generation
Pricing:
Free Trial- 15 days
Big- $5/user/month
Bigger- $15/user/month
Biggest- $25/user/month
Enterprise- Custom pricing
What Is Unique About BIGContacts
Clutter-free interface, easy to implement

Automated follow-ups

Highly customizable
2. Hubspot
Hubspot CRM is a free Pipedrive alternative that can be a great solution for beginners. This CRM offers the basic features for free and can be expanded in terms of functionality as you continue to work with it. Hubspot is a great Pipedrive alternative that can be used by sales professionals to keep all information organized and readily available. It also offers features such as pipeline management, custom reporting, and lead generation. Hubspot can help you send personalized emails to form better customer relationships and retain customers in the long run.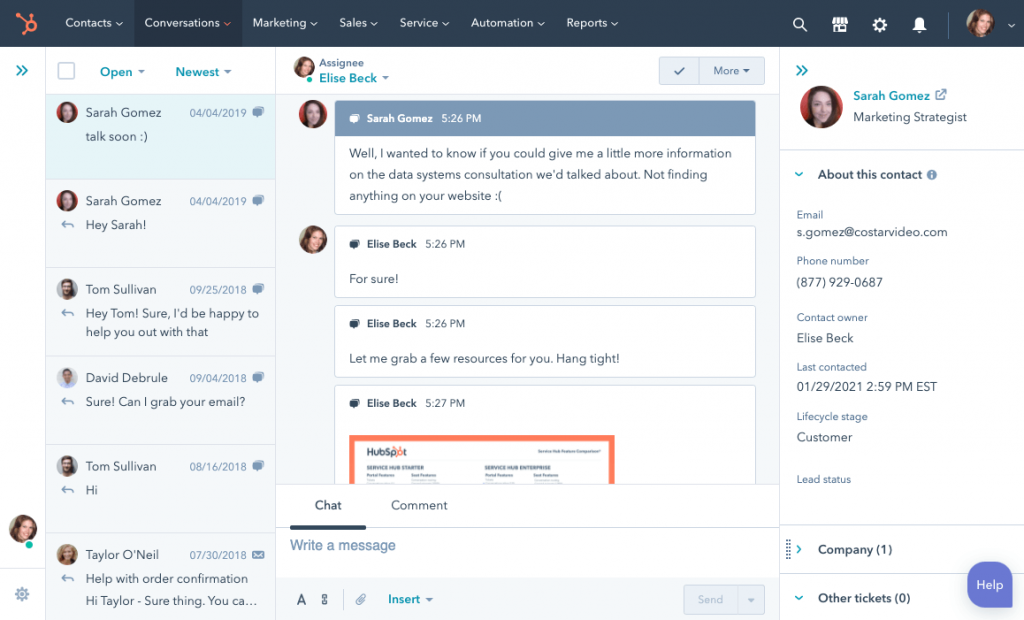 Best Features of Hubspot CRM:
Effective contact management
Live chat & ticketing
Comprehensive dashboard
Opportunity tracking
Email integration
Pricing:
Hubspot offers the basic version of the tool for free. You can go for the premium versions for improved functionality. The pricing tiers for these versions are:
Starter- $45/month
Professional- $800/month
Enterprise- $3,200/month
Why We Picked It, What Is Unique About
Hubspot
Free without any limit on the number of users

Detailed reports

Automatically synced data
3. Zoho CRM
Zoho CRM is a great tool for collaboration and contact management. This can serve as a suitable alternative to Pipedrive for businesses that are looking to manage multiple business processes from a single platform. Zoho is scalable, customizable, and offers automation capabilities. You can use this CRM tool to track various KPIs and generate reports to get better insights into your business operations. Zoho CRM can transform your customer relationships by crafting unique and personalized experiences for customers across a variety of engagement channels.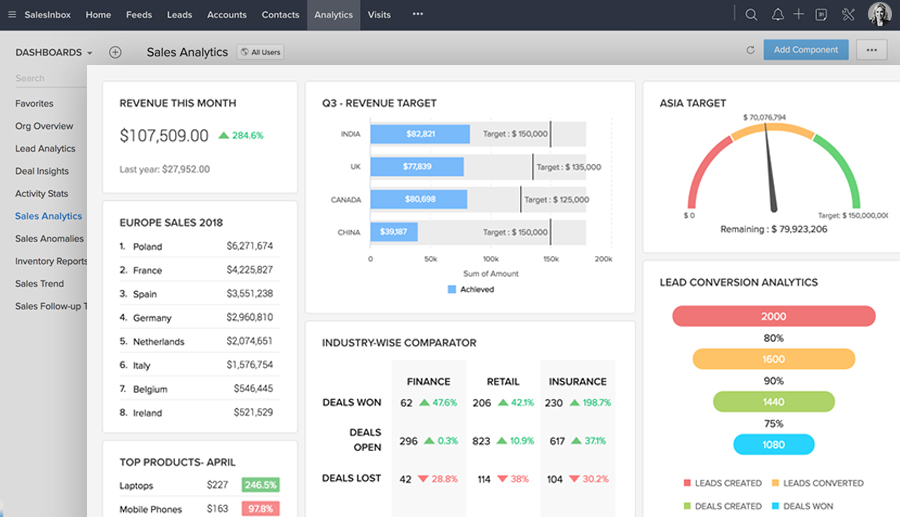 Best Features of Zoho CRM:
Workflow management & automation
AI assistant
Custom fields, layouts, and views
Integrations such as Google Drive and MailChimp
Remote access with mobile CRM
Pricing:
Zoho CRM has a free version available for up to three users. The other pricing options available for this CRM tool include the following:
Starter- $14/user/month
Professional- $23/user/month
Enterprise-$40/user/month
Ultimate- $52/user/month
Why We Picked It, What Is Unique About
Zoho
Free plan for three users

Cloud-based access

AI assistant- Zia offers predictive sales and other business intelligence tools
4. Salesforce
Salesforce is a highly popular name in the CRM industry. This cloud-based CRM solution is the ideal choice for large-scale enterprises that have to work with high volumes of data. Salesforce allows you to share data and updates across the team with ease. It also works in perfect synchronization with a variety of other business applications. You can use Salesforce to keep track of all previous customer interactions, assign tasks to team members and make accurate business forecasts.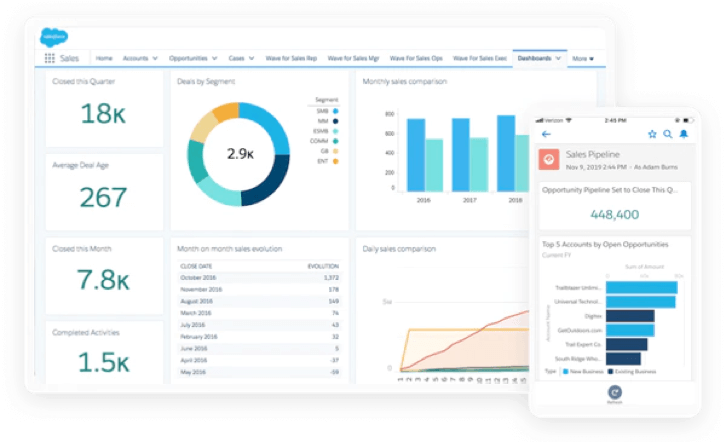 Best Features of Salesforce CRM:
Workflow automation
Popup email
Pipeline management
Productivity & collaboration tools
Contact prospects and customers directly
Pricing:
Essentials- $25/user/month
Professional- $75/user/month
Enterprise- $150/user/month
Unlimited- $300/user/month
Why We Picked It, What Is Unique About
Salesforce
Real-time alerts and notifications

Extensive documentation

Control and modify user roles however you like
5. LeadSquared
LeadSquared is a tough competition to Pipedrive as they both aim to manage and optimize sales processes. However, LeadSquared provides some additional features like Smart Views (the ability to see only the leads assigned to reps and their journey in the sales pipeline), dynamic forms for call/meeting disposition, and is highly customizable to industry-specific use cases.
The following are reasons why LeadSquared sales execution CRM makes a better alternative to Pipedrive.
Best features of LeadSquared CRM:
Lead management

Sales process management

Ability to track target vs. achievement at individual and team level

The automated transition of leads across various stages of sales pipeline basis leads and sales activities
Pricing:
The pricing for LeadSquared starts at $25 per user per month
Why We Picked It, What Is Unique About LeadSquared
Highly customizable to a company's specific use cases

Easy to adopt – requires very less training

No-code automation
6. Nutshell
Nutshell can be a suitable alternative for Pipedrive if you want a simple yet effective CRM solution. This tool can bring all your team members together on a single platform. It offers reliable contact management and email marketing functionality. You can rely on the sales and marketing automation of Nutshell to get things done on time. Nutshell CRM also offers reliable reporting tools to help you gauge the effectiveness of your business operations.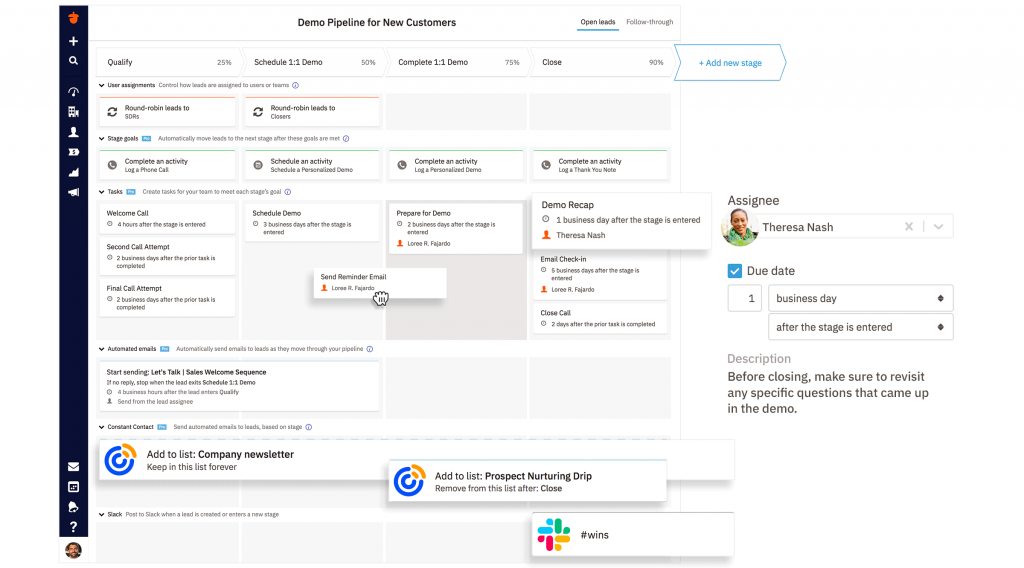 Best Features of Nutshell:
One-click calling
Customizable reports
Marketing automation
Instant alerts
Live customer support
Pricing:
Starter- $19/user/month
Pro- $35/user/month
Why We Picked It, What Is Unique About Nutshell
Onboarding support for implementation

Sales automation frees up more time for selling

Highly flexible CRM solution
7. Insightly
Insightly CRM is preferred by businesses that strive to make their customer experiences much more personalized. This CRM tool is highly adaptable and can deliver upon your business requirements effectively. Insightly can help you optimize your interactions with customers and log them in a single place to keep things organized. It can also help you acquire leads and move them through your sales funnel. Anyone from your team can access updated contact information using Insightly to deliver improved customer experiences.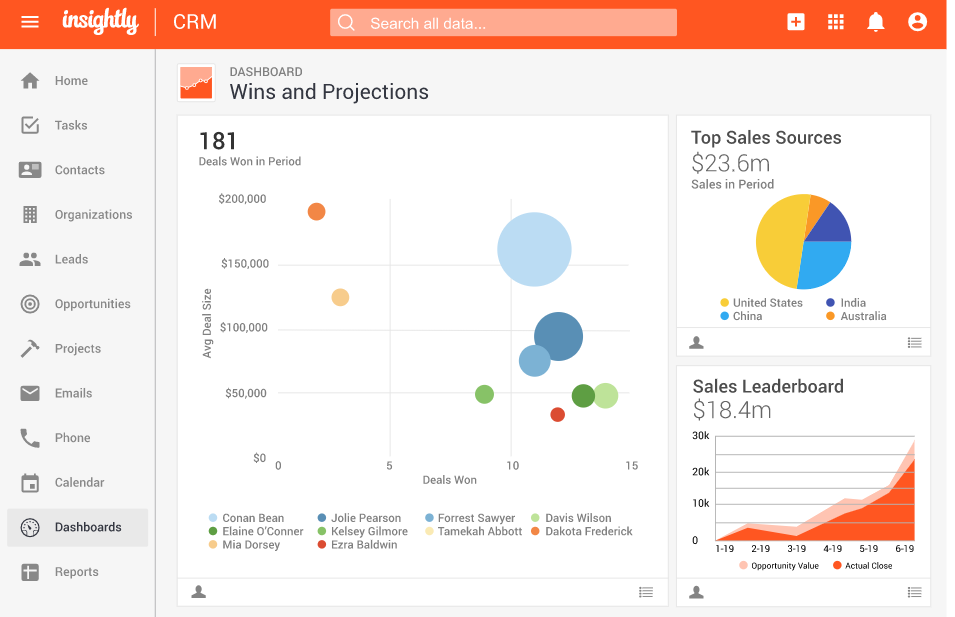 Best Features of Insightly:
Workflow automation
Visualize data with powerful reporting
Comprehensive, customizable dashboard
Customize user roles & permissions
Android and iOS mobile applications
Pricing:
Plus- $29/user/month
Professional- $49/user/month
Enterprise- $99/user/month
Why We Picked It, What Is Unique About Insightly
Easy to setup

Project management capabilities

Lead prioritization & routing
8. Zendesk Sell
Zendesk Sell is a CRM solution that can empower sales teams to drive more leads toward conversion. The tool can help maximize the productivity of your team by helping boost collaboration and providing remote access to essential data. Zendesk Sell can serve as a Pipedrive best alternative with its pipeline management, email automation, and forecasting capabilities. Adding to that, it is highly customizable and offers a vast number of integrations with other business tools.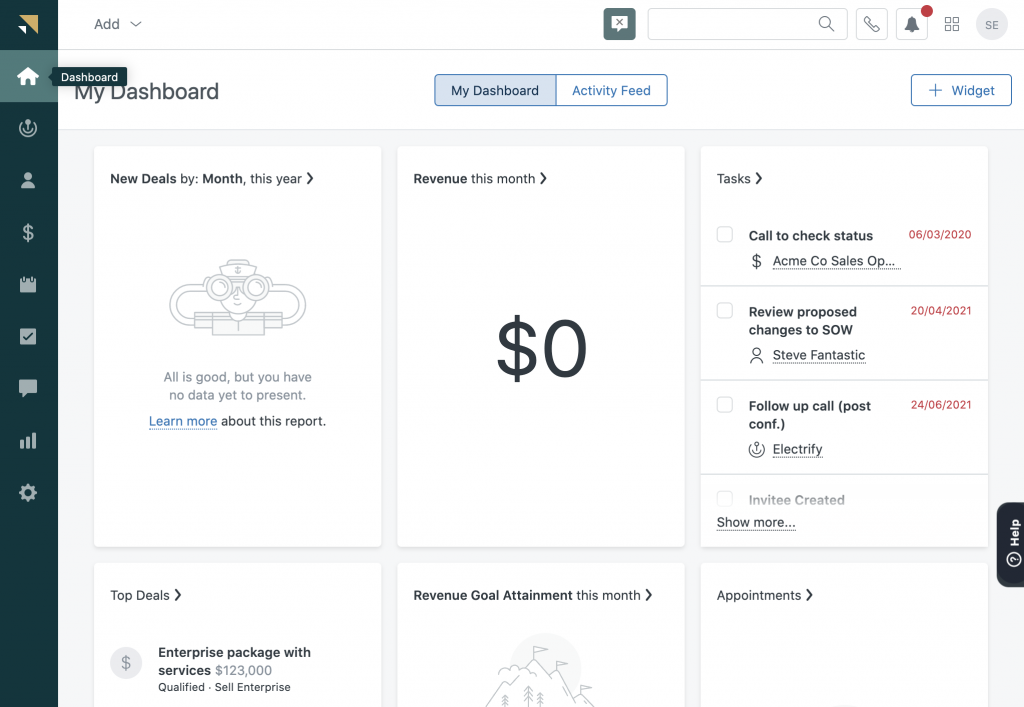 Best Features of Zendesk Sell:
Activity and workflow management
Real-time updates
Lead prospecting
Reporting & analytics
Customer segmentation for improved targeting
Pricing:
Sell Team- $19/user/month
Sell Professional- $49/user/month
Sell Enterprise- $99/user/month
Why We Picked It, What Is Unique About Zendesk
Log all customer interactions in one place

Visible sales pipeline

Improved collaboration within the organization
9. Freshworks
If you need an easy-to-use alternative to Pipedrive, Freshworks is definitely worth a try. This is an affordable CRM solution that is scalable and customizable. A significant advantage of Freshworks over Pipedrive is the customer support that it offers. You can use Freshworks to keep your contact data organized and run effective marketing campaigns. It can be used for automating emails, scheduling calls, managing opportunities, and generating reports.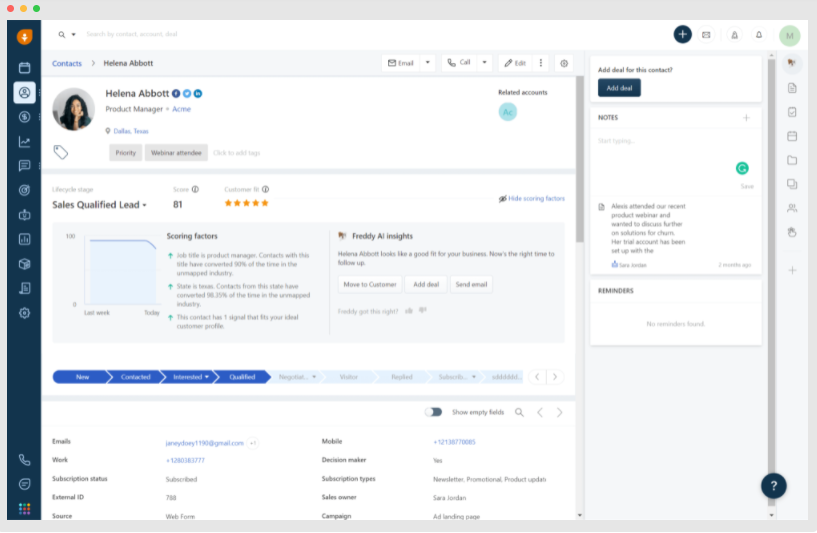 Best Features of Freshworks:
Two-way email synchronization
Accurate predictions with AI
Automation of manual, repetitive tasks
Sales pipeline management
Custom and standard reports
Pricing:
Freshworks has a free version available for unlimited users. Other than this, the following pricing options are available:
Growth- $15/user/month
Pro- $39/user/month
Enterprise- $69/user/month
Why We Picked It, What Is Unique About Freshworks
Customizable email templates

Lead scoring

Customizable fields, activities, and user roles
10. monday.com
Several businesses prefer monday.com over Pipedrive because of its industry-specific features and templates. This CRM tool can help you streamline all your business processes and manage everything from a single place. monday.com offers remote access to the data, allowing you to work on the go. You can use this tool to visualize important data and make accurate decisions for your business. Another significant advantage that monday.com presents is that it can work well with various other business applications, including Gmail, PandaDoc, etc.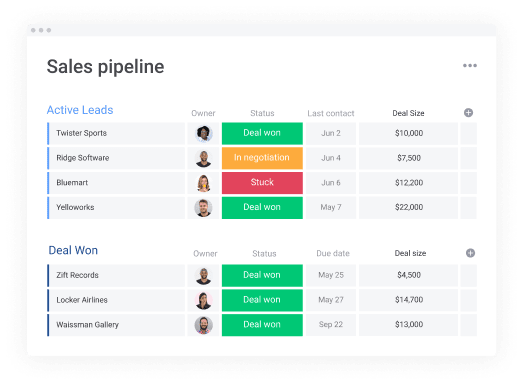 Best Features of monday.com:
Intuitive UI that saves time
Workflow automation
Lead management
Communication tracking
Custom dashboard
Pricing:
A free version of monday.com is available for two users.
The paid pricing options for monday.com are listed below:
Standard- $10/user/month
Pro- $16/user/month
Enterprise- Price variable
Why We Picked It, What Is Unique About monday.com
Extremely simple to implement and navigate

Highly customizable

360° view of all data, completed activities, and pending tasks
11. Nimble
If you are looking for Pipedrive competitors that can help your business grow, Nimble can be a great choice. This CRM tool can help your team achieve better productivity by bringing all essential data to one platform. You can use Nimble to customize and manage your sales process efficiently. It can also help you generate custom reports to monitor the performance of your business operations.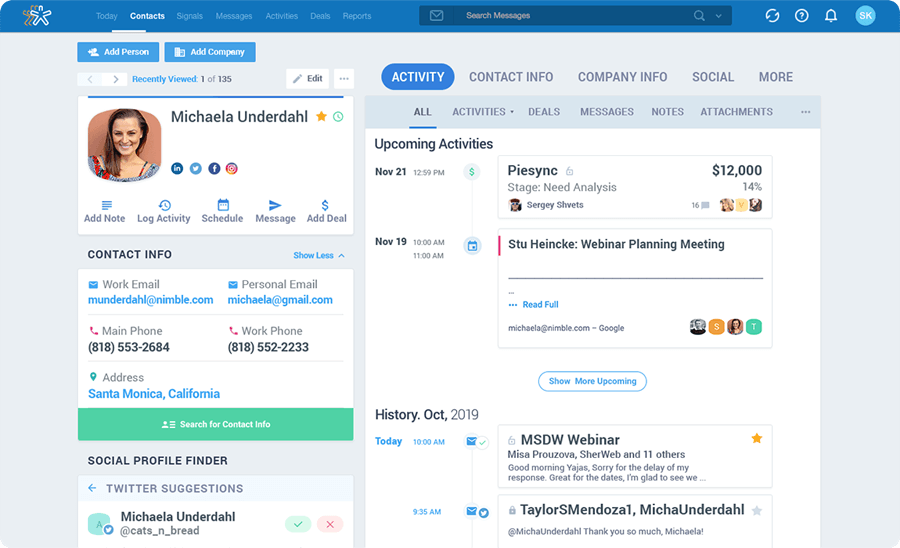 Best Features of Nimble:
Activity & communication tracking
Customer segmentation
Detailed contact profiles
Customizable dashboard
Android, and iOS mobile applications
Pricing:
Nimble Business is available for $19/user/month.
Why We Picked It, What Is Unique About Nimble
Deal and pipeline management

Integrations such as Gmail, Outlook, etc.

Email marketing capabilities
The Best Alternatives to Pipedrive- Which One Should You Go For?
Choosing the best alternative to Pipedrive may seem overwhelming to you at first. The decision can be made easier by taking your exact requirements, and pain points into account.
The rule of thumb is to prioritize your specific business needs over the tool's popularity when choosing a CRM solution.
The best CRM tool for your business is one that suits you!
Our best pick: The best Pipedrive alternative that you can work with is BIGContacts because of its easy-to-use design, affordability, and powerful automation.
Make sure to compare the features, pricing, and scalability of various Pipedrive alternatives before making a final decision. You can also opt for free trials of these products to get a first-hand experience of how well they fit into your business.