Missed follow-ups inevitably result in the loss of important opportunities.
But with so many prospects to keep track of, how do you ensure that follow-up emails are delivered to them at the right time? Furthermore, how do you ascertain that the emails are highly relevant to your audience, based on the stage they are currently in?
This is where email drip campaign software can come in handy.
Drips, which is a fairly common term in marketing circles, is an indispensable part of email marketing.
Drip emails essentially refer to a series of automated emails delivered to prospects based on their position and actions. However, merely sending emails at different times in the sales cycle is not enough.
To obtain real benefits, you must gauge the needs of your prospects and customers and target them with highly-relevant emails. Moreover, you need to automate the delivery process so there is no room for inconsistencies. This is why having a reliable campaign management tool at your disposal is necessary.
In this blog, we compare the 11 best drip campaign software that can help you grow your sales. Refer to this detailed comparison guide, including the features, pros, cons, and pricing of each tool, to make a well-informed decision.
What is a Drip Campaign?
Drip email campaigns involve sending a series of automated emails over time, prompted by specific actions. These actions could include a prospect downloading an e-book or subscribing to your blog or newsletter. Such email sequences can be set up for onboarding, cross-selling, up-selling, reducing cart abandonment, or following up post events.
Now, let's approach drip emails from the customer's perspective.
Pospective customers, who are new to a business, have endless questions in their minds. Businesses tend to bombard such prospects with information, which is not just inconvenient but also counterproductive.
To avoid this, it is crucial to break down complex pieces of information into manageable chunks and deliver them over time. This is what drip email campaigns help accomplish. You can control how frequently you share drip emails and define their sequence to align them with the buyer's journey.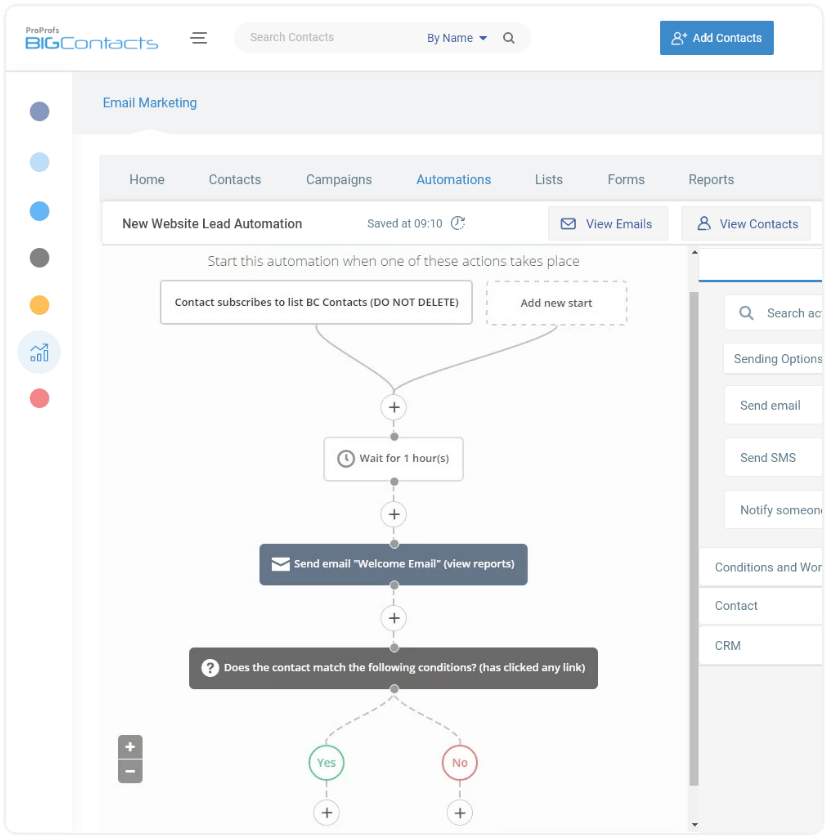 Benefits of Drip Campaign Software
Drip campaigns can produce a whopping 119% increase in click rate. Now, such an appealing figure definitely needs more attention.
Drip email campaigns not only require less work but also ensure that there are no errors or delays in communication. Automated drip campaigns can help you deliver information to your customers as and when they need it.
With the right drip email campaign software, you can achieve this and much more. Here are some significant advantages that this tool can bring to your business:
Drive Revenue Growth:
Drip emails can boost revenue growth for your organization. By helping design and deliver effective emails, a drip campaign tool can help you drive more leads toward successful outcomes.
Automate Processes:
The automation capabilities of a drip email campaign tool let you be more efficient with your time. Drip campaigns work on their own once you set them up, saving you considerable time and effort.
Integrate Effortlessly:
A drip email campaign tool can be connected with various other business applications such as analytics or CRM applications. These integrations empower you to enhance your email campaigns significantly.
Deliver Bulk Emails:
Sending personalized emails to a large number of customers in one go can help marketers be more productive and drive more leads toward conversion.
Segment Customer Base:
With a drip email campaign tool, you can easily segment the mailing list based on specific criteria and ensure that relevant information is delivered to the right people on time.
Measure Campaign Performance:
Drip email software lets you monitor your campaigns' performances by tracking metrics such as open rate, click rate, bounce rate, etc., with the help of in-depth reports and analytics.
Overview of the Best Drip Campaign Software
Software
Key Features
Pricing
BIGContacts
Automated drips
Reporting & analytics
Static & dynamic contact lists
Starts from $5/user/month
Mailchimp
Customer segmentation
A/B testing
Reporting & analytics
Starts from $9.99/month
Flodesk
Intuitive email builder
Ready-to-use templates
Automated workflows
$38/month
ConvertKit
Email templates
Automated email flows
Landing page builder
Starts from $9/month
ActiveCampaign
Triggered & scheduled emails
Auto-responders
Drag & drop editor
Starts from $9/month
Customer.io
Customer segmentation
Automated workflow
Reporting & analytics
Starts from $150/month
SendX
A/B testing
Auto-responders
Drag & drop editor
Starts from $7.49/user/month
HubSpot Email Marketing
A/B tests & analytics
Drag & drop editor
Email templates
Starts from $45/month
GetResponse
Reporting & analytics
Auto-responders
Visual automation builder
Starts from $15.58/month
Sendinblue
Drag & drop builder
Customer segmentation
A/B testing
Starts from $25/month
Pabbly Email Marketing
Drag & drop editor
Email tracking
Auto-responders
Starts from $24/month
11 Best Email Drip Campaign Software
Successfully deployed lead nurturing programs can help businesses get a 20% increase in sales opportunities.
This is why it's critical to pay attention to drip email campaigns. To create the best email drip campaigns, you require a tool that is customizable, responsive, and user-friendly. Here are the 11 solutions that you can choose from.
1. BIGContacts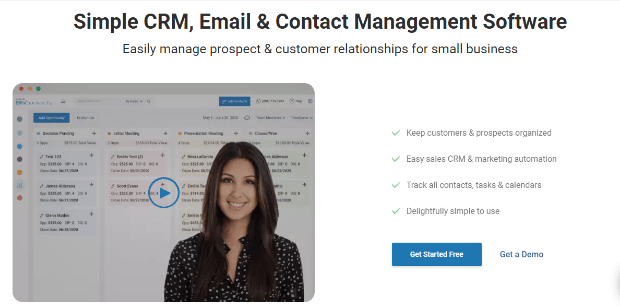 BIGContacts is a powerful CRM software that offers marketing automation functionality to help you nurture and convert more leads. This tool allows you to create drip email campaigns through ActiveCampaign, wherein you can schedule the delivery of emails at the right time. BIGContacts helps you craft highly personalized experiences, which lead to more conversions and better retention.
Key Features:
Create automated email sequences with custom triggers to reach out to prospects and customers with essential information at the right time.

Track the engagement level of your drip emails with advanced reporting and analytics.

Get a comprehensive view of your previous touches, important contact details, and upcoming activities from a single dashboard.

Send personalized emails based on your customer behavior and the stage of the sales cycle.

Automatically log emails against the respective contact record.
Pricing:
Big- $5/user/month

Bigger- $15/user/month

Biggest- $25/user/month

Enterprise- Custom pricing
Pros:
Create and save email templates to connect with prospects instantly.

Create static or dynamic contact lists for better personalization.
Cons:
Better features for finding and removing duplicates are required.

More advanced and intuitive search functionality is needed.
2. Mailchimp

Mailchimp, one of the best email drip campaign software, allows you to send automated emails to customers based on specific actions. It lets you tag contacts and segment them effectively, so you can deliver the most relevant emails. Mailchimp lets you add personalized content blocks to the emails so they appeal more to the target audience.
Key Features:
A/B test email campaigns to find out what performs well.

Choose custom triggers for drip campaigns.

Map out customer journeys with built-in

automated email drip campaigns

.

Use pre-built and customizable templates to get started quickly.

Personalize emails with the tool's drag-and-drop functionality.
Pricing:
Free plan available

Plans start from $9.99/month
Pros:
Send emails to several contacts at once.

Track the engagement of email campaigns using advanced analytics.
Cons:
More versatile email templates are required.

Support needs to be more responsive and reliable.
3. Flodesk

Flodesk lets you create visually appealing emails that have a significant impact on the recipients. This is a highly intuitive email builder that lets you build effective email journeys for customers without extensive coding. You can use the tool to extensively customize the emails and keep them aligned with your branding.
Key Features:
Choose from pre-built templates or create your emails from scratch.

Use the analytics dashboard to keep track of the performance of your email campaigns.

Craft email automation workflows that help you stay connected with your prospects and customers at all times.

Create responsive forms that help you grow your mailing list.

The tool has a drag and drop editor for emails and workflows.
Pricing:
Pros:
Automatically resend emails to subscribers who haven't opened the previous email.

The tool has a single price for unlimited subscribers.
Cons:
It is challenging to create highly segmented email lists.

It does not offer A/B testing.
4. ConvertKit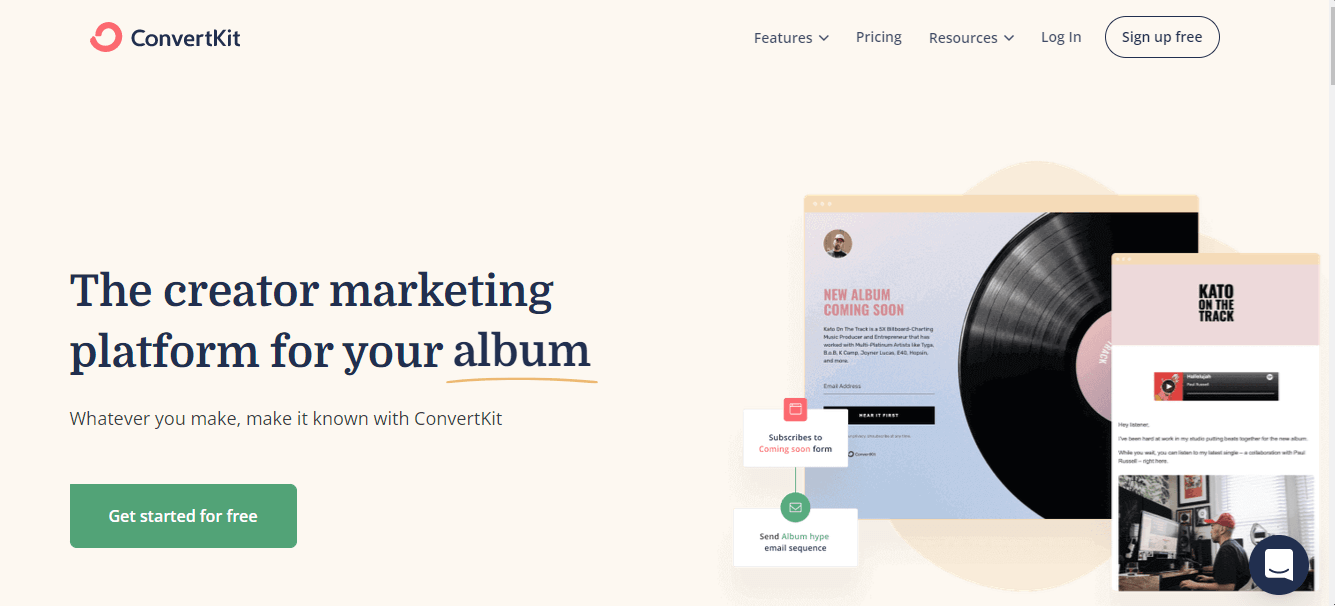 ConvertKit is a visual email automation platform that makes it easy to deliver highly personalized email marketing drip campaigns to the audience, leading to an improvement in your bottom line. It makes it easy to segment your contacts, so you only deliver valuable information via emails. The tool is highly intuitive and also provides the functionality to deliver broadcasts.
Key Features:
Tag contacts for easy segmentation and personalization.

Create visual comprehensive customer journeys, including automated actions.

Track how your subscribers are engaging with every piece of content you share.

Customize customer journeys based on their behavior and actions.

Create email templates for future use.
Pricing:
Free plan available

Plans start from $9/month
Pros:
Create landing pages and email sign-up forms.

Simply create individual automation rules if you do not need an elaborate sequence.
Cons:
It does not offer enough pre-built templates to get started with email campaigns easily.

Analytics should be more in-depth.
5. ActiveCampaign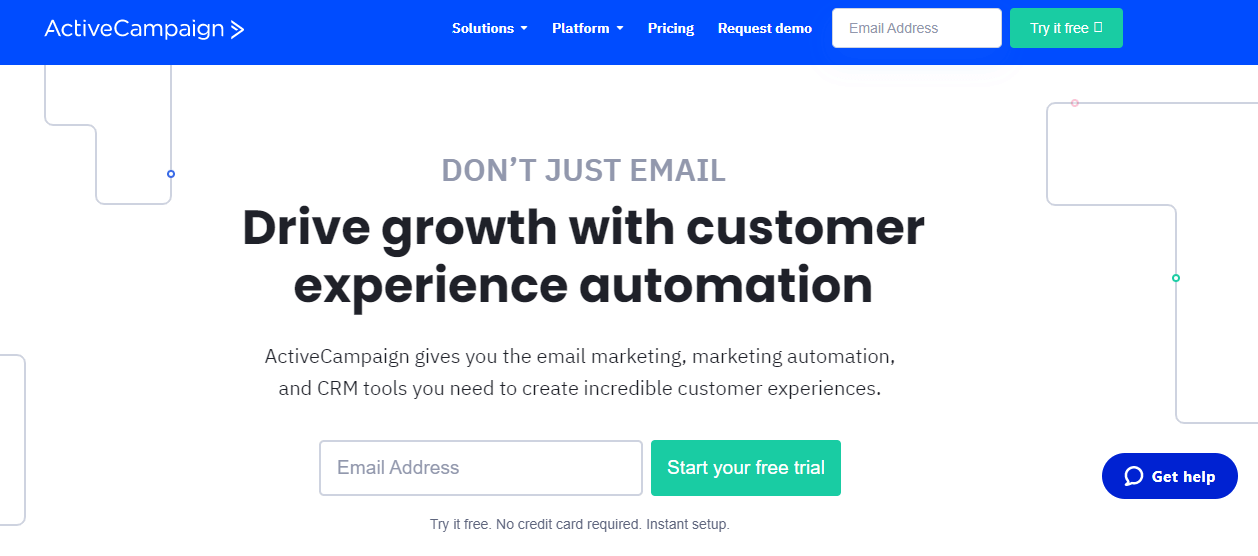 ActiveCampaign is a comprehensive marketing solution offering email marketing, automation, and CRM functionality. The drip marketing automation tool lets you automate multiple series of emails and analyze their performances. ActiveCampaign keeps prospects and customers engaged by delivering well-timed messages. You can define triggers, schedule email delivery, or set up autoresponders using this tool.
Key Features:
Track engagement levels for email campaigns with analytics and reports.

Discover who your most engaged contacts are and modify the email drip sequences accordingly.

Use a drag-and-drop editor for creating automation flows.

Craft

the best drip

campaigns with segmented and dynamic emails.

Integrate with tools such as CRM, CMS, and eCommerce platforms.
Pricing:
Plans start from $9/month
Pros:
A/B test email sequences to realize more productive outcomes.

Get access to comprehensive reports for your automation flows to improve their effectiveness.
Cons:
The reporting module is difficult to navigate.

Speed lags occur frequently.
6. Customer.io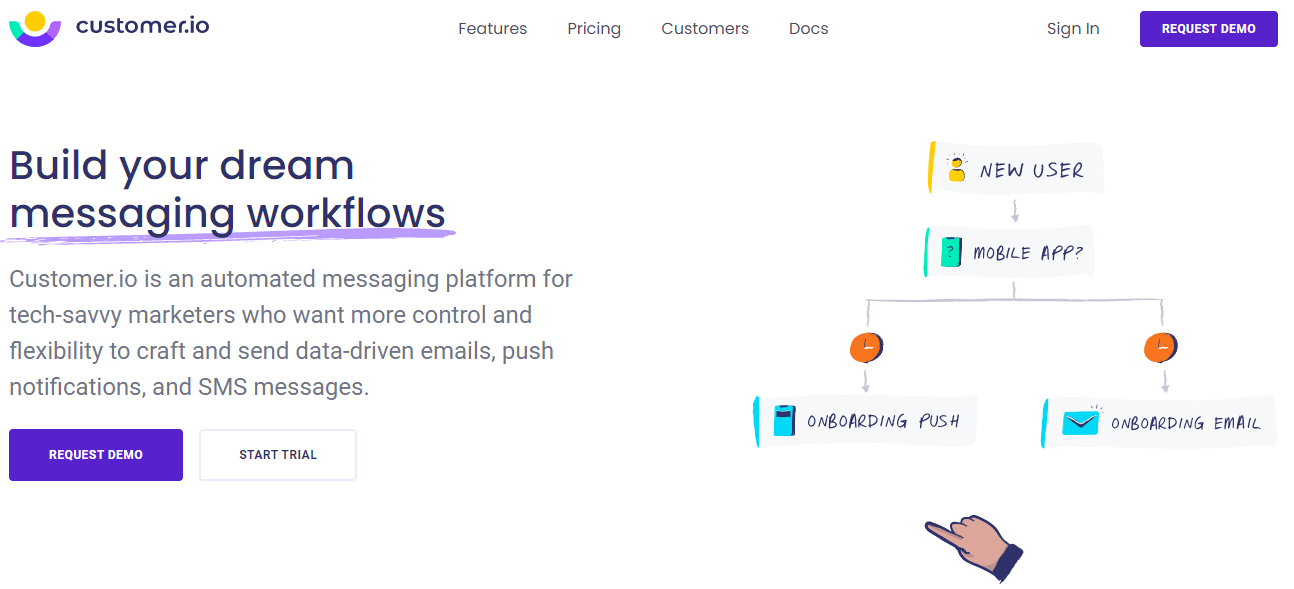 Customer.io helps you craft highly effective and engaging conversation flows. This is one of the most effective drip marketing tools for creating email sequences that boost customer engagement. Moreover, you can also deliver push notifications using Customer.io. The tool provides a detailed dashboard view that helps you stay on top of all campaigns.
Key Features:
Define branching logic and conditions for campaign flows.

Segment your user base to target the right audience with your marketing campaigns.

Use the visual workflow builder to create your engagement flow.

Create API-triggered flows or schedule email delivery for a suitable time later.

Track key metrics and stay updated with the performance of email campaigns using detailed analysis reports.
Pricing:
Plans start from $150/month
Pros:
Run A/B tests to compare campaigns and drive more productive outcomes.

You can include emails, messages, push notifications, Twilio SMS, and Slack messages in your engagement strategy.
Cons:
Push notifications require a lot of manual effort.

Onboarding and documentation need improvement.
7. SendX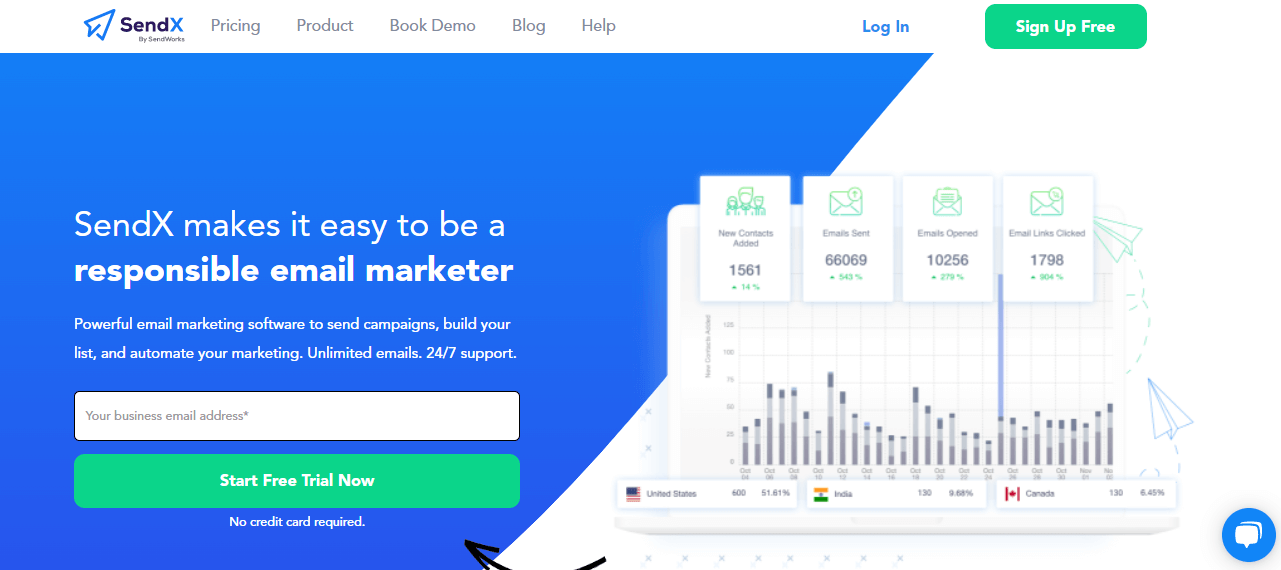 SendX is a robust drip marketing software that allows you to craft and share effective email campaigns that can boost your customer engagement. The tool offers a visual email builder that lets you edit your emails by simply dragging and dropping blocks. It also offers pre-built email templates and bulk import of contacts.
Key Features:
Tag and segment contacts based on various criteria.

A/B test campaigns to ensure that you are delivering the right message to the target audience.

Use heat maps to find out which parts of the emails received the most clicks.

Track the engagement levels for your marketing campaigns with visual charts and graphs.

Use the tool's automation capabilities to keep your mailing lists updated at all times.
Pricing:
Plans start from $7.49/user/month
Pros:
Resend emails to non-openers in a single click.

Drag and drop blocks into the email to improve their effectiveness.
Cons:
Onboarding and understanding features such as triggers take a lot of time.

More templates are required for emails.
8. HubSpot Email Marketing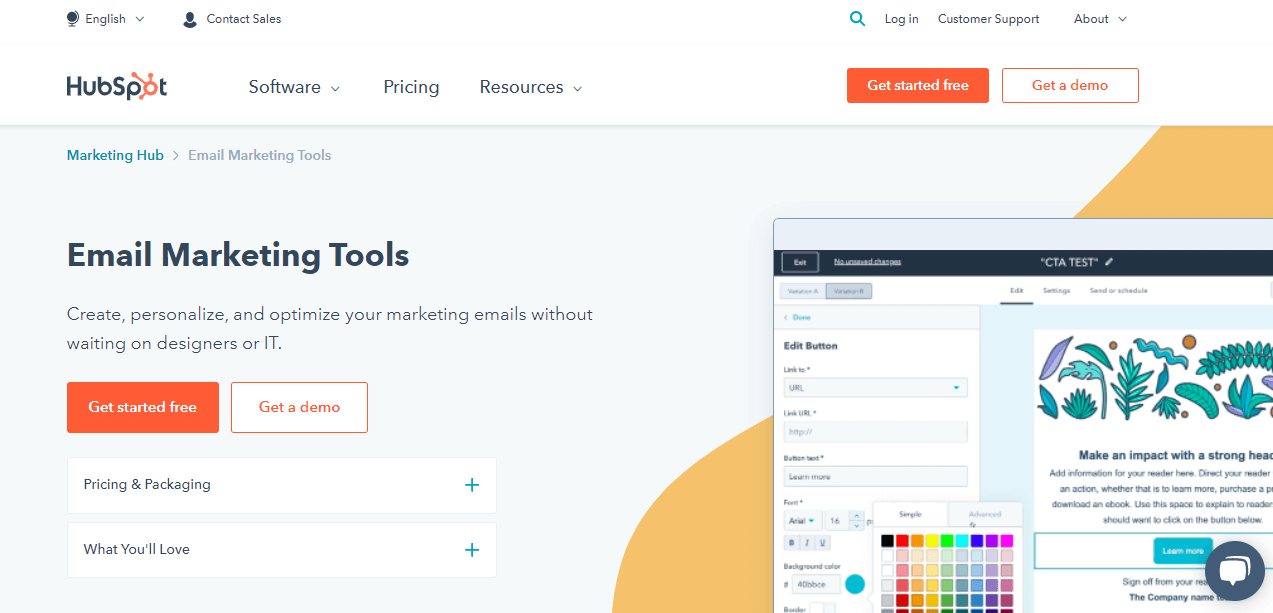 HubSpot has a comprehensive marketing hub that lets you create and deliver highly effective emails to boost customer engagement. Moreover, the marketing module is powered by the tool's CRM platform, so you can easily personalize your email campaigns. The tool also enables you to create landing pages and webforms to improve marketing productivity.
Key Features:
Create custom lead nurturing drip email campaigns to convert more leads.

Use the tool's built-in analytics capabilities to make more effective business decisions.

Choose from a range of email templates to get started with your marketing campaigns instantly.

Set up smart rules to deliver different versions of the email based on the current position and preferences.

Score leads automatically and delivers relevant emails to important prospects accordingly.
Pricing:
Free version available

Plans start from $45/month
Pros:
Use A/B tests to find what gets a better response from the audience.

Customize email templates using the drag-and-drop editor.
Cons:
Reporting features are limited.

The tool has a steep pricing structure
9. GetResponse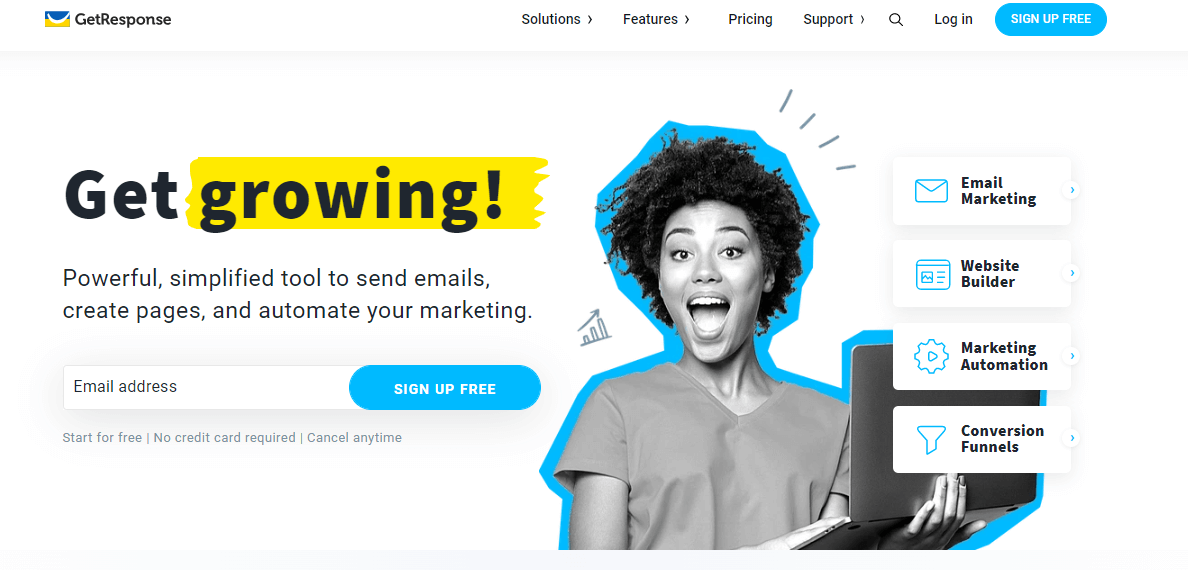 GetResponse is one of the best-automated email service tools that can empower you to send email campaigns that drive profits. You can create a mailing list using this tool and deliver personalized emails to subscribers. The tool also offers advanced analytics and actionable insights into the performance of your marketing campaigns.
Key Features:
Keep your mailing list well-organized with advanced segmentation and search capabilities.

Track essential metrics related to your marketing campaigns, such as email open and click-through rates.

Use a visual marketing automation builder to deliver emails at the right time.

Segment contacts based on behavior and engagement.

Set up autoresponders to stay connected with prospects and customers.
Pricing:
Free version available

Plans start from $15.58/month
Pros:
Choose from pre-built workflow automation templates or build your own.

Use tags, scores, points, etc., for effective segmentation of customers.
Cons:
Limited A/B split testing functionality is offered.

Some email templates have a clunky design.
10. Sendinblue
Sendinblue enables you to automate your marketing efforts and deliver personalized content at every step of your customer journey. It enables you to create targeted landing pages to capture more leads. Sendinblue offers ready-to-use templates for email and workflows. The tool also aids real-time performance tracking with advanced analytics.
Key Features:
A/B tests your emails to deliver the right message to your target audience.

Divide contacts into segments and deliver group emails.

Get access to a shared inbox and keep track of all previous emails effortlessly.

Automatically clean and update your email lists.

Use lead scoring to deliver relevant emails to high-value prospects.
Pricing:
Free version available

Plans start from $25/month
Pros:
Craft emails using templates from the library or create them from scratch.

Use the tool's drag-and-drop functionality to customize content blocks in emails.
Cons:
More versatility is required for pre-built email templates.

The initial setup and training need to be simplified.
11. Pabbly Email Marketing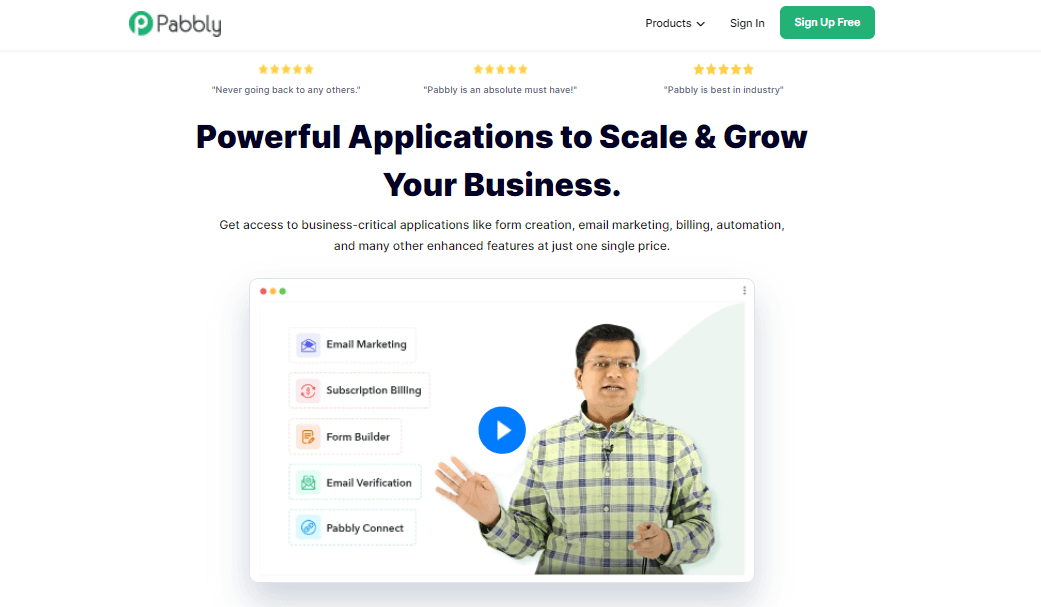 Pabbly is a highly effective online marketing solution offering features such as email marketing, form builder, and automated workflows. The email marketing solution enables you to deliver emails based on a defined schedule. The emails that are sent through Pabbly have a high deliverability rate due to SMTP routing.
Key Features:
Automatic email sequences adjust based on visitors' actions and engagement.

Track and manage all leads and customers from a single page.

Automatically deliver welcome emails to new subscribers.

Capture leads from the website and add them to your mailing list.

Keep your email lists clean by removing duplicate or inactive email addresses.
Pricing:
Plans start from $24/month
Pros:
The tool has a drag-and-drop email builder that helps in creating impactful emails instantly.

Automatically resend emails to subscribers who haven't opened them previously.
Cons:
It does not have a mobile application.

The built-in SMTP feature requires approval.
What to Consider When Choosing Drip Email Software?
Drip emails empower you to ensure consistent communication with the prospects in your sales funnel. They let you put your engagement efforts on autopilot, so you can focus on more important tasks at hand. The right drip email campaign tool can power up your conversions and customer relationships.
However, choosing email drip campaign software requires due diligence and careful consideration. You must partner with a solution that makes it easy for you to deliver well-timed and personalized emails consistently and track their productivity.
For a tool to yield positive outcomes for your business, it must:
Suit your budget:

The tool must be affordable and offer a viable and scalable pricing model.

Meet your team's expectations:

The tool should be flexible and customizable enough to suit the specific needs of your business.

Have a short learning curve:

The tool should be easy to understand and navigate. It should have a quick and hassle-free onboarding and training process.

Offer automation:

The tool should offer powerful automation features to make it easy to create and deliver drip emails.

Provide delightful support:

The tool should have prompt customer support available 24×7 to ensure seamless operations.
Get More out of Drip Campaigns With the Right Software
Drive your email campaigns to success by selecting the most effective software. The right email drip campaign software can help you make the most out of every email you send. It can help you overcome challenges such as ineffective communication, delayed follow-ups, lack of personalization, etc.
The 11 tools mentioned above offer dependable performance and highly intuitive features. These tools can streamline your marketing efforts, thereby enhancing your lead nurturing and customer retention.
If you are a small or medium-sized enterprise looking for a feature-packed and easy-to-use solution, BIGContacts is the best email drip software for you. This intuitive application offers powerful automation capabilities, allowing you to be more consistent and productive with your outreach efforts.
BIGContacts also has a robust reporting module, so you never lose sight of how your email campaigns are performing.
Supercharge your email marketing by investing in the best drip email management tool today!