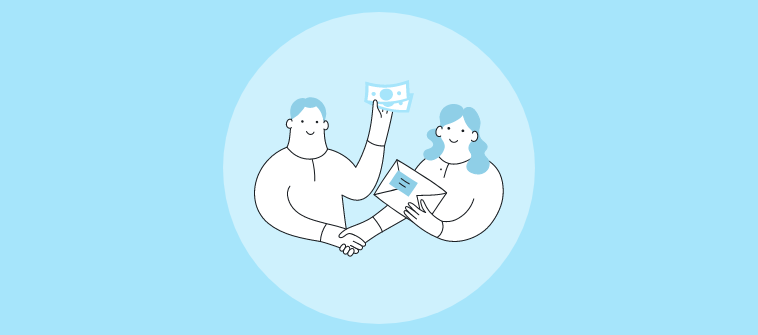 Financial services shoulder the responsibility of managing key resources and decisions for clients.
This puts data security and customer satisfaction as the topmost priorities for these firms.
However, meeting such requirements is easier said than done.
You need the right technology to accomplish this for your business. While there is no dearth of options, finding the best CRM for financial services can be tricky.
The right financial services CRM can help you become a more customer-oriented business capable of delivering reliable financial solutions at the right time. CRM can help various financial services, including banks, wealth management, and insurance companies, deliver top-notch customer experiences.
If you're such a financial service searching for the right tool for your business, you have reached just the right place!
In this blog, we examine the 9 best CRM for financial advisors by comparing their pricing, functionality, advantages, and disadvantages. This comparison can help you find the most suitable tool for accelerating your business growth.
Let's get right into it!
Best Finance CRM Overview
Here's a comparison of our top picks for the best software for finance companies.
Software
Key Features
Pricing
BIGContacts
Marketing automation
Opportunity tracking
Customizable reports
Customer segmentation & smart lists
Starts from $5/user/month
Salesforce
Contact management
AI-based recommendations
Sales pipeline tracking
Mobile access
Starts from $25/user/month
Microsoft Dynamics 365
Customer journey orchestration
Revenue predictions
Financial reporting
Real-time insights
Starts from $65/user/month
SugarCRM
Campaign management
Lead scoring
AI recommendations
Automated processes
Starts from $52/user/month
Ugru CRM
Drip campaigns
Reporting dashboard
Contact management
Financial plans & summaries
Starts from $59/month
Zoho CRM
Contact management
Real-time alerts
Sales forecasting
Marketing automation
Starts from $14/user/month
monday.com
Lead management
Workflow automation
Reporting dashboards
Mobile access
Starts from $8/user/month
HubSpot
Deal tracking
Email alerts
Task management
Activity tracking & reports
Starts from $45/month
Keap
Email marketing
Invoicing & payment processing
Sales automation
Reporting & analytics
Starts from $56/month
What is a Finance CRM?
Customer Relationship Management (CRM) tools improve customer interactions with enhanced data accessibility and more streamlined communication within the organization. Over the years, CRM tools have evolved into much more than simple repositories of customer data. They now offer intelligent recommendations, automate repetitive processes and help deliver more personalized customer service.
Finance CRM refers to the software designed to help financial institutions manage their client assets and build long-lasting relationships with them. These tools are tailored to suit the specific needs of financial agencies. Finance CRM software offers the ability to view all client data in one place, helping make better financial plans. Along with this, these tools provide business intelligence, financial reports, and workflow automation to help financial services meet their client needs.
Role of CRM for Financial Services
Before we compare various CRM software, let's try to understand the significance they carry for financial advisors.
Financial services require powerful tools for managing client data and leveraging it for effective wealth management. These tools offer a vast range of features that strengthen customer relationships and help drive more profitable business outcomes.
CRM tools suit this profile perfectly!
From streamlining information flow within the organization to crafting personalized experiences for clients based on their needs, CRM can help financial professionals in several ways.
It can help them acquire more leads and nurture them into customers by engaging in meaningful interactions. These customers are likely to continue their association with the financial business if they receive personalized services, which a CRM tool can easily deliver.
Challenges Faced by Financial Institutions
To get a better understanding of how CRM benefits financial institutions, let's first take a look at the common challenges faced by these organizations.
Creating Personalized Experiences
80% of customers prefer businesses that offer personalized experiences.
Financial services need a way to consolidate customer data scattered across multiple platforms to create more personalized experiences. This unified database can help identify customer preferences and pain points to deliver optimal financial solutions.
Data Security
Financial services are entrusted with critical client data. A security breach of this data which includes essential personal information such as names, phone numbers, social security numbers, credit card information, etc. can be extremely hazardous. This requires financial services to pay special attention to data security. Therefore, they need a tool that meets regulatory requirements and prevents any threat to sensitive client information.
Team Collaboration
Lack of collaboration between team members can compromise the overall customer experience. Therefore, one of the challenges faced by financial institutions is to find a way to seamlessly share ideas and updates across the organization.
Now that we have shed light on the common challenges faced by financial institutions, let's take a look at how the best financial advisor CRM software can help overcome these challenges.
Benefits of Implementing CRM for Financial Businesses
CRM for financial institutions can help overcome the challenges mentioned above by providing a centralized client information database. Relevant insights into customer behavior and interactions can help you drive more meaningful conversations with them. Additionally, all the information, discussions, notes, tasks, and documents stored in one place allow team members to work more diligently.
Some ways in which you can grow your business with finance CRM:
Eliminate Manual Efforts
By taking manual and time-consuming tasks off your team's plate, you enable them to focus on improving their customer interactions. Automation of business processes is one of the most significant advantages offered by CRM software for financial services. It can minimize errors and contribute to more productive outcomes.
Set up automated workflows to ensure timely follow-ups with customers and avoid unnecessary delays from the process.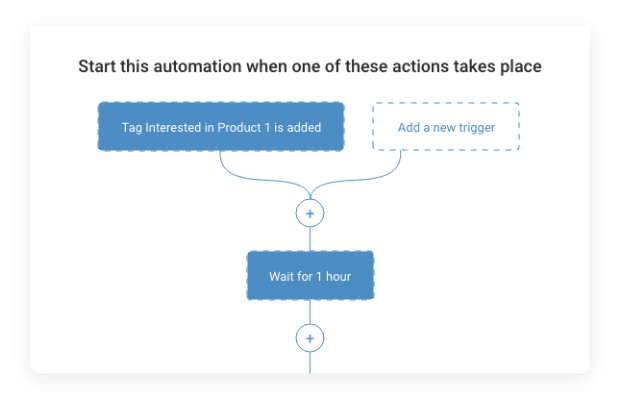 Improve Customer Satisfaction
CRM can help financial advisors deliver more satisfactory outcomes by tracking previous exchanges and utilizing them to optimize upcoming activities. By efficiently providing reliable services on time, you can gain credibility and build a loyal customer base.
Customer satisfaction translates into more successful outcomes for a financial institution. Therefore, you must choose a tool that allows you to craft more delightful experiences for your customers.
Manage Leads Effectively
Effective lead management can boost your bottom line. By helping score, prioritize and nurture leads, CRM software can bridge the gap between leads and conversion. Close more sales by delivering targeted messages to leads and automating their movement through the sales process.
You can segment your clients and create lists for improving your targeting efforts. You can also tag these contacts to look them up whenever needed.
Enhance Team Productivity
By establishing clear workflows and automating time-consuming tasks, a CRM system for financial services can help contribute to increased overall efficiency. It can bring all financial advisors to the same page by making it easy to share information and discuss ideas.
The tool can also be used to set up instant alerts and automated reminders to improve day-to-day productivity.
Get More Visibility
With several clients to manage, important data gets lost frequently. This can be avoided with an efficient system for tracking financial history, previous interactions, and client preferences.
Get a detailed overview of all clients, including their financial documents, assets, and data in one place. This improved visibility into the customer base can help your team work more efficiently.
Intelligent Business Recommendations
Along with tracking your team's overall performance, an intelligent CRM system can provide you with actionable insights. These recommendations can enable you to make more informed decisions and drive the growth of your organization.
Analyze trends with a clear view of client data and get suggestions for the next best actions from your CRM system.
How to Find the Right CRM for your Finance Business?
While there may be countless options available for finance CRM, not every one of these will be well-suited for your business.
To select the right CRM for your organization, you must undertake thorough research and compare multiple tools available on the market. Here are some tips to help find a suitable CRM for your business:
Know What You're Looking For
To find the right tool for your business, you must be aware of your team's specific needs and challenges. Seek their feedback to determine the set of features that carry the most significance for your business.
Compare Multiple Tools
Once you understand the functionality you require, begin by comparing the top-rated tools against these requirements. Take into account the pricing, functionality, customization, and business requirements for making the comparison.
Look for Affordable Solutions
Layout a clear budget for financial services CRM, and look for tools that fit within this budget. There are several affordable solutions that can meet your needs and provide you with advanced functionality for managing your clients effortlessly.
Pay Attention to Scalability
Investing in a scalable solution is one of the most important things to do. By choosing a tool that quickly scales with your business, you can save yourself from looking for new solutions as you expand your operations.
Make Use of Free Trials
Most CRM tools offer a free trial to help you better understand their functionality. Make sure you access these trials to determine if the tool would be the right fit for your financial business.
Key Features of CRM Software for Financial Services
For a CRM tool to work effectively for a financial institution, it must offer the following features:
Automation
Automated tasks and workflows contribute to improved productivity and reduced costs. By automating recurring activities, CRM can help financial institutions free up more time for improving customer relationships.
Reports
CRM with robust reporting and analytics can empower you to make data-backed decisions. You can use custom reports to track the performance of your campaigns and team members. These reports provide you with actionable insights to improve your business offerings.
Task Management
Task management is an essential module that helps financial services meet important business deadlines. By assigning tasks to the right team member and tracking their progress, you can ensure more satisfactory experiences for your clients.
GDPR Compliance
A critical feature of any financial CRM is compliance with stringent data regulations for data collection. Therefore, you must choose a GDPR compliant financial CRM software. This can prevent you from any legal consequences and ensure that the customer's information is completely secure.
Lead Nurturing
With drip email marketing and personalized outreach, financial services CRM software can help improve customer retention for financial institutions. It can also help drive more leads to conversion by tracking all interactions and providing insights. Effective lead nurturing can save deals from slipping through the cracks, contributing to more revenue growth.
Integrations
The best CRM for financial services firms offers easy integration with other business applications to manage everything from a single platform. Seamless integration between various tools can keep your data well-synchronized, contributing to improved customer experiences.
Mobile Access
Financial advisors have to be quick and efficient in order to meet client expectations. Mobile CRM can help do so by making it easy to access client data from any remote location. You can connect with your clients from any device, anytime. This can save time and resources, along with contributing to overall improved experiences for your clients.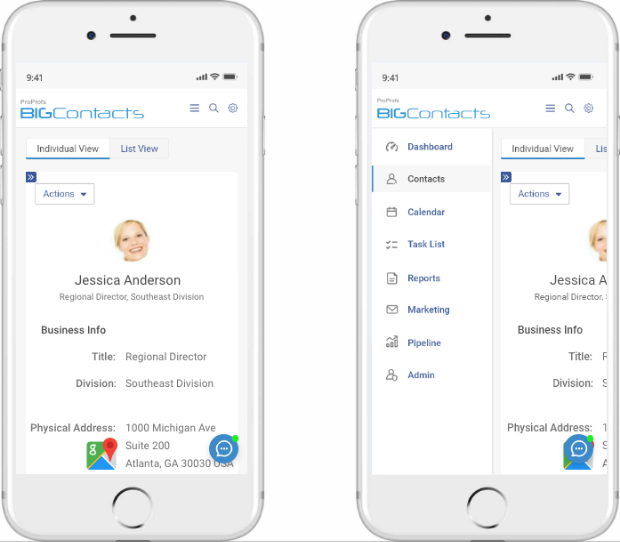 The 9 Best CRM Software for Financial Services in 2023 [Updated August]
Here's a detailed comparison of the 9 best CRM for financial services firms.
1. BIGContacts
BIGContacts is an excellent CRM choice for businesses from various industries, greatly if you are looking for CRM for financial services. This easy-to-use CRM software for the financial services industry makes contact management clutter-free and efficient. You can use the tool to capture leads from web forms and store their most relevant information using custom fields. Tracking customer preferences and effective segmentation improves engagement, helping boost customer satisfaction. Furthermore, BIGContacts help automate administrative tasks, freeing up time for more critical tasks.
Key Features of BIGContacts:
Automate tasks and reminders for improved follow-ups with clients

Track the most relevant business performance metrics with custom reports

Drip email campaigns to help stay connected with prospects and nurture leads effectively

Manage sales opportunities effortlessly with a visual pipeline consisting of custom stages

Strict data security system with authorized access and GDPR compliance
Pricing:
Big- $5/user/month

Bigger- $15/user/month

Biggest- $25/user/month

Enterprise- Custom pricing
Pros:
BIGContacts has an easy-to-use interface and quick setup.

Pre-designed email and reporting templates save a lot of time.
Cons:
It does not offer direct integration with tools like Slack and Calendly.

The mobile version has fewer features as compared to the desktop version.
Capterra Ratings:
G2 Ratings:
2. Salesforce
Salesforce, a premier CRM tool with over 19.6% of the entire CRM market share, can help financial services boost their profitability. The CRM tool creates detailed contact profiles with data collected from multiple sources to give a 360° view of all customers from a single platform. Salesforce also provides powerful analytics and artificial intelligence-based predictions. Along with this, the CRM tool can help deliver personalized emails to every customer, so your clients feel more valued.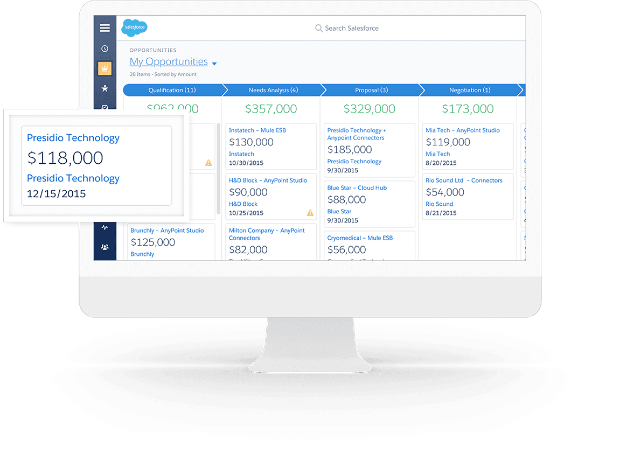 Key Features of Salesforce:
Create a customized workflow that suits your team's needs

Powerful forecasting and analysis help you leverage business data more effectively

Use AI for better predictions and recommendations

Automate repetitive sales tasks to improve productivity and close more deals

Resolve customer support issues more quickly with unified access to all data
Pricing:
Starts from $25/user/month
Pros:
Set up automatic email alerts for your team members.

The mobile app helps you work from anywhere, so important deadlines are never missed.
Cons:
Steep learning curve and interface that can be overwhelming for beginners.

The setup process is long and complex.
Capterra Ratings:
G2 Ratings:
3. Microsoft Dynamics 365
Microsoft Dynamics 365 offers several tools to empower your business to make data-driven financial decisions. With this CRM software for financial services you get improved visibility into client data, you can streamline your operations and maximize profitability. Microsoft Dynamics 365 can accelerate your growth and minimize costs by automating repetitive processes. It offers AI-driven recommendations to help you make the most out of every opportunity. Furthermore, the reports offered by the tool help you further improve your business decisions.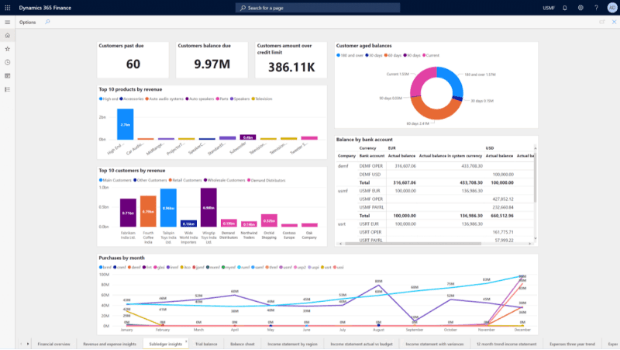 Key Features of Microsoft Dynamics:
Dedicated financial planning and analysis tools

AI-based analytics and intelligent forecasts

Build a consistent sales process with actionable insights and recommendations

Use contact data to create personalized customer journeys

Gain complete control over how leads are managed with a visual sales pipeline
Pricing:
Starts from $65/user/month
Pros:
Build automated workflows to boost productivity and reduce costs.

Detailed financial reports that offer in-depth visibility into business data.
Cons:
The software's pricing and other add-ons are expensive.

The mobile application offers limited functionality.
Capterra Ratings:
G2 Ratings:
4. SugarCRM
SugarCRM offers a broad range of features that can help financial institutions improve their relationships with clients. The tool provides sales and marketing automation capabilities to eliminate repetitive tasks. You can use SugarCRM to access detailed contact profiles, to make more accurate financial decisions and plans for them. It also offers AI-powered analysis and predictions. With SugarCRM, you can put various business processes on autopilot, so your team can focus on delivering more delightful services.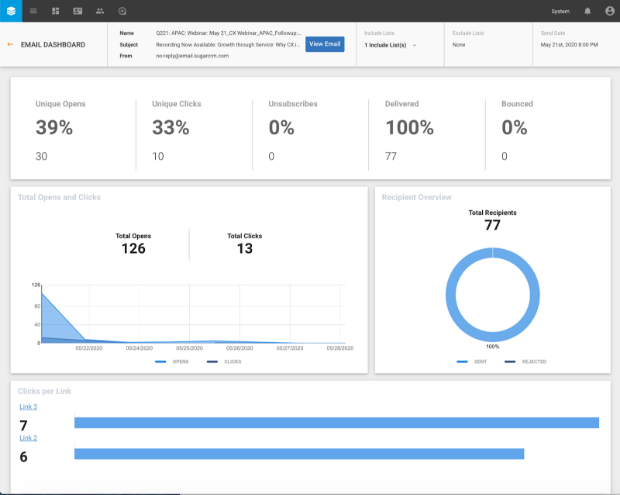 Key Features of SugarCRM:
Automate processes such as data capture, lead distribution, and approvals

Get AI-based predictions for making better business decisions

Nurture leads easily with drip email campaigns

Boost engagement with omnichannel communication and detailed contact histories

Use predictive lead scoring to find out which prospects are more important
Pricing:
Starts from $52/user/month
Pros:
Real-time recommendations based on customer preferences and interactions

Improved lead capturing from web forms, emails, and landing pages
Cons:
Email campaigns could be more straightforward and user-friendly.

The UI is clunky and needs improvement.
Capterra Ratings:
G2 Ratings:
5. Ugru CRM
Ugru is a powerful tool for financial planning and management. The CRM tool's dashboard provides a detailed view of your revenue, expenses, and financial goals. It offers comprehensive lead management capabilities, including capturing, scoring, routing, and categorizing. Ugru provides a full suite of finance management features, including needs analysis and term life calculator. The tool also offers custom reports and dashboards to track various metrics.

Key Features of Ugru:
Create detailed financial plans for your clients

Automate sales processes to boost your business revenue

Run drip email campaigns and analyze their performance

Make accurate sales forecast by tracking the chances of closing for your deals

Get auto-generated financial reports to make better decisions for your clients
Pricing:
Pros:
The tool offers dedicated wealth management features, making it great for financial services.

The tool's interface is user-friendly.
Cons:
The pricing plans have a limit of 3 users.

There's no in-built calling functionality.
Capterra Ratings:
G2 Ratings:
6. Zoho CRM
Zoho CRM is a powerful CRM tool for enriching customer experiences. It provides powerful contact management, workflow automation, and customer journey orchestration. The tool also offers AI-based sales prediction and workflow suggestions. Zoho CRM helps you capture leads, score them based on defined criteria, and craft personalized emails to nurture these leads. Overall, Zoho CRM is an excellent tool for managing sales opportunities and improving customer engagement.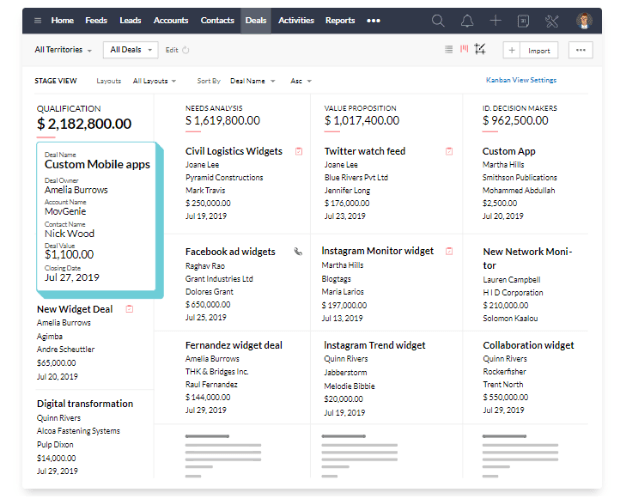 Key Features of Zoho CRM:
Boost team collaboration with notes, custom tags, groups, and real-time updates

Set up custom rules and conditions for automation of routine tasks

Get AI-powered predictions and better business insights

Share personalized emails for effective lead nurturing

Monitor KPIs and visualize data in various formats, including reports and charts
Pricing:
Free for 3 users

Paid versions start from $14/user/month
Pros:
Score leads easily to prioritize high-value deals.

A highly customizable tool that allows you to modify views, layouts, fields, and search filters.
Cons:
One area where Zoho CRM significantly lags behind its competitors is its customer support.

The tool's interface is clunky and needs improvement.
Capterra Ratings:
G2 Ratings:
7. monday.com
monday.com is an integrated sales and CRM platform that enables you to centralize all your business data. It is definitely among the best CRM software for financial services businesses. It allows you to store prospect and customer data in one place, helping your team drive more meaningful interactions with them. Detailed activity timelines for individual contacts can be accessed with monday.com to get more actionable insights to work with. The tool helps you automate your workflow to improve team productivity and track performance with custom reports.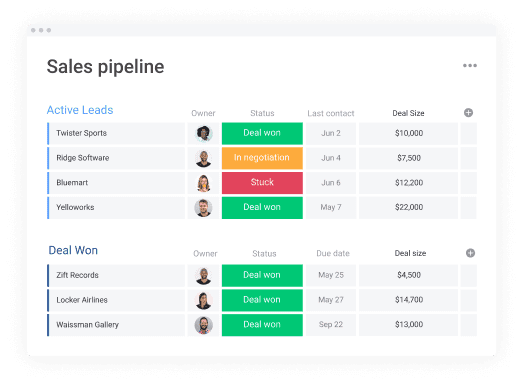 Key Features of monday.com:
Visualize deals and track their progress through the sales pipeline

Create automated workflows with custom triggers and instant notifications

Track progress and analyze trends with custom reporting dashboards

Manage documents, tasks, and emails in one place

Schedule and run email marketing campaigns
Pricing:
Free version available

Paid versions start from $8/user/month
Pros:
The intuitive interface makes the software easy to operate.

Mobile and offline access to CRM data help you work anywhere, anytime.
Cons:
The tool does not offer a mass emailing feature.

There is a limit to how much you can customize the item cards provided by monday.com.
Capterra Ratings:
G2 Ratings:
8. HubSpot CRM
HubSpot ranks as one of the best CRM for insurance and financial services looking for a way to manage data effectively. A basic version of this CRM system is available for free, making it a popular choice for beginners. HubSpot offers sales tracking with a visual pipeline, email marketing for improved lead nurturing, and reports to track business performance. The tool also enables you to manage tasks and keep track of pending activities. With HubSpot, all your business data is stored in one place, allowing your team to utilize it for driving better results.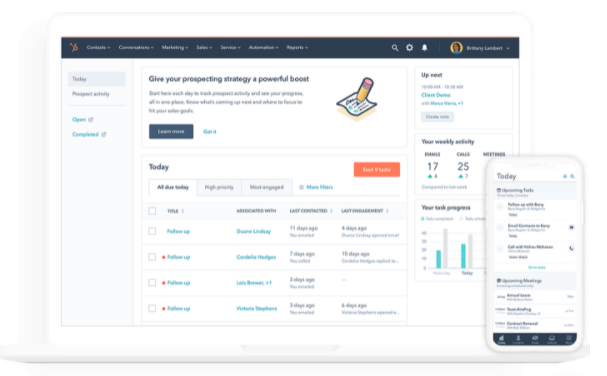 Key Features of HubSpot:
Contact profiles are enriched with information from multiple sources automatically

Easily set up reminders to never miss out on important tasks and deadlines

Generate more leads with forms and landing pages

Share bulk emails to reach out to prospects on time

Track all customer conversations and support tickets in one place
Pricing:
Free version available

Paid versions start from $45/month
Pros:
A visual sales pipeline provides a clear view of the position of sales opportunities.

Access email templates that can be customized with an easy drag-and-drop editor.
Cons:
The overall cost increases very quickly if you integrate more tools from HubSpot.

Reports could be more detailed and versatile.
Capterra Ratings:
G2 Ratings:
9. Keap
Keap is a highly customizable CRM solution for businesses to become more organized and productive. It helps craft exceptional customer experiences with powerful sales and marketing automation. Keap offers the capability to set custom triggers for automated actions, helping you stay connected with your prospects and customers. The tool can also be connected to other business applications such as Quickbooks and Bigcommerce to manage things without switching between multiple platforms. Keap also offers a mobile application, so you can access the data from anywhere.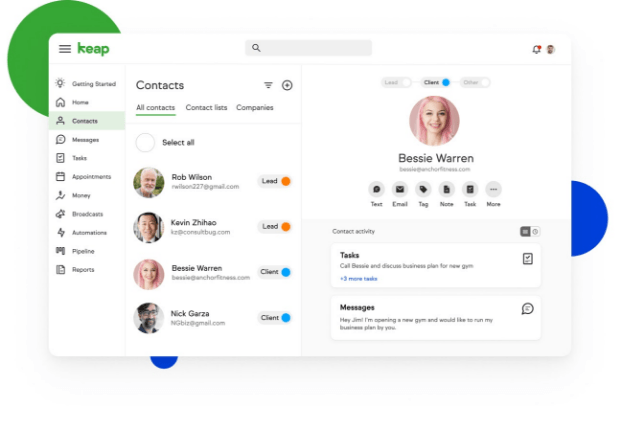 Key Features of Keap:
Automatic lead capturing from various sources, including web forms, social media, landing pages, emails, etc.

Segment leads into groups and tag them to improve personalization

Manage sales opportunities more effectively with a drag and drop sales pipeline

Visualize business data with a comprehensive analytics dashboard

Set up automated lead nurturing email campaigns
Pricing:
Pros:
Get actionable insights with engagement and performance analytics.

The tool's native appointment manager helps you schedule, track, and set reminders for tasks.
Cons:
The pricing is expensive, making it unsuitable for small businesses.

Many features such as A/B testing, sales forecasting, and lead scoring are not offered for the lower-priced versions.
Capterra Ratings:
G2 Ratings:
Grow Your Business With the Best CRM Software for Financial Services in 2023
Maintaining strong relationships with customers can help your financial business grow.
The right CRM for financial services can provide you with the functionality to create stronger relationships with your clients, helping boost your revenue. However, choosing this tool can be a challenge due to the vast number of options available.
With this comprehensive comparison guide of the top-rated CRM tools, we strive to make this decision straightforward for you. These 9 tools are fully functional CRM solutions that can help your financial service grow its clientele and retain more existing customers.
BIGContacts tops this list of the best CRM for financial services owing to its easy implementation and usage. The tool offers a powerful suite of CRM capabilities that can transform your customer relationships. With BIGContacts, your enterprise can deliver superior customer service, helping you gain customer loyalty and leverage it to increase profitability.
Do you want to make more sales?
BIGContacts is the #1 contact management software & CRM to close more sales.