Contact Management is an important part of business processes. Being acquainted with your contact network can help you reach out to the right person at the right time!
While some still do it the manual, old-fashioned (and far more inefficient) way with a contact book, you need to learn what is contact management by using the right tools to make the most out of it.
Nobody prefers doing business with a company that does not understand their likes and preferences. So how do you keep track of so many customers at once?
The answer is simple- with effective contact management software.
Contact Management has long been used by businesses that realize the importance of having a unified database for all customers. It has evolved from address books to spreadsheets to specialized software.
Read on to find out how a CRM tool integrated with contact management features can be used to keep all your prospects and customers organized.
What is Contact Management?
Essentially, the contact management definition involves tracking interactions with all prospects and existing customers. It's a record of information of everyone you do or intend to do business with. 
Taking the time to understand your customers can be one of the most rewarding decisions you'll ever make. 
Contact Management involves maintaining an extensive database of all the details related to leads and existing customers, including their:
Name

Contact information

Social media activity 

Previous interactions

Purchasing behavior 

Stage in the buyer's journey

Location

Job Title

Pending/upcoming activity
This information can help you improve the quality of interactions that you have with your leads and customers. This can result in improved sales and customer service!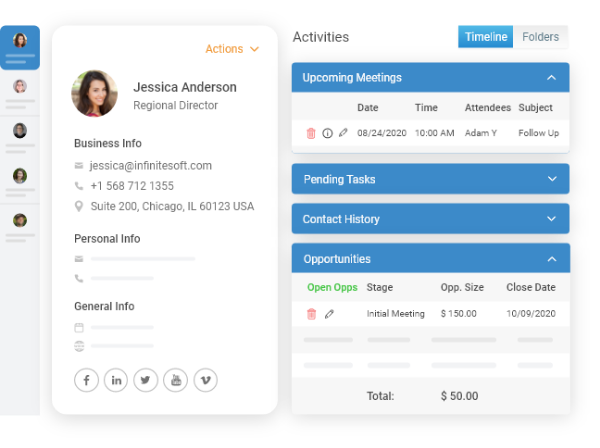 Contact Management has now come a long from just being boring spreadsheets that stored customer information. It has now evolved into a detailed and strategic approach that can strengthen customer relationships. After all, the type of customer experience you offer can help you stand out from all the competitors. 
Creating an Effective Contact Management Strategy
Before learning what is a contact management system, you need to understand what goes into developing an effective contact strategy. The strategy that you craft will serve as the foundation of all your contact management endeavors. 
Here are some points to consider before laying out the contact management strategy:
Maintain the Legitimacy of Data

Keeping the data clean and consistent can help you increase overall organizational efficiency by optimizing your sales and marketing efforts. The first and foremost step of developing a contact management strategy is to ensure that the is accurate and valuable.

Identify Quality Leads

You need to identify which contacts are worth spending your time and resources on. Make sure you find out which lead is qualified to buy your product and drop any dead leads that have no potential of converting.

Find out What Drives Conversions

Converting leads to customers becomes easy with a contact management tool in place. But to accomplish this, you need to have adequate knowledge of what propels these conversions for your business and integrate these actions into your strategy.

Track All Customer Interactions

Keep track and learn from every customer interaction. This can help make customer experiences much more personalized. Adapting your contact management process based on the insights gathered by customer interactions can be an efficient way to manage and optimize your business processes.
The Role of a Contact Management Tool
Keeping track of all the information can be a daunting task, especially if you have a large number of contacts. This is where simple contact management software can come into play.
Along with capturing and storing customer information in a centralized location, it can also make managing these contacts easier. The collected data is of no good if it is not utilized efficiently.
Track Interactions

Whether it's tracking a previous interaction or scheduling an upcoming event, the best contact management tool can make your life significantly easier. You can find all the data related to the customers in a single location, making following up on leads much more efficient.

Improve Organization

If you are tired of maintaining multiple spreadsheets for customer information, it's time to let a contact management tool do the work for you. With a contact management program in place, you can better organize your data and source it whenever required.

Personalize User Experiences

A study by Infosys revealed that the purchasing decision of 86% of consumers is impacted by personalization.

Why not use this to your advantage?

With contact manager software, you can make sure that you only offer relevant information to the users, thereby making the whole experience much more personalized.

Share Data Across Teams

The sales, marketing, and customer service divisions of your company can see an improvement in results with the collaboration that a contact management system brings to the table.

Forget about manually reaching out to various departments to get information on contacts. Speed up your operations by accessing it directly from the collective database.
The Need for Contact Management
The advantage of working with contact managing software is that it makes it easy to complete more tasks in less time. This improves customer satisfaction and helps you retain more users.
With a comprehensive 360° view of all the contact information on the dashboard, you can access vital information before getting in touch with the customers. This removes the scope of any discrepancies in the process. 
Additionally, your customers will have a delightful experience since they wouldn't have to go on repeating the information they may have already provided to another executive.
A win-win for everyone!
Get a Unified View of All Customers' Data

The best contact management software makes it possible to get a complete view of all the information stored for various contacts in one go. You can find a list of all your contacts with custom data fields that you wish to display.

Access a Detailed Contact Profile

Alternatively, you can choose to access detailed information for every customer, including their contact details, communication preferences, history, where they stand in the sales cycle, etc. You can access the social profiles of the customer publicly available on the internet to get actionable and valuable information.

Improved Internal Collaboration

Everyone across your organization can be on the same page regarding your customers. Learning what is contact management can improve the day-to-day operations by easing collaboration and communication within the teams.

Enhanced Customer Satisfaction

80% of consumers are likely to switch to a competitor after one poor customer service experience.

Now, who would want to risk that?

To avoid this from happening, switch to a powerful contact managing software and stay at the top of the game.

Improved Productivity

The overall productivity of your organization can take a toll if your processes have several repetitive tasks. A contact management software can automate manual processes such as data entry, reminders and scheduling meetings, etc., to help you maximize productivity and devote your time to more critical tasks.
Accomplishing Contact Management With a Powerful CRM Software
Contact Management is an ever-evolving process. Businesses that relied on simple contact management software earlier now require automated tools that make operations swifter and more effective. This has brought CRM into the picture. 
CRM, as you may already know, is a specialized tool meant to help businesses improve their customer relationships. A fundamental aspect of any CRM tool is the management of the contact database. This also includes monitoring customer interactions and keeping track of all upcoming tasks and activities.
The conventional contact books have now evolved into a more comprehensive and well-rounded contact management CRM.  This takes into account the complete buyer's journey along with storing the essential contact information.
Read More: 7 Ways CRM Software Helps Organize Your Customer Information
With the added functionality that it brings, a powerful CRM can help you unlock the true potential of your business.
Reach out to Customers Through Multiple Channels

Not only does CRM make it possible to store information, but it also helps reach out to customers directly. You can make calls, send emails, or schedule appointments directly with the CRM.

Automation of Processes

Along with maintaining a database that can be accessed across the organization, a CRM can also help generate reminders for follow-ups. It can automate various processes like messages, tasks, and marketing campaigns to help save your time and effort.

Analytics

The analytics and reporting feature of a CRM contact management tool can help you identify if your contact management strategy is doing well. CRM can help you generate custom reports to find out if your customer relationships have seen an improvement owing to the efforts you have put into managing the contact information.

Assign Tasks Directly

With comprehensive activity tracking through contact management CRM, you can find out which stage a consumer is currently in and assign tasks to team members directly.

Keep everyone in sync by avoiding any duplicates or errors with access to a common database.

Easy Data Cleanup

CRM makes it easy to routinely get rid of any dead leads or inaccurate data that may be clouding your system. This can increase the accuracy of your analytics and help you get a clearer picture of where you stand in terms of prospects and current customers.
Read More: 3 Parts Of Your Business Where CRM Helps Retain Customers
Choosing the Right CRM for Contact Management
Collection of the contact information is only half the battle won. The real challenge is using the data effectively. Tracking customer data with the best contact management app can provide you insights that can help drive conversions. 
But how do you decide which CRM would be the most suitable for your business?
Budget

Begin by deciding how much budget you can allocate for a CRM and what features you can find for that amount. Consider the pricing options available for multiple CRMs and choose one that offers a wide range of functionalities for the most affordable price.

Scalability

When you are looking for a small business contact management tool, choose one that is scalable. Your business is likely to expand with time, and therefore, you need to have a CRM that grows with it.

Size of the Organization

Taking the current size of your business into consideration can help you land on the most suitable option. For instance- if you are a small business, you can benefit from choosing a specialized small business contact management tool over a large-scale CRM.

Contact Syncing

The CRM that you go with should allow syncing the data from anywhere. Choose a cloud-based CRM to stay updated with all the developments associated with the contacts without any room for errors or delays.

The Extent of Automation

Make sure you know which features you require in the CRM tool. The level of automation you require for your marketing efforts or other processes like follow-up reminders or can help you decide which CRM would be the most appropriate for your business.

Integration

The best contact management app can work in seamless collaboration with a variety of other tools. This integration allows businesses to stay on top of the game. You can choose a CRM that integrates with other tools such as an email marketing tool, contact syncing tool, accounting, project management, VoIP tools, etc.
Read More: Free CRM Comparison Spreadsheet (+ How to Choose a CRM)
BIGContacts – the Ideal Partner for Your contact Management Efforts 
A CRM can act as a rich data repository that allows you to drive more sales by improving customer relationships. 
Even with their benefits, traditional contact management tools fail to meet the level of automation and functionality required by businesses to thrive in the current marketplace. 
This has brought forward the need to work with advanced CRMs like BIGContacts. 
BIGContacts is one of the leading CRMs designed for businesses that wish to enhance their operations by optimizing their customer experience. It helps keep track of customer history, sales opportunities and stores all the data related to customers in a single place. Furthermore, it allows you to set up campaigns and minimize the manual efforts required to operate your business. 
Why settle for a desktop-based CRM with limited features when you can go with the best free contact manager?
Leverage customer data with BIGContacts for increased profitability with robust contact management.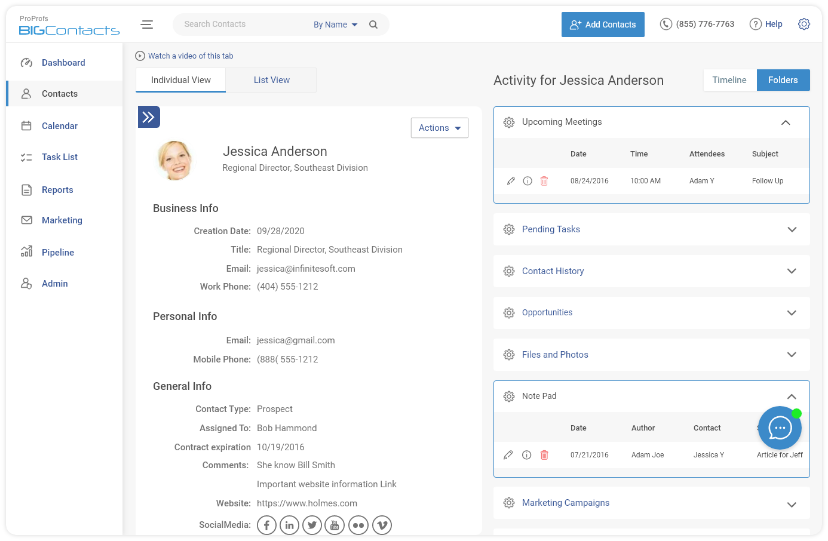 Keep Contacts Organized

With BIGContacts, all your prospect and customer data can be arranged efficiently. The contact profiles are automatically updated to help you improve your interactions by keeping in mind previous exchanges, pending activities, buying preferences, pain points, etc. It also allows you to store emails against individual contact records to save time and keep everyone on the same page.

BIGContacts is a GDPR compliant tool that allows you to access and store data such as the social profiles of the contacts for better personalization.

Customize Fields as per Your Needs

Track only what matters to you!

You don't have to stick to a standardized template for data fields with BIGContacts. Choose the custom fields based on your requirements and easily categorize all your contacts.

Easy to Use

If your previous opinion about a CRM is that it is unnecessarily complicated to use, you are not the only one.

BIGContacts is designed to address this problem by making contact management delightfully simple. It organizes your information into folders efficiently and helps you access it easily.

Ideal for Small Teams Looking to Expand

BIGContacts is the most effective way for small business owners to keep track of their contacts along with monitoring the team's performance. You can easily import, export data, or assign tasks to team members directly using BIGContacts.

Marketing Automation

With a variety of modules and preset email templates, you can make the most out of your marketing efforts. Improve your visibility by making marketing campaigns much more targeted with a free contact manager like BIGContacts.

Access Data From Anywhere

This cloud-based CRM allows you to access the data remotely. This means that you can prepare for the upcoming meetings anytime, anywhere. BIGContacts Mobile CRM can be used on any mobile device, ensuring you never miss out on any new update.

Integrations

BIGContacts works effortlessly with a variety of other business applications to increase the overall productivity of your organization. It can help you make direct calls to customers using Skype or make accounting easier with Quickbooks.

Tracking and Reporting

BIGContacts offers analytics to help you make data-driven decisions for your business. You can choose standard templates for reports or customize them for your needs.

Filters

You can sort the contacts based on various criteria, including last touch, upcoming meetings, etc. This can be of help when segmenting your contacts for improved communication.

Lead Nurturing

You can easily track which stage of the buyer's journey the customer is currently in and target your interactions accordingly. BIGContacts can help you maximize your closing rate by ensuring that you do not miss out on sales opportunities by generating timely reminders and providing access to updated data.
Bridge the Gap Between Customer Relationship and Satisfaction
According to Bain & Company, just a 5% increase in customer retention can be attributed to a 25% increase in profits. The right CRM can help you accomplish this!
A powerful CRM platform can be a valuable addition to your contact management strategy. Stay on top of things by getting centralized access to customer information, last touch history, social profile, etc.
Keep track of your customers at every step of the sales pipeline by learning what is contact management and implementing it into your business processes.
Your customer relationships won't take the hit when you target the right people at the most opportune time.
Choose BIGContacts to get centralized control of all your customer data and reach out to them effectively.