Think back to the time you couldn't remember that important detail during a client call and spent hours sifting through your contact database files, only to lose the opportunity!
Contact management can ensure that this never happens again!
Being acquainted with your contact network can help you reach out to the right person at the right time. While some still do it the manual, old-fashioned (and far more inefficient) way with address books or spreadsheets, you need to learn what is contact management and use specialized tools to make the most out of it.
In this blog, we cover the contact management definition and list the most crucial features that your contact management system should possess. We also list and compare the top 5 contact management software that you can choose for your organization. Let's get started without further ado!
What Is Contact Management?
Contact management refers to the process of organizing, tracking, and managing a company's or individual's interactions and communications with their contacts or clients. It involves keeping accurate records of contact information, tracking communication history, and managing relationships to enhance customer satisfaction and improve efficiency.
Contact management is the best way to organize business contacts and store information, including their:
Name

Phone number

Email address

Location

Social media activity

Previous interactions

Purchasing behavior & preferences

Stage in the buyer's journey

Job Title

Pending or upcoming tasks
Contact management is a crucial aspect of any business that seeks to maintain and nurture customer relationships. It involves the organization, storage, and retrieval of important contact information about customers, prospects, and business partners. This information can improve the quality of interactions you have, resulting in improved sales and customer service.
Here's what a contact dashboard typically looks like:
This contact dashboard demonstrates what contact management essentially involves. You can find all the associated information, including emails, tasks, notes, files, etc., in one place. Moreover, this data can be accessed remotely, so you can stay connected with contacts at all times.
Key Features of Contact Management Software
Before we delve deeper into what is a contact management system and the best options available in the marketplace, let's take a look at some of the essential features of such a solution:
Contact Dashboard:
The tool should offer a comprehensive and customizable dashboard that presents all the information you need in one place. It should also enable you to add custom fields to the contact records, so you can store the most relevant information.
Easy Import & Export:
Easy import and export of data is a crucial aspect of any contact management system. Opt for a tool that enables you to add data to the system effortlessly and export it in various formats.
Data Security:
Data security is crucial when handling sensitive contact data. Opt for a GDPR-compliant tool that ensures that the collected data is secure at all times.
Filters & Segmentation:
Choose a tool that facilitates effective segmentation. The platform should offer powerful search and filtering capabilities, allowing you to keep your data well-organized.
It should also enable you to create segmented contact lists to drive more targeted communications.
Automation:
McKinsey reports that sales automation can result in a 10-15% improvement in organizational efficiency and a 10% uplift in sales.
This is why you must choose a tool with robust automation features. This includes automatic data capture, activity reminders, follow-ups, and workflows.
Integration:
Opt for a tool that comes with a range of native and third-party integration options. By connecting your contact management system with your email solution, helpdesk tool, business intelligence software, and other relevant tools, you will be able to achieve better organizational efficiency.
Team Management:
Lastly, the tool should enable the entire team to access updated data and work together. It should provide the functionality to create custom user roles and track upcoming tasks effortlessly.
How Contact Management Software Improves Workflow
Keeping track of all the information can be a daunting task, especially if you several contacts. Furthermore, the collected data is of no good if it is not utilized efficiently.
This is where contact management software comes into play.
Along with capturing and storing customer information in a centralized location, it can make it easier to engage with them. Another advantage of such software is that it makes it easy to complete more tasks in less time by automating repetitive tasks and reducing manual work. This improves customer satisfaction and helps you retain more users.
If you are still wondering how to keep track of client information or are tired of maintaining multiple spreadsheets, it's time to let a contact management tool do the work for you. With a contact management program in place, you can better organize your data and source it whenever required.
With a comprehensive 360° view of all the contact information on the dashboard, you can access vital information before getting in touch with the customers. Additionally, your customers will have a delightful experience since they wouldn't have to go on repeating the information they may have already provided to another executive.
Here are some benefits of contact management software that make it a valuable addition to your business workflow:
Get a Unified View of Contact Data:
The best contact management software provides a comprehensive view of contact data. You can find a list of all your contacts with custom data fields that you wish to display.
Alternatively, you can choose to access detailed information for every customer, including their contact details, communication preferences, history, where they stand in the sales cycle, etc. You can access the social profiles of the customer publicly available on the internet to get actionable and valuable information.
Manage Interactions:
Whether it's tracking a previous interaction or scheduling an upcoming event, the best contact management tool can make your life significantly easier. You can find all the data related to the customers in a single location, making following up on leads much more efficient.
Personalize Experiences:
According to Accenture, 84% of customers are interested in personalized products and would be willing to pay more for them.
Moreover, personalization affects customer behavior throughout their lifecycle, as described in this report by McKinsey.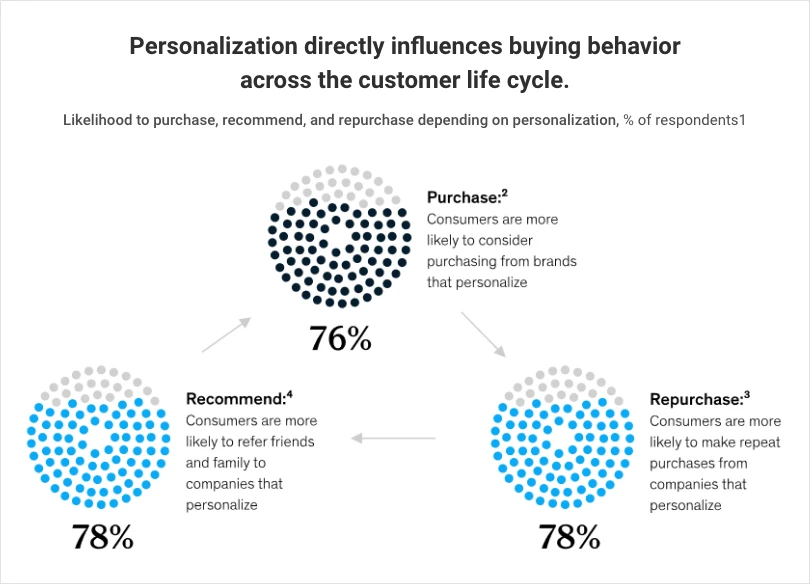 Why not use this to your advantage?
With an efficient contact manager, you can make sure that you offer the most relevant services and information to the users, thereby making the whole experience much more personalized.
Share Data Across Teams:
The sales, marketing, and customer service divisions of your company can see an improvement in results with the collaboration that a contact management system brings to the table. Forget about manually reaching out to various departments to get information on contacts. Speed up your operations by accessing it directly from the collective database.
Everyone across your organization can be on the same page regarding your customers. Learning what is contact management can improve the day-to-day operations by easing collaboration and communication within the teams.
Improve Productivity:
The overall productivity of your organization can take a toll if your processes have several repetitive tasks. A contact management tool can automate manual processes such as data entry, reminders and scheduling meetings, etc., to help you maximize productivity and devote your time to more critical tasks.
Enhance Customer Satisfaction:
According to Microsoft, 58% of customers will not hesitate to end their relationship with a business due to poor customer service.
Now, who would want to risk that?
To avoid this from happening, switch to a powerful contact managing software and stay at the top of the game by delivering highly personalized and effective customer support.
The Limitations of Contact Management Systems
Traditional contact management systems have been around for many years, and while they have helped businesses keep track of their customer information, they are not without their limitations. As businesses grow and evolve, these limitations become more apparent, and companies need more robust tools to manage their customer relationships.
Some of these limitations are listed below-
Limited functionality:

Traditional contact management systems typically have limited functionality, which can make it difficult to manage complex customer relationships.

Lack of integration:

Many traditional contact management systems are not integrated with other business applications, which can make it difficult to share data across different departments.

Poor scalability:

Traditional contact management systems can become cumbersome as businesses grow and add more contacts.

Limited access:

Traditional contact management systems are often limited to a single device or location, which can make it difficult to access customer information when you're on the go.

Inadequate reporting:

Traditional contact management systems often lack robust reporting capabilities, which can make it difficult to gain insights into your customer relationships.

Lack of automation:

Traditional contact management systems require a lot of manual data entry, which can be time-consuming and error-prone.
These limitations can hinder a business's ability to effectively manage customer relationships. But you don't have to lose hope yet!
Up-and-coming CRM tools like BIGContacts offer a more comprehensive solution that addresses these issues. With such tools, you can benefit from a full suite of CRM tools, seamless integration with other business applications, scalability, cloud-based accessibility, powerful reporting capabilities, and automation features.
By overcoming the limitations of traditional contact management systems, CRM for contact management can streamline the entire process and help make informed decisions that drive growth and success.
Creating an Effective Contact Management Strategy
69% of organizations believe that inaccurate business data undermines customer experience efforts.
This makes it important to craft an all-rounded contact management strategy that ensures that your data is well-updated and usable. Your contact management strategy should include the following steps-
Maintain the Legitimacy of Data:
Keeping the contact data clean and consistent can help you increase overall organizational efficiency by optimizing your sales and marketing efforts. The first and foremost step of developing a contact management strategy is to ensure that the data is accurate and valuable.
Read More: How to Keep Your CRM Data Clean: 10 Best Practices to Get Started
Identify Quality Leads:
You must identify which contacts are worth spending your time and resources on. Make sure you find out which lead is qualified to buy your product and drop any dead leads that have no potential of converting.
Find out What Drives Conversions:
Converting leads to customers becomes easy with a contact management tool in place. But to accomplish this, you need to have adequate knowledge of what propels these conversions for your business and integrate these actions into your strategy.
Track Customer Interactions:
Keep track and learn from every customer interaction. This can help make customer experiences much more personalized. Adapting your contact management process based on the insights gathered by customer interactions can be an efficient way to manage and optimize your business processes.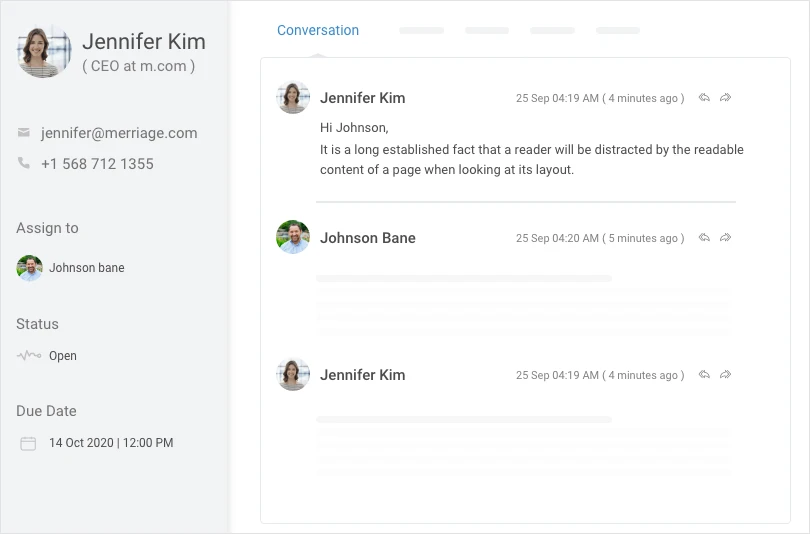 Choosing the Right CRM for Contact Management
The collection of contact information is only half the battle won. The real challenge is using the data effectively. Tracking customer data with the best contact management app can provide you with insights that can help drive conversions.
But how do you decide which CRM would be the most suitable for your business?
Here are some factors to consider when choosing a CRM tool for your business:
Cloud-Based Access:
The CRM that you go with should allow syncing the data from anywhere. Choose a cloud-based contact manager to stay updated with all the developments associated with the contacts without any errors or delays.
Read More: The Ultimate List of Cloud-Based CRMs
Budget:
Begin by deciding how much budget you can allocate for a CRM and what features you can find for that amount. Consider the pricing options available for multiple CRMs and choose one that offers a wide range of functionalities for the most affordable price.
Automation:
The level of automation you require for your marketing efforts or other processes like follow-ups or meeting reminders can help you decide which CRM application would be the most appropriate for your business.
Scalability:
Your business is likely to expand with time, and therefore, you need to have a CRM that grows with it. Scalability is an important criterion to consider when making the decision to choose a contact management solution for your organization.
Integrations:
The best contact management app works seamlessly with other tools. This integration allows businesses to stay on top of the game. You can choose a CRM that integrates with tools like email marketing, contact synchronization, accounting, project management, and VoIP calls.
5 Best Contact Management Software
Here are our top 5 picks for the best contact management software you can use for your business. These tools are highly dynamic and adaptable solutions that can easily fit your existing workflow and help you make the most out of every business relationship.
1.
BIGContacts
BIGContacts is an all-inclusive contact management and email marketing solution that can significantly improve business profitability. The CRM application comes with in-built pipeline tracking, workflow automation, calendars, and ready-to-use reports, all of which contribute to enhanced customer relationships. Use it to maintain detailed contact records with custom fields and automate repetitive processes.
Key Features:
Track all contact details, notes, files, emails, tasks, and transaction history in one place

Use custom fields to store the most relevant information in contact records

Access social media accounts from within contact records

Use tags and filters to keep your contact database well-organized

Create static and dynamic contact lists for effective segmentation
Pros:
Collect more contacts automatically with webform connections

Never miss a follow-up or deadline with automated alerts and notifications
Cons:
Requires more advanced contact scoring and deduplication features

The loading speed can drop at times
Pricing:
BIG- $5/user/month

BIGGER- $15/user/month

BIGGEST- $25/user/month

ENTERPRISE- Custom pricing
G2 Rating:
BIGContacts Plan Summary
:
| | | | | |
| --- | --- | --- | --- | --- |
| | BIG | BIGGER | BIGGEST | ENTERPRISE |
| Contact Dashboard | ✔ | ✔ | ✔ | ✔ |
| Contact Capacity | 1000 | 10,000 | 50,000 | Unlimited |
| Custom Fields | 6 | 20 | 50 | Unlimited |
| Social Profile Search | ╳ | ╳ | ✔ | ✔ |
| Contact Tags | ✔ | ✔ | ✔ | ✔ |
| Webform Connections | ╳ | ✔ | ✔ | ✔ |
| Automated Tasks & Emails | ╳ | ╳ | ✔ | ✔ |
2.
HubSpot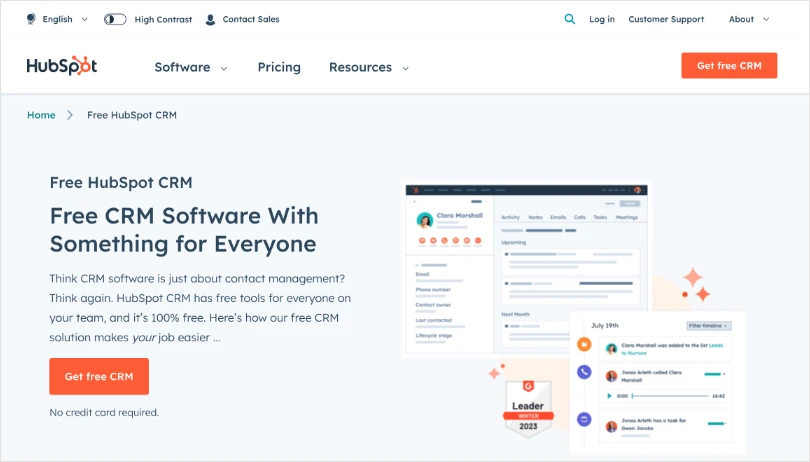 HubSpot CRM is a powerful contact management solution that eliminates manual work from the process, contributing to improved efficiency. Use it to manage sales opportunities with a visual sales pipeline, generate reports, automate follow-ups, and assign tasks to team members. HubSpot also comes with an auto-populate feature for contact records.
Key Features:
View all contact data and interactions in a single place

Automatically populate contact records with data from multiple sources

Share scheduling links with contacts, making it easier for them to book meetings with you

Access a universal inbox to stay on top of all business communications

Created segmented lists to drive more targeted interactions
Pros:
Log all activities and interactions automatically

Integrate with Gmail and Outlook to manage business communication effortlessly
Cons:
Reporting capabilities are limited

The pricing structure is steep, resulting in the overall cost increasing quickly
Pricing:
Free plan available with limited features

Paid plans start from $45/month
G2 Rating:
HubSpot Plan Summary:
| | | | |
| --- | --- | --- | --- |
| | Starter | Professional | Enterprise |
| Contact Management | ✔ | ✔ | ✔ |
| Contact Scoring | ╳ | ✔ | ✔ |
| Dynamic Personalization | ╳ | ✔ | ✔ |
| Mobile App | ✔ | ✔ | ✔ |
| Duplicate Records Management | ╳ | ✔ | ✔ |
3.
ZohoCRM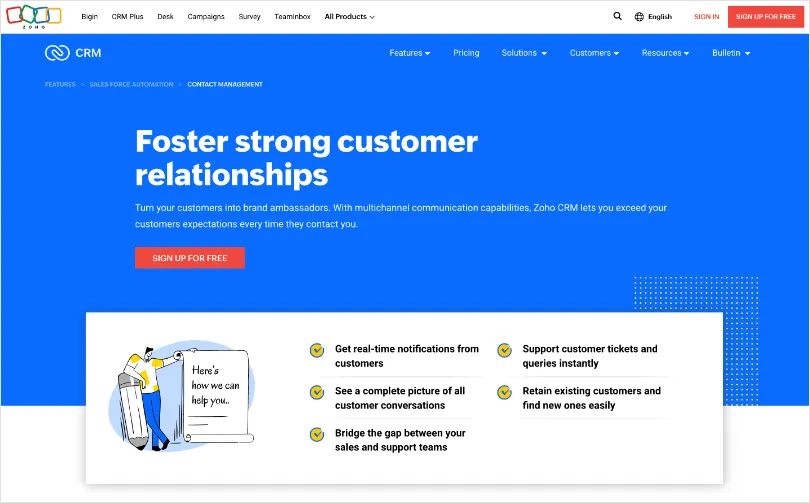 Zoho CRM offers powerful contact management features, allowing you to foster long-term business relationships. The tool facilitates multi-channel communication with contacts, lets you automate repetitive tasks, and provides intelligent recommendations based on historical data. You can also integrate it with various helpdesk solutions to manage support tickets from within the contact management system.
Key Features:
View all customer data, conversations, and tickets from the same place

Engage with contacts through emails, calls, live chat, social media, and other platforms

Use communication analytics to identify the most effective channels

Check in on the mobile app to record meetings and interactions remotely

Automate your workflow to improve organizational efficiency
Pros:
Get real-time notifications for contact activity

Receive AI-powered recommendations to improve your interactions
Cons:
Customer support is below par

The tool has a clunky interface
Pricing:
Free plan available with limited features

Paid plans start from 14/user/month
G2 Rating:
Zoho Plan Summary:
| | | | | |
| --- | --- | --- | --- | --- |
| | Standard | Professional | Enterprise | Ultimate |
| Contact Management | ✔ | ✔ | ✔ | ✔ |
| Custom Fields | ✔ | ✔ | ✔ | ✔ |
| Contact Segmentation | ╳ | ╳ | ✔ | ✔ |
| Zoho Analytics | ╳ | ╳ | ╳ | ✔ |
4.
Pipedrive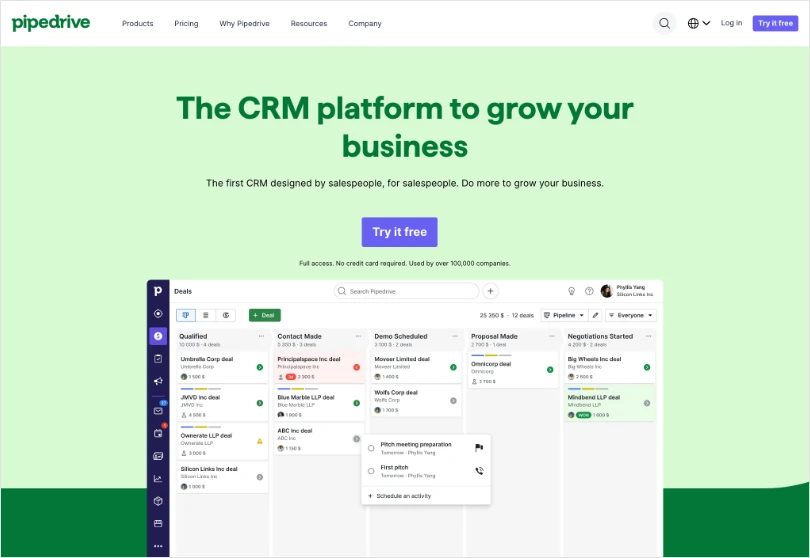 Pipedrive pools all your contact data in one place and makes it easier to access for the entire team. You can leverage this robust platform to keep track of your leads and customers with ease. Other notable features of this CRM tool include pipeline management, webform connection, and revenue forecasting.
Key Features:
Access a complete history of calls, emails, tasks, meetings, etc., in one place

Automate repetitive tasks like data entry and client follow-up

Visualize opportunities with customizable sales pipelines

Track visitor activity on your website and collect high-quality leads

Filter and segment contacts efficiently using targeted lists
Pros:
Set up user roles and permissions to ensure the security of critical data

Use automatic activity reminders to get things done timely
Cons:
Lacks advanced reporting and analytics capabilities

Help resources and training materials require considerable improvement
Pricing:
Starts from $9.90/user/month
G2 Rating:
Pipedrive Plan Summary:
| | | | | |
| --- | --- | --- | --- | --- |
| | Essential | Advanced | Professional | Enterprise |
| Contact Management | ✔ | ✔ | ✔ | ✔ |
| Custom Fields | ✔ | ✔ | ✔ | ✔ |
| Duplicate Records Merge | ✔ | ✔ | ✔ | ✔ |
| Two-way Email Sync | ╳ | ✔ | ✔ | ✔ |
| Meeting Scheduling | ╳ | ✔ | ✔ | ✔ |
5.
Keap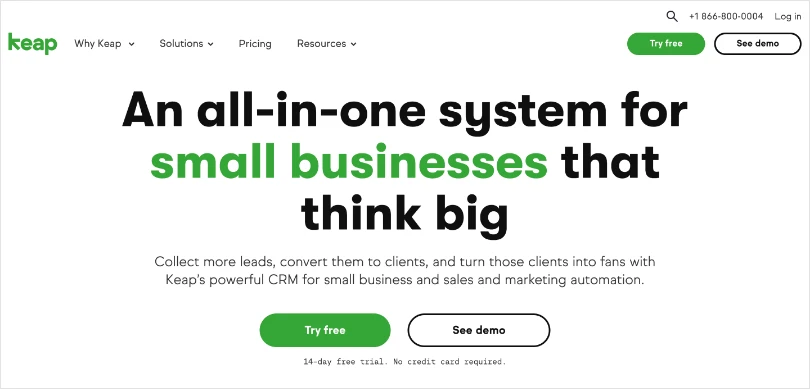 Keap simplifies contact management by providing anytime, anywhere access to essential contact information. The platform also offers robust automation features, helping you get more done in less time. You can use it to create targeted email campaigns and A/B test them to improve your marketing performance.
Key Features:
Capture contacts from web forms, social media, and landing pages

Use the desktop or mobile app to access contact data readily

Schedule email campaigns to be delivered based on specific triggers

Manage invoices and payments without leaving the contact management system

Visualize business performance with detailed reports
Pros:
Automate lead capture and client follow-ups

Enable contacts to schedule appointments at their convenience
Cons:
A steep learning curve is involved

Search functionality is limited
Pricing:
G2 Rating:
Keap Plan Summary:
| | | |
| --- | --- | --- |
| | Pro | Max |
| Contact Management | ✔ | ✔ |
| Email Marketing | ✔ | ✔ |
| Appointments | ✔ | ✔ |
| Marketing Analytics | ╳ | ✔ |
Bridge the Gap Between Customer Relationships & Satisfaction
Contact management can be a powerful asset for any organization, regardless of its size or industry. With it, you can be more mindful of customer needs and preferences. This will enable you to deliver satisfactory experiences, resulting in better retention and improved loyalty.
To effectively manage contacts, you need an intuitive and robust CRM tool, and BIGContacts is a perfect solution. It offers a range of features and functionalities that help track customer interactions, manage tasks, schedule appointments, and more. The platform also integrates with other business tools, making it easier to manage day-to-day operations.
Investing in a powerful contact management solution like BIGContacts is a worthwhile decision for any business that seeks to streamline its contact management processes. With its user-friendly interface, automation features, and robust reporting capabilities, you can increase productivity and efficiency while improving customer relationships.