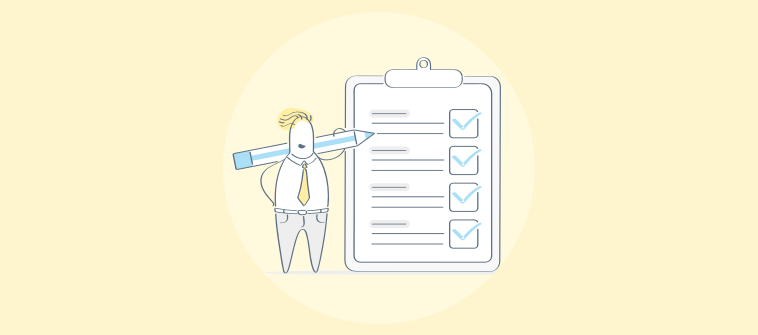 Even in its early stages, your business needs effective customer relationship management to form lasting impressions and retain more customers. This is why choosing a small business CRM that seamlessly integrates with your existing processes is important.
Customer data can be used to optimize sales and marketing efforts. It can provide insights into what the customers like and what they expect from you.
While several businesses already have access to this information, they still do not see any results.
The reason- inefficient storage and management.
A CRM tool can help you overcome this challenge by capturing and storing key information easily.
However, the mere existence of a CRM system does not warrant success. To see actual results in your revenue, you need to choose the most appropriate solution. This decision requires time, effort, and extensive research. Since you cannot try out every available tool, you need to shorten the list to the most suitable CRMs and run it.
Here, we have provided a CRM software selection checklist of the 24 most important factors to look for in a customer relationship management tool.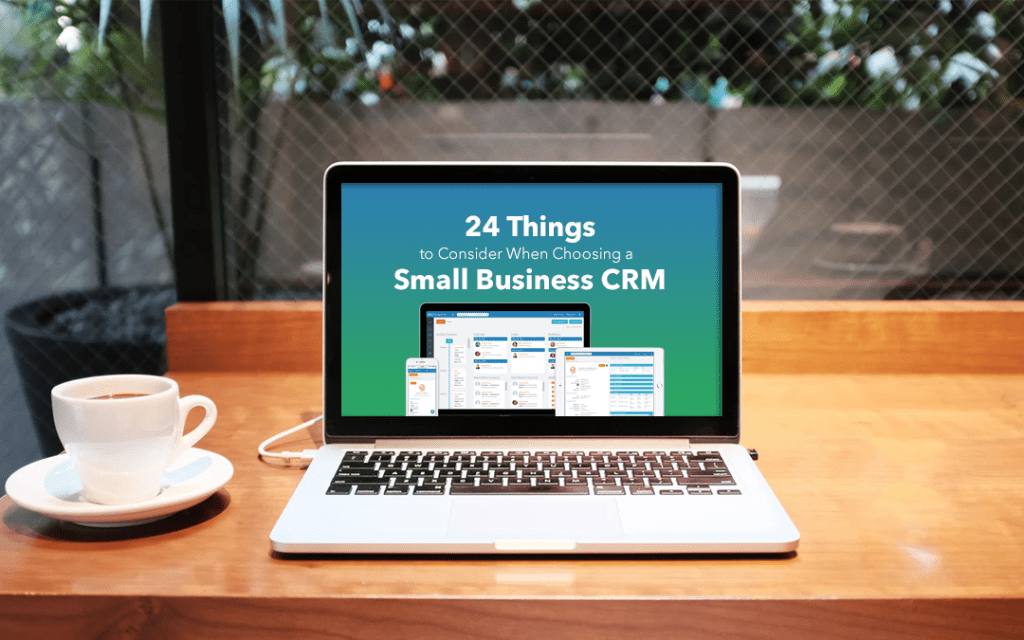 Before starting the decision process, it is crucial to understand what a CRM tool is and what features it should include.
Let's delve into the significance of CRM and how it can be beneficial for your business.
What is a Small Business CRM?
Small businesses need to do a good job of strengthening their customer relationships. They need to offer reliable support, address questions promptly, and personalize their interactions with the users.
In the absence of such efforts, their profits can take a huge hit.
It's easy to keep track of all interactions when you only have a few customers. But as time passes and business grows, essential details get missed out. Storing critical customer information in spreadsheets becomes inefficient and cumbersome.
If you still spend hours at the office manually entering data, we have some good news for you!
Customer Relationship Management tools are designed to make this process advanced, automated, and more efficient. By storing important customer information, capturing data automatically, generating reminders and reports, and tracking the progress of projects, a powerful CRM tool can open a world of possibilities for your business!
Every division of your company, be it the sales, marketing, or customer service department, can benefit from CRM. You can generate more leads, personalize your interactions, and segment the customers into groups to make every interaction more targeted. All of it from ONE platform!
Read More: What is CRM? A Complete Guide To CRM Software
What Are the Benefits of a CRM System?
Now that we have established what CRM software is and what it can accomplish, let's address the more important question-
Do you really need one?
The answer to this question can be found in this statistic-
86% of people are willing to spend more money if they get an improved buying experience.
A CRM system can help you turn this number into real profit for your business.
To cultivate long-term relationships, you need to understand your customers and their preferences. A top CRM software for small businesses can make this exercise easier for you by taking care of the following-
Capturing and managing contact information – Getting access to all customer data in a synchronized way can help you use it better. A CRM tool can help you capture incoming emails, access social media profiles, and store customer history in one convenient place.
Tracking tasks and activities – CRM can help you track the calendar, tasks, activities, and scheduled meetings from a single dashboard. You can also use the tool to assign tasks to team members, monitor their progress, or follow up with prospects at the right time.
Generating leads – With the lead generation and prioritization facilities offered by a CRM tool, you can get access to promising opportunities and convert them into sales.
Accessing custom reports – You can use CRM to generate customized reports and analyze the results of your sales and marketing efforts. Sales CRM software for small business can make revenue forecasting easier and more accurate.
Automating processes – Several recurring tasks, such as data entry and management, take up most of your sales representatives' time. With CRM, processes like email marketing, lead follow-up, reminders, etc., can be automated to save valuable time. On account of this- your team can devote more time to making real connections and more sales!
By choosing a small business CRM, you can keep tabs on the progress of every task and ensure that everything is going as per your strategy.
5 Essential Features of CRM for Small Businesses
Every tool on the list of top CRM for small businesses must have certain features that add to its functionality and accessibility. Some of these features are listed below-
1. Contact Management
A CRM allows you to centralize and organize all your customer contacts in one place.
You can easily store and access important information such as names, phone numbers, emails, and interactions, ensuring you have a complete view of your customer relationships.
2. Sales Pipeline Management
With this feature, you can track and manage your sales process from the initial lead to the final sale. It helps you visualize and organize your sales opportunities, track progress, set reminders, and forecast revenue. It ensures that no potential deals fall through the cracks.
3. Activity Tracking
This feature enables you to create and manage tasks, appointments, and follow-ups for yourself or your team. You can set reminders, assign tasks, and track their completion. It helps you stay organized, ensures timely follow-ups, and improves overall productivity.
4. Email Integration
Imagine your CRM and email client conversing seamlessly. It's like having a magic portal that connects the two together! With email integration, you can manage customer interactions without leaving your CRM platform.
You can track all your email conversations, log them automatically under the relevant customer's profile, and even send emails directly from the CRM.
5. Reporting & Analytics
This feature provides insights into your business performance and customer data, allowing you to make informed business decisions.
You can generate reports on sales performance, customer behavior, conversion rates, and more. It helps you identify trends, measure your success, and optimize your strategies.
Mistakes to Avoid While Choosing a Small Business CRM
Many people fail to realize that choosing a small business CRM is a lot more complicated than just picking the best-rated or the most popular tool in the market. A lapse in judgment could result in outcomes that do more harm than good for your business.
You need to find a tool that is suitable for your goals and workflow!
Here are the most common mistakes that you can avoid when choosing a small business customer service system.
Not Carrying out a Thorough Requirement Analysis:
No matter how efficient a product is, it is of no use to you if it does not align with your objectives. Take time to identify the challenges your employees face and find a CRM tool that can solve these problems.
Not Choosing a Suitable Sized Product:
There is no one-size-fits-all for a CRM.
Small businesses cannot benefit from using a tool that is designed for large enterprises. This is because the product will be more costly and challenging for a small team to manage.
Not Taking the Business Expansion Into Account:
You need a CRM that can grow with your business. A scalable CRM tool can be a valuable addition to your business expansion.
You can ensure the viability of the CRM by checking its existing customer base, the provider's reliability, and the type of integrations it offers.
Not Thinking From the User's Perspective:
Not considering the requirements of the people who are actually going to use the CRM can be a step in the wrong direction. While a tool may look suitable to you, it may not successfully deliver upon the needs of your team. Make sure you keep the end-users in mind when looking for an effective CRM solution.
How Much Does CRM Software Cost?
While CRM tools deliver promising ROI, the cost can still be a dealbreaker when choosing a CRM for a small business. Most CRMs offer multiple pricing options with varying features. These are generally charged per user and can be billed monthly or annually. Therefore, the total cost of the CRM would depend on how many people use it.
The three pricing options offered by CRM providers include:
Basic

– The

Basic CRM software

plan is ideal for beginners. This plan provides only the fundamental features of the CRM and can be a good learning tool.

Professional

– This plan offers advanced functionality as compared to the basic plan. The professional plan serves as a suitable middle ground that is budget-friendly and feature-rich.

Enterprise – Enterprise plans are suitable for professionals skilled in CRM. This tier offers a full-feature package experience that can help you make the most out of your customer relationship management efforts.
Read More: Measuring ROI for CRM: A Valuable Process
How Do You Choose a CRM for Your Small Business?
49% of buyers make impulsive buying decisions if they get personalized service. This implies that the stakes are too high to pick any CRM that you can get your hands on. You have to dedicate time to find a tool that will work the best for you.
To help you, here is a CRM selection checklist that you should refer to before committing to any tool.
Carry Out an Assessment of Your Needs:
You need to have clear expectations from the CRM. Find out what problems you wish to solve and processes that you are looking to optimize. This CRM needs analysis, which can be a good starting point for making the final decision.
Look Beyond Features as Well:
While it is crucial to choose a CRM for small business offering the right features, there are several other things that you should consider. These include pricing, storage capabilities, integrations, sales pipeline management, file management, automation, marketing functionalities, etc.
Consider Set-up Time and Usability:
Choose an easy-to-use tool with quick installation. A short set-up time can save your team from spending hours trying to figure out how to work their way around the tool.
Keep in Mind the Future of Your Business:
A CRM tool that helps your business grow and is capable of growing with it is the best solution for you. Keep in mind the scalability of the CRM before investing in it.
Check Out the Reviews:
The best way to make an informed decision about CRM tools is by going through small business CRM software reviews and testimonials. These reviews present an impartial judgment of the products and can help you figure out if they are suitable for your business.
Find Out if It Works Well With Other Business Tools:
Since customer relationship management is a comprehensive process, a stand-alone tool can not work effectively for it. The answer to how to choose a CRM system is to look for a product that effortlessly integrates with your business tools.
Don't Just Rely on the Big Brands:
Although it is crucial to consider the reputation and credibility of the CRM, make sure that your decision is not solely based on this. Look into the features offered and if they align with your needs instead of just choosing the most popular CRM software.
How Much Customization Does It Offer:
Every business has a different approach to customer relationship management. With a customizable CRM solution, you can effectively meet your customer expectations and keep all processes aligned with your workflow. Custom communication channels, data fields, stages, and user roles can help you modify every process based on your needs.
Data Policy Compliance:
The CRM that you choose needs to comply with data policies. Since you would be handling sensitive customer information, necessary policies, and contract guarantees need to be in place to minimize any threat to the data security and your credibility.
Scope for Automation:
Being a small business, the most valuable thing that you can lose out on is time. With the best small business CRM software, you can automate various processes to devote your time to more important tasks.
CRM allows you to automate emails, tasks, reminders, follow-ups, etc., to improve the overall efficiency of your business.
The Quality of Customer Support:
There will be countless instances where you will get stuck using the CRM tool. This is where customer support will come into play. Choosing a CRM that offers top-notch and quick support can help you keep your business running smoothly without any delays.
Reporting and Analytics for Valuable Insights:
Relevant insights gathered from a CRM tool can help you build upon your customer relationships effectively. You can find out what works well for your business and what areas need improvement with the reporting and analytics feature of small business CRM systems.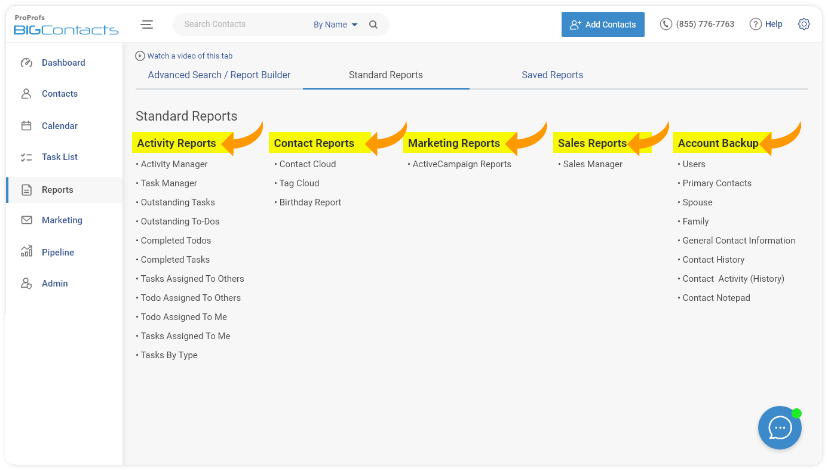 Maintaining the Accuracy of Contact Data:
A CRM system is as good as the data it stores. A small business CRM software should be able to keep the data synced and up to date across multiple systems to rule out any chances of errors. This can improve the customer experience by avoiding any frustration caused due to data inaccuracy.
Go for a Tool That's Easy to Use:
The most important thing to keep in mind when choosing a small business CRM and project management tool is the ease of use. The less complicated your tool is, the easier it is for your team to get a hold of it. Simplicity can help small businesses use a CRM tool much more effectively.
Consider the Pricing Plans Offered:
Most CRM tools offer multiple pricing options with different features. Compare the prices offered by various vendors to find the most optimal plan for your business.
Value Transparency:
When it comes to choosing a CRM for small business, transparency should be at the top of your priority list.
Conduct adequate research about the products by going through the 'about us' sections, the type of clients they work with, and the awards and accolades they hold. Choosing a platform that is completely transparent in what it does can help you find a reliable, long-term solution.
Find Out Any API Limitations:
Finding out about any limitations on API calls early on can help you save time in the long run. If you plan on integrating other applications in the future, make sure that the CRM tool offers this feature before investing in it.
Look for Collaboration Features:
Easy collaboration is one of the essential features to look for in a CRM tool. With enhanced internal collaboration, your team can meet targets faster. The best online CRM can remove any hurdles in communication, making the entire sales process easier for the customers and your employees.
Choose a CRM With Mobile Access:
In the current marketplace, information should be accessible on the go!
Since the fundamentals of business CRM software rely on staying better connected with the users, mobile access has become a feature that every business looks for.
65% of sales representatives who use mobile CRM are likely to meet their targets. This shows the role remote access can play in achieving business goals.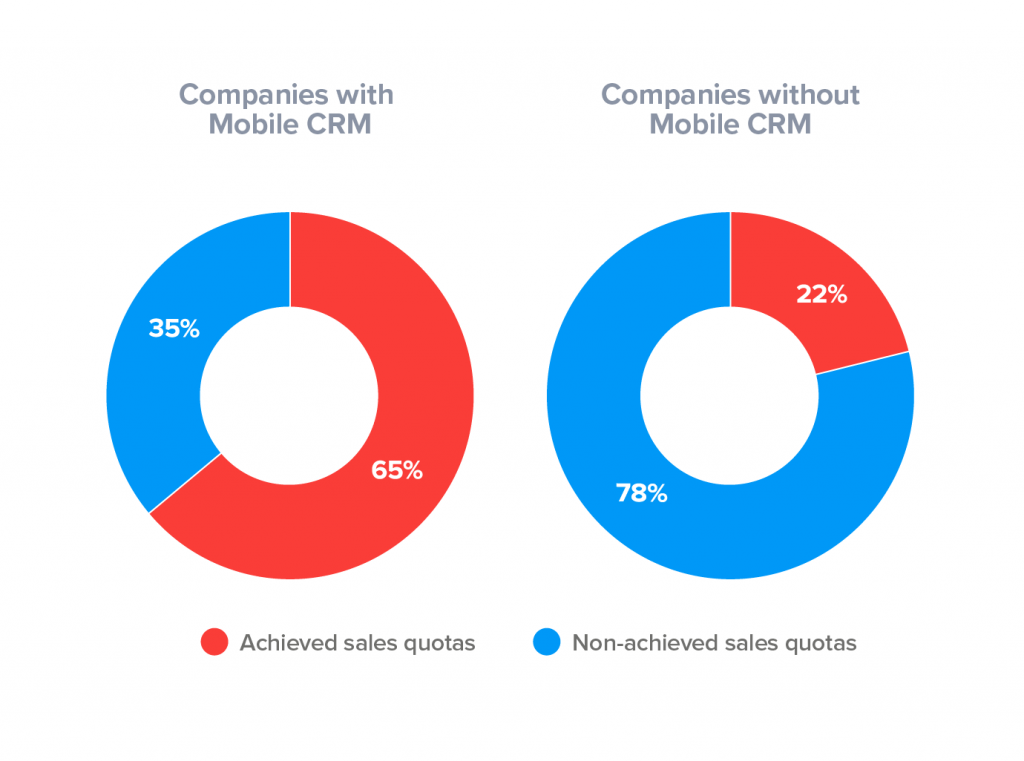 Make Sure It Is Easy to Integrate With Your Goals:
While it's easy to get carried away with advanced features, remember that they are of no good if you cannot use them to your advantage. Keep in mind your business goals when choosing a CRM to find a tool that complements your efforts.
Impact on Customer Response Time:
The end goal of CRM software for small businesses is to deliver high-quality service to the users. Customer Response Time significantly affects how your customers perceive your business. Choosing a small business customer service system can help you reach out to your customers directly, leading to a reduction in the overall response time.
Find out if You Can Personalize Your Interactions
Personalizing customer interactions such as emails can lead to an increase in your click-through and customer retention rate. Make sure you choose a small business tool for CRM that makes this personalization easier. This can help you build trust with your customers and form long-term relationships.
Take the Opinion of End-Users:
You need to take into account the opinion of the potential users of the CRM. This could include your sales representatives, marketing and operations teams, or customer service executives.
Every department will have different requirements for the CRM tool. Having a clear idea of these expectations can help you find the best product for your business.
Consider the Data-Security Aspect:
Who would be responsible for maintaining the data security? Getting this confusion out of the way in the initial steps can help you avoid data breaches. Find out if the CRM vendor takes full responsibility for the data security, backups, and recovery.
Read More: Free CRM Comparison Spreadsheet (+ How to Choose a CRM)
Manage Prospects and Customers- On The Go!
Powerful customer relationships can help your business thrive in this unbridled competition. With a robust CRM solution, you can drive conversions and boost the overall profitability of your business.
CRM can help you stay on top of things to ensure that your business is always a few steps ahead of the competition. Choosing a small business CRM requires you to put in some effort and time. Make sure to analyze the requirements of your business before beginning the comparison between various products. Go through multiple CRM reviews for small businesses for more details about the tool.
Most CRM tools offer a free trial to help you find out how they function and what features they offer. You can choose this small business CRM free demonstration to understand better if the tool would be the right fit for your business.
You can also refer to this CRM best practices pdf to learn how to utilize a CRM tool to its full potential.
Do you want to make more sales?
BIGContacts is the #1 contact management software & CRM to close more sales.