Choosing the right CRM for your business can be a tricky task. There's lots of things to consider: what features you need, how much it costs, will it work with my existing software and more. So what is the best small business CRM to choose? It's a tricky question to answer. I mean, just Google it and you'll see 47,900,000 results!

That's a lot of choices. In fact, that's probably too many choices. So to help you filter out the noise, here are 15 CRMs compiled together in a handy and free CRM comparison spreadsheet.
What is CRM Software?
First ups, CRM stands for customer relationship management. It is a software solution for businesses that brings together a range of capabilities. For instance, you can store all your customer data in it, send emails, create reports, schedule meetings, and manage your pipeline, without ever leaving the CRM system.
Why is This Important? (How Can a CRM Help my Business)
It goes without saying: customer relationships are key to your business growth. So it is important that you manage them as efficiently as possible. That's where a CRM steps in. Having the right CRM in place for your business can help you:
Find the right customers to grow your business
Build more sustainable and long term relationships.
Help reduce the cost of sales.
Increase employee productivity.
Improve and offer better customer service.
Improve your customer retention.
What CRM Software Features do you Need?
The CRM features you need will largely depend on what you need it to do as part of your business. A CRM is there to enhance your business. Let's take a look at some of the things you need to consider in this CRM features list:
Contact Management: can you log the communication between you, your customers and your prospects to keep track of interactions.
Integrations: does it integrate with useful software you already use to run your business.
Performance Reporting: can you create reports for things like close rate, new prospects by a specific date etc
Pipeline Management: can you have a pipeline view of each stage in your sales process to see how many leads are in each stage, giving you the option to drill down.
Marketing Automation: can you leverage marketing automation software as your business needs grow
Social Management: can you build more of a relationship with your customers on social media
Customizable: can you tailor the CRM to your exact business needs.
IOS/Android/Web App: can you (and your sales team) access it via mobile.
That's a lot of features to consider. But don't worry. We've done the hard work for you and compiled all these features into a handy comparison spreadsheet:
Free CRM Comparison Spreadsheet
With so many to choose from, we've put together a CRM comparison spreadsheet for you. Use it to get a side-by-side comparison of the CRM solutions mentioned in this article:

How to use the spreadsheet:
Click here to grab a copy of the CRM comparison spreadsheet. Once you've clicked that link, you'll be able to make a copy of the spreadsheet and save it to your Google Drive: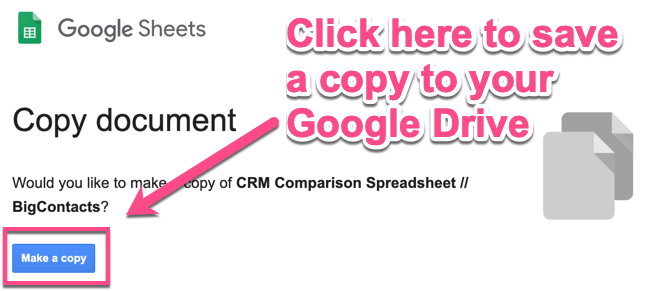 The first columns in the spreadsheet list out the CRM and it's website, how much it costs and whether there is a free trial of it.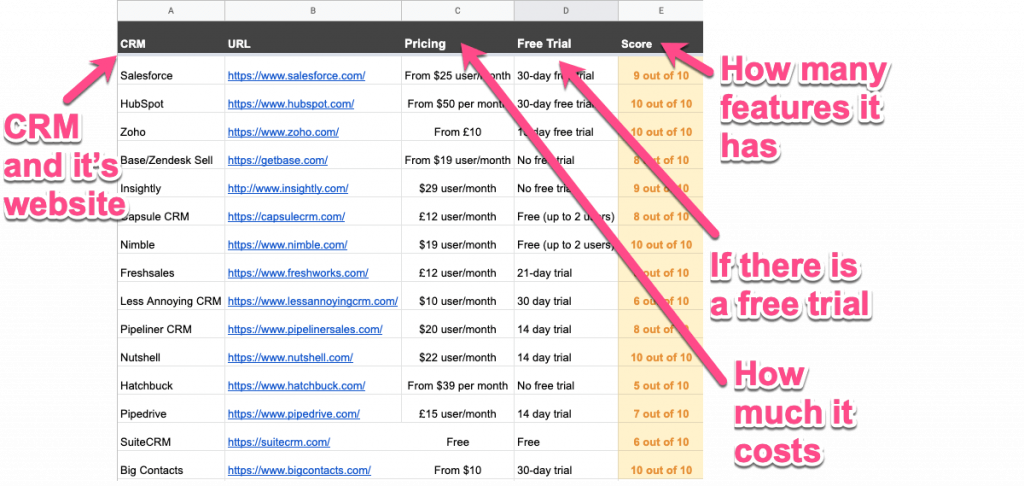 The final column creates a rough score of the features the CRM does or doesn't have, based on these: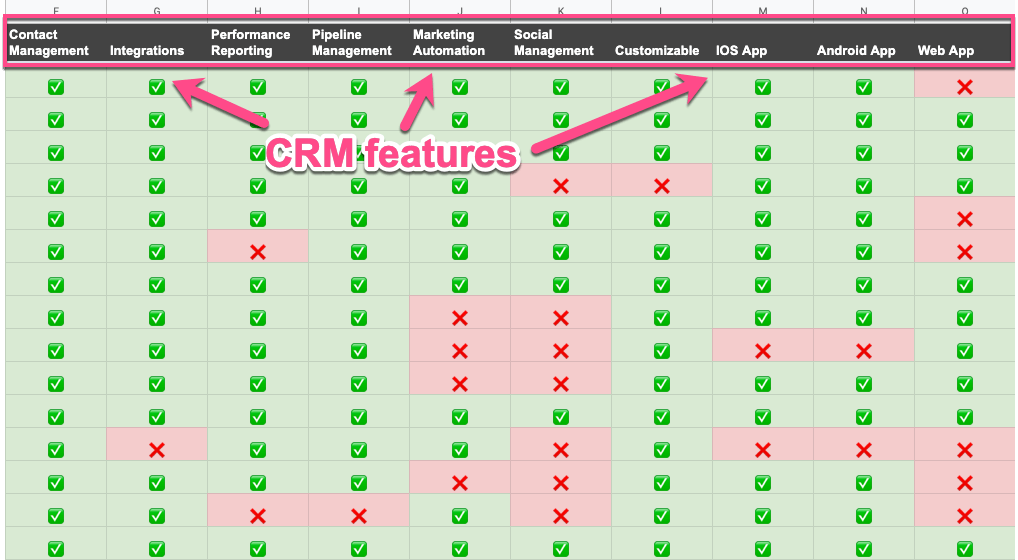 You can see pretty clearly here what features the CRM does or doesn't have in this part of the comparison spreadsheet.
CRM Comparison
So you've seen the spreadsheet, now let's check out the top CRM software for small businesses: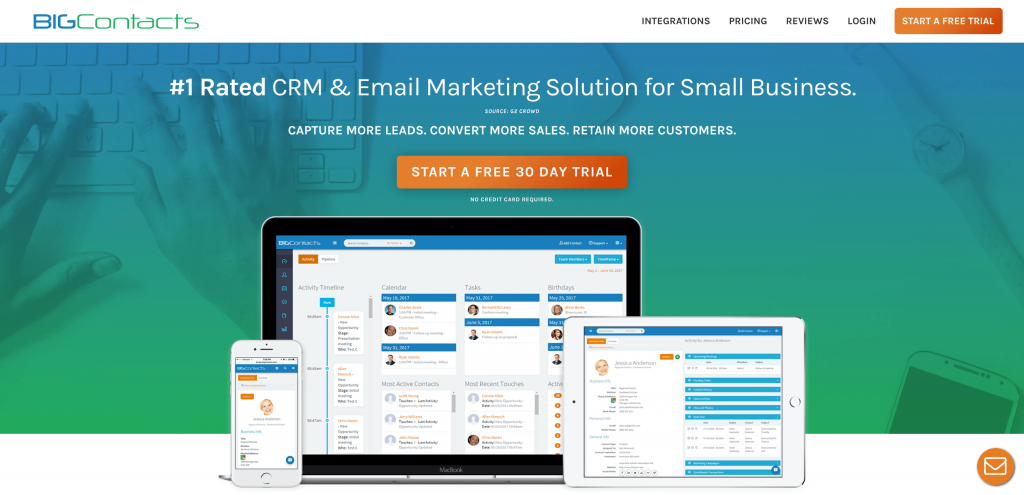 First up is Big Contacts. Aimed at small businesses, this CRM is perfect for managing your prospect and customer relationships by keeping track of all activity in a single platform available on any device.
Pricing: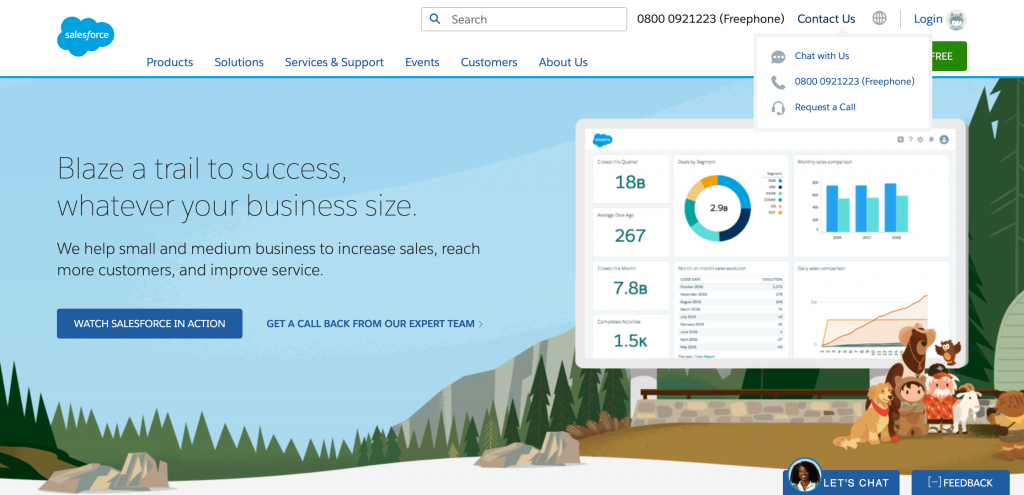 SalesForce is one of the biggest and most used CRM softwares on the market. It is a cloud-based CRM software aimed at companies of all sizes. Salesforce is a single platform designed to manage all aspects of sales, service, marketing and analytics.
Pricing:
From $25 user/month
30-day free trial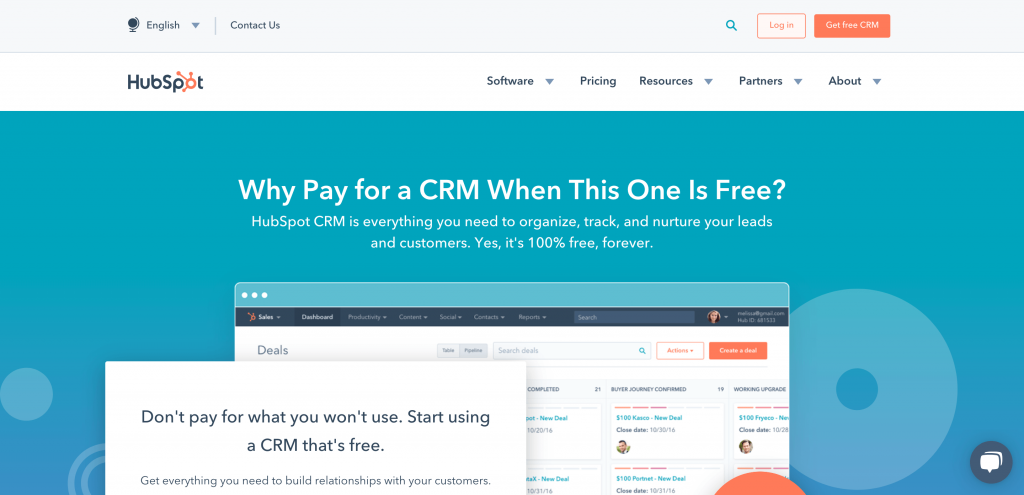 HubSpot CRM is a free, cloud-based CRM for companies who plan to use inbound marketing to attract visitors and potential customers. It is suitable for small to medium sized businesses with an established or a growing online presence.
Pricing:
From $50 per month
30-day free trial.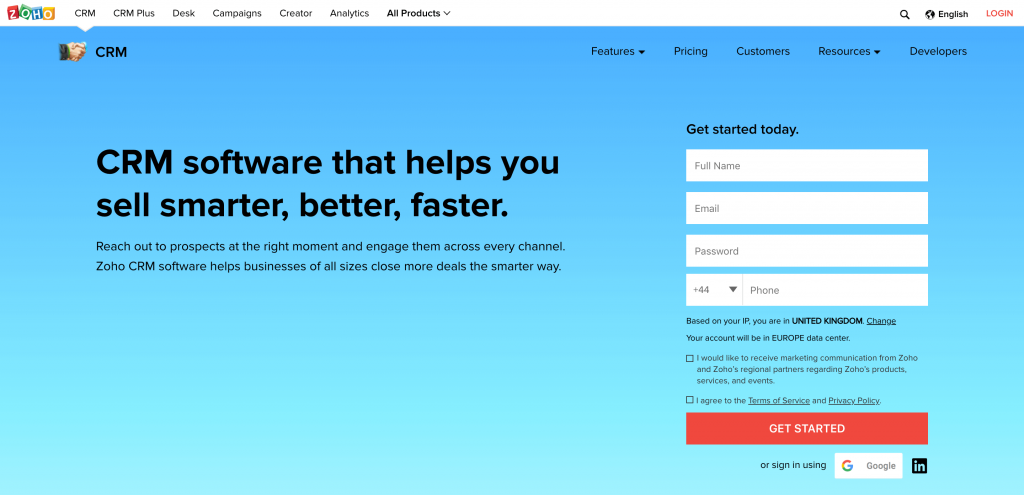 Zoho CRM is a cloud-based software for small to medium sized businesses which allows users to keep track of all client interactions in a single place, whether they take place online, on the phone or in person. For up to 10 users, Zoho can be downloaded and used for free, making it suitable for firms new to implementing a CRM.
Pricing:
From £10
15 day free trial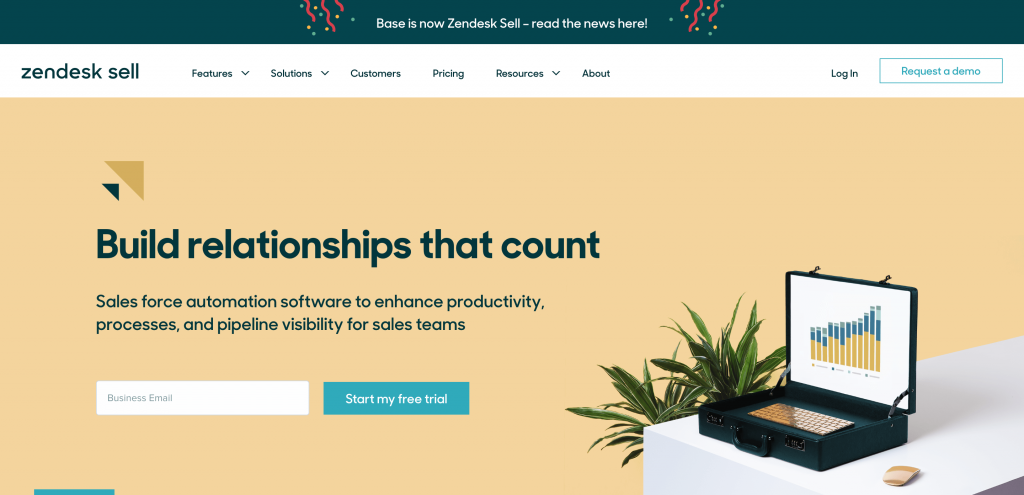 Base/Zendesk Sell is a CRM software aimed at small, medium and enterprise businesses who want an all-in-one platform to manage sales processes. It is ideal for businesses looking to customise their sales pipelines, track leads and perform real time reporting.
Pricing:
From $19 user/month
No free trial
6. Insightly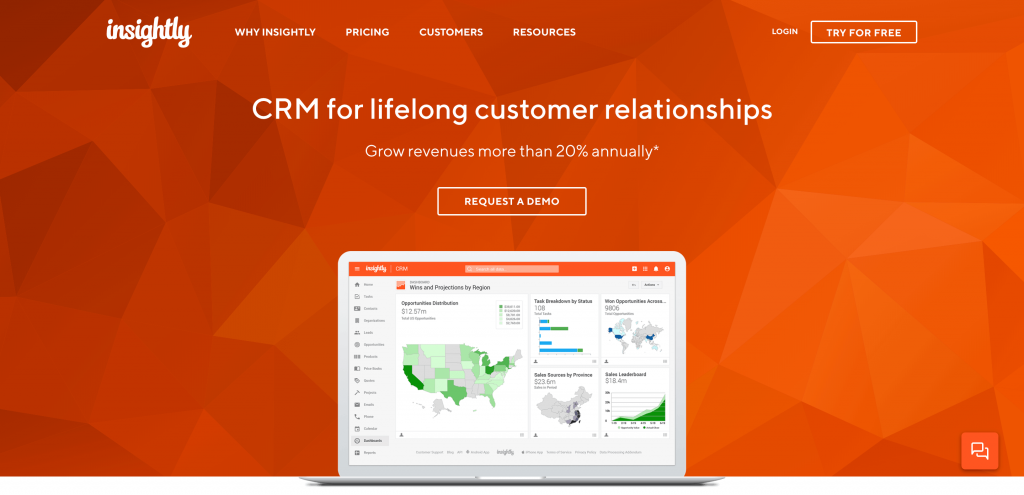 Insightly CRM is aimed at small businesses who want to house all parts of the sales and project management process under a single software. Insightly is geared towards businesses at different levels of growth, so early adopters can upgrade and expand it as needed.
Pricing:
$29 user/month
No free trial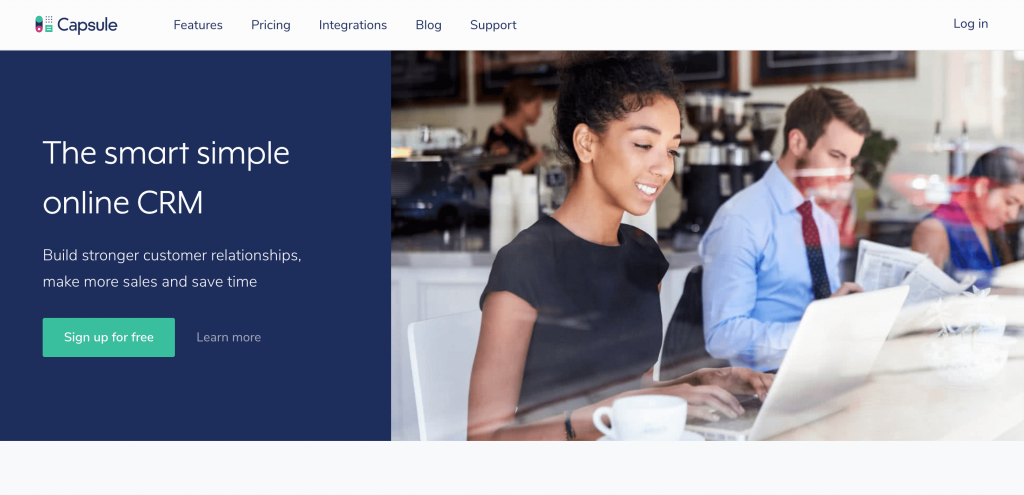 Capsule CRM is a solution for companies of all sizes. As a cloud-based system, it aims to deliver contact management, sales pipeline, and business organization for businesses who communicate customers via multiple channels and want to improve productivity.
Pricing:
£12 user/month
Free (up to 2 users)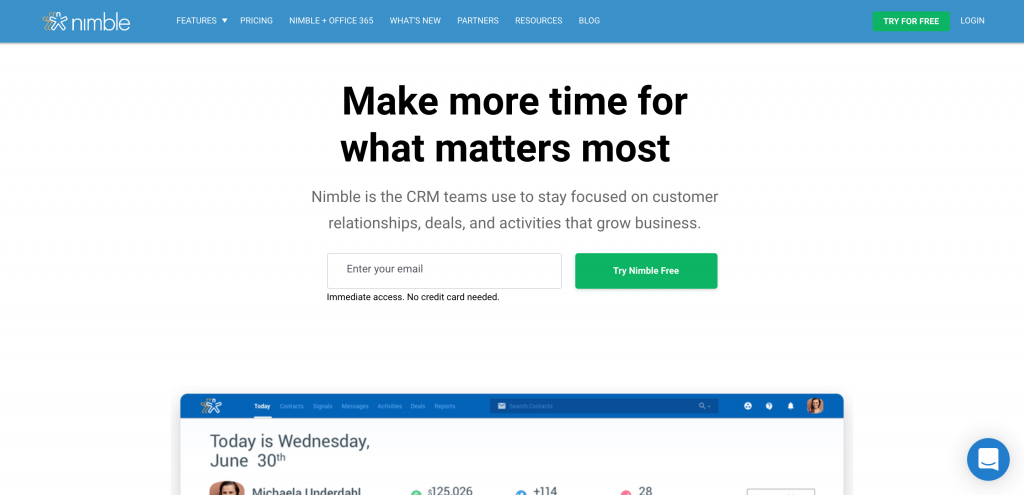 Nimble CRM is a great CRM software for all sizes of business. It has been designed to manage customer interaction under a single platform and pull in organizational tasks from calendars and diaries to be as efficient as possible.
Pricing:
$19 user/month
Free (up to 2 users)
Freshsales is a CRM offering by tech provider Freshworks. The platform integrates phone and email so that they can sent directly from Freshsales, allowing sales teams to improve communication. It also offers analytics and reporting for insights into customer buying behaviors, so that sales teams know when to act.
Pricing:
£12 user/month
21-day trial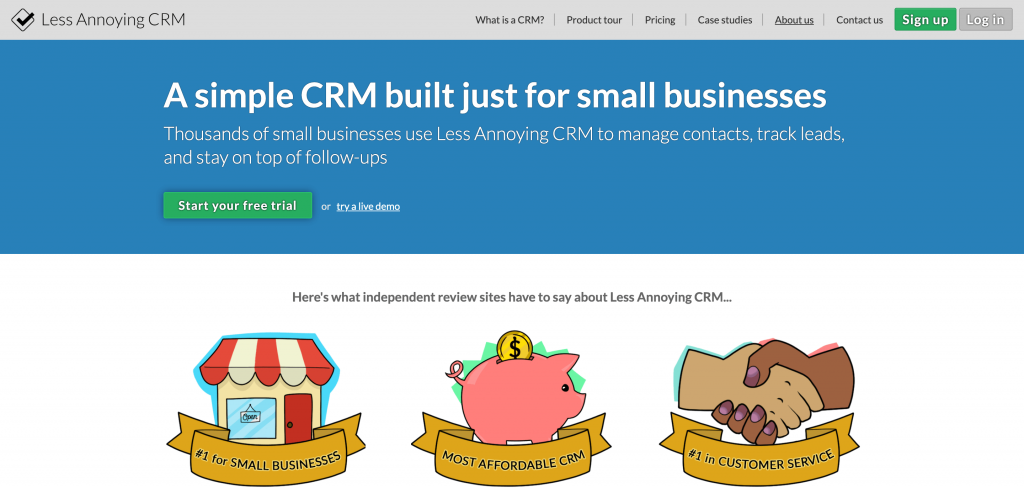 Less Annoying CRM is aimed at small businesses to be an easy to use solution for managing customers and leads. It has been purpose-built for small companies, removing the complex functions of CRM software for larger organizations.
Pricing:
$10 user/month
30 day trial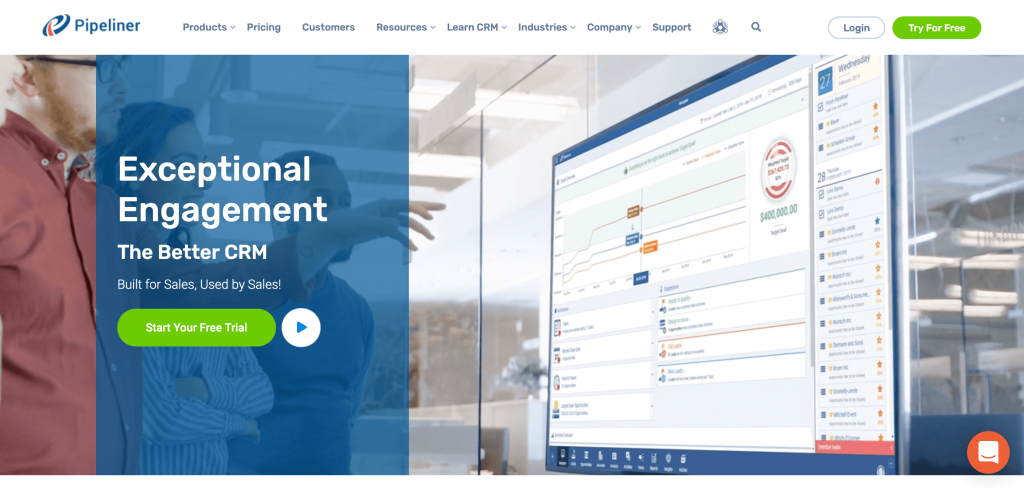 Pipeliner CRM caters to businesses of all sizes and aims to deliver an understandable and actionable solution for sales teams. By focusing on individuals (both customer and users), Pipeliner is well suited for companies who place a high responsibility on their salespeople using initiative to generate leads and close sales.
Pricing:
$20 user/month
14 day trial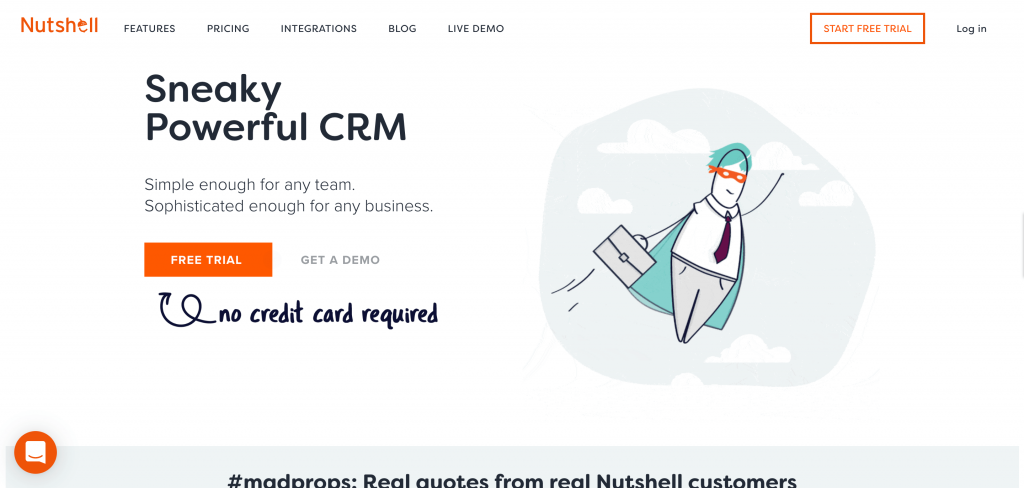 Nutshell CRM is used by a wide range of companies thanks to its flexibility, ease of use, and compatibility with mobile devices. It caters to businesses of all sizes but is especially popular with startups who need a CRM that can adapt to quickly changing business needs.
Pricing:
$22 user/month
14 day trial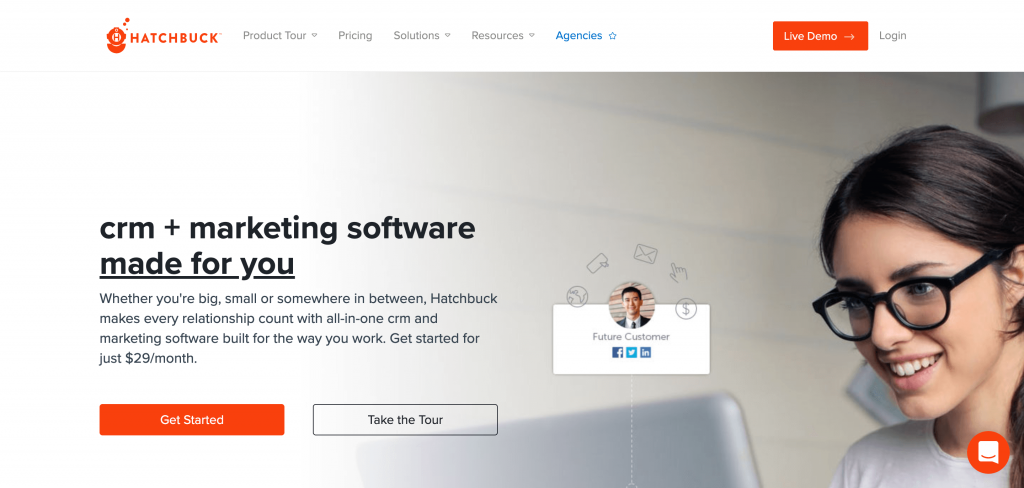 Hatchbuck is a CRM designed for small to medium businesses with a focus on fully-integration marketing solutions. It aims to avoid any compatibility issues between a CRM and marketing software by housing it all in a single software.
Pricing:
From $39 per month
No free trial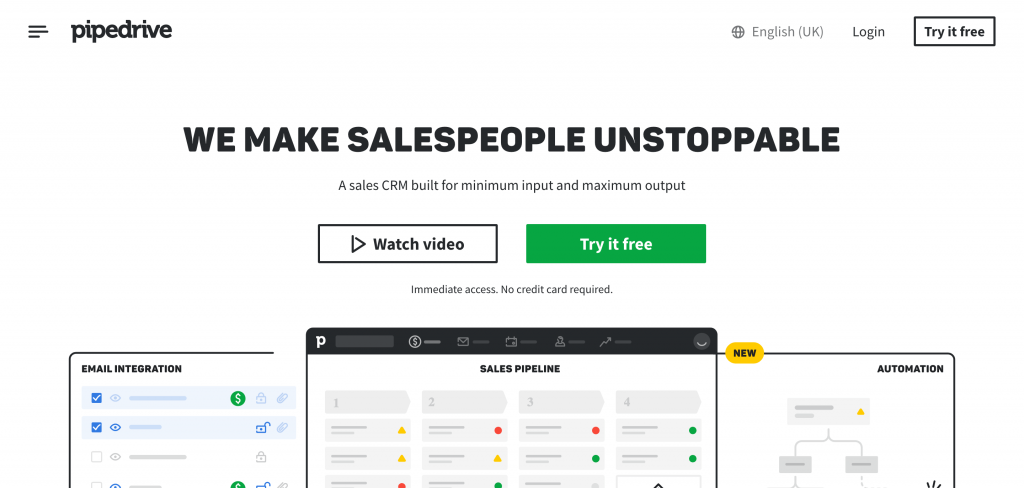 Pipedrive CRM is designed for small sales teams within companies of all sizes. The features are built around selling; giving users control over the actions that turn leads into sales, improve productivity and ensure that no sales opportunities are missed.
Pricing:
£15 user/month
14 day trial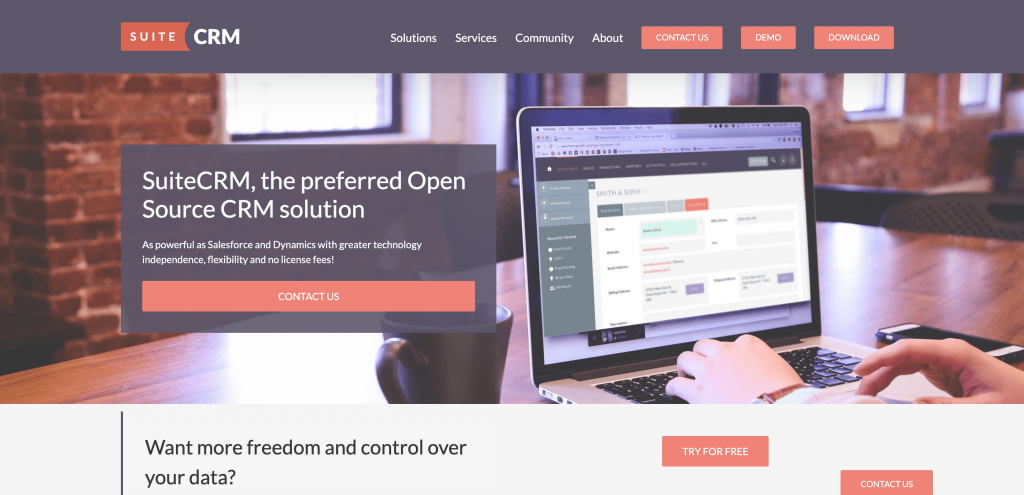 SuiteCRM is an open-source CRM software, which means it is free to download, modify and distribute. It caters to businesses that want full control over their CRM customizations and to move away from relying on subscription-based CRM software.
Pricing:
5 CRM Considerations to Keep in Mind
When it comes to choosing the right CRM, your requirements will be as unique as your business. Often, there is no one-size-fits-all software provider. The right choice will depend what you want to improve. For example, you may want to close more sales, integrate with your email marketing provider or just simply just track the right metrics. To help you decide which CRM solution is best for you and your business, here are some key questions to ask yourself:
1. How easy is the CRM software to use?
Running a business is hard work. You probably don't have much time to spare. All of our CRM picks are easy to learn and use, though some will have more features and some will be more customisable
2. Will it integrate with other software?
You want to know if the CRM you choose will be a team player. You want to work with any existing software you use to run your business. We've picked solutions that have integrations right out the box, to make the process as hassle-free as possible.
3. How mobile & accessible is it?
All the CRMs listed above are cloud-based (stored online) so you can access anything in your CRM anywhere with an internet connection. Just pay attention to the ones with dedicated IOS/Android apps.
4. What's my budget?
Price is always part of choosing software. CRM is no different, especially for small businesses or startups. Almost all the CRMs listed have free trials and options when it comes to pricing so you can get the most from your budget.
5. Will it scale with my business?
Even if your business is really small at the moment, you need to think of the future and pick a CRM that can grow with you. After all, you don't want to have to keep switching CRMs after every growth spurt.
Wrapping up
Choosing the right CRM for your business can save you headaches later down the line, so it's worth spending a bit of time to make the right choice. Regardless of the size of your business, it's always a good idea to map out your needs (and possible future needs) along with your budget, then try to match that up to the right small business CRM solution. Try not to get carried away with having every single feature available, instead focus on the features that will actively benefit your business right now as well as in the future. Just don't forget to grab a copy of the CRM comparison spreadsheet to make your decision that little bit easier.