Are you planning on moving your CRM system to the cloud?
We're sure you're riddled with questions. Most important of all-
Which cloud-based CRM tool to invest in?
Customer relationship management is a crucial business process. Using the right application can grow your business and help you keep up with other organizations in this competitive landscape. A cloud-based application is highly customizable, less complex, more secure, and available across various devices. It offers instant access to relevant contact information, so you never lose touch with your prospects and customers.
Choosing a cloud CRM solution can be challenging. But with access to a detailed analysis of the best tools available in the market, you can find the most effective solution for your business. Read on to learn more about the 16 best cloud-based tools that can help you get the most out of your CRM efforts.
What Is a Cloud-Based CRM?
Customer relationship management (CRM) applications are used as a repository of essential customer data and a platform for managing customer engagement. Cloud-based CRM refers to Software-as-a-service (SaaS) tools that host the system and store the data on the vendor's servers.
The other alternative is on-premise applications hosted on the organization's servers and managed by their own IT infrastructure. Such systems are more complex and require more time for deployment.
CRM applications are key to delivering satisfactory customer experiences and scaling the business.
A CRM tool hosted on the cloud enhances business operations by providing instant access to data. It also makes for less financial investment and risk. All the software updates are the responsibility of the CRM provider, making its maintenance easier.
Why Opt for a Cloud CRM?
Cloud-based CRM solutions offer better integration capabilities than on-premise solutions. They also offer a competitive advantage to businesses by making it easy to keep up with changing trends. Cloud-powered access strengthens internal collaboration, allowing everyone in the organization to access updated information anytime and anywhere. It also ensures the security of the data with regular backups and authorized access.
The market size of cloud computing, which was estimated to be USD 445.3 billion in 2021, is expected to grow to USD 947.3 billion by 2026.
The following advantages of cloud CRM solutions provide a better understanding of what is causing such an immense escalation in the technology's adoption.
Quick Deployment:
Effortless set-up is one of the most distinctive features of a cloud-based application. On-premises solutions have a long and complex implementation process. On the other hand, the implementation process is considerably shorter for cloud-based applications, saving time and money.
Read More: The CRM Implementation Plan: 12-Step Strategy Process
Requires Fewer IT Resources:
Cloud-based applications allow organizations with limited IT infrastructure not to get left behind. Since the CRM provider is responsible for all the updates and maintenance, there is no requirement for an in-house IT team to manage the software.
Reduces Costs:
Since no hardware is required, Cloud deployment saves businesses a considerable amount of money. Cloud applications also have a lower upfront investment along with lower operating costs. The pay-as-you-go and cancel-anytime model allows small businesses to access advanced technology without paying a huge sum right off the bat.
Accessible From Anywhere:
Cloud-based CRM offers instant access to your contact data from any mobile device. Since the information is centralized and hosted on the cloud, you can view it anywhere. This helps you be more efficient and deliver more consistent services to your customers.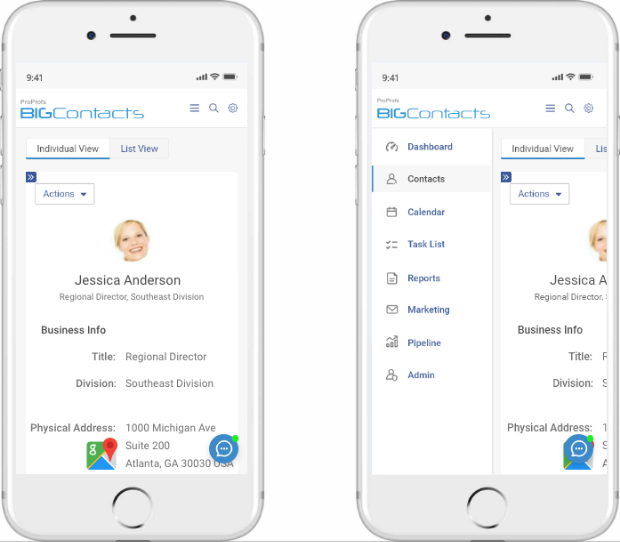 Extensive Customization:
Cloud applications provide you with complete control. Such flexibility empowers you to tailor the application to suit your team. The tools are easy to scale, so they can keep up with the growing needs of your organization.
More Uptime:
Upgrades with cloud applications are instant, which means that there is lesser downtime. Any problem with an on-premise solution halts business operations. However, with data stored in the cloud, it can be accessed without any difficulties, helping your business stay functional.
Who Should Use Cloud CRM Tools?
Cloud v/s in-house applications – the debate seems endless.
To settle this argument, you must pay attention to the specific needs of your business. Since every enterprise has unique needs, the most optimal deployment strategy varies as well.
Cloud-based CRM software can prove to be advantageous for the following:
Businesses with frequently changing needs.

Growing enterprises.

Small businesses are looking for enterprise-grade features.

Businesses that wish to avoid large up-front investments.

Businesses with a small IT department.

Businesses that wish to keep up with

trends
A Quick Look at the Best Cloud CRM Software
Software


Key Features


Pricing
BIGContacts


1. Marketing automation
2. Pipeline management
3. Reporting & analytics

Starts from $5/user/month
Salesmate


1. Pipeline tracking
2. Sales forecasting
3. Contact management

Starts from $12/user/month
monday.com


1. Custom automation
2. Pipeline management
3. Email marketing

Starts from $8/user/month
HubSpot

1. Pipeline management
2. Helpdesk system
3. Data enrichment

Starts from $45/month
Zoho CRM
1. Marketing automation
2. Sales forecasting
3. AI recommendations

Starts from $14/user/month
Pipedrive
1. Pipeline management
2. Sales reports
3. Contact management

Starts from $12.50/user/month


Copper


1. G Suite integration
2. Automated processes
3. Reporting & analytics

Starts from $25/user/month


Freshsales
1. Contact management
2. Email integration
3. AI assistant

Starts from $15/user/month
EngageBay
1. Marketing automation
2. Lead scoring
3. Appointment scheduling

Starts from $11.99/user/month


Zendesk Sell
1. Email automation
2. Profile enrichment
3. Sales forecasting

Starts from $19/user/month
Salesforce
1. Contact management
2. Sales forecasting
3. Automated processes

Starts from $25/user/month
Keap
1. Marketing automation
2. Pipeline management
3. Reporting & analytics

Starts from $59/month
Apptivo
1. Email marketing
2. G Suite integration
3. Performance dashboards
Starts from $9/user/month


SugarCRM
1. AI-based predictions
2. Revenue analytics
3. Marketing automation

Starts from $52/user/month


Less Annoying CRM


1. Contact management
2. Pipeline tracking
3. Task management

$15/user/month
SAP
1. Marketing automation
2. Customer segmentation
3. Real-time insights
Custom Pricing
Top 16 Cloud CRM Platforms
Let's delve deeper into the 16 best cloud-based solutions that can be used for customer relationship management.
1. BIGContacts
BIGContacts is a responsive cloud CRM application that can significantly impact your business productivity. The tool is optimized for all devices, so you can access critical business information on the go. It offers efficient contact management, pipeline tracking, and reporting capabilities. The easy-to-use interface and 24×7 customer support make BIGContacts a highly popular choice for cloud CRM users.
Key Features:
View emails, tasks, files, and contact information in one place.

Manage sales opportunities using a visual sales pipeline with a drag-and-drop interface.

Run personalized email marketing campaigns for lead nurturing.

Automate recurring tasks and schedule reminders for important tasks.

Access detailed reports to track your business performance.
Pricing:
Big- $5/user/month

Bigger- $15/user/month

Biggest- $25/user/month

Enterprise- Custom pricing
Pros:
Delightful customer support and help documentation are available.

Set up automated follow-ups and workflows based on custom triggers.
Cons:
More intuitive search functionality is required.

It currently lacks artificial intelligence-powered lead qualification.
2. Salesmate
Salesmate CRM offers remote access, allowing you to work from anywhere. This CRM allows you to automate your sales process, contributing to revenue growth. The mobile-friendly interface of the tool makes it easy to manage sales opportunities on the go. Moreover, the tool can be utilized to run targeted marketing campaigns that enhance engagement.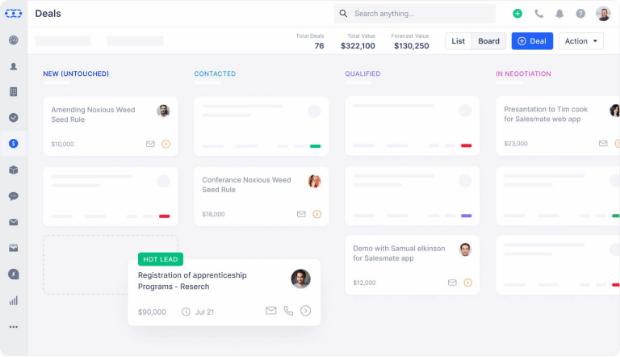 Key Features:
Engage with customers using various channels such as emails, calls, and messages directly from the CRM.

Create multiple custom sales pipelines to keep opportunities well-organized.

Set up automated sales sequences to improve follow-ups.

Use standard or custom sales reports to track your performance.

The shared team inbox enhances transparency within the organization.
Pricing:
Starts from $12/user/month
Pros:
The interface is intuitive, making the tool easy to navigate.

Predict your sales and revenue. Use such insights to make better business decisions.
Cons:
The tool has a limit on the number of daily emails.

The tool can be slow to load sometimes.
3. monday.com
monday.com is a highly customizable CRM cloud-based software for businesses that wish to do things their way. It organizes all interactions, information, documents, etc., in one place, so you don't have to switch between several applications to find the right contact data. Capture leads, nurture them into customers and manage projects from a single platform.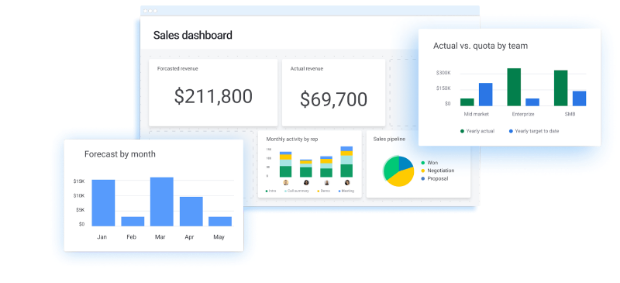 Key Features:
Customize dashboards to visualize the most important data.

Use pipelines to track the progress of sales opportunities.

Craft email marketing campaigns to engage with prospects and customers.

Create custom automated workflows to enhance organizational productivity.

Track business goals and team performance with ease.
Pricing:
Free for 2 users

Starts from $8/user/month
Pros:
Industry-specific templates help get started with the tool.

Use the drag-and-drop functionality to manage your sales pipeline.
Cons:
The tool's interface can be overwhelming for beginners.

There is no functionality to divide tasks into subcategories.
4. HubSpot
HubSpot, one of the most popular names in the CRM industry, can be an excellent CRM cloud choice. Its sales pipeline module offers a comprehensive view of all sales opportunities that you are working on. Moreover, the mobile application allows you to stay connected with customers and work on the go, so there are no delays.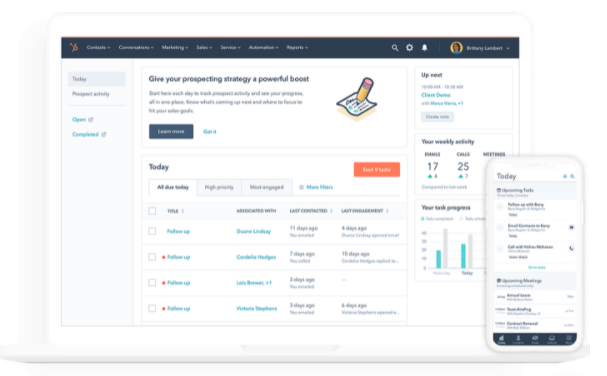 Key Features:
Email tracking allows you to keep track of your email opens and click-throughs.

Track overall team and individual performance with detailed reporting dashboards.

View and manage all customer interactions, including emails and support tickets.

Generate leads with custom-built web forms.

Use automated sequences to route leads and follow up with prospects on time.
Pricing:
Free version available

Starts from $45/month
Pros:
Contact records are enriched with data from multiple sources automatically.

Save considerable time with email templates.
Cons:
The pricing structure is steep and inflexible.

Better collaborative features, such as adding comments for other team members, are required.
5. Zoho CRM
Zoho CRM offers powerful features such as contact management, marketing automation, and sales prediction. It enables you to create and automate custom workflow. The tool aids omnichannel customer engagement, making your CRM efforts highly productive. Get AI-powered insights to improve your business operations with this cloud-based CRM application.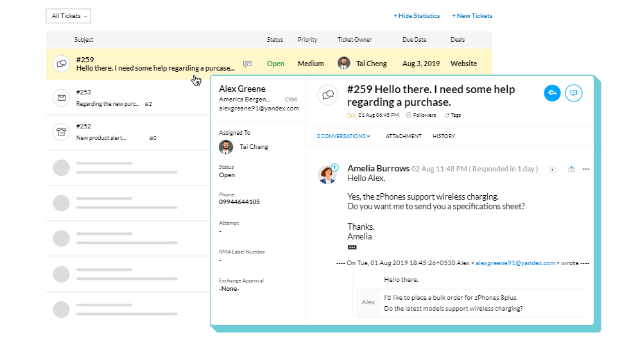 Key Features:
Predictive analytics allows you to enhance your performance and take the right measures to meet business goals.

Generate reports and data visualizations to keep track of relevant metrics.

Use the data from the CRM tool to manage and resolve support tickets quickly.

Get real-time notifications for customer activities so you can connect with them at the right time.

Sync all your calendars so you never lose track of essential tasks.
Pricing:
Free for 3 users

Starts from $14/user/month
Pros:
Achieve better productivity by automating repetitive tasks.

The AI assistant- Zia, helps you utilize the tool effectively.
Cons:
The tool should offer better customization features for its interface.

Support response time needs improvement.
6. Pipedrive
If you require a CRM cloud solution that is focused on sales pipeline management, Pipedrive can be an excellent choice. It allows you to automate routine admin tasks so you can focus more on selling. Improve team collaboration by making it easier to share ideas and updates across the organization.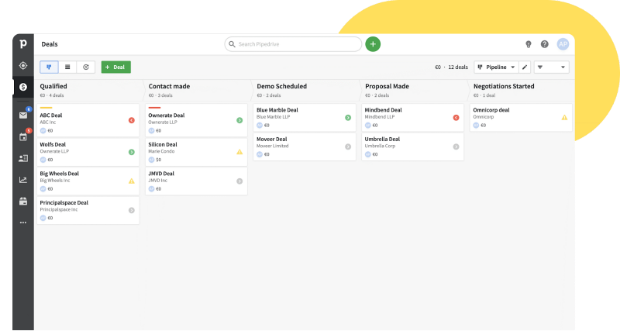 Key Features:
All the opportunities can be tracked easily with visual sales pipelines.

Sales and revenue predictions are automatically updated as deals progress in your sales process.

Segment your leads into distinct lists to deliver more targeted follow-ups.

Track your goals and performance with detailed reports.

Generate leads with web forms and an AI engine.
Pricing:
Starts from $12.50/user/month
Pros:
Automatic alerts and reminders help you meet deadlines effectively.

Drag and drop opportunities to update their position in the sales pipeline.
Cons:
Better training resources and support can help utilize the tool to its full potential.

It lacks advanced reporting capabilities.
7. Copper CRM
Copper CRM works effectively as a cloud-based CRM system for businesses that require a tool to work seamlessly with their Google Workspace. Manage projects directly from the CRM, so you do not have to invest in a project management tool. Copper offers automatic data enrichment, including phone numbers, email addresses, and social media profiles.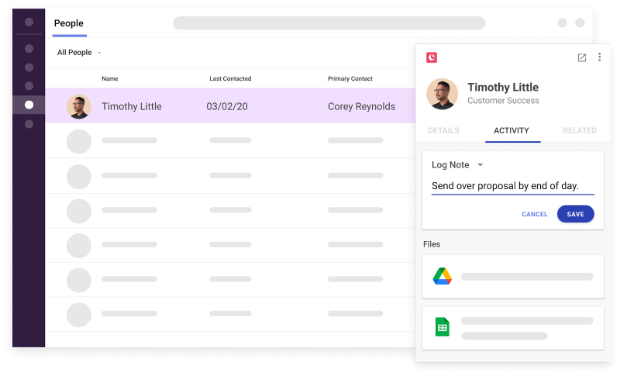 Key Features:
Get a detailed view of your customer information and engagement in one place.

Ready-to-use report templates allow you to track important metrics with ease.

Two-factor authentication, data encryption, and user access control are provided.

Tag contacts and segment them into lists to enhance your targeting efforts.

Integrate the CRM with Gmail, Calendar, and Drive to get more organized.
Pricing:
Starts from $25/user/month
Pros:
Automate recurring tasks such as logging activities and taking follow-ups.

Get reminders to stay on top of all sales opportunities.
Cons:
It proves to be ineffective and less reliable for businesses working outside the G Suite.

It lacks certain features, such as one-click calling and custom dashboards.
8. Freshsales
Freshsales is a cloud-based CRM application that helps personalize engagement. It allows you to track all customer interactions and data with ease, enabling you never to lose track of important opportunities. Moreover, the AI capabilities of the tool provide valuable insights into your customer relationships and business performance.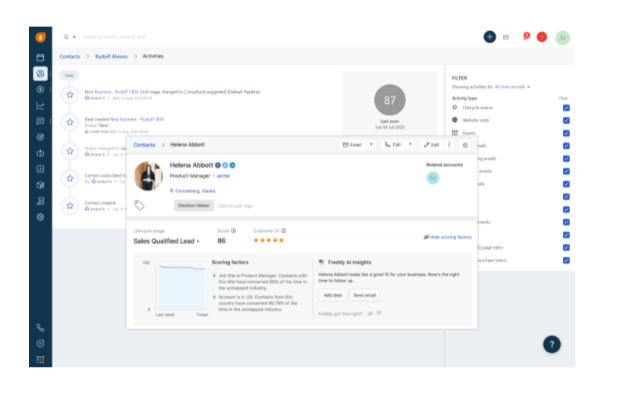 Key Features:
Set up automated sales sequences to close deals faster.

Create sales pipelines and manage your product catalog.

Customize various components of the CRM system, including stages, fields, and user roles.

Deploy targeted marketing campaigns based on the preferences of your prospects and customers.

Connect with prospects on the go with the mobile application.
Pricing:
Free version available

Starts from $15/user/month
Pros:
Freddy, the AI assistant, learns from your CRM data to provide accurate predictions and valuable recommendations.

Monitor the performance of your team and operations with robust reporting and analytics.
Cons:
The slow loading speed affects the tool's performance sometimes.

Support response times need improvement.
9. EngageBay
EngageBay works as an all-in-one, cloud-based platform for marketing, sales, and support operations. It is an easy-to-use application that streamlines all business operations by bringing all relevant data to a single platform. Schedule and track appointments using EngageBay to never miss out on any important opportunity.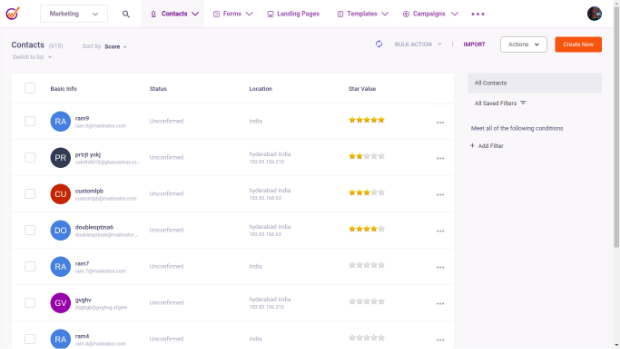 Key Features:
Score leads automatically to focus on high-value deals.

Create segmented lists for leads to deliver more relevant content.

Use custom email templates with a drag-and-drop editor.

View and manage all emails from a single dashboard.

Create an automated workflow to help your team be more efficient.
Pricing:
Free for 15 users

Starts from $11.99/user/month
Pros:
Set up email sequences to follow up with prospects at the right time.

Capture more leads for your business with the help of web forms.
Cons:
The tool's interface needs enhancement.

Better training resources are required.
10. Zendesk Sell
If you are looking to get started with cloud CRM solutions, Zendesk Sell is a user-friendly option for beginners. The tool logs all customer interactions automatically and keeps data synchronized across multiple devices. Automate your outreach to connect with prospects and customers at the right time.
Key Features:
Get a comprehensive view of available opportunities with the help of a pipeline.

Set up email and activity sequences to keep things moving forward.

Segment leads into lists to improve targeting.

Predict sales and revenue to plan sales activities effectively.

Create custom dashboards to visualize important data.
Pricing:
Starts from $19/user/month
Pros:
Get real-time notifications whenever customers take any action.

Create and store email templates that can be used repeatedly to save time.
Cons:
It lacks automatic data entry and profile enrichment.

Customer support needs improvement.
11. Salesforce
Salesforce can be utilized to create consistent customer experiences. This all-in-one cloud solution can boost your customer satisfaction and retention levels by streamlining your operations across multiple business functions. The high customization capabilities of the tool allow you to tailor it to suit the unique needs of your enterprise.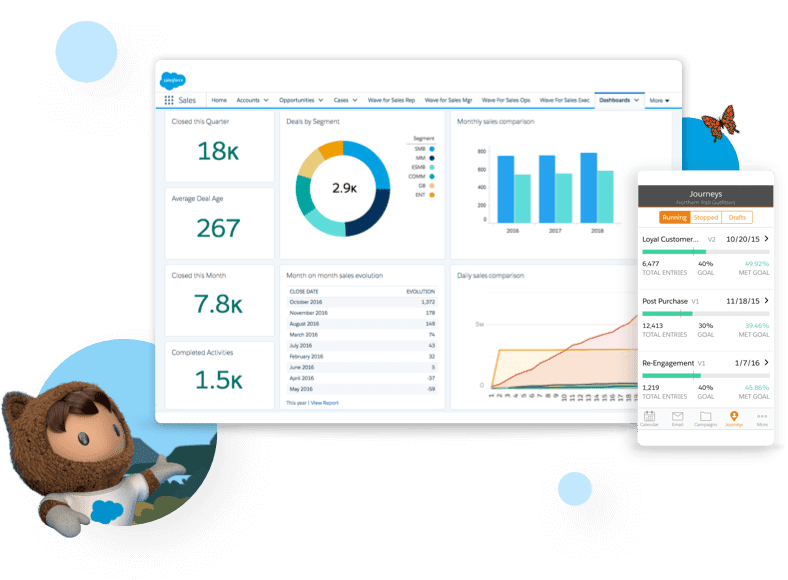 Key Features:
Understand customer needs to craft more relevant and personalized buying journeys.

Automate time-consuming activities and boost organizational productivity.

Manage all customer engagement channels, including email, phone, and social media, from a single platform.

Get AI-powered recommendations for improving your business processes.

Enrich contact profiles with data from multiple sources to personalize experiences.
Pricing:
Starts from $25/user/month
Pros:
Share personalized marketing campaigns to generate and nurture more leads.

View tickets, contact details, and interactions to resolve support issues quickly.
Cons:
Extensive customization may make the tool too challenging to navigate.

Live support for the software is not easy to access.
12. Keap
Keap CRM cloud solution offers powerful automation capabilities, allowing you to put your customer relationship management on autopilot. The tool's sales pipeline management functionality enables you to track and manage your opportunities with ease. You can also use Keap to set up automatic reminders for important tasks and events.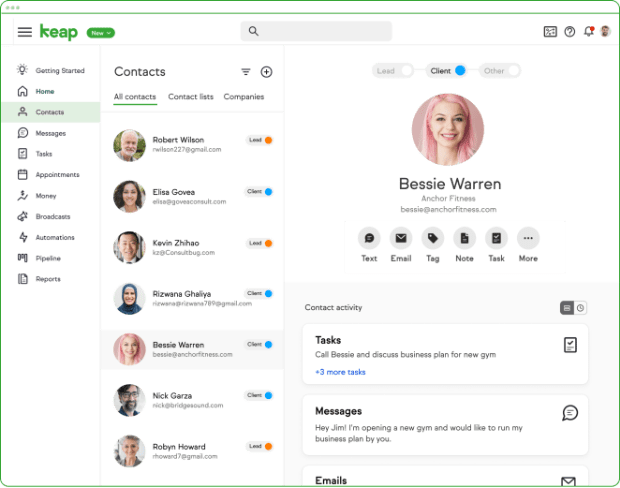 Key Features:
Trigger custom automation based on the activity and preferences of your customers.

Use the appointment scheduler to create and manage appointments with prospects and customers.

Tag customers and segment them into different lists.

Access email templates that can save time and boost engagement.

A/B testing, reporting, and analytics offer valuable insights into your business operations.
Pricing:
Pros:
Capture leads from web forms, email, social media, etc., automatically.

Keep contact data synchronized between your desktop and mobile devices.
Cons:
The user interface needs upgrades.

More detailed reports are required.
13. Apptivo
Apptivo is an excellent cloud-based solution if you require an integrated platform for managing customer interactions, marketing activities, invoices, tickets, projects, etc. The analytics capabilities of the tool empower you to track goals, plan your sales activities and track who your most productive team members are.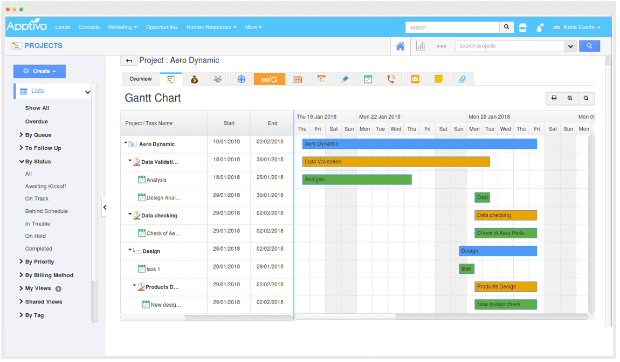 Key Features:
Add leads to the tool automatically through web forms, emails, CSV import, or enter them manually.

Keep track of your calendar to never miss out on important tasks.

Monitor individual team members' performance with comprehensive dashboards.

Get access to win/loss analysis data to gain better visibility into your sales.

Use custom search filters and save the results as reports for future access.
Pricing:
Starts from $8/user/month
Pros:
Sync data between your Google account and the CRM system.

Add forms to your website to generate leads.
Cons:
Customer support and documentation need improvement.

The tool can be difficult to navigate for beginners.
14. SugarCRM
SugarCRM offers cloud deployment to help you craft exceptional customer experiences without the hassle of maintaining an on-premise solution. AWS capabilities, such as sentiment analysis and advanced search, contribute to enhanced customer relationships. Ensure the security of your data with powerful user management and regulatory compliance.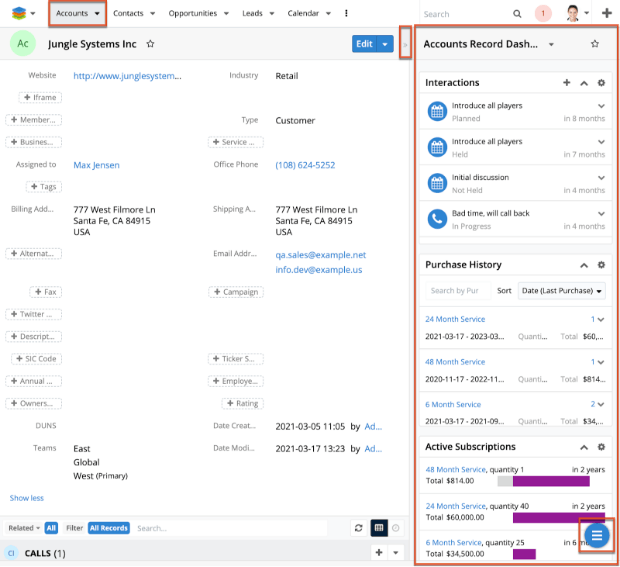 Key Features:
Automate sales and marketing activities to save time and generate more revenue.

Track metrics and gain valuable insights into your performance.

Use AI-based predictions to make more informed decisions for your business.

Route support tickets automatically and analyze customer sentiment.

Customize the tool and create workflows according to your organization's needs.
Pricing:
Starts from $52/user/month
Pros:
The implementation is quick and easy.

Cut down on maintenance costs with this cloud-based solution.
Cons:
The system can be slow to load at times.

The tool's user experience feels outdated and needs improvement.
15. Less Annoying CRM
Less Annoying CRM, as apparent from its name, is a hassle-free, web-based CRM. It takes all the complexity out of customer relationship management so you can utilize your time and resources effectively. The CRM tool is ideally designed for small businesses that require a straightforward solution for managing their prospects and customers.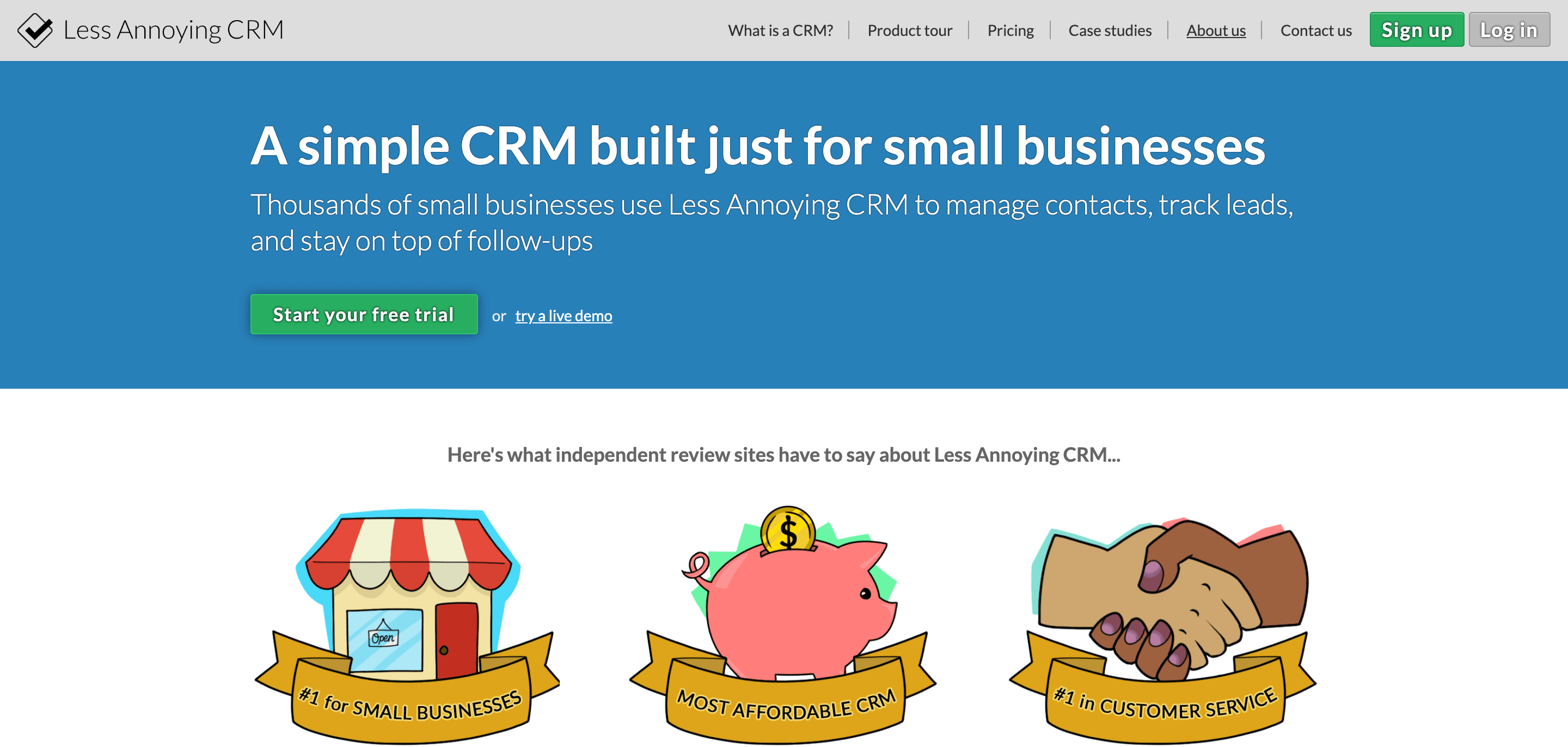 Key Features:
All emails, notes, files, and tasks can be viewed from a single screen.

View and manage sales leads in your pipeline by tracking their priority statuses, previous touches, and contact details.

Manage access permissions for users.

Tasks and events for all team members can be tracked from one calendar.

Emails can be logged against respective contact records automatically.
Pricing:
Pros:
The daily agenda emails make it easy to stay updated with upcoming tasks and events.

The tool can be accessed from any mobile, tablet, or desktop.
Cons:
It is not possible to add recurring tasks or workflows.

The calendar tab does not have a place to add meeting locations, which can only be included in the subject field.
16. SAP
SAP, a highly recognized name in the marketplace, offers a range of customer experience management features in its CRM application. These include customer data insights, marketing, sales, e-commerce management, and customer service solutions. These customer experience solutions combine to create highly effective customer journeys that strengthen brand loyalty.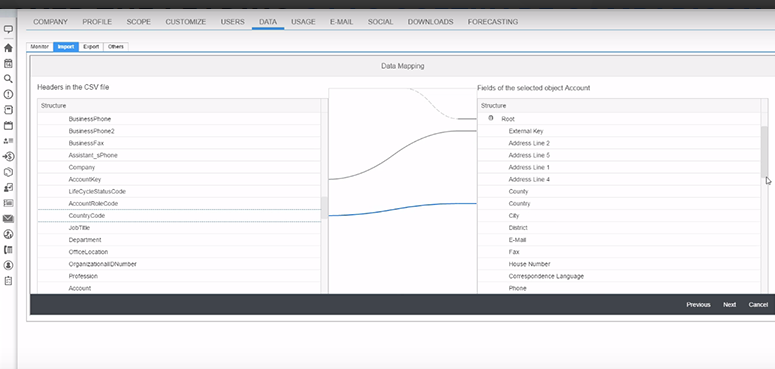 Key Features:
Offer one-to-one personalized experiences across multiple channels.

Execute marketing campaigns and use analytics to track their engagement.

Automate sales processes to close deals quickly.

View previous interactions, manage inventory, and optimize customer journeys- all from one place.

Use AI-powered recommendations to improve your business performance.
Pricing:
Pros:
Ensure data privacy and comply with security guidelines.

Execute end-to-end operations for your business from a single platform.
Cons:
The implementation process is long and challenging.

The tool's UI and loading speed need improvement.
Take Your Customer Relationships to the Cloud
"Cloud is about how you do computing, not where you do computing." – Paul Maritz, CEO of VMware.
Enterprises using cloud-based applications are more agile. They are able to innovate faster and keep up with the dynamic business environment. There are countless advantages of deploying cloud-based solutions, from reduced costs to enhanced usability.
Since CRM is a high-stake business endeavor, switching to a cloud-based tool is a critical process. The first step of this is finding the right application.
The 16 cloud-based CRM applications mentioned above are guaranteed to make your business data more organized and usable. These tools offer substantial customization. Moreover, all of these tools are highly scalable and reliable solutions.
One tool that effectively stands out in this list is BIGContacts. This SaaS application offers immense flexibility so that you can use it however it works best for your business. BIGContacts offers a range of advanced features, including automated sequences, custom workflows, and intelligent reports. All of which result in accelerated business growth.