If there is one thing that's on the mind of every businessperson today, that is:
"How to grow sales and keep the revenue rolling!"
Whether it's a small mom-and-pop store or a big million-dollar company with a global foothold, every business is trying to figure out the magic formula to achieve maximum sales.
However, the reality is there is no such direct formula to keep your sales on a rising spree.
You need to constantly keep a close eye on all sales activities, identify roadblocks across stages, and take quick actions for an ultra-smooth sales process.
Since all of this cannot be achieved single-handedly by your sales team, deploying strong sales tracking software is crucial. The right software can give you access to valuable insights into your current sales performance, so you can tweak your strategies and never miss the sales targets.
Finding the right tool for sales tracking is a tedious task, given that there are hundreds of them available on the market. Fret not, as we have got your back.
After scrolling through dozens of review platforms, we have created a list of the best sales tracking software that can be a worthwhile investment for your business. Dive in to explore each one of them in detail, along with their pros, cons, features, and pricing.
What is Sales Tracking Software?
Sales tracking software is a useful tool for keeping a firm track of all sales activities, monitoring leads as they progress through the sales pipeline, and identifying problems before they turn into blunders. It helps you keep a close eye on your sales process and analyze your current selling efforts through detailed analytics.
The software pinpoints areas that are working well and those that need your immediate attention, so you can take timely actions and never miss sales opportunities. With this software, your sales team can increase conversions by targeting prospects with personalized messaging based on their stage in the sales pipeline.
What Are the Key Features of the Top Sales Tracking Software?
The process of selecting the right sales tracking software requires a thorough understanding of its features. Here are some of the top features you must look out for:
Sales Pipeline
You can exercise full control over your sales process with a visual pipeline that shows where your prospects are in the sales cycle. This feature allows you to create custom stages to ensure your pipeline is fully aligned with the sales process.
Contact Management
Centralized contact management is a key feature that sales tracking software must offer. It helps you add custom fields to maintain detailed contact records and log all previous interactions. This way, your sales team can access full information about prospects from a single dashboard.
Automations
Recurring tasks can eat up your team's time, leaving them all drained for more complex sales-driven activities. The best CRM tools come with built-in automation for routine tasks such as follow-ups and drip emails, so your team can fully focus on tasks that really matter.
Insightful Reports & Analytics
Reports are useful for tracking sales performance and identifying problematic areas in the sales cycle. Your sales team can leverage these insights to continuously monitor and optimize their sales campaigns.
Task Management
A centralized dashboard with all tasks listed makes it easy for your sales team to prioritize urgent work and stay focused on activities that matter the most. They can also set task alerts and reminders to ensure no important opportunities slip through their fingers.
A Quick Look at the Top Sales Tracking Software
Software
Key Features
Pricing
BIGContacts
Custom sales pipeline
In-depth sales reports
Powerful automation
Starts from $5/user/month
HubSpot CRM
Lead scoring
Sales pipeline customization
Actionable insights
Starts from $4/month
Close CRM
Email sequences
Multiple pipelines
Third-party integrations
Starts from $29/user/month
Zoho CRM
Automated follow-ups
Mobile app
Team collaboration through feeds
Starts from $10/user/month
Pipedrive
Visual reports
Notes and comments
Automated emails
Starts from $12.50/user/month
Nutshell
Email sequences
Presentation-ready reports
Web forms
Starts from $20/user/month
EngageBay
Automatic task creation
Automate routine work
Push notifications
Starts from $11.99/user/month
Salesmate
Automatic task creation
Push notifications
Built-in calling
Starts from $12/user/month
Copper CRM
Personalized templates
Drag and drop pipeline
Real-time feed
Starts from $20/user/month
Bitrix24
Custom pipeline
Web forms
Automated workflows
10 Best Sales Tracking Software for 2023
Now that you are abreast with sales tracking and the features vital for its implementation, let's quickly jump to the main section. Here's a detailed analysis of the leading sales tracking systems that are worth your attention in 2023.
1. BIGContacts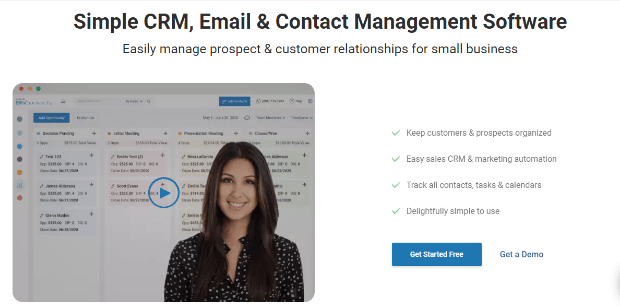 BIGContacts is a mobile-friendly and feature-packed sales tracking software that can make your sales process utterly seamless. You can easily monitor your leads as they pass through the sales funnel with a custom pipeline that displays vital information about each prospect.
With in-depth sales reports, you can keep a close watch on how fast your leads are moving down the funnel and which campaigns are bringing the most sales. This analysis helps you target specific prospects with personalized drip emails and keep your sales number growing, always.
Key Features:
Automate repetitive tasks such as follow-ups and email campaigns.

Align email sequences with the stage where prospects stand in the pipeline.

Never miss important opportunities with real-time alerts and notifications.

Track previous conversations, upcoming tasks, and follow-ups from a single platform.

Track and manage sales opportunities on the go with seamless mobile access.
Pros
The tool offers a drag and drop interface for efficient pipeline management.

You can exercise full control over who can see the specific stages of the sales pipeline.
Cons
AI-backed lead scoring features can be added to boost the sales process.

Identifying and removing duplicate entries should be simplified.
Pricing
Big

– $5/user/month

Bigger

– $15/user/month

Biggest

– $25/user/month

Enterprise – Custom pricing
2. HubSpot CRM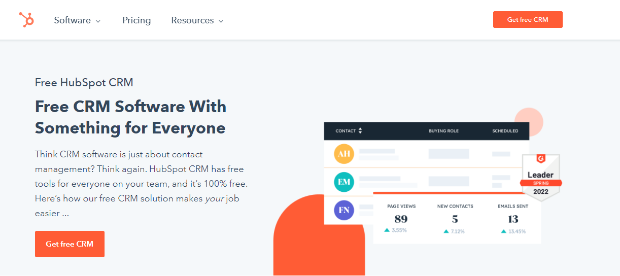 HubSpot CRM is another sales monitoring tool that provides detailed visibility into your sales activities as well as team performance. It has a clean dashboard giving a unified view of your contacts and their historical data. This keeps you better positioned to close deals faster by personalizing your outreach campaigns.
In addition to this, you can also automate emails, schedule meetings, and keep a close watch on your sales pipeline – all from a single dashboard.
Key Features:
Assign leads and tasks to the right reps to streamline the sales process.

Automatically assign scores to leads and help your sales team set their priorities right.

Customize your sales pipeline to keep it aligned with the sales cycle of prospects.

Track sales trends and team performance with in-depth insights.
Pros
You can convert repetitive sales emails into templates for future use.

The tool offers seamless integrations with Gmail, G-Suite, and Outlook.
Cons
HubSpots' mobile app can take longer to load at times.

The tool doesn't provide human support on its free plan.
Pricing
Free version available.

Paid plans start from $4/month.
3. Close CRM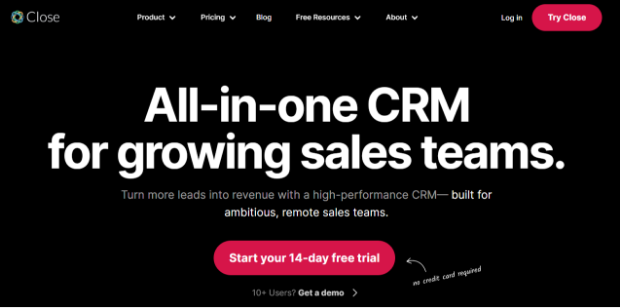 Close CRM is an all-in-one platform designed specifically for remote teams. The software offers a clean sales pipeline with a drag and drop interface for seamless lead management. You can automate your sales workflow to ensure that you have your priorities set right.
In addition to this, Close CRM comes with a customizable reporting system that helps you track your sales pipeline's health, identify roadblocks, and improve overall sales performance.
Key Features:
Create customized email sequences and share them automatically with prospects.

Build multiple pipelines depending on your product, sales process, and team.

Track performance indicators to identify sales roadblocks and fix them on time.

Robust integrations with tools like Slack, Gmail, Asana, and many more.
Pros
Close CRM offers a built-in calling system for effective outreach.

You can create smart contact views to prioritize leads and create workflows around them.
Cons
The tool doesn't offer a free plan.

Its user interface can be improved and simplified.
Pricing
Paid plans start from $29/user/month.
4. Zoho CRM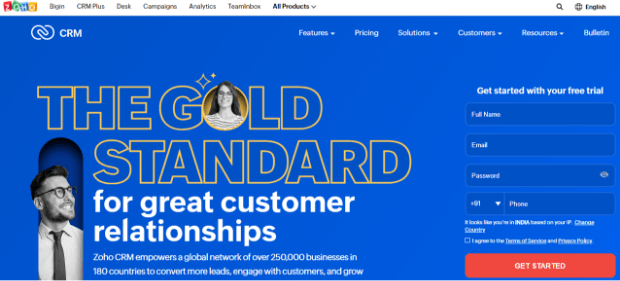 Zoho CRM is a popular tool for developing strong customer relationships. The tool helps you connect with customers across multiple channels and engage in effective conversations with them. It helps boost lead nurturing by automating most of the repetitive tasks and keeping you on top of all sales activities through real-time alerts.
With real-time insights, you can track key performance indicators and ensure that your sales efforts are moving in the right direction.
Key Features:
Automate follow-ups and email activities, so your sales team can focus on selling.

Keep teams updated and help them collaborate on deals through feeds.

Add text or audio notes to sales records and keep your teams on top of all activities.

Let your sales staff engage with leads on the move with Zoho CRM's mobile app.
Pros
You can redesign your CRM and give it a style of your own with Canvas.

The tool's AI-powered assistant, Zia, provides accurate deal predictions, intelligent alerts, and suggestions.
Cons
The tool should offer more features for bulk email campaigns.

Some users feel that the tool takes time to load, and its customer support is not that effective.
Pricing
Paid plans start from $10/user/month.
5. Pipedrive

Pipedrive is a simple sales tracker tool that saves you from all the manual administrative work, so you can stay laser-focused on selling. You can customize the pipeline stages and even drag and drop them easily to match the sales cycle of prospects.
The tool also offers customizable reports that are instrumental in tracking winning patterns, making sales forecasts, and optimizing the workflow of your sales staff. Powerful integrations with lead generation, video calls, and customer support tools further enhance the experience.
Key Features:
Automate emails and stay focused on high-value deals.

Visual reports to track KPIs and measure your sales efforts.

Manage sales activities and plan your schedule using the tool's calendar.

Collaborate with peers on deals via notes and comments.
Pros
You can access all your sales activities on the move with Pipedrive's mobile app.

Create emails quickly with ready-made templates and give them a personalized touch.
Cons
Some users feel its reporting system lacks depth.

More customization options can be added.
Pricing
Paid plans start from $12.50/user/month.
6. Nutshell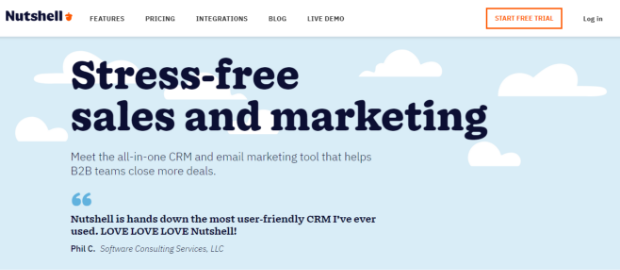 Nutshell is one of the best tracking software for your B2B sales team. It is super flexible as it lets you view and manage contacts in multiple ways. Managing sales pipelines can be easily done via board, list, chart, or even map view – whichever suits your team the best.
The best part is it offers free data importing from tools like Google Contacts, Salesforce, Office365, and many others. This means you can get started with contact management in just a few clicks.
Key Features:
Create automated email sequences and personalize them for your target audience.

Pool all your contact details and email conversations in one centralized location.

Analyze your sales performance with presentation-ready reports.

Embed web forms to your website and let contacts reach you directly.
Pros
Nutshell offers a range of integrations with automation, email marketing, lead generation, and collaboration tools.

You can track sales on the go with the tool's mobile app.
Cons
Customization options are limited.

It needs a system to prevent duplicate entries.
Pricing
Paid plans start from $20/user/month.
7. EngageBay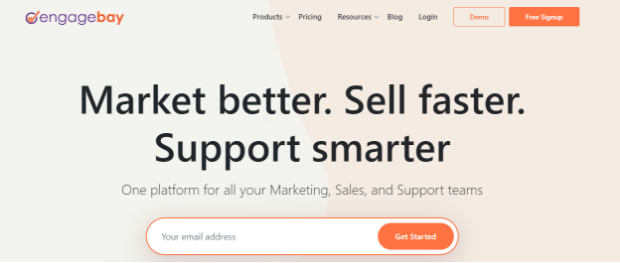 EngageBay is another sales opportunity tracking tool that you should definitely consider. It offers free sales tracking software with advanced automation and 50+ robust features that help simplify contact management and lead nurturing.
With the tool's built-in analytics, you can track key metrics and keep a firm track of prospects' behavior and actions. You can also generate customized reports based on different criteria to measure and improve your sales team's performance.
Key Features:
Automatically create tasks every time a lead is assigned to an agent.

Connect with contacts by making calls from within your CRM.

Automate routine operations so your team can focus fully on sales.

Deliver timely messages to your prospects through push notifications.
Pros
You can gamify your sales process through leaderboards, rewards, and goal settings to keep your team motivated.

Sync appointments with your Google or Office365 calendar and let leads book meetings with your sales team.
Cons
The tool can be clunky at times, according to online reviews.

More email templates can be added.
Pricing
Free plan available.

Paid plans start from $11.99/user/month.
8. Salesmate

As one of the top sales lead tracking software, Salesmate boosts lead management and conversions through targeted emails, automated follow-ups, and activity tracking. The tool helps you build a visual pipeline to monitor all leads and their historical data.
Its custom reports offer deep insights into the sales pipeline as well as your team's performance, so you can tweak your strategies and improve your sales figure. With 700+ integrations, Salesmate promises enhanced performance and a stellar experience.
Key Features:
Call or text contacts directly from your CRM system.

Send emails, messages, and notifications in bulk to all your contacts.

Add tags and sort contacts using 50+ filters.

Mold modules to your preferences and keep them aligned with your sales process.
Pros
The tool allows you to create 200 custom fields to store additional information about prospects.

You can rename or turn off the features you don't need and keep your sales process clutter-free.
Cons
The tool takes time to load sometimes.

Lacks lead scoring features.
Pricing
Paid plans start from $12/user/month.
9. Copper CRM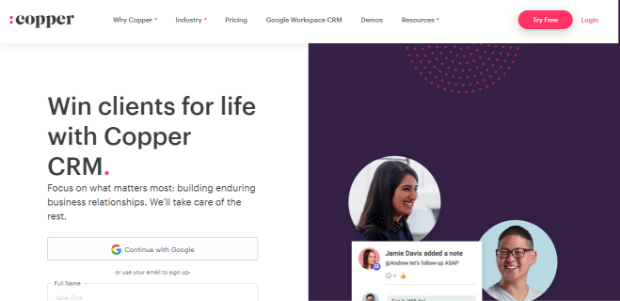 CopperCRM is popular for its integration with Google Workspace. The tool works seamlessly with your Google Calendar, Drive, as well as Gmail. This means you can track all your emails, manage tasks, and monitor conversations from one single dashboard without switching screens.
With all these platforms converging into one, you can have meaningful, contextualized conversations with your prospects. As the best sales app, CopperCRM promises zero learning curve thanks to its customized workflows and centralized dashboard.
Key Features:
Use personalized templates to send targeted emails to prospects.

Drag and drop opportunities in the sales pipeline and keep them in sync with your sales process.

Automate workflows by assigning time-based tasks to your agents.

Get a real-time feed of all sales-related activities and never drop the ball.
Pros
Create a leaderboard displaying your top performers and keep your team motivated.

You can import leads in bulk to your CRM.
Cons
You can't send attachments in bulk emails.

Working beyond the Google Workspace can be challenging with this tool.
Pricing
Paid plans start from $20/user/month.
10. Bitrix24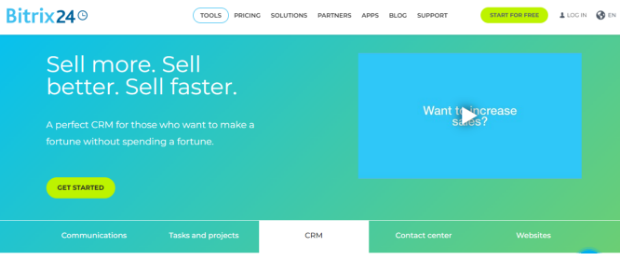 Bitrix24 is one of the top sales software that gives you full control of your sales process, right from lead generation to customer support. It allows you to launch marketing campaigns across channels and capture leads from all directions. Once you get the leads, you can score them to identify which ones deserve your team's undivided attention.
Bitrix24 also offers collaboration and project management features, so your team can discuss work together and stay on the same page.
Key Features:
Set up a custom pipeline with sales stages that align well with your business.

Connect with customers across channels, including Facebook, phone calls, emails, and more.

Embed web forms to your website and add leads automatically to your CRM.

Automate your workflows and sales funnel to match your sales process.
Pros
You can launch online ads right from your CRM account.

The tool offers document management, project management, and collaboration features for your team to work together on deals.
Cons
The tool can be challenging to set up and configure for beginners.

Customer support is slow to respond at times.
Pricing
Free version available.

Paid plans start from $39/month.
Factors to Consider While Choosing Sales Tracking Software for Your Small Business
Picking the right sales and customer tracking software that perfectly fits your business requirements is an ordeal. Not every tool is built for your business. A thorough analysis of your business needs and what you expect from the software will help you make an informed decision.
Here are some of the factors you can consider to ensure that you make the right pick.
Ease of use and customization options

Robust third-party integrations

Straightforward pricing with free trials

Credible user reviews on top review platforms

Core sales tracking and contact management features
If a tool ticks all these boxes, you don't need to think twice before investing in it.
Skyrocket Your Sales With the Right Sales Tracking Software
Every business works with the sole aim of achieving positive sales growth year on year. After all, that's the source of all revenue that keeps a company afloat in the market.
However, you need much more than a skilled staff to close deals and bring revenue. Along with the right strategies and a solid team, you also need a sales tracking software to streamline your sales process and ensure that important opportunities never slip through the cracks.
The sales tracking tools listed above are collated after thoughtful research and analysis. Each tool is unique in its own way and brings something useful to the table.
Analyze your current sales process and jot down your requirements. Then, compare all the tools on the basis of their features, pricing, and functionality to identify the one that is just meant for you.
If you are looking for a tool that's easy to use, scalable, and offers competitive pricing, BIGContacts can be an ideal choice. If you need the best of project management, collaboration, and CRM in one platform, then Bitrix24 will not disappoint.
Do you want to make more sales?
BIGContacts is the #1 contact management software & CRM to close more sales.