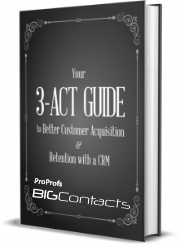 Achieve Better Customer Acquisition & Retention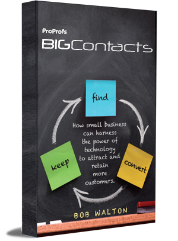 Choose the Right CRM Solution for Your Business
Manage Your Business with the BIGContacts Dashboard
Activity Dashboard
The Activity Dashboard delivers great insights into the overall "pulse" of your business. After you determine the team members and time-frame you want to see, this dashboard view will instantly begin to load 7 different activity-related data points.
On the left-hand side of the screen you will see an "Activity Timeline". The Timeline gives you a minute-by-minute accounting of all activity and interactions taking place with your prospects and customers for a given time-period.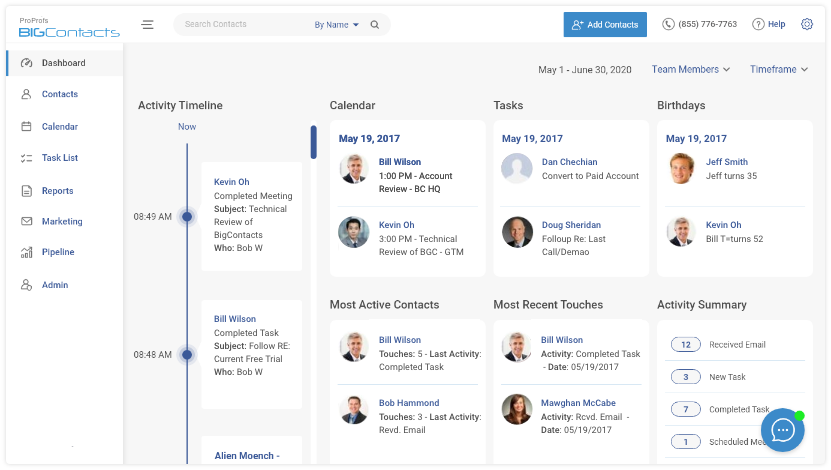 The Activity Dashboard view will give you a clear picture of where the action is with your prospects and customers! You will gain some quick insights into who your most active contacts are, who you've touched most recently and a snapshot of the quantity and types of activities that have occurred during given time-frame. In addition to this timeline, you can see all upcoming events and activity such meetings, tasks & birthdays.
Visual Pipeline Dashboard
Managing opportunities in your sales pipeline can be a daunting task, but we've changed that! With our new Visual Pipeline, you gain total visibility into all your opportunities as you work them through your sales process.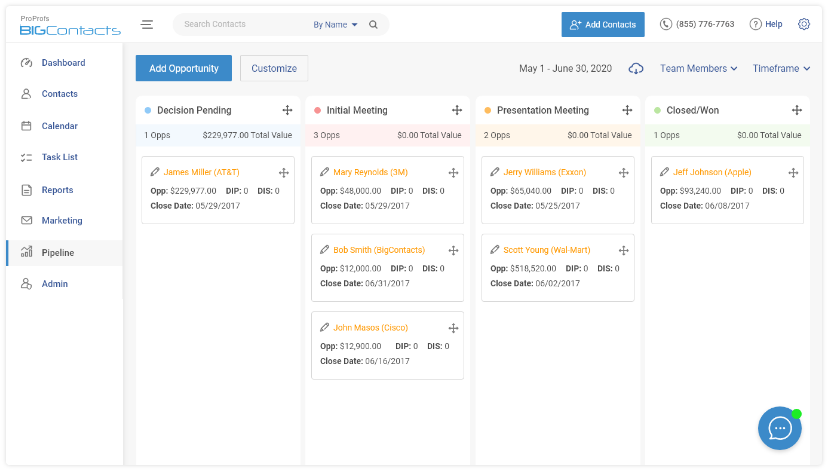 The Visual Pipeline has been designed around a proven pipeline management methodology and delivers a simple visual representation of your sales process. You can drag and drop opportunities to move them throughout the specific sales stages that you customize to match your sales process. This new Pipeline view is so intuitive, yet effective, it can easily serve a single sales rep or an entire sales team.
With all the most important data about your opportunities visualized on a single screen, you'll be able to quickly identify who deserves your attention and close more deals!