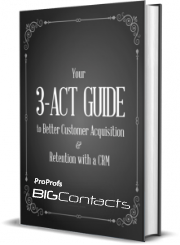 Achieve Better Customer Acquisition & Retention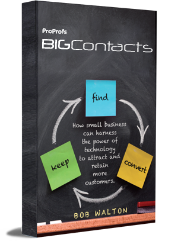 Choose the Right CRM Solution for Your Business
Capture & Store Communications from Any Email Program
We offer a unique feature that we call our "Custom Email." This feature integrates with ANY email program and allows you to automatically capture incoming emails (including attachments) and will store them to the appropriate contact records – allowing your entire team to see all communication as it happens, regardless of who received the email. No more searching through email inboxes to find important communication between you and your contacts!After an email has been received and stored to the contact record you can also Reply, Reply All or Forward the email directly from the contact record.

Send Emails From Inside BIGContacts
You can send emails directly from the contact record. Our robust email text editor allows you to send anything from a basic text email to a full HTML email complete with images and even videos! You won't find a more full featured email text editor for creating professional looking emails. Your emails and file attachments are instantly captured and stored in the history folder of that contact record. All emails will appear as if sent directly from your email address.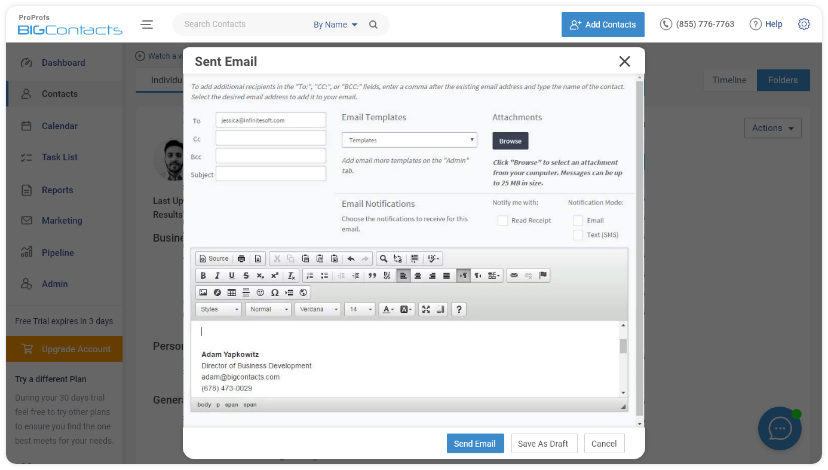 Create consistent & professional messages with email templates
Email templates are a great way to create well-crafted messages that you can use over and over again. This will save you a tremendous amount of time and ensure that you and your entire team are delivering a consistent message when communicating with your prospects and customers.
Send emails from outside BIGContacts
We offer a unique Custom Email Address that allows you to send an email from any email system outside of BIGContacts (including your mobile phone). The system will capture, sort and store a copy of sent emails (and attachments) in the appropriate contact record.
Send Group Emails From Inside BIGContacts
This feature allows you to easily send emails to a select list of contacts. Simply choose the filters you wish to use to generate your list, select the group email button and send.
After the email is sent to this group, each contact will automatically have this email stored in their individual contact record and will be stored in the history folder for future reference. (This feature is limited to groups of 100 or less.)