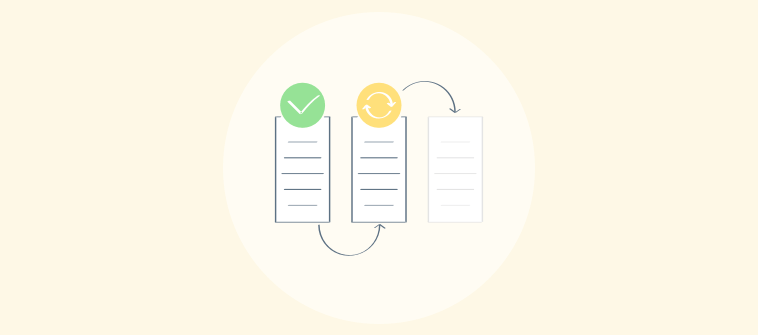 'Workflow' is a term that is quite common in business circles. It encompasses a series of steps that can help accomplish certain goals.
While this knowledge is pretty common, what most people lack is an understanding of how to create and manage a custom workflow for their business.
To have a consolidated strategy of how to go about various business processes, you need to have the right tech stack. This is why every business requires a CRM software workflow management system.
A productive workflow can act as a strong foundation for your business endeavors. Things are less likely to go south when you improve your business processes with workflow management.
You can schedule tasks based on triggers, notify team member about upcoming activities, manage your subscribers and keep track of your progress. All of this can be made possible with CRM workflow automation.
In this blog, we uncover the best practices for leveraging CRM systems for workflow management and list the most valuable features to look for in a CRM tool.
Benefits of CRM
Customer Relationship Management (CRM) tools have significantly evolved in recent years. From being simple contact management software for small business, they have now transformed into much more advanced and comprehensive solutions for businesses.
Before we delve into how to use CRM for your task and workflow management, you need to understand all the ways in which CRM can benefit your business.
Contact Data and File Management:
With CRM, you can learn about the likes and dislikes of your customers. This can help you optimize your services accordingly. You can create contact profiles with custom fields to include relevant information such as company name, job title, address, social media accounts, last touches, etc.
CRM also allows you to store files against separate contact records, so you can easily access them when needed.
Lead Generation:
CRM can help you make more sales by allowing you to capture quality leads and reach out to them effectively. The benefits of CRM for sales manager is that it can help assign leads to team members and ensure that no promising prospect goes unnoticed.
Increased Customer Satisfaction:
Along with personalizing interactions, CRM with workflow automation can also help you respond to customers quickly. This can result in increased customer satisfaction and loyalty.
When your customers feel heard, they are more likely to make repeat purchases. Therefore, focusing on customer retention should be a top priority for your organization.
Analytics:
You can use CRM analytics to find out how well your efforts are doing. The reporting and analytics feature of CRM can help you track any metric of your interest.
You can keep a tab on your team members' performance, find out how close you are to meeting your targets, or find any bottlenecks in your processes with the help of a CRM system.
Remote Access:
Another significant advantage of CRM is its remote access. All your team members can stay updated with upcoming tasks, customer data, and other critical information with a mobile CRM tool. This can drive productivity and help you deliver better service to your customers.
Read More: Benefits of CRM: Why CRM Is Important for Small Business
How Does a CRM System Work?
An efficient CRM solution can accomplish a lot for your business. CRM has several advanced features that can strengthen the workflow of your business and help you achieve better results.
By optimizing the following key aspects, CRM can bring consistency to your business:
Contact Management:
CRM provides centralized access to all essential contact data. You can access this information to improve your customer experience. Keeping track of all previous transactions and interactions becomes easier with all the emails, calls, invoices, etc., logged in one place.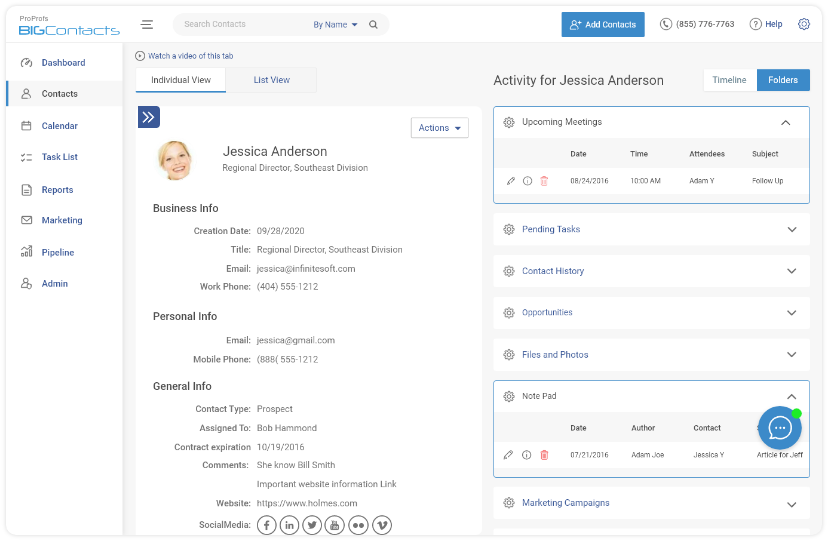 Pipeline Management:
CRM can also help sales teams get more leads and nurture them effectively. With pipeline management tools, you can keep track of all the opportunities.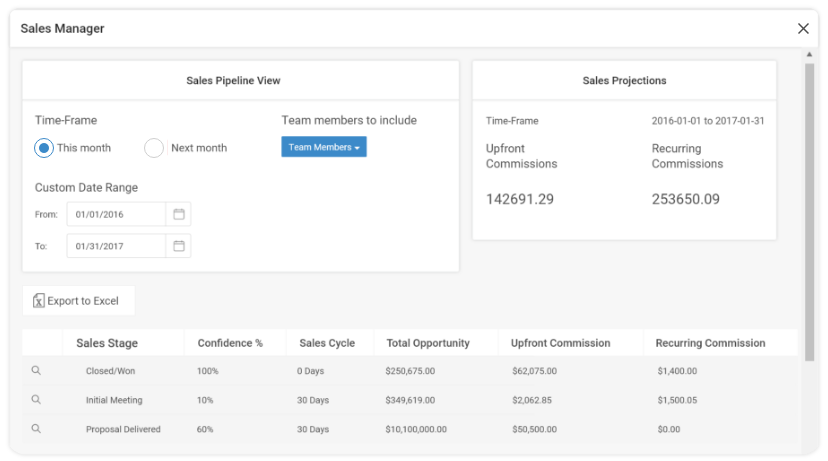 Marketing Campaigns:
CRM can also help you generate and customize marketing campaigns. Along with that, you can track the performance of your campaigns with the reporting capabilities of a CRM tool.
Customer Support:
A fundamental aspect of every CRM solution is customer support. With helpdesk integration and ticketing systems, your customer support team can manage its tasks more efficiently.
Integrations:
A reliable CRM solution offers multiple integrations to help you manage everything from a single platform. With the best small business CRM to help, you can work with your favorite tools to streamline your business processes.
Who Needs CRM?
Every business, irrespective of its size, can benefit from a CRM system. Such a tool can automate multiple tasks related to contact management, sales tracking, marketing campaigns, customer service, etc.
Following are some instances that show that your business is in need of an effective CRM solution-
You have many redundant tasks in your business processes

More deals are falling through the cracks than ever

There is a lack of collaboration between your team members

You are losing customers due to inefficient customer service

Important customer data has become scattered and unorganized

You are not able to qualify leads effectively

You are spending too much time generating reports
7 Ways CRM Software Helps Manage Tasks and Workflow
94% of business professionals prefer having a single platform to manage their workflow rather than several independent platforms.
Having all the vital information collated in one place enables you to prioritize tasks and focus on things that require immediate attention.
CRM can help you eliminate the redundant steps from your workflow, helping you conserve time and resources. It can also be seamlessly integrated with your existing business processes.
Here are some of the ways in which CRM can benefit your business workflow:
1. Enhanced Efficiency
Proper management of tasks and workflow can prevent leads from falling through the cracks and help you maximize your efficiency. A consistent and repeatable process can cut down operational costs and maximize profitability for your business.
With CRM software workflow management, you can get a better view of all your tasks and activities. This can help you find out which tasks are redundant and can be removed.
Sales managers can use the visual CRM sales workflow to find out if the processes are being handled efficiently. It can be used to set triggers, generate reminders or notifications for all members.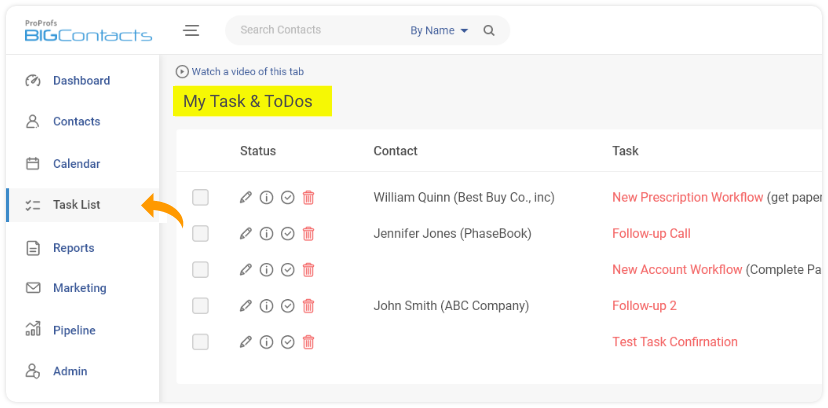 Read More: How CRM Software Can Help Solve Time Management Challenges
2. Improved Customer Support
The end goal of any enterprise is to gain and retain customers. The quality of customer support offered by your business can significantly affect your customer retention levels.
Integration of CRM with workflow can allow you to respond to customer queries promptly and avoid any frustration on the customer's end.
With a customer service workflow management tool, you can automate multiple tasks, including generating and tracking tickets, issuing an apology, updating team members about the issue, generating reminders for following-through, etc. All of this can help you avoid losing valuable customers just because they feel their requests go unheard.
Read More: 7 Simple Ways to Boost Customer Retention with CRM
3. Internal Collaboration
The traditional way of sharing information within the organization with memos and emails may end up in loss of critical data or missed opportunities. Efficient internal communication is necessary for delivering better customer service. CRM workflow management can help your team stay in constant touch and not miss out on important details.
With a CRM workflow, the sales, marketing, and customer support divisions of your organization can work together seamlessly. Updates can be shared across departments, and all employees can access the data from a centralized platform.
4. Creates a Consistent Flow
When you set up your workflows with CRM, it removes the guesswork and helps everyone be aware of what's coming next. For effective task management, having a consistent workflow is essential. This can increase accountability and remove any redundant or unimportant tasks from the process.
With a customer service workflow, you can assign tasks to the most suitable employees. Alerts and notifications can help everyone stay up to date with information and perform their tasks on time. This way, none of your leads will go unnoticed, your marketing campaigns will produce better results, and your customer retention levels will spike.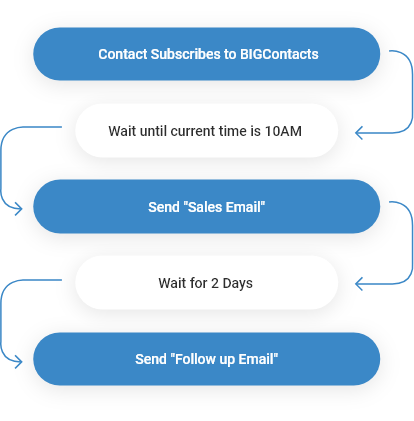 5. Reduced Errors
Errors in your business operations can result in a significant loss of time and resources. Streamlining your daily operations with CRM workflow tools can reduce the number of errors, helping you achieve better productivity. This can also help you offer a better customer experience and retain more customers. By removing the human effort from redundant tasks, CRM can help eliminate chances of errors and get things done quickly.
It also helps ensure that tasks are assigned to and completed by the authorized person. It can generate notifications and update the employees about upcoming steps to ensure maximum efficiency and avoid any delays.
6. Automated Tasks
Marketing automation can grow your revenue by 417% and sales productivity by 14.5%.
But how does automation work, and what role does CRM play in it?
Here's all you need to know:
Your workflow has several tasks that have to be repeated frequently and require considerable time and human resources. These could include updating customer information, filling forms, scheduling meetings, etc.
Automation of these tasks can drive productivity by helping you utilize your time more efficiently.
Workflow CRM software allows you to do so by creating macros that can accomplish a series of tasks based on time-based actions. You can bundle similar tasks together to get things done on time, without any compromise with efficiency.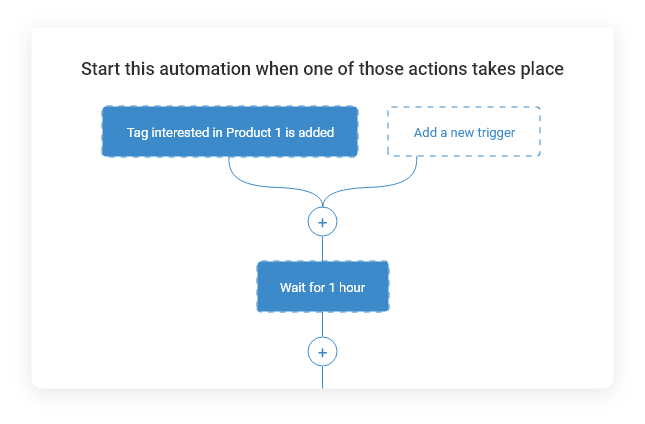 7. Better Insights
A CRM workflow management tool can provide better insights into user behavior and market trends. Access to this information can help you make better decisions for your business. You can keep an eye on the effectiveness of your workflow and make any required changes.
Monitoring your workflow can help you optimize it perfectly. With valuable insights from CRM, you can modify your approach to achieve your business objectives. This can save your profitability from taking a hit.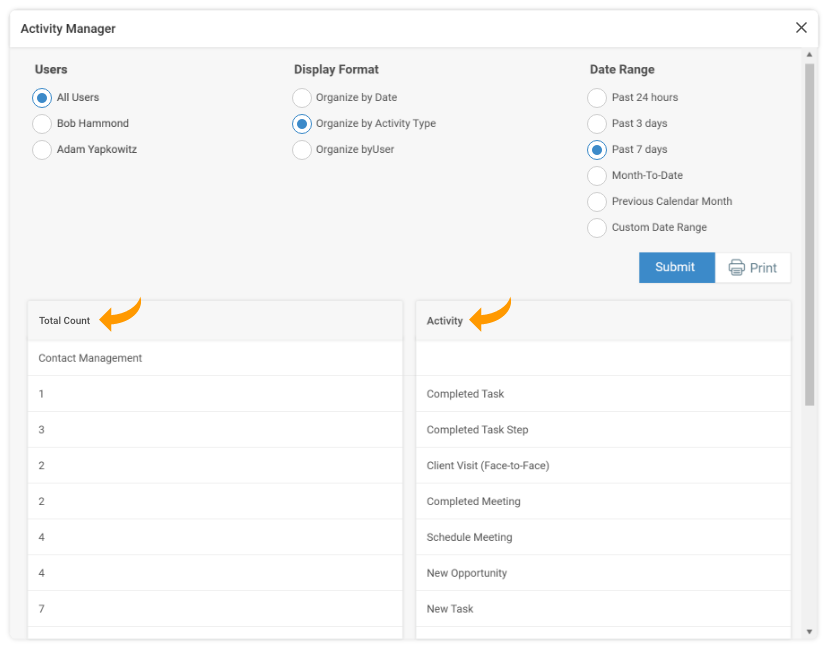 How to Implement CRM for Workflow Management?
To effectively manage your operations with a CRM, you need a clearly defined strategy.
Having a well-mapped plan can help you make the most out of your workflow management efforts and avoid any discrepancies.
Here's what you need to do to manage your workflows using CRM:
1. Define Your Objectives
The first step of using a workflow management tool effectively is being clear about what you wish to accomplish from it. Having clearly defined objectives can help you keep things on track at all times. Once you have a view of the workflow, you can easily lay down the step required to achieve it.
2. Find out Areas That Require Help
You need to find out which areas require the most improvement. For this, you need to seek input from your team members and learn their pain points. This can help you adapt the process according to their requirements.
Discover manual tasks that are repetitive and hamper your productivity. Automating tasks such as follow-up emails or scheduling meetings can help you save a considerable amount of time for your team members.
3. Choose the Right CRM Solution
For effective workflow management, you need a tool that is compatible with your business processes. Making the right choice for CRM software workflow after thorough analysis and comparison can help you automate your workflow easily.
4. Implement it Effectively
Just as important it is to choose the right CRM, so is its proper implementation.
To create CRM workflows, you need to add steps and stages based on your requirements and customize them to best suit your business. Include relevant activities and tasks to help your business get the most out of workflow automation.
Read More: Implementation Best Practices for Small Business CRM
5. Monitor the Progress Routinely
Even after the implementation of the CRM solution, you need to monitor its progress routinely. Set relevant performance metrics and track their performance. This can help you find out any areas in your workflow that may require improvement and make the necessary adjustments.
Which CRM Software is Best for Custom Workflow Management?
The market for workflow automation software is expected to grow up to $26 billion by 2025.
This is a testament to the importance of management CRM software for the success of any enterprise.
For effective task and workflow management, you need to choose the most suitable CRM software.
While the best CRM solution for your business will depend on your internal workflow, it is best to take certain factors into account when choosing a CRM workflow management solution. These include:
Ease of use

Affordability

Customization

Integrations

Reporting

Mobile application
Read More: Free CRM Comparison Spreadsheet (+ How to Choose a CRM)
Here are the five best CRM solutions that you can choose for your workflow management:
1. BIGContacts
BIGContacts by Proprofs is a CRM tool that can simplify complex tasks for businesses. This relationship management CRM tool has a user-friendly interface that makes it easy to keep track of contact profiles, pending activities, and the team's performance.
You can rely on BIGContacts for workflow management since it offers centralized access to updated information from any device. All employees can access this information and never miss out on important details. Along with easing collaboration, BIGContacts also offer powerful automation tools, so you can save the time that goes into manually performing tasks.
Some of the most advantageous features of this tool are:
Highly customizable so you can

set up workflows

easily

Comprehensive dashboard that can help you track all pending tasks and upcoming meetings

Powerful reporting capabilities to help you identify what works well for your business

Marketing automation features with email templates and tracking
Pricing:
Big: $5/user/month

Bigger: $15/user/month

Biggest: $25/user/month

Enterprise: Custom Pricing
Pros

Cons

1. Simple to use

2. Affordable pricing

3. Email marketing integration

4. Powerful reporting

1. Mobile app UI needs improvement
2. Salesforce
One of the most well-established names in the CRM industry is Salesforce. It can help you manage CRM workflows by providing a detailed overview. Salesforce has extensive automation capabilities that can improve your workflow's efficiency. It offers a variety of features, including analytics, IoT, and mobile access.
Some of the best features of Salesforce that make it effective for
CRM software workflow
management:
Activity tracking to offer relevant insights

Cloud-based access so that you can build and manage your workflow from anywhere

Real-time notifications and alerts to keep you updated

Highly suitable for large enterprises that need multiple user roles or storage capabilities
Pricing:
Free plan – Yes
Starts from $25/user/month
Pros

Cons

1. Manage multiple user roles and large volumes of data

2. Extensive scope for customization

3. Integrates with many tools

1. Can get too complicated or bloated for small teams
3. Hubspot
Hubspot CRM tool can help you manage multiple aspects of your business from a single platform. You can monitor your team's activities, manage your sales pipeline and track customer interactions- all in one place.
Hubspot can streamline your workflow by bringing together all the functionalities of a CRM tool. It offers lead generation, bulk emails, opportunity tracking, and helpdesk integration.
The following features make Hubspot one of the best
relationship management CRM software
:
Universal inbox that tracks all interactions

Third-party integrations for improved efficiency

Activity tracking and sales pipeline management

Supported on all browsers so you can access important information anywhere
Pricing:
While the basic features of Hubspot CRM are available for free, you can go for the paid versions to access advanced features.
Starter: $45/month

Free plan- Yes
Pros

Cons

1. Offers a free version

2. Easy to use and can be adapted for your specific needs

3. Remote access

1. Cost significantly increases when you include advanced features
4. Pipedrive
Pipedrive is an efficient web-based sales CRM for small to medium-sized businesses. This tool can help you organize all your leads and track them. Pipedrive is quite easy to use and offers a broad range of features that can add to your productivity. You can prioritize tasks and schedule activities using the CRM tool.
Some of the best features of Pipedrive CRM include:
Automation of repetitive tasks

Activity reminders and notifications to keep you updated

Customize processes to best suit your needs

Reporting and analytics to help you stay on top of things
Pricing:
Free plan- Yes
Starts from $15/user/month
Pros

Cons

1. Effective sales management

2. Uncomplicated design

3. Highly customizable

1. Implementation takes time and efforts

5. Zoho CRM
Zoho CRM is an all-in-one tool that can accomplish a lot for your business. Zoho can be easily integrated with other business applications, including marketing and account management tools. You can use Zoho to optimize your workflow for maximum efficiency. This customer service workflow software can help you drive revenue growth for your business by eliminating redundant tasks to boost productivity.
Some of the best features of Zoho CRM are:
Quick and easy implementation

Trigger actions such as generating tasks or alerts

Tracking KPIs to improve the effectiveness of your workflow

Notifying team members to keep everyone on the same page
Pricing:
Zoho CRM is free for three users and offers the following paid pricing options:
Standard: $14/user/month

Free plan- Yes
Pros

Cons

1. Great customer support

2. Cloud-based access

3. Multiple integrations

1. Duplicate contacts occur frequently
Run Your Business Effectively With a Streamlined Workflow
Most businesses struggle with juggling multiple tasks, and as a result, their productivity suffers. The solution to this is effective task and workflow management.
By eliminating manual, repetitive tasks from your business operations, you can achieve your goals quicker. For this, you need the help of a powerful CRM software workflow that can adjust according to your needs. Such a tool can standardize your processes, making the whole experience better for your employees as well as the customers.
Seamless management of tasks can boost collaboration, help your employees become more productive, reduce errors, and cut costs.
To accomplish this, make sure you choose a CRM with the required automation tools and implement it properly.
Do you want to make more sales?
BIGContacts is the #1 contact management software & CRM to close more sales.