What does it take to build customer relationships that stand the test of time?
Timely follow-ups, personalized messages, top-notch customer support, and the list goes on.
With so much on your plate, managing customer data manually can be highly unproductive. The stuffy filing system and the stress of losing a customer's files can take your mind off more important tasks.
A one-stop solution for overcoming all these troubles is CRM.
Customer relationships lie at the heart of any business, whether it's a multimillion-dollar company or an up-and-coming small business. Therefore, any tool that helps manage these relationships becomes inevitably useful. CRM software is one such application.
It carries high utility for sales, marketing, operations, and support teams. CRM performs a plethora of business functions, ranging from automated follow-up with clients to revenue forecasting.
However, CRM is more than just a new buzzword in the software industry.
If implemented properly, it can be a highly profitable business endeavor. In this blog, we list the 12 most significant benefits of CRM that make it a must-have for any business, irrespective of its industry or size.
Let's get started!
What Is CRM Software?
Customer Relationship Management (CRM) tools are a platform for organizing and managing customer information. This includes their contact details, previous interactions, social media activity, transaction history, related notes, etc. All the contact records are stored, updated, and accessed centrally, which makes client interactions much more efficient and transparent.
But what is the need of such a system?
56% of customers stay loyal to businesses that understand their preferences.
Reason enough for you to collect and leverage customer information for more personalized experiences, and CRM is the most effective way to do so.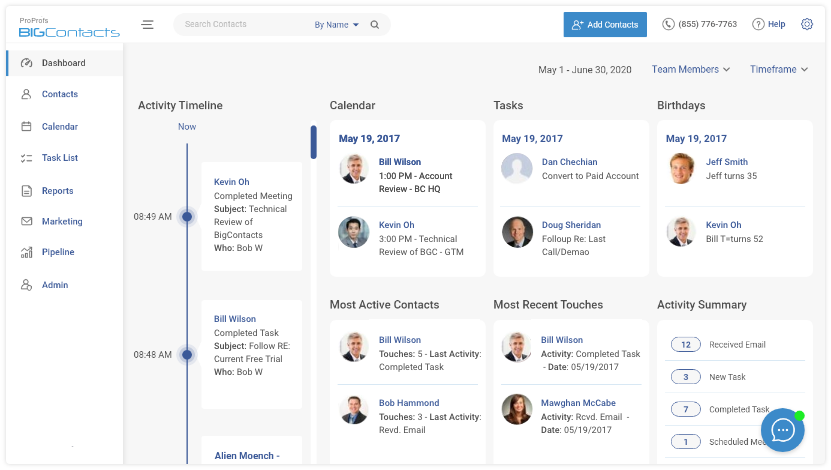 CRM, as you may already be familiar with, is a centralized hub for business data. But it is a lot more than just that!
CRM applications help cultivate long-lasting relationships with potential and existing customers by offering personalized solutions at the most appropriate time. For instance, you can use a CRM tool to set up targeted email marketing campaigns to be adjusted based on customer preferences and activity. This makes the experience more personalized for the customers and saves you the manual effort of sending out customized emails individually.
This brings us back to the fact that CRM can do a lot more than keeping client data organized, including:
Creating automated workflows
Bringing more consistency to client communication
Personalizing business outreach
Managing team members
Analyzing business performance
Streamlining processes
Promoting cross-departmental collaboration
Segmenting clients into lists
Who Needs CRM?
There is a range of useful tools that can help you run your business, such as marketing and lead generation tools, automation tools, project management tools, as well as business analytics tools. But if you aren't managing and tracking customers, all these tools combined won't be of much help to you.
If your goal is to hit that 6-figure mark or triple your sales from last year, you need to upgrade the way your business operates. You can't achieve your financial goals if you aren't using your resources wisely and helping your team members work smarter.
Furthermore, based on a report by McKinsey & Company, customers highly value businesses that offer experiences that cater to their specific needs.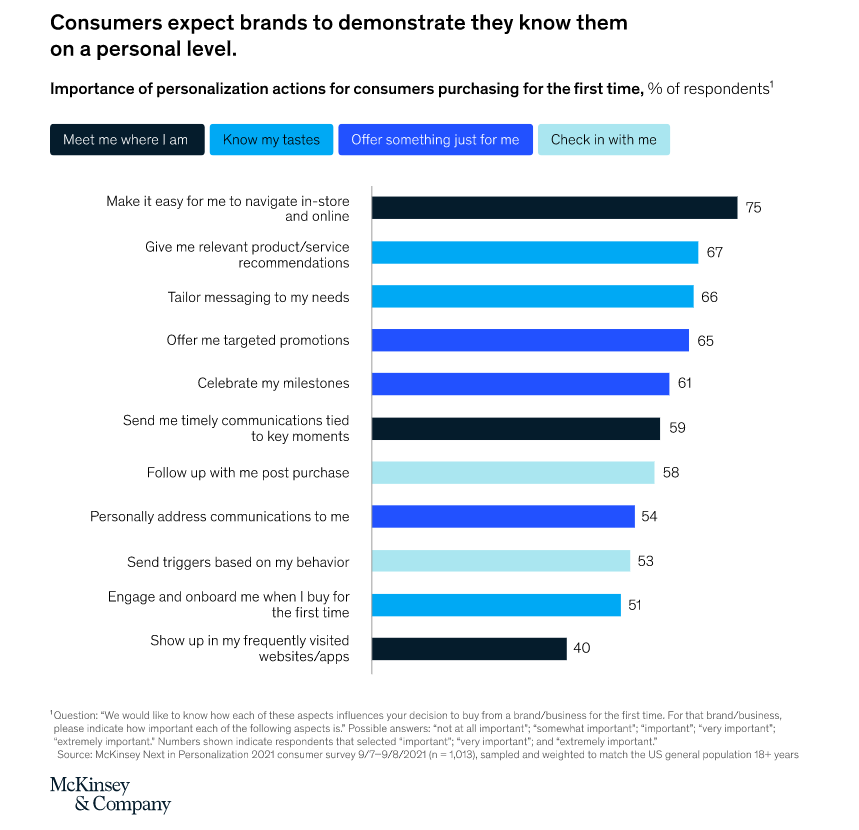 Investing in CRM is a full-proof way of achieving this. The benefits of a CRM system are numerous, including an increase in your sales, enhanced productivity, better customer engagement, and conservation of valuable resources.
Still on the fence about investing in CRM technology?
Here are some instances which demonstrate that your business may be in immediate need of CRM software:
Unorganized Customer Data
Spreadsheets and sticky notes may work fine initially. However, as the business grows, the old-school tools limit your team's visibility and hamper their ability to assist customers. If you are struggling to locate relevant client data at the right time, your business could benefit significantly from CRM implementation.
Ineffective Customer Service
A staggering 80% of customers feel more connected to brands offering reliable customer service.
This is why your customer support team can't afford to be unable to proactively anticipate customer needs or have a hard time dealing with customers' queries. Deploying a CRM tool can save your customer resolution times and rates from taking a hit since all the data will be readily available to the support agent from a single platform.
Inability to Prioritize Customers
You may be generating loads of new leads, but the truth is only 10-15% of these are likely to convert. Therefore, to avoid wasting time and effort on the wrong prospects, you need a CRM system to filter and sort quality leads quickly. Moreover, a CRM tool can remind you of milestones and events for your valuable customers, helping you make loyal customers feel appreciated.
Drop in Team Productivity
Whether your team is working remotely on the go or in the office, it's important to track their progress. If you are unable to do so, it's hard to make improvements or change tactics. CRM can help your team utilize their time more productively by taking manual and repetitive tasks off their plates, enabling them to work more efficiently.
If one or more of the points mentioned above are relatable, it's time to take the next step and deploy a robust CRM platform.
12 Benefits of CRM for Your Business
The first step to meeting customer expectations is being aware of them.
Shooting arrows in the dark does not work with customer delight and satisfaction. This is why you require a consolidated repository of customer information, one that brings all data and processes together. This can help gauge customer needs and preferences to deliver the most satisfactory experiences.
However, utilizing spreadsheets for maintaining these records manually is not only slow and tiresome but also leaves a wide margin of error.
If you find yourself in a similar predicament, CRM is your way out!
Let's take a look at the 12 most significant benefits of CRM that make it worth investing in:
1. Powerful Contact Management
90% of US customers feel annoyed by marketing messages that are not personalized.
Establishing such personalization can be challenging, especially with the overwhelming amount of data collected from customers. Unless you have an efficient contact management system for storing and managing this data, you will never be able to craft the most relevant messages for your clients.
A CRM tool can help overcome this challenge.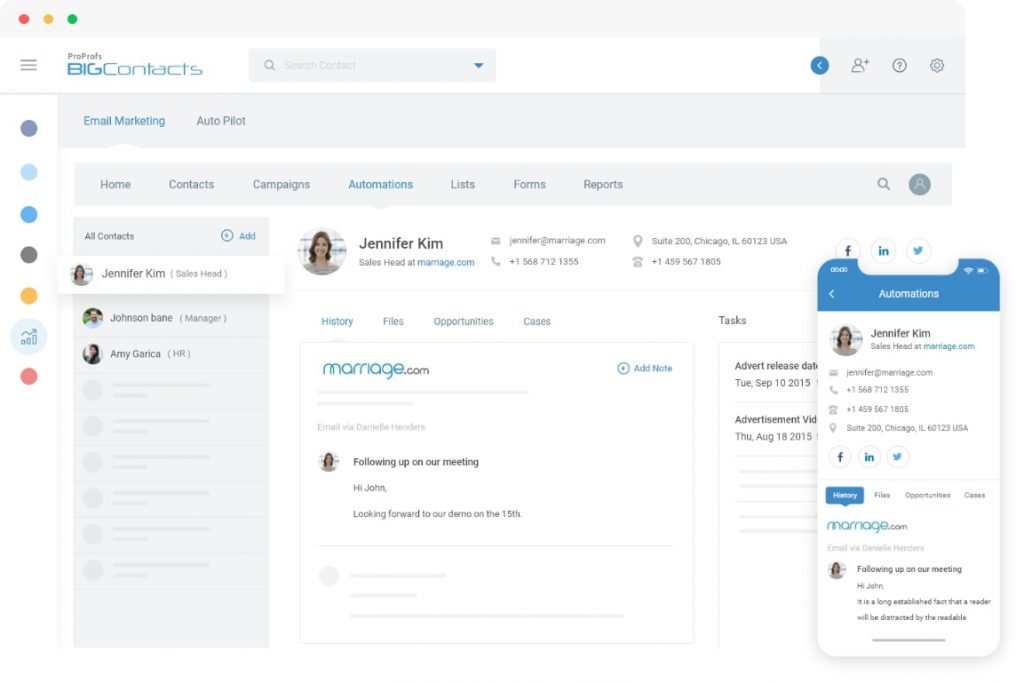 From telephone numbers and postal addresses to customer pain points, the best CRM software for startups can help you consolidate all valuable data in one place. Plus, your business doesn't have to grind to a halt when a team member calls in sick. Any one of your staff members can log in and use the client management system to access the file on that customer.
With a few clicks, you can get complete visibility into clients' positions in the sales cycle, their purchasing history, past conversations, upcoming interactions, buying patterns, and online behaviors to help you fine-tune your marketing and sales strategy.
2. Enhanced Internal Communication
CRM system offers efficient collaboration so that different departments can communicate smoothly and share information for better outcomes. Your sales, marketing, and service teams can work in perfect sync using a CRM tool and provide delightful experiences to the customers.
Different teams can stay in the loop regarding the customer's journey and get alerted about ongoing interactions. This proves to be fruitful when multiple members from different teams are working together on the same client. With just a few clicks, these employees can share files and can leave comments for effective communication.
3. Improved Productivity
Coming to one of the most significant advantages of CRM implementation- a boost in productivity.
CRM can contribute to an enhancement in the productivity of individual employees, as well as the organization as a whole. You can use the system to visualize upcoming tasks and assign them appropriately. Along with providing robust calendar tracking features, a CRM tool also plays an important role in improving transparency within the company with custom user roles and permissions.
That's not all. With a dynamic CRM offering automation capabilities, you can get rid of repetitive tasks and focus on more complex activities.
4. Better Insights With Reporting
Does your team have a weak closing rate? Have you ever forgotten to follow up with a customer and lost a sale? If your answer is yes, or you're not even sure what your stats are like, a CRM will be life-changing for your business.
One of the major benefits of CRM is that you can use the software to pull reports and identify which phases of your sales process work and where customers fall off. From there, you can weed out what isn't working and turn more leads into paying customers.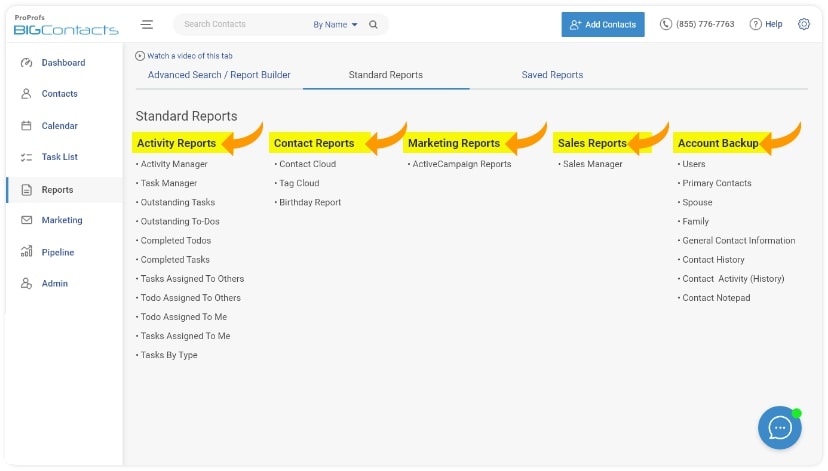 Along with helping track key metrics, a CRM system can also help prevent potential sales from falling through the cracks. You can set up follow-up reminders or automated emails to send out a discount code for a client's birthday.
5. Improved Sales Strategy
Since the rise of digital marketing and online shopping, the only thing constant in any successful modern business is change. If you want to survive, you need to be able to adapt to innovation – and fast. A CRM system keeps your ear to the ground and allows you to track trends and change your sales strategy as needed.
For example, if you own a business that sells decorations for holidays like Christmas and Halloween, you can use your CRM's forecasting data to plan your marketing campaign and prepare for those dips and increases in sales.
You can also use the data you are collecting to analyze the type of customers you're attracting. If you notice that the majority of your income is coming from women between the ages of 18-24, you can make more informed advertising decisions.
Moreover, a CRM with pipeline tracking enables you to drive more profits by effectively visualizing and managing prospects throughout their buying lifecycle.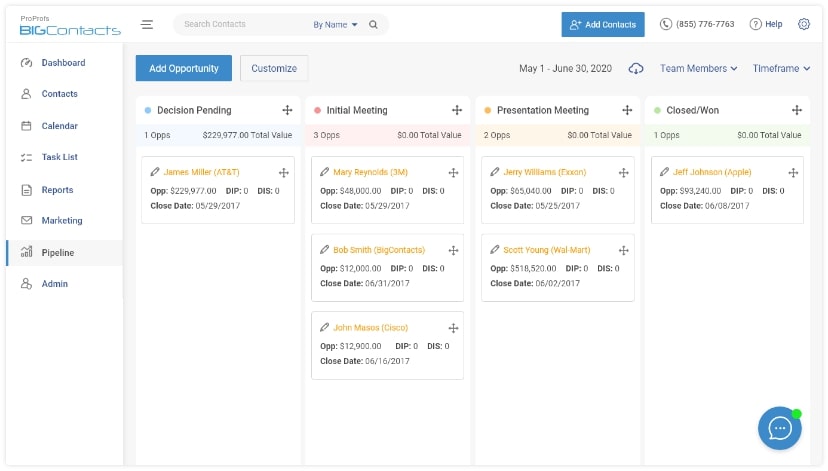 6. Better Segmentation & Targeting
All your prospects and customers are not going to react the same way to the same content. That's why segmentation is necessary to sort your current customers and leads into strategic lists based on their preferences, browsing patterns, location, etc.
Use a CRM tool to create targeted lists that allow you to send the most relevant emails through A/B testing. It also helps in choosing the right communication channels for different customer segments. This way, your sales and marketing teams can focus on the right audience without any distractions.
7. Better Customer Retention
The top 10% of your loyal customers spend 3 times more per purchase than the other 90%!
This is why customer retention is a critical business aspect to focus on.
With a CRM system in place, you can drive better retention for your customers, leading to an enhancement in your profitability. Keep customers who have made purchases coming back by targeting them effectively. You can craft automated email campaigns that deliver personalized messages to your customers, helping you stay connected with them post-purchase.
The data in your CRM system can be leveraged to delight existing customers and garner loyalty from them by offering them valuable rewards such as discounts. You can also use the stored purchasing history data to cross-sell and upsell products to your customers.
8. Improved Customer Service
69% of customers leave a brand just after one bad customer service experience.
To avoid this, you need to make sure your team is able to stay on top of complaints and queries by investing in a CRM with helpdesk integration. Such a system can bring customer data and their tickets to the same platform, enabling support agents to deliver more personalized and accurate solutions to customers.
A powerful CRM can take your customer service a step further by analyzing incoming complaints. You can pull a report to see where and why you're not performing well and make informed business decisions to deliver fast and exceptional customer support.
9. Ensuring Data Security & Regulatory Compliance
You must perform regular checks on your business to make sure it's compliant with federal and state laws as well as industry standards.
A GDPR-compliant tool such as BIGContacts ensures that you are following the best practices to store and utilize customer data. With only a few clicks, you can generate the relevant documentation you need or set up an alert to flag a high-risk client. This way, you can finally use that budget you set aside for compliance analysts for other essential activities.
10. Profitability Tracking
A CRM isn't only beneficial to your sales and marketing teams. It can also ease up the workload on your financial department. CRM software with built-in bookkeeping can enable you to track all financial records and pull accurate reports with a few clicks of a button.
The end result for your business? Your accountants no longer need to spend time tracking every single cent coming in and out of business. Plus, repetitive tasks such as invoicing and payment reminders can be automated, giving your team space in their schedule to focus on more important tasks.
Read More: 9 Best CRM Software For Financial Services Companies
11. Effortless Data Synchronization
The seamless flow of data from other software is the most important advantage of CRM to utilize. With easy one-click integrations available, businesses can update their CRM database with information of all customers from popular project management, accountant, sales, and marketing tools. So you won't have to worry about manually entering data from other software into the CRM.
The best part is yet to come, as CRM tools can now integrate customer data from various social platforms to gather relevant information about potential customers.
12. Remote Access
One of the most important benefits of a CRM system is the anywhere, anytime access to customer data.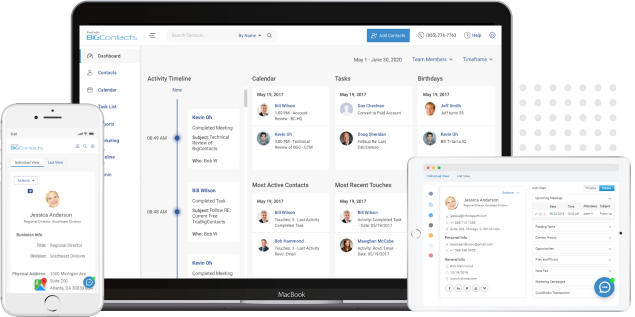 Take a day in the life of a sales representative, for example. There are countless instances throughout the day where the rep requires remote access to the database. Whether it's preparing for meetings on the go or instantly logging essential information after client interactions, a mobile CRM can work wonders for your field workers.
Not only this, you can also use a mobile CRM to stay updated with upcoming tasks and get instant alerts to get things done at the right time. This is why mobile CRM is attributed to increasing sales productivity and accelerating revenue growth.
Which CRM Tool Is the Best for Your Business?
Now that we have listed the benefits of customer relationship management tools, let's try to understand how to find the most effective software for your business needs.
To begin with, you need to focus on the unique needs of your business and find a tool that aligns with them. For instance, if your biggest challenge is the time lost in performing repetitive tasks, you should find a tool offering robust automation capabilities.
Next, you should keep in mind your business goals and consider factors such as:
How customizable the tool is
If it is cost-effective for business
If the tool is easy to use
How scalable is the tool
What is the scope of the CRM's implementation
To make the selection process easier, we have compared and contrasted the top-rated CRM tools on the marketplace and found the three most effective choices out of them.
1. BIGContacts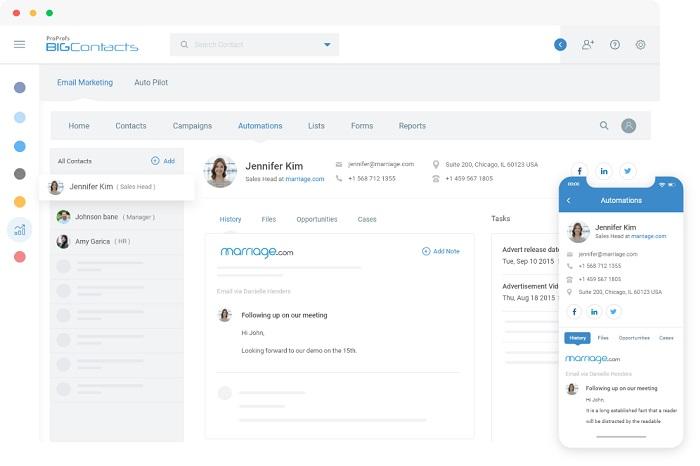 BIGContacts is one of the most intuitive and customizable CRM and email marketing solutions. It has a sleek and easy-to-use interface that helps easily manage prospects and customer relationships. Teams can capture more leads, convert opportunities, automate redundant tasks, and retain customers to boost sales and increase revenue using this dynamic CRM application. The email marketing module of the tool lets you run targeted marketing campaigns with ease.
With advanced reporting and analytics, businesses can easily get an overview of what's going on and how they can improve. The team collaboration feature makes it further easy for different departments to communicate and share information. All in all, it is one of the best and most affordable contact management software for small to medium-sized businesses.
Pricing
BIG: $5/user/month
BIGGER: $15/user/month
BIGGEST: $25/user/month
ENTERPRISE: Custom Pricing
2. Salesmate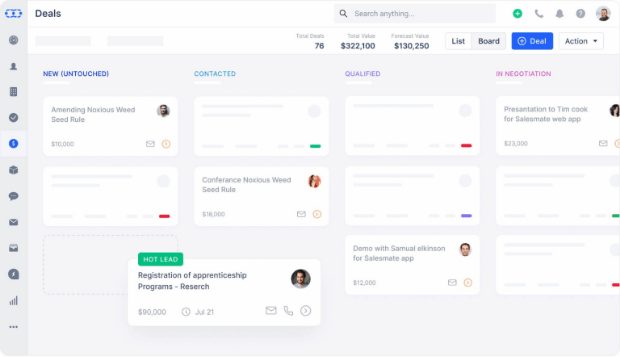 Salesmate is a popular choice among small businesses as it speeds up the sales process and helps deliver personalized customer experiences. Users can effortlessly manage their contacts by keeping track of sales activities using this CRM application. The email marketing tool lets you successfully run campaigns targeting new and existing customers.
The insightful reports, sales forecasts, and custom dashboards allow teams to stay on top of their game to generate maximum revenue. The built-in calling and texting feature is perfect for teams to communicate internally and with clients.
Pricing
Free plan- Yes
Starts from $15/user/month
3. Zoho CRM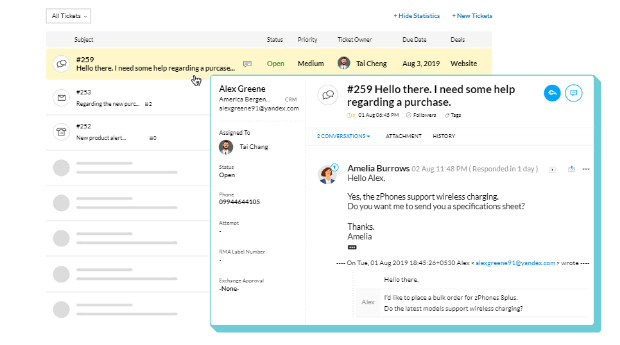 Zoho CRM offers an all-in-one CRM solution for small businesses. It has a powerful set of sales and marketing features to boost productivity and drive revenue growth. Teams can use Zoho CRM to organize contacts, manage sales pipelines, market their products, and offer customer support. The cloud-based CRM solution can be easily integrated with other marketing tools you use, offering a smooth flow of data.
The detailed reporting, multichannel contact management, team collaboration tools, and built-in security measures make it a good pick for small businesses looking to implement a CRM system.
Pricing
Free plan- Yes
Starts from $15/user/month
Deliver Customer-Centric Experiences Using CRM
"We see our customers as invited guests to a party, and we are the hosts. It's our job every day to make every important aspect of the customer experience a little bit better."- Jeff Bezos
Customer delight is undeniably the most crucial factor affecting a business's survival. This is why you need to implement the right tools and techniques that contribute to an improvement in customer experiences. The most important benefits of CRM listed above can reinforce customer loyalty and faith in your business.
To derive these benefits, you must select the most effective CRM tool that can be easily adapted to your business needs. Any easy way to identify this is by accessing the features and carrying out a thorough analysis of them against your business needs.
Reliable CRM providers such as BIGContacts offer a free trial period, enabling you to get an overview of the tool's features, so you can make an informed decision. You can choose such a dynamic CRM application to keep your customer relationships intact for a long time to come.
FAQs
What is CRM and its importance?
Customer relationship management (CRM) tools are comprehensive business applications that help manage all aspects of customer relationships. They bring all relevant contact data to one place, making it easy to personalize interactions with prospects and customers. The tool also helps streamline and automate processes, contributing to an enhancement in the productivity levels of employees and improved customer satisfaction.
What are the benefits of CRM?
The benefits of CRM software are aplenty, including:
Enhanced accessibility to customer data
Automated drip email campaigns
More targeted interactions with prospects and customers
Actionable insights into business data with in-depth reports
Improved task and team management
Better deal-tracking functionality
Mobile access to data and updates
What challenges are commonly associated with CRM?
The key challenges associated with CRM technology include the following:
Lack of awareness of the specific business needs
Slow and ineffective implementation
Steep learning curve
Low adoption rate
Inability to find the most appropriate tool