Clients are at the heart of any business. And small businesses are no exception. The people buying your products or services are the lifeblood of your daily operations.
Without them, you wouldn't be able to grow your business, get valuable feedback, pay your staff, or have that much-deserved vacation.
Customers and clients are always looking for a delightful experience, no matter what kind of services or products you offer. With ever-increasing competition, capitalizing on the opportunities to build a loyal customer base and improve customer engagement is the need of the hour. A customer relationship management system is what businesses are implementing at lightning speed to achieve their desired results.
Yet only 1 in 3 small businesses use the best CRM software, while 9 of 10 larger businesses use it.
One of the main reasons small business owners turn down using a CRM is because of the myth that it's too expensive and their concern for CRM roi. However, most businesses that invest in one see an average ROI of $8.71 for every dollar spent.
Today, we're going to bust the myth that CRM is only for big business and will be talking about the benefits of CRM for small business, how the software consultants can save your time and boost your sales without hiring more people or working longer hours.
In this blog guide, we'll be discussing:
What is CRM System?
By now, you probably would be aware that CRM stands for Customer Relationship Management. So, a CRM system is a tool that helps in improving relationships with existing and potential customers. Let's break it down simply through an example.
Joe visits your website and purchases a vacuum cleaner. After a month of usage, he starts facing some issues with the device. He contacts your customer service executive to seek help. After a chain of interactions and frustrating conversations, the issue gets resolved.
David looks for that same product on your website and as you are a small business owner, he has his doubts about cleaner. Finding the review posted by Joe, he decides to get the cleaner from a different website.
Now, with a CRM system in place, Joe's issues can be resolved quickly without him repeating the same problem to different customer service executives. Support staff can check the previous interactions and escalate Joe's request to provide resolution at the earliest.
On the other hand, David finds a positive review from Joe, and the sales team identifies the new lead in the CRM to nurture and close the deal. Happy customers! Happy sales!
That pretty much sums up a CRM system. Let's have a look at when small business owners really need a CRM?
When Small Business Owners Need a CRM?
Not all businesses are destined to be successful, but it's in your hand to guide the teams toward success and you definitely know how important customer relationships are to success. But how to identify when it's time to make the investment in a CRM system. Check out below.
Your customer data is unorganized and hard to locate

.
At the start, spreadsheets and sticky notes may have worked fine. But as the business grows, the old-school tools limit your team's visibility and ability to assist customers and make informed decisions.
Your customer service is falling apart

.
Getting customers in the first place is tough but losing them takes a few seconds. If your customer support team isn't able to proactively anticipate customer needs or is having a hard time dealing with customers' queries, it's time for CRM.
Your sales team is struggling to filter new leads.
Your small business is fortunate enough to generate loads of new leads, but the sales and marketing teams are after the wrong leads. You need a CRM system to quickly filter and sort quality leads to prioritize.
You are unable to keep track of your sales team.
Whether your sales team is working remotely on the go or in the office, it's surely important to track their progress and check performance. If you are unable to do so, it's hard to make improvements or change tactics.
You are not focusing on your loyal customers.
All customers are not equal and you don't want your big and loyal customers to feel unappreciated. If your team is unable to target existing customers in different marketing campaigns, you need a CRM system to remind you of milestones and events for your valuable customers.
Your sales team is spending too much time on reports.
Reporting is necessary to analyze the progress and make improvements. However, if your sales team is spending too much time manually generating reports, you need to shift to a CRM to automate reporting.
If one or more of the above-mentioned points are relatable, it's time to take the next step and it will be a good one. Let's see the benefits of CRM for small businesses.
11 Benefits of CRM for Small Businesses
The right CRM tool can help you increase your revenue, update customers' details, and help the business scale. What's more? Let's have a look at the key benefits of CRM software for small businesses.
1. Client Management
With an overwhelming amount of information that we collect from our customers, businesses know the importance of customer relationship management. Gone are days where you had to keep track of things manually. You won't need that stuffy filing cabinet anymore, and the stress of losing a customer's file will be a distant memory.
From telephone numbers and postal addresses to capturing their pain points or issuing a return, the best CRM software for startups can help you consolidate, organize and synchronize all that valuable data. Plus, your business doesn't have to grind to a halt when John Doe calls in sick. One of the top benefits of CRM is that any one of your staff members can log in and use the client management system to access the file on that customer.
With a few clicks, you can see where they are in the sales cycle, their purchasing history, past conversations, and data showing their buyer patterns and behaviors to help you fine-tune your marketing and sales strategy.
2. Profitability Tracking
A CRM isn't only beneficial to your sales and marketing team. It can also ease up the workload on your financial department. The financial services CRM software comes with a built-in bookkeeping system, which helps to pull accurate financial reports with a few clicks of a button.
The end result for your business? Your accountants no longer need to spend time, tracking every single cent coming in and out of the business. Plus repetitive tasks like shipping costs and product discounts can be automatically applied, giving your team space in their schedule to focus on more important tasks.
3. Increase Profits
Does your team have a weak closing rate? Have you ever forgotten to follow up with a customer and lost a sale? If your answer is NO, or you're not even sure what your stats are like, a CRM will be life-changing to your business.
One of the major benefits of CRM is that you can use the software to pull reports and identify which phases of your sales process work and where customers are falling off. From there, you can weed out what isn't working and turn more leads into paying customers.
A CRM system can help any potential sales from falling through the cracks. You can set up reminders for follow-ups or the automated email feature to send out a discount code for a client's birthday. The best part? No one has to be in the office to hit send and boost your profits.
4. Sales Strategy
Since the rise of digital marketing and online shopping, the only thing constant in any successful modern business is change. If you want to survive, you need to be able to adapt to innovation – and fast. A CRM system keeps your ear to the ground and allows you to track trends and change your sales strategy as needed.
For example, if you own a business that sells decorations for holidays like Christmas and Halloween, you can use your CRM's forecasting data to plan your marketing campaign and prepare for those dips and increases in sales.
You can also use the data you are collecting to analyze the type of customers you're attracting. If you notice that the majority of your income is coming from women between the ages of 18-24, you can make more informed advertising decisions.
5. Improve Productivity
When it comes to running a business of any size, knowing what to focus on at the right moment is crucial to success. With a CRM system, you can dive deep into the analytics to prioritize the tasks of each team member.
In a survey conducted by Salesforce, businesses that switched to CRM's were able to increase sales by 29% and productivity by 34%.
You can use your CRM software to identify which lead you need to nurture or to pull up contact information for a customer in seconds. CRM's also allow you to automate a range of tasks, helping everyone remain focused on actions that bring in more sales.
6. Regulatory Compliance
By using a CRM, the intuitive settings can perform regular checks on your business to make sure it's compliant with federal and state laws as well as industry standards.
With only a few clicks, you can generate the relevant documentation you need, or set up an alert to flag a high-risk client. So finally, you can use that budget you set aside for compliance analysts to pay for your CRM system or invest it back into your business to meet your business goals.
7. Customer Service Improvement
90% of millennials expect companies to respond to comments or DMs on social media within a day or less. 44% want an answer within an hour or less. With such a high demand for fast customer service, the importance of customer relationship management in your business is crucial for success.
You need to make sure your team is able to stay on top of complaints and queries. A CRM can take this a step further by analyzing the complaints. You can pull a report to see where and why you're not performing well and make informed business decisions to deliver fast and exceptional customer support.
8. Improve Internal Communication
CRM system offers collaboration so that different departments can smoothly communicate and share information for better results. Your sales, marketing, and customer service teams can work in sync to provide a delightful experience to the customers.
Everyone on the different teams will be in the loop regarding the customer's journey and all interactions can be analyzed. This proves to be fruitful when multiple members of the team are working together on the same client. With just a few clicks, employees can share data, files, and can leave comments for effective communication.
9. Targeted Lead Generation
All your prospects and customers are not going to react the same way to the same content. That's why segmentation is necessary to sort your current customers and leads into strategic lists based on their preferences, browsing patterns, location, etc.
The different groups and lists allow you to send targeted emails through A/B testing to optimize and go with the best email templates and content. It also helps in choosing the right communication channels for different customer segments. This way, your sales and marketing teams can focus on the target audience efficiently without any distractions.
10. Increase Customer Retention
With a CRM system in place, you can easily give time to your existing customers as well. If someone has already purchased from you, they are more likely to come back again. But, you need to target them over emails/SMS while running marketing campaigns.
CRM also offers a smart solution helpful to marketing teams that lets them upsell and cross-sell products based on the purchase history. With automated email campaigns, you can easily target your old customers to increase retention rates and boost sales.
11. Integration With Other Software
The flow of information and data from other software to CRM is important to utilize most of everything. With easy one-click integrations available, businesses can update their CRM database with information of all customers from popular project management, accountant, sales, and marketing tools.
So, you won't have to worry about manually entering data from other software to CRM. The best part is yet to come as CRM tools can now integrate customer data from various social platforms to gather relevant information about potential customers. This helps your team in easily segmenting and targeting prospects.
Which CRM is Best for Small Businesses?
Now that we know the importance of CRM for small businesses, it's time to look at the perfect CRM solution. Choosing the best CRM software is challenging for small businesses as they need a cost-effective solution with smart features and functionality to help their business grow. Luckily for you, we did the hard work to bring you the top 3 CRMs from the lot.
1. BIGContacts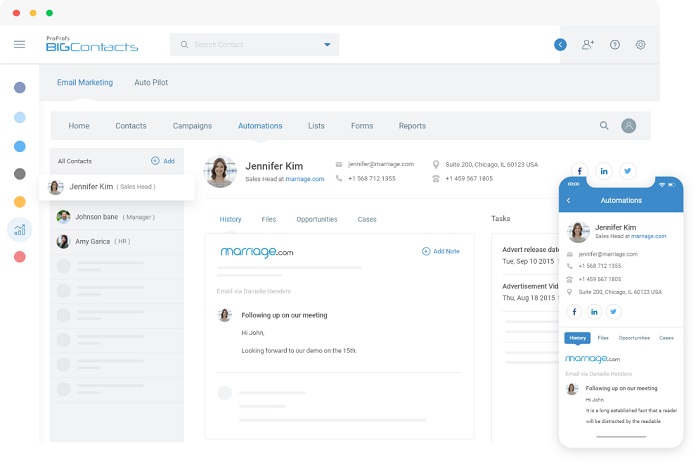 BIGContacts is the #1 rated CRM and email marketing solution for small businesses. It comes with a sleek and easy-to-use interface that helps in easily managing prospects and customer relationships. Teams can capture more leads, convert more opportunities, and retain more customers to boost sales and increase revenue. The email marketing module lets you automate tasks and run marketing campaigns with ease.
With advanced reporting and analytics, businesses can easily get an overview of what's going on and how can they improve. The team collaboration feature makes it further easy for different departments to communicate and share information. All in all, it is the best and affordable contact management software for small businesses.
Pricing
BIG: $5/user/month

BIGGER: $15/user/month

BIGGEST: $25/user/month
2. Salesmate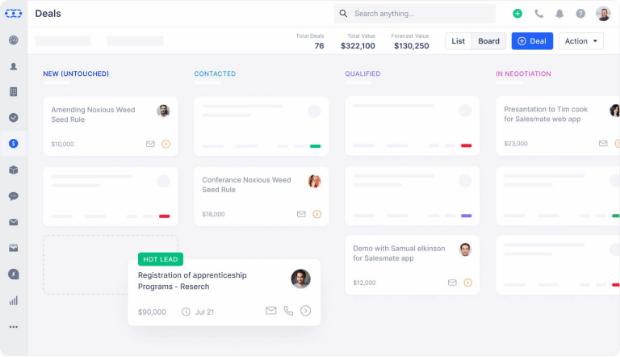 Salesmate is a popular choice among small businesses as it speeds up the sales process and helps in delivering a personalized experience to customers. Users can effortlessly manage their contacts by keeping track of the sales activities. The email marketing tool also lets you successfully run email campaigns to target new and existing customers.
The insightful reports, sales forecasts, and custom dashboards allow teams to stay on top of their game to generate maximum revenue. The built-in calling and texting feature is perfect for teams to communicate internally and with clients.
Pricing
Free plan- Yes
Starts from $15/user/month
3. Zoho CRM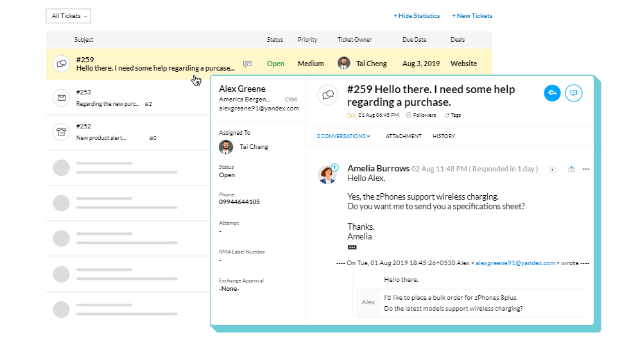 Zoho CRM offers an all-in-one solution for small businesses with a powerful set of sales and marketing features to boost productivity and sales. Teams can organize contacts, manage sales pipelines, market their brand, offer customer support, and do much more with Zoho. The cloud-based solution is easily integrated with other marketing tools you use, offering a smooth flow of customers' data.
The detailed reporting, multichannel contact management, team collaboration tools, and built-in security measures make it a good pick for small businesses looking to implement a CRM system.
Pricing
Free plan- Yes
Starts from $15/user/month
Read Here: Zoho CRM Alternatives
CRM is Simply a Game-Changer!
There is a range of useful tools to help you run your business, like marketing & lead generation tools, automation tools as well as useful spreadsheets. But if you aren't managing and keeping track of customers, those tools won't help you much.
Time is money. If it's your goal to hit that 6-figure mark or triple your sales from the previous year, you need to upgrade how your business operates. You can't achieve your financial goals if you aren't using your resources wisely and helping your team to work smarter, not harder.
Investing in a CRM is a full-proof way to increase sales and productivity, improve customer engagement and save money.