Let's admit it, when we have a steady influx of leads in the pipeline, all we can think of is – the hard part is done so we can now sit back and relax.
Believe it or not, this is where the real hard work starts!
After acquiring the leads, you need to nudge them towards the purchase process to get real profits. You have to handle the lead opportunities with care to turn your sales efforts profitable.
Sales opportunity management is, therefore, a critical business aspect that you should pay adequate attention to. But managing sales opportunities is easier said than done. You have to diligently track the movement of prospects through your sales process and deliver relevant support at every point to turn them into paying customers.
This can only be achieved by integrating the right opportunity management tools and techniques. With a well-structured opportunity management system and clearly defined milestones, you can effectively guide prospects through your sales process.
Let's dive deeper into the significance of having an opportunity management plan and tool in place for your organization. But before we come to that, let's learn the basics first.
What is an Opportunity?
A sales opportunity is a contact or account which has been qualified. When a lead enters your sales funnel and expresses a need for your services, it is on the way to becoming an opportunity.
You then have to initiate contact with the lead and conduct research about their budget, timeline, purchasing authority, etc. Once you have ascertained the lead's interest and qualified it based on your pre-defined criteria, the lead becomes a sales opportunity.
Although they are closely related, opportunities and leads are not the same.
While a lead is simply a prospect, an opportunity represents qualified leads showing a high chance of a conversion.
What is Sales Opportunity Management?
Sales opportunity management is a process that helps you manage and monitor sales opportunities as they move down the pipeline. By managing opportunities efficiently, you can significantly increase the chances of conversions and generate more profit.
Opportunity management allows you to close more sales by establishing a clear-cut process for sales representatives to follow. It helps them prioritize high-value deals and build long-lasting relationships with clients.
Opportunity management in sales extends beyond just managing individual deals.
It is a comprehensive strategy that considers the overall success and growth of your organization. By acting as a roadmap for optimizing the sales process and its steps, opportunity management can maximize your sales team's productivity and performance.
The process also brings to the fore possible risks and opportunities pertaining to your sales pipeline. Access to such crucial information helps your sales staff take timely action and provide services tailored to the needs of prospects.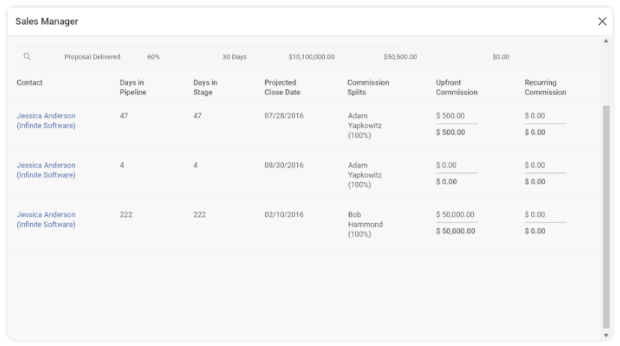 Importance of Sales Opportunity Management
Before exploring the various techniques for managing opportunities, it is essential to establish why it is important in the first place.
Take a moment to evaluate your sales process, and you will discover daunting challenges that hinder your team from closing deals successfully. Some of these challenges are:
Lack of knowledge of the number of qualified opportunities currently available

No systematic process to prioritize high-value leads

Delays in follow-ups

Inability to track the most engaged contacts
These challenges translate into unsatisfactory experiences and low conversion rates.
To overcome these and ensure that your sales team meets targets effectively, you require sales opportunity management. It helps you understand customer needs better and utilize these insights to improve the buyer journeys.
Your bottom line considerably improves with sales opportunities tracked and managed properly. Enhanced visibility into relevant sales metrics helps identify what works well for your business and enables you to optimize your sales process accordingly.
Here are some of the benefits that the opportunity management process can bring to your business:
It provides better control of your sales pipeline and helps monitor the progress of leads.

It enables you to identify possible roadblocks and eliminate them to improve your sales process.

You can build stronger relationships by personalizing experiences for the prospects.

You can make better estimates and optimize your upcoming sales processes effectively.

It helps you analyze possible risks associated with opportunities and create contingency plans.

It helps you map out the steps to build a strong sales process that takes into account your customer expectations and long-term business objectives.

You can prioritize sales opportunities more effectively with relevant insights into the deal size and conversion probability.

Your sales team can identify ways to improve the pipeline velocity.
How to Manage Sales Opportunities
Managing sales opportunities ensures that the qualified leads move swiftly down the funnel and turn into profit-generating customers. It reduces the number of leads slipping through the cracks by helping you deliver more consistent and delightful experiences.
Some of the best practices to manage your sales opportunities with ease include:
Know Your Opportunities
By clearly understanding your prospects and their requirements, you can focus on opportunities that carry more value. Conduct adequate research before approaching your prospects. Identify their budget, business objectives, team size, pain points, etc. This will help you estimate the value of your potential deals and prioritize them accordingly.
Qualify Leads Effectively
Qualification of leads is an integral part of opportunity management. It provides better visibility into the opportunities at hand and helps you be more productive with your time and resources.
You can use any qualifying technique based on your business needs. This may include varying criteria such as budget, authority, timeline, pain points, etc. When qualifying the leads, ask the right questions to increase your chances of closing more deals.
Well-qualified leads save time and effort for the sales team. Since you would only be focusing on leads that have a real chance of converting into customers, your efforts are more likely to yield positive results.
Standardize Sales Cycle
A critical component of managing opportunities is to optimize your sales cycle. You should create a structured standard operating procedure for the sales process that can help your team be more accountable and productive. Keep your sales cycle short and define a standardized process for your team to follow.
Clearly outline individual stages to help sales representatives identify prospects' positions and move them forward with ease. Provide proper training with online learning platforms and documentation to support your sales reps in understanding the sales process better.
Set up a Sales Pipeline
A Sales pipeline visually represents the sales cycle and helps you track the position of every lead.
It provides a clear view of how many leads you have and the value each deal carries. With a well-established sales pipeline, you can identify the individual stages in your sales cycle and determine the actions that move prospects forward. Every business has a varying sales pipeline. This is determined by the stages that form a part of your sales cycle and their exit criteria.
A thoughtfully-created pipeline also lets you identify the stages where most opportunities are lost in the sales process and make necessary changes. Additionally, you can use the sales pipeline to monitor the speed of deals and find ways to increase it.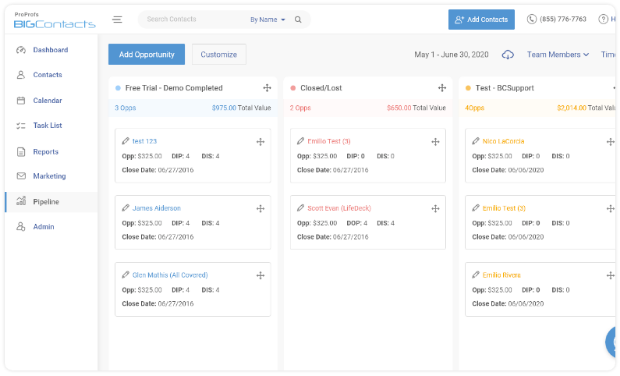 Track Communication
You should stay on top of all interactions with your opportunities to be able to manage them well. Be aware of their requirements and optimize your future interactions accordingly.
Tracking every interaction with prospects enables you to understand their needs and pain points more effectively. This, in turn, can improve your engagement and help you earn their trust. By staying connected with your prospects, you can easily track when they are ready to be moved to the next stage.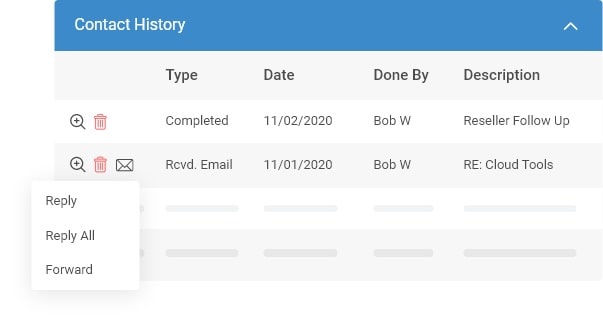 Follow-up Effectively
80% of sales are made after the fifth contact.
This shows the importance of follow-ups with opportunities in sales.
Keep the prospects engaged by offering relevant and informative content every time you take a follow-up with them. In order to optimize your follow-ups, you must track the preferences and behavior of the prospects.
For instance, some leads may require multiple touch-points and more follow-ups as compared to the others. Take such requirements into consideration when defining your follow-up strategies,
Review Your Process
Track metrics such as pipeline velocity, conversion rate, loss rate, average response time routinely to monitor the performance of your sales opportunity management.
Regular review of your opportunity management strategy is critical to ensure that your pipeline is functioning to its maximum capacity. Identify bottlenecks in your sales process and reduce lost opportunities by reviewing the sales pipeline. Make necessary adjustments to your pipeline and workflows to increase your conversion rate.
Disqualify Dead Prospects
Leads that have been inactive for a long duration must be dropped from the sales funnel. Letting go of leads can be difficult, especially since you want to make the most out of every lead that you bring into the pipeline.
However, focusing on uninterested prospects will only end up wasting the precious time and effort of your sales team. It will also put the effectiveness of your opportunity management at risk. So, it's better to disqualify dead prospects rather than make futile efforts to bring them to life.
Learn From Mistakes
It goes without saying that sometimes you will lose an opportunity, no matter how much time you invest in managing it. However, every lost deal is an opportunity for you to improve.
Analyze what went wrong and try to avoid such mistakes in the future. Several things can go wrong in opportunity management. Sometimes, you may not have clarity around customer expectations, and in some cases, you may end up with ineffective targeting or choosing the wrong closing techniques.
Analyze your shortcomings and try to avoid making the same mistakes again.
Use the Right Tool
Investing in the right opportunity management software is just as crucial as having a well-crafted management plan.
A CRM tool can help you create and manage your sales pipeline to track sales opportunities. It enables you to personalize interactions, schedule appointments, and track lead movement. Additionally, incorporating sales tracking software can further streamline your sales process and provide valuable insights for improved performance.
Let's go deeper into how managing opportunities in CRM can benefit your business.
Do You Need CRM for Opportunity Management?
CRM essentially brings all your business processes and data to a single platform. This can help drive more meaningful conversations with prospects and customers. By streamlining sales, marketing, and customer support, CRM boosts customer satisfaction and retention.
But how does a tool meant for customer relationships impact the sales opportunities management process?
A lot of information flows between leads and your marketing and sales teams. A robust CRM opportunity management solution can capture all that information and help you make the most of it through the right features.
With a versatile CRM with sales pipeline tracking, data analytics, and automation capabilities, your sales team will never lose sight of important deals and will be better positioned to guide leads towards the final purchase decision.
Here are some significant benefits of using an opportunity management CRM tool:
Improves Lead Management
CRM helps you improve lead management for your business by keeping all information well-organized and accessible to team members. It captures leads from various sources such as web forms, surveys, etc., and stores them in a centralized database.
The 360° view of lead data helps your sales team personalize interactions and reach out to prospects at the most appropriate time. You can use CRM to categorize your leads and route them to the right sales representatives.
Provides Better Visibility Into Sales Pipeline
CRM tools help you acquire better visibility of your sales pipeline and its associated processes. This allows you to track the position of opportunities in real-time and prioritize them accordingly. You can stay updated and make better business decisions by analyzing the available data. Additionally, you can use the recommendations and insights from CRM data to enhance your business offerings and make them more relevant for the target market.
Automates Repetitive Processes
With a robust CRM system, you can automate various time-consuming tasks such as data entry, scheduling appointments, routing leads, sending reminders and emails. Such automated processes help your sales staff rise above manual tasks and be more productive at work.
Automation also eliminates manual errors and inconsistencies, contributing to better business outcomes. It also helps cut costs and standardize workflows. You can configure triggers to automate actions at various stages of the sales cycle. This reduces unnecessary delays and contributes to improved customer experiences.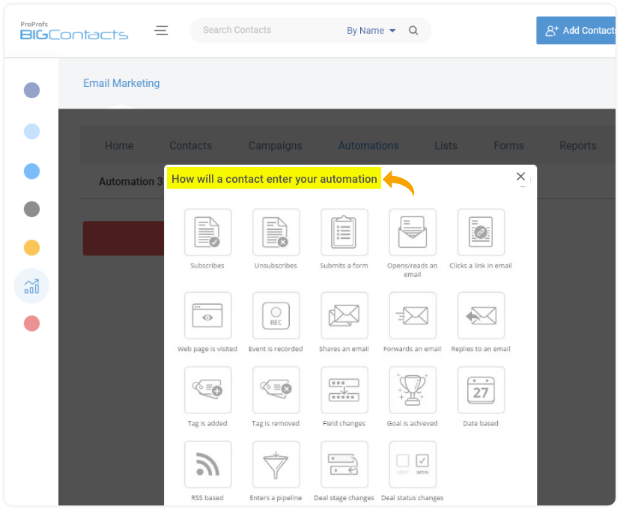 Keeps Everyone on the Same Page
Intelligent recommendations and instant alerts can help your sales representatives focus on the right opportunity at the right time. These insights can also empower them to approach the opportunities more thoughtfully and maximize their chances of closing the deal.
With real-time alerts and notifications, everyone in the team can stay updated on any developments or changes in the sales pipeline.
Get Everything in One Place With Email Integration
Email integration can enhance opportunity management by helping you stay on top of all communications. All the previous interactions and associated details are stored in one central location. This makes outreach more personalized and effective.
You can easily find any previously shared emails and take notes for individual contacts to keep your interactions consistent. Additionally, you can access pre-designed templates and automate delivery to connect with the opportunities at the right time.
Using CRM for Opportunity Management Effectively
For your CRM solution to be truly effective, it must give your sales team the customer information required to close a deal.
For instance, if you are selling your products or services to a company, your sales staff needs to know the decision-makers of that company. Additionally, they will need information about what contact, if any, has already been made.
A CRM can help you with all this and much more.
However, managing sales opportunities with CRM software involves much more than simply choosing an application and running with it. Long before the actual implementation of the CRM solution, you need a certain amount of preparation to ensure that it works for you just the way you need.
With the right CRM, this process need not be too difficult, assuming that you put in an appropriate amount of work prior to the implementation.
Here are some ways to improve opportunity management using CRM:
Knowing where the lead is in the sales funnel is critical to achieving optimal results. It allows your sales representatives to approach every customer interaction from a base of knowledge and confidence. Therefore, you must establish a

sales funnel

with well-defined stages that leaves no ambiguity and standardizes the process for your sales team.
Your CRM should also contain information about your leads, such as what technologies they use, what they are looking for, their pain points, and when they are looking to purchase. Any

background information

available about the customer can be used to increase the chances of a successful sale. Make sure you seek relevant information from your leads and store this data in your CRM system.
Your sales staff can leverage the

detailed reports

about specific leads to fully understand what motivates a

CRM lead opportunity

to become a customer. Having this information at your fingertips increases the chances of productive and meaningful interactions with leads.
Because CRM applications pool information about a lead into a

central location

, your sales team can respond quickly to any questions, needs, and requests from the moment a lead shows interest. This type of service, even before the actual sale happens, leaves a positive impression with leads and converts them into loyal customers more quickly.
One of the most important things to ensure when using CRM for managing opportunities is to

keep the data clean

; you can also use a phone number validation tool with it that can assist by eliminating invalid contacts and adding valuable information such as carrier info, line type, and geolocation to enhance your CRM data. Conduct regular audits

of your CRM data to ensure its integrity and usability for your business. Such reviews can help keep your CRM system up-to-date and utilize it more efficiently.
A powerful CRM software solution greatly impacts how your sales staff approaches leads and how much ROI they end up generating. Because CRM software automates a significant portion of marketing and can be configured to alert your sales team when qualified leads become available, your sales team can stay on top of each sales opportunity.
Why Choose BIGContacts?
To get the most out of opportunity management, you must invest in an all-inclusive and robust CRM system. This will keep your sales data well-organized and your sales processes on track.
While there are a number of CRM tools available, you must choose a flexible and scalable solution. A tool that ranks high in both these categories is BIGContacts.
Using BIGContacts as the opportunity management software for your business presents a broad range of benefits, including:
Unified Access to All Data
You can stay organized with this powerful contact management software for small businesses. BIGContacts enables you to view all the important data, including contact information, social media accounts, previous communications, and additional notes, on a single dashboard.
You can find all the required data without switching between multiple platforms. This can contribute to more personalized buyer journeys.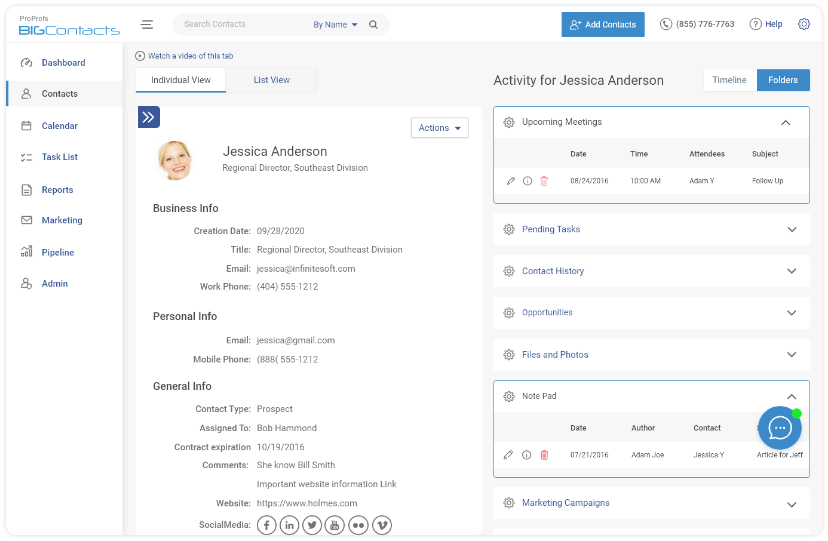 Task Tracking & Reminders
Missing important deadlines can result in the loss of profitable opportunities. With BIGContacts, you can track tasks, assign them to team members and monitor their progress. Furthermore, you can utilize it to set reminders so important tasks do not go unnoticed. BIGContacts offers team and individual calendar views that enable you to view the upcoming tasks and the related information easily.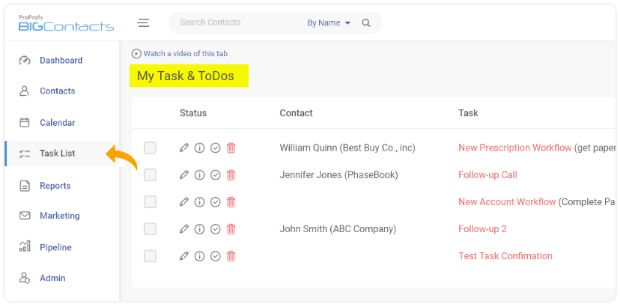 Work From Anywhere
BIGContacts can considerably impact your company's productivity by allowing team members to work from any device, anytime. Mobile access to critical data can increase organizational efficiency by helping sales executives work on the go.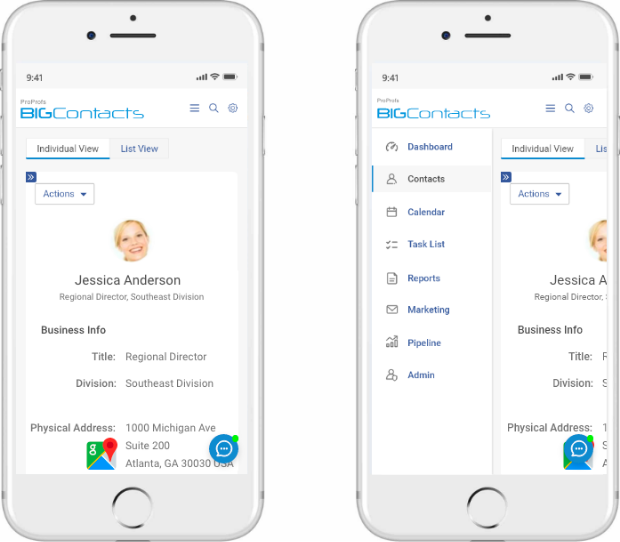 Customize the CRM
BIGContacts is highly customizable. This flexibility can come in handy to optimize the sales opportunity management software according to your business needs. The tool allows you to customize fields, workflows, layouts, views, and other modules. This empowers you to get the most benefit from CRM implementation. You can use the tool to build a custom sales pipeline, store the most relevant data with custom fields and generate reports with custom filters.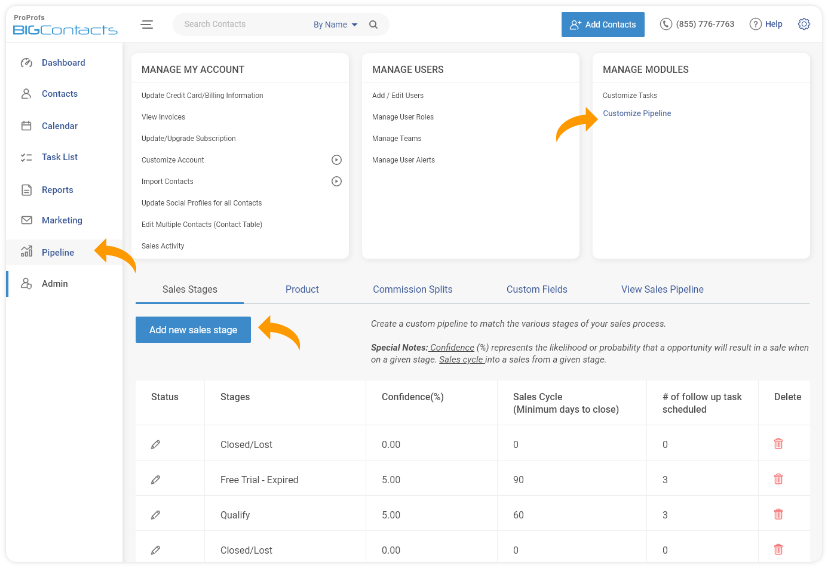 Better Insights
BIGContacts enables you to make better business decisions with data-driven analytics. You can pull reports to track the effectiveness of your opportunity management efforts and discover any bottlenecks in the process.
The tool offers pre-designed reporting templates that can save time and effort. It also allows you to build your reports with custom filters. Additionally, you can easily export or save these reports for future use.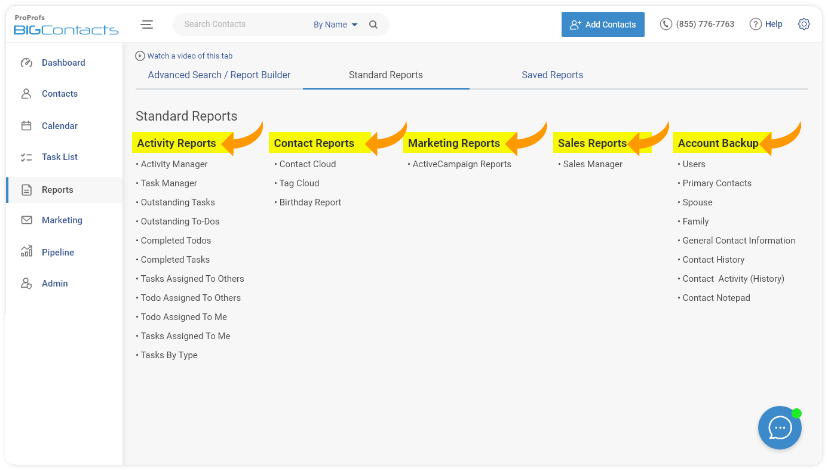 Powerful Integrations
With a number of powerful integrations such as Mailchimp, QuickBooks, Zendesk, etc., BIGContacts helps you do so much more. These integrations allow you to manage your customer data, support tickets, marketing campaigns, accounting, and other business aspects from a single platform. This can optimize your workflow and boost business performance.
Easy Interface
Lastly, the tool has an intuitive and easy-to-use interface. This can help you work more efficiently without any unnecessary delays. Additionally, BIGContacts' customer support is prompt and reliable. This can help you overcome any possible hurdles seamlessly and keep the tool aligned with your requirements at all times.
Grow Your Business With Opportunity Management
To sum it all up, the way you manage your sales opportunities impacts the revenue you bring in.
Effective management of sales opportunities can maximize your earning potential and help you make the most out of every lead in your sales cycle. By implementing sales process best practices and the right opportunity management technology, you can transform your sales outcomes considerably.
And in this process, a CRM tool can be a huge help. With CRM software like BIGContacts, you can win the trust of your prospects by being more responsive and consistent in your services.
It can empower you to optimize your follow-ups, address possible objections and offer personalized experiences to prospects- all of this contributes to improved sales and accelerated growth!