Achieving a comprehensive view of contacts is a job easier said than done!
While it helps create more personalized experiences that yield a positive impact on the bottom online, merely 14% of businesses are able to attain this. And in the search for the right tool to accomplish this, CRM vs contact management software becomes an inevitable choice faced by enterprises.
Contact management is a subset of CRM. This blurs the line between these applications, and most businesses tend to confuse one for the other. However, there are certain differences that set contact management systems apart from CRM tools.
If you need to choose between a standalone contact management software and a comprehensive CRM tool, you've reached the right place.
In this guide, we delve deep into the fundamental characteristics of each of these solutions and explore the key differences between them. Evaluate these attributes and compare them against your unique needs to find the most effective solution for your business.
What Are Contact Management Software & CRM?
Contact management software is a system that helps organize all the related information, making it easier to keep track of contacts and strengthen relationships. The primary function of such an application is to maintain detailed contact records. These records store the names, phone numbers, email addresses, locations, notes, transaction history, social media handles, and other such information related to contacts in one place.
Take the contact dashboard of BIGContacts, for instance.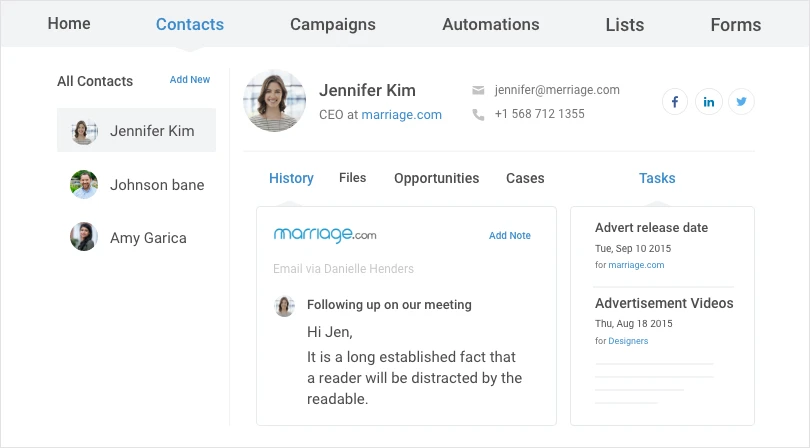 This contact management system displays all the necessary information you require, including:
Contact name & designation

Email address

Phone number

Social media profiles

Communication history

Files

Open & upcoming tasks
Read More: What is Contact Management? Full Guide: Definition & Benefits
CRM, or customer relationship management system, on the other hand, is a more comprehensive application focusing on multiple aspects, including sales tracking, marketing, and performance management. While contact management is one feature of CRM, its capabilities go far beyond the scope of a simple contact management system.
Here's all that a CRM can help you accomplish:
Maintain detailed contact profiles

Track opportunities with a

sales pipeline

Boost internal collaboration

Run drip email campaigns

Monitor & analyze business performance

Automate tasks & workflows
CRM vs Contact Management Software- a Quick Overview
Although used interchangeably at times, CRM and contact management software are different in multiple ways.
| CRM | Contact Management System |
| --- | --- |
| Comprehensive tool for managing multiple business functions that affect customer relationships | Dedicated solution that keeps contact data well-organized and easily accessible |
| Manage sales pipeline, marketing campaigns, and client relationships | Manage data related to clients, vendors, leads, and other stakeholders |
| More complex tools with broad-scope implementation encompassing sales, marketing, and customer support | Specialized tools that enable more personalized engagement by bringing all relevant information, including contact details, social media profiles, communication history, preferences, etc., to one place |
| Highly advanced automation capabilities, including drip email sequences, workflows, recurring tasks | Automate data entry, updates, and emails, saving you the manual effort |
| Generate detailed reports for various business functions and analyze them to obtain actionable insights | Some CMS solutions offer basic reports that pull essential data related to contacts together and let you monitor the effectiveness of your contact management efforts |
| Streamline the work of multiple business departments by facilitating communication and breaking information silos | Ensure instant access to updated contact information for all team members |
Key Features of Contact Management Software
Contact management has come a long way. From mundane and perplexing spreadsheets to dedicated software, there are a number of ways businesses manage contacts. When you begin the search for a contact management system, you will come across a wide range of options.
But what makes a contact management system worth your while?
There are some essential features that should be considered when selecting a contact management system. These include:
An essential feature of any contact tracking and management system is the ability to include custom fields in the contact records. This enables you to store the most relevant additional information for contacts.
Another fundamental aspect of any contact management solution is anywhere, anytime access. Mobile access to essential contact information makes it easy to stay on top of business relationships. It also enables easy and quick updates, ensuring that your data remains free of errors or inconsistencies at all times.
Contact tags help separate related contacts into distinct categories, enabling more personalized and relevant interactions. A contact management tool should allow you to create targeted contacts lists that help keep your database well-organized and segmented.
A critical component of contact management is keeping track of associated files. A powerful contact management solution will store all relevant documents, images, etc., in one place, making them easier to access.

The tool should make it easier to look up contacts from within your database. The search can be performed for various attributes, such as name, email, job title, assigned to, position, custom fields, etc. This facilitates instant access to essential information and simplifies contact management.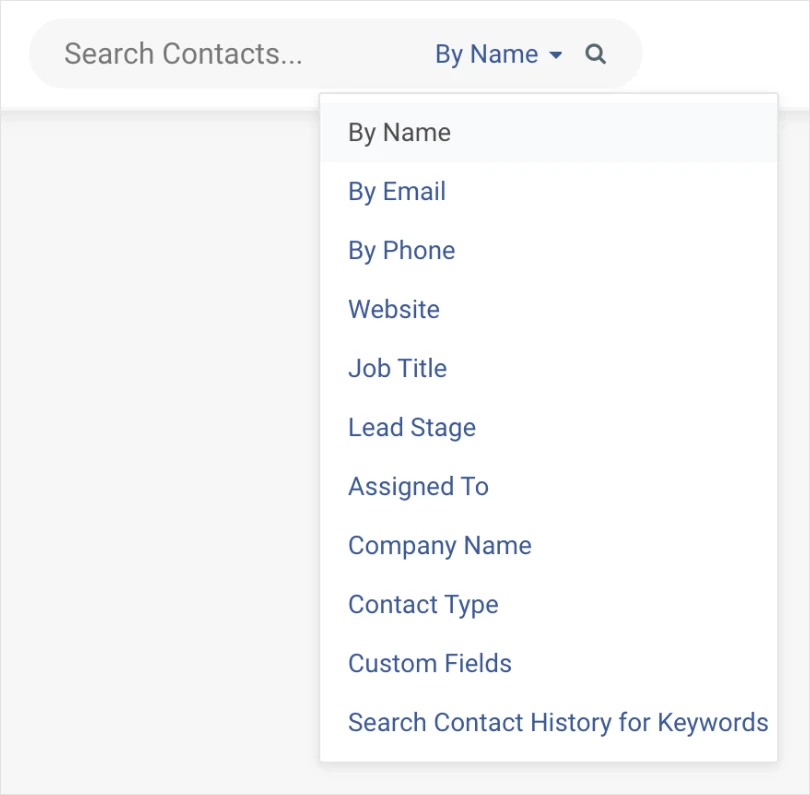 With over 4.70 billion people using social media globally, every business needs a way to connect with its users on social media channels. Choose an application that not only stores all social media handles in one place but also allows you to engage with contacts on these platforms directly from the system.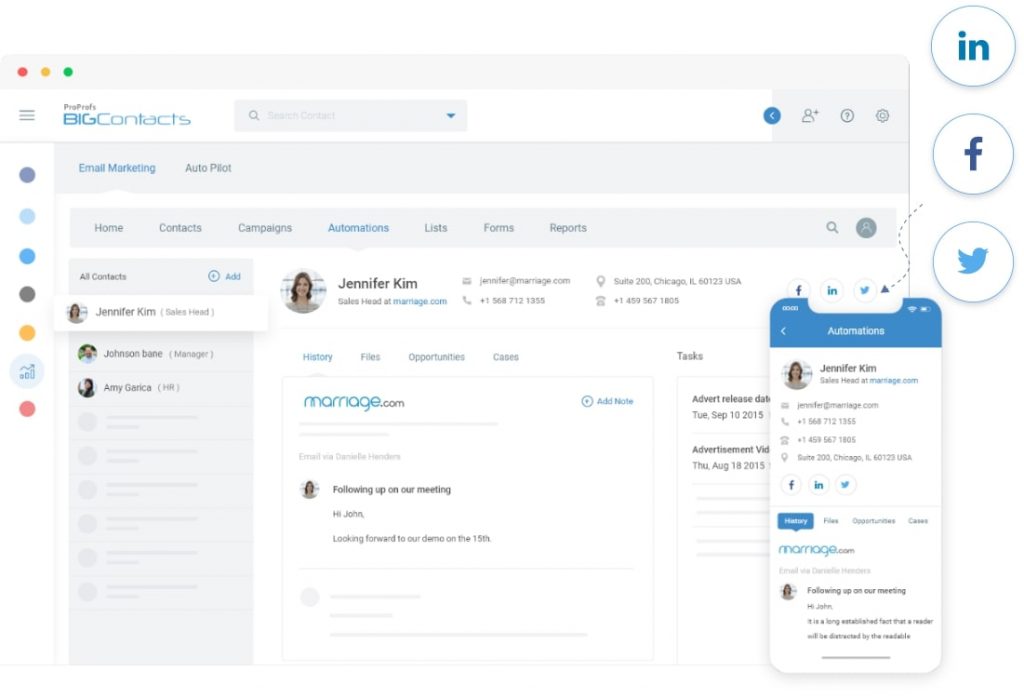 Another feature of contact management software that you shouldn't miss out on is automation. Find a solution that lets you keep contact records automatically updated at all times.
Lastly, the tool should offer seamless integration with other business applications, such as email marketing tools, web form tools, business intelligence solutions, etc. Easy two-way synchronization with such tools allows you to keep information well-organized effortlessly.
Key Features of CRM
The CRM market, which was valued at $57.83 billion in 2021, is projected to grow to $145.79 billion by 2029. This growth can be attributed to the broad range of features that customer relationship management software now offers. Some of the most significant of these include:
Contact management is a critical aspect of CRM. The software should enable you to maintain detailed contact profiles and leverage this information to drive more personalized interactions, which in turn strengthen customer relationships.
Most CRM applications offer a customizable sales pipeline that enables easy tracking of available opportunities. You can use this pipeline to visualize where each lead currently stands and track associated information with ease.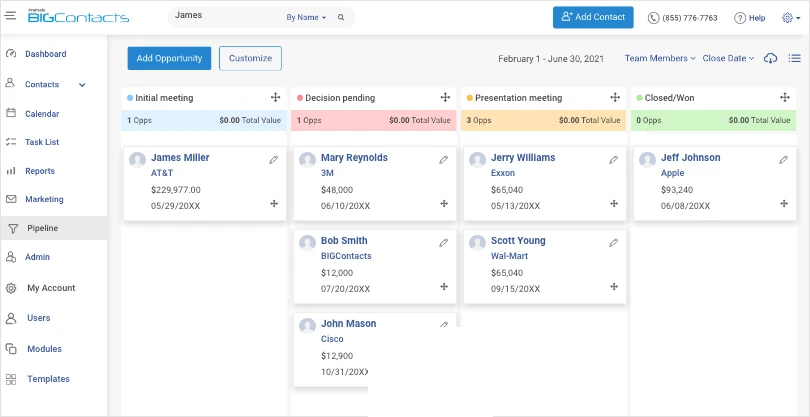 Setting up recurring tasks and creating custom workflows result in enhanced business productivity. A powerful CRM tool will automate redundant tasks, thereby freeing up more time for your team to focus on enhancing customer relationships.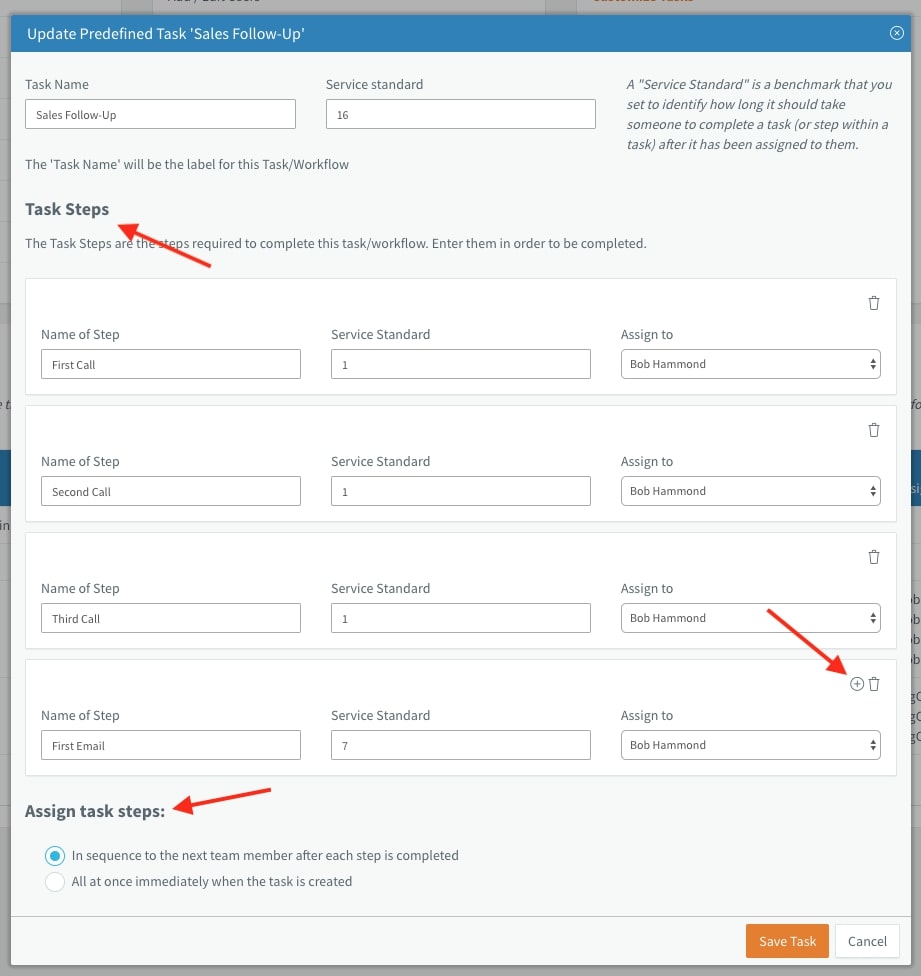 CRM tools enhance visibility into business processes and help you analyze data with ease. Use the tool to generate in-depth reports and utilize the collected insights to make better business decisions.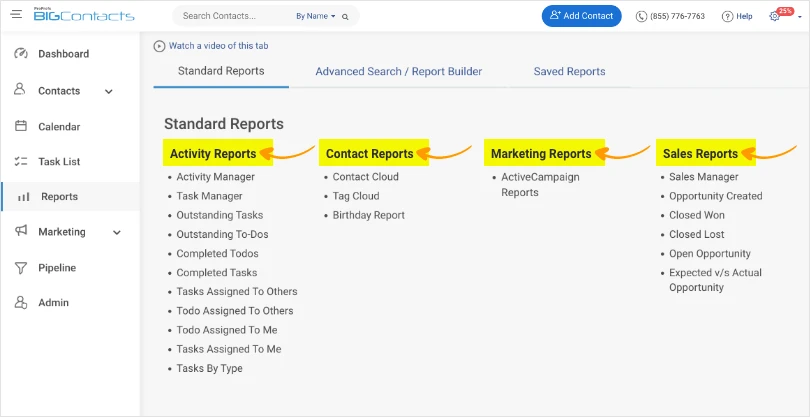 An effective CRM solution lets you run and manage marketing campaigns from within the system. This contributes to better personalization and enhanced efficiency. Automate email drip campaigns and track essential performance metrics such as open rates, click-throughs, unsubscribes, etc.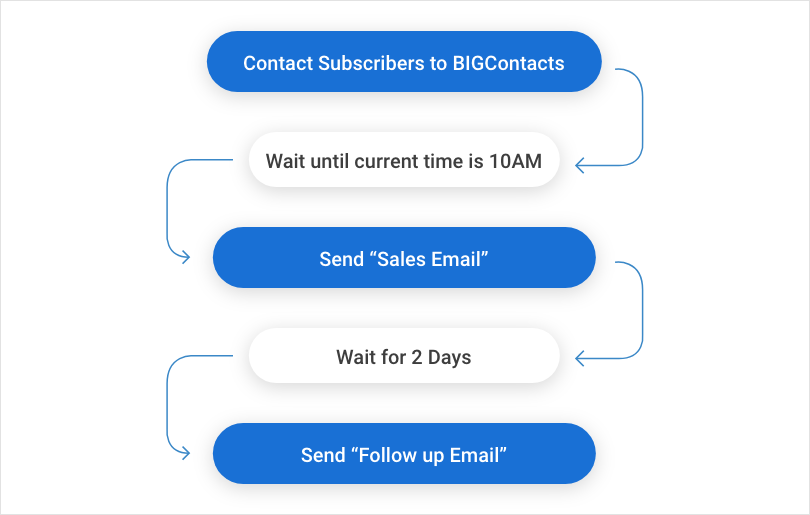 A primary function of CRM is to bring the entire team together. A reliable software solution facilitates team communication and keeps everyone on the same page. This eliminates inconsistencies in your processes and makes way for improved customer experience.
Native and third-party integrations enhance the overall functionality of any business software. This is why you should consider the integration options offered when choosing a CRM tool for your business.
CRM vs Contact Management Software- Which One to Choose?
Having covered the functionality of each of these solutions in detail, we come to the final question-
Should you opt for CRM or contact management software?
Since every business is unique in several regards, the answer to this question will solely depend on the specific needs of your team.
For instance, if you are a small business looking for a dedicated tool for managing your contacts, it is better to opt for contact management software. On the other hand, a large enterprise with a huge client base and in need of a comprehensive tool serving a multitude of business functions should go for a CRM tool.
The primary difference between contact management software and CRM is that contact management tools are specialized in a particular business process, while CRM tools perform a broader range of functions.
If you are in need of a simple and uncomplicated tool for keeping track of your contacts, go for a contact management system. CRM, on the contrary, is more suitable for businesses with complex sales processes that require a multi-faceted tool that gets everything done from the same platform.
How to Choose the Best CRM or Contact Management System
In order to narrow down your search, identify leading contact management software and CRM tools. Once you have this list in order, compare the functionality of each of these tools against your unique needs.
Take features such as contact segmentation, email tracking and management, appointment scheduling, automated data entry, customizable dashboards, access roles, etc., into consideration when choosing the tool.
You should also account for the following key factors to find the most effective tool for your organization:
Your desired price range

Deployment preferences

Ease of customization

Free trial

Quality of customer support
Choose a tool that checks all the boxes and will help you maximize your business efficiency.
Read More: How to Choose a CRM in 24 Ways (Step-by-Step Checklist + Free Guide)
Ensure High Profitability With Contact Management Software & CRM
The key takeaway here is that CRM vs contact management software is a debate that can only be settled based on your specific requirements. Opt for a tool that fits your needs best by undertaking a thorough assessment of your team's needs.
If you are still torn between CRM and contact management tools, a simple way out is to opt for a tool that offers both.
A CRM system offering a full suite of contact management features, such as BIGContacts, can help you get real-time visibility into updated customer data. Such contact management in CRM will enable you to drive more personalized engagement. Get a better understanding of the functionality offered by opting for the free trial, which offers you a first-hand experience of the tool's utility.
Invest in the right contact management solution and begin your business's ascent to the top of the ladder in your industry!