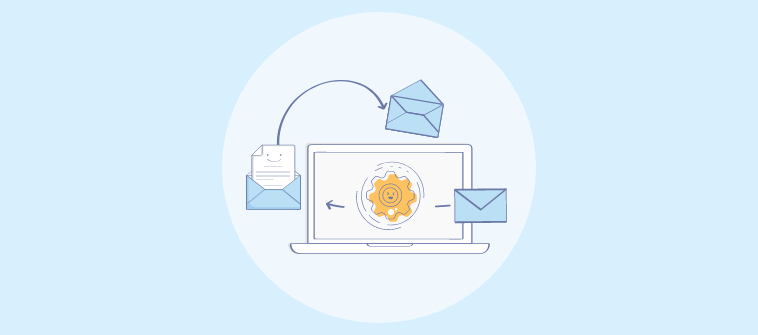 When you start brainstorming ideas to enhance the effectiveness of your marketing campaigns, the term "personalization" will inevitably come up.
In the current marketplace, businesses that strive to offer more personalized services automatically become front runners.
But how do you give a personalized touch to all your emails? You can do that with CRM with Email Marketing.
A well-collated database of customer information could be highly valuable. By bringing all customer information to a single platform, a customer relationship management (CRM) tool can enhance the impact of your email marketing campaigns. You can easily find important details, such as buying preferences, previous touches, and specific notes related to contacts, in one place to improve your email outreach.
If you are focused on organizational efficiency and management, chances are you may already be working with a CRM system. Moreover, you are likely to have an existing email marketing strategy in place. Integrating the two could just be what sets your company apart from the competition!
This blog dives deep into the fundamentals of CRM email marketing– what it is and how it affects your business. We have also listed the 9 best CRM solutions for fine-tuning your email marketing campaigns. So, let's get right into it!
What is CRM Email Marketing?
CRM email marketing is a strategic approach that makes use of contact data to enable more personalized and effective engagement via emails. It involves leveraging data from your CRM system to create highly targeted email campaigns. With the best CRM for email marketing, you can keep track of customer engagement and use this information to optimize your marketing efforts further.
CRM email marketing presents the opportunity for businesses to drive better customer acquisition, engagement, and retention. It can help keep track of the current position of prospects in the sales funnel and make the necessary strides for closing deals.
CRM can add value to email marketing by making it personalized and aligned with customers' needs. The data collected in your CRM system can lay the foundation for long and trusting customer relationships. It can help you offer the most reliable solutions to customers based on their specific needs.
Features of CRM with Email Marketing
Statista reported 4 billion people as daily global email users in 2020. The figure is expected to reach 4.6 billion by the end of 2025. This number is a testament to the popularity and reliability of email as a marketing tool.
Furthermore, every dollar you spend on CRM can yield a whopping $8.71 return.
The combined capabilities of CRM and email marketing can, thus, produce promising results for any organization.
However, for successful CRM email marketing, you require a feature-rich tool that makes it easy to personalize outreach efforts. Such a tool should enable you to reach out to prospects and customers at the most appropriate time, without any hassle.
Following is a list of a few fundamental features of an effective CRM email marketing solution:
Contact Management:
Efficient contact organization is a crucial aspect of CRM email marketing. The contact management software should store information like social media activity, contact details, etc., in one centralized database. Such detailed profiles can help you understand and meet user requirements in a better way.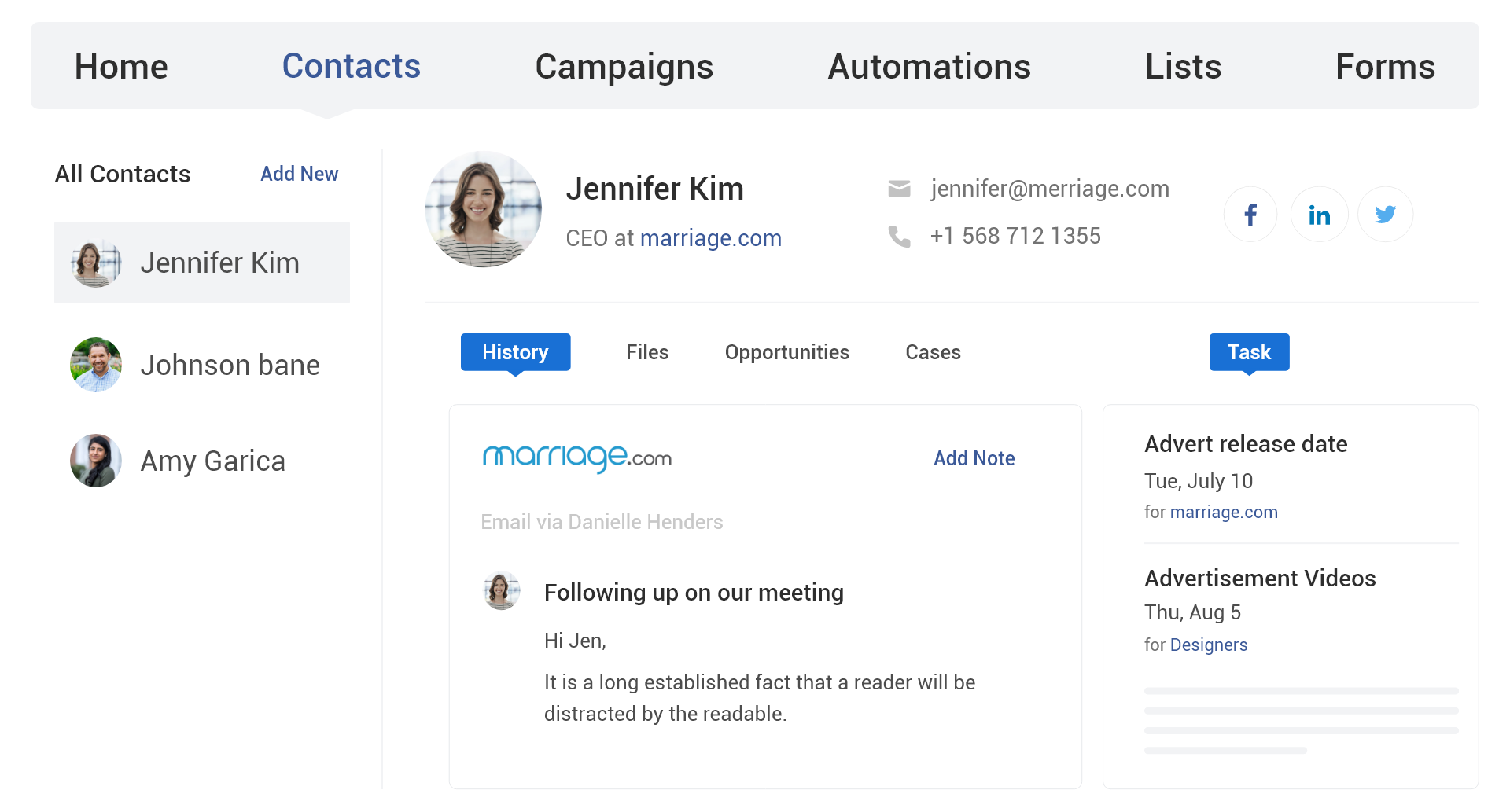 Automation:
Automation takes off the burden of mundane tasks, allowing your staff to devote their attention to other creative processes. The tool should let you automate emails and create drip sequences so you can engage with contacts at the right time.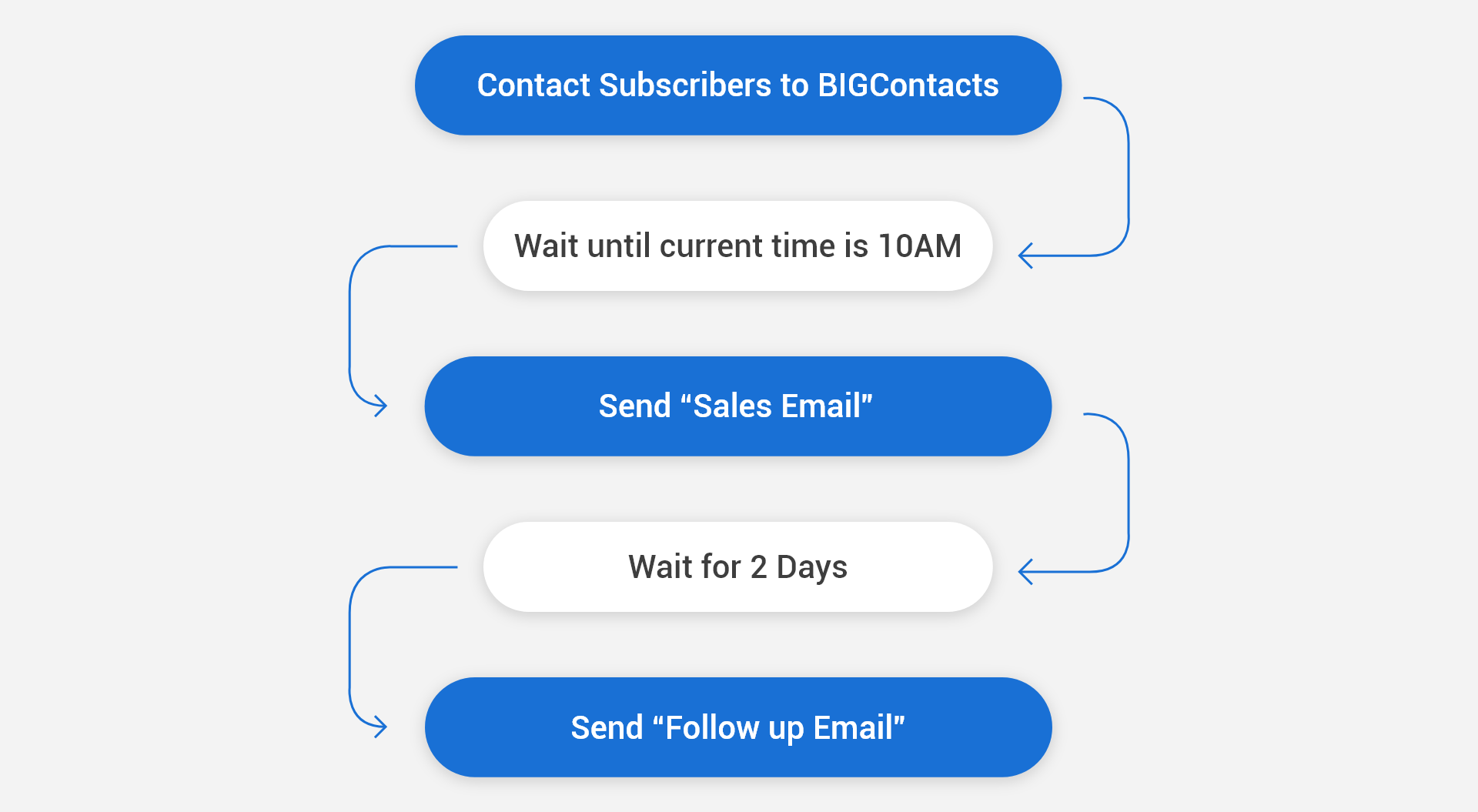 Read More: What is Marketing Automation? Definition, Objectives, Strategies That Work
Reporting & Analytics:
The CRM email marketing tool should offer powerful reporting and analytics capabilities. It should help you track metrics such as email delivery, open, click-through, unsubscribe rate, etc. These insights strengthen decision-making and help you improve the performance of your email campaigns.
Integrations:
The tool should be easy to connect with other business applications, such as business analytics or collaboration tools. Such integrations can further improve the output of marketing campaigns by keeping data synchronized across multiple applications.
Templates:
The tool must offer ready-to-use and customizable templates that save you from writing the same emails again and again. For instance, you can create a welcome email series and store it for future use. This can then be set up to be deployed as soon as someone enters your mailing list.

Easy to Use Editor:
The tool should enable you to format the content of your emails and tailor them according to the recipient's needs. It should also help you improve the engagement of your emails by making it easy to add images, videos, files, etc.
Segmentation:
Knowing which audience group will be the most receptive to your campaign can result in more promising outcomes. The tool should enable you to create segmented lists. These lists can be used when tailoring the content of the marketing campaign as per the customer's behavior and interests.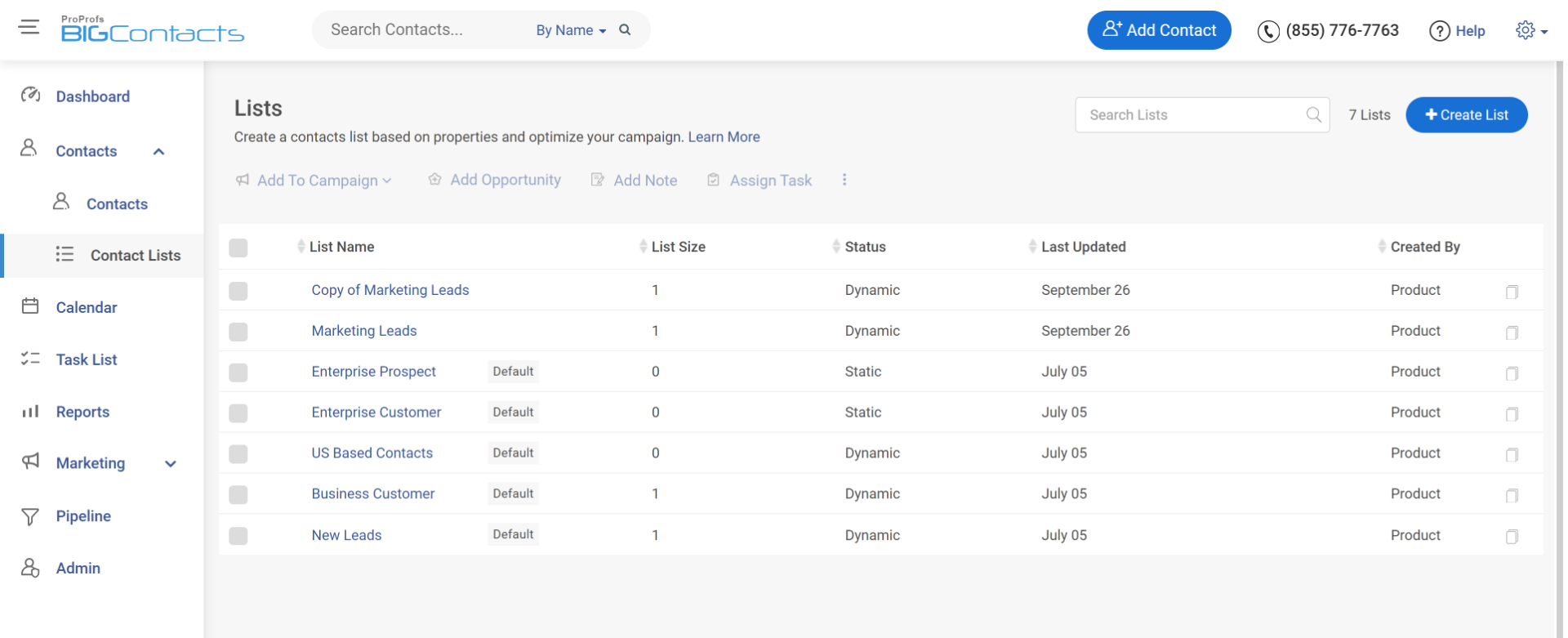 Mobile Access:
The tool should offer mobile access so that you can stay on top of your marketing campaigns from anywhere. This remote access will ensure that you do not miss out on important conversations, even when out of the office.
Advantages of CRM with Email Marketing
80% of consumers are likely to make a purchase from a business that offers personalized experiences. This figure effectively demonstrates the importance of personalized engagement in driving profitable business outcomes.
One of the most successful approaches to realizing such personalization is CRM email marketing.
Before we get into its advantages, here is an infographic to help you understand the significance of email marketing in more detail.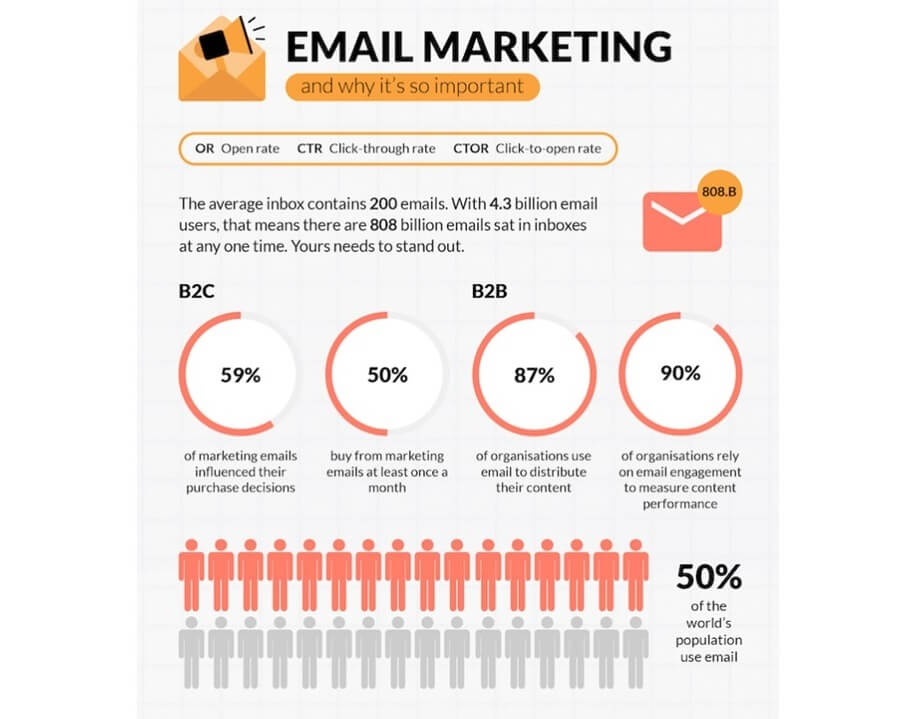 As evident, email marketing continues to be one of the most effective marketing tools for businesses. Its integration with CRM can considerably improve your profitability and expedite your organization's growth.
With email marketing integrated right within your CRM platform, you can track customers' history with your business and modify upcoming interactions accordingly. This can help build a strong relationship that translates into profits.
Read More: Advantages and Disadvantages of Email Marketing
Here are some of the most significant benefits of CRM email marketing:
Improve Organizational Efficiency:
One of the most beneficial aspects of email marketing CRM is improved organizational productivity. The CRM system can bring all business data to a single platform, eliminating the constant back and forth between different applications. It also aids coordination within teams, keeping everyone well-updated. Such improved visibility into business data ensures seamless communication within and outside the organization.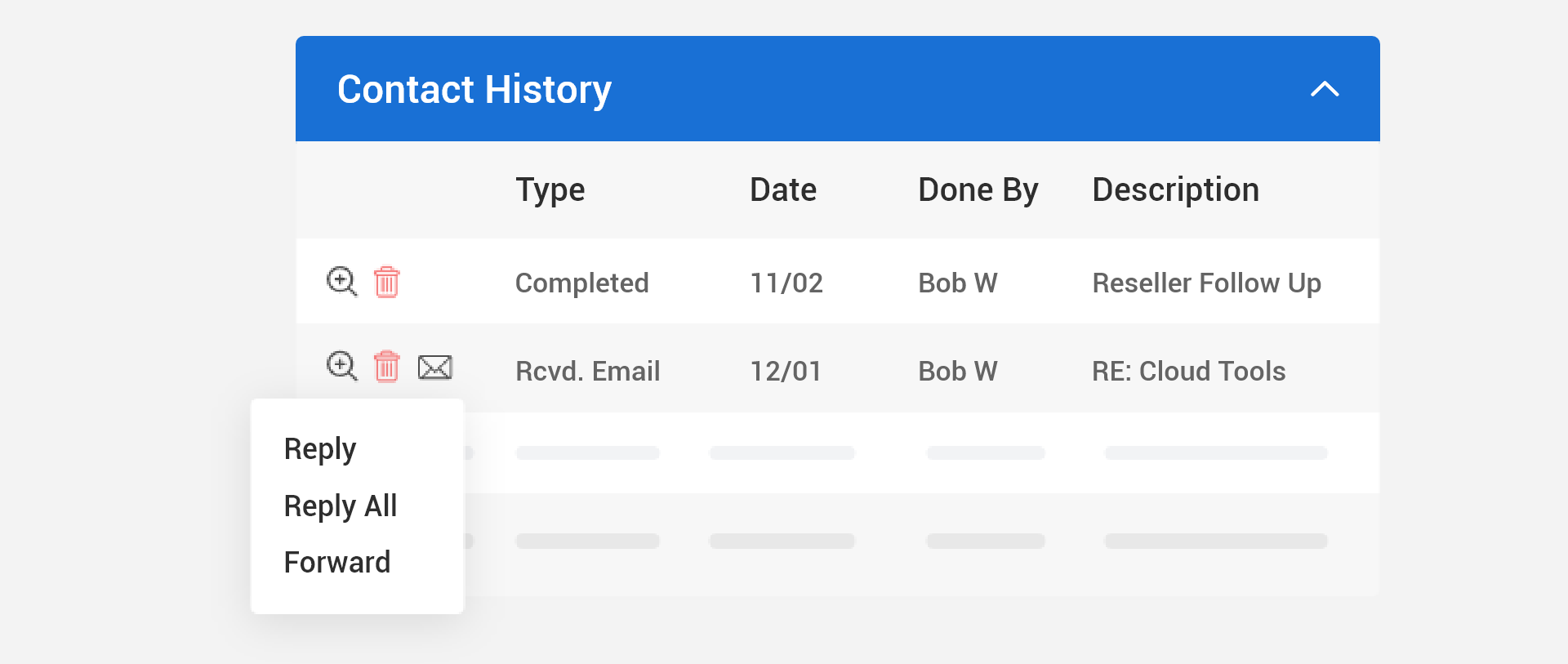 Reach a Larger Audience:
According to Mailchimp, the average open rate for emails is 21.33%. With the best CRM email marketing tool, you can reach and target a broad customer base effectively. With a well-crafted email campaign, you can easily capture high-quality leads and witness an improvement in your conversion rates.
Close More Deals:
Your prospective customers are in different stages of the buying process. Designing content that addresses their requirements for the specific stage ensures that more leads are converted into sales. You can use a sales pipeline in your CRM to keep track of where the prospects are and offer relevant emails accordingly.
Get Value for Money:
CRM email marketing is a highly cost-effective channel that lets you generate leads and grow sales without a large investment. The low cost per conversion makes it a suitable choice for reaching a large number of people and promoting brand awareness. This channel offers excellent value for money, making it a highly preferred choice.
Monitor Performance With Ease:
It is easy to monitor the performance of a marketing campaign using a CRM tool. For example, you can access the delivery rate, click-through rate, unsubscribe rate, etc., using in-depth reporting and analytics. This information can help your marketing team identify what works best for your audience and improve upon areas that don't perform well.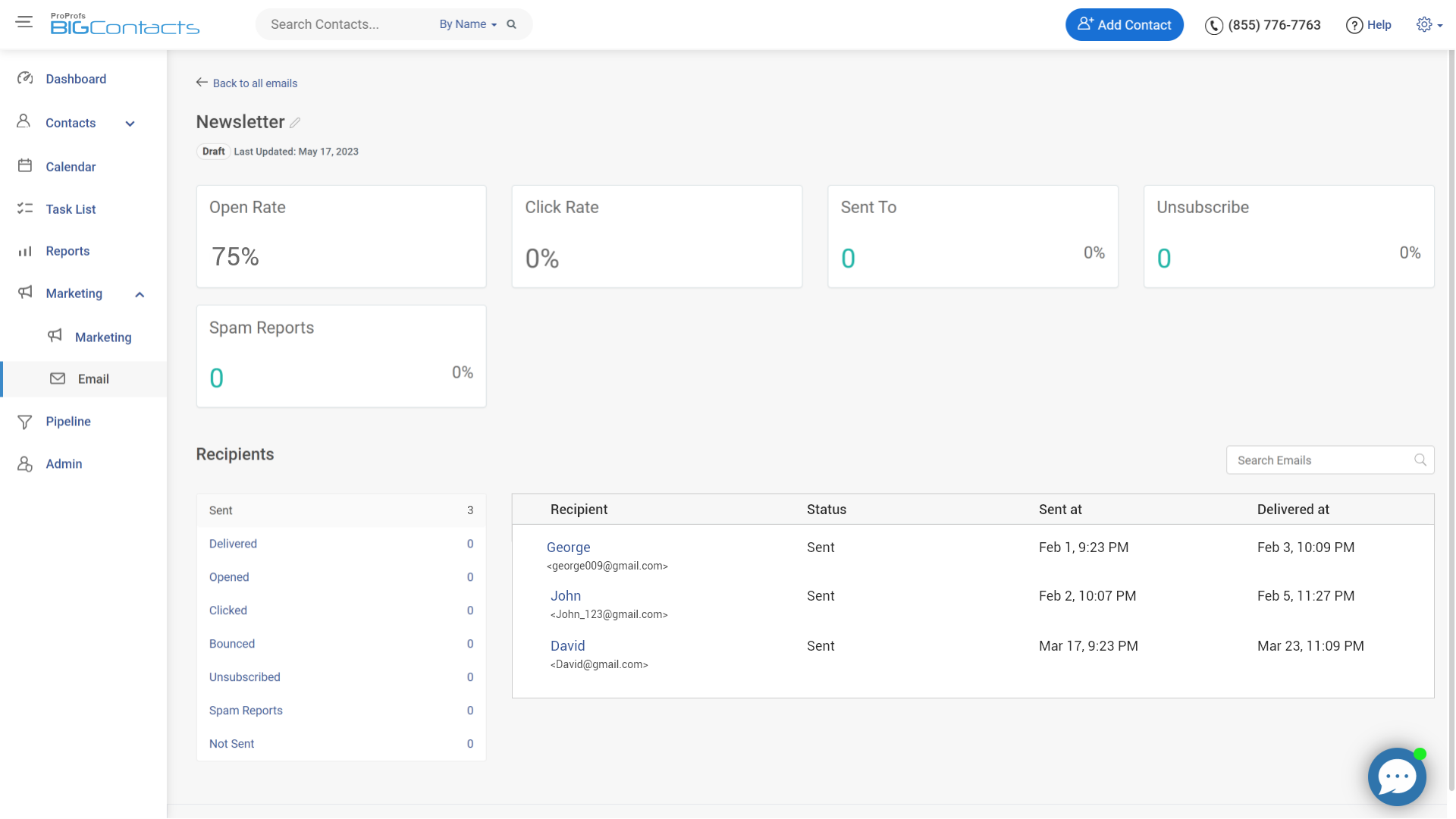 Earn Customer Loyalty:
Every interaction can be made more relevant using actionable insights from CRM. Since you have adequate information about customers' purchasing behavior, personalizing the outreach efforts becomes easier. By turning every email into a proposition, you can build long-lasting relationships. This way, your emails can go from being an aimless annoyance to something of value to the customers.
9 Best CRM Software for Email Marketing in 2023
Having taken a look at the features and benefits of CRM email marketing solutions, we finally reach the pertinent question-
Which CRM software for email marketing is worth investing in?
While there is no scarcity of options, finding the right tool can be perplexing.
This is where the following list of the 9 best CRM with email marketing can be of advantage. By analyzing the core features, pricing, pros, and cons of these tools, you can make the right call for your business.
1. BIGContacts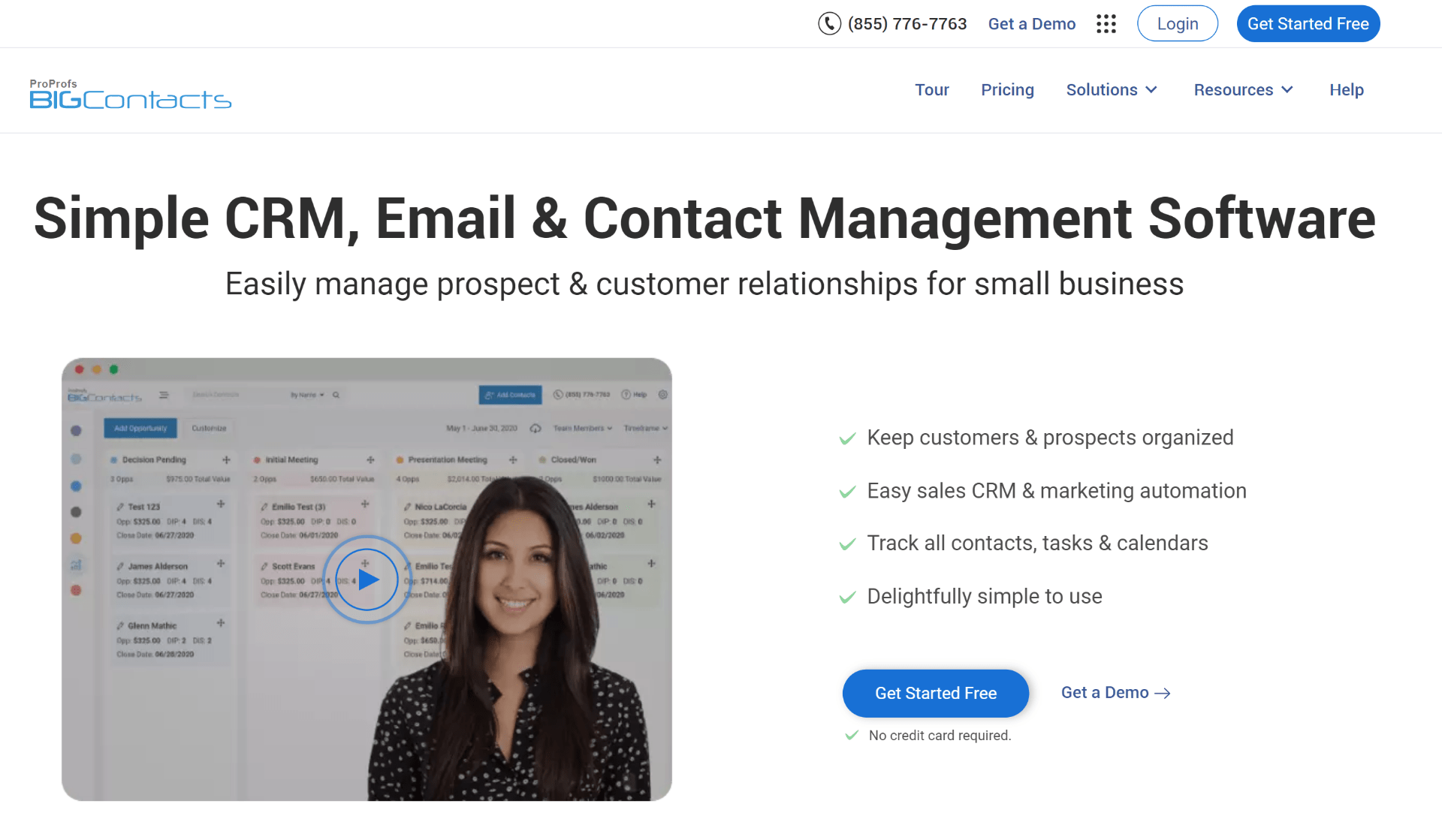 For businesses that need a straightforward and hassle-free CRM with email marketing functionality, BIGContacts is a second-to-none choice. It offers email tracking, automation, and analytics – making up a complete suite of features that can drive positive outcomes for your email campaigns. The tool has an intuitive interface accompanied by powerful support.
Key Features:
Craft drip email campaigns that automatically adjust based on contact behavior, preferences, and position.

Leverage ready-to-use reports or create custom reports from scratch to monitor business performance.

Log emails against individual contact records to keep information well-organized.

Connect BIGContacts with various email tools to view and manage all emails from a single place.

Manage all emails on the go with a mobile version of the tool.
Pricing:
Big- $5/user/month

Bigger- $15/user/month

Biggest- $25/user/month

Enterprise- Custom pricing
Pros:
Set up automated tasks and reminders to meet deadlines consistently.

Track tasks and meetings for all team members using a detailed calendar view.
Cons:
It lacks deduplication features for contact records.

There is no way to score leads automatically.
2. Nutshell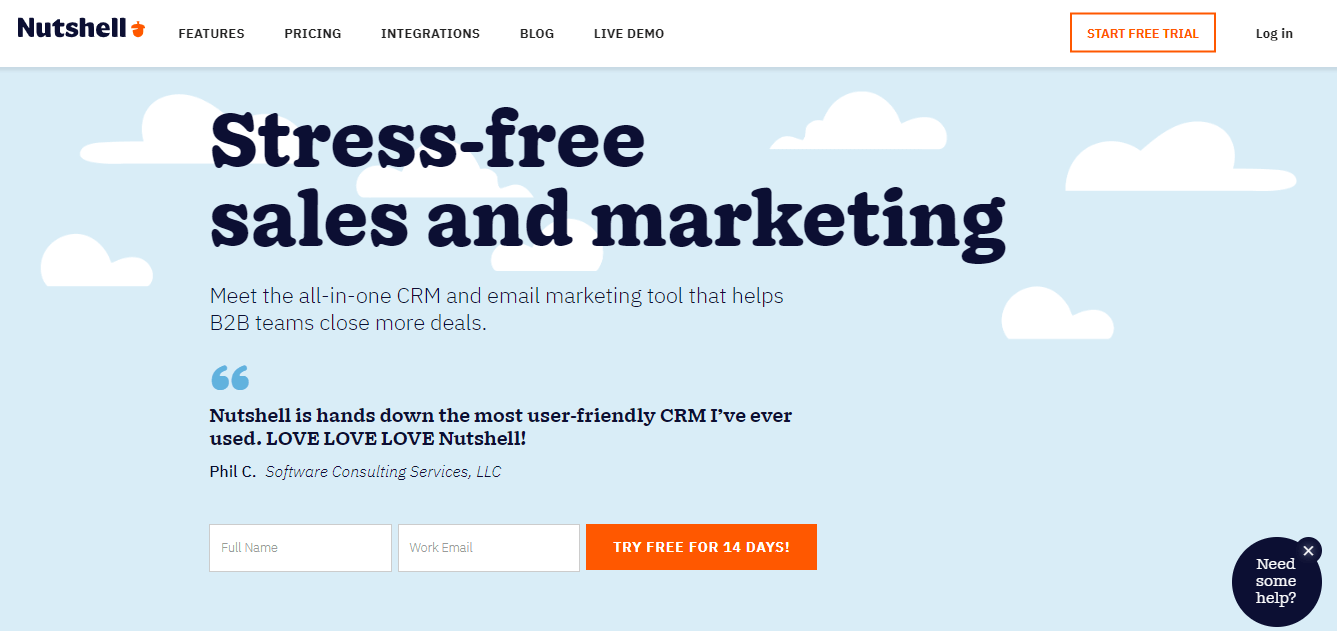 Nutshell is an all-in-one CRM solution with email marketing that lets you manage your marketing operations effectively. It brings your entire team together and lets you stay on top of all important conversations. The tool also helps craft personalized drips for better engagement. Moreover, it is easy to monitor the performance of your marketing campaigns using Nutshell.
Key Features:
Send bulk emails to groups of contacts using powerful filters.

Use customizable reports to track essential metrics, such as the reply rate or views for your email campaigns.

Set up templates to save time and avoid rewriting the same emails over and over again.

Craft automated multi-email sequences to improve lead nurturing

Create email lists to improve segmentation using powerful filters.
Pricing:
Starts from $20/user/month
Pros:
Automate task reminders and follow-up emails.

Get a complete overview of every touch with a particular contact using detailed activity timelines.
Cons:
The advanced search feature should produce more reliable and accurate results.

Stronger integrations with email programs other than Gmail are required.
3. Salesforce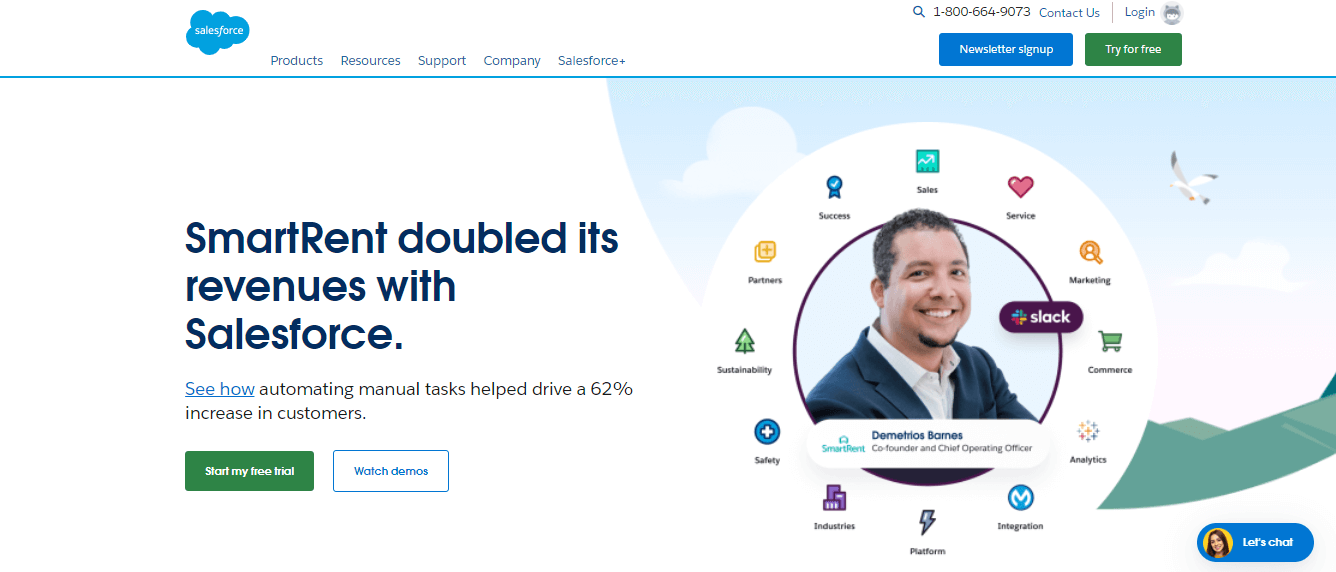 Salesforce, an enterprise-grade CRM software with email marketing, offers robust marketing functionality to boost engagement with contacts. It lets you supercharge your marketing efforts using artificial intelligence. With a 360° view of customer data, you can drive more personalized interactions with customers. The tool also provides real-time insights into the performance of CRM email campaigns.
Key Features:
Optimize the performance of marketing campaigns using powerful analytics.

Offer personalized supportive content to enhance customer journeys.

Segment contacts effectively to improve the outcomes of your marketing campaigns.

Run personalized loyalty programs to boost retention using this marketing automation solution.

Automate manual tasks to save time and boost productivity.
Pricing:
Starts from $25/user/month
Pros:
The tool offers high-grade customization ability, making it easy to modify it as per your unique needs.

Drive more consistent engagement using email templates.
Cons:
Customer support response time is high.

Implementation and training for the tool can be time consuming.
4. HubSpot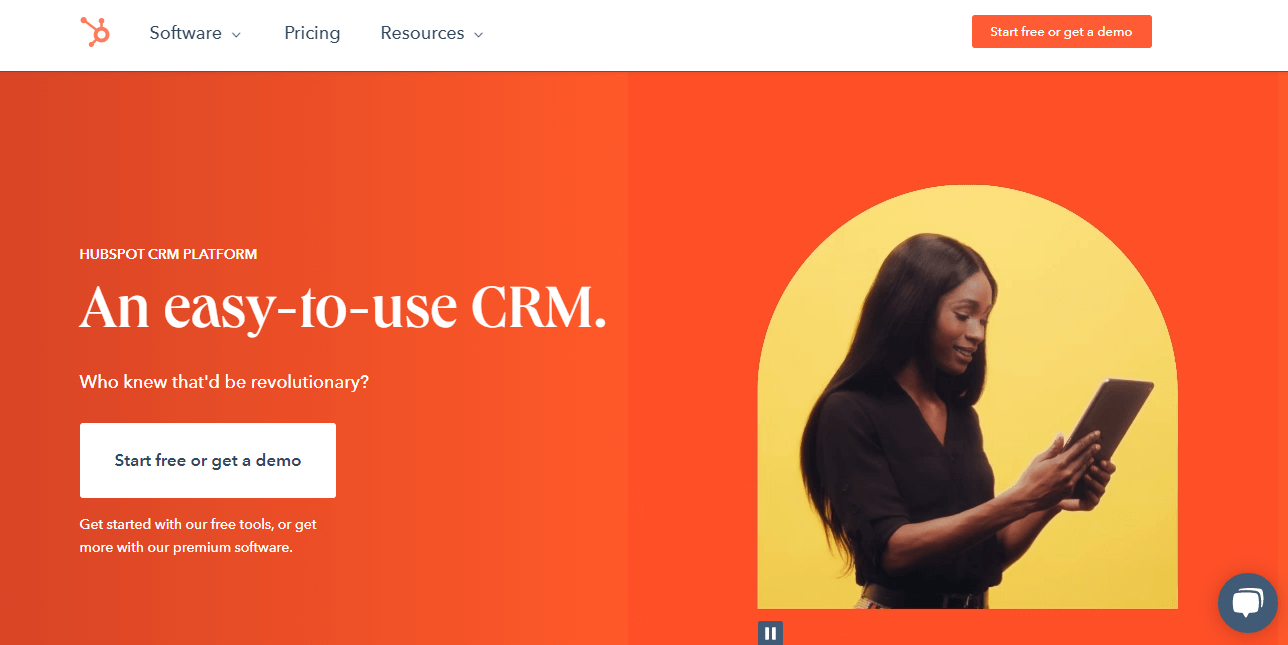 HubSpot is a comprehensive business solution offering a range of functionalities, including CRM, sales, and marketing. This CRM email marketing software can help you acquire more leads and turn them into long-term customers using personalized engagement. With relevant contact data available instantly, your marketing team can easily personalize emails and strengthen customer relationships.
Key Features:
Automate the delivery of emails to reach out to prospects and customers at the most appropriate time.

Use built-in analytics to make better business decisions.

Save time and connect with contacts quickly using email templates.

A/B test email campaigns to find out what produces better results.

Manage emails remotely using a powerful mobile application.
Pricing:
Pros:
Share bulk emails to nurture more leads.

Create custom reporting dashboards and share them with your team members.
Cons:
Modifying email templates requires CSS knowledge.

More extensive reporting functionality is required.
5. Salesmate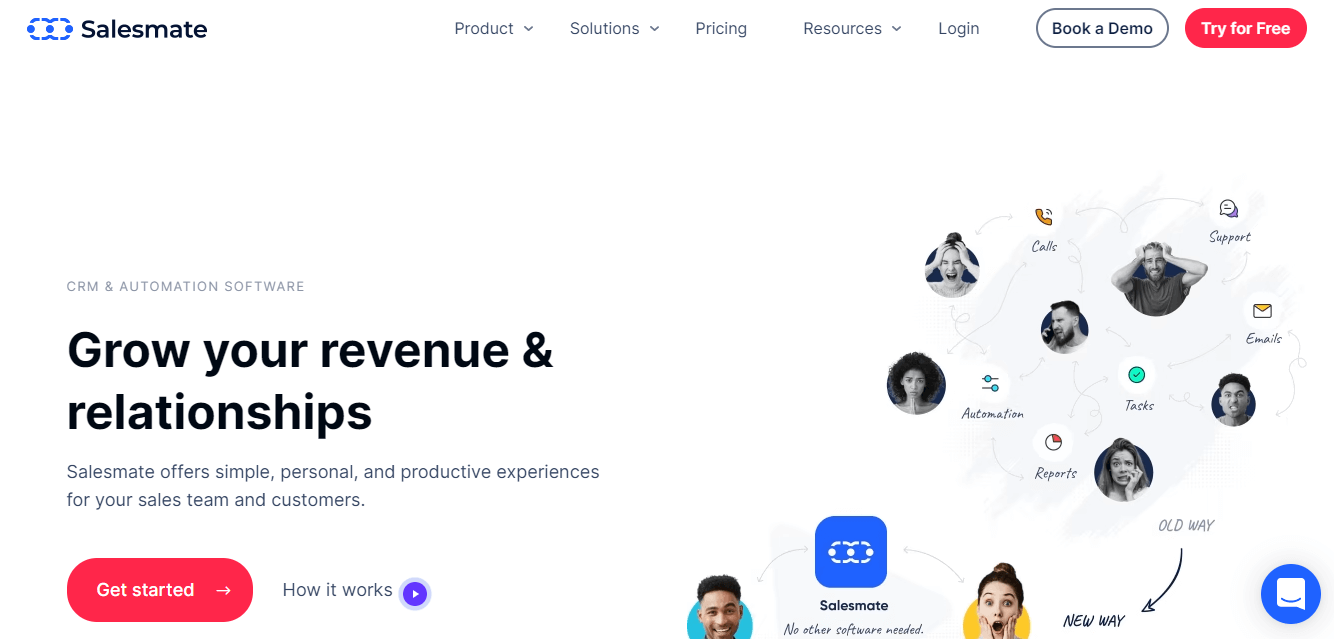 Salesmate is one of the best CRM for marketing automation that lets you deliver targeted emails to your contacts based on their actions and preferences. You can use it to automate follow-ups with your prospects and customers. The tool also offers instant notifications, so you never miss out on important conversations.
Key Features:
Segment contacts into lists to drive more personalized interactions.

Run A/B tests to find out which email campaigns work well for your target audience.

Analyze the performance of email campaigns and optimize them using data-backed insights.

Save time with pre-built templates and add to this library.

Automatically log emails against the respective contact record.
Pricing:
Starts from $12/user/month
Pros:
Use custom triggers to deliver relevant messages to contacts.

Reach out to more prospects using bulk emails.
Cons:
The mobile app requires improved functionality.

The speed of the software can be slow at times.
6. Insightly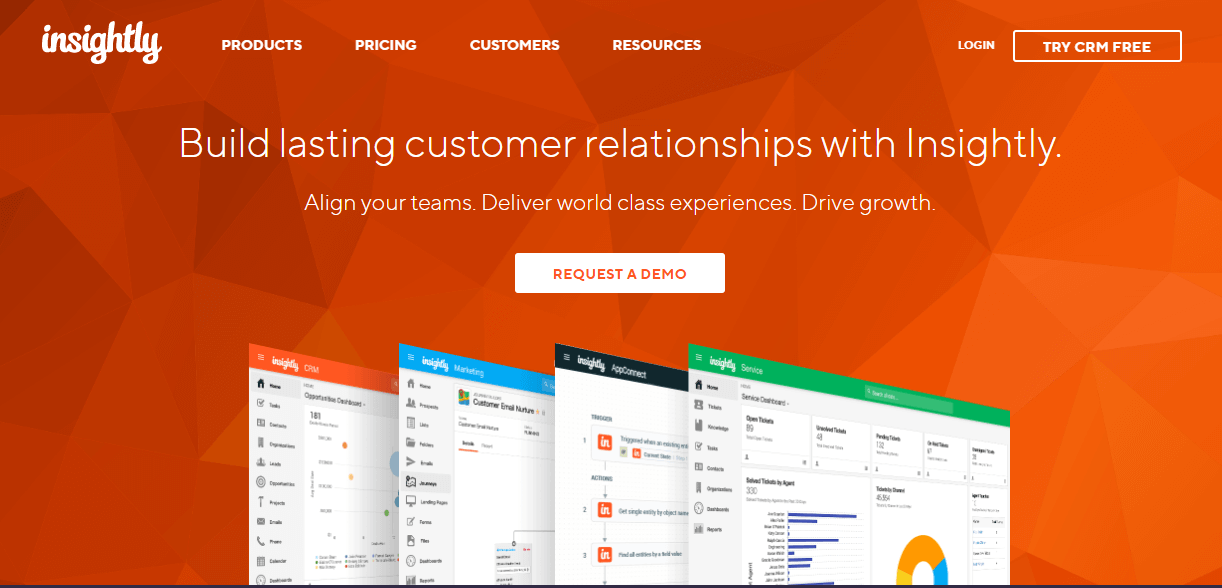 Insightly, CRM with email marketing helps deliver engaging customer experiences to boost your company's profitability. Its marketing capabilities can help you craft segmented email campaigns for your target audience. Moreover, you can use relationship linking and mapping to understand the organizational structure of your clients. This can help you deliver more personalized solutions.
Key Features:
Access in-depth reports and dashboards to analyze the performance of your marketing campaigns.

Conduct A/B tests to find what captures the attention of your target audience.

Craft customer journeys with appropriate next best actions for effective nurturing.

Use the tool's drag and drop functionality to modify emails extensively.

Customize views and layouts according to your business needs.
Pricing:
Free for 2 users

Starts from $29/user/month
Pros:
Use the mobile application to manage your email campaigns from anywhere.

Choose from several pre-built templates to save time.
Cons:
It requires better technical support.

Reporting should offer more customization.
7. Zoho CRM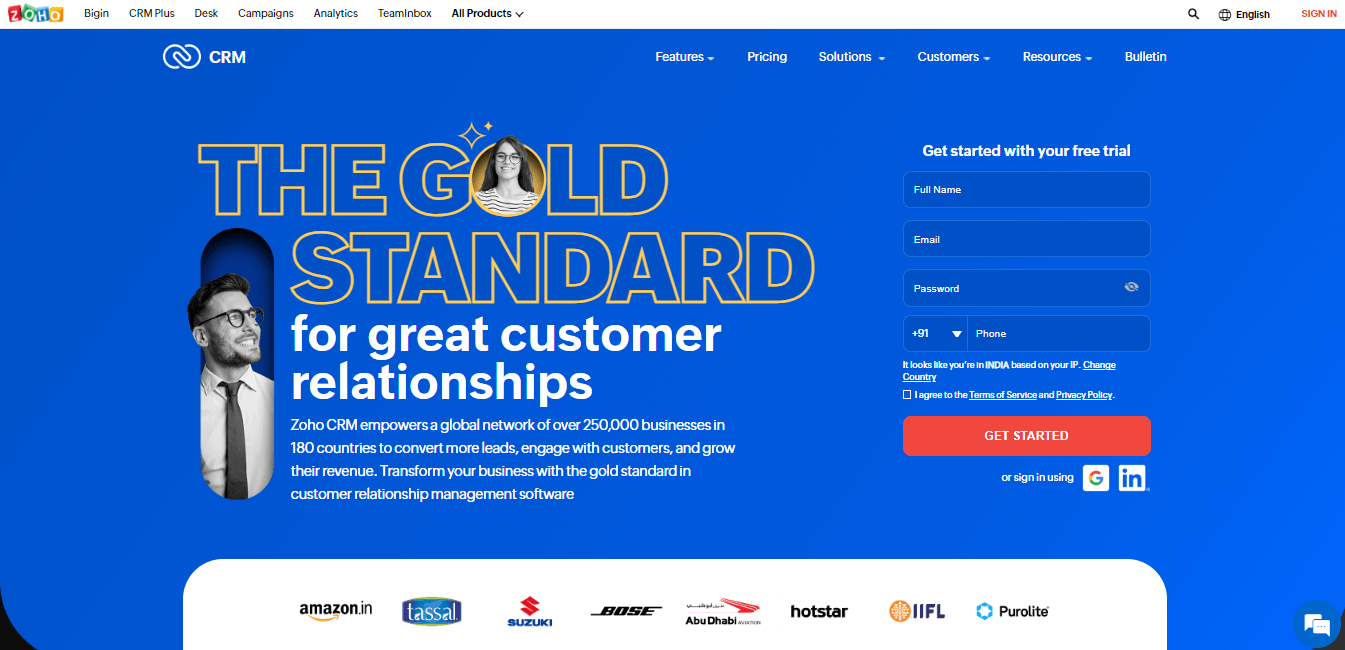 Zoho CRM lets you automate the delivery of emails to engage with your contacts without any delay or inconsistency. This CRM with marketing automation offers an AI-powered assistant that provides intelligent recommendations and populates your contact records with information from emails. The tool lets you nurture more leads by delivering relevant content based on the prospect's stage.
Key Features:
Segment customers based on any criteria and create relevant email campaigns.

Track essential metrics such as email opens, clicks, bounces, etc., for your email campaigns.

Send automated welcome emails to new prospects entering your CRM system.

Measure the ROI for marketing campaigns and identify the most profitable campaigns.

Never lose track of your emails with a mobile CRM application.
Pricing:
Free for 3 users

Starts from $14/user/month
Pros:
Save email templates for future use.

Schedule reminder emails for your team members to never miss out on important tasks and deadlines.
Cons:
The tool has a clunky UI which affects its usability.

Better documentation and support are required for the application.
8. Microsoft Dynamics 365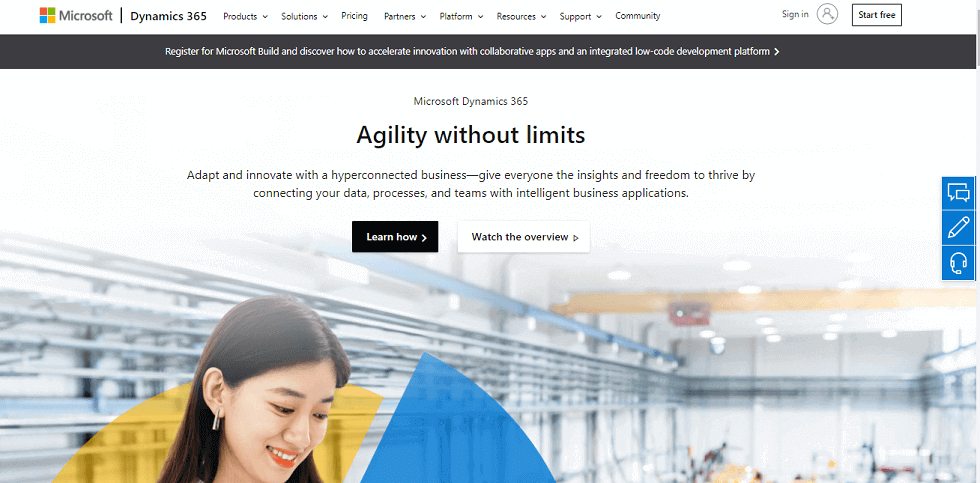 Microsoft Dynamics 365 offers a suite of tools supporting sales, marketing, support, finance, and supply chains. This tool offers a comprehensive view of your contacts, which in turn helps deliver more personalized emails and form stronger relationships. It provides insights into customer needs and expectations, helping you deliver the most relevant information via your emails.
Key Features:
Get a holistic view of your customer data to enhance personalization.

Access real-time insights and make use of business analytics to improve marketing performance.

Target specific audiences using powerful segmentation features.

Add dynamic content to your emails to enhance their engagement quotient.

Define custom triggers for the automatic delivery of relevant emails.
Pricing:
Starts from $1,500/user/month
Pros:
Orchestrate powerful and engaging customer journeys using the AI capabilities of the tool.

Predict the intent of your customers and drive more contextual interactions with them.
Cons:
Speed lags are a frequent occurrence.

The interface needs to be more user-friendly and easier to navigate.
9. ActiveCampaign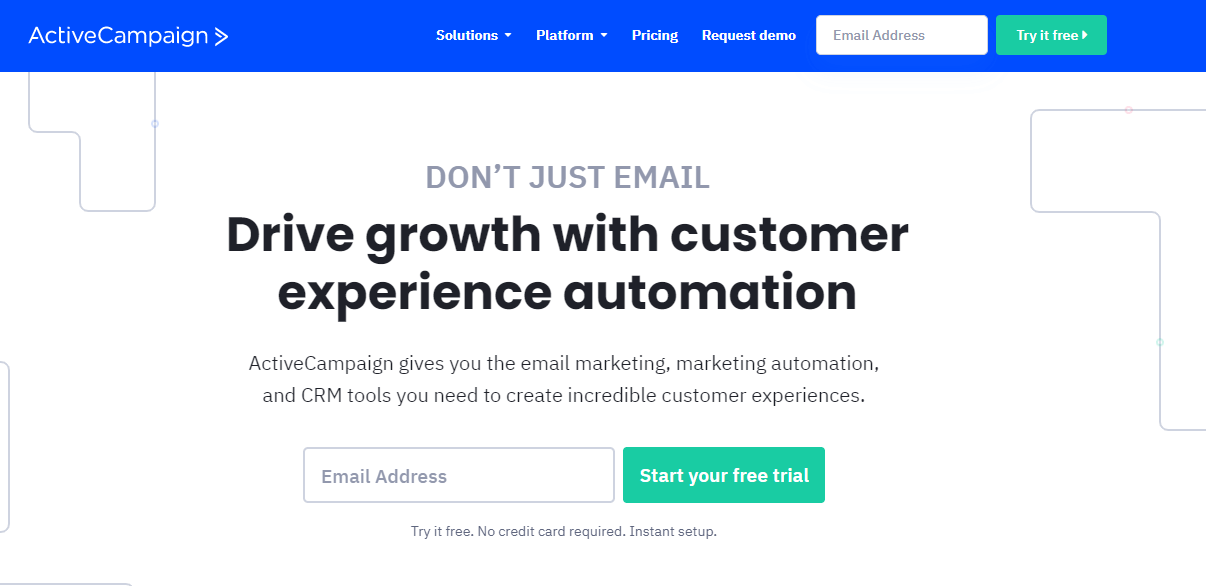 ActiveCampaign offers an automated CRM that lets you keep track of prospects with ease. The tool also offers exceptionally smart marketing automation capabilities that can help you deliver well-timed and personalized emails to prospects and customers. You can use tags and custom fields to keep your contact data organized and effectively leverage it for your marketing campaigns.
Key Features:
Use A/B split tests to find out which email sequences perform better.

Modify email content based on the needs of your prospects and customers.

Segment your audience into distinct groups to improve personalization.

Set goals for every stage of the sales funnel and track them to see how your marketing efforts are performing.

Deliver personalized recommendations at the right time to improve customer satisfaction and loyalty.
Pricing:
Starts from $9/user/month
Pros:
The tool enhances your email deliverability with its powerful email sender.

Discover who your most engaged contacts are and target them accordingly.
Cons:
The speed of the tool needs some improvement.

Reports need to be more user-friendly and easy to navigate.
Choosing the Right CRM with Email Marketing for Your Small to Medium-sized Business
While these are all great options, the most effective solution for your business is the one that suits your unique needs.
Finding the most optimal CRM email marketing solution can be an overwhelming task. If you are troubled with the same decision, here are some tips to help you out:
Keep the unique needs of your team in mind.

Compare the top-rated tools available on the market against your particular needs.

Focus on affordability and ease of use.

Choose a scalable tool.

Opt for a free trial to understand the tool's functionality before investing in it.

Check out user reviews and ratings from credible review platforms.
Read More: Free CRM Comparison Spreadsheet (How to Choose a CRM)
CRM Email Marketing – Paving the Way for Your Business Growth
Whether you are looking to cut costs on ad campaigns or track the performance of your marketing efforts, CRM Email Marketing can be just the right thing for you.
Leveraging the power of targeted and personalized marketing helps realize business goals and build long-term relationships with customers. You can use CRM Email Marketing to automate sales processes, streamline operations, and manage customer experiences. It presents a rewarding opportunity for you to engage directly with customers and drive more conversions by undertaking a personalized approach.
One of the tools that distinctively stands out in the list mentioned above is BIGContacts.
This powerful CRM solution with robust marketing functionality can help you make the most out of every email you send. It can help you grow your business by engaging with contacts in a more delightful manner. Moreover, you can use templates to save time and ensure consistency in communication using this well-founded CRM email marketing solution.
Do you want to make more sales?
BIGContacts is the #1 contact management software & CRM to close more sales.