CRM or email marketing is a common debate that has been making rounds among marketers for a long time.
While both CRM and emails have proven to be effective marketing tools, the question worth asking is:
Which out of these two should you implement, and is there a way to get the best of both worlds?
In the current marketplace, businesses strive to understand their customers better to offer a personalized experience based on the gathered information. The integration of CRM and email marketing, thus, seems like an ideal solution.
But what is this integration, and how does it work?
In this blog, we delve into the significance of CRM Email Marketing and how it can be the perfect addition to your business. Read on to understand how you can streamline your marketing efforts by combining the power of CRM and emails.
What is CRM Email Marketing?
CRM or Customer Relationship Management allows companies to manage their prospective and current customers. It can help businesses keep track of where their customers are currently in the sales funnel and make the required strides towards closing the deal. CRM is an effective tool to improve customer relationships and organizational efficiency.
Email marketing helps in reaching out to and engaging with customers effectively. Therefore, it is considered to be a reliable driver for customer acquisition and retention.
Statista reported 4 billion people as daily global email users in the year 2020. The figure is expected to reach 4.6 billion by the end of 2025. These numbers are a testament to the popularity and reliability of email as a marketing tool.
Furthermore, every dollar that you spend on CRM can yield a whopping $8.71 return.
The combined capabilities of CRM and email marketing can thus produce promising results for any organization.
This poses pertinent questions like-
How is the integration done?
How can I implement it into my business processes?
How will it benefit my organization?
The answer to these questions is- CRM Email marketing.
It is a strategic approach that makes use of CRM to enable more personalized and effective contact with customers through emails. It is reworking your campaigns to include data collected from CRM to make better decisions. With an effective CRM Email Marketing software, you can get centralized access for optimizing marketing efforts as well as keeping track of customer engagement.
The days of manually sorting leads and contacts into various categories are over. This is the age of automation!
Read More: 25+ Useful CRM Statistics to Know in 2021
What Distinguishes CRM From Email Marketing?
While both CRM and email marketing sound related, they are far from being the same.
Let's begin by understanding what CRM does-
CRM helps in managing customers and automating a variety of manual tasks. The primary purpose that CRM serves is to improve the quality of relationships with customers. In addition, it can act as a central hub for collecting and storing important data such as:
The customer's position in the sales funnel
Their preferred products or services
Their contact information
How often they get in touch with your business
Who they contact within your organization
Their social media presence and activity etc.
The collected information can lay the foundation for a long-term and trusting relationship with the customers. CRM, therefore, helps you offer your customers the most suitable solutions as per their particular needs.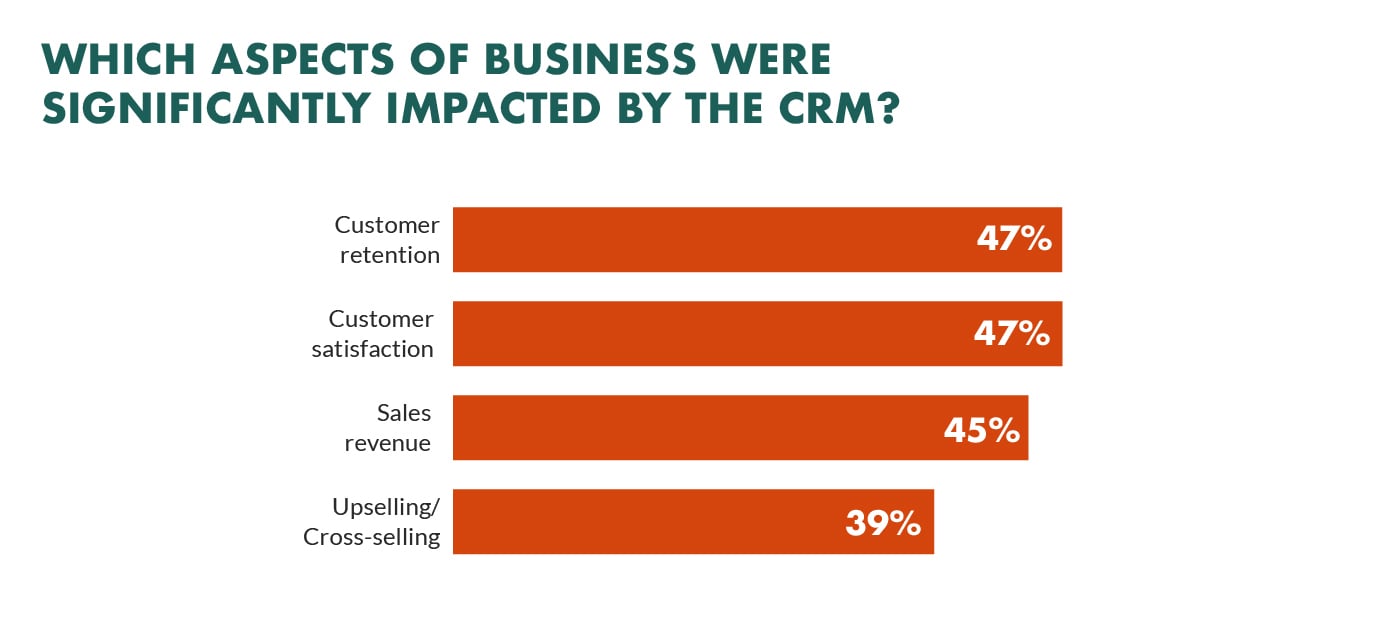 Now talking about email marketing-
Email Marketing tools can be used to design and launch campaigns that drive sales. It can help you reach a broad consumer base in real-time. Email marketing has long been used by businesses to acquire quality leads as well as stay in touch with their existing clientele.
Now that you are aware of each of their advantages, you can better understand what the hype around CRM vs Email Marketing is all about.
The good news? You don't have to settle for one.
Marketers have started to realize the potential of combining CRM with email marketing. CRM can add value to email marketing by making it more personalized and befitting the customer's needs. An effective CRM Email Marketing Software can help your organization realize its marketing goals by combining the advantages of both these tools.
The Importance of Email Marketing and CRM for Marketers
Based on a report published by the Content Marketing Institute, 81% of businesses use emails as their primary method of content marketing. The suppositions that social media marketing will put emails in the back seat have proven to be false so far. This brings forth the question- What is it about emails that makes them such a powerful marketing tool?
Let's explore some of the benefits of emails as an impactful marketing channel:
Get Access to a Large Number of LeadsThe most significant advantage of using email as a marketing channel is the opportunity to reach a large number of people. The average open rate of emails as per Mailchimp is 21.33%. With a well-crafted marketing email, you can capture quality leads and witness an improvement in your conversion rates.
Target the Right AudienceEmails can help you reach out to people who are likely to be interested in your products. Your prospective customers are in different stages of the buying process. By designing content that addresses their requirements for the specific stage, you can ensure that your leads convert into sales.
Cost-effectiveAffordability is a criterion where email marketing remains unbeatable. The low cost per conversion makes it a suitable choice for reaching many people and creating brand awareness. In addition, it can help generate leads, manage customer relationships and boost sales.
Easy to MeasureIt is easy to monitor the performance of a marketing campaign involving emails. For example, you can access the delivery rate, click-through rate, unsubscribe rate, etc. This information can help your marketing team identify what works best for you and improve upon the areas that don't perform well.
Read More: 4 Signs That You Should Invest More In Email Marketing
Moving on to the importance that CRM carries for marketers:
If you are one to focus on organizational efficiency and management, chances are you may already be working with a CRM system. By enabling lead capturing and contact management, CRM can empower businesses. Any company looking to optimize its sales and customer service can benefit from CRM solutions.
Read on to learn more about the benefits that have helped CRM become a guiding force for business success:
There are several day-to-day tasks that are time-consuming and repetitive. These tasks, although key to the sales process, can decrease the overall efficiency of the organization. CRM systems can automate tasks like filling forms or generating reports to ensure that your organization's productivity is not hampered.
Improved Organizational Efficiency
CRM not only benefits your sales team but can also be of considerable advantage to the marketing and accounting departments. It takes off the burden of mundane tasks, allowing your staff to devote their time and attention to other creative processes. It also aids coordination within the organization, keeping everyone updated about the progress of each sale.
Easy Reporting and Analytics
Along with streamlining business processes, CRM also makes it easy to analyze and report data. Since all the data is stored in one centralized database, getting customized reports is easy. Analyzing these reports can help you make well-informed decisions.
Read more: How CRM Systems Can Help You Provide Better Customer Service
Integrating CRM and Email Marketing- a Step Toward Achieving Your Marketing Goals
CRM can help streamline your email marketing campaigns. This integration can not just boost your sales but also improve customer relationships. A CRM email marketing strategy is considered much less intrusive than other marketing channels. This is because you will be appealing to the customers based on the targeted needs.
It's time to enhance your marketing emails to get ahead of the competition!
Opportunity for Personalization
The integration of CRM and email marketing can help you anticipate the needs of your customers. It presents the opportunity for making the process more personalized and, consequently, more effective.
Here are some ways of personalizing emails:
Include the first name of the recipient
Send content relevant to the customer's current position in the sales cycle
Include region-specific information
Add a CTA
More Relevant and Effective Communication
Every interaction can be made more relevant for the customers by using actionable insights from CRM. Since you have adequate information about the customer's purchasing behavior, you can personalize your outreach efforts accordingly.
With CRM integrated processes, you can also reduce the risk of data duplication or any other manual errors. All of this makes for enhanced productivity and profitability.
Capture and Identify Quality Leads
CRM makes email marketing more targeted. With accurate lead capturing, it can help you make the most out of your marketing efforts. You can keep track of potential customers right from the first interaction with your business. Through CRM and email marketing for small business, you can nurture leads effectively.
Not only does the integration of CRM with email marketing help you acquire better leads, but it can also make following up extremely convenient. CRM can help you stay updated about the past interactions with the client and send internal alerts when a follow-up email is due.
No more worrying about sending a welcome email every time you acquire a new customer or wish to get in touch with an unresponsive customer. Let the automated email marketing tool take care of it. You can set specific criteria in the CRM to trigger action based on the stage of the buying journey that the customer is in.
When you turn every email interaction into a valuable and relevant proposition for the customers, you can build a long-lasting relationship with them. Your emails can go from being an aimless annoyance to something of value to the customers.
Features of CRM Email Marketing
What makes the best CRM and email marketing software is the type of features and functionalities included. These features are what you need to look for when choosing an integrated CRM-email solution for your business. Make sure you invest in the most functional and feature-rich CRM for your email marketing campaigns.
Detailed Contact Profiles
This feature helps you manage your contact list efficiently. With detailed information about the social media activity, contact details, etc., stored in one centralized database, you can offer only the most relevant information to the customers.
The information that you gather from CRM can help your customer support representatives to streamline their interactions. This can eliminate inconsistencies in communication and missed opportunities, which would have otherwise resulted in a loss of revenue for your business. Addressing customer queries on time and effectively can increase the customer retention rate.
The detailed contact profile can also be used by the sales and marketing teams to understand user requirements better and appeal to them in a way that matters.

Tracking the success of your marketing campaigns becomes comparatively easier with the detailed analytics that CRM and email marketing integration offers. In addition, the extensive data storing capabilities of CRM can help you measure the effectiveness of multiple marketing campaigns at the same time.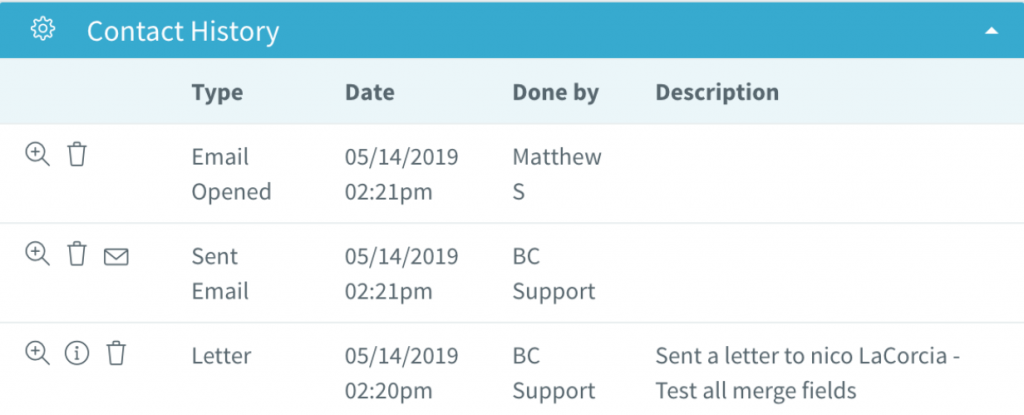 Traditional email marketing can be tedious. But not with CRM integrated marketing.
By letting CRM take care of repetitive tasks like sales alerts and lead distribution, you can focus on making the emails interactive. In addition, the automation feature allows you to schedule processes like lead prioritization and generating sales alerts based on the data gathered to close the deal quickly.
With CRM, you can identify which stage of the sales funnel the customer is in and customize the emails accordingly. It can also help in generating automated sales reports offering actionable insights.
Read More: How to Create an Automated Email Campaign?
Offer a Seamless Customer Experience
With CRM integrated into your email marketing platform, you can track the customer's history with your business and personalize the upcoming interactions accordingly. This can help build a strong relationship that translates into profits for your business.
Effective Audience Segmentation
Knowing which group will be the most receptive to your campaign can result in more promising outcomes. Segmentation, thus, is an essential step of any marketing campaign. It allows tailoring the content of the marketing interaction as per the customer's behavior and interests. Segmentation offers multiple benefits, including: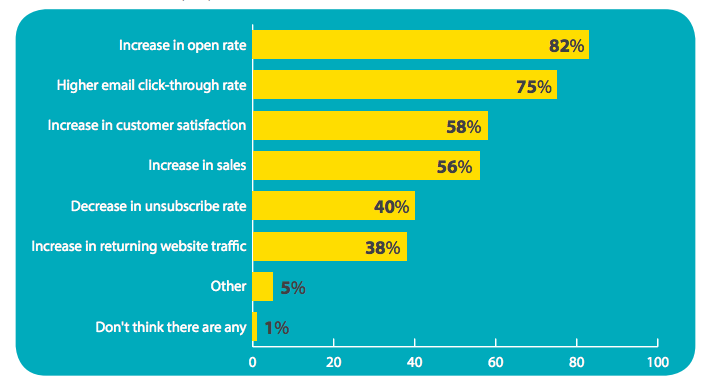 How can you segment your target audience?
With segmentation, everyone from your target audience will get customized content. You can use this segmentation to offer promotions to loyal customers, reach out to former customers, prompt users with abandoned carts, etc.
A core feature of any email marketing and CRM software is a comprehensive dashboard. Whether you have to automate sending an email or track a customer's past interactions, an easy-to-use dashboard can be advantageous, making the process quick and hassle-free.
Are you tired of losing out on sale opportunities just because of a missed memo or lack of coordination between different departments? The integration of CRM and Email marketing can be the right solution for you. By ensuring that all the teams are on the same page, you can deliver better services.
Forget about getting in touch with different departments to find out what the last interaction with a particular client was about. Find all the updated information in a centralized hub to make for an improved customer experience.
The A/B testing of email marketing campaigns can result in improved click-through rates and consequently more conversions. This essentially involves sending different variants of emails to subsets of customers to find out which variant garners more promising results.
With custom reports, including graphs and charts, you can quickly review how well the emails are doing with the audience. Get access to information like click-through rates, bounce rate, open rate, etc., using the custom reporting feature.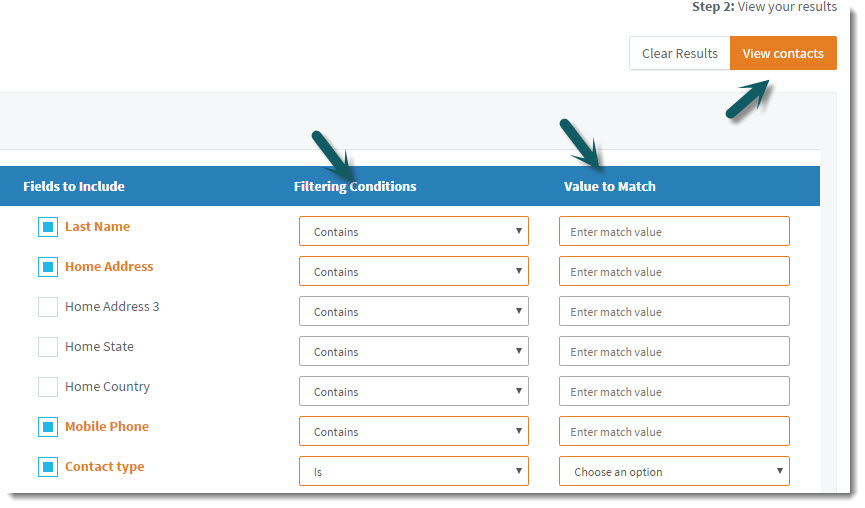 Can custom reporting be beneficial for your business?
It can help you make well-informed decisions and determine areas that your marketing campaign currently falls short in.
A reliable CRM can not only offer user engagement tracking but also generate alerts to make follow-ups easier. This could boost your conversion rate. Keep track of which users opened your email and which clicked the links that you provided.
Remember- The information that you acquire about customer behavior is priceless!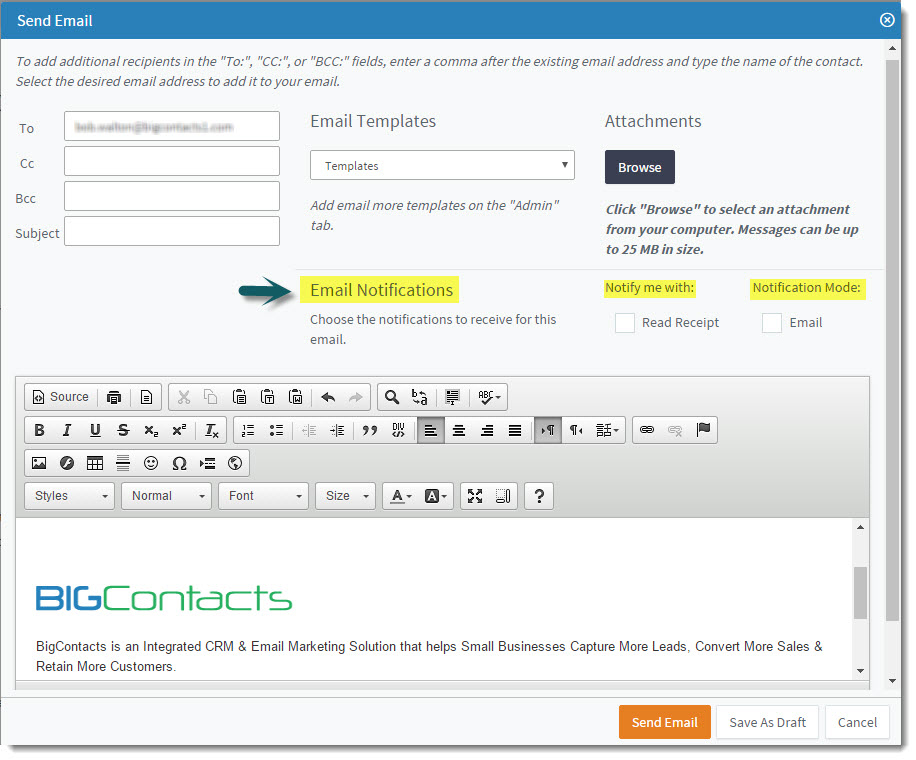 A significant advantage of using integrated email marketing and CRM software is that it allows you to send a large number of Emails in one go. From product announcements to promotional offers, every piece of information reaches your users instantly.
Mass Emailing also takes into account user segmentation, allowing you to decide which email would be more relevant for which audience group.
Extensions or add-ons are a necessary feature of any reliable CRM and email marketing software. With a centralized platform that allows integration with multiple software, you can improve the overall productivity of your organization.
Make Every User Interaction Meaningful – Choose CRM Email Marketing!
CRM and email marketing, although different, can work in perfect combination to drive conversions. Leverage the power of targeted and personalized marketing to build long-term relationships with customers and realize your marketing goals effectively.
While some businesses choose one of these two by comparing CRM vs Email marketing, you can effortlessly integrate both to boost the performance of your enterprise.
Whether you are looking to cut costs on ad campaigns or track the performance of your marketing efforts, CRM Email Marketing Integration can be just the right thing for you.
Use CRM Email Marketing to automate sales processes, streamline operations and manage customer experiences efficiently. This presents a rewarding opportunity for you to engage directly with the customers and drive conversions for your business by undertaking a more personalized marketing approach.