Automation has proved its mettle in numerous business aspects. 
This is the reason why businesses across industries have started investing more in automation. From the sales process to customer service, automation, if implemented efficiently, can yield great rewards. 
Out of all the areas, one that has especially stood out is marketing. 
Conventional marketing channels and activities no longer produce the results that businesses desire. To uncover promising marketing opportunities, more and more businesses are moving towards automation. This inclination comes as a result of the significant productivity boost that automation can provide. 
From targeted and personalized emails delivered to prospects when they enter a certain stage of the sales cycle to more relevant ads, everything can be automated. For accomplishing this, you need a cohesive marketing strategy that can drive value to your customers.
But what does marketing automation mean, and how can you implement it for your business? 
In this blog, we strive to answer the most relevant questions that you may have about marketing automation and highlight the steps to create a comprehensive automation strategy for your enterprise.
What is Marketing Automation?
Marketing automation is the technology used to automate marketing activities by eliminating manual and repetitive tasks. 
Such automation allows businesses to run successful marketing campaigns by reaching out to prospects and customers at the most appropriate time. 
You no longer have to send emails to individual customers or to every prospect that shows interest in your products. You can set up triggers based on actions and the customer's position in the buyer's journey. 
In addition to increasing efficiency by removing manual efforts, automation can also help you personalize experiences. This can lead to increased sales and customer satisfaction.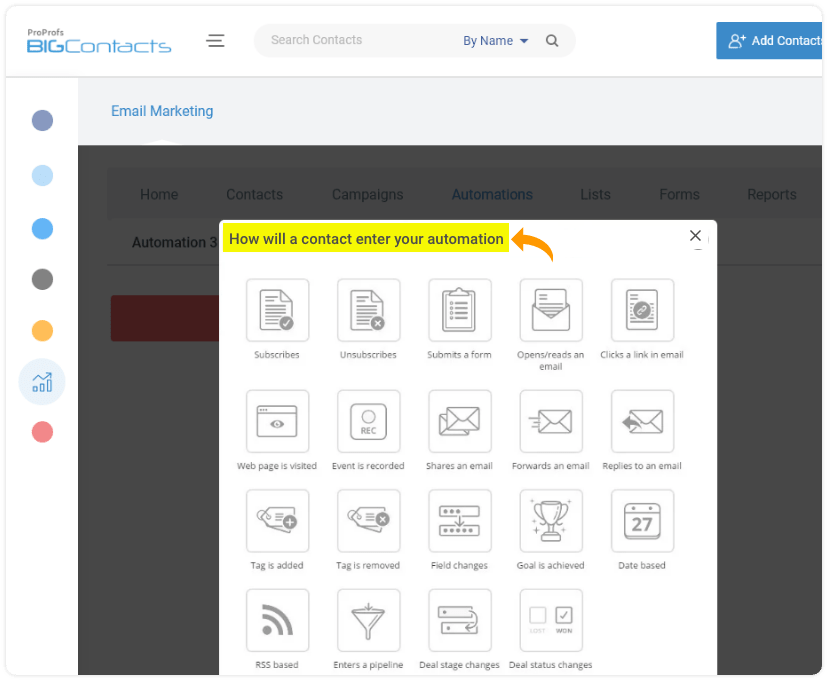 What Can Marketing Automation Do?
Marketing automation can accomplish a lot for your business. You can use this technology to grasp the attention of your audience and stay connected with them. 
Here are some other significant advantages of marketing automation tools:
Increased Organizational Efficiency

By automating repetitive tasks that take up a considerable portion of your marketing team's time, automation can free up time for more critical tasks. It can help prioritize critical activities and provide more control over business operations. It also allows you to sync marketing efforts across a variety of channels, including social media, emails, etc.

Create Meaningful Relationships

A highly valuable asset of an enterprise is its customer base. By investing time and effort in improving the relationships with your customers, you can see significant improvement in your bottom line. Automation technologies such as email tracking can help you understand your users better and offer them more relevant services.

Create Drip Campaigns

Drip marketing campaigns allow businesses to interact with their customers at frequent intervals. With email marketing automation, you can create a set of emails to be shared with the customers at the right time.

Segment and Manage Customer Base

With such technology, you can effectively divide your customer base to personalize your engagement. By tracking your audience engagement, you can identify the best strategies for optimizing your marketing campaigns.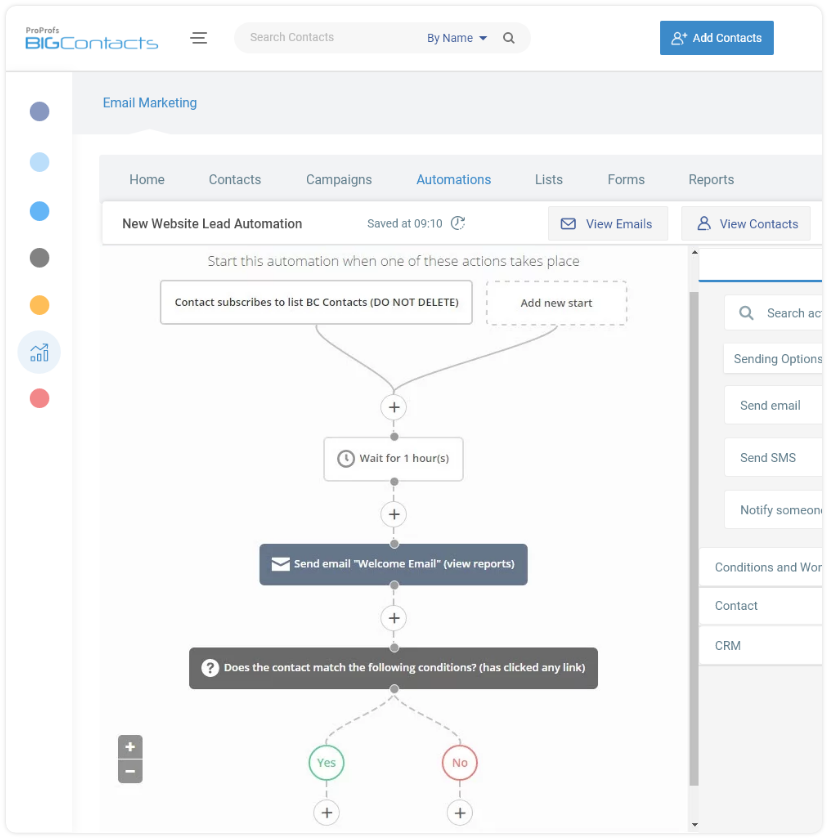 The Benefits of Using Marketing Automation
Automation of marketing campaigns can drive sales productivity up by almost 14.5%. 
The benefits of automation do not end here. 
By managing and optimizing marketing efforts, a marketing automation tool can do a lot for your business, including:
Capture Better Leads

Marketing automation allows you to gain access to more qualified leads for your business. You can manage and nurture these leads to drive more conversions.

Automation can empower your sales teams by providing better insights for sales tracking.

Reach People at the Right Time

With marketing automation, you can interact with prospects who visit your website or your existing customers at the most reasonable time.

You can automate follow-ups and ensure that no promising opportunity goes unnoticed.

More Targeted Interactions

Every interaction can be personalized according to the customer base that is being targeted. You can provide relevant information to customers based on their stage in the buyer's journey.

Marketing automation also allows you to track previous purchases, buying behavior, preferences, etc., to optimize your marketing efforts.

Craft Better Experiences

A marketing automation solution offers the opportunity to get to know your customers better. You can use this information to craft more personalized experiences that improve your customer retention levels.

Read More: How to Drive Efficient Customer Experiences Using Marketing Automation Tools

Generate More Revenue

Building an effective marketing automation strategy can strengthen your business processes and help you make more sales.

By sharing the right information with your customers at the most appropriate time, you can ensure that they place more trust in your business.

Image source
How Does Marketing Automation Work?
While most businesses understand the significance of automation, very few of them are able to craft a strong strategy for its implementation. 
To do so, you need to understand how automation works. 
Marketing automation products allow you to use insights to take relevant actions at different stages of the buying process. With a marketing automation tool, you can access important customer information and modify your engagement strategy accordingly.  
Pro-tip: Before investing in an automation strategy, you also need to figure out which tasks are worth automating. 
Generally, automation can be applied to the following aspects of marketing:
Inbound marketing

Social media marketing

Lead generation marketing

Sales process

Reporting and analytics

Management and administration a
Marketing automation produces highly relevant content to capture and hold the attention of prospects. Instead of spamming users with irrelevant content, marketers can reach out to them more effectively with automation.
However, it is important to realize that types of marketing automation extend beyond emails.
Automation can help you discover what works well and use this data to modify customer engagement. It measures the evolving needs of your leads by tracking the behaviors and interactions across all marketing channels. By measuring behaviors as social clicks, consuming a piece of content, or viewing a page, marketing automation can help you guide qualified leads down the funnel.
Read More: Email Marketing and Spam–The Good, The Bad, and The Ugly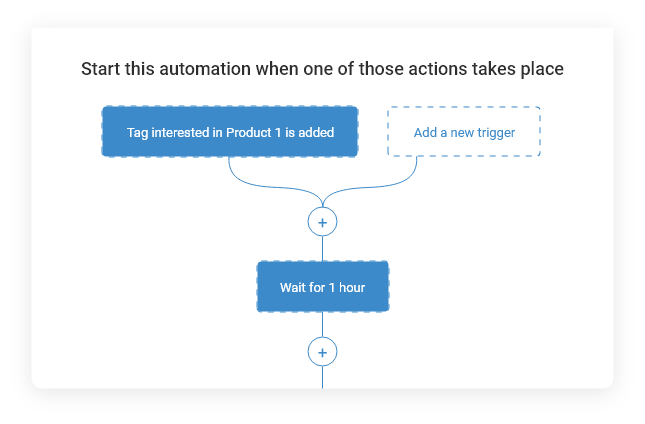 The Right Time for Marketing Automation
Marketing automation, if implemented properly, can help you create a significant impact on your audience. 
To relay the right message across, your business needs a cohesive strategy that takes into account all your requirements. 
While businesses across all industries need automation, most have trouble figuring out the right time for its implementation. 
This brings us to the question- 
What is the best time for investing in marketing automation technology?
If your business falls under any of the criteria mentioned below, it may be the right time for you to take up automation:
You have a flow of leads from various marketing areas.

Your sales team is feeling overwhelmed with the task of following leads down the funnel.

You have an efficient, cohesive marketing message you wish to convey in an organized, multi-pronged approach.

You want a better way of tracking all marketing channels with speed and accuracy.

You want a way to center your marketing message around the person at the other end of your communication in a highly interactive and engaging way.
What Are Goals?
To get the most out of any business endeavor, you need to begin the process with certain goals in mind. 
Having a clear picture of how the end goals look for your business can help you craft a strategy that can deliver upon your needs successfully. You can also use these milestones to find out if your current processes are well on track or if they need more tweaking. Marketing automation goals can also help you visualize how the contacts are advancing through the campaign. 
Goals, therefore, are essential components of any marketing strategy. 
Goals for marketing automation may vary based on your business processes or marketing approach. For a business, a goal may be scheduling a demo with the customer, while another business may include the final purchase as a goal.
The Importance of Goals in Marketing Automation
Adopting a goal-oriented approach can help you keep things on track all the time. 
Before beginning with automation, you need to understand what you are looking to accomplish from it. Clearly defined steps and end goals can help your automation campaigns succeed. 
Integrating goals into your automation strategy can provide you with the following benefits- 
You can clearly define which actions need to be completed for a lead to move through the automation cycle. 

You can track these milestones to measure the performance of your marketing campaigns. It can help you identify various roadblocks in automation and take the necessary steps to eliminate them. 

Another significant advantage of including automation goals is pushing prospects through the various stages of your marketing campaigns. 
How Do Goals Work?
Goals in an automation strategy can help advance contacts from one stage to the next. 
You can keep track of which goals have been fulfilled and which still need to be executed. This can help skip or schedule specific actions if the contact has already reached a particular goal. This saves time, removes redundancies, and increases the overall effectiveness of your marketing campaigns. 
With realistic goals in place, you can easily manage your interactions with the prospects and simultaneously measure the performance of these interactions. 
Contacts can skip stages based on their activity and move through the automation cycle quicker.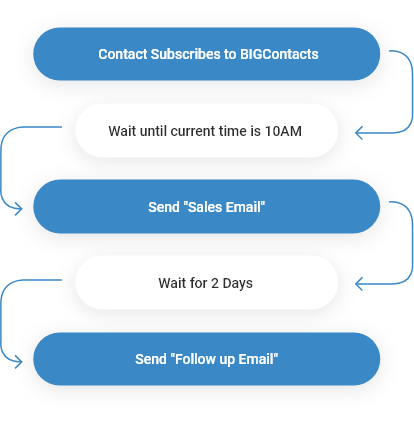 Creating a Marketing Automation Strategy
An automation strategy that aims at improving the conversion rate for your business needs to take into account the following-
1. Having Clearly Defined Goals
The first step of crafting a marketing automation strategy is to define what you expect to achieve from it. Realistic goals can help you create a strategy that is measurable and produces promising results for your business. Take your requirements and feedback from your team members into account when designing your marketing automation objectives.
2. Know Your Customers
Effective audience research is critical for successful marketing automation efforts. 
You need to have a clear picture of who you are selling to and what they are expecting. This can also help you segment your customer base and target them more effectively. Your automation efforts can significantly benefit from these buyers' personas because you will only be offering content that is relevant to that audience group.
3. Find out What Drives Conversions
To design a marketing automation workflow, you have to identify what drives conversions for your business. Explore opportunities where automation can be implemented to increase the overall efficiency and productivity of your operations. You can discover the right timing for connecting with your prospects to drive conversions. Include elements such as forms, drip campaigns, etc., in your strategy. 
4. Draft a Workflow 
Once you have discovered the various areas where automation can be applied, you need to create a consistent workflow that can be adopted for marketing automation. You need to include certain triggers that move the leads through the marketing funnel. You can divide your automation strategy into three components, including pre-conversion, engagement, and post-purchase automation activities. 
Keep in mind what the customers expect from you at every stage of the buying process, and use this information to create your strategy. 
5. Implementation
Once you have your email automation workflow ready, is the time for its implementation. 
You need to pick a marketing automation platform with all the functionalities that your business needs. Consider your business objectives when choosing the automation platform to ensure seamless implementation of your marketing strategy. The tool that you choose should support the features that you wish to integrate with your marketing automation. These could include ads, email tracking, analytics, etc. 
6. Optimizing the Strategy 
Your email marketing automation strategy should be continually evolving. Your users' needs and your business processes are constantly changing. Therefore, you need to fine-tune your strategy to keep it aligned with your objectives and ongoing marketing trends. This is critical for conversion rate optimization. 
Track various metrics to find out the performance of your marketing campaigns and make the changes required to maximize their effectiveness.
Finding the Right Tool for Automation 
Whether it's automating follow-ups or tracking the performance of different types of marketing automation campaigns, you need a tool that aligns with your requirements. 
Over 86% of businesses look for a tool that's easy to use. This can help keep everything under control and make the most out of automation without complicating things too much.  
A business marketing automation tool has to be simple, customizable, and scalable. 
Here are some features that you need to look out for when choosing a marketing automation platform- 
Lead scoring 

Lead nurturing 

Customer segmentation

Custom templates 

Reporting 

Real-time updates and alerts 

Integrations 

Drip marketing

Trigger activities based on actions

Automatically logging interactions

Sending group emails 
All of these functionalities can help a simple marketing automation tool strengthen your business processes and yield an increase in the conversion rate. 
Since choosing the right automation tool is a decision that can significantly affect your business's profitability, it is crucial to allocate adequate time for making the selection.  This is critical for the success of your brand automation strategy. 
Never Miss out on Opportunities With Powerful Automation!
With omnichannel engagement through marketing automation, you can make more sales and significantly improve your bottom line. 
By visualizing and automating your marketing campaigns using a reliable CRM platform such as BIGContacts, you can deliver your message to the audience effectively. 
Automation can help you make marketing interactions much more personalized. 
Your customers can get rid of the unsolicited emails and get through the marketing campaigns without any unnecessary disturbances. You can set triggers for automation activities to ensure that only relevant content is delivered to the audience at the most appropriate time. 
All of this resulting in improved revenue for your company!