Are endless emails eating away your time and making you less productive? Are you constantly overwhelmed by the number of emails you have to read or send?  Don't worry; you are not alone!  A disorganized inbox has become a major issue.
No wonder entrepreneurs, freelancers, and working professionals are looking for the best email management software to save themselves from this chaos.  Bringing organization and automation to your email management process will give you more time to produce more impactful work and achieve the perfect work-life balance. 
At the end of the day, an email is just a tool that should promote better communication and not drain your productivity. In this blog, we will look at the top features of email management tools and explore 14 tools that will help you make email your superpower!  Let's go! 
What is Email Management Software? 
Email management software is a business tool designed to help you manage a large volume of emails and keep your inbox well-organized. The tool allows you to read, respond, save, and track all your personal and business emails in one place.  An email management system can meet the communication needs of both individuals as well as businesses.
For example, an HR professional can use this tool to manage a large volume of emails from potential and existing employees. Similarly, a support team can use an email ticketing system to manage all customer issues, complaints, and queries in one place. 
Comparison Chart For the Best Email Management Software
Software
Features
Price
BIGContacts

Automate email follow-ups
Mobile app
Generate detailed reports
Starts at $5/month
Proprofs Help Desk

Reduce email volume
Track email response times
Prioritize urgent conversations
Starts at $10/month
Help Scout
Email response templates
Custom fields
Desktop notifications
Starts at $20/month
Sendinblue

A/B test marketing emails
Shared inbox
Custom sign-up forms
Starts at $25/month
Zendesk
Monitor SLAs
Custom forms
Canned responses
Starts at $49/month
Clean Email

Group similar emails together
Apply filters
Pause email subscriptions

Starts at $10/month
EmailAnalytics

Monitor response times
Assign roles
Control inboxes
Starts at $5/month
Mailbird

Attachment search feature
Customize notification sounds
Use keyboard shortcuts
Starts at $2.28/month

SaneBox

Automated away messages
Create custom folders
Store attachments into the cloud
Starts at $3.49/month
Hiver

Multiple integration options
Email tags
Create custom reports

Starts at $12/month
Boomerang

iOS and Android apps
Set reminders
Block off notifications
Starts at $4.98/month
Zoho Mail

Private notes
Share email drafts
Advanced search feature
Starts at $1/month
Moosend

Pre-designed email templates
Landing page builder
Create professional newsletters
Starts at $9/month
Front

Monitor response times
Track social media messages
Drop private comments
Starts at $19/user/month
What Are the Top Email Management Software Features?
From email tracking to insightful reports and analytics, there are multiple features that you can expect when investing in an email management tool. Let's discuss some of the top features right away. 
1. Email Tracking
Once an email management system has automatically captured your emails, you need to track them in one place. Email tracking is an important feature that helps you track the progress of all your incoming and outgoing emails. You can allot different statuses to your emails, such as new, pending reply, closed, etc., to determine their stage at a single glance. 

2. Email Templates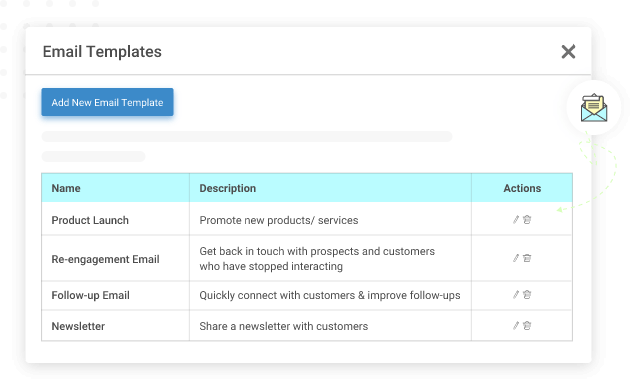 Pre-designed email response templates can save your team tons of time and effort. Instead of typing the same reply over and over, you can simply use a relevant email template and compose your response in seconds. This is another way to ensure consistent messaging across your customer base.
3. Personalization
Modern marketers are using personalized emails to make customers feel like every message is tailor-made for them. According to a study, 74% of marketers say targeted personalization increases customer engagement. You can add a healthy dose of personalization to your outreach using email software with contact management capabilities.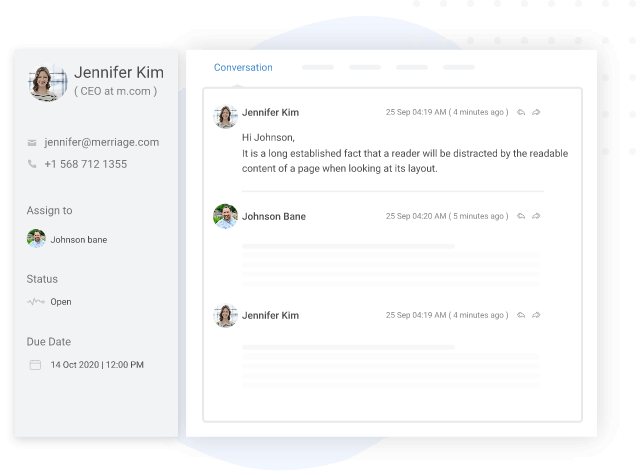 4. Powerful Reporting
Reports and analytics can help you track your email performance and relevant statistics. A robust email management tool can help you track all your past and ongoing email campaigns in one place. You can search for relevant metrics by applying filters in your reporting dashboard, monitor team performance, and identify improvement opportunities.
5. Internal Notes or Comments
Forwarding emails is a thing of the past. Modern teams use internal notes or comments to tag each other and communicate about emails in real-time. For example, if a customer has shared a major complaint, you can drop an internal comment, explain the issue to teammates in brief, and discuss suitable solutions that can be shared with the customer.
6. Shared Inbox
A Shared Inbox is another crucial feature that can help you manage multiple team inboxes such as [email protected], [email protected], [email protected], etc., from one place. For example, if you are a customer service team member, you can easily access customer-facing accounts such as [email protected], [email protected], [email protected], [email protected], and more. 
List of 14 Best Email Management Software
It's time to look at the top email management solutions that will meet your unique needs and expectations.
1. BIGContacts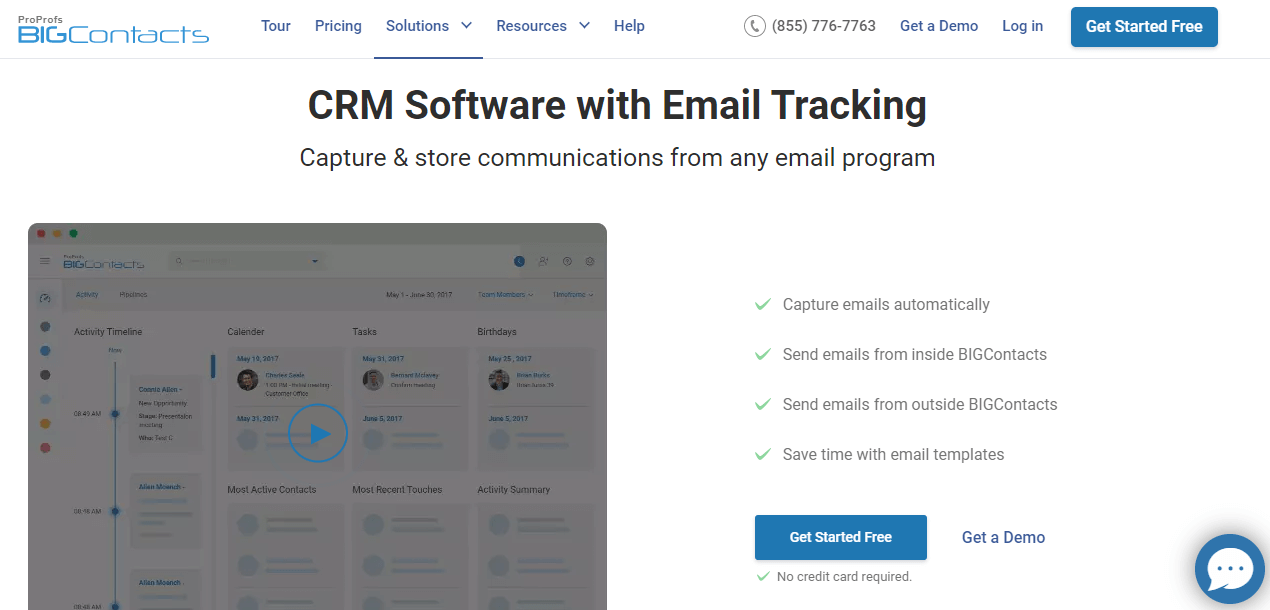 BIGContacts is a leading CRM and email management system that is designed for small to mid-sized businesses. The tool allows you to automatically capture incoming emails and store them against the relevant customer record.  With the help of this tool, you can automatically share personalized emails depending on where your prospects are in the sales cycle. Moreover, you can integrate BIGContacts with leading email marketing and CRM tools such as MailChimp, Active Campaign, Salesforce, HubSpot, and more. 
Top Features of BIGContacts: 
Access communication history folders and get all the context you need

Automate email follow-ups by creating drip email campaigns with custom triggers

Manage your contacts and emails using your mobile phone

Find all emails, tasks, notes, & contact details in one place

Generate detailed reports to track the performance of email campaigns
Pros: 
Eliminate manual work with pre-designed email templates

You can draft emails with attachments such as images and videos
Cons: 
Emails with images can take time to load

The tool comes with a steep learning curve
Pricing:  Starts at $5/user/month
2. ProProfs Help Desk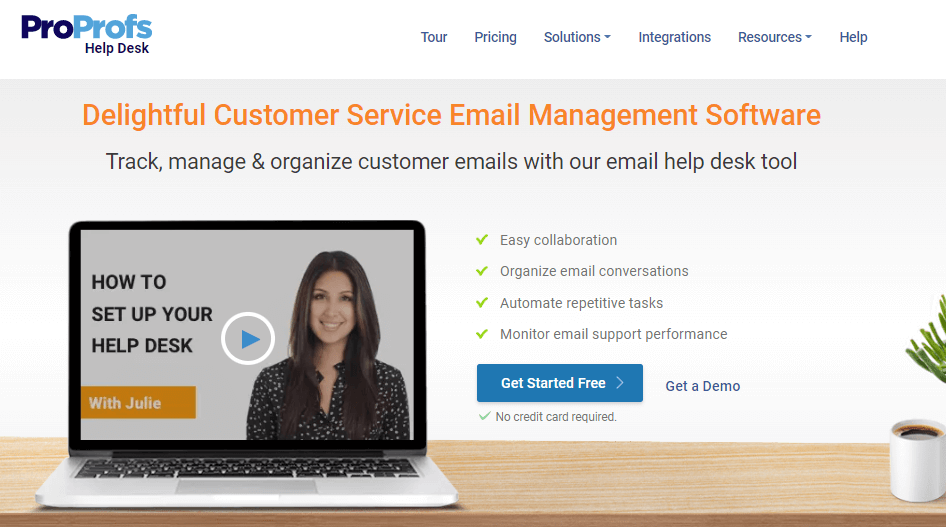 ProProfs Help Desk is designed to help your team reach inbox-zero faster. With the shared inbox feature, you can manage all your team inboxes under one roof and never let an email slip through the cracks.  The tool allows you to create canned responses (email templates) for different situations and enhance team productivity. In addition to this, internal collaboration features such as private notes, ticket assignments, ticket labels, etc., can help you achieve more together. 
Top Features of ProProfs Help Desk: 
Reduce incoming email volume with a dedicated knowledge base

Track your email response and resolution times

Share CSAT surveys to monitor the customer experience

Create email signatures to share professional and consistent messages 

Prioritize conversations that demand urgent attention
Pros: 
The tool comes with an easy, Gmail-like interface

In addition to email, you can interact with customers via live chat, web forms, chatbots, etc. 
Cons: 
The reporting section needs to offer more metrics

Limited integration options
Pricing:  Starts at $10/user/month
3. Help Scout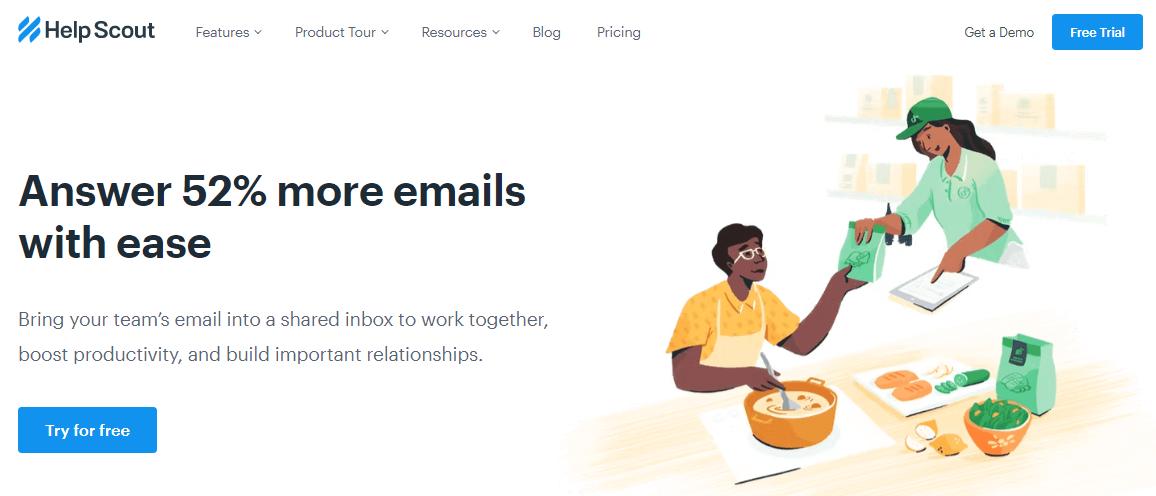 Help Scout is another impressive tool that helps you bring your team's email into a shared inbox. With an easy-to-use interface, your team can start viewing and responding to customer emails in minutes.  Help Scout brings a plethora of internal collaboration features to the table. For instance, you can add private notes to emails to discuss complex emails. Moreover, you can even tag conversations to automate workflows and categorize your communications. 
Top Features of Help Scout: 
Create a searchable library of saved email response templates

Use custom fields to store additional

information for each conversation

Share and receive desktop notifications for email updates

Create self-help articles that are mobile-friendly

Monitor key performance metrics and activity for specific team members
Pros:
Interact with customers in real-time via live chat

Automate your email assignment process
Cons: 
Help Scout's pricing is quite expensive

The standard plan does not offer key features such as custom fields or user permissions
Pricing:  Starts at $20/user/month
4. Sendinblue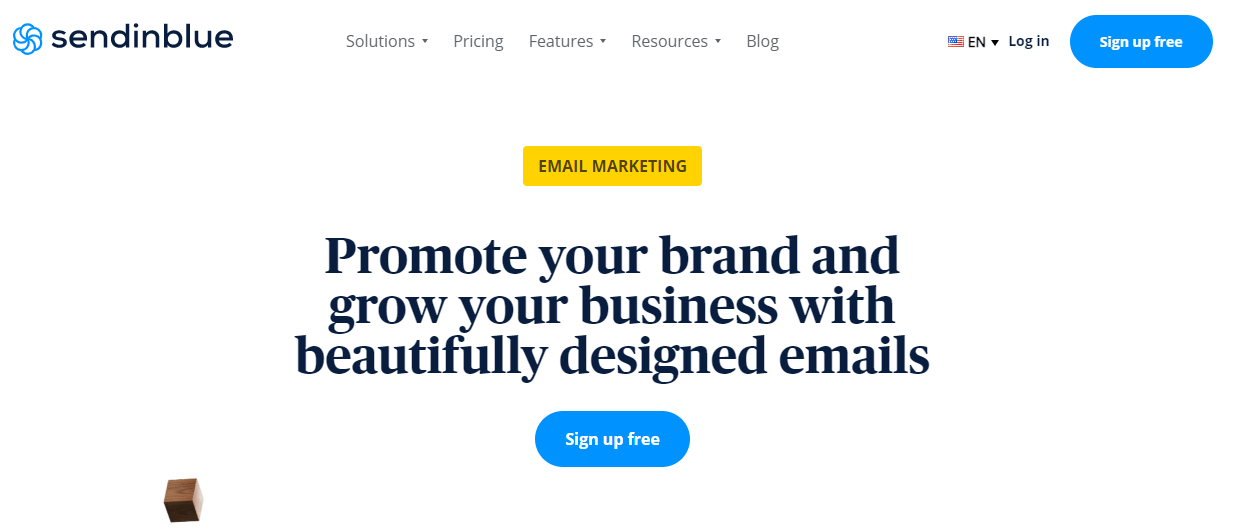 Sendinblue is an email marketing tool that helps your business share professional-looking emails with prospects and customers. With a vast email template library and drag-and-drop functionality, you can kickstart your email campaigns in no time.  To personalize your emails, Sendinblue allows you to add text such as the contact's name and other information. The tool even allows you to segment your audience based on categories such as gender, geography, purchase history, etc. 
Top Features of Sendinblue: 
A/B test your marketing emails for improved targeting

Keep your teams organized with a shared inbox 

Track all your contact details in one place

Customize sign-up forms to grow your email list

Save time and boost productivity with automation
Pros:
You can design dedicated landing pages for different campaigns

Launch Facebook ads directly from your account
Cons: 
Contact segmentation needs improvement

Forms can be hard to implement 
Pricing:  Starts at $25/month
5. Zendesk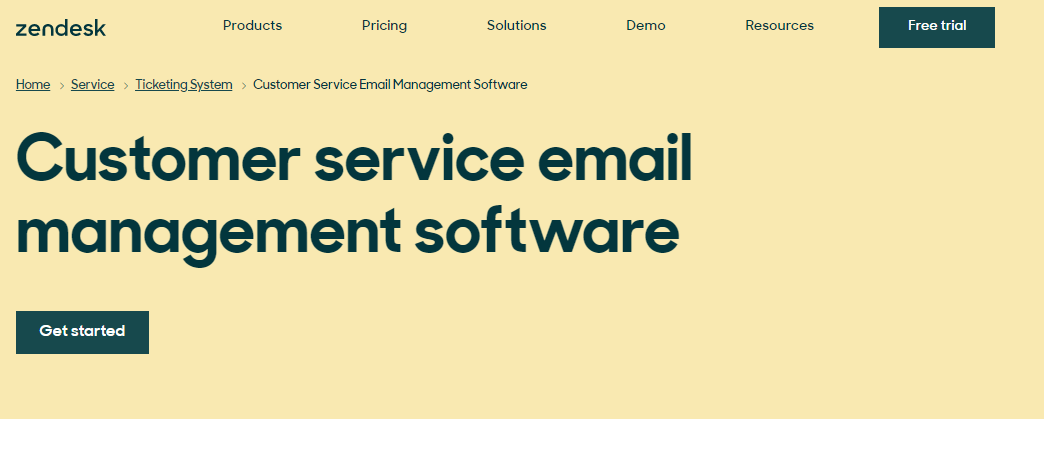 Zendesk offers robust customer service email management software to respond to customer complaints and queries quickly. With native mobile apps, you can enable reps to respond to customer emails or chats — even when they're not at their desk. Zendesk offers custom views that can allow agents to see their queue based on ticket status, group, assignee, or other conditions. Moreover, you can quickly reply to customers with predefined responses, also called macros. 
Top Features of Zendesk: 
Monitor SLAs and never miss a deadline 

Leverage custom forms to get more context about an issue or complaint

Build an integrated help center and empower customers to find solutions

Save time and effort with canned responses

Interact with customers via live chat, messaging, and voice
Pros: 
Offer multichannel assistance to customers 

Create AI-powered bots and offer 24×7 service
Cons: 
Zendesk's pricing is quite expensive

The tool comes with a steep learning curve
Pricing:  Starts at $49/user/month
6. Clean Email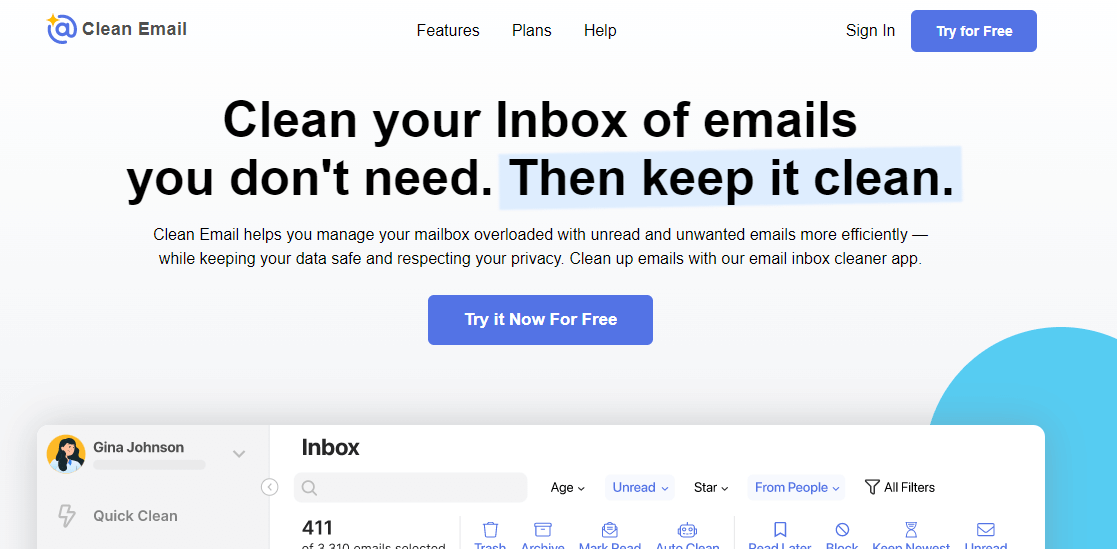 Clean Email is the right solution for you if your inbox is overloaded with hundreds of unread and unwanted emails. With this email organizing software, you can simply email management using rules and filters.  Clean Email helps you automatically organize emails into folders such as "old emails" or "emails from social networks." The tool can send unsubscribe requests to your mailing lists on your behalf and block them in case they do not follow such requests. 
Top Features of Clean Email:
Group similar types of emails together with smart views

Apply filters to find the conversations that are relevant to your work easily

Check your emails against known security threats or data breaches

Pause subscriptions to stop receiving emails temporarily

Block unwanted senders in your account 
Pros:
You can mute emails to avoid unnecessary distractions

Leverage email summaries to monitor your email usage and activities
Cons: 
Using this tool with Yahoo can be challenging

Customer service isn't responsive 
Pricing:  Starts at $10/account/month
7. EmailAnalytics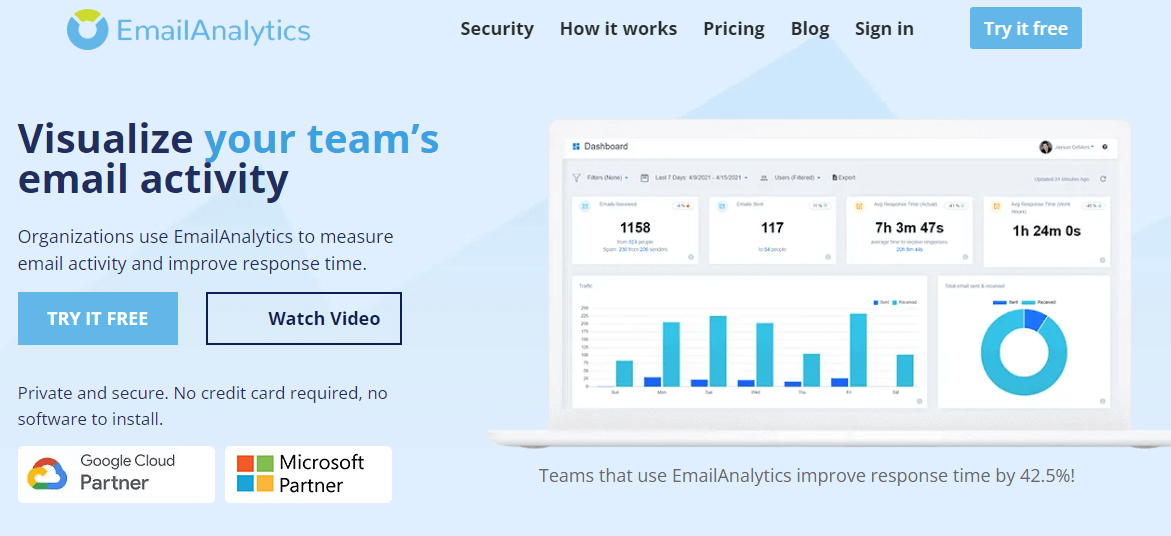 EmailAnalytics helps your team track various statistics and metrics related to your email activities. You can identify the busiest hours of the day or days of the week and plan your work accordingly.  The tool offers you all the numbers you need right at your fingertips. For instance, you can see the total number of emails sent and received by your team for a given time period. You can even see the total number of spam emails received by your team. 
Top Features of EmailAnalytics: 
Identify the clients that receive the maximum emails from your team

Check the number of emails by particular labels 

Monitor your team's average response times

Assign different roles to team members

Determine which inboxes can be accessed by which agents
Pros: 
Receive in-depth reports directly in your inbox

Identify your busiest employees
Cons: 
The UI of the tool feels outdated

The basic plans do not allow you to add or view team members
Pricing:  Starts at $5/month
8. Mailbird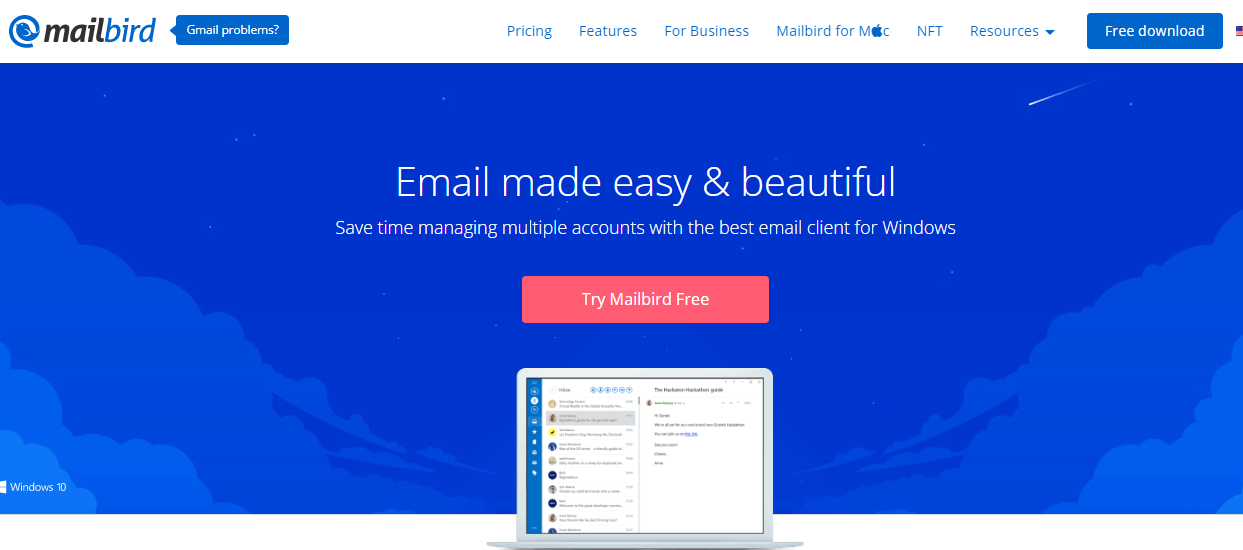 Mailbird offers a unified inbox to manage all your emails and contacts in one place. You can customize the layout of your inbox using hundreds of free color themes and match it with your brand.  The tool comes with multiple integration options that can help you enhance team productivity. You can connect Mailbird with Facebook, Twitter, Dropbox, Google Calendar, Asana, and more. 
Top Features of Mailbird: 
Choose between dark and light themes based on your needs

Find any attachment with a powerful attachment search feature

Customize your notification sounds by uploading them from your device

Snooze emails for later to focus only on the messages you need to at the moment

Use keyboard shortcuts to speed up your email management process
Pros:
Get support in over 17+ languages

Multiple integration options
Cons: 
Sometimes harmful attachments are downloaded even when they are classified as spam

The tool does not offer a mobile app
Pricing:  Starts at $2.28/month
9. SaneBox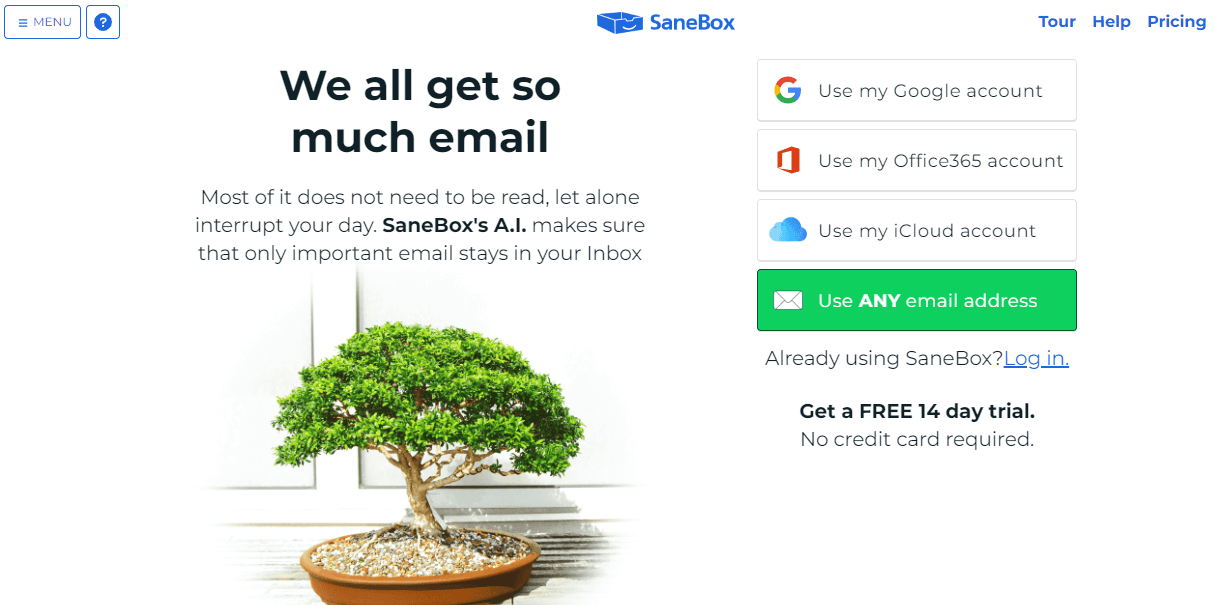 SaneBox is a popular email management tool that helps you take complete control of your inbox. The tool helps you keep important emails in your inbox and moves unwanted emails to designated folders.  SaneBox comes with a powerful AI that can analyze your email history and understand what is important to you or how you manage your emails. You can store all your email attachments in one place and move them to the cloud if the need persists. 
Top Features of SaneBox: 
Organize all your newsletters in a single folder

Schedule breaks from receiving email notifications

Send automated away messages when you are out on vacation or on break

Create custom folders to manage different types of messages

Move email attachments into the cloud
Pros: 
Makes email organization effortless with dedicated folders

Easily set email reminders 
Cons: 
Integration options are limited

Spam filtering isn't always perfect 
Pricing:  Starts at $3.49/month
10. Hiver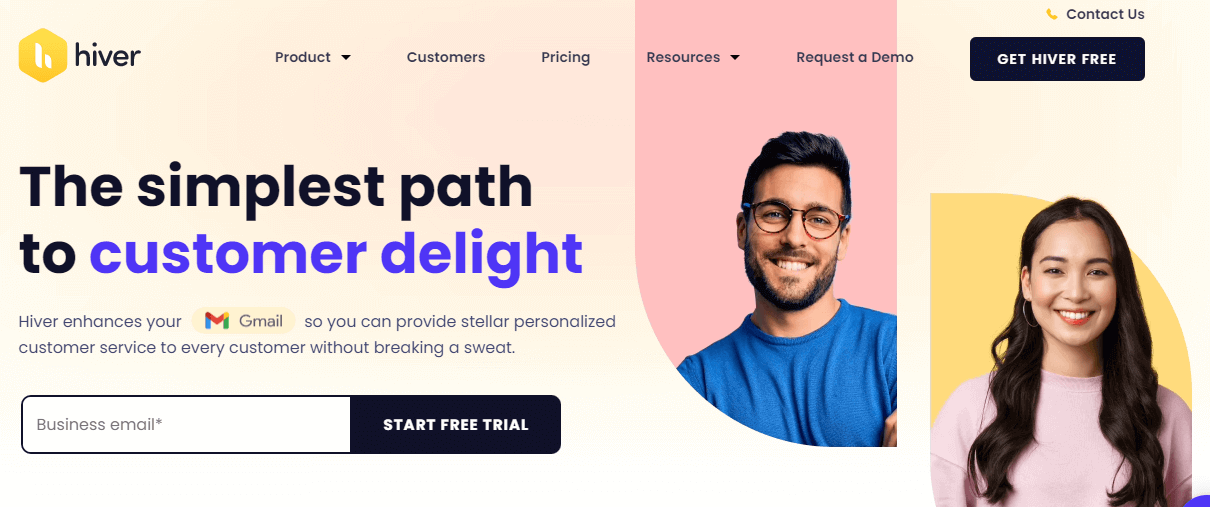 Hiver is another impressive tool that helps you convert Gmail into a full-fledged help desk inbox. This tool allows support agents to easily view, assign, track, and reply to customer service emails.  With Hiver, every incoming email has a clear status and ownership, which ensures your service reps know exactly what they need to work on. Team members can easily collaborate on emails by sharing notes to discuss complex issues or simply to provide future context. 
Top Features of Hiver: 
Distribute incoming emails using the round-robin assignment feature 

Integrate with other tools such as Slack and Zapier

Add tags to organize and filter emails easily

Manage emails on the move with Hiver's iOS and Android mobile apps

Create custom reports to monitor team performance
Pros:
Improve turnaround time with email templates

Avoid sharing duplicate replies with customers 
Cons: 
Considering its limited features, Hiver is quite expensive

No option for multichannel support
Pricing:  Starts at $12/user/month
11. Boomerang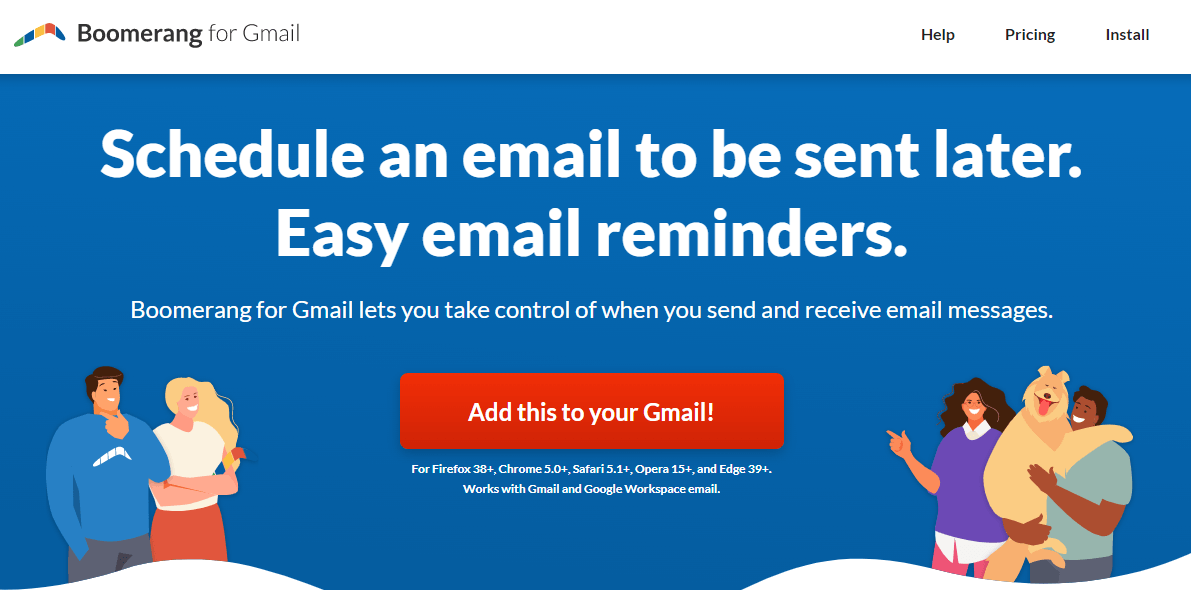 Boomerang is an intuitive team email management tool that can help you reach inbox zero faster. Your team members can easily turn email messages into events by adding meeting details to their calendars.  With this tool, you can compose an email now, click on the Send Later button, and schedule it to be sent at some time in the future. Moreover, you can compose error-free and more actionable emails with an AI assistant. 
Top Features of Boomerang: 
Get insights into how you write your emails

Manage your inbox from anywhere using iOS and Android apps

Set reminders to never miss sending a follow-up email

Block off notifications to focus on other urgent tasks

Leverage the response tracking feature to track the status of your responses
Pros: 
Attach notes to emails

Integrate with leading CRM tools such as Salesforce or Zoho
Cons: 
Boomerang works with only Gmail 

Premium support is only available for the higher-end plan
Pricing:  Starts at $4.98/month
12. Zoho Mail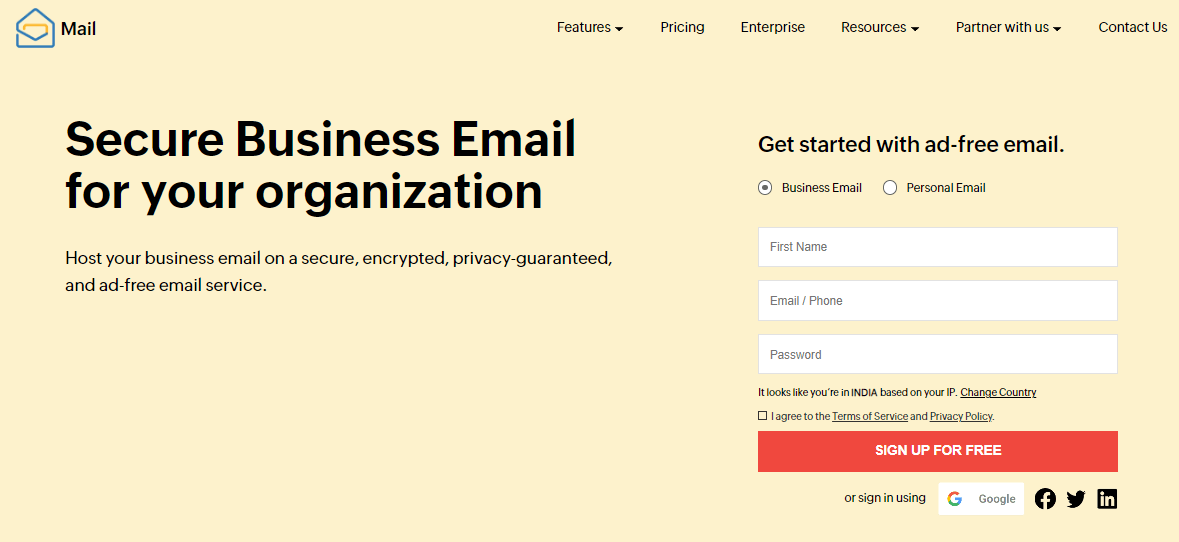 Zoho Mail is an email management service that helps you take control of your emails without obstructive advertisements. With the Tasks module feature, you can break down your daily activities into manageable tasks and make the most of your day.  Whether you use email to connect with staff members or customers, Zoho mail helps you keep your communications professional. For example, you can create a domain and configure custom email addresses for different staff members, such as '[email protected]'. Such unique email accounts give authenticity to your business. 
Top Features of Zoho Mail: 
Collaborate with team members using notes and tasks assignments

Share email drafts and get them reviewed by colleagues

Keep your inbox organized with the help of filters and rules

Find past conversations easily with an advanced search feature

Secure access with two-factor authentication
Pros: 
Easily migrate your emails from previous services to Zoho

Create professional email signatures 
Cons: 
Users are required to pay more for additional storage space

Emails with images take a lot of time to load
Pricing:  Starts at $1/user/month
13. Moosend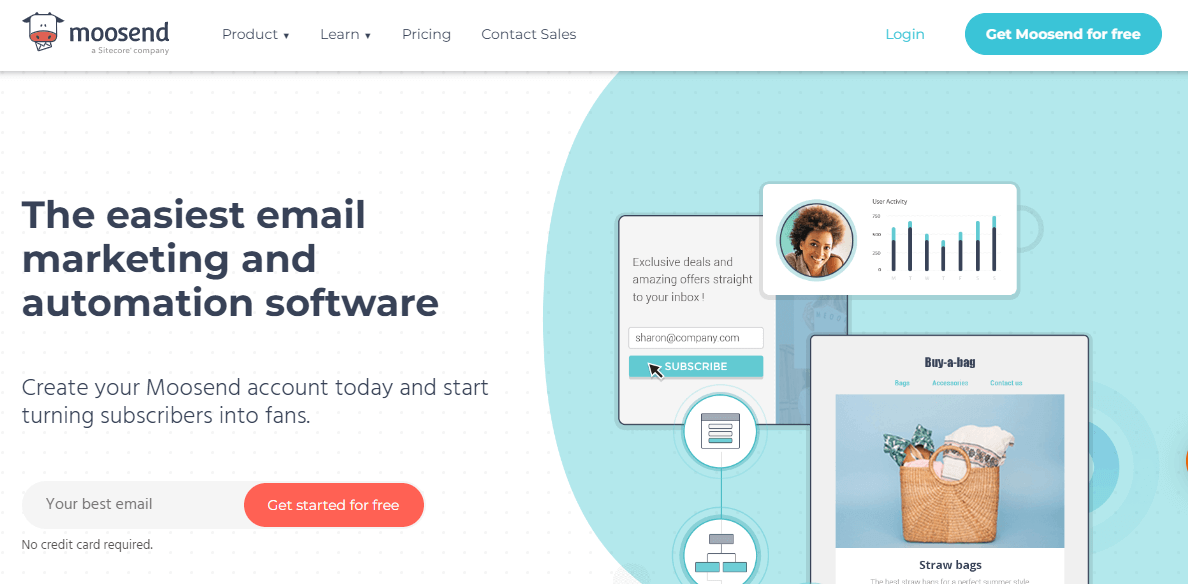 Moosend helps you manage your marketing emails like a pro. You can use this tool to launch successful email marketing campaigns that have the highest open and conversion rates.  You can simplify your marketing tasks with Mooseend's advanced automation features, such as email templates, drag-and-drop automation editor, etc. In addition to this, you can build beautiful landing pages in a matter of minutes and say goodbye to designer expenses. 
Top Features of Moosend: 
Choose from hundreds of pre-designed email templates

Create forms to collect information and grow your mailing list

Leverage a drag-and-drop landing page builder

Create professional newsletters that look good on any device

Segment your audience and share personalized email communications
Pros: 
A vast knowledge base can help users find relevant solutions

The company also offers insightful video tutorials
Cons:
Users of the basic plan do not have access to reliable customer support

Template designs can seem outdated 
Pricing:  Starts at $9/month
14. Front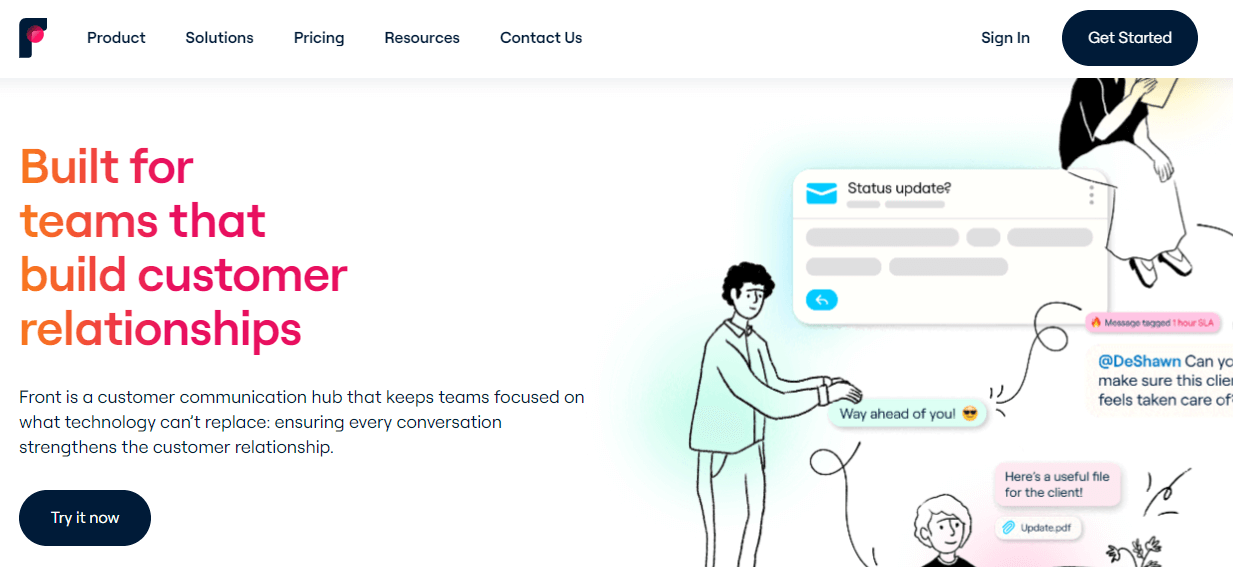 Front is simple client email management software that helps businesses across the globe build stronger customer relationships. This powerful tool can be integrated with a variety of business applications ranging from Salesforce to Github.  With Front, staff members from different internal departments can work together without hiccups. For example, they can communicate with each other, share faster email replies, and keep all email conversations well organized. 
Top Features of Front: 
Monitor metrics such as response times, new conversations, and more

Bring messages from email and social media into one platform

Create rules to distribute emails to your team automatically

Drop private comments on emails and tag relevant team members

Track the total number of emails sent and received each day
Pros: 
The tool comes with an easy-to-use interface

Monitor SMS conversations in one place
Cons:
The mobile app needs improvements

Compared to other tools, Front is quite expensive
Pricing:  Starts at $19/user/month
Get Organized With the Best Email Management Software
There is no denying that an overflooded inbox can distract you for hours every day and hamper your productivity. Not only this, sharing late responses with customers makes your business look unprofessional and increases customer churn.  With the best email management software, you can rise above a cluttered inbox. You can track the progress of emails, assign incoming emails to relevant team members, and personalize your outreach at scale.  All the tools listed in this blog have been carefully picked after hours of research and analysis. If you want email tracking, mass email outreach and personalization features along with CRM capabilities, BIGContacts will be a confirmed safe bet.