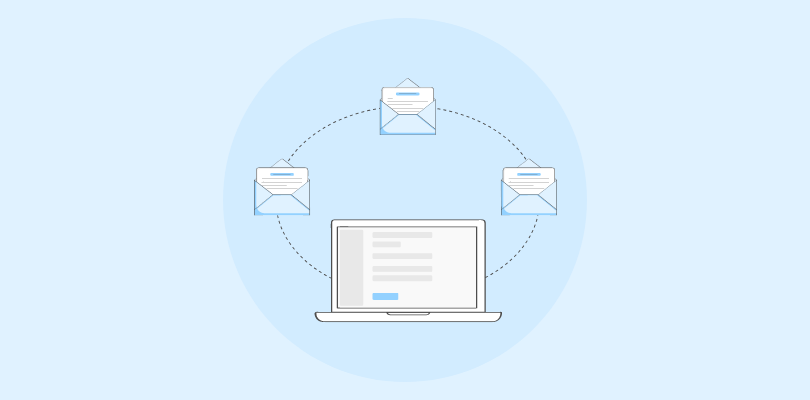 If you're anything like me, you probably spend a good portion of your workday sifting through emails and trying to stay on top of the humongous figures. It's quite overwhelming, I get it.
Well, you might have also tried your hands on several email management software tools in an attempt to find the one that works best for you.
But let me guess, none actually did work, right?
Well, after years of trial and error (and some peer recommendations), I've finally managed to pick out a few gemstones from the gravel path.
Here's a quick glance at the top 10 email management tools that I found-
| Software Name | Best For | Pricing Starts From |
| --- | --- | --- |
| BIGContacts | Email Workflow Automation | $5/user/month |
| ProProfs Help Desk | Shared Inbox & Email Ticketing | $20/user/month |
| Gmail | Spam Filtering | FREE |
| Help Scout | Shared Inbox | $20/user/month |
| Zoho Mail | Privacy & Security | $1/user/month |
| Brevo | Email Workflow Automation | $15/month |
| Front | Team Collaboration | $19/seat/month |
| SaneBox | AI-powered Email Management | $3.49/account/month |
| Microsoft Outlook | Enterprise-Grade Security | $6/user/month |
| Mailbird | Unified Inbox | $49.50/user/year |
Checklist of the 10 Best Email Management Software
It took me some in-depth research to put together a list of email management tools that not just do well on paper but also in real-life scenarios. Note that the tools I have talked about are either based on my first-hand experience and reviews from industry peers or sourced from software review sites based on user testimonials.
1.
BIGContacts
–
Best for Automated Email Marketing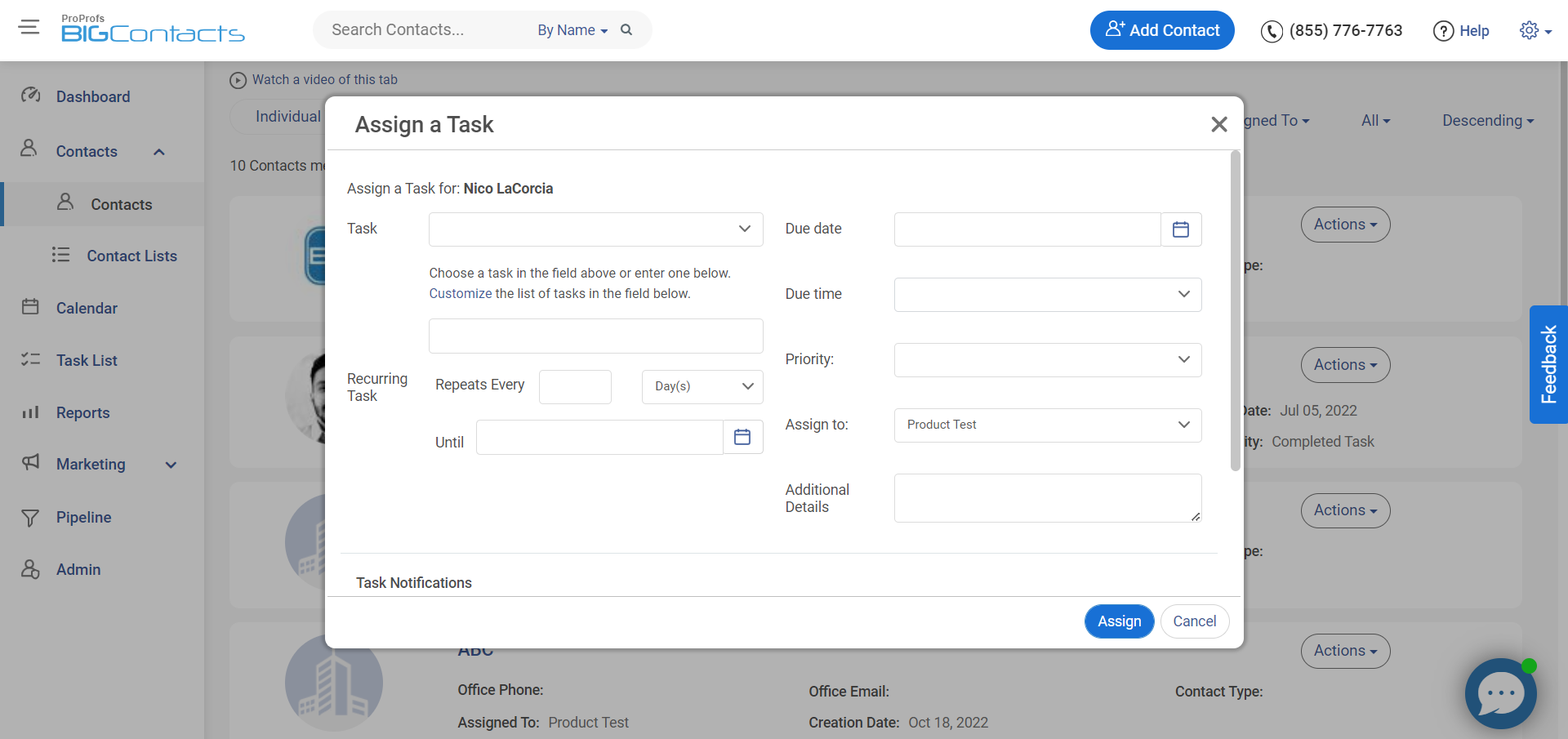 Source: BIGContacts
BIGContacts is my first recommendation for small to mid-sized businesses and is also the one I use to manage my workflows.
You know, one of the coolest things about it is how it manages a large number of emails. The software automatically links messages to the right customer's record when they come in. No more sifting through emails to find what I need – it's all neatly organized in one place!
Another feature that I love is its email workflow automation.
It lets me set up smart, automated drip emails triggered by specific customer actions or where they are in the sales cycle.
Besides, BIGContacts also works seamlessly with third-party tools like MailChimp, ActiveCampaign, Salesforce, HubSpot, etc.
What You'll Like:
Integrates with popular email marketing tools like MailChimp and MailerLite to track all emails from a single platform

Segmented email lists that filter out bounced contacts to optimize retargeting based on customer experiences

Effortless email and

contact management

on mobile devices

Easy access to emails, tasks, notes, and contact details in one place

Efficient monitoring of email campaign performance with detailed

reports
What You Won't Like:
The free trial period might seem limited for exploring its vast range of features

It's a combined package of CRM and email management tools, which may be more than what some users look for
Pricing:
2. ProProfs Help Desk
–
Best for Shared Inbox & Email Ticketing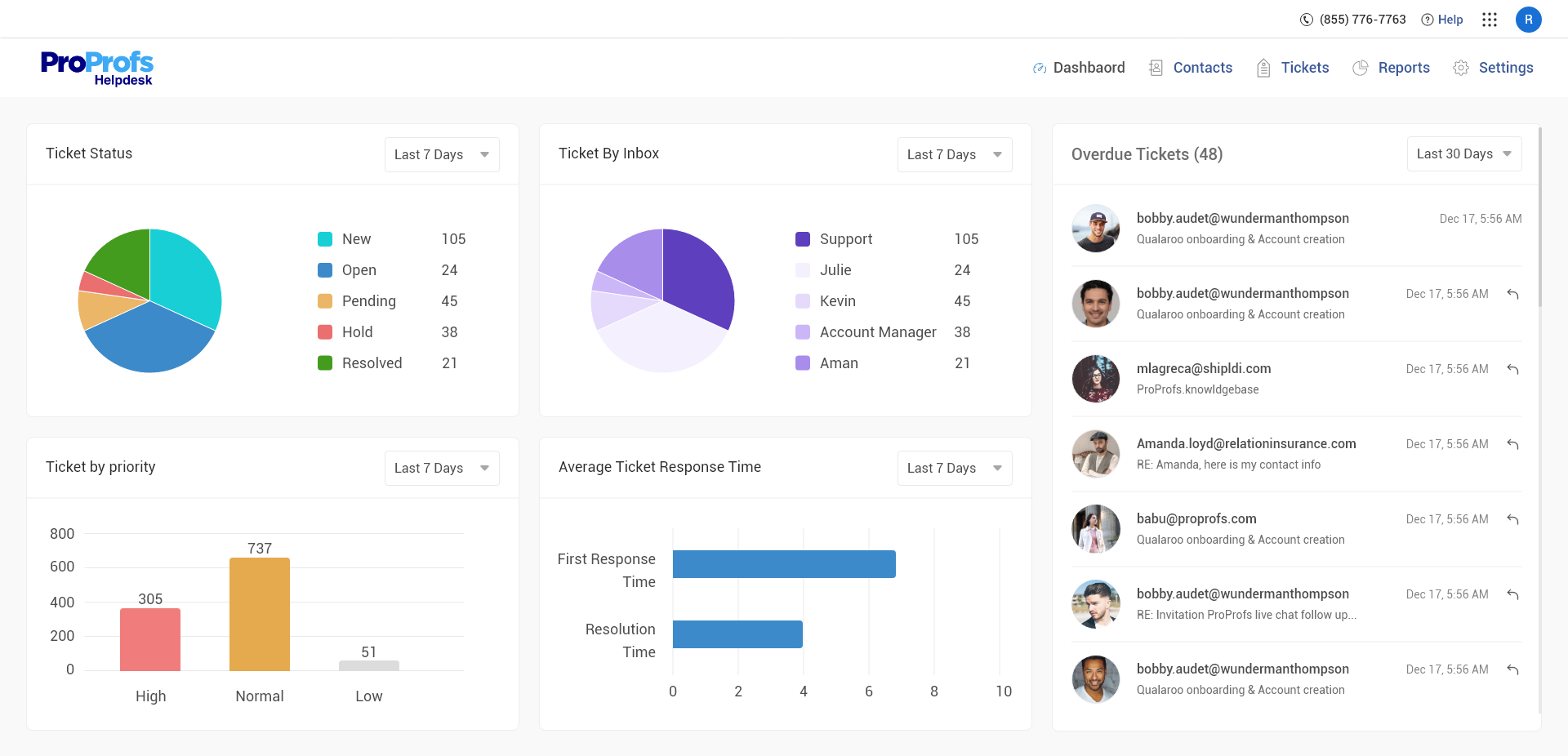 Source: ProProfs Help Desk
If internal team collaboration and ticketing are your top requirements, I'd suggest you go for the ProProfs Help Desk. This tool has become my customer support superhero that helps me stay organized.
The shared inbox feature is the real deal for me. No more toggling between tabs, no more emails slipping through the cracks. It's like having a command center for all communications.
The software also offers a ticketing system that works like a charm. Picture this: Every customer email automatically turns into a ticket, which means no more lost emails or overlooked complaints. Impressive, isn't it?
And the collaboration features? Private notes, ticket assignments, labels – they're like the glue that holds my team together!
What You'll Like:
A dedicated

knowledge base

reduces incoming email volume by enabling self-service

Tracking of email response/resolution times to ensure meeting Service Level Agreements (SLAs)

Allows prioritization of tickets based on their urgency and importance

Keep agents and customers updated on ticket progress with automated alerts and email notifications

The ability to prioritize conversations to ensure addressing the most important issues first
What You Won't Like:
The software has specialized tools for experts, which can be a bump for casual users

Frequent feature updates require you to adapt constantly
Pricing:
3. Gmail
–
Best for Spam Filtering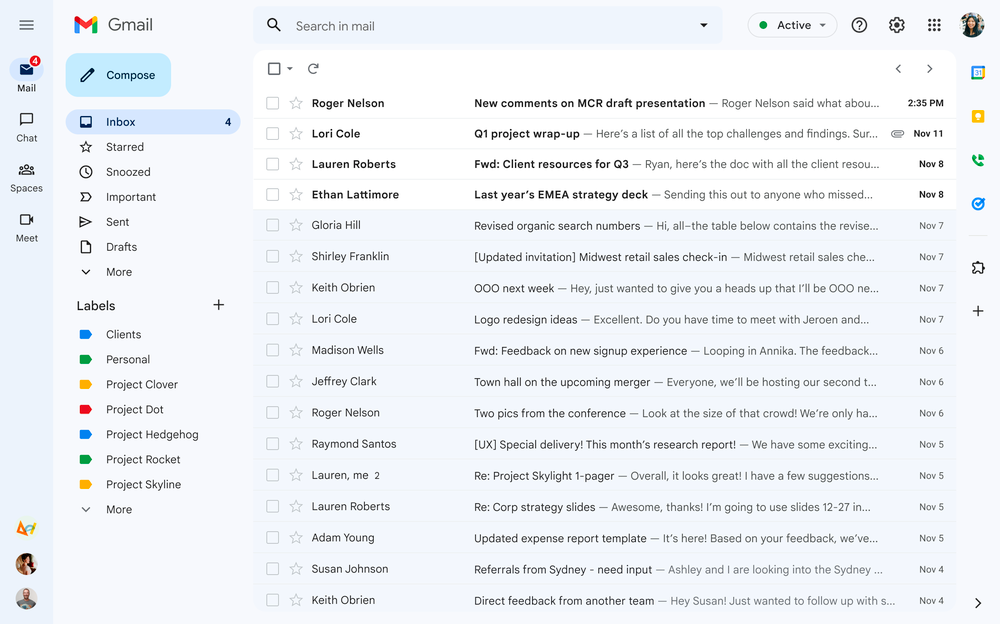 Source: Gmail
Since Google introduced this free email service in 2004, it's become a household name. Let me walk you through why Gmail is everyone's go-to choice.
Firstly, I think that the tool's search prowess is really commendable. It lets you unearth an old email or track down that crucial attachment using the search bar, labels, and sorting options.
But here's the star of the show –
Gmail's spam filtering is at the forefront. It uses advanced tech to sweep spam away, herding most of it into a separate folder for eviction after 30 days. No more inbox clutter – a perfect bliss to your eyes!
To conclude, I find Gmail to be great for tracking, but when it comes to email management, it feels restrictive for advanced features.
What You'll Like:
Easy access to several actions, such as replying, forwarding, deleting, marking as unread, etc.

Display density feature to adjust the spacing between emails in the inbox

Quick settings option to change signature, set vacation responders, configure inbox layout, etc.

Search chips feature to refine tracking with filters like sender name, date range, attachment type, etc.

Malicious document detection to protect inboxes from malware and phishing attacks by scanning attachments
What You Won't Like:
While Gmail offers a generous amount of storage, it is not unlimited

Gmail scans the email content to display targeted ads, which can be a privacy concern for some users
Pricing:
It is a free-to-use software.
4. Help Scout
–
Best for Shared Inbox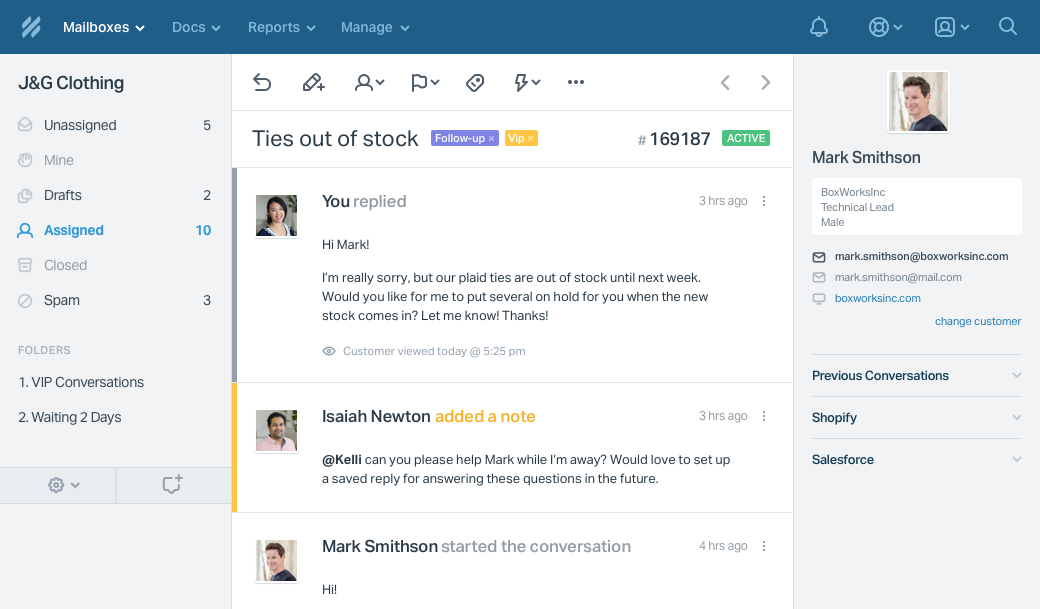 Source: HelpScout
Having worked with Help Scout, I can say that navigating the customer conversation landscape had never been easier.
What sets the software apart is its simplicity. You can jump right in without extensive training. Setting up was a breeze, and before I knew it, I was diving into efficient conversations.
The cherry on top is the shared inbox. It felt as familiar as a personal email hub but with a suite of other features like smart workflows and automated email assignments tailored for seamless teamwork.
Now, let's talk automation. You can assign conversations to team members, send automated responses, and save time to focus on the big tasks.
What You'll Like:
A library of saved email response templates to save time

Custom fields to store additional information for each conversation

Desktop notifications for email updates to stay up-to-date with customer conversations

Email integration to manage all your customer communication in one place

Key performance metrics to track the performance of team members and monitor their activity
What You Won't Like:
Customization options are scarce, which can be a drawback for businesses that require more flexibility

The basic plan lacks key features like custom fields, user permissions, etc.
Pricing:
Starts from $20/user/month.
5. Zoho Mail
–
Best for Privacy & Security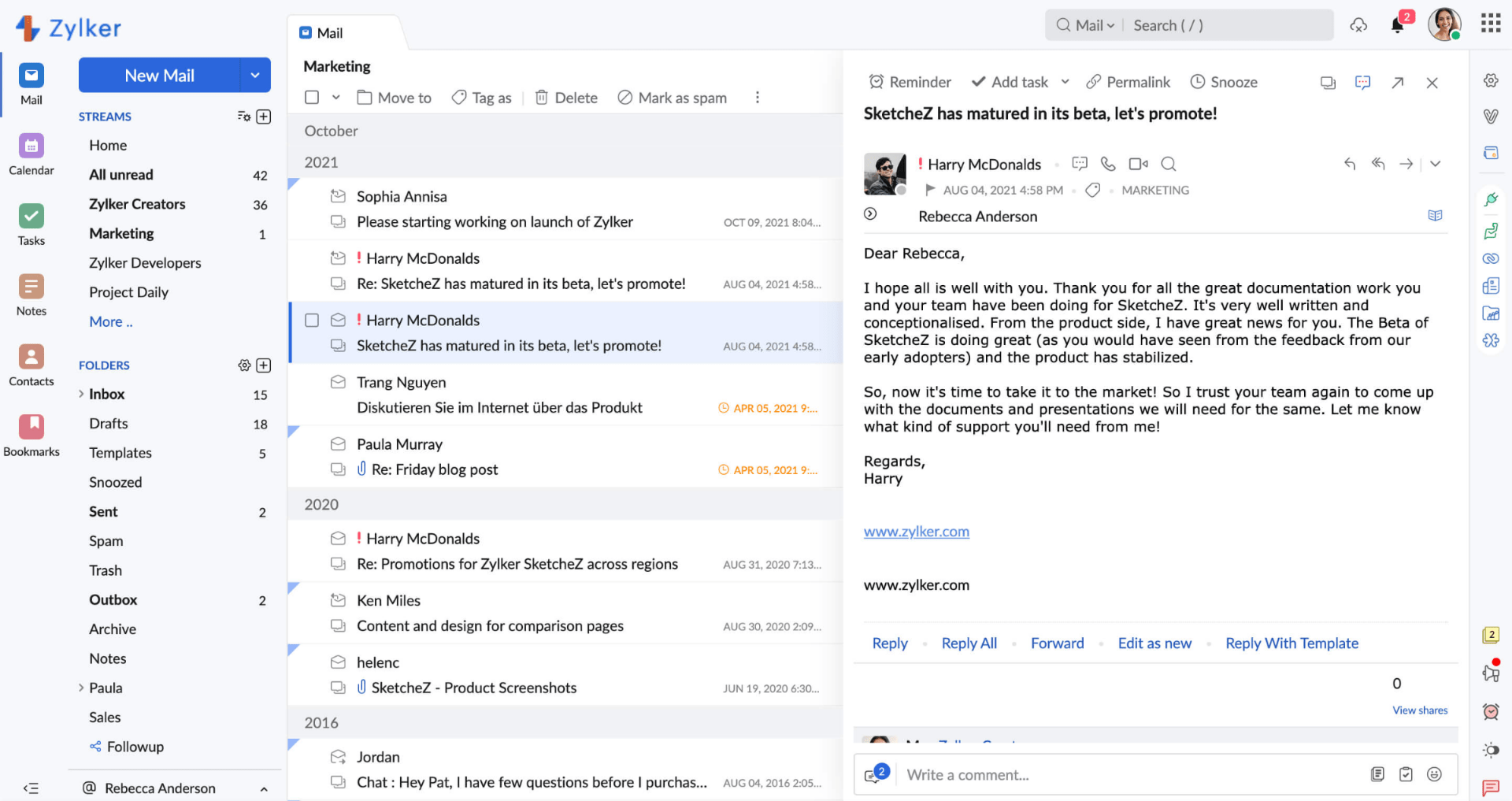 Source: Zoho Mail
When it comes to email management without pesky ads, Zoho Mail is my daily drive.
Whether connecting with my team or reaching out to customers, the tool keeps my communication professional.
For example, I can create custom email addresses like '[email protected]' for each team member. It's all about that authentic business touch.
The show-stealer is definitely privacy and security. With encryption, my data is guarded like a vault. TLS (Transport Layer Security) and S/MIME (Secure Multipurpose Internet Mail Extensions) ensure emails remain encrypted during their journey.
What You'll Like:
A platform for team members to collaborate using notes and task assignments

The ability to share email drafts with colleagues and get their feedback

Inbox organization with filters and rules to avoid missing important emails

Advanced search features make it easy to find past conversations

Two-factor authentication to add an extra layer of security to email accounts
What You Won't Like:
Emails with multimedia content take a lot of time to load sometimes

S/MIME encryption is not present in the basic plan
Pricing:
Starts from $1/user/month. A 15-day free trial is available.
6. Brevo
–
Best for Email Workflow Automation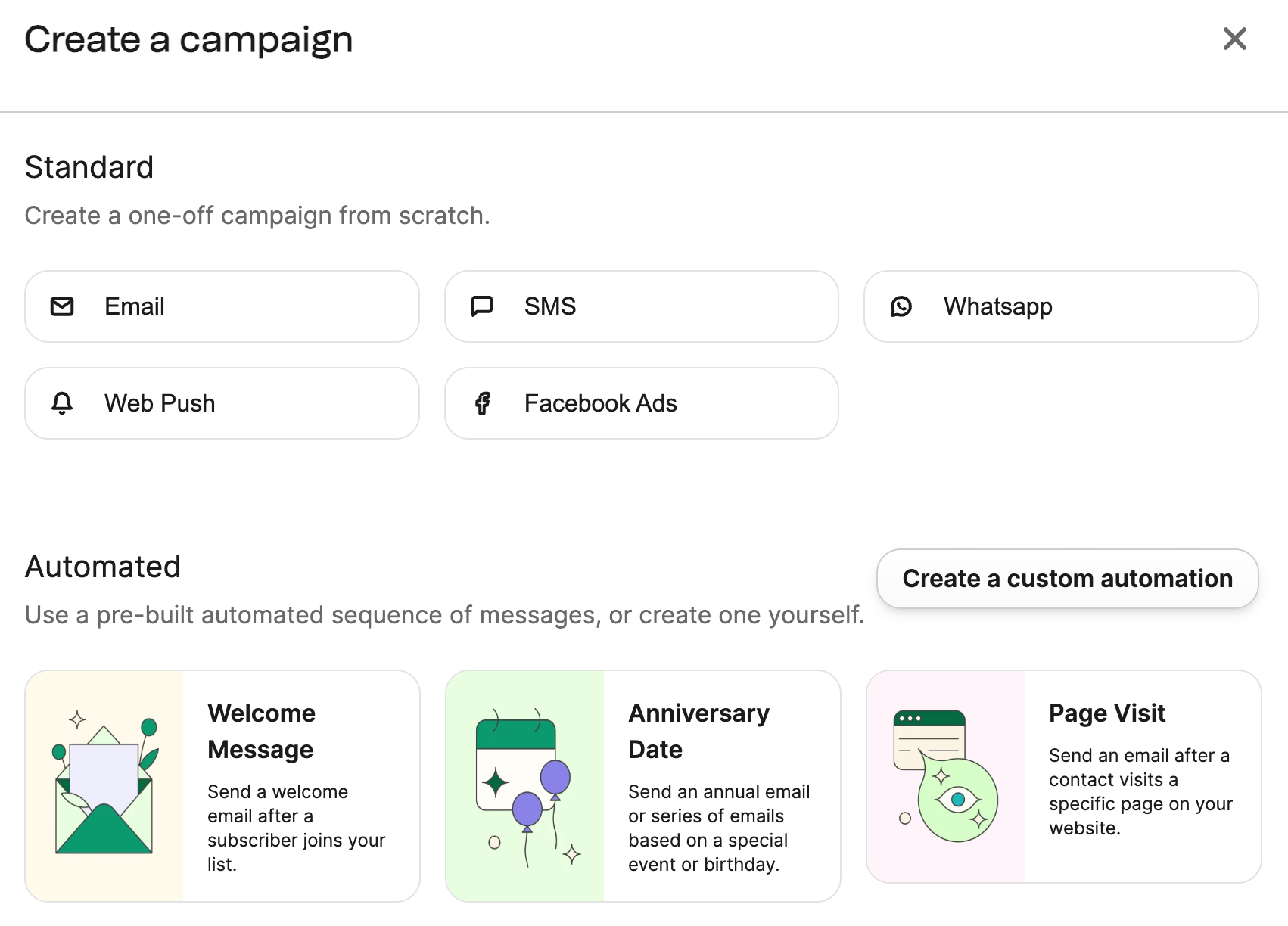 Source: Brevo
Remember Sendinblue? It's now Brevo. I've been trying the free version for a month, and I think the email workflow automation feature is the best highlight.
Imagine setting up automatic workflows that send targeted emails based on what my subscribers are up to – like reminding them about abandoned carts. Navigating the UI feels smooth. Everything I need is right where I expect it to be.
Plus, the drag-and-drop editor lets me craft stunning emails without a hint of coding.
Another trick up Brevo's sleeve is their transactional email service. It's like having a magic wand for triggered emails. Order confirmations, password resets – you just have to name it!
What You'll Like:
Email API processes millions of emails every day with excellent delivery rates

Universal inbox to manage messages across email, WhatsApp, Facebook, and Instagram

Assigning conversations to specific team members and collaborating to resolve customer issues

Saved replies reduce the effort of having to type out the same response over and over again

Mobile app support to manage messages on the go and stay connected with customers
What You Won't Like:
The support team lacks adequate knowledge to navigate the platform and offer answers to simple questions

The free plan comes with a limited number of transactional emails per day
Pricing:
A free plan is available with limited emails per day. Paid plans start from $15/month.
7. Front
–
Best for Team Collaboration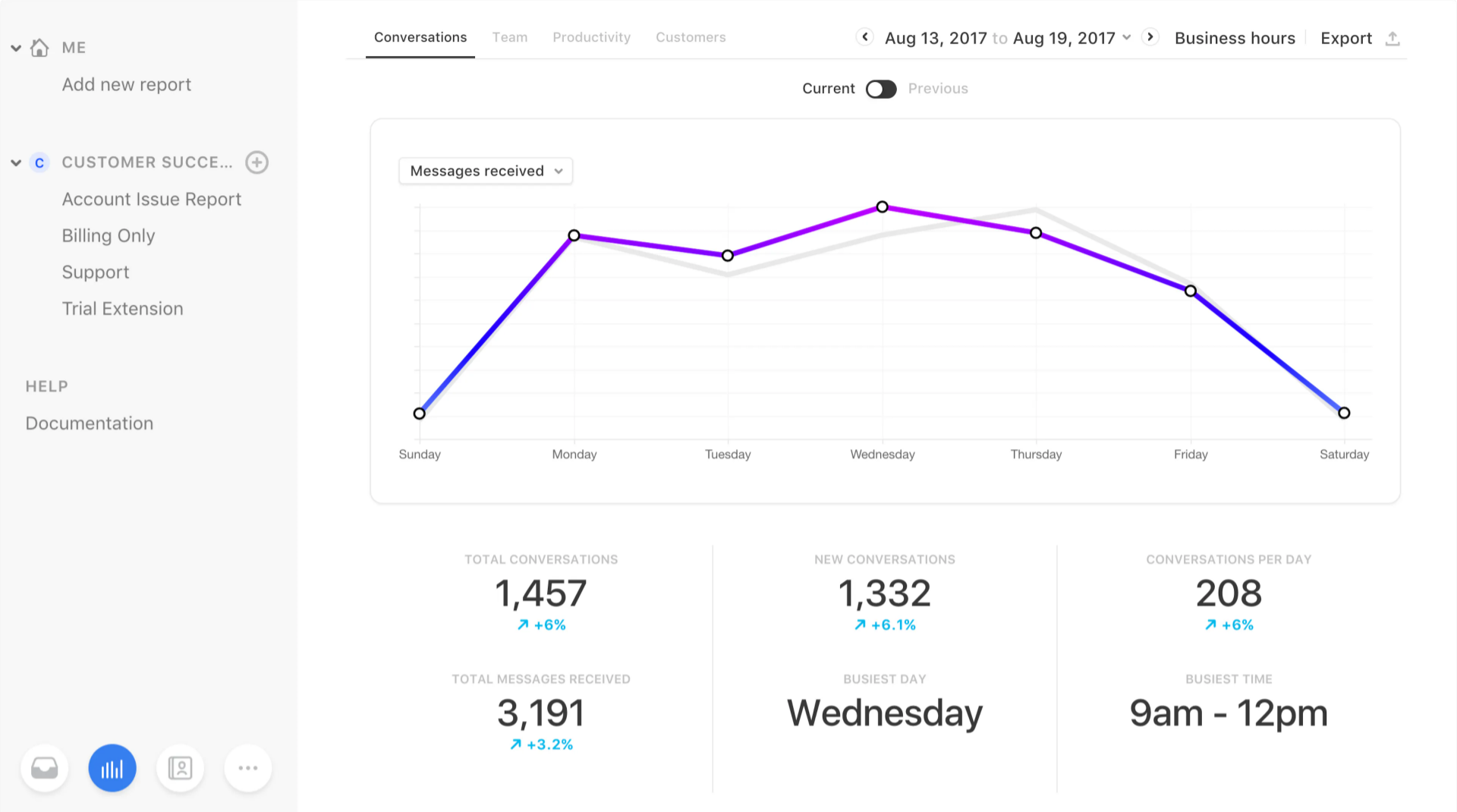 Source: Front
Front isn't just an email management software; it's a powerhouse that brings teams together worldwide.
Based on the experience of one of my peers, I learned that it all comes down to the software's ability to bring all your business apps, think Salesforce, Github, etc., together.
But, something that is more commendable is the range of team collaboration features.
Different departments? No problem!
With Front, you can work as a seamless unit. Chatting, quick email replies, tidy conversations – all in one spot. And it doesn't stop there. The software is loaded with goodies like task automation, customer talk tracking, and data insights.
What You'll Like:
Metrics monitoring to ensure meeting goals and delivering high-quality customer service

Unified messaging feature to streamline workflow and improve communication with team and customers

Automated email distribution based on specific criteria to ensure emails are handled by the right persons

Private comments on emails to keep everyone on the same page

The ability to track the total emails sent and received each day to gain insights into the team's productivity
What You Won't Like:
The mobile app needs improvements and is quite outdated

The basic plan lacks voice communication support
Pricing:
Starts from $19/seat/month.
8. SaneBox
–
Best for AI-Powered Email Management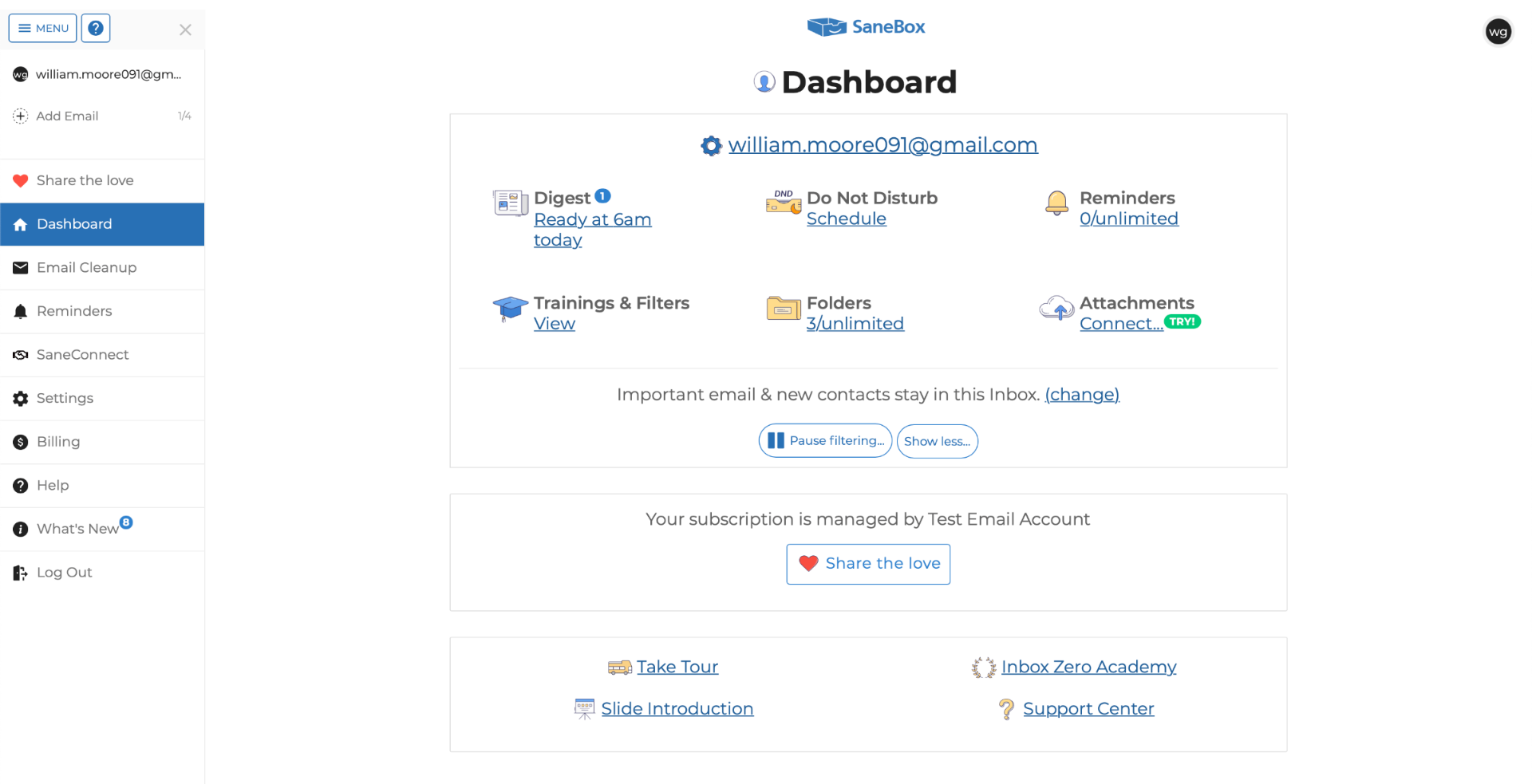 Source: SaneBox
I have always believed that AI can play a remarkable role in email management. This software just made that a reality.
SaneBox isn't just an email management tool; it's like having a personal email assistant. Using AI capabilities, it can understand email habits like what's important to you and what's not.
This keeps your inbox clean, putting essential stuff front and center and whisking away the rest to designated folders.
The software also keeps all your attachments in one place, and you can even download them from the cloud if needed. No more frantic searches for lost files – everything's neatly organized and accessible.
What You'll Like:
Newsletter organizer to ensure having a clutter-free inbox

Scheduled breaks to stay focused without getting distracted by incoming emails

The ability to move email attachments to the cloud to access attachments from anywhere

Automated away messages to ensure contacts know when to expect a response

Custom folders to manage different types of messages and keep the inbox organized
What You Won't Like:
The pricing plans can overwhelm users who want a simple structure

Limited compatibility with email clients can be a problem for some users
Pricing:
Starts from $3.49/account/month. A 14-day free trial is available.
9. Microsoft Outlook
–
Best for Enterprise-Grade Security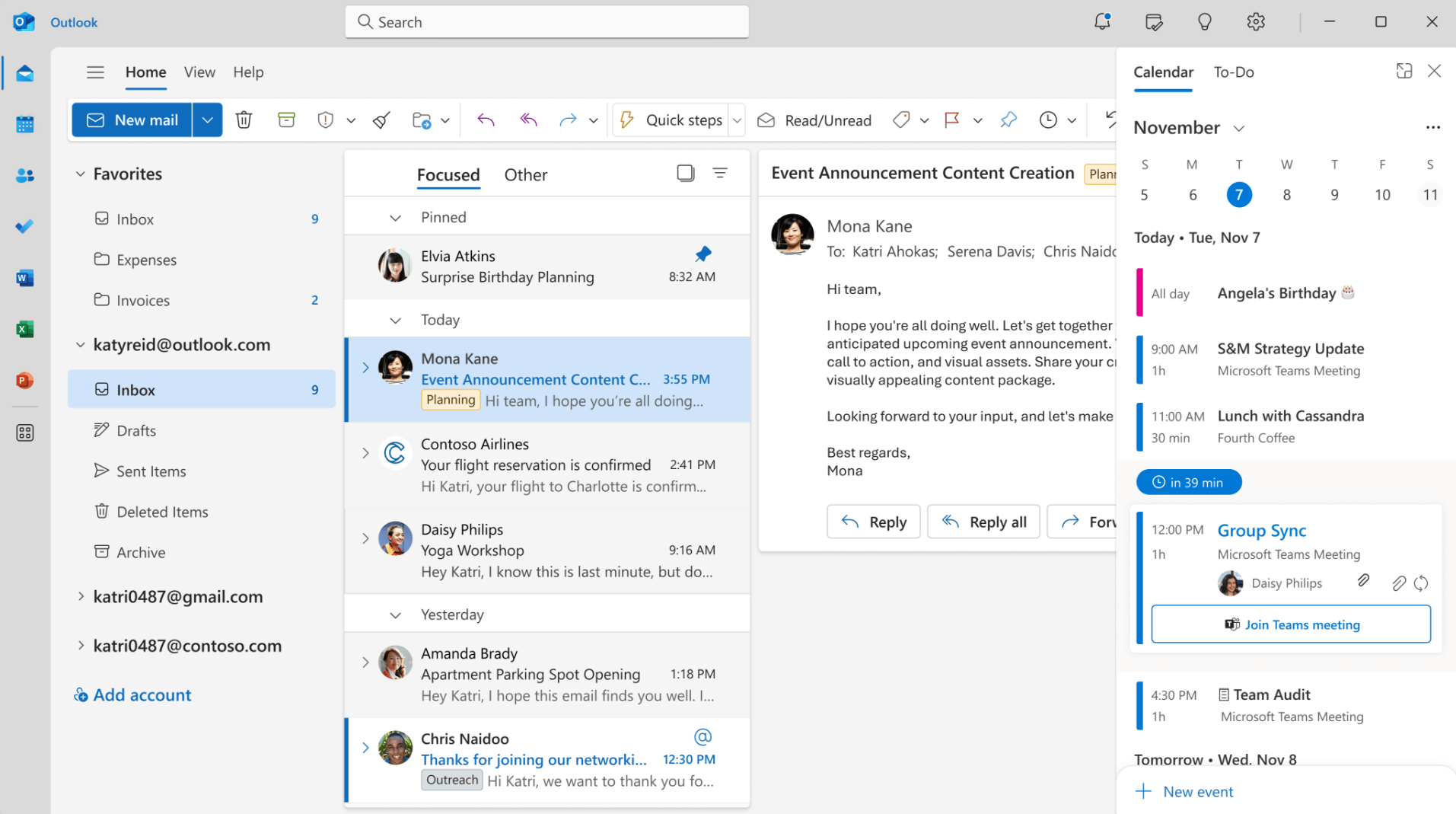 Source: Microsoft Outlook
Over the years, I've seen how Microsoft's products never let you down when it comes to security. Outlook keeps the trait active.
The tool is like having a fortress around my emails. Enterprise-grade security keeps cyber threats at bay, providing me with peace of mind in the digital world.
But that's not all. Outlook's folder system is quite a nice addition to have.
I've got folders for work, personal stuff, and even annoying promotional emails. It keeps my inbox tidy and helps me locate any email in a snap.
What You'll Like:
Keyboard commands to simplify the processes of sending, replying to, and forwarding messages

Folder system to keep your inbox clutter-free

The ability to create events, set reminders, and invite attendees to meetings with Outlook's calendar

You can translate email messages into multiple languages and view transcripts on the go

"Search at Top" feature to quickly find specific emails
What You Won't Like:
Outlook is free to use only if you are okay with the limited storage space

Users without a Windows OS may face issues at times when using Outlook
Pricing:
A free version is available for one user with limited storage space. Paid plans start from $6/user/month.
10. Mailbird
–
Best for Unified Inbox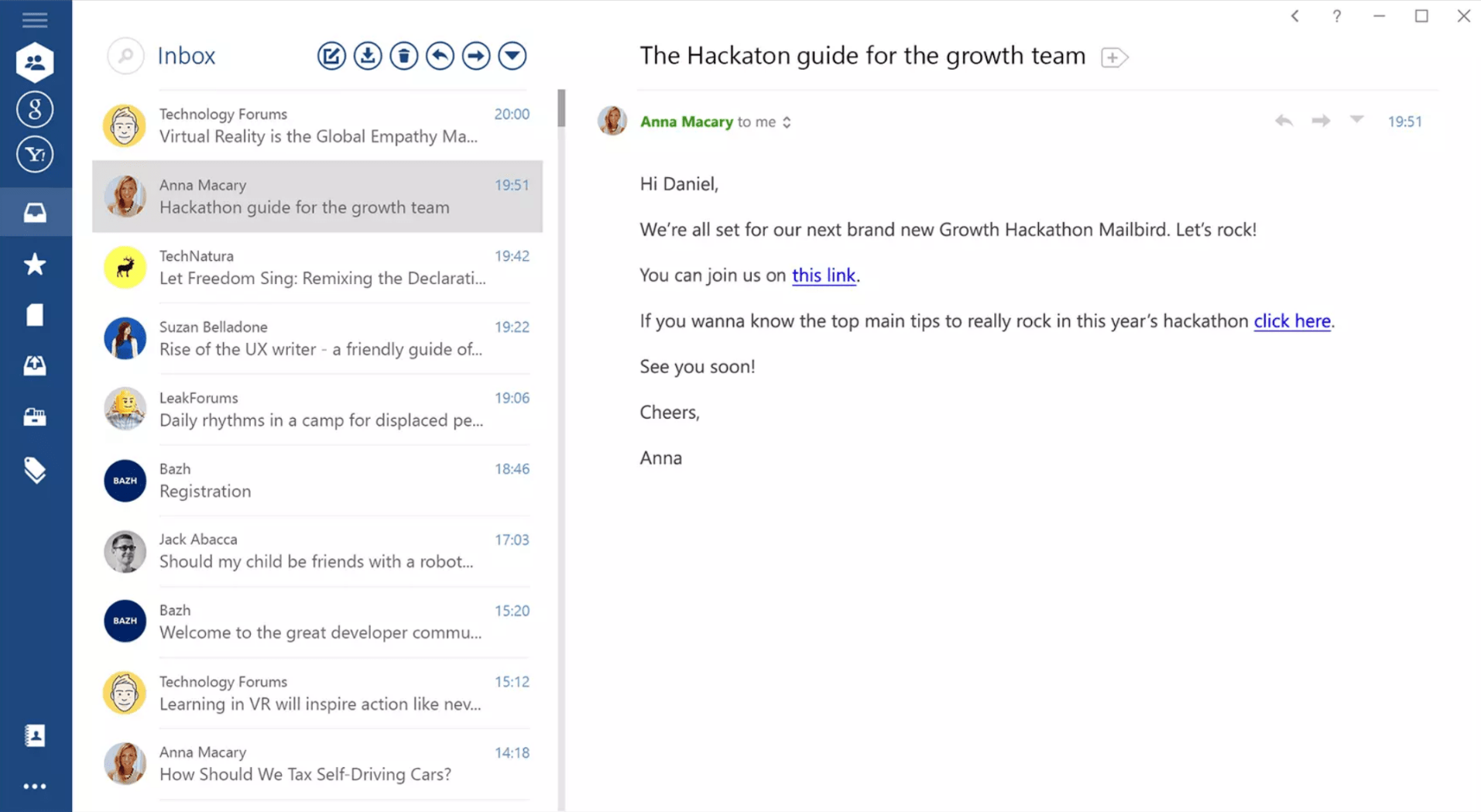 Source: Mailbird
In my early career years, I struggled with managing my emails and contacts. I had multiple email IDs and often missed important messages on some of them. That was when I discovered Mailbird.
Its unified inbox feature helps view all emails from different accounts in one inbox without having to switch between them. I could also reply to any email from any account using the same interface.
The software also had multiple integration options with various apps I used regularly.
For example, I could connect Mailbird with Facebook, Twitter, Dropbox, Google Calendar, Asana, etc. This way, I could access these apps from within Mailbird without opening another browser tab or window.
What You'll Like:
Customizable themes to choose between dark and light modes

Attachment search feature to track old attachments from emails seamlessly

Email snoozing with a timer to focus only on important messages for the time being

Keyboard shortcuts to speed up your email management process

A speed reader feature enables gliding through emails quickly
What You Won't Like:
Sometimes, attachments may get downloaded even when they are classified as spam

The free plan lacks email tracking capabilities
Pricing:
A free plan is available for one device. Paid plans start from $49.50/user/year.
How to Choose the Best
Email Management Software
When you're considering your needs, think about how you use email on a daily basis. Do you receive a lot of emails or need to send out bulk emails? Do you need to collaborate with others on emails?
Once you know your needs, you can start to narrow down your choices of email manager software. Here are some of the factors you should consider when picking one –
#1 Compatibility Check
Ensure that the software is compatible with your operating system and integrates with third-party products or services that you use. Check if the software works with different CRM, help desk, knowledge base, live chat, CMS, or other products.
#2 Essential Features
Some of the most common features to look inside email response management systems include spam filtering, shared inbox, phishing protection, email tracking, reminders, collaboration tools, etc. Make sure to choose software that offers the features that are important to you.
#3 Determine Ease of Use
Choose software that is easy to use and has an intuitive UI. This will save you time and reduce frustration. Look for software that has a clean and simple design, with easy-to-use navigation and clear instructions.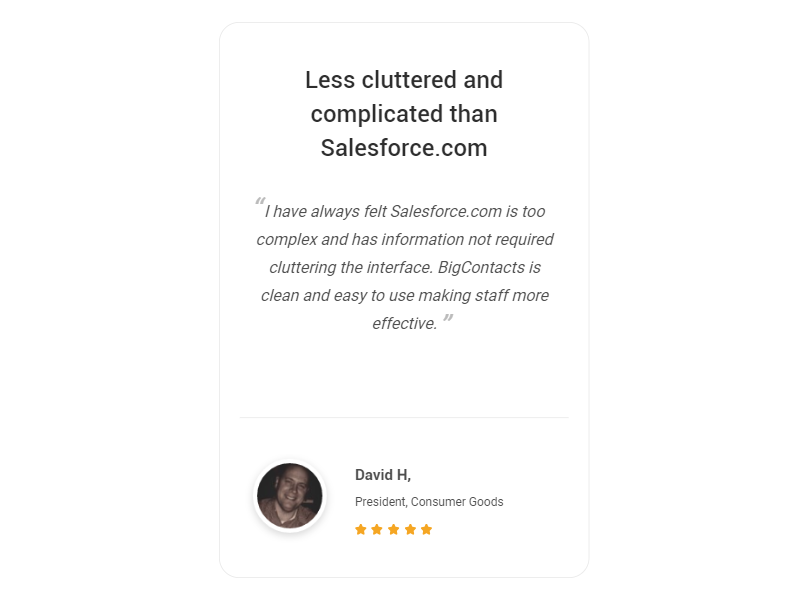 #4 Privacy & Security
An email organizer app should be secure and protect your data from unauthorized access. Look for software that uses encryption to protect your emails and data and has two-factor authentication to prevent unauthorized access.
#5 Pricing
Email management software can range in price from free to hundreds of dollars per year. Compare pricing plans and choose the one that fits your budget while providing all the necessary features.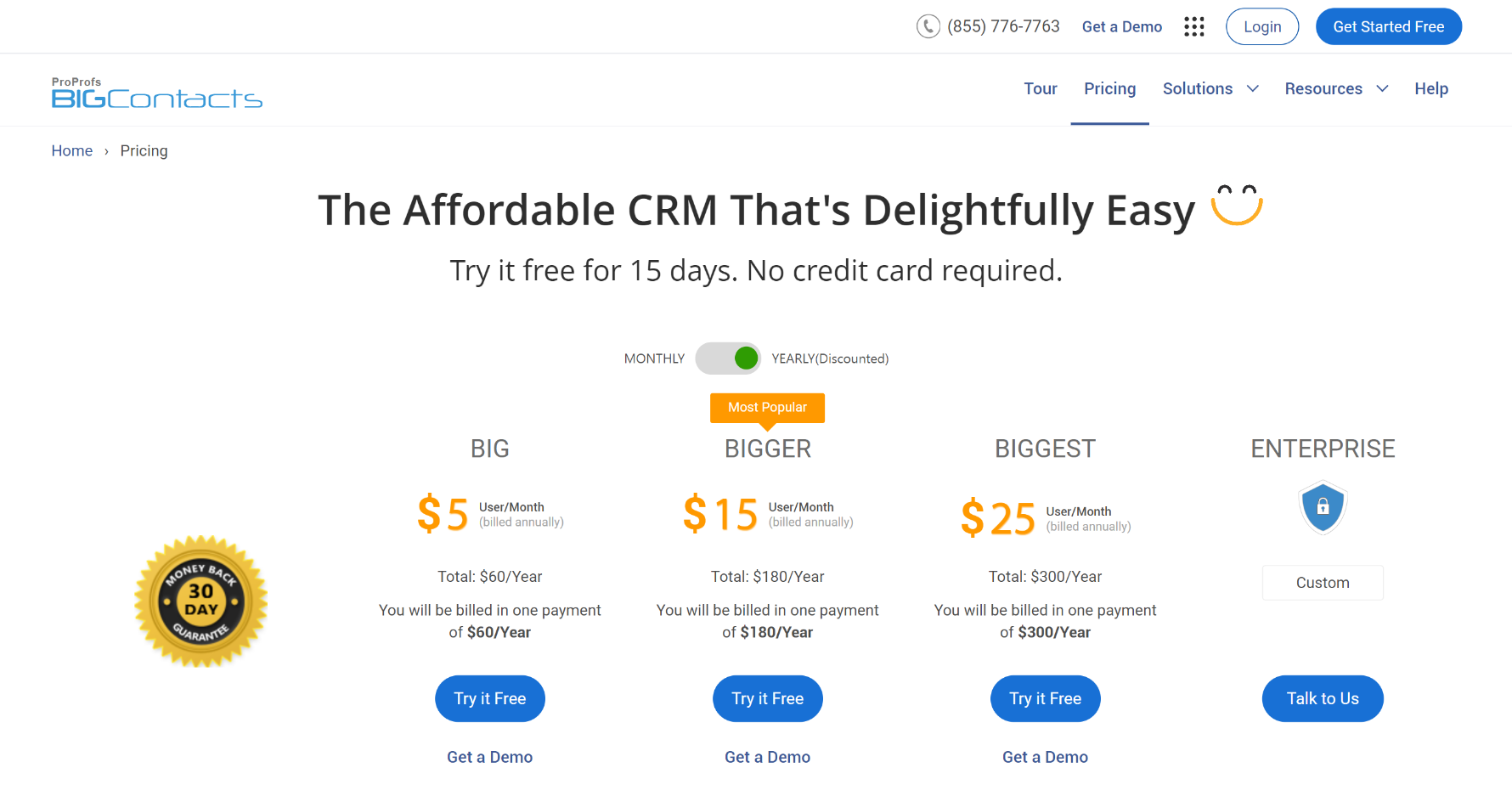 Which is the Best Email Management Software?
An overflooded inbox not only hampers your productivity but also increases customer churn. The more time customers spend without getting a reply to their problem, the more likely they will leave your brand.
With the right email management software, you can turn the tables.
A capable software tracks the progress of emails, assigns incoming emails to relevant team members, and personalizes your outreach at scale.
Depending on my experience with all the tools listed above, here are my top three choices:
Option A: ProProfs Help Desk
If you're looking for a tool for internal team collaboration and ticket management, ProProfs Help Desk is a great option. It has a shared inbox feature that makes it easier for the whole support team to stay organized. The email ticketing system automatically converts customer emails into tickets, ensuring no emails are lost or complaints overlooked.
Option B: BIGContacts
BIGContacts is a great email management software designed for small to mid-sized businesses. It automatically links incoming messages to the right customer's record, keeping your inbox organized. Additionally, it offers email workflow automation that lets you set up smart, automated emails triggered by where customers are in the sales cycle.
Option C: Microsoft Outlook
Outlook is a reliable email service that provides enterprise-grade security to keep cyber threats at bay. It also has a folder system that helps keep your inbox tidy and makes it easy to locate any email in a snap. With its user-friendly interface and seamless integration with other Microsoft products, Outlook is a great choice for a secure and efficient email service.
[box] So, if I am to make a final choice among the top three options, I'll probably go with BIGContacts. Why? Well, it pretty much ticks all the boxes for having an organized inbox and gives you additional CRM and email marketing features – all in the same package. That's a steal deal![/box]
Learn More About Email Management Software
What is email management software?
Email management software is a powerful tool that can help you manage a large volume of emails and keep your inbox well-organized. Using such a tool, you can read, respond, save, and track all your personal and business emails in one place. It has several benefits, such as increased productivity, improved organization, and enhanced team collaboration.
What are some essential features to look for in email management tools?
Email management tools do more than just manage overflooding emails to keep your inbox well-organized. Here are some essential features to look for in them:
Email Tracking:

It helps you

track

all incoming and outgoing emails in one place.

Email Templates:

These are pre-designed email response templates that save time, ensuring consistent messaging across your customer base.

Powerful Reporting: Reports

help monitor email performance and identify improvement opportunities.

Personalization:

Such a tool should let you add a healthy dose of personalization to your outreach.

Internal Notes:

It helps you tag each other and communicate in real-time with

internal comments

.
What are some of the advantages of using email management software?
Email management software solutions can change how you handle hundreds of customer emails daily. Here are some of the prominent advantages of using such software –
Boosts productivity by organizing emails efficiently

Reduces manual work with automated sorting and labeling

Enhances communication by ensuring timely responses

Safeguards you against data loss through effective backups

Streamlines teamwork with shared inboxes and collaboration tools

Improves customer service by prioritizing and tracking inquiries
How much does email management software cost?
Email organizer software solutions costs vary widely based on features and providers. Usually, it should not exceed more than a few dollars for a starter pack.
For example, a trusted company like BIGContacts offers a starting price of $5 per user on a monthly basis. This can be scaled further if your business has more requirements for file storage, email templates, tags, etc.
Are there any security measures in place to protect sensitive information & prevent email phishing attacks?
Yes, a leading email management platform will have essential privacy and security measures to protect your information. You can assign roles and permissions to select who can have access to what. Apart from that, you can also enable two-factor authorization to ensure no one else can log into your profile.
Are there integrations available with other productivity tools like task managers, CRM systems, or project management platforms?
Yes, most leading email management tools offer integrations with a wide range of productivity tools, allowing you to create a unified workspace for enhanced efficiency and organization. To give you an example, BIGContacts offers native integration with MailChimp, Skype, ActiveCampaign, Intercom, Office365, Shopify, etc., facilitating two-way synchronization of important data.
Do you want to make more sales?
BIGContacts is the #1 contact management software & CRM to close more sales.