333.2 billion– that's how many emails are sent and received worldwide every day.
Exchange of written communication at this scale makes follow-up emails to clients all the more challenging.

The reasons for sending follow-up emails are plenty. Whether it is a prospective customer that you are trying to convert or a client who is suddenly not responding, a well-drafted follow-up email can be the game changer.
Effective client communication can make or break your deals. This is why you must perfect your follow-up emails and optimize in a way that catches the recipients' attention. This process can further be enhanced with an effective email management tool that lets you automate the follow-up process, leading to improved client engagement.
Well-crafted emails will help you stay connected with your existing and potential clients and relay your message across. In this guide, we cover the significance of follow-up emails and list the best practices that can help you write professional emails that stand out.
Why – The Need for Follow-up Emails
A follow-up email is typically sent after you have contacted the client in some form. Since you have already reached out to the prospect or customer previously, the purpose of business follow-up emails is to touch base with them.
These emails can serve different objectives, such as delivering reminders or seeking information. They also enable you to maintain contact with clients throughout the buying process, helping you build long-lasting customer relationships.
There are several instances where you need to send follow-up emails to clients.
After sending out a proposal or quotation

During lead nurturing campaigns

Dealing with no responses

Due payment reminders

Post-events and meetings

Reconnect with existing clients
When Should You Follow Up
Timing is the most crucial aspect of following up. Do it too often or too soon, and you come across as pushy. Don't do it at the right time, and you risk losing the client forever.
Quite a debacle, isn't it?
Well, a simple way out is knowing why you are following up. If the reason is time-sensitive (such as collecting information to move a project forward), you must send the email immediately. Otherwise, you should wait for a couple of days, at least, before sending a sales follow-up email.
According to OptinMonster, the best days to send these emails are Tuesday and Thursday.
Make sure that you do not send out follow-up emails on weekends or outside business hours. This can significantly impact your email open rates. Here are the results of an email benchmark-by-day study by Campaign Monitor.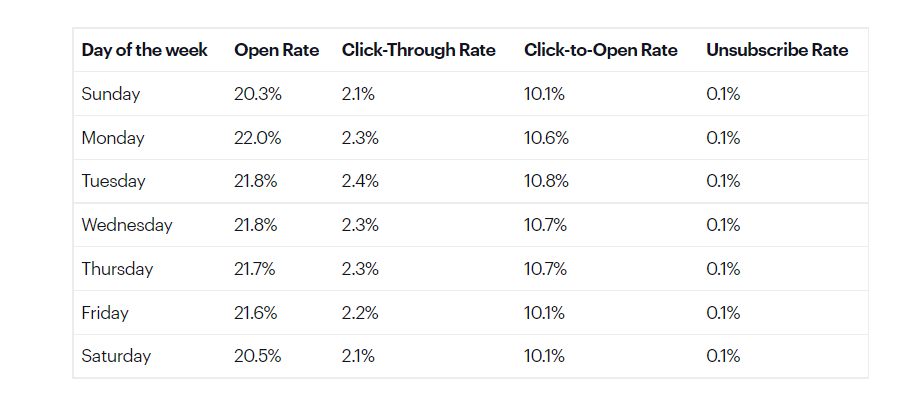 5 Things to Consider Before Sending a Follow-up Email
Still on the fence about whether or not to send that email? Here are some things you should consider:
1. Why aren't they responding?
There may be several reasons why clients are not responding. Your email may have gotten lost and never caught the eye of the recipients. They could be busy, waiting on a sign-off from their supervisor, or simply no longer interested.
In any case, it is best not to assume things or jump to conclusions. Get in touch with clients directly to move things forward or bid them adieu for good.
2. Is the time right?
You must ensure that the timing is right before sharing a follow-up email.
Evaluate the urgency of the matter to determine how long you should wait before reconnecting with the client. If you have requested some important information from clients previously, you can follow up with them immediately. On the other hand, you should wait for a few days after sharing quotes or estimates since they require consultation with team members.
3. Would a call work just as well?
Do you really need to send that customer follow-up email?
If you think a brief phone call would suffice, go ahead with it. Ensure that email is the best form of communication at that point in time before you share a follow-up email. This can be determined based on the preferences of the clients and the objective of your follow-up.
4. Why are you following up?
Have a clear understanding of what you are looking to accomplish before you set out to write a follow-up email. Keeping the end goal in mind will help you determine the right thing to say in your emails.
Make sure that your emails are clear and concise. Since follow-up emails are not the right place to sell your business, it is best to keep the body short and cover all the key points that you wish to take up with the client.
5. Is it time to let go?
It can be hard losing a potential sale. But there is only so much you can do to revive a deal.
If the client remains unresponsive after several attempts to contact them, it is best for you to shut down the account officially. Do so by sending out an email that acts as a final chance for them to respond, if they are interested in continuing business with you.
How to Write Follow-up Emails That Convert
Now that you know the importance of follow-up emails and when to send them, let's take a look at how to craft the most effective emails.
1. Perfect Your Subject Lines
Whether or not your email will be read comes down to the subject line.
A study by Mailchimp shows that subject lines of less than 9 words or 60 characters are likely to perform well.
Optimize your subject lines to improve the open rate of your follow-up emails. Engaging and clear subject lines can save time for recipients and demonstrate value instantly.
Consider the following subject lines, for example.
"Next Steps"
"Pleasure Talking to You [Name of recipient]"
"We'd Love Your Feedback"
These headlines are to the point and clearly summarize what the emails will be about.
2. Have a Polite Tone
Your follow-up emails should be a gentle nudge for clients to take relevant action. This requires you to maintain a polite tone.
The emails should sound like a request and have professional language. Make the emails about the recipients instead of about you. This will increase your likelihood of forming stronger relationships with the clients.
For example:
"I was wondering if you've had a chance to go through the proposal I sent you."
or
"If you're still interested, what would you consider the best step next?"
Including polite statements such as these will help your emails come across as simple reminders with a friendly tone.
3. Keep it Concise & Compelling
The best email follow-up is short and compelling. Since you are only looking to remind the client about a previous interaction, it is best not to write lengthy emails that take up a huge chunk of their time.
Make sure to cover all the important points within a few lines. Most recipients are likely not to read the whole email and just skim through the important information. This is why you have to be really careful with what you choose to include in your follow-up emails.
Ideally, your emails should be between 50-100 words long in order for you to achieve a high response rate.
4. Automate Delivery
With an automated email marketing system, you can create drip email sequences for more effective engagement. This enables you to schedule and deliver follow-ups at the most appropriate time based on the customer's position in your sales funnel.
An automated email management system will also take some busywork off your team. It will ensure that important follow-up opportunities are not missed out on because someone forgot to send out the emails at the right time.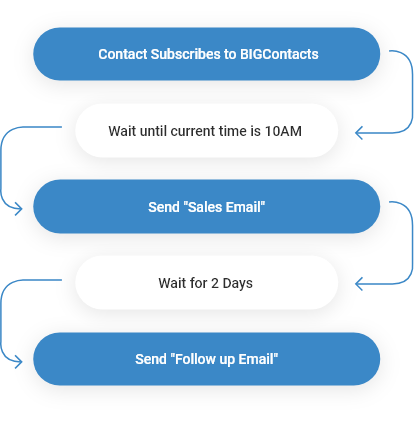 5 Mistakes to Avoid When Following Up
Following are some follow-up email mistakes businesses generally tend to make and how you can avoid them.
1. Stop 'Just Checking In'
72% of people only respond to messages that are aimed directly at them.
This is why you must customize your follow-up emails to cater to the needs of the recipients. Personalization has a massive role to play in effective follow-ups. It makes your clients feel more valued and increases your chances of getting a favorable response. Generic check-in emails may work every now and then. However, to get sure-shot positive responses from clients, you must undertake a personalized approach to engagement.
2. Follow up at the Right Time
How long should you wait before following up?
While there is no definitive answer to this question, the best time to follow up depends on your objective. For instance, you should give your clients enough time to get back to you if the matter requires some deliberation or consultation with their team members. Figure out the best time for follow-up based on the demographics, work schedule, location, urgency, etc.
3. Be Consistent & Purpose-Driven
Your messaging has to be consistent across touchpoints. Make sure to keep your follow-up emails to clients consistent with your brand voice. You can use templates that maintain uniformity in your client communication and save time for your business.
According to Woodpecker, sending 2-3 follow-up emails is the most optimal way. This allows you to be persistent about your needs without being too intrusive. Moreover, your emails must have a purpose that should be stated clearly.
4. Work With Specific Goals
Shooting arrows in the dark won't work well for your follow-up strategy. This is why you must begin by defining relevant KPIs and tracking them routinely with advanced reports and analytics. Monitoring your email performance will help you fine-tune your messages.
Working with measurable goals will help you discover what works well with your target audience and incorporate these insights into your upcoming campaigns.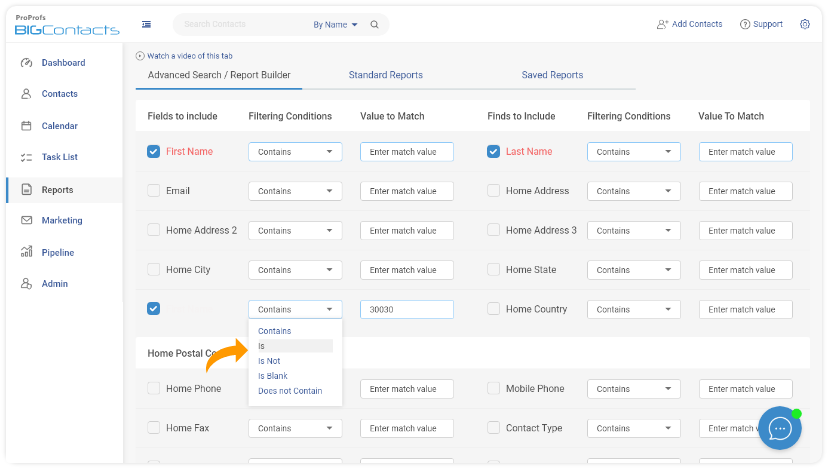 5. Always Include CTAs
All of your emails must include a powerful call to action or CTA. Clearly defining and communicating the next step can help you move things along with ease.
A strong CTA in your follow-up email will encourage the client to advance in their journey by taking relevant action immediately. This will help your conversion rate. Take your email's objective and target audience into consideration when designing the CTAs for your follow-up emails.
Maximize reactions and enhance your brand image by incorporating an impactful email signature CTA that not only inspires action but also amplifies your marketing campaign.
Drive Strong Relationships With Follow-up Email Cadences
A generic follow-up email will only add to the pile of unread emails sitting in the client's inbox and won't do your business any good.
This is why a well-thought-out strategy for delivering the best follow-up email to clients is an absolute must.
Use an effective email management solution such as BIGContacts to craft powerful follow-up emails. Store high-performing emails as templates for frequent use. Automate the delivery of your follow-up emails so they reach clients at the most appropriate time. Such a powerful solution will also enable you to track email performance metrics such as open and click-through rates, enabling you to optimize future email campaigns.
With follow-up emails catering to the client's special needs, you will be on the way to achieving your projected revenue goals. It will also help you build relationships that stay intact for years to come and establish a strong position for your business in the marketplace.
FAQs
1. What do you say in a follow-up email to a client?
Follow-up emails are the opportunity to deliver a friendly reminder to clients that you have previously interacted with. Your follow-up emails should include the following:
An engaging subject line

Clearly defined objective/ reason for following up in the email body

Call to action
2. How do you follow up on emails professionally?
To craft professional follow-up emails for clients:
Offer a proper greeting

Keep your email short

Provide complete context

Include actionable next steps

Find the right time to deliver the message
3. How do you ask a client for a follow-up?
The most effective way to follow up with clients is to send polite and professional emails.
Create a professional message restating an important point from your previous interaction and wait for the right amount of time before sending the follow-up. Define clear call to actions in your emails and use a polite tone to elicit the right response from your clients.