You work long and hard to find the perfect CRM tool for your business.
After countless hours and much deliberation, you find the right tool … but your customer relationships still don't stand the test of time.
Sounds like a bummer, doesn't it?
Well, things can be made easier with a simple CRM process.
Customer relationship management processes can help you identify the most valuable customers and offer top-notch experiences to keep them with your business for years to come. An effective CRM process can keep your sales numbers high and accelerate your business growth.
In this guide, we delve deep into the CRM process and its constituents. We also highlight the role of a dynamic CRM in this process. But before getting into that, let's understand what all the hype about CRM is about.
What Is CRM?
CRM or Customer Relationship Management tools empower businesses to optimize their interactions and strengthen their relationships with prospects and customers. The software stores all the relevant information associated with clients, including their contact details, emails, tasks, social media accounts, notes, and much more, in one place.
Along with enabling contact management, CRM tools also offer task automation, pipeline tracking, and reporting functionality, which enhances the overall profitability of an organization.
These tools bring all data required to foster personalized and meaningful interactions with customers to one place, making it readily accessible to team members across the company.
Customer relationships are the cornerstone of any successful business venture. This is why CRM tools have gained massive popularity among businesses of various industries and sizes. They carry value for all business aspects, ranging from sales and marketing to customer support.
Read More: What is CRM? A Complete Guide To CRM Software
What Is the CRM Process?
The CRM process refers to a long-drawn strategy that covers all the facets of customer relationships. It aims at improving the business's relationships, retention, effectiveness, and profitability.
With an effective process of CRM in place, the sales, marketing, business development, operations, and support departments can function without any friction.
The CRM process involves capturing relevant customer information to understand their needs and expectations. It involves all the steps that a business takes to build long-lasting relationships. It also encompasses all the touch points in a customer lifecycle- from acquisition to support.
A crucial aspect of the CRM process is a robust CRM application. Such a tool helps consolidate all relevant data and manage tasks effortlessly. In the following section, we explore the different types of CRM that you can integrate into your CRM process.
3 Types of CRM
One of the most beneficial aspects of CRM technology is that there is no dearth of options.
The market is brimming with options tailored to the specific needs of businesses from different industries. Such broad-scope implementation is why the CRM market revenue forecast for 2030 is a whopping 157.6 billion dollars.
You can easily find the tool that suits your unique requirements and allows you to build long-lasting customer relationships.
Broadly, CRM tools can be classified into the following types:
1. Collaborative CRM
The main focus of collaborative CRM tends to be on keeping information synchronized across the organization, contributing to more cohesive customer journeys. Collaborative CRM tools help different departments work together to deliver reliable experiences to customers.
A collaborative CRM tool can help:
Bring all customer information to one place, enhancing its accessibility

Enable sales, marketing, and service teams to share information seamlessly

Keep data well-updated across channels

Get a

360° view

of customer interactions and activities

Centralize all files in one place, making them readily available
Source
2. Operational CRM
Operational CRM, as can be understood from the name, facilitate various business operations, contributing to an improvement in organizational productivity. This type of CRM supports all your sales, marketing, and support operations.
Operational CRM streamlines internal processes and communications, so your team can deliver satisfactory customer experiences. Such a tool enables you to:
Access all operations-related information in one place

Automate key sales, marketing, and support functions

Collaborate on tasks and share data with team members effortlessly

Establish

workflows

and sequences with custom triggers

Automate redundant activities to save time and effort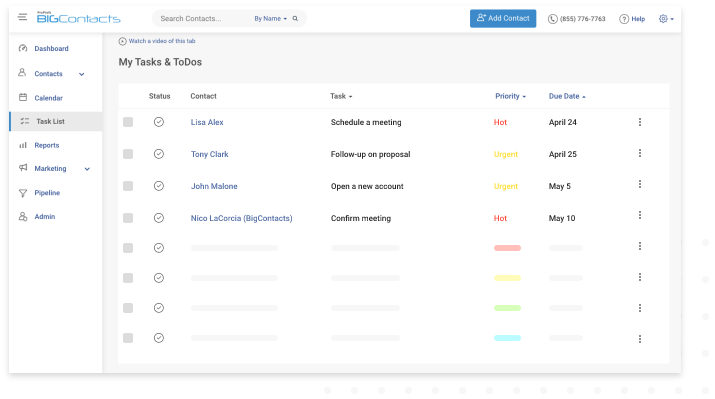 Source
3. Analytical CRM
Analytical CRM tools help gather and leverage collected data for better customer insights. These tools help you make more informed business decisions with functionality such as data warehousing, mining, reporting, and analysis.
Analytical CRM offers the following functionality:
In-depth reports

that track the most relevant business metrics

Better insights into customer needs and expectations

Data-backed business decisions

Range of reporting templates and custom filters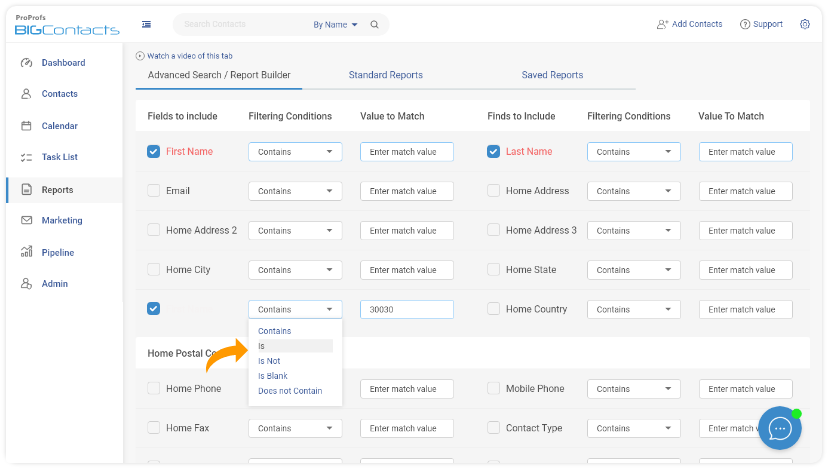 Each of these types has its own benefits and features. While you can opt for standalone tools that only offer one type of CRM functionality, it is also possible to go for a comprehensive solution that covers all the bases.
For instance, you can opt for a powerful solution like BIGContacts, which offers all the features mentioned above. This keeps you from missing out on any critical CRM functionality or having to manage a range of systems.
5 Steps of the CRM Process
An effectively planned and executed process of customer relationship management helps you grow your sales exponentially. It allows you to boost retention by driving more meaningful interactions and experiences.
The process of CRM encompasses the entire customer lifecycle- right from garnering their attention to providing post-purchase support.
Following are the key CRM process steps:
1. Creating Brand Awareness
How potential customers perceive your business is bound to have an impact on their long-term relationship with you.
Moreover, 46% of US customers are likely to spend more on a brand they trust.
This is why the first step of the CRM process cycle is to enhance your brand awareness.
You can use various channels to gain your target audience's attention, ranging from cold emails to social media campaigns. Discover who your most relevant audience segments are and then craft engagement strategies around these buyer profiles. This will allow you to capture the attention of the most valuable prospects and help grow your lead list considerably.
How a CRM tool can help:
Discover which marketing channel works well with your target audience and store relevant insights in your CRM system for future reference. You can keep track of the source and preferences of high-quality leads to deliver optimized experiences. The tool also helps you analyze historical data to identify strategies that help boost your conversions.
2. Acquiring Leads
Once you have a powerful brand awareness strategy in place, you must focus on generating high-quality leads for your business.
There are several lead generation strategies that you can use, including:
Lead forms on websites

Retargeting ads

Personalized email campaigns

Live chat on websites
Offering value to prospective customers encourages them to take action that converts them into leads that can be pursued by your sales teams.
How a CRM tool can help:
Use a CRM tool with lead capturing and enrichment capabilities to grow your prospect list. Gather the necessary information from your website visitors using webforms and store them in your CRM system automatically. You can craft and execute multi-channel engagement campaigns from the CRM tool and analyze their results to improve future performance.
Read More: Lead Generation Through CRM Software: Everything You Need to Know
3. Converting Leads to Customers
The next step of the CRM process involves converting the leads into profitable customers.
This requires a powerful, personalized, and automated engagement strategy. To nurture your leads into sales, you must deliver effective solutions that demonstrate the value in associating with your business.
While there could be several approaches to customer engagement, at its core is fostering a trusting relationship. Timely follow-ups, personalized offers, and well-optimized email campaigns can help you encourage your leads to make purchases.
How a CRM tool can help:
Score leads to focus on the most important prospects. Stay on top of all interactions with customers and never miss a meeting. Use a visual sales pipeline to track opportunities. Craft multi-step drip email campaigns to follow up with prospects at the most relevant time. Segment leads based on their data, interaction history, and other attributes. Personalize your outreach based on the data stored in the CRM system to gain trust and loyalty.
4. Providing Customer Support
The CRM process also entails post-sale interactions that boost retention. Powerful customer support can strengthen your customer relationships. It can also help you get more business since satisfied customers tell an average of 9 people about a positive support experience.
Therefore, you must focus on resolving customer issues promptly and delivering omnichannel support. Another crucial factor of an effective support experience is maintaining a proper database which saves the customer the trouble of repeating their issues to different support executives over and over again.
How a CRM tool can help:
Deliver reliable support through the most preferred channel of communication to your customers. View tickets and previous communication history in the same place to deliver more relevant and personalized solutions. Save your support executives time by making help desk and contact data readily available from the same platform.
5. Driving Upsells
The last step of the CRM process is keeping customers loyal, so they spend more money on your business. In order to turn one-time buyers into repeat customers, you must deliver top-notch experiences that prove to be satisfactory on all grounds. This will help you drive more upsells and cross-sells for your business.
Use CRM data to identify opportunities for pitching more expensive products to existing customers. Suggest higher-value solutions to your customers based on their needs, preferences, and interests.
How a CRM tool can help:
Track the purchase history, buying behavior, needs, preferences, and pain points using the CRM database to drive upsell opportunities. Deliver personalized recommendations to clients based on their previous purchases. Identify your most valuable customers and stay connected with them using automated follow-ups and reminders.
5 Benefits of the CRM Process
Did you know that CRM can boost your lead conversion rate by up to 300%?
It doesn't end here.
There is a range of benefits that CRM offers. Some of the most advantageous aspects of an effective CRM process are listed below:
1. Boost in Sales
You are likely to close deals quickly when you offer personalized solutions to prospects. A CRM tool lets you keep track of preferences so that you can optimize your business outreach.
Moreover, it allows you to nurture leads effectively and track their movement through the sales pipeline so you can discover any possible roadblocks. CRM lets you identify actions that improve sales outcomes, allowing you to fine-tune your selling strategy.
2. Improved Team Collaboration
CRM process enables your organization to come together and make strides toward accelerated business growth.
It makes it easier to share ideas, information, and files. All the team members can log in to the central database and access updated contact records anywhere, anytime. Furthermore, CRM tools offer custom user roles, which brings more transparency to the organization.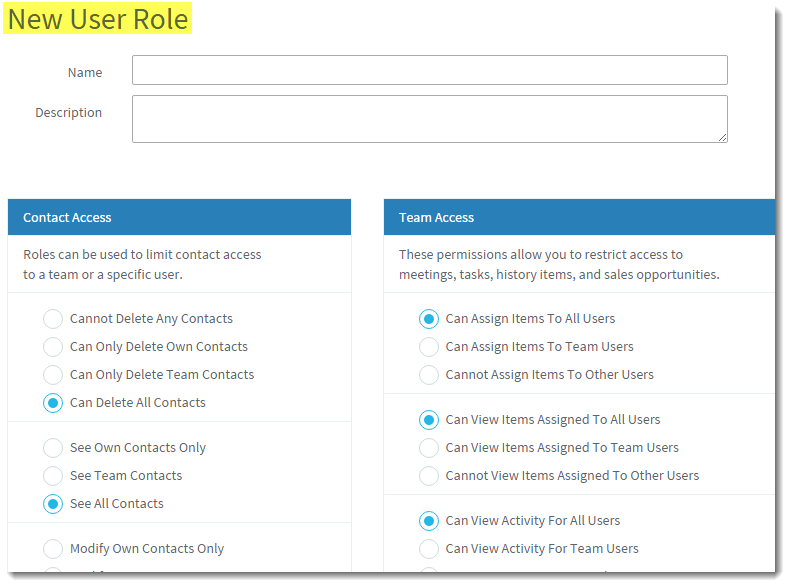 3. Better Data Organization
Clean CRM data can help you deliver more reliable and effective solutions to your clients. CRM process involves ensuring the integrity of the data stored in the system, thereby keeping your business's credibility intact.
You can use the CRM process to access well-updated contact records, including all the previous communications, so you can offer more consistent service to your customers.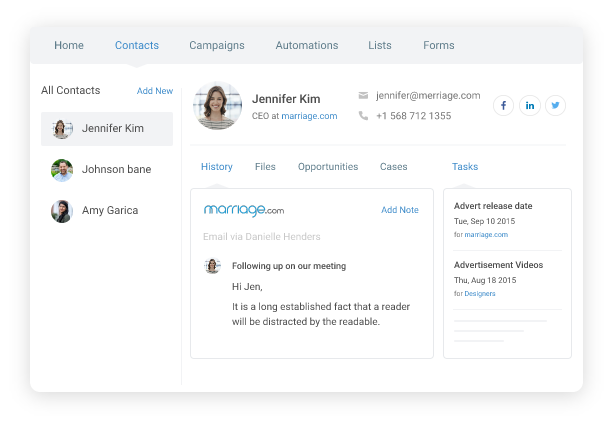 4. Automate Routine Tasks
Another key advantage of a CRM process is the amount of time you save. A robust CRM tool with powerful automation capabilities can save you from performing repetitive tasks manually, thereby allowing you to devote more time to building stronger connections with customers.
You can establish automated workflows with custom triggers that keep things moving forward with little to no manual intervention.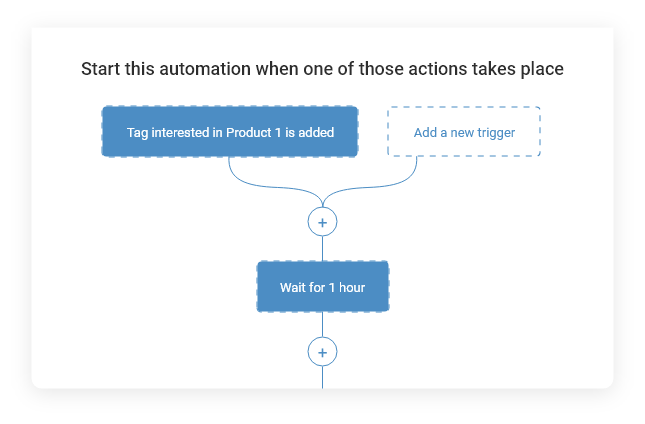 5. Accurate Business Analytics
Gaining visibility into the effectiveness of your efforts allows you to optimize your future endeavors. CRM process involves making use of business data to make accurate predictions and forecasts.
Moreover, the powerful business intelligence capabilities of CRM tools enable you to gather insights into improving the overall customer experience. It helps discover and eliminate possible hurdles from custom journeys, empowering you to grow your business.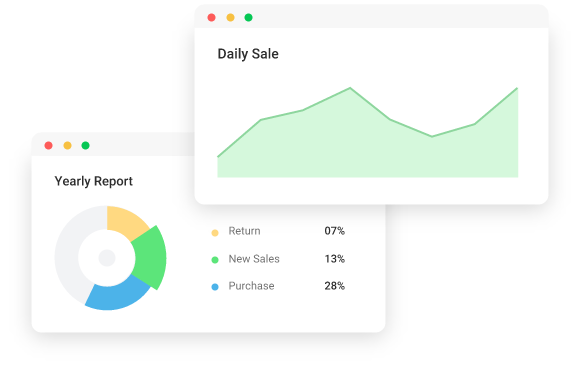 Read more: Benefits of CRM: Why CRM Is Important for Your Business
Strengthen Relationships With an Effective CRM Tool
To make the most of your CRM process, you need to invest in the right software.
For example, a robust application such as BIGContacts can not only help you implement your CRM process but also drive its continuous improvement. The tool allows you to gain more visibility into customer relationships and analyze the results of your ongoing efforts. You can leverage these insights to optimize future campaigns and make the most of your customer relationship management efforts.
Besides offering a powerful reporting module, the CRM application can save you a boatload of time by automating repetitive tasks. This empowers you to devote more time to engaging with customers and building deep-rooted relationships.
Choose an application that aligns with your business objectives and is easy to use. The right software will make your CRM process more effective by delivering unbeatable experiences at every customer journey stage. Adding to that, it will help you grow your business and strengthen your position in the marketplace.