Whether you are a well-recognized enterprise or an upcoming startup, a CRM strategy can play a pivotal role in your growth.
In the absence of such a strategy, things can quickly go haywire, leading to your CRM implementation going obsolete. To avoid this, you must invest your time and resources into building an effective and scalable strategy.
While most businesses fail to pay attention to it, a dedicated and well-defined strategy can work wonders for your business. It empowers your team to utilize the CRM tool efficiently and drive more conversions.
In this blog, we answer the question- "what is CRM strategy" and list the most effective strategies that can be used. We also break down the process of building a custom strategy for your enterprise. Let's get right into it!
What is CRM Strategy, and Do You Need One?
With the global market valued at $120 billion, CRM is now an indispensable aspect of businesses that strive to delight their customers.
CRM or customer relationship management primarily focuses on building long-lasting relationships with prospects and customers. It involves the software as well as techniques implemented for its effective usage.
Before getting into the detailed process of creating CRM strategies, let's look at what these strategies mean and why they matter.
A CRM strategy refers to an organization's plan of forming stronger customer relationships by implementing and utilizing a CRM system. It aims at delivering exceptional customer experiences that, in turn, enhance revenue.
Such a well-defined CRM approach enables you to execute a CRM system to grow your sales.
CRM strategy streamlines your customer relationship management efforts, enabling you to be more productive with your time and resources. It works as a plan of action to use the CRM software efficiently.
Setting up a CRM strategy is essential because:
It helps you optimize and monitor the performance of your CRM system.

It enables you to understand customer needs and deliver upon their expectations effectively.

It provides you the opportunity to discover opportunities for growing your business.

It helps you retain more customers and build

brand loyalty

.

It boosts collaboration between your sales, marketing, and customer service departments.

It helps identify the most profitable leads and prioritize them.

It empowers you to make data-backed business decisions.
What Makes a Good CRM Strategy?
Before getting started with a CRM strategy, you need a thorough understanding of your business plan. By knowing what your business aims to accomplish, you can define a strategy that complements your existing operations well.
To create an effective customer relationship management strategy for your business, you must:
Know your customer journeys –

This knowledge can help you create a strategy that complies with the needs and wants of your customers. Map out the entire process that turns a lead into a customer.

Consider the size of your business –

This allows you to model your strategy around scalability. It saves you from frequently modifying your processes as you expand your operations.

Be aware of your buyer's persona –

Know what makes an ideal customer for your company and what value you can offer to them.

Gather relevant customer data –

Collect relevant data from your prospects and customers to build your database. This is a fundamental step that affects your CRM performance.

Invest in the right tool –

Take your time to analyze different solutions available on the market. Find the tool that ticks all the boxes for your organization.

Have clear business goals and objectives – Lastly, work with the end goal in mind. The best CRM strategy can only be created when you set clear objectives and expectations from its implementation.
Formulating a CRM Strategy: Step-by-Step Process
Your strategy must involve the best customer relationship management tactics to nurture and maintain customer relationships.
However, there isn't a one-size-fits-all strategy that can be used by all businesses. This is a result of the varying requirements and objectives of every enterprise. You must tailor a customer relationship management strategy that meets the unique needs of your business.
Here is a step-by-step process for creating this strategy:
1. Understand Your Goals
The first and foremost step in creating relationship management strategies is to know your goals. With an understanding of what you aim to achieve from the CRM system, you can easily create a well-optimized strategy that matches your requirements.
For example, a business that is just starting out will have customer acquisition and marketing as its top priority. On the other hand, seasoned players in the industry strive to incorporate next-generation technology and deliver more delightful experiences to retain customers. Consequently, both these organizations will have different ideal CRM strategies.
2. Identify Challenges
Analyze your existing strengths and core competencies, as well as shortcomings.
Just as important it is to understand your future goals is taking the time to identify current challenges. For instance, a small business might be working towards keeping its customer data organized, while a large enterprise may be struggling to streamline operations across multiple business divisions.
Identify what unique challenges are faced by your team and incorporate their solutions in your CRM plan.
3. Visualize Buyer's Journey
Think from the buyer's perspective.
With a clear idea of who your customers are and what steps they go through when making a purchase, you can create a remarkable strategy. Such a strategy will take into account every gap or roadblock that a customer may possibly encounter.
Map out customer journeys and use the data collected in the past to identify stages that lead to the most lost opportunities. Use this information to craft a strategy that strives to overcome these challenges.
4. Identify Value Proposition
What is the unique value that your business can offer to the customers?
Clearly defining your value proposition can significantly improve your CRM strategy. For this, you must understand your business and its offerings in great detail. Know what products and services your company offer and how they impact clients.
Use this information to create a consistent brand message and tone. Your CRM strategy should align with your business objectives. Another crucial step is to be aware of your competitors and market trends. Understand your positioning in the marketplace and modify your strategy accordingly.
5. Select the Right CRM
Coming to one of the most critical steps of creating customer relationship management strategies– finding the right tool.
Before investing in any CRM application, you must consider how well it aligns with your business objectives.
Here are some ways to select the right CRM application for your business:
Analyze business requirements.

Set clear expectations.

Compare top-rated tools.

Look for reviews and ratings.

Opt for a free trial.
Read More: How to Choose a CRM in 24 Ways (Step-by-Step Checklist + Free Guide)
6. Have an Implementation Plan
Your CRM strategy should constitute an effective implementation plan.
To obtain more benefit out of the CRM system, you must ensure that it is implemented effectively. This includes adequate training, data migration, and a well-defined usage strategy.
A proper implementation plan can help customize the CRM system according to your business objectives. You can maximize the efficiency of your implementation by taking feedback from your team members and including them in the strategizing process.
Read More: 11 Best Implementation Practices for CRM Success
7. Track Performance
Regular reviews allow you to maintain and optimize business processes. The customer relationship management plan should be no exception to this. Once your strategy is ready and working, you must conduct routine reviews to monitor its effectiveness.
Set and track relevant KPIs to ensure that the strategy aligns with your business goals. These reviews should be a routine process that allows you to improve the productivity of your CRM system.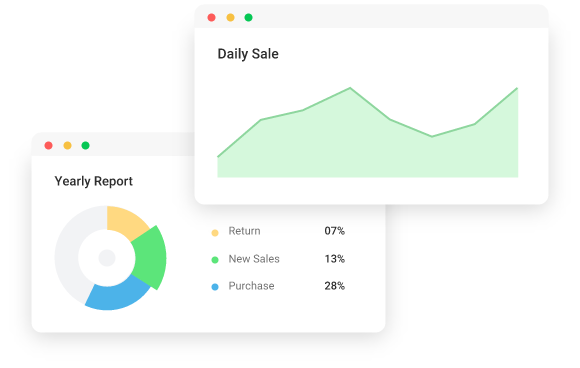 Read More: 12 CRM Best Practices That Every Small Business Needs to Know
10 Best CRM Strategies for 2023
CRM strategy focuses on building and strengthening customer relationships. It helps businesses acquire and retain more customers in order to maximize profits. Such a strategy can lay the foundation for business expansion and success by leveraging a CRM system for stronger relationships.
Here are some customer relationship management strategies that can be adopted for improving your CRM system's effectiveness.
1. Customer Tracking & Personalization
This one goes without saying. For the reliable performance of your CRM system, you must know your customer well.
CRM allows you to be aware of the needs and expectations of the customers you are catering to. This can help you adapt your processes in a way that benefits the customers the most.
Personalization occupies a central position in an effective CRM strategy.
By sharing information that is customized to meet the needs of the recipients, you not only help them make an informed decision but also build trust and credibility.
Visualize how a prospect moves through your sales process with your CRM system. Use this data to identify what actions drive conversions and incorporate them into your business strategy.
Use behavior and preference tracking to make your interactions much more targeted and relevant. Tracking customer activity can provide you with appropriate feedback and insights into improving the performance of your CRM system.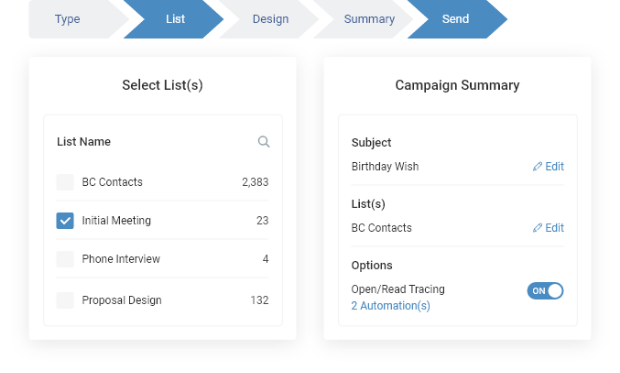 2. Devise an Effective Content Strategy
"Content is king."- Bill Gates
While you may have heard this phrase one too many times, the importance of content marketing cannot be overstated enough.
Content marketing can generate more leads than traditional marketing methods despite being 62% less expensive.
Your CRM efforts can only produce the expected results when you include relevant content that supports customer journeys. Make sure that this content matches your buyer personas and journey stages. This can help you deliver the right message to the contacts at the right time.
Maintaining a channel of informative and engaging content for your contacts can significantly increase your conversion rate. You can include various content types, including white papers, guides, videos, blog posts, etc.
3. Focus on Re-Engagement
The probability of reselling to an existing customer is 60-70%.
Customer engagement should therefore be an important component of your CRM plan.
Include loyalty and reward programs to show your appreciation for customers. This can foster loyalty and provide you with upselling opportunities. Incentivizing your customers will keep them coming back to your business.
For instance, BIGContacts displays the upcoming birthdays, previous interactions, and other personal details, helping you deliver personalized messages and offers to your customers. Additionally, you can use the CRM system to track your customers' purchasing behavior. This data can help you offer relevant offers and reward schemes to increase customer retention.
4. Keep CRM Data Clean
While you may collect huge volumes of customer data, it can all go obsolete if it is not managed and updated correctly. Therefore, data deduplication should be a part of your CRM strategy. This can maintain the integrity of your CRM database, helping you deliver top-notch services to your customers.
Perform regular cleanups to maintain the effectiveness of your CRM system. This can help you avoid any mistakes or inconsistencies. Get rid of leads that have gone cold and are of no utility to your business. Additionally, ensure that the data stored in your CRM system is up-to-date. This ensures that you do not offer irrelevant information to your customers and risk any loss of credibility.
Regular audits make for an effective strategy to keep the CRM tool working optimally. Define clear objectives for these audits and create a proper maintenance schedule. Adoption of these practices can keep your database free of errors and suitable for use at all times.
Read More: How to Keep Your CRM Data Clean: 10 Best Practices to Get Started
5. Maintain Business Health with Reporting & Analytics
Reporting and business analytics play an integral role in CRM effectiveness.
A strategy that utilizes reports provides deeper visibility into business data. This can be leveraged to make more accurate business decisions and propel the organization's growth. These reports can provide a better understanding of your business processes and team performance.
To understand this better, let's take a look at the reporting module of BIGContacts.
As you can see, the tab allows you to customize the report to include the fields that carry the most significance. This enables you to take a closer look at your business data.
The analytics capabilities of your CRM tool can help you discover trends and identify opportunities for growth. Make more accurate business forecasts and decisions by utilizing the available data efficiently.
6. Track Customer Queries
Customer service plays an integral role in establishing a brand's repute and enhancing customer satisfaction. The speed of issue resolution and the quality of support offered greatly impact your customer retention levels.
Build a customer service relationship management strategy to retain more of your existing customers. This requires you to include automated alerts, canned responses, and quick resolution in the plan. Make sure that customers receive prompt and reliable responses to their queries. By handling customer requests and complaints diligently, you can acquire a strong foothold in the marketplace and grow your business consistently.
For instance, a CRM tool like BIGContacts unifies customer tickets with their contact information. This allows your support team to deliver customized solutions tailored to fit the specific needs of the customer. You can also track and manage support tickets without switching between various applications. Additionally, such unification helps different business divisions work together seamlessly, contributing to more cohesive customer journeys.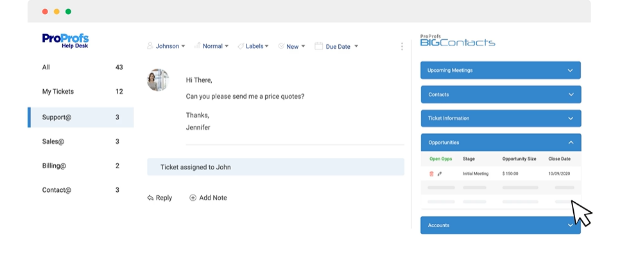 Read More: What is Proactive Customer Service and How to Implement It?
7. Keep the Conversation Going
To create strong customer relationships, you must focus on staying engaged with prospects and customers. For this, you require a CRM strategy that focuses on data synchronization between multiple platforms. This makes it important to invest in a CRM application offering multichannel engagement. Also, make sure that you choose a CRM system that offers mobile access to manage communications from any remote location.
Keeping the conversation going across multiple channels, including emails, calls, live chat, social media platforms, etc., contributes to improved customer experiences. It also enables you to connect with customers using the channel that they prefer to use.
Therefore, multichannel engagement is a powerful strategy that streamlines all communications and helps you drive more meaningful conversations with prospects and customers.
8. Employee Training & Onboarding
Any CRM system is ineffective if its users are not competent in leveraging it.
Employee training is a critical CRM strategy that is highly consequential. It is essential for producing the desired business outcomes, and its lack thereof can be extremely damaging for your profitability. If the users are not trained properly, they cannot utilize the tool to its full potential. Therefore, include adequate training in your strategy to get the maximum benefit out of it.
Furthermore, retraining should also be a part of your CRM plan. This can keep your team members current with the recent trends and developments in the industry.
Create a knowledge base for documentation that can be accessed by team members at any time. Choose a CRM vendor that offers onboarding assistance and training resources. These practices can help ensure that your CRM system is being put to good use.
9. Get on Social Media
There is no denying the power of social media in driving engagement and building a trusting customer base.
Therefore, a strategy centered around social media engagement makes complete sense. The inclusion of social media engagement in your CRM strategy can significantly boost your bottom line. It can help you stay closely connected with your prospect and customers to control the narrative.
Social media is an extremely powerful channel for boosting engagement and enhancing personalization. You can use this integration to control the conversation about your business on various social media platforms. It allows you to discover insights into customer behavior and use it to personalize your offerings.
For instance, BIGContacts automatically enriches your contact profiles with their social media accounts, helping you manage all interactions from a single platform. It also allows you to analyze your company's position and understand customer sentiment.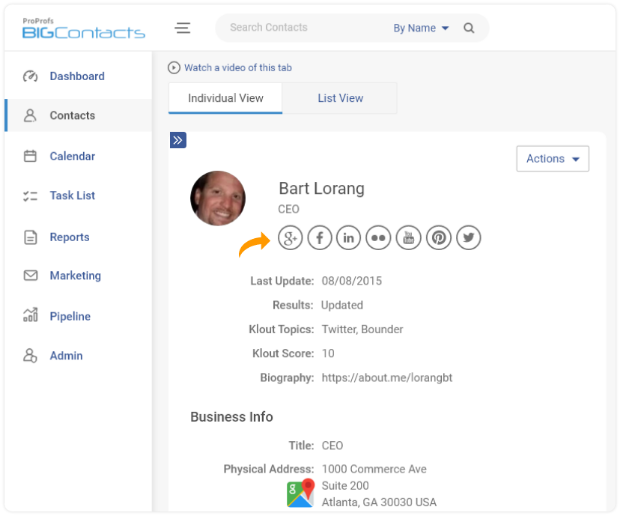 10. Automate Processes
An effective way to get the most out of the system is to focus on automation. Such a strategy is much more effective and time-efficient. It frees up time for other critical activities such as communicating with customers.
Automation also makes for more delightful experiences by helping you reach out to customers at the right time. You can set up automated actions to be performed based on the actions taken by prospects and customers. This ensures that things keep moving forward at all times and there are no gaps in customer journeys.
It helps you minimize errors and deliver more consistent services. By automating time-consuming tasks that have to be performed routinely, you can save considerable time and cut down costs. Make sure the CRM tool you invest in allows you to automate administrative tasks. This can improve organizational productivity and help you foster stronger relationships with your customers.
Using BIGContacts to Create a Remarkable CRM Strategy
A critical aspect of creating your CRM strategy is to invest in the right software.
CRM software and strategy are mutually interdependent. This means that any compromise with either affects the other. Therefore, even the most well-thought-out strategy can be unsuccessful if you invest in the wrong CRM software.
While there is no dearth of CRM service providers, not all of them can work well for your business.
Every enterprise has unique needs and requires a tool that can be tailored to meet those needs. BIGContacts tops the list of such flexible tools that offer extensive customization and reliable performance. It is a highly effective solution for growing businesses to form strong relationships and bolster credibility in the marketplace.
BIGContacts keeps all your contact data stored in and accessible from one place. This can help you optimize your strategy by being well aware of customer needs and expectations. BIGContacts has an intuitive interface that further improves user adoption. The tool has an affordable pricing structure, and its scalability helps it grow with the business's expansion.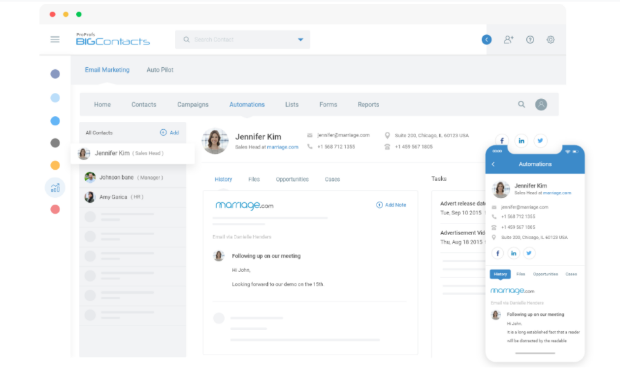 Here are the most important features of this tool that make it a reliable partner for your business.
Automation
BIGContacts offers powerful automation capabilities, allowing you to cut down the costs, time, and efforts spent on repetitive tasks. Furthermore, the tool can be used to automate task reminders to improve productivity.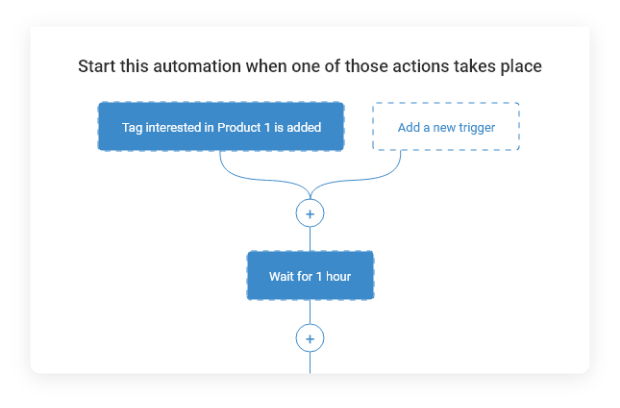 Email Marketing
BIGContacts offers marketing automation features to help you boost customer engagement and lead nurturing. Use the tool to set up drip campaigns and deliver the most relevant content to your contacts based on their preferences and current position in the sales funnel.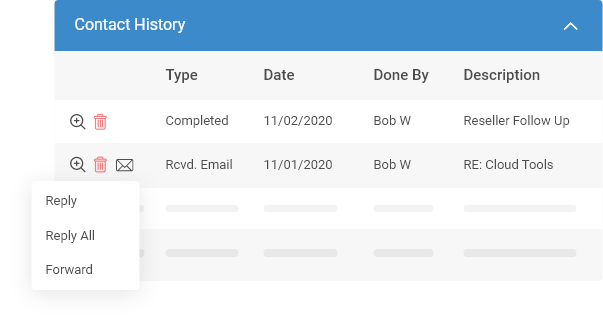 Mobile Access
BIGContacts offers a mobile version of the CRM. This can help you manage your customer relationships on the go. Mobile access allows you to keep your data well-updated and never miss out on important deadlines.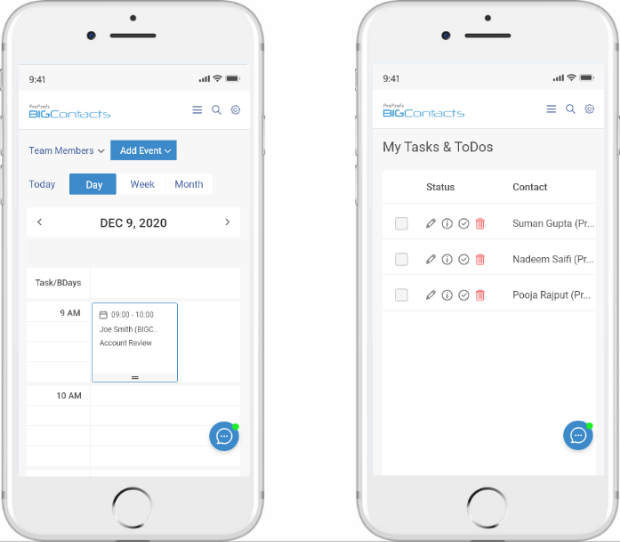 Smart Reports
BIGContacts offers intelligent reports and powerful analytics. This can help you track your business performance effortlessly and gather insights to make improvements. You can choose from standard templates or build custom reports to track the most important metrics.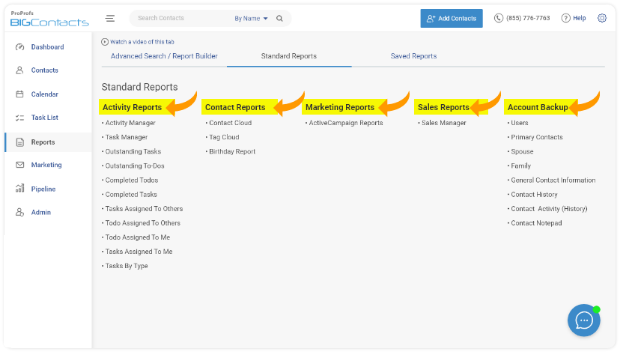 Team Collaboration
BIGContacts offers various features that can foster team collaboration and improve organizational efficiency. Team members can share important information and collaborate on tasks easily. The tool can boost transparency and accountability in your organization.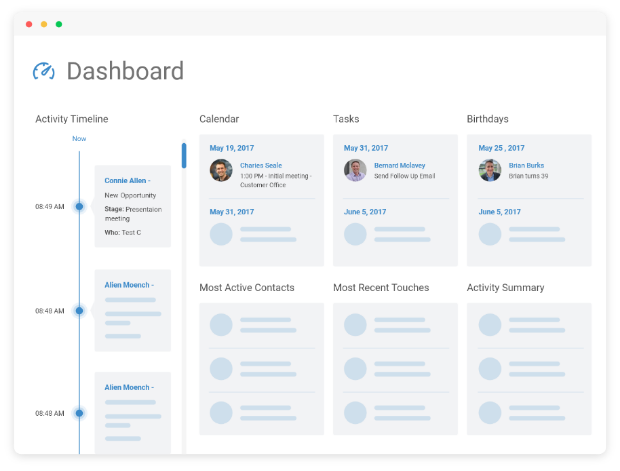 CRM Strategy – The Key to Enhanced Profitability
Crafting a CRM strategy might be a bit time-intensive, but it is highly rewarding.
Outlining your goals, defining a clear strategy, and routinely tracking its performance can have a positive impact on your bottom line.
The step-by-step process of building this strategy mentioned above can help your business build long-lasting relationships. You can adopt any of the strategies listed in this article to enhance the productivity of your CRM system.
The overall profitability of your CRM is a cumulative result of the software you choose and the techniques you employ. Therefore, take time to identify the tool that would suit your organization's needs and devise a clear strategy for its usage. Invest in a powerful tool such as BIGContacts that offers a broad range of features to enhance your customer relationships. This can contribute to an improvement in your business performance and profitability.