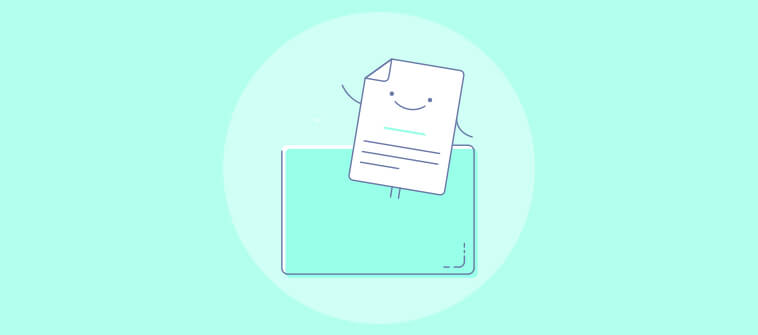 CRM and project management software are two essential tools for enhancing organizational productivity and meeting customer needs.
Tailored and satisfactory customer experiences play a pivotal role in helping a business succeed in the current environment. With the competition fiercer than ever before, every enterprise seeks avenues to enhance its offerings to its clients.
In this situation, having the right tech stack is undoubtedly the most important thing for a business to ensure its success.
While most enterprises use separate CRM and project management solutions, several all-inclusive solutions offer both functionalities in one tool.
In this blog, we highlight the significant differences between CRM and project management and how combining the two can be beneficial for your small business. We also list the best CRM software for project management that can work well for your enterprise.
What is Customer Relationship Management?
"There is only one boss—the customer. And he can fire everybody in the company from the chairman on down, simply by spending his money somewhere else." – Sam Walton, Walmart Founder.
Customers, undoubtedly, are the heart and soul of any enterprise.
Focusing on customer relationships has always topped the priority list of businesses, irrespective of their industry. Customer Relationship Management (CRM) tools enable businesses to take control of their customer interactions and optimize them for better retention. By strengthening engagement with prospects and customers, CRM boosts productivity and helps propel business growth.
Fundamentally, CRM functions as a data repository that can help improve interactions with clients, contributing to better sales outcomes. CRM helps nurture relationships and reduce churn by creating delightful customer experiences.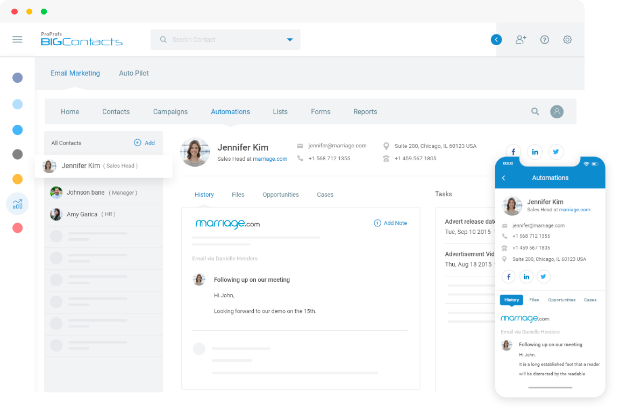 What is Project Management Software?
Paying attention to employees within the organization is just as critical as focusing on customer interactions.
Project management software empowers businesses to plan, schedule, delegate, and manage their tasks efficiently. PM tools are designed to assist teams in meeting deadlines and offering a final product that meets customer expectations in all regards. Such tools allow teams to effectively plan and carry out projects while reducing costs and incorporating customer feedback.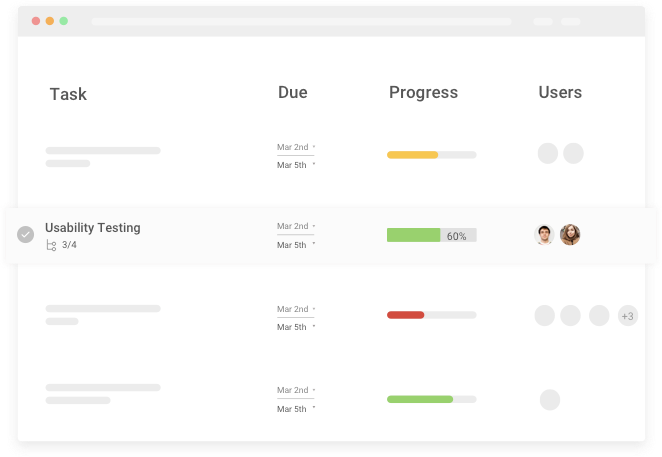 The following functionalities offered by a project management tool make it a necessity for businesses:
Planning
Effective planning is highly critical for ensuring the successful competition of projects. Without proper planning, your operations can run erratic, putting your credibility at stake. To avoid this, you can use a project management tool to allocate resources, sync activity calendars, and assign tasks. It can also help set deadlines and assign different priority statutes to tasks.
Collaboration
Project management helps bridge the communication gap between various team members and departments. It enables easy sharing of files, ideas, data, and updates. Team members can easily meet targets with a centralized place to discuss and execute ideas. Task comments and notifications ensure that everyone stays on the same page.
Monitoring
Project management also offers more visibility into which team member is working on what account. It can be used to track timesheets for each team member and determine billable hours for clients. By evaluating progress routinely, it can help ensure that deadlines are met. Additionally, such a tool offers instant alerts, helping you stay updated with the status of your tasks at all times.
Similarities Between CRM & Project Management Software
To understand the advantages of combining CRM and project management, you must discover how these two software systems are similar. This can help you realize how CRM and project management tools can complement each other to produce better business outcomes.
Here are some of the similarities between project management software and CRM tools:
Both the tools aim at improving

customer satisfaction

by delivering delightful services.

Both the tools offer some way of

managing projects

.

Both tools require

tracking customer data

and needs.

Both the tools

track and manage communication

within and outside the organization.

Both the tools have provisions for

scheduling and tracking tasks

.
Differences Between CRM & Project Management Software
While CRM is more customer-centric, project management focuses more on employees and company resources.
Customer relationship management involves collecting customer information and utilizing it to deliver more personalized and delightful experiences. The key features of CRM include:
Contact management

Marketing automation

Sales tracking

Customer support

Reporting & analytics

Task management

Communication tracking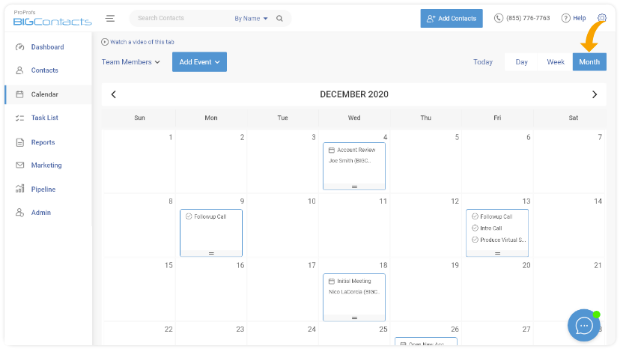 On the other hand, project management is dedicated to scheduling and delivering projects within the stipulated time and budget. The main functionality of a PM tool includes:
Project planning

Resource allocation

Milestone tracking

Portfolio management

Risk mitigation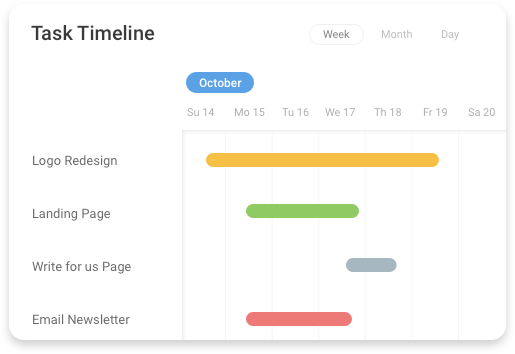 CRM focuses on the business's long-term growth by strengthening customer relationships and improving brand image. On the other hand, project management focuses on the start and end dates of individual projects. Additionally, the primary objective of CRM is to maintain customer relationships, while that of project management software is to streamline workflow to boost productivity and reduce costs.
What is CRM & Project Management Software?
CRM and project management have their fair share of similarities and differences.
But is there any way to get the best of both worlds?
Absolutely!
CRM and project management can work together seamlessly. A full-featured tool that brings both of these together can have a considerable impact on your bottom line.
Project management helps deliver high-quality solutions to clients on time. This, in turn, contributes to enhanced customer satisfaction and improved retention. CRM can offer insights into customer behavior that can be used to improve customer experiences. This overlap goes on to demonstrate how a CRM project management software functions.
Such a tool can help manage projects and customer relationships from the same place. It can enhance collaboration within the organization, avoiding any unnecessary delays. Additionally, CRM and project management technology integration helps deliver more relevant services to the clients based on their preferences.
Here are some of the functionalities of project management and CRM software that can help businesses:
Make projects more customer-centric

Visualize and track customer journeys

Ensure timely deliverables

Manage budget

Use customer data to improve project quality

Define user roles and boost accountability

Set-up automated actions

Track tasks and resources

Measure progress
Essential Features of a CRM Project Management Solution
The CRM for project management that you choose to go with should be simple and flexible. It should be uncomplicated to use and should have an affordable pricing structure. Additionally, the tool should offer customization to help you adapt it according to your requirements.
Some of the features that a project management CRM must have include:
Task Management
Task management is a most critical aspect of a CRM and project management system. With clear activity timelines and to-do lists, you can easily track the progress of all business operations. Adding to that, you can use the tool to create and manage workflows with recurring steps to save more time.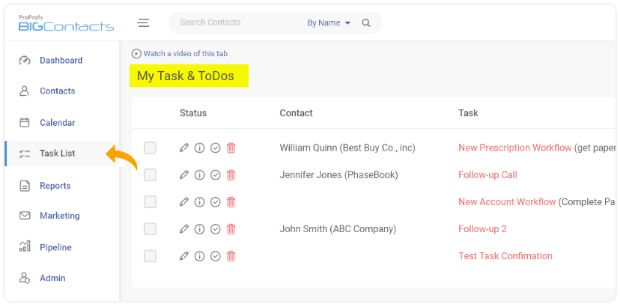 Sales Pipeline Tracking
A sales pipeline enables businesses to keep track of every sales opportunity. This visual tracking system makes it easy to stay on top of all leads and monitor their progress throughout the sales process. Tracking lead flow makes it easy to complete projects on time.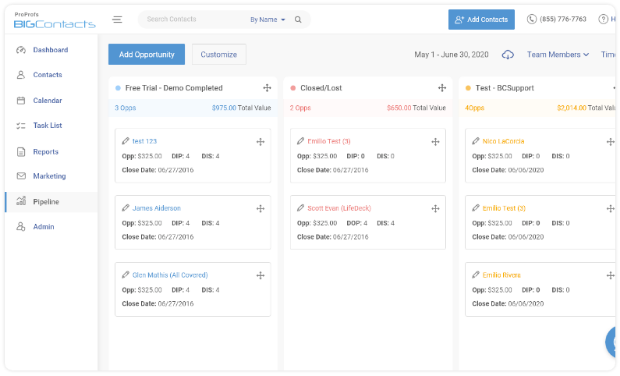 Automation
The tool should allow you to set sequential actions based on triggers and automate repetitive tasks. Such automation can help you complete projects without any delays.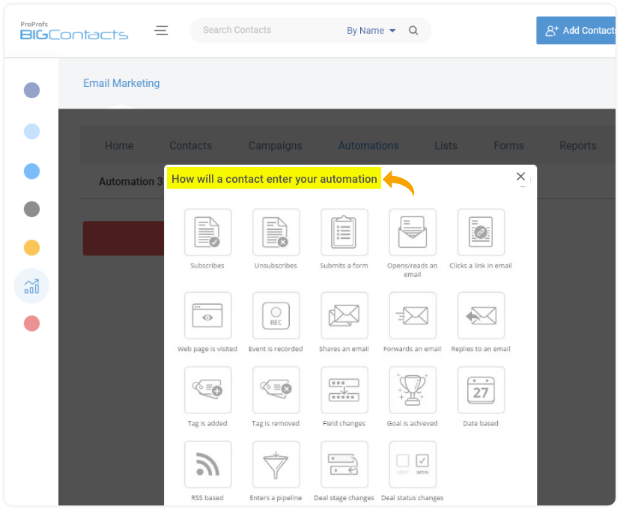 Alerts
It is important for a customer relationship management project manager to be well-updated with how the tasks are coming along. Therefore, you must only choose a tool that offers instant alerts and notifications. This can help account managers ensure that things are in line with their plans.
Milestone Tracking
A tool with milestone tracking provides you with detailed oversight of your tasks. With visual representation such as Gantt charts, you can easily view tasks, their subtasks and monitor progress. A comprehensive view of project timelines can help manage even the most complex projects effortlessly.
Collaboration
Choose a solution that makes it easy to collaborate with other team members and enhance communication with clients. A powerful project management CRM tool allows you to share updates with team members and seek feedback or approvals from clients from the same place.

User Roles
Another essential feature that a CRM project management system must have is custom user roles and permissions. To prevent any threat to the confidentiality and integrity of data, it is important to clearly define who has access to it. With custom roles and permissions, you can limit the access every user gets. This can also help you include clients in the project management without worrying about any loss or breach of your data.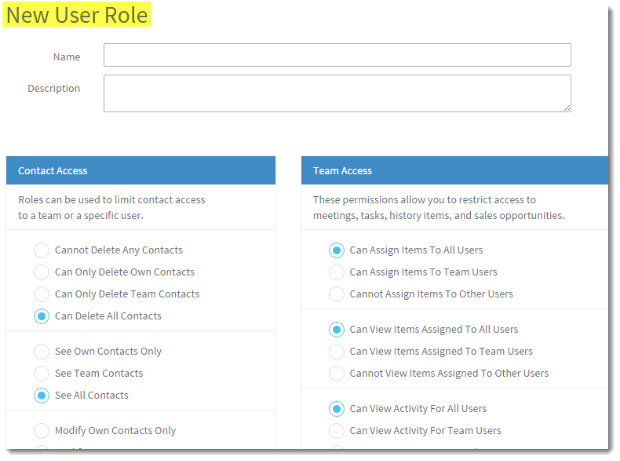 Reporting
With CRM reporting and analytics, you can get real-time insights into how your business operations are performing. These reports can help you identify possible roadblocks and discern ways to improve your overall performance. CRM project management reporting allows you to make data-driven business decisions that can help accelerate your growth.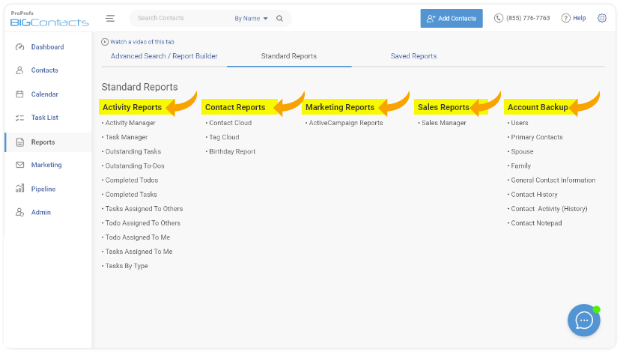 Integrations
Lastly, be mindful of how easy it is to integrate the tool with other business applications. This can help you integrate the tool with your existing business systems without disrupting your entire workflow. Ensure that the tool is compatible with other tools such as team collaboration, video conferencing, marketing automation, timesheet tracking application, etc.
Advantages of Combining CRM & Project Management
While several businesses use different applications for CRM and PM, combining these two can contribute to improved productivity.
Let's look at some significant advantages of using a CRM with project management capabilities:
Keeps Data Organized
Unified access to CRM and project management data eliminates communication gaps and boosts organizational efficiency. With all data, documents, and communications stored in one place, all the team members can access relevant information without switching between multiple applications.
Enhanced Experiences
An integrated CRM and project management platform enables you to craft better customer experiences. With improved access to customer data and a complete view of the buyer's journey, it becomes easier to deliver the most appropriate service at the right time.
Aligns Various Business Divisions
Furthermore, by aiding inter-departmental communication, such a tool can help bring the entire organization together. By aligning sales, marketing, customer service, and project management teams, such a tool can help you improve your deliverables considerably.
Saves Time & Money
Using a single application for CRM and PM can help you conserve both time and resources. You would have to offer training for a single tool instead of two separate applications. Additionally, your maintenance efforts would be significantly reduced with only one application to manage for two different business activities.
Prevents Budget Overruns
66% of businesses that use a project management tool are able to complete their projects within the original budget. This, combined with the cost-effectiveness of CRM, makes for highly profitable outcomes for businesses.
Better Visibility
CRM with project management enables account managers to get better visibility for the projects. Additionally, it provides you the ability to get instant feedback and approvals from clients. This saves time and resources. Your team can easily focus on the requirements of clients and deliver upon them effectively.
Disadvantages of CRM & Project Management Software
Here are some drawbacks of using a combined CRM and project management software:
Expensive Pricing
You should be prepared to pay higher for a tool that combines the capabilities of CRM and PM.
However, you can find affordable tools like BIGContacts that offer both the functionality at an affordable price, making it suitable for small businesses.
Different Implementation Scope
One of the most significant disadvantages of combining CRM and PM is the varying timelines these two have. As mentioned above, customer relationship management is more broad-scope and focuses on long-term objectives. On the other hand, project management is more concerned with the timelines for individual projects and is, therefore, more short-term. For this reason, some businesses may prefer keeping both entities separate.
Finding the Right Tool
Finally, the biggest challenge associated with integrating project management and CRM is finding a suitable tool for the same. It is difficult to come across a tool that is ideally suited for your needs. Therefore, you must look for a flexible solution that offers room for customization.
Concerned about finding an appropriate tool?
Read on to find the most effective strategies for selecting the right CRM and project management software for your small business.
Choosing CRM & Project Management Software
Integrated CRM and project management can enhance the quality of deliverables and boost customer satisfaction.
However, you do not want a tool with a clunky design that complicates the data management and gets bloated easily. Therefore, you must pay attention to how simple and flexible the tool is when it comes to choosing a CRM and project management solution.
To find the most optimal solution for your business, you must:
Set Goals
To find the perfect solution, you must be clear about what exactly your business needs. Define clear goals and expectations to find the CRM and project management tool.
Evaluate Your Existing Solutions
Carry out an analysis of the products you currently use for CRM and project management. Are they able to meet the needs of your team and clients? Make a note of the advantages and shortcomings of these tools to figure out the functionality you are looking for.
Compare Top-Rated Tools
Once you understand what your business requires, begin comparing the best-rated tools. Go through detailed comparisons of well-acclaimed tools to find the most effective solution for your team.
Pay Attention to Ease of Use
Make sure you only go for a tool that offers easy implementation and usage. This can help your team get the most out of the project CRM integration.
Go for a Customizable Tool
Every business has unique requirements and varying processes. Therefore, there is no perfect one-size-fits-all solution for project management software CRM. Investing in a flexible CRM tool can enable you to optimize various modules according to your needs and utilize them to the maximum potential.
Go Through Reviews
Go through user reviews to get a better idea of how functional and efficient the tool is. You can check reviews posted on various credible websites to understand the pros and cons of the tool you plan to invest in.
Avail Free Trial
To further improve your knowledge and understanding of the tool, make use of its free trial. Most CRM vendors offer a limited free trial of their tools. This can enable you to get a first-hand experience of the tool and determine if it would be the right choice for your business.
Which Software Should You Invest In?
To find the best tool for your business, you must compare the top-rated solutions.
Since it's impossible to try out every available tool, we have come up with a list of the best CRM and project management software you can opt for. Compare the pros and cons of all these tools against your needs to determine which software would be the best suited for your small business.
1. BIGContacts
A powerful and effective CRM to keep your projects aligned and on track at all times is BIGContacts. This easy-to-use task management CRM tool is designed to help small and medium businesses optimize their day-to-day operations to boost organizational productivity. This tool is easy to set up, scalable, and offers a broad scope for customization. Furthermore, the delightful customer support offered by BIGContacts adds to its popularity as a CRM solution for businesses across all industries.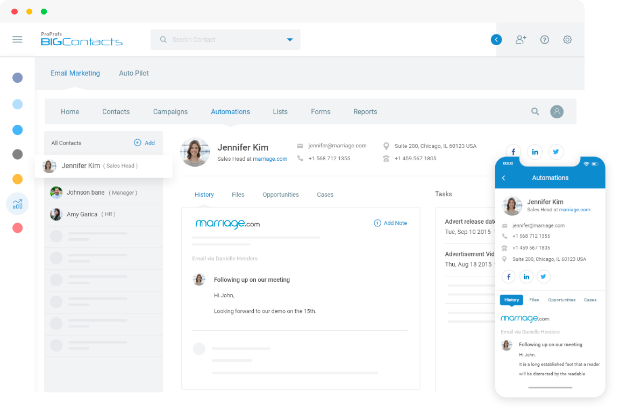 Best features of BIGContacts:
Automated reminders

Custom workflows with recurring tasks

Opportunity tracking

Powerful reporting & analytics
Pricing:
Big- $5/user/month

Bigger- $15/user/month

Biggest- $25/user/month

Enterprise- Custom pricing
Pros
Cons

Instant alerts

Team calendar

Mobile app UI needs improvement

Search could be more intuitive
2. Monday.com
monday.com is a well-known name in the CRM industry. This is a result of the tool's extensive functionality and high customization. The CRM tool offers pre-designed templates which save time and enhance productivity. Furthermore, it can be integrated with other business applications, allowing you to manage all projects seamlessly.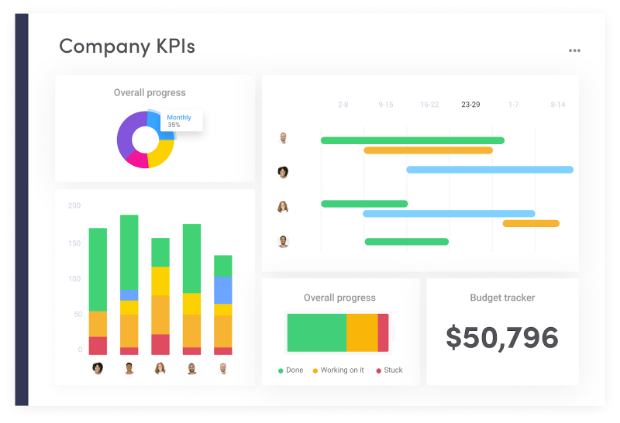 Best features of monday.com:
Gantt charts & Kanban boards

Visual sales pipeline

Customizable dashboard

Mobile access
Pricing:
Free version- For 2 users

Starting from $8/user/month
Pros

Cons

Drag & drop UI

Automated workflow

Some email notifications are unnecessary and can be removed

Speed of the tool can lag at times
3. Salesforce
Salesforce is a cloud-based CRM offering powerful task tracking and management to help businesses grow. This highly functional tool works well for large enterprises with multiple projects to stay on top of. Salesforce provides centralized access to all data and communication, enabling you to take better control of your business operations. You can stay connected with everyone in the organization, share updates, and collaborate more seamlessly using Salesforce.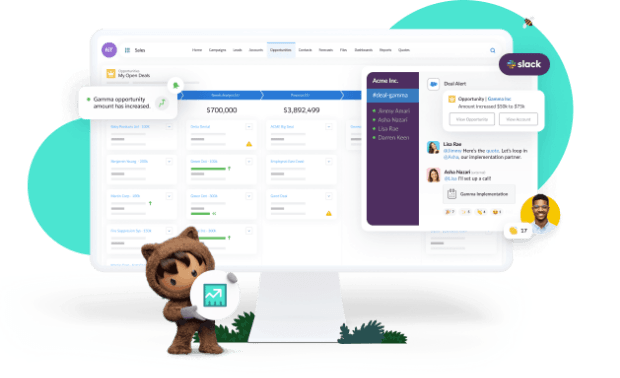 Best features of Salesforce:
Process automation

Opportunity tracking

Actionable insights & real-time alerts

Easy file sharing
Pricing:
Starting from $25/user/month
Pros

Cons

Revenue forecasting

Reliable support

Expensive pricing

Overwhelming for small teams
4. Zoho CRM
Zoho CRM brings your team and clients together by enabling clients to become users and access the details of the projects. The clients can add documents, share feedback in real-time and track progress easily. This involvement enhances the quality and speed of deliverables. With robust CRM task management, contact management, and automation capabilities, Zoho can significantly transform your customer relationships and help you gain a more credible position in the marketplace.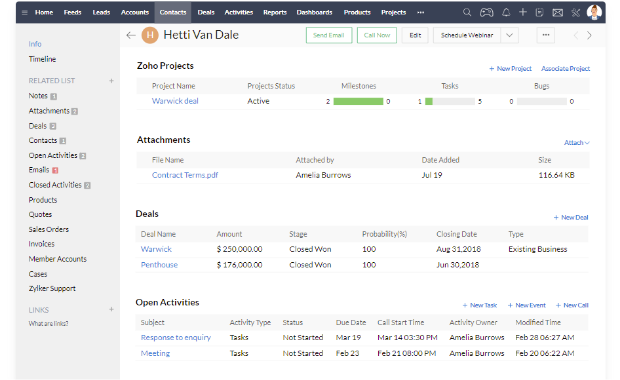 Best features of Zoho:
Real-time alerts & notifications

Mobile CRM

AI predictions

Automated workflows
Pricing:
Starting from $20/user/month
Pros

Cons

Easy collaboration

AI assistant

Interface needs upgrades

Limited customization is available for templates
5. SugarCRM
SugarCRM eliminates all the blind spots and helps you work more efficiently. This CRM offers a broad range of process management tools that help maximize your business productivity. The robust analytics can help you make data-driven decisions to advance your business's growth. With SugarCRM, you can automate complex operations and finish projects on time.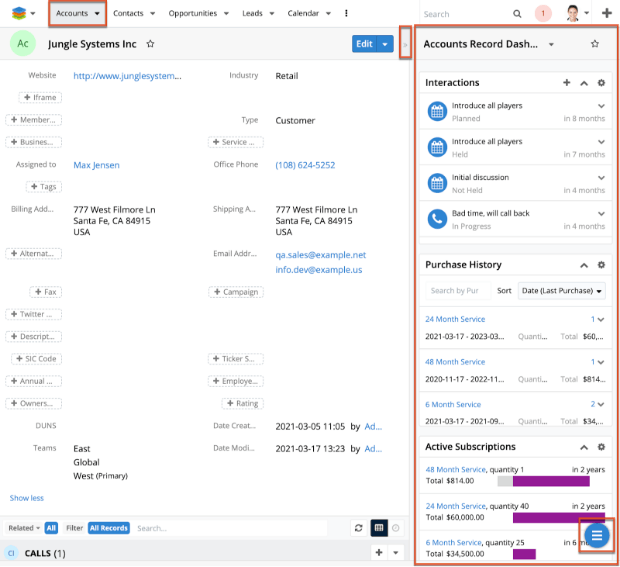 Best features of SugarCRM:
Calendar synchronization

Real-time alerts & recommendations

Multi-channel engagement

Mobile access
Pricing:
Starting from $52/user/month
Pros

Cons

Automatic data capturing & updating

Custom workflows

Expensive pricing

Design needs improvement
6. Insightly
Insightly can enable you to deliver projects to clients on time by streamlining all business processes. This CRM tool can easily be customized according to the unique requirements of your business. You can define roles and permissions for data to ensure security. Insightly can be connected with several other tools without data loss, allowing you to craft more delightful experiences for your customers.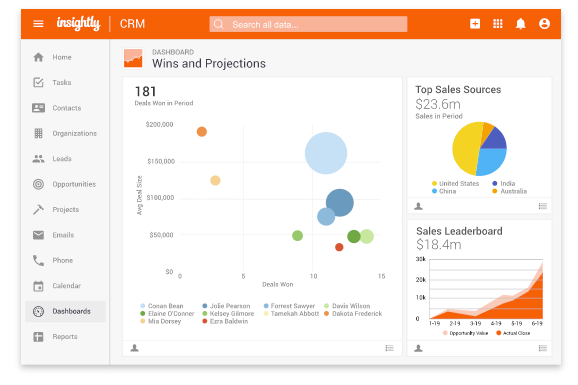 Best features of Insightly:
Milestone tracking

Workflow automation

Data visualization

Customizable reports
Pricing:
Starting from $29/user/month
Pros

Cons

Enhanced data security with user authorization

Drag & drop UI

Better support and documentation is required

Email integration is a bit complex
7. Apptivo
Apptivo is a reliable CRM that keeps your data well-organized and secure. This easy-to-use tool is the perfect solution for businesses looking for a hassle-free way to collaborate within the organization. Apptivo offers a comprehensive dashboard that enables you to track performance and make better forecasts. It also provides territory management capabilities. Additionally, you can easily integrate the tool with various business applications without worrying about data synchronization.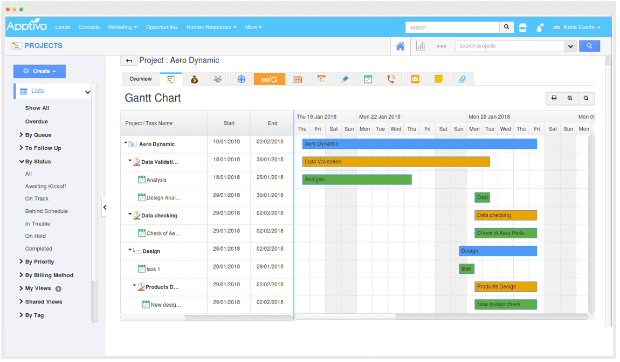 Best features of Apptivo:
Sales planning

G Suite integration

Advanced search & custom filters

Win/loss analysis
Pricing:
Starting from $8/user/month
Pros

Cons

Onboarding assistance

Highly customizable

The mobile app offers limited functionality

The interface could be more intuitive and easier to navigate
8. Wrike
Wrike is a highly intuitive collaborative tool that enables businesses to easily plan and manage their tasks. The tool simplifies project planning and helps you collaborate with other team members. It enables you to track time, budget, and resources for every project. Additionally, it offers detailed analytics so that you can make more informed business decisions.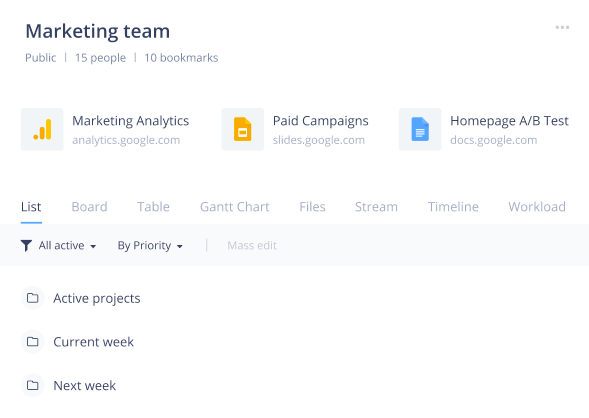 Best features of Wrike:
Gantt Charts & Kanban Boards

Custom reports

Comprehensive dashboard

Easy collaboration
Pricing:
Free version- Yes

Starting from $9.80/user/month
Pros

Cons

Customer data security

Powerful integrations

Overwhelming for new users

Limited customization of UI
9. nTask
nTask is a robust project management and team collaboration tool that help businesses to manage projects from start to finish. It gives users the ability to create their own CRM within the platform using custom fields, and integrate their favorite tool with nTask to eliminate switching apps all the time. It offers time tracking, Gantt charts, Kanban boards, and risk matrix features to help better in planning and effort tracking.

Best features of nTask:
Unlimited Workspaces and tasks

Team collaboration and file sharing

Reporting API's and Kanban board templates

Contact management and customized views
Pricing:
Free basic plan

Premium plan at $4/user per month
| | |
| --- | --- |
| Pros | Cons |
| | |
| | |
10. Chisel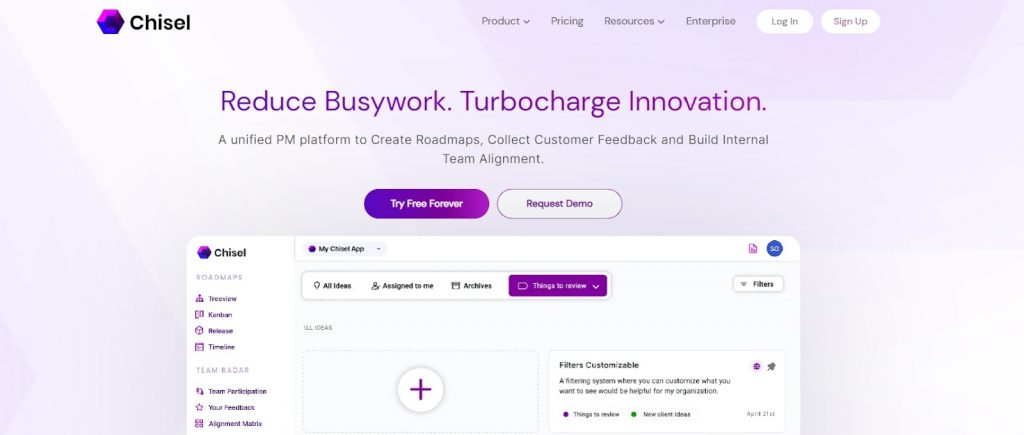 Chisel stands out as the top project management software, offering unparalleled features and capabilities. With its user-friendly interface and robust functionality,
Chisel streamlines project management and empowers teams to achieve exceptional results. From roadmap planning and team alignment to customer feedback integration, It is a comprehensive solution supporting all three pillars of effective project management. Its advanced analytics, customization capabilities, and seamless integration options make it the go-to software for businesses of all sizes.
Chisel truly embodies excellence in project management, empowering organizations to execute projects efficiently, foster team collaboration, and drive success.
Best features of Chisel:
Robust Roadmaps: Comprehensive roadmap planning.

Team Alignment: Promotes cross-functional collaboration.

Customer Feedback Integration: Seamlessly incorporates customer insights.

Advanced Analytics: Enables data-driven decision-making.

Customization Capabilities: Tailor-made project management solution.
Pricing:
Essential plan

Free

Premium plan $49 ( Billed annually) & $149 (Billed monthly)

Enterprise plan (Contact Sales)
| | |
| --- | --- |
| Pros | Cons |
| Free Plan Available: Easy entry with no cost. | Limited Features in Free Plan: Opportunity to upgrade for enhanced functionality. |
| Intuitive User Interface: User-friendly and intuitive design. | |
| Seamless Integration Options: Connects with various third-party tools. | |
FAQs
Here are some FAQs to help you understand more about the utility of CRM and project management for small businesses.
Does a small business require CRM and project management software?
Small businesses need a powerful tool to stay on top of their customer interactions. Additionally, they also need to manage all tasks to projects to ensure that critical deadlines are not missed.
The best CRM for project management can help small teams optimize their time and resources. By eliminating a considerable amount of manual processes and bringing more visibility to business processes, such a tool can help deliver projects on time and boost customer satisfaction.
How to find the best CRM for a small business?
Finding the right CRM requires you consider how viable and effective the tool will be, based on the unique requirements of your business.
For a tool to work well for a small business, it must be simple and scalable. Small businesses cannot function well with a high-end tool that makes things unnecessarily complicated and takes up a considerable chunk of employees' time.
Here are some features that make a tool suitable for a small business:
The flexibility that it offers

The ability to add custom statuses, fields, etc.

How easy it is to scale the operations of the tool

The ease of maintaining the application

The type of collaborative features that the tool offers

How affordable the tool is
Read More: How to Choose a CRM in 24 Ways (Step-by-Step Checklist + Free Guide)
What makes BIGContacts the perfect solution for small businesses?
BIGContacts by ProProfs is a highly versatile and functional CRM solution.
The following features make this CRM with task management an ideal solution for small businesses:
It is a highly affordable solution.

The implementation is pretty straightforward.

The tool's intuitive UI makes it easy to use for small teams.

The customer support team is highly reliable, and extensive help resources are available for the tool.

It stores all the communications in one place.

BIGContacts allows you to tag and segment users.

It can work well with a variety of other business tools such as HubSpot, MailChimp, Zendesk, etc., to improve the overall experiences for customers.

Mobile access

to data can help employees across the organization stay updated and work on the go.
Combining CRM & Project Management – Is It Right for You?
Should you use a CRM tool, project management software, or an all-in-one solution?
Well, the answer entirely depends on your business needs and objectives.
If you want to eliminate data fragmentation and bring your entire organization together, investing in an all-inclusive CRM and project management software can be a great option. Such a holistic approach can enhance your organization's productivity and help you meet customer expectations effortlessly. Combining CRM and project management can ensure that targets are met on time, within budget. It can also improve accountability for team members.
To realize the true potential of combining CRM and PM, invest in a robust tool that can be easily adapted according to your business's needs. Such a tool can help you leverage customer relationships and project management for enhanced profitability and keep your business processes on track at all times.
Do you want to make more sales?
BIGContacts is the #1 contact management software & CRM to close more sales.