SaaS distribution model has gained significant popularity over the past few years.
So, why not use it for your CRM deployment as well?
Software as a Service or SaaS CRM presents a range of advantages over traditional on-premise deployment, including better scalability, more flexibility, and reduced maintenance costs.
However, the biggest challenge is finding an appropriate tool that suits your business needs.
This is where we can be of help!
We have compiled a list of the 9 best SaaS CRM software and compared their functionality to help you make a sound decision. Check how their features stack up against your specific business requirements and find a profitable solution that will result in an upturn in your earnings.
Let's get right into it!
In a Nutshell:
SaaS

CRM

tools can help strengthen customer relationships by providing cloud-based access to essential data.

The top 9 CRM tools that we recommend are BIGContacts, HubSpot, Microsoft Dynamics 365, Salesforce, Zoho CRM, monday.com, Freshworks, SugarCRM, and Pipedrive.

To select the right solution, you should pay attention to the customizability, scalability, customer support, ease of implementation, affordability, and other such factors.

For a detailed comparative analysis of these 9 tools, refer to our guide below.
What is SaaS CRM & Who Needs It?
CRM or Customer Relationship Management tools consolidate client information in one place, making it easier to leverage it for personalized interactions and improved satisfaction.
Cloud providers make SaaS or Software as a service technology available via the internet.
SaaS CRM applications are cloud-based solutions that combine both these capabilities.
In simple terms, SaaS CRM tools are hosted on the cloud and made available by external vendors to businesses that do not wish to install the software on-premise. An advantage of such a licensing model is that it does not require an extensive IT infrastructure to be installed or maintained.
This is why businesses are increasingly moving towards SaaS, and the industry is now valued at approximately $172 billion.
What Are the Benefits of SaaS CRM?
A study by Harvey Nash Group demonstrates that over 73% of respondents trust SaaS technology, with 38% believing it to be very important.
The reason behind such popularity is the hoard of benefits that SaaS or on-demand CRM solutions present. These include:
SaaS-based CRM bears a small upfront cost since no heavy installation and purchasing expenses are involved. Moreover, they eliminate the cost of routine maintenance and have a pay-as-you-go model.
One of the most beneficial aspects of SaaS is quick and easy deployment. You don't have to set up an elaborate system or need any hardware resources. Moreover, with a vendor that offers implementation consulting and training support, you can get started in no time.
Read More: The CRM Implementation Plan: 12 Step Strategy Process
Hosting, maintaining, and upgrading the cloud-based CRM software is the vendor's responsibility. This makes everything easy for the business and helps save time and resources. It also reduces downtime and increases organizational productivity.
SaaS applications are highly flexible solutions that can be adapted to suit your exact needs. The extensive customization offered for SaaS tools makes them an excellent choice for businesses that strive to stay agile and keep up with a dynamic business environment.
SaaS enables users to access relevant business information from anywhere, using any mobile device. This enhanced accessibility to business provided through web-based CRM software makes for better personalization.
The Best SaaS CRM at a Glance
Software
Key Features
Pricing
BIGContacts

Contact management
Marketing automation
Reporting & analytics

Starts from $5/user/month
HubSpot CRM

Pipeline tracking
Universal inbox
Ticket management

Starts from $45/month
Microsoft Dynamics 365

Lead prioritization
Sentiment analysis
Sales forecasting

Starts from $1,500/user/month
Salesforce
Account management
Sales forecasting
Workflow automation

Starts from $25/user/month
Zoho CRM
Automated rules
Lead prediction
Customer segmentation

Starts from $14/user/month
monday.com
Pipeline management
Reporting dashboard
Lead qualification

Starts from $10/user/month
Freshworks
Custom sales pipelines
AI-powered predictions
Reporting templates

Starts from $15/user/month
SugarCRM
Predictive analytics
Real-time insights
Pre-built templates

Starts from $49/user/month
Pipedrive

Custom sales pipeline
Automated alerts
Sales forecasting

Starts from $9.90/user/month
Top 9 SaaS CRM Software
Given below are the salient features, pricing, pros, and cons of the 9 best cloud-based CRM systems. Compare these against your needs to find the most optimal software for your business.
1.BIGContacts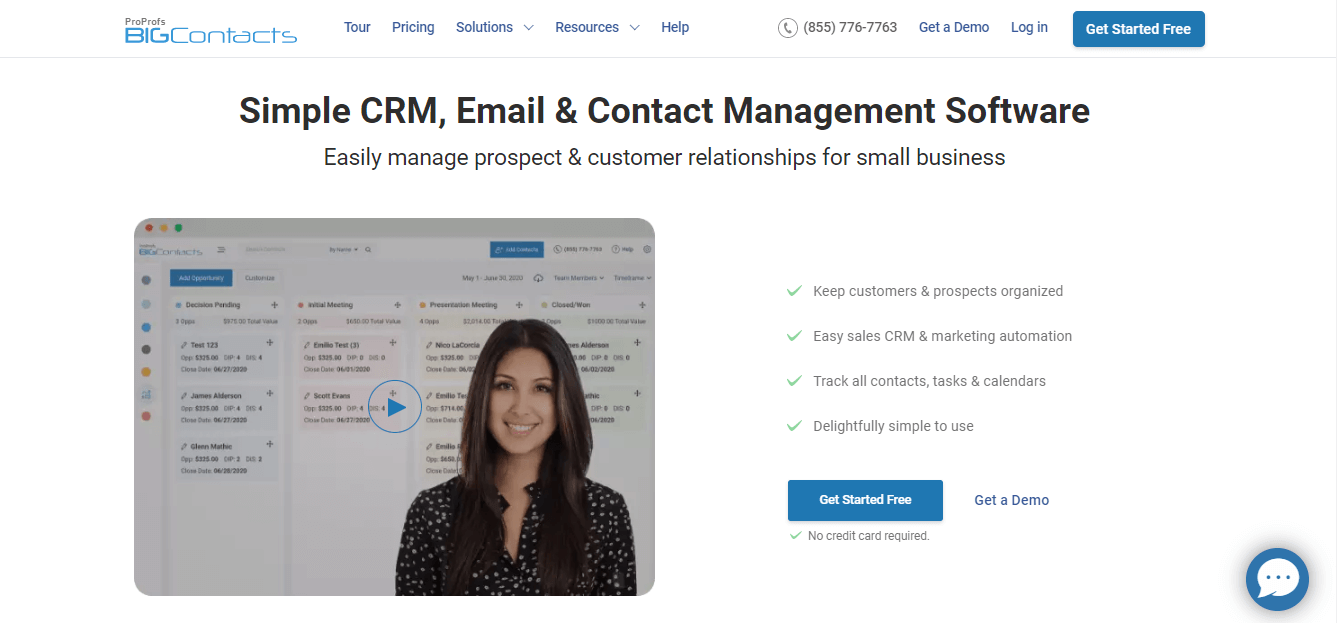 BIGContacts is an intuitive SaaS CRM solution that combines simplicity and automation to drive business growth. This easy-to-use CRM application can bring all your business data and team members to one platform so that you can work more efficiently. BIGContacts lets you automate repetitive tasks, customize workflows, manage tasks, and easily track business performance.
Key features:
View all contact details, including emails, tasks, transaction history, notes, social media accounts, etc., in one place.

Choose from standard reporting templates or create custom reports.

Set up personalized drip email sequences to improve business outreach.

Automate workflows, tasks, and reminders for increasing productivity.

Track meetings and events using shared team or personal calendar views.
What Is Unique About BIGContacts
Get access to a comprehensive activity dashboard, including last touches, upcoming meetings, birthdays, etc.

Work on the go using the mobile version of BIGContacts.
Pricing:
Big- $5/user/month

Bigger- $15/user/month

Biggest- $25/user/month

Enterprise- Custom pricing
2. HubSpot CRM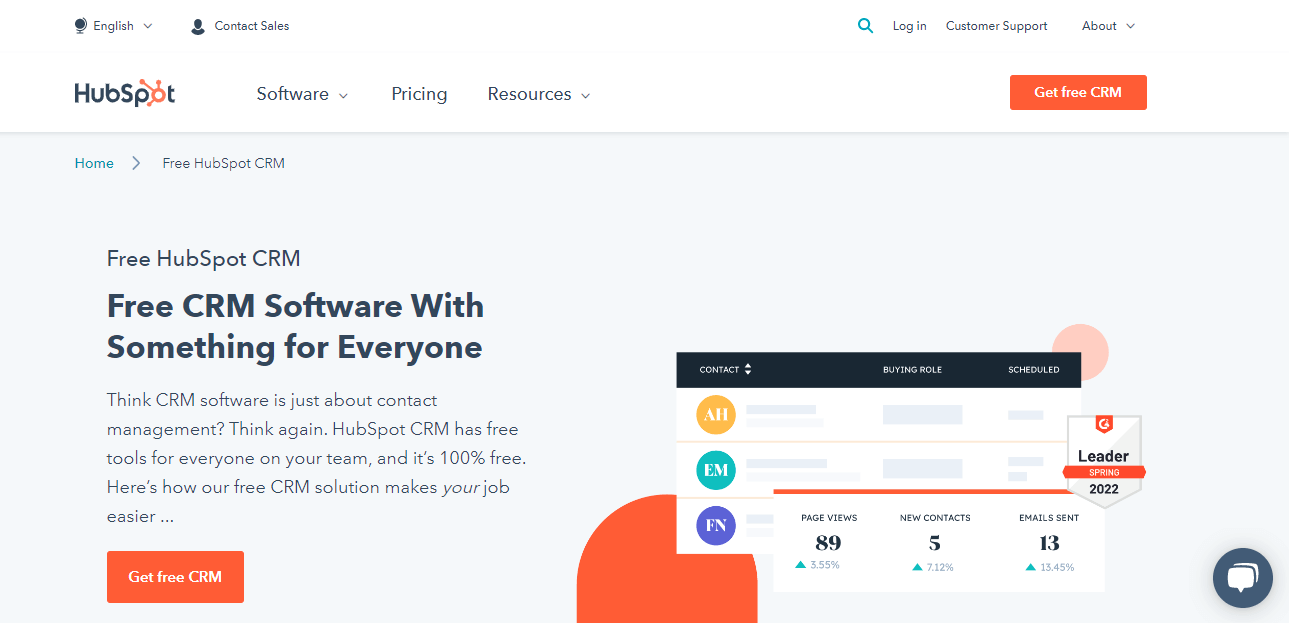 HubSpot is a leading provider of business management solutions, including a robust CRM platform that helps businesses achieve better productivity and customer satisfaction levels. You can use this application to automate repetitive tasks and manage sales opportunities using a comprehensive pipeline. HubSpot also lets you gather insights into business performance by tracking relevant KPIs.
Key features:
Choose from pre-built email templates or create custom templates using a drag and drop builder.

Use a universal inbox to stay updated with all interactions from a single place.

Generate and manage tickets from within the CRM tool to improve customer support experiences.

Access the cloud-based CRM platform on any OS like Windows, Mac, Android, or iOS.

Share appointment scheduling links with prospects and customers.
Why We Picked It, What Is Unique About HubSpot
Get instant notifications for activities such as a prospect visiting your website or opening an email.

Find more leads using custom forms and automatically enrich their profiles with data from multiple online sources.
Pricing:
Free plan available
Paid plans start from $45/month
3. Microsoft Dynamics 365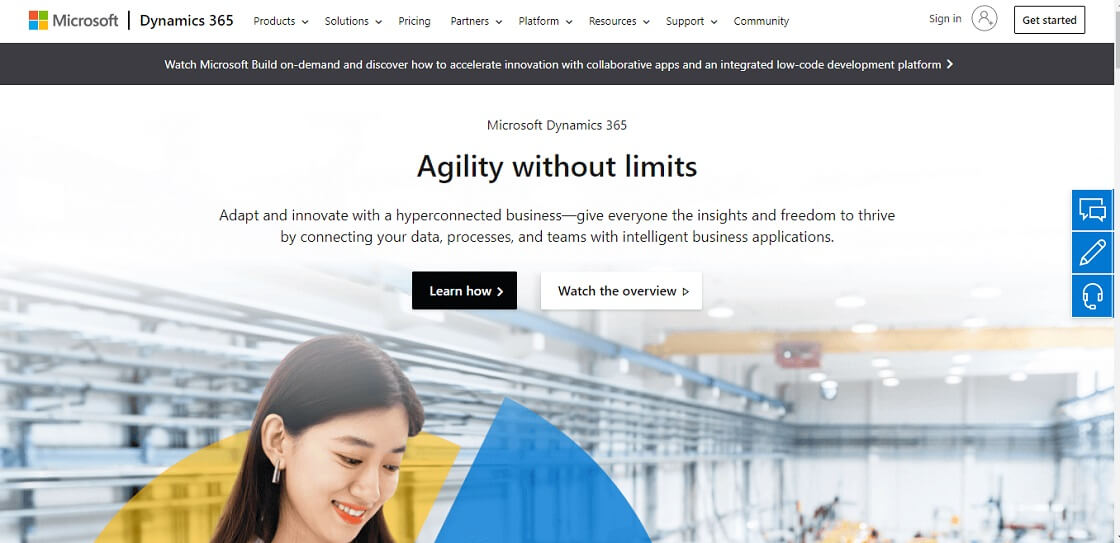 Microsoft Dynamics 365 lets you derive actionable insights from customer data and utilize it to accelerate your business growth. It lets you drive more contextual and relevant conversations with clients based on market trends and customer sentiment. The tool has a native mobile application, which can help you access relevant business information from anywhere.
Key features:
Prioritize leads based on insights gathered from customer data.

Use guided selling and real-time insights to improve sales performance.

Manage sales opportunities and forecast revenue using a sales pipeline.

Get suggestions for next best actions and analyze customer sentiment easily.

Connect with clients using their preferred communication channels without switching between applications.
Why We Picked It, What Is Unique About Microsoft Dynamics 365
Use AI-powered insights to improve business performance.

Collaborate with team members without leaving the system.
Pricing:
Starts from $1,500/user/month
4. Salesforce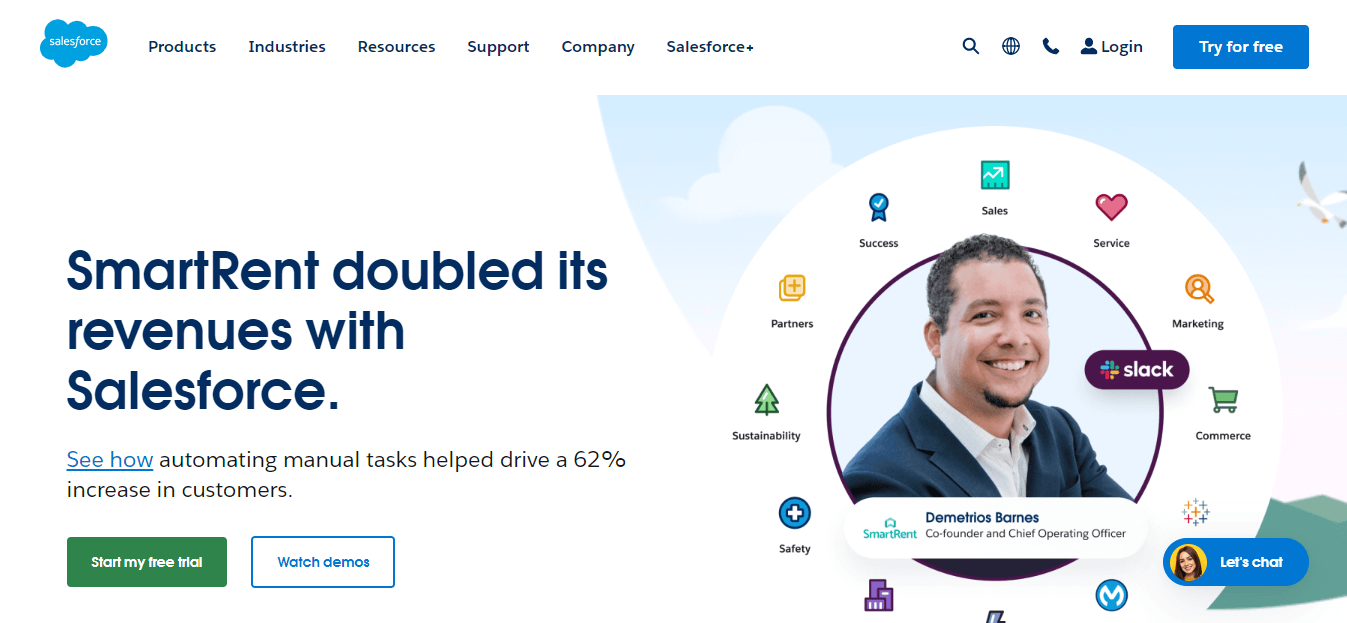 Salesforce is one of the most popular web-based CRM software that can automate manual tasks and contribute to an improvement in the bottom line. It provides data-driven insights that can help you optimize your business processes and make better decisions. You can use this cloud-based CRM to manage your leads and track their progress through the sales pipeline.
Key features:
Get a 360° view of customer data in one place, including activity history and previous touches.

Automate routine tasks and create custom workflows with a drag and drop builder.

Use a visual pipeline to keep track of all available sales opportunities.

Gain real-time visibility into business performance with reports and dashboards.

Gather insights into customer activity and preferences from multiple sources, including Twitter, LinkedIn, etc.
Why We Picked It, What Is Unique About Salesforce
Make accurate sales and revenue forecasts.

Log data, engage with clients, and access data remotely with the mobile application.
Pricing:
Starts from $25/user/month
5. Zoho CRM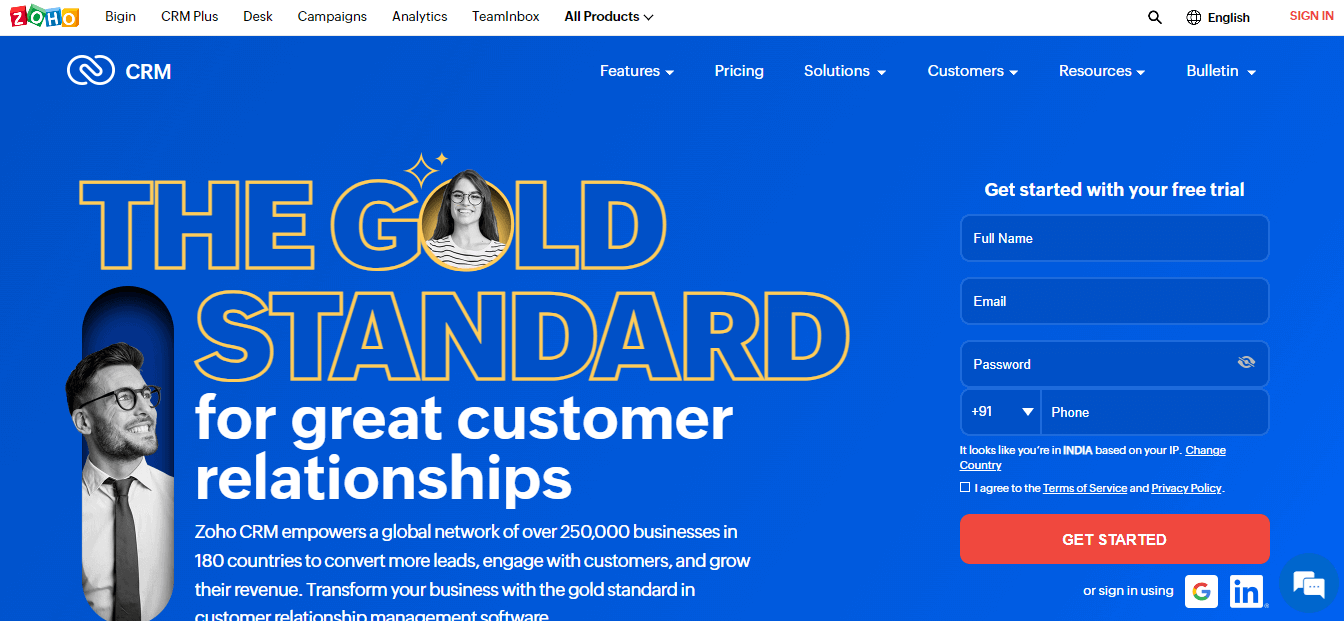 Zoho CRM offers powerful automation and process management capabilities to help scale your business. This robust SaaS solution can deliver personalized customer experiences, monitor business performance, and improve organizational productivity. Moreover, the tool offers AI-powered predictive analytics and forecasting capabilities, so you make better utilization of your time and resources.
Key features:
Customize layouts, views, filters, fields, and modules according to your business needs.

Gather lead and deal predictions for optimal usage of your sales team's time.

Create automated scoring, assignment, escalation, and other such rules.

Aid team collaboration with notes, comments, tags, feeds, etc.

Segment your client base and improve lead nurturing campaigns with automation.
Why We Picked It, What Is Unique About Zoho CRM
Use the mobile application to access customer data from anywhere.

Receive real-time notifications for client engagement.
Pricing:
Free plan available
Paid plans start from $14/user/month
6. monday.com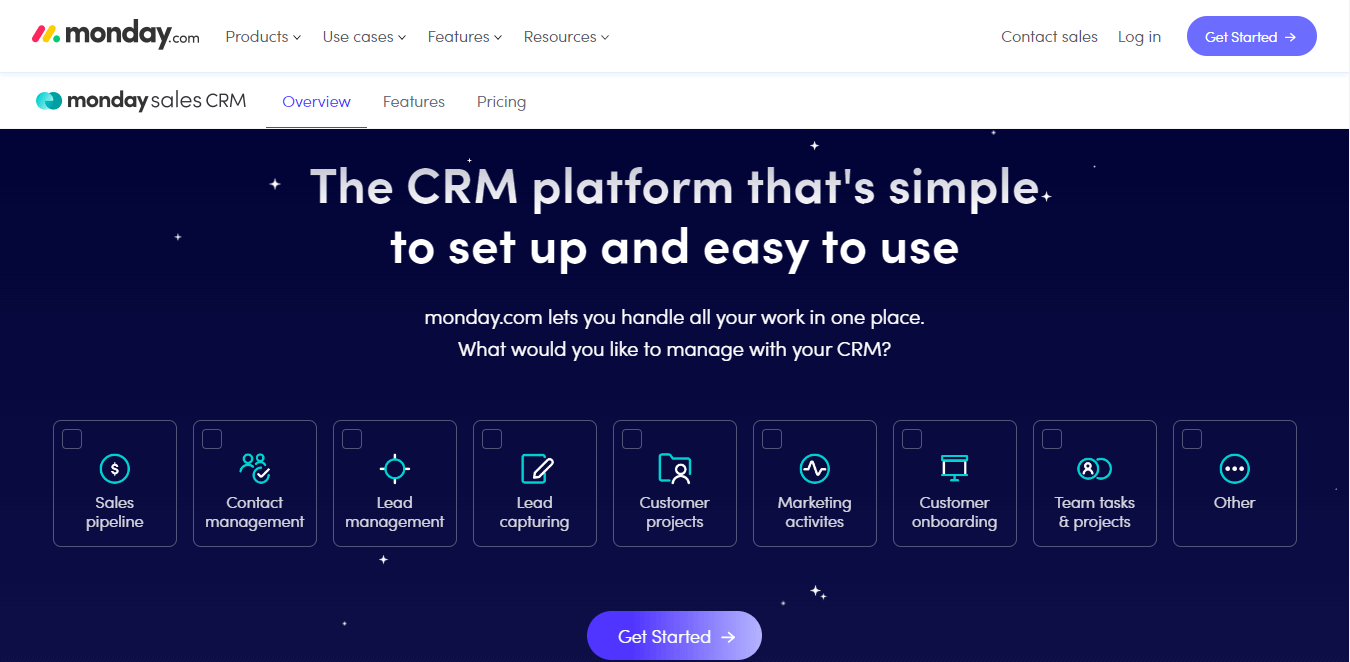 monday.com lets you manage leads, centralize communication, and automate repetitive tasks. This CRM solution brings more efficiency to your business processes by organizing all essential data in one place. With monday.com, you can log communication automatically, get notified when customers engage with your emails, and use personalized email templates to drive better interactions.
Key features:
Improve sales opportunity management with a customizable visual pipeline.

Automate task assignment and reminders for your team.

Create customized reporting dashboards to gather actionable insights.

Drag and drop deals between stages to manage them effortlessly.

Generate more leads and qualify them effectively to focus on the right deals.
Why We Picked It, What Is Unique About monday.com
It is easy to set up and use.

Connect the tool with applications such as Outlook, Slack, Zoom, LinkedIn, Gmail, etc.
Pricing:
Free plan available
Paid plans start from $10/user/month
7. Freshworks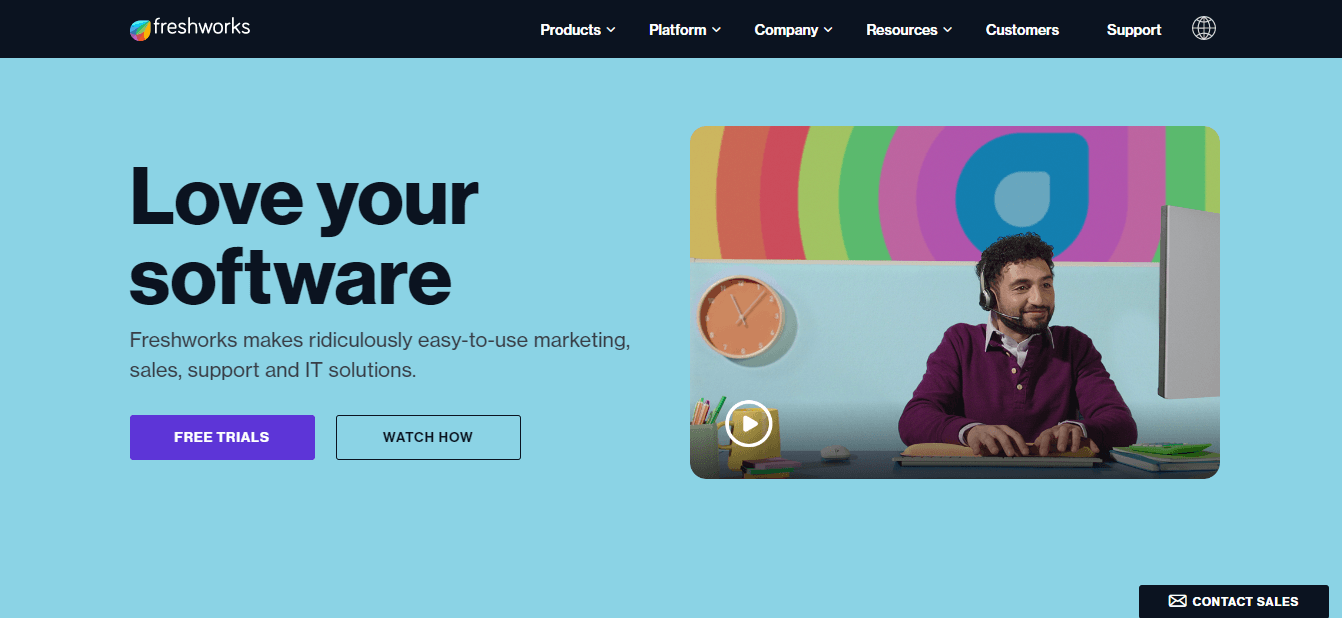 Freshworks offers a customizable sales CRM solution – Freshsales, that can be adapted to suit your organization's unique needs. The application offers a suite of features, including sales automation, contact management, reporting and analytics, lead scoring, etc. It lets you automate actions such as data logging and helps craft bulk email campaigns to improve outreach.
Key features:
Set up multiple sales pipelines with custom stages to manage sales opportunities.

Define access levels and permissions based on user roles.

Use AI to predict deal outcomes and prioritize the right accounts.

Choose from pre-built reporting templates or create reports from scratch.

Customize fields, modules, sales activities, etc., per your business needs.
Why We Picked It, What Is Unique About Freshworks
Receive notifications for customer activity in real-time.
Integrate the tool with applications such as Xero, Outlook, PandaDoc, QuickBooks, etc.
Pricing:
Free plan available
Paid plans start from $15/user/month
8. SugarCRM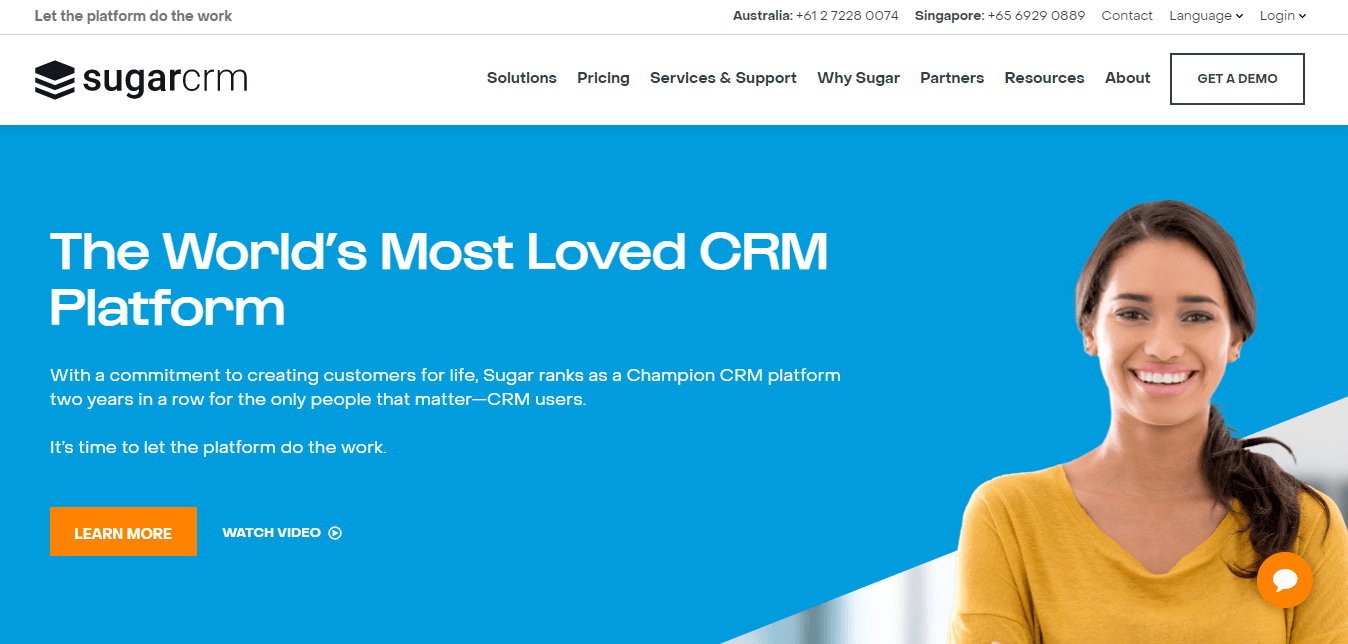 SugarCRM lets you increase the velocity of your sales cycle, craft multi-channel marketing campaigns, and improve business performance with AI-powered analytics. The tool lets you predict the outcomes of deals, so you can focus your attention on the right prospects. It is a reliable solution for pipeline management, sales forecasting, and sentiment analysis.
Key features:
Use predictive analytics to score leads and focus on important accounts.

Create engaging marketing campaigns using a drag and drop builder.

Get real-time insights into customer engagement and sentiment.

Track the effectiveness of your business operations with built-in intelligence.

Choose from pre-designed templates for emails and landing pages to save time.
Why We Picked It, What Is Unique About SugarCRM
Automatically route customer requests and queries to the right representatives.

Integrate the tool with applications such as Microsoft Dynamics, NetSuite, Sage, etc.
Pricing:
Starts from $49/user/month
9. Pipedrive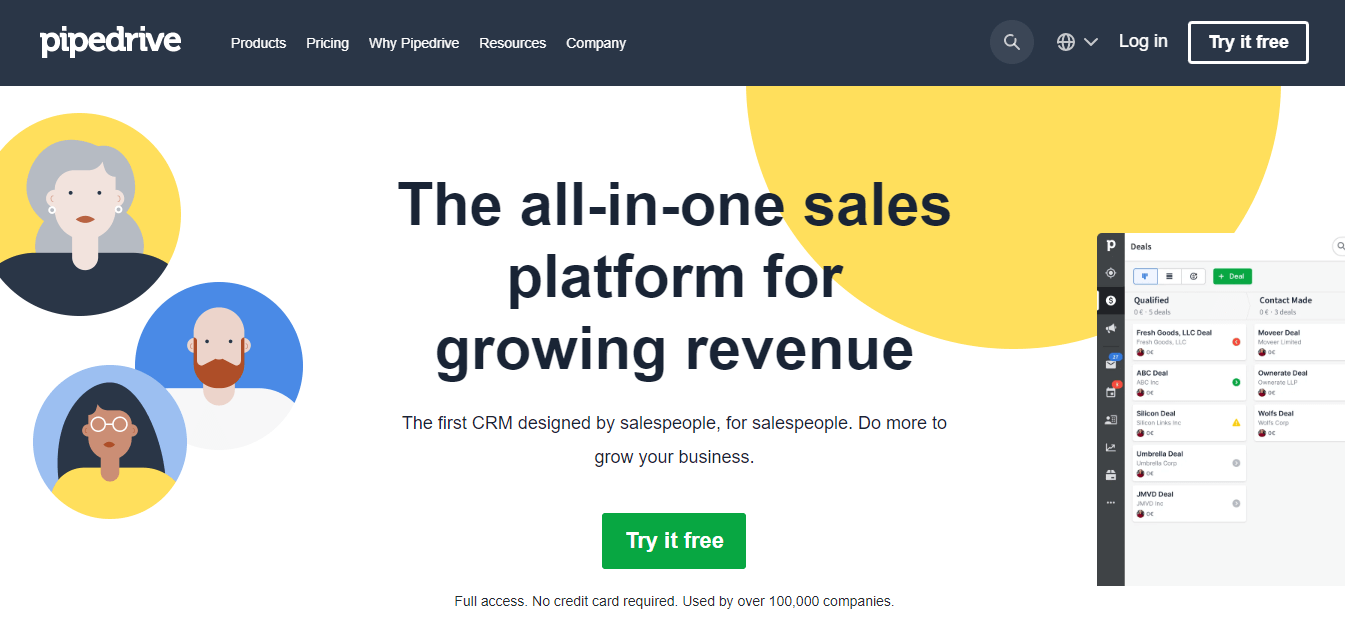 Pipedrive is a user-friendly CRM solution that is ideally suited for salespeople. This robust CRM solution can streamline pipeline management and help you guide prospects toward conversion. You can easily visualize all sales opportunities and collaborate with your team using this software. It also lets you automate workflows, notifications, and routine tasks to improve business efficiency.
Key features:
Create a pipeline with custom stages or choose from pre-designed templates.

Set up automatic alerts and reminders for your team members.

Use the email builder and a library of templates to improve outreach.

Manage sales opportunities within the pipeline using a simple drag and drop interface.

Filter and segment leads to create targeted lists and improve personalization efforts.
Why We Picked It, What Is Unique About Pipedrive
It offers one-click integration with a number of tools, including Zapier, Xero, HubSpot, Asana, etc.

Forecasts are automatically updated as deals move forward in the sales funnel.
Pricing:
Starts from $9.90/user/month
LeadSquared is one-stop, cloud-based CRM for sales execution and marketing automation. It boosts your sales revenue while improving sales productivity and automating your sales team's manual tasks.
Its no-code workflow automation and 75+ out-of-the-box integrations simplify lead management. LeadSquared also enables automated lead capture, distribution, and tracking in real-time. And the best part, you can even track, monitor, and report all activities on the platform in just a few clicks.
Key Features:
End-to-end lead management with complete visibility into every stage of the customer's journey.

Higher team productivity with workday planning and frequent reminders.

Marketing automation to create, schedule, and track marketing campaigns.

Allows effective team collaboration across departments and processes.

Mobile CRM available for Android and iOS.

Calendar and reminder system that ensure no follow-ups are missed.
Why We Picked It, What Is Unique About LeadSquared
No-code workflow automation for sales processes and marketing outreach.

150+ actionable, in-depth, and real-time reports for sales and marketing managers.

Field-force tracking and remote-management tools to build efficient hybrid and on-ground teams.
Pricing:
Starts at $25 per user per month.
Scale up Your Business With the Right SaaS CRM Tool
SaaS CRM tools can contribute to an improvement in your business's bottom line by helping you drive more consistent interactions with customers and enhancing data accessibility for your team members.
The 9 top-rated CRM SaaS solutions mentioned above are highly scalable and effective solutions for maximizing your business throughout. These solutions work effectively for sales, marketing, customer support, and operations, enabling you to manage all business aspects from a single place.
Choose the most suitable solution from this list by focusing on your organization's specific needs. For instance, if you are a small to mid-sized business looking for an intuitive tool that has easy implementation and requires minimal training, BIGContacts might be your best shot. You must also focus on the type of consulting and training support provided for the implementation of the tool you invest in.
Whichever SaaS tool you choose, ensure it aligns with your business goals and methodologies, and you will be on your way to exponential growth in your revenue.