Stagnating sales numbers is nothing short of a nightmare.
What's even worse is generating adequate leads but failing to move them down the sales funnel.
If these problems hit too close to home, you might want to pay attention to sales acceleration.
In today's competitive marketplace, everyone wishes to do more in less time. But, selling isn't a cakewalk. Selling at an optimal speed is even more challenging! Sales acceleration is, therefore, a herculean task that requires a significant amount of time and effort.
However, with the right sales acceleration software at your disposal, you can effectively increase the speed with which you close deals. In this blog, we have listed the top 12 sales accelerator software that can boost your conversion rate. Read on to learn everything about these tools and take that first step towards improved profitability.
What Is Sales Acceleration Software?
Any software that helps you boost the performance of your sales efforts to increase the speed with which deals are closed can be referred to as sales accelerator software.
It allows you to close deals faster while creating more meaningful experiences for customers. Such a tool helps you maintain a steady flow of deals in your sales pipeline, allowing you to grow your profits.
Let's understand this using an example.
Jay and Vanessa are two sales executives handling a large number of prospects.
Jay tracks all his incoming queries and manages customer information using a customer relationship management tool. Vanessa, on the other hand, uses spreadsheets to maintain a record of leads and customers.
Due to the effortless data management capabilities of thesal CRM tool, Jay is able to engage with prospects more personally and close deals faster than Vanessa. He also gets more referrals since his engagement with clients is highly personalized and efficient.
This is just one example of the role a sales acceleration tool such as CRM can play in increasing sales velocity.
Types of Sales Acceleration Software
Sales acceleration, as the name suggests, refers to an increase in the speed of sales. It helps organizations increase the efficiency with which they move leads down the sales funnel. There are several types of sales acceleration solutions that could be employed for these, including:
1. CRM
Customer relationship management tools can help you aggregate and manage contact data without hassle. They can help you identify high-value prospects, manage interactions, and personalize experiences for all your contacts with improved data accessibility.
Watch this quick video to learn how CRM can help you grow your sales:
2. Prospecting & qualification
33% of sales calls are a waste of time since they are made to unqualified leads who will never convert. This is why efficient tools for lead prospecting and qualification are necessary for a sales team.
3. Email tracking & marketing automation
With a tool that enables you to deliver automated emails based on the sales stage, you can nurture more leads effortlessly. Such a tool can also empower you to track the performance of your emails and make the necessary adjustments.
4. Quote-to-cash
Quote-to-cash software can help you manage the sales process and its revenue. It can help salespeople create quotes quickly and manage sales orders more efficiently. Such a tool can accelerate sales by streamlining account and revenue tracking.
5. Reporting & visualization
Such tools empower sales teams to better understand their performance and client expectations with the help of reports, graphs, dashboards, visuals, etc. They offer actionable insights into the most engaged customers and overall sales performance.
6. Customer support
Tools such as live chat and ticket management can also play an important role in sales acceleration strategies. They provide sales teams the opportunity to identify customer needs and deliver relevant solutions to bridge the gap between their offerings and the prospect's expectations
Overview of the 12 Best Sales Accelerator Software
Software

Key features
Pricing
BIGContacts

Sales pipeline management
Reporting & analytics
Automated workflows
Starts from $5/user/month
ProProfs Chat
Chatbots & automated routing
Read to use templates
Detailed reports
Starts from $10/operator/month
HubSpot Sales Hub
Email sequences
Intelligent routing
Reporting & analytics
Starts from $45/month
Yesware
Drip email campaigns
Email tracking
Appointment scheduling

Starts from $15/user/month


Sendoso


Sending management
Reporting & analytics
Virtual experiences
Available on request


PandaDoc


Document approval workflows
eSignature collection
Data encryption

Starts from $19/user/month


EngageBay


Lead scoring
Automated tasks
Contact profile enrichment

Starts from $11.99/user/month


Salesloft


Pipeline management
Email templates
Sales forecasting


Available on request


Sage CRM
Pipeline management
Sales forecasting
Detailed reports

Available on request
LeadSquared
Automated lead distribution
Sales workflows
Pre-built reports

Automated lead distribution
Sales workflows
Pre-built reports
Starts from $25/user/month


Freshworks CRM
Predictive lead scoring
AI assistant
Visual reports & dashboards

Starts from $15/user/month
Zendesk CRM
Email sequences
Targeted lists
Built-in enrichment tools

Starts from $19/user/month
.
12 Best Sales Accelerator Software for 2023
It's time to look at the 12 best sales acceleration tools available on the market today. These sales accelerators are well-acclaimed solutions that can increase the effectiveness of sales activities and improve your bottom line.
1. BIGContacts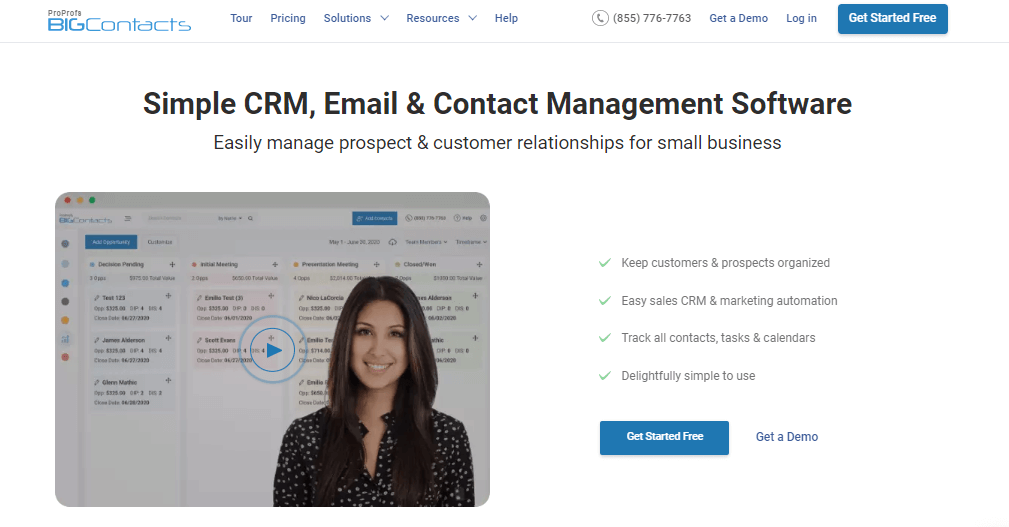 BIGContacts is the best sales engagement tool that offers powerful management capabilities. The tool enriches contact profiles automatically and keeps data well organized and centrally accessible. This helps improve personalization for outreach efforts. Moreover, the remote access that this sales accelerator software offers makes it easy to stay engaged with prospects and customers anytime, anywhere.
Key features:
Keep track of sales opportunities using a visual sales pipeline, including custom stages.

Monitor the effectiveness of sales operations using in-depth reporting and analytics.

Automate tasks and follow-ups to increase overall productivity.

View all essential details such as social media activity, previous transactions, emails, special notes, and contact information in one place.

Stay updated with upcoming tasks, meetings, and events using a detailed calendar view, to-do lists, and automated alerts.
Pricing:
Big- $5/user/month

Bigger- $15/user/month

Biggest- $25/user/month

Enterprise- Custom pricing
Pros
Cons

Prompt and reliable customer support is available 24×7.

You can define user roles and limit access permissions.

Better lead scoring features are required.

It needs more advanced ways to find and eliminate redundant records.
2. ProProfs Chat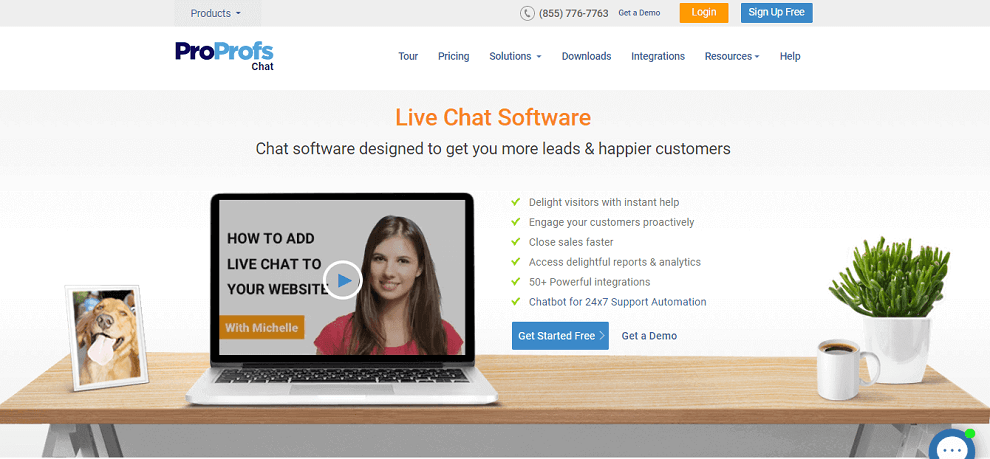 ProProfs Chat is a highly intuitive live chat software that enables you to get more leads, increase sales and improve customer satisfaction. This tool considerably improves your real-time engagement with prospects and customers, helping you close deals quickly. You can use this sales acceleration solution to delight your website visitors by offering instant help and personalized experiences.
Key features:
Use chat routing rules to automatically direct incoming requests to the right department.

Choose from ready-made templates or customize the chat window with CSS.

Automate customer support using chatbots.

Offer announcements via chat and provide product tours to engage incoming leads.

Monitor your visitors' activity and team performance using detailed reports.
Pricing:
Starts from $10/operator/month
Pros
Cons

It offers powerful integrations with tools, such as Salesforce, Shopify, Magento, WordPress, etc.

Capture and send leads directly to your CRM system using ProProfs Chat.

More widget themes and chatbot templates are required.

The operator dashboard should include better customization options.
3. HubSpot Sales Hub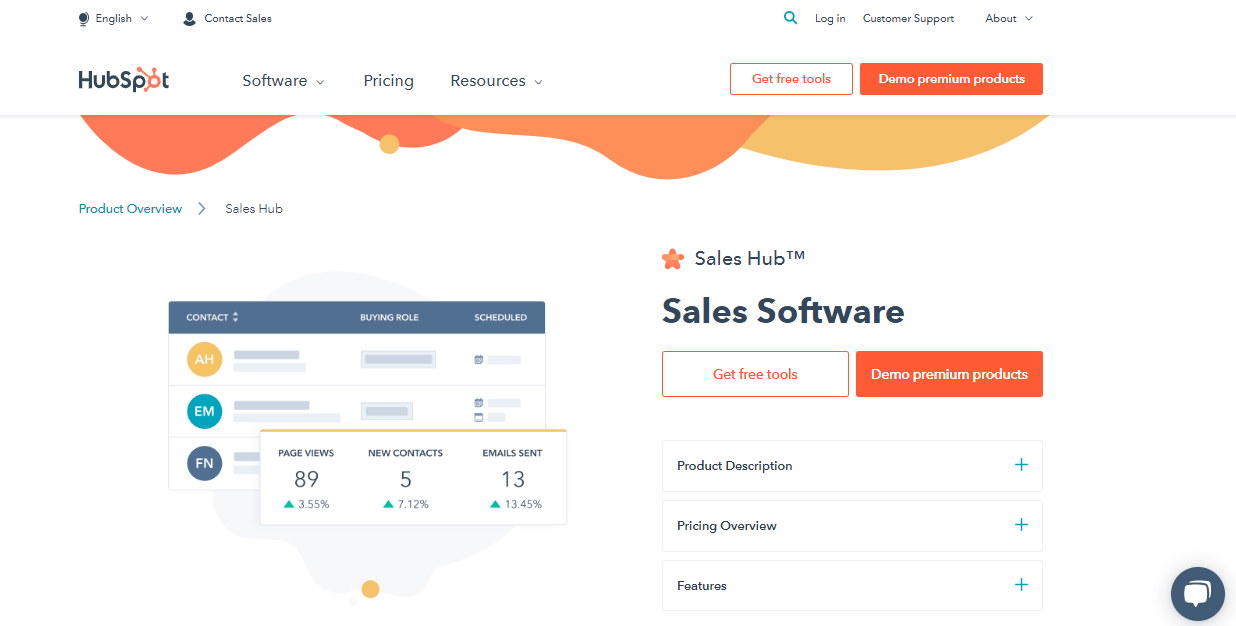 HubSpot offers a suite of features that make it easy to engage with prospects and convert them into long-term customers. This powerful tool lets you manage your sales pipeline with ease. HubSpot sales hub also enables you to create a library of useful documents and helps everyone in your team to access essential information at the click of a button.
Key features:
Strengthen customer relationships with intelligent chat routing and personalized engagement.

Use sales enablement features such as quick onboarding, call scripts, etc., to help executives close deals quickly.

Monitor sales performance and make accurate forecasts using reporting and analytics.

Manage deals on the go with the mobile CRM application.

Set up automated sales email sequences to follow up with prospects effectively.
Pricing:
Free plan: Available
Starts from $45/month
Pros
Cons

Save your best-performing sales emails as templates for future use.

Enable prospects and customers to choose a convenient meeting time by sharing a link with them.

The pipeline requires more flexibility and customization.

Reporting capabilities are limited.
4. Yesware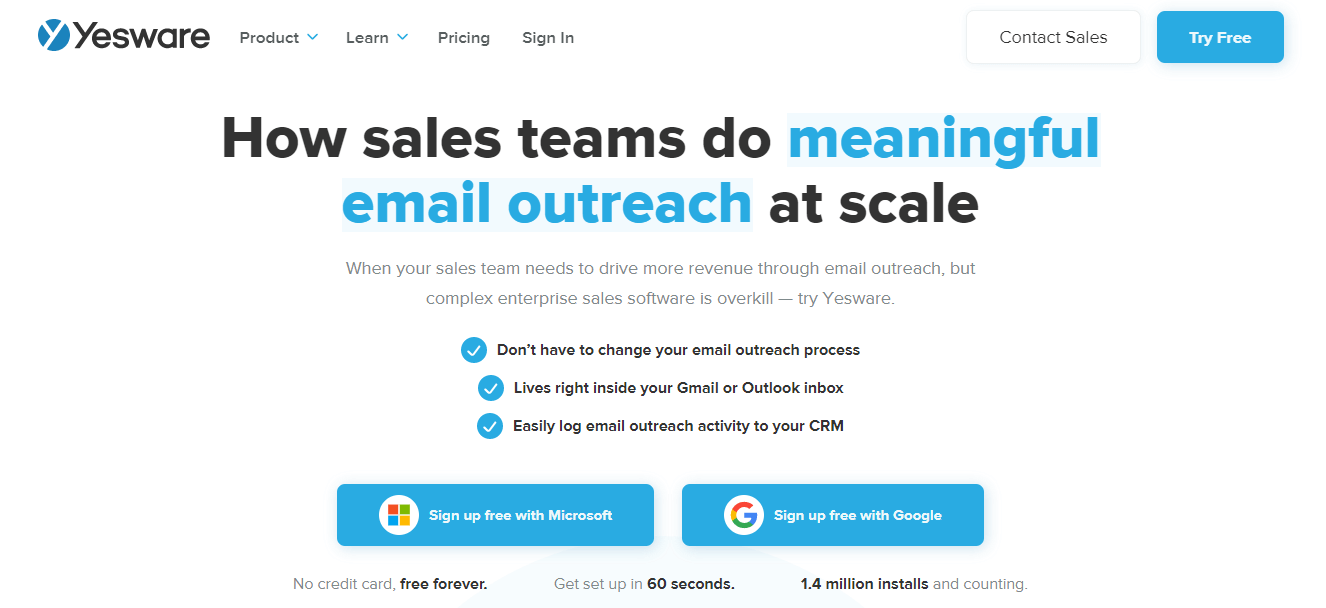 Yesware empowers sales teams to drive more meaningful email interactions. It automatically logs all outreach emails, so it becomes easier for salespeople to keep track of previous engagement with prospects and customers. The tool also helps sales executives better understand which type of outreach performs well with customers and modify upcoming interactions accordingly.
Key features:
Craft multi-channel, drip email campaigns for proactive engagement with prospects.

Track the number of email opens, clicks, etc., to find engaged contacts and follow up more effectively.

Send personalized emails to a mass list of prospects in one go.

Schedule meetings with clients by enabling them to choose a convenient time slot using a meeting link.

Use dynamic fields to customize emails with ease.
Pricing:
Free plan: Available
Starts from $15/user/month
Pros
Cons

Get notified in real-time for email opens and clicks.

Save time with ready-to-use email templates.

Reporting needs to be more user-friendly and actionable.

There is no way to identify if the email was blocked by a firewall.
5. Sendoso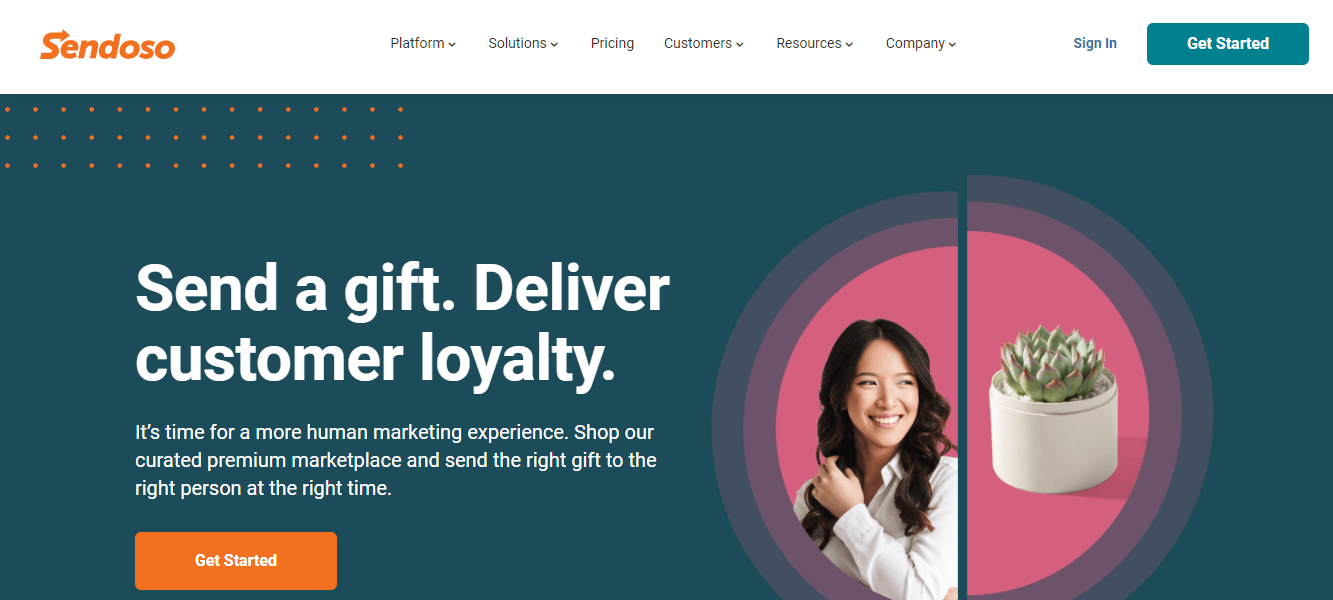 Sendoso empowers you to grow your sales by building strong relationships with prospects and customers. This sending management platform makes it easy to drive highly personalized engagement by delivering emails, gifts, eGifts, etc. The tool lets you create a detailed sending strategy and customize it according to the needs and expectations of the recipients.
Key features:
Time your follow-ups efficiently by tracking the delivery statuses of your sends.

Use virtual experiences and events to boost engagement with clients.

Monitor the overall performance of your engagement campaigns using reports.

Deliver personalized items or merchandise to build stronger connections.

Use address confirmation to reach your prospects where they are.
Pricing:
Available on request
Pros
Cons

Use an analytics dashboard to track the performance of your outreach efforts.

The tool offers powerful integrations, including Salesforce, Marketo, etc.

The Google Chrome plugin needs improvement.

More detailed tutorials and documentation are required for the tool.
6. PandaDoc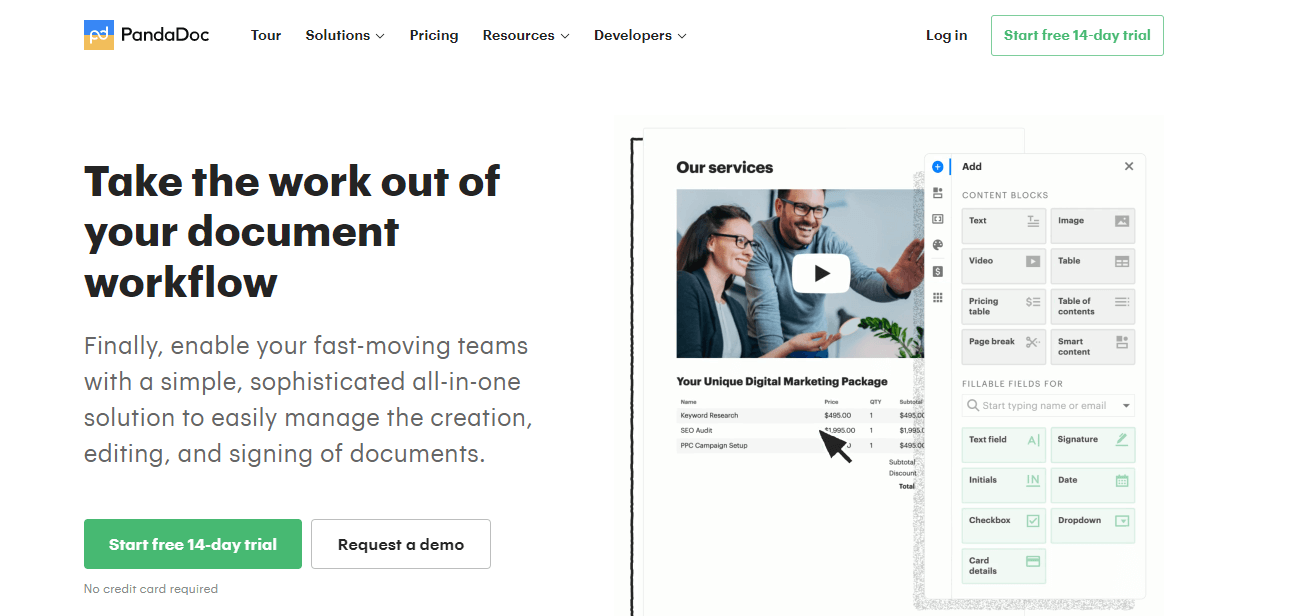 A crucial aspect of sales acceleration is efficient document management and approval. PandaDoc lets you automate your document workflow, to enhance the overall efficiency of your business processes. With this tool, you can easily create documents, collect eSignatures and collaborate with team members. Moreover, the tool makes sharing of documents significantly easier, helping you work faster.
Key features:
Automate review and approval workflows for documents.

Keep track of who viewed and signed the document.

Define custom roles and permissions for your team.

Use analytics to identify areas of improvement in your workflow.

Keep documents secure with data encryption.
Pricing:
Free plan: Available
Starts from $19/user/month
Pros
Cons

Create a template library for proposals, quotes, etc.

Get notified in real-time when someone engages with the documents.

The tool's UI needs to be more intuitive and flexible.

Customer support needs improvement.
7. EngageBay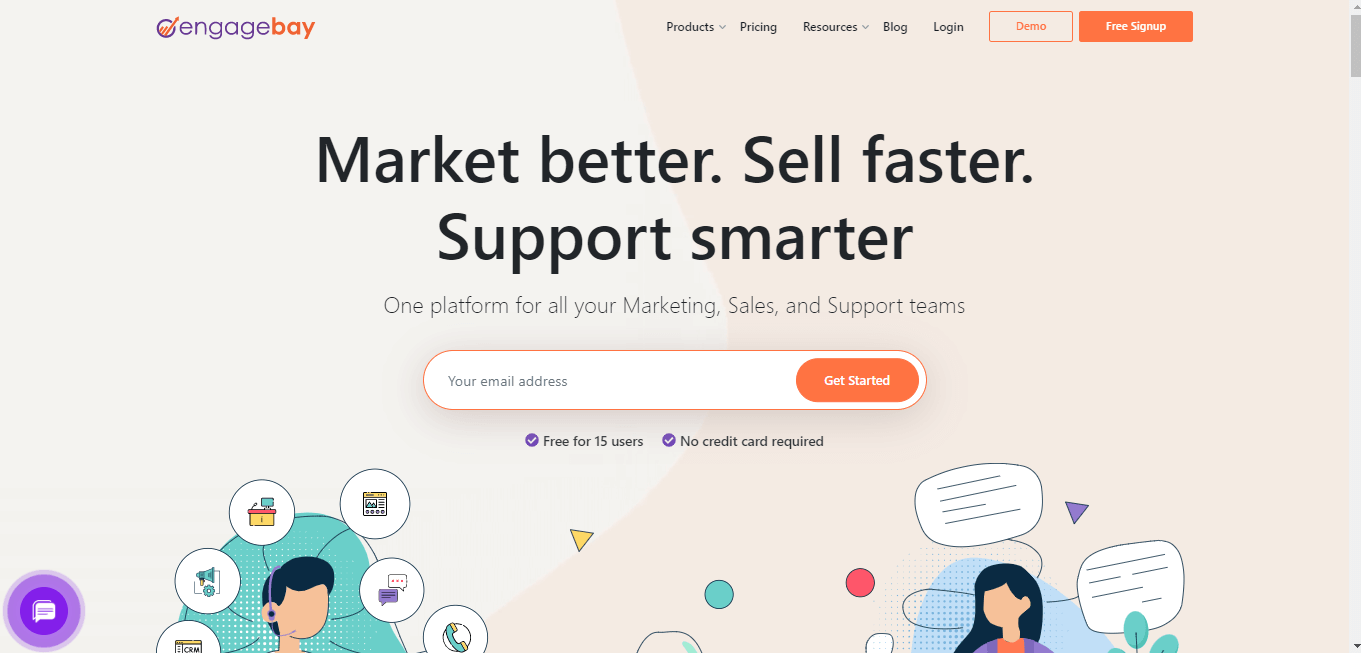 If you need an all-in-one tool that brings all essential contact data and business processes to a single platform, EngageBay can be a reliable sales acccelaration solution. The CRM tool can assist you in managing your sales pipeline with its powerful automation capabilities. It offers a 360° view of contacts, including their social media activity, emails, lead score, etc., helping you foster stronger relationships.
Key features:
Find high-value leads and engage with them effectively using the tool's lead scoring feature.

Manage all your emails from a single dashboard and set up two-way synchronization with any email program of your choice.

Enrich contact profiles with social media accounts and drive more personalized engagement.

Improve follow-up with sales opportunities using automated email sequences.

Automate routine tasks, such as lead distribution and call logging, to close deals faster.
Pricing:
Free plan: Available
Starts from $11.99/user/month
Pros
Cons

The customer support is prompt and effective.

Enable your prospects to effortlessly book appointments with you.

Understanding the tool's features and functionality takes time.

The tool requires a more intuitive interface.
8. Salesloft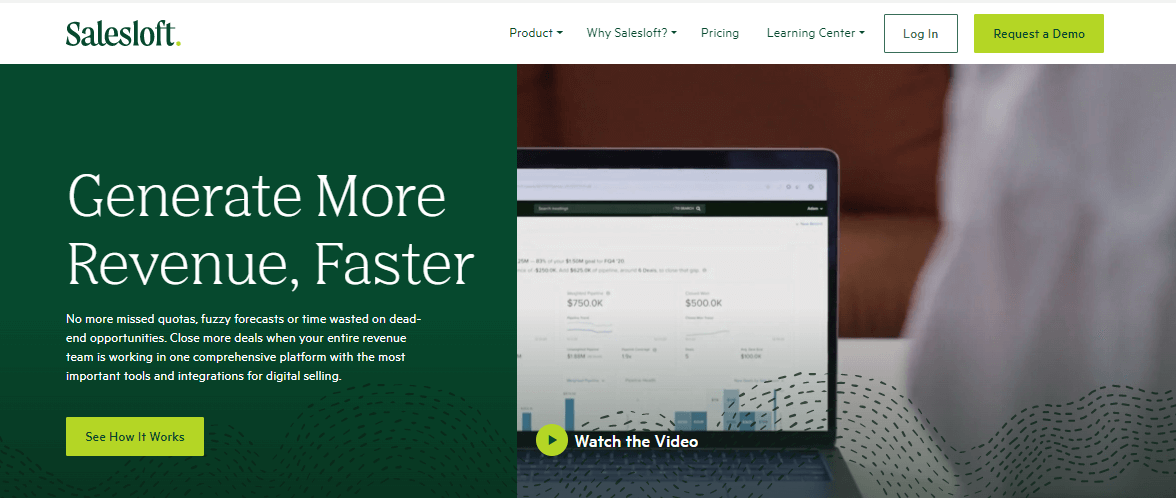 To grow your sales, you must enhance communication within the team and optimize the processes that precede conversion. Salesloft is a highly effective solution that can help you accomplish this. The tool lets you create automated cadence journeys that act as playbooks for your sales executives to drive more leads toward conversion.
Key features:
Use customizable email templates to scale your outreach efforts.

Track email views, clicks, and responses effortlessly.

Get a comprehensive view of the sales pipeline and manage opportunities with ease.

Make accurate sales forecast and monitor the health of your sales pipeline in real-time.

Identify at-risk deals in your sales pipeline and set up instant alerts for your sales team.
Pricing:
Available on request
Pros
Cons

It offers powerful integrations with applications such as Salesforce and Gmail.

The tool automatically routes prospects to the right cadence.

The software's loading speed needs significant improvement.

The customer support team needs to be more quick and effective in responding to queries.
9. Sage CRM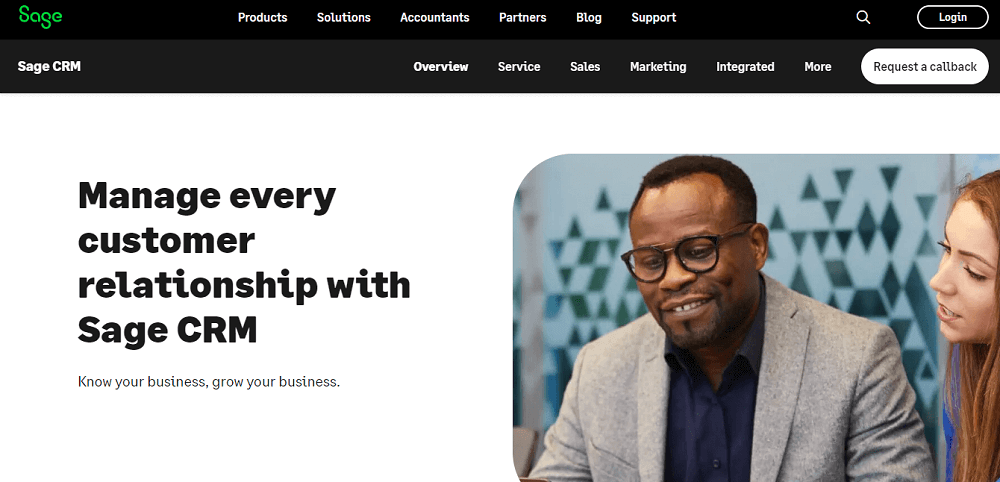 Sage CRM can help you simplify your sales activities in order to maximize their efficiency. It can improve the overall productivity of your sales team by enabling real-time lead tracking and providing a detailed view of the sales performance dashboard. The tool also empowers you to make data-backed decisions, which can improve your sales numbers further.
Key features:
Manage sales opportunities efficiently with a comprehensive view of your sales pipeline.

Use in-depth and easy-to-understand reports to stay updated with the performance of your sales activities.

Make accurate sales forecasts and modify engagement for deals accordingly.

Enable your team to collaborate with each other more effectively by providing a consolidated view of important data from a single platform.

Improve customer support experiences to gain access to up-selling and cross-selling opportunities.
Pricing:
Available on request
Pros
Cons

Sales executives can work on the go using Sage CRM's mobile application.

Get real-time insights into your processes with time and expense tracking.

Support can be slow and ineffective.

The tool's interface needs to be modernized.
10. LeadSquared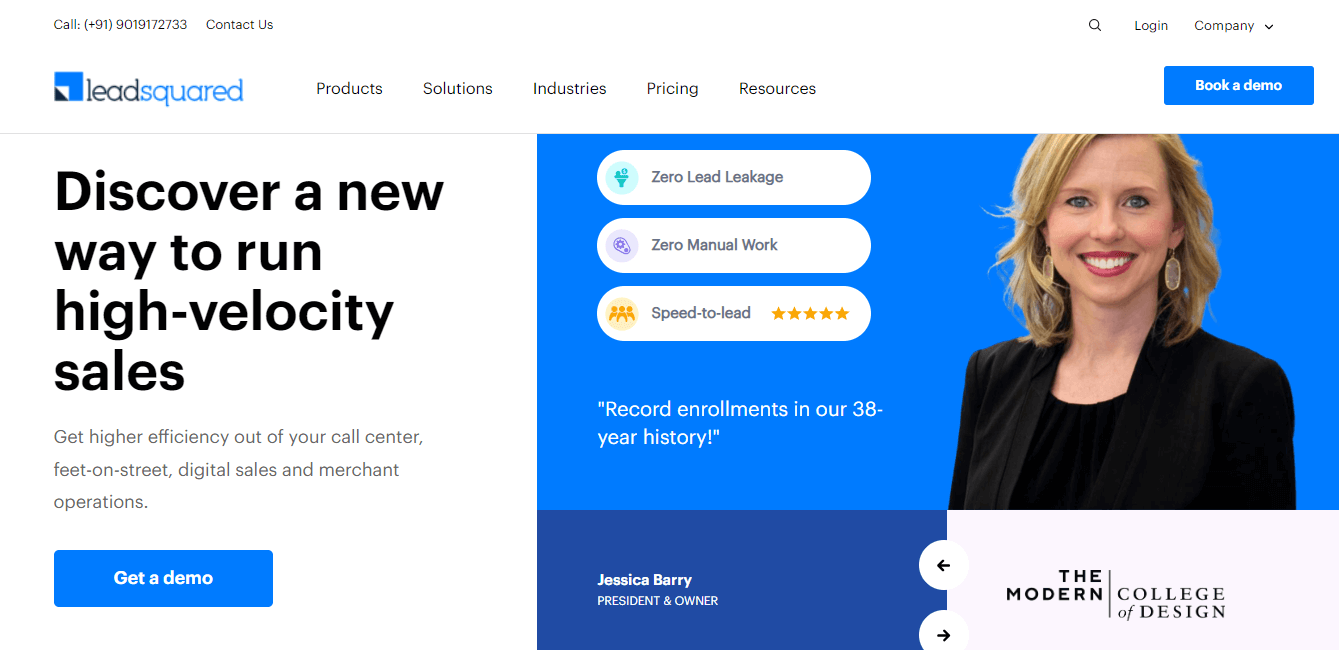 Leadsquared allows sales teams to be more efficient by by helping them stay focused on high-value deals. The tool's sales acceleration technology helps executives connect with prospects quickly in order to close deals faster. With Leadsquared, you can create automated sales workflows that contribute to increased productivity and help executives stay updated about the next best actions.
Key features:
Automate processes such as lead qualification and distribution.

Choose from pre-built reports or customize them to track relevant metrics, such as campaign effectiveness, individual performance, call volume, sales closures, etc.

Set up automated alerts and notifications for sales executives to engage with prospects at the most appropriate time.

Manage sales opportunities remotely using the mobile CRM application.

Create multiple sales workflows using the tool's no-code functionality.
Pricing:
Starts from $25/user/month
Pros
Cons

Capture leads from various channels and transfers them to the right sales representative automatically.

Integrate the platform with applications such as Gmail, Outlook, Twitter, Magento, etc., to get everything done from a single place.

It lacks advanced reporting options.

Implementation can be time-consuming and challenging.
11. Freshworks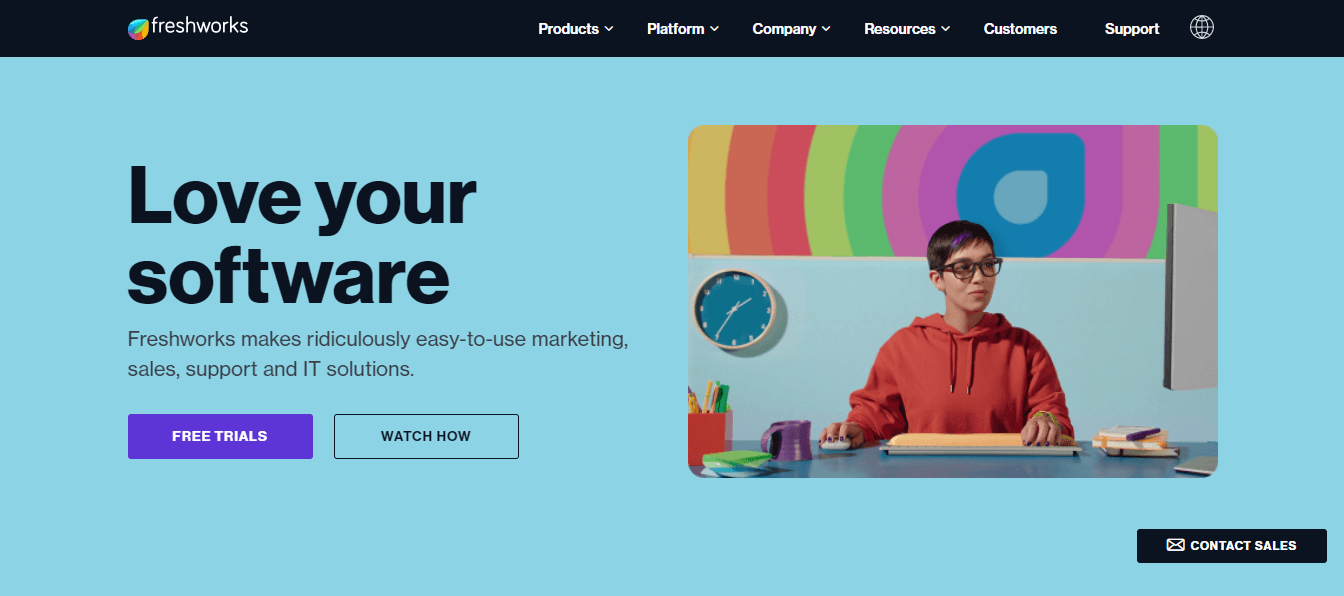 Freshworks offers a suite of tools that can improve customer experiences, contributing to a boost in your bottom line. The tool offers sales features that let you drive contextual and more personalized engagement with prospects and customers. With Freshworks, you can automate repetitive tasks to free up more time for sales representatives to engage with potential customers.
Key features:
Get a 360° view of your contacts to deliver more personalized and relevant experiences.

Use predictive scoring to focus on the most valuable sales opportunities.

Make better business decisions using visual reports and dashboards.

Get AI-powered insights and recommendations to improve your sales operations.

Create and store email templates for quick and consistent communication with prospects.
Pricing:
Free plan: Available
Starts from $15/user/month
Pros
Cons

It has an intuitive and customizable interface.

Use dynamic forecasting to predict revenue accurately.

The slow loading speed of the tool can lead to a drop in sales performance.

Customer service response time is usually high.
12. Zendesk CRM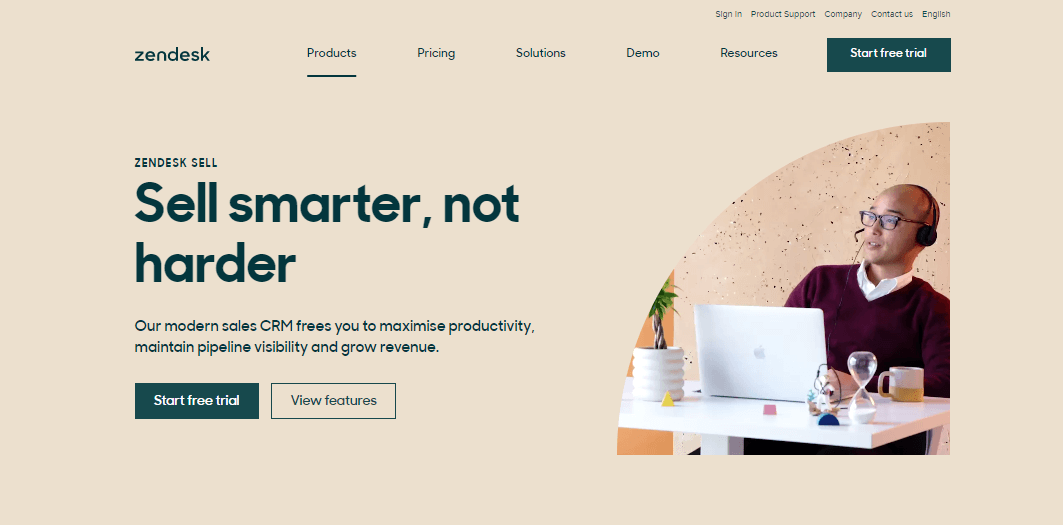 Zendesk CRM offers a sales CRM which can be highly effective in accelerating sales by letting you manage leads efficiently and crafting engaging customer experiences. It logs all emails, calls, and texts against the respective contact records automatically. The tool also allows you to create automated workflows with custom triggers that further enhance sales productivity.
Key features:
Create automated email and task sequences to enhance follow-ups.

Get all the context you need before interacting with prospects and customers with centralized access to essential data.

Improve targeting efforts by segmenting leads into smart lists.

Use the in-built enrichment tools to keep lead information up-to-date and usable.

Make use of the customizable email templates to engage with prospects and customers quickly.
Pricing:
Starts from $19/user/month
Pros
Cons

Use the mobile application to stay connected with prospects and customers at all times.

Share bulk emails with contact lists to save time.

It should offer better collaboration features such as tags or alerts for deals.

There should be more flexibility for customizing sales stages in the pipeline.
Grow Your Sales Numbers With the Right Acceleration Tools
Dropping sales numbers is a common occurrence, but with the right sales accelerator software, you can avoid this and pave the way for your business growth.
Investing in tools that can help your sales reach the finish line quickly can yield promising returns for your business. Such tools can help your sales representatives reach out to prospective customers at the right time. Moreover, they can streamline your internal processes, so your sales team can achieve higher productivity levels.
If you are considering investing in a sales acceleration platform, make sure to find a tool that aligns with your unique business objectives. Find the current pain points and hurdles faced by your sales staff and then consider tools that can address these problems. Also, make sure to go through user reviews to find a credible solution.
For teams looking for a dependable tool for sales acceleration, BIGContacts is a good bet. It is affordable, intuitive, and scalable. Moreover, the tool has a customizable interface, allowing you to make the most out of it with ease.