Client management can take up multiple forms.
You could be maintaining spreadsheets manually or using advanced client management software that keeps information updated automatically.
While conventional methods of managing clients may work initially, you will soon start losing control over the data as your customer base expands and you acquire more clients. This is where a powerful client management tool steps in.
A dedicated solution will keep your client database spotless and enable you to stay on top of all opportunities. You can easily track data and activities, automate processes, and optimize your growth strategy using a centralized client management system.
Turn clients into loyal brand advocates by managing them effectively. Choose from these 15 best CRM for client management by comparing their functionality against your specific requirements.
In a Nutshell
At its core, every business strives to keep its clients delighted. An effective client management tool is, therefore, a necessity for all organizations.

Such applications help strengthen relationships with existing and potential customers, contributing to an improvement in the organization's bottom line.

Some features to look for when choosing a client management tool include contact management, pipeline tracking, automated workflows, and data analytics.

To save you from spending hours comparing hundreds of client management software, we have created this comprehensive guide with the 15 best client management software you can opt for.

Find the features, pricing, advantages, and shortcomings of each of these tools to find the most suitable solution for your business.
What Is Client Management Software?
Client management software pool all related information together and optimize processes in order to form stronger relationships with current and potential customers. These tools organize client data, personalize communication, and streamline operations, contributing to delightful experiences.
Client management software help deliver more reliable and targeted solutions to customers. This develops better relationships, improves retention, and enhances profitability.
How Is It Different From Contact Management Software?
Most businesses tend to confuse client management software with contact management tools.
Contact management tools keep data well-organized and help you stay connected with your entire professional network. However, for effective management of business clients, you need a dedicated tool with advanced functionality. Such a tool will enable you to keep track of existing customers as well as potential leads, allowing you to maximize your business's profitability.
Client management software lets you track the pain points, preferences, and positions of your clients. This enables you to personalize upcoming interactions and enhance their effectiveness.
What Are the Features of Client Management Tools?
Before we begin with the comparison of the top-rated client management tools, let's take a look at the essential features of such software.
1. Contact Management
Contact management is a fundamental feature of client management tools. The tool should enable you to maintain detailed records with custom fields that can be accessed from any device. Such updated profiles will allow you to deliver more relevant and personalized experiences to clients.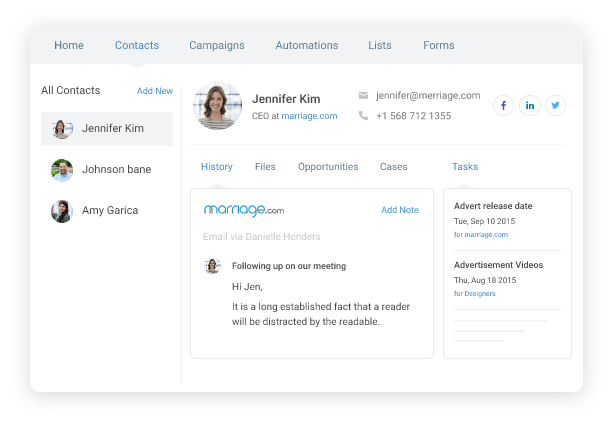 2. Automation
There are several aspects of client experience management that can be automated. From data capturing to follow-ups, you can define custom triggers for actions to be performed automatically. This contributes to improved productivity and enhanced customer experience.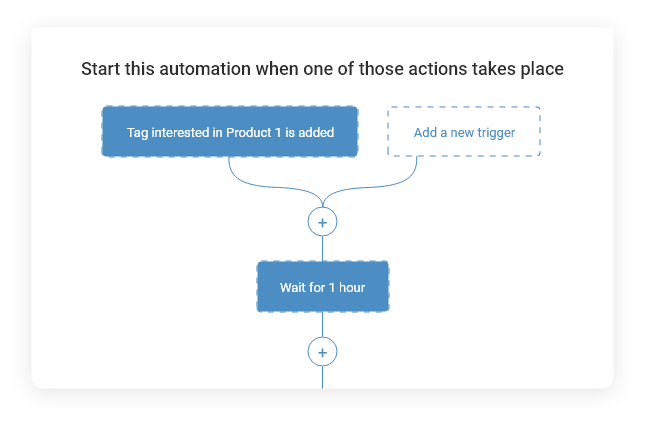 3. Activity & Communication Tracking
A client management tool should help you track all communication and activities related to your clients. The tool should enable you to view comprehensive timelines that help track all engagement activities with clients from one place.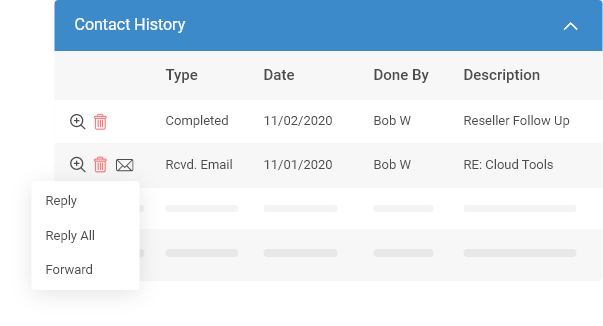 4. Data Analytics
An essential feature of client management tools is powerful reporting and data analytics. The application should enable you to create in-depth reports and dashboards that track the effectiveness of your client engagement activities.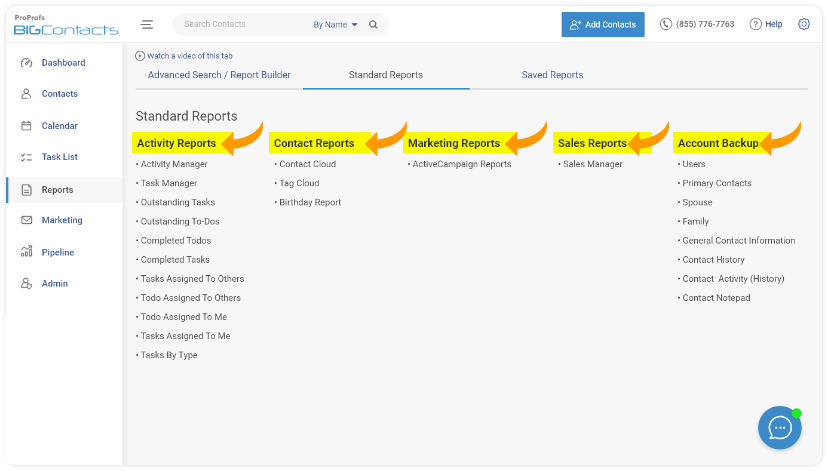 5. Collaboration
A useful feature of any client management system is the ability to bring the entire team to the same page. Such a tool facilitates effortless internal communication, which makes it easier to share important information and updates across the organization.
6. Integrations
The tool should offer a range of native and third-party integration options. This will help you connect it with your existing business software without any hassle. Such seamless integrations will also make data export and synchronization a breeze.
7
.
Lead Management & Tracking
The client database system should help you track clients at every stage of the sales process. This includes past customers as well as new leads. It's critical that you choose a tool that lets you visualize the position of your leads using pipelines and nurture them effectively.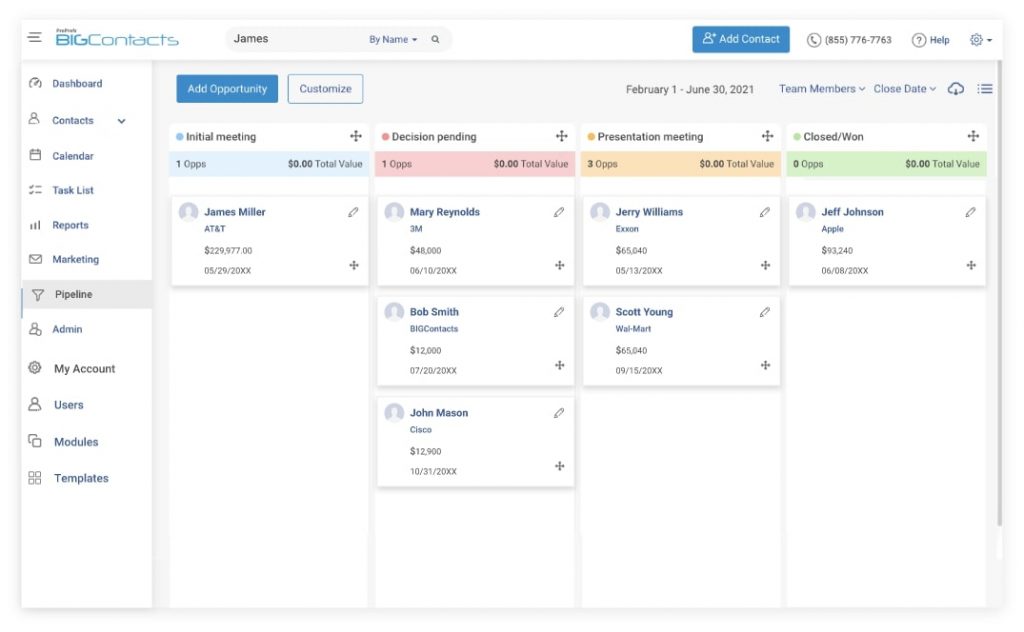 The Need for Client Management Software
The global customer experience management market, valued at USD 8.79 billion in 2021, is expected to grow at a CAGR of 18.1%. This widespread popularity can be attributed to the wide range of benefits that effective management of clients offers.
Deployment of powerful customer management software can help you:
Form stronger and long-lasting relationships with clients

Understand client needs and problems

Make better business decisions based on historical data

Automate repetitive tasks and establish consistent workflows

Centralize business data to enhance its usability and accessibility

Deliver satisfactory experiences to clients

Identify and prioritize high-value clients
15 Best Client Management Software
Client management software options are endless. And with each of these claiming to be the best, finding the most suitable solution can take time and effort. To make this decision easier, we have carried out an in-depth comparison of the 15 best client tracking software. Find this comparison below to make a well-informed choice.
1.
BIGContacts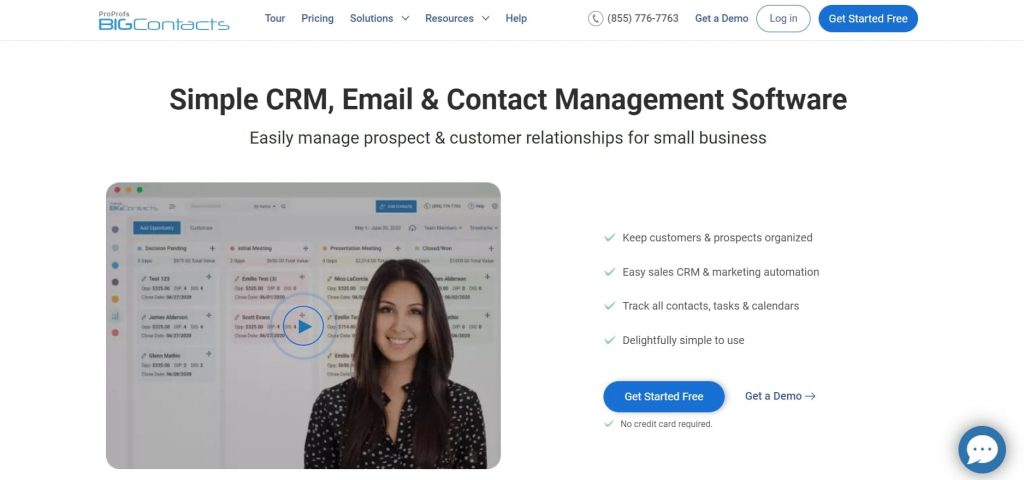 BIGContacts is an intuitive client management tool that automates engagement and allows us to build long-term relationships. The tool lets you maintain detailed contact records and use this data to personalize outreach. View previous touches, transaction history, customer preferences, and upcoming tasks from a single dashboard. BIGContacts also lets you create and store templates for improved engagement.
Key Features:
Find all contact details, tasks, files, emails, and notes in one place

Add custom fields to client records to store the most relevant information

Automate email sequences to connect with clients at the right time

Keep track of upcoming meetings with clients using a visual calendar and individual to-do lists

Monitor the effectiveness of client engagement efforts with customizable reports
Pros:
Client profiles are enriched with data from online sources automatically

Access relevant information remotely on any mobile device
Cons:
Eliminating redundant records can be challenging

AI-powered lead routing functionality is missing
Pricing:
Big- $5/user/month

Bigger- $15/user/month

Biggest- $25/user/month

Enterprise- Custom pricing


2.
Hubspot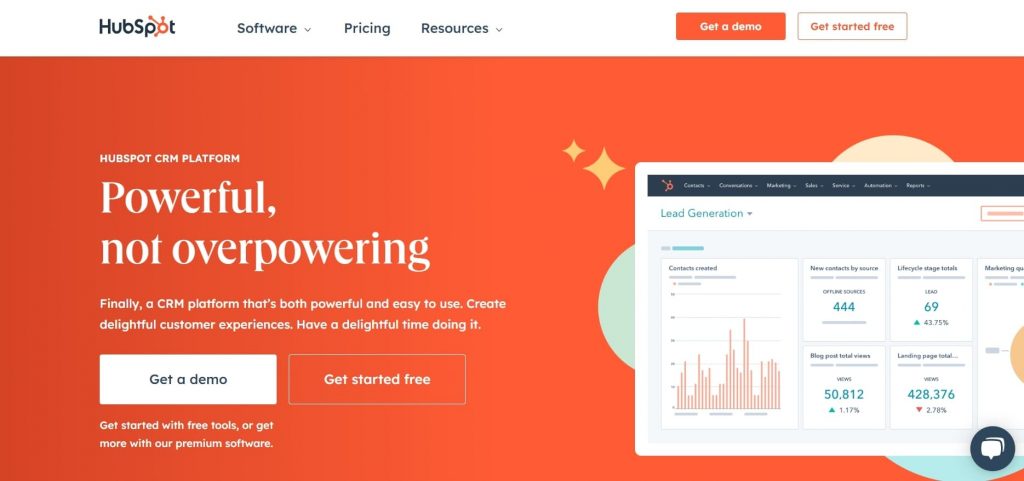 HubSpot is a comprehensive CRM solution with effective client management functionality. Use the tool to keep client data organized and accessible to employees across multiple departments. It also allows you to manage support tickets without leaving the CRM system. You can set up templates, manage your sales pipeline, automate workflows, and generate reports with HubSpot.
Key Features:
Client records are automatically enriched with data available online

Deliver personalized emails in bulk to engage with clients

Enable your clients to schedule meetings according to their preferences

Generate detailed reports on client activity and team performance

Unify your Gmail and Outlook inboxes with the tool to view all communications from one place
Pros:
Get instant notifications for client activity

Use the mobile app to view client data remotely
Cons:
Pricing is steep

Customizing email templates is challenging
Pricing:
Free plan available
Paid plans start from $45/month
3.
monday.com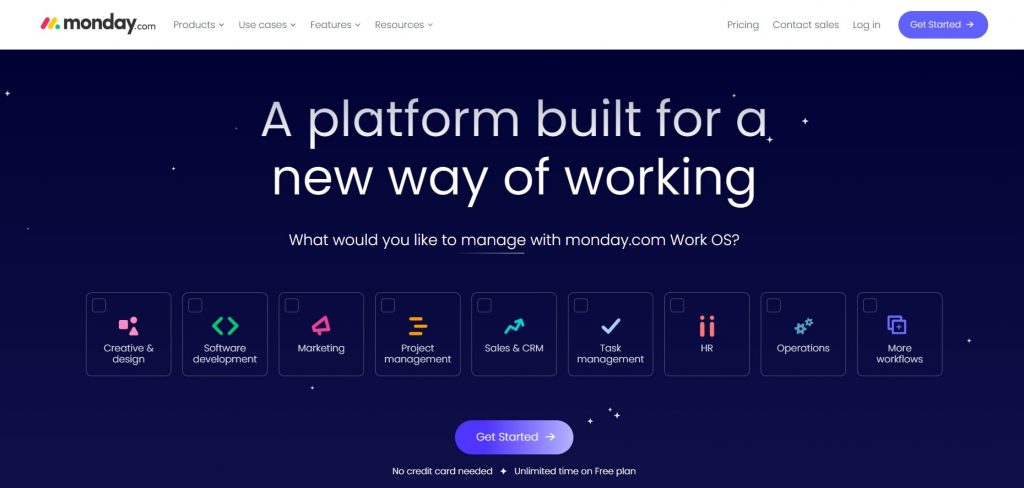 monday.com facilitates client management by centralizing your processes, communication, and files. The client manager software lets you create custom automations that enhance the effectiveness of your business operations and help delight your clients. It lets you keep your client data and business processes organized so you never miss out on any important meeting or deadline.
Key Features:
Find all essential information related to clients from a single dashboard

Automate follow-up and notifications to enhance business efficiency

Save time with customizable email templates

Gain better visibility into business processes with customizable dashboards

All client communications are logged in the system automatically
Pros:
Get real-time notifications to perform the right actions at the right time

Keep data synchronized with other applications, such as Dropbox, Slack, etc.
Cons:
Offers limited internal collaboration on documents

Glitches frequently occur in the mobile version
Pricing:
Free plan available
Paid plans start from $8/user/month
4.
Salesforce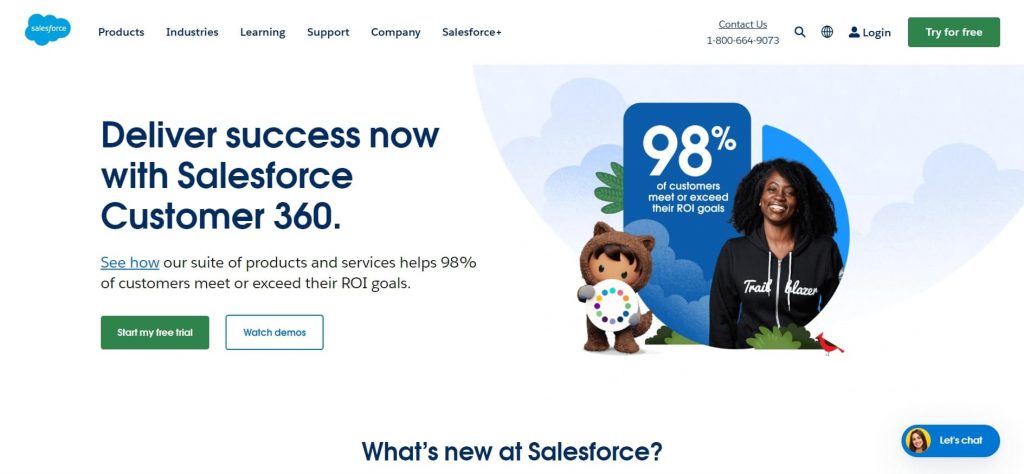 As a premier provider of CRM solutions, Salesforce is a leading choice for businesses that strive to optimize their client relationships and automate processes. The cloud-based platform works well for understanding the needs of clients and utilizing AI-powered insights to deliver personalized solutions that result in enhanced satisfaction and retention.
Key Features:
Centralize all information related to clients and access it from anywhere

Personalize and automate marketing campaigns to boost engagement

Make informed business decisions with detailed reports and dashboards

Customize workflows with a simple drag-and-drop interface

Automate repetitive tasks to enhance business efficiency
Pros:
Leverage intelligent insights to close more deals and strengthen relationships

Keep data synchronized with applications you already use such as DocuSign, Zapier, ActiveCampaign, etc.
Cons:
Set up and training are time-consuming

Reports are difficult to customize
Pricing:
Starts from $25/user/month
5.
Freshsales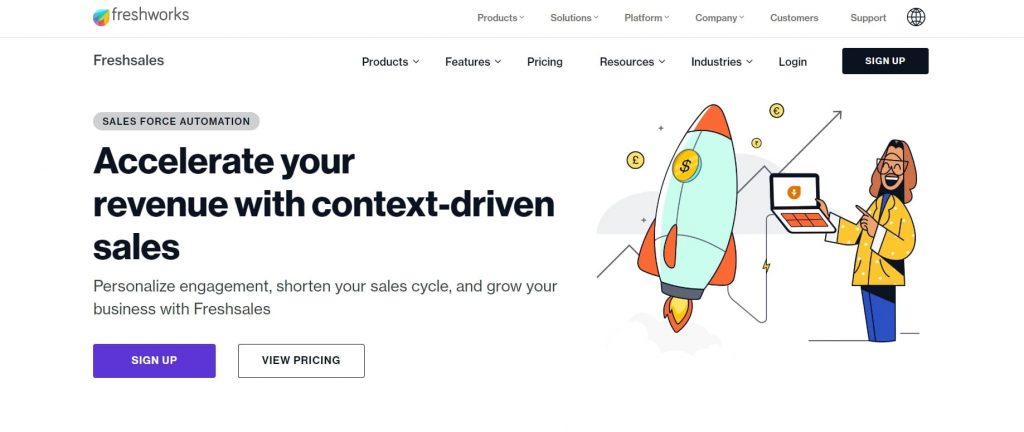 Freshsales by Freshworks is a sales CRM solution that helps personalize engagement and retain customers. Use the tool to identify the preferences of your clients and deliver satisfactory experiences accordingly. All the communication with clients is tracked and logged in the system automatically, so you never miss out on important conversations or lose touch with important customers.
Key Features:
Get access to detailed activity timelines for clients

Communicate with clients across multiple channels like calls, emails, and chat

Get AI-powered insights to focus on the right accounts

Upsell and cross-sell to existing clients with automated sales workflows

Enrich client profiles with social media information
Pros:
Stay connected with clients and update information on the go

Get real-time insights with powerful reporting and analytics
Cons:
Support response times are high

The interface needs improvement
Pricing:
Free plan available
Paid plans start from $15/user/month
6.
Pipedrive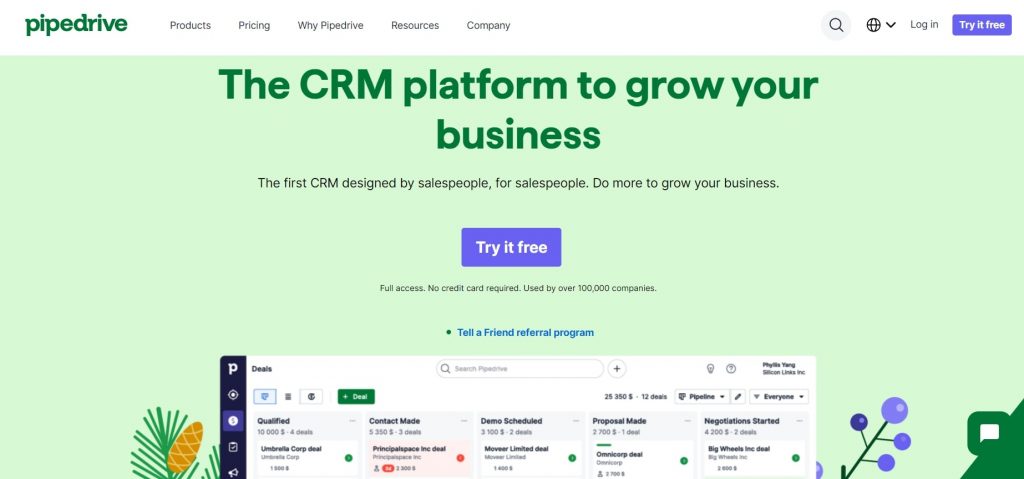 Pipedrive is considered a highly effective client management software for small businesses to manage their customers. The tool lets you visualize the position of every opportunity in your pipeline and take the necessary steps to keep them with your business. It keeps you on top of all client conversations by keeping all your inboxes synchronized with the system.
Key Features:
View a detailed history of client calls, emails, and activity in one place

Filter clients into lists to improve targeting

Choose from pre-designed email templates or create your own

Share your availability schedule with clients and enable them to book a meeting

Generate custom reports to track essential business metrics
Pros:
Get automatic alerts and reminders to meet important deadlines

Synchronize data with Microsoft Office 365, Google Calendar, Slack, QuickBooks, etc.
Cons:
Better training and onboarding resources are required

Slows down while processing large volumes of data
Pricing:
Starts from $9.90/user/month
7.
Wrike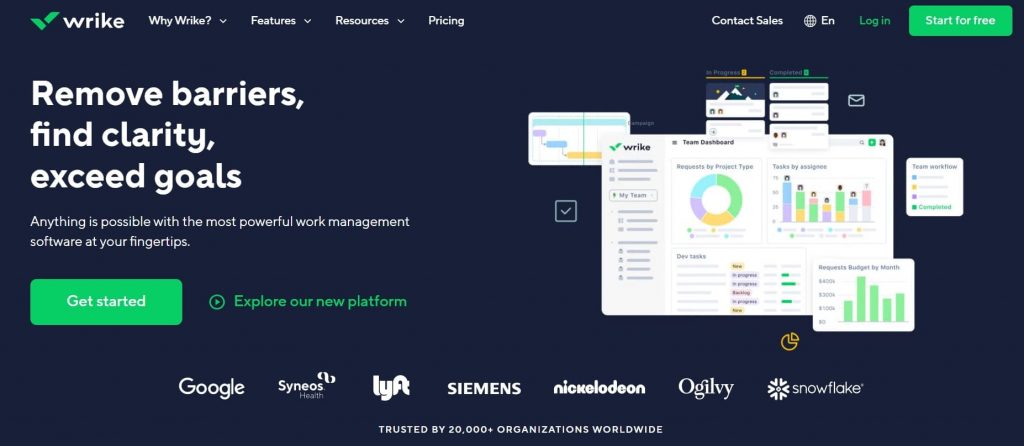 Wrike enhances your business productivity and enables you to manage clients seamlessly. The project management system can keep your data well-organized and allow you to optimize your projects to ensure client satisfaction. With Wrike, you can automate processes, manage tasks, cross-tag teams, allocate resources, and visualize progress with ease.
Key Features:
Reduce manual efforts with automated workflows including custom triggers

Set goals and allocate resources for projects judiciously

Gain insights into business performance and track essential metrics using built-in reporting and analytics

Ensure remote access to client data with the mobile app

Automate proofing and approval workflows
Pros:
Use visual dashboards to manage tasks and projects

Set up two-way sync with tools like QuickBooks, Outlook, HubSpot, WordPress, etc.
Cons:
Limited scope for customization on the home page

An extensive learning curve is involved
Pricing:
Free plan available
Paid plans start from $9.80/user/month
8.
Zoho CRM
Zoho CRM offers real-time insights into clients, allowing you to make more informed and profitable business decisions. It helps you stay connected with clients across channels, enabling you to build stronger relationships. With Zoho CRM, you can automate tasks, predict deal outcomes, run personalized email campaigns, and gain insights into improving business processes.
Key Features:
See complete client profiles, including open tickets and all conversations in one place

Segment clients and target them more effectively with personalized campaigns

Use the AI-powered assistant to fetch the right information and perform repetitive tasks

Customize layouts, views, filters, fields, and other CRM components

Monitor essential business metrics with real-time reports
Pros:
Access client data on the go with the mobile app

Include social media profiles in contact records and monitor client activity on these platforms
Cons:
Customer support is ineffective

The interface is outdated
Pricing:
Free plan available
Paid plans start from $14/user/month
9.
FreshBooks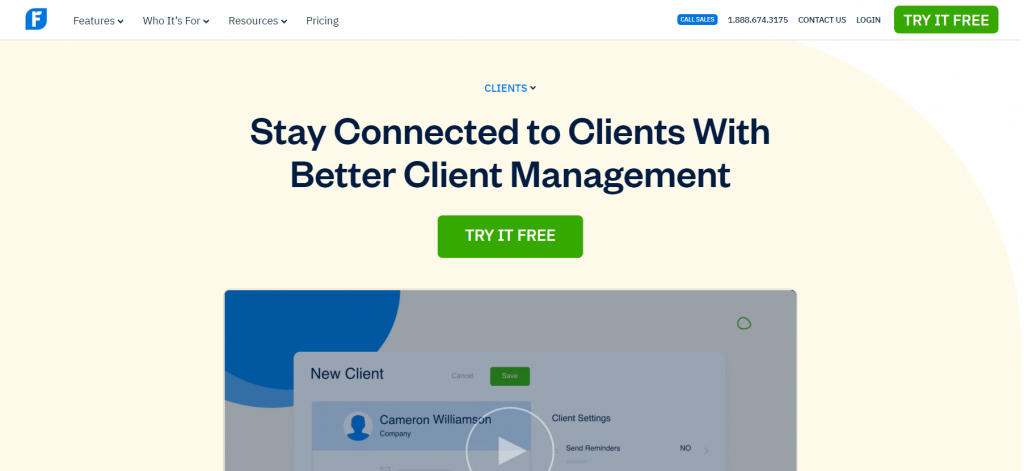 FreshBooks offers efficient client tracking and management functionality. The accounting software brings all the information related to your clients to one place, allowing your team to work more efficiently. Easily track the payment history, outstanding revenue, and client credits using FreshBooks. The platform also allows your clients to take action and collborate on projects.
Key Features:
Find client invoices, payment history, emails, etc., in one place

Enable clients to collaborate with you using dedicated client portals

Generate detailed client reports to find profitable opportunities

Use automation to create recurring invoices

Deliver proposals to clients and accept payments without leaving the platform
Pros:
Create more accurate invoices with time tracking

Stay connected with clients at all times with the mobile app
Cons:
Cannot schedule the delivery of emails

Lacks advanced reporting capabilities
Pricing:
Starts from $4.50/month
10.
Insightly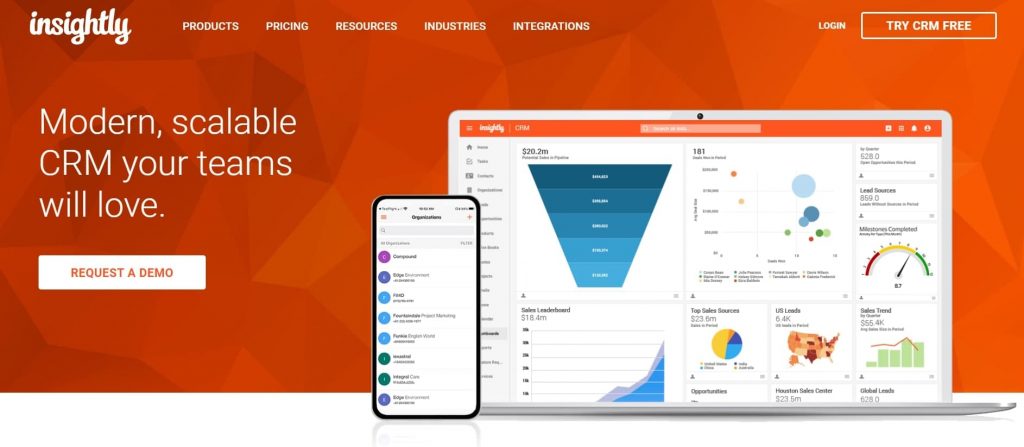 Use Insightly to connect better with your clients and build meaningful relationships that last for a long time. The tool centralizes your client data and automates processes. You can set milestones, track progress and manage projects with Insightly. The platform also allows you to create custom dashboards and reports to monitor the most relevant business metrics.
Key Features:
Track client communication and activity history with detailed timelines

Create custom automation workflows with multiple steps and conditions

Understand the client's organizational structure with advanced relationship linking

Deliver personalized emails from within the CRM system

Customize layouts, workflows, user roles, and other modules
Pros:
Create targeted lists of contacts and send out bulk emails

Monitor essential business metrics in real-time
Cons:
Better sorting and filtering capabilities are required

Customization options for the interface are limited
Pricing:
Starts from $29/user/month
11.
Canopy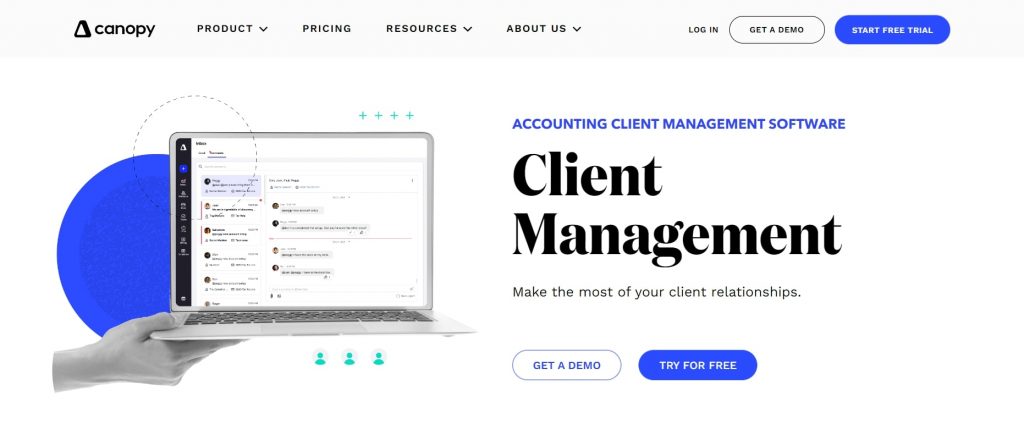 Canopy is a popular client management solution for accounting firms to keep their customers engaged and delighted. The platform helps centralize communication and streamline operations, contributing to improved business efficiency. You can use it to onboard your clients and stay connected with them at all times. Canopy also lets you create dynamic client lists based on different criteria.
Key Features:
Organize all client-related information, including their requests, notes, and comments in client portals

Track and manage all client emails from one place using the Global Inbox

Use tags, custom fields, groups, or filters for segmentation and save them for future access

All the client interactions are logged in centralized records for every client

Integrate with your Google and Microsoft Calendar to keep event information synchronized
Pros:
Define custom user roles and access permissions

Perform bulk actions to save time and improve business performance
Cons:
Customer support does not meet expectations

Lacks detailed activity timelines for individual clients
Pricing:
Free plan available
Paid plans start from $24/user/month
12.
Keap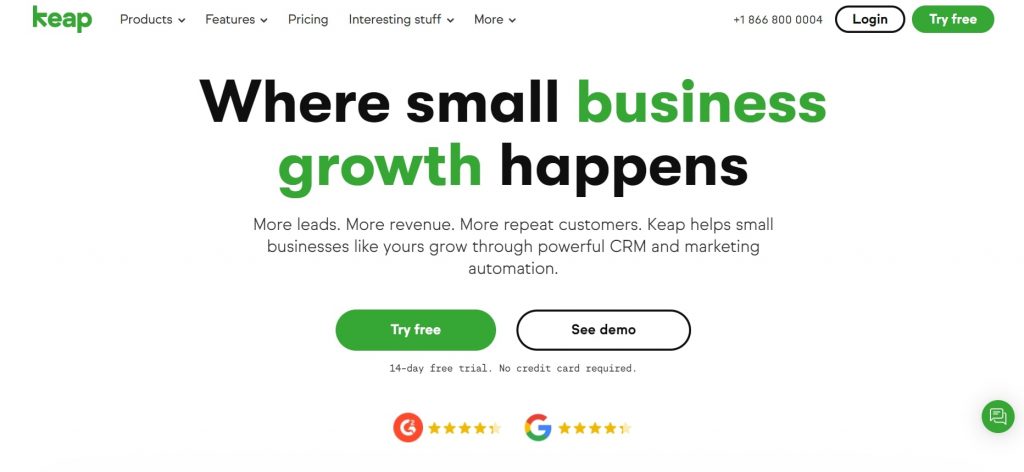 Keap is a powerful CRM with marketing automation capabilities that work well for client management. The tool offers pre-built email templates, lets you segment clients effectively, and empowers you to automate repetitive actions. You can also use Keap to personalize your client follow-ups and deliver timely reminders for important meetings.
Key Features:
Improve targeting by tagging and segmenting clients

Create custom and personalized automation workflows

Collect payments from clients online and deliver reminders for overdue payments

Gain valuable insights into business performance with built-in reporting and analytics

Allow clients to book meetings conveniently
Pros:
Choose from a range of engaging email templates

Stay connected with clients from anywhere using the mobile app
Cons:
Advanced search capabilities are missing

A steep learning curve is associated with the tool
Pricing:
Starts from $129/month
13.
Engagebay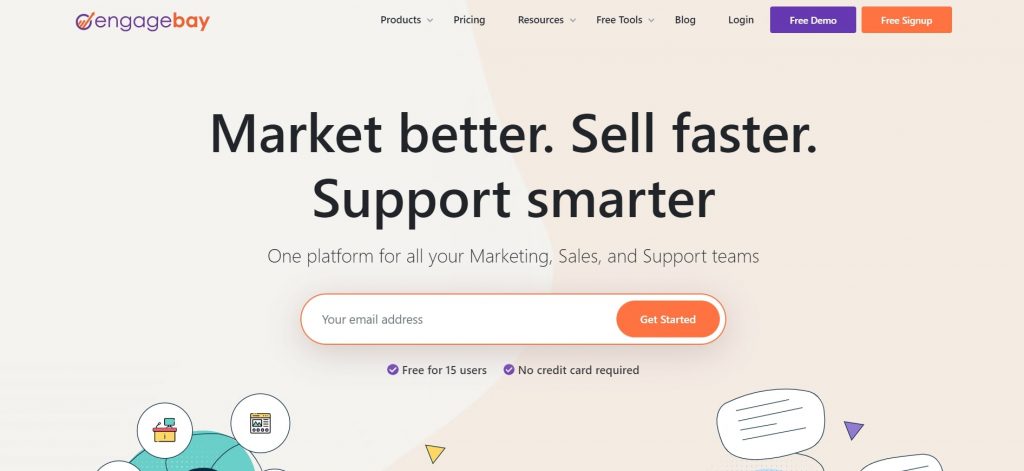 Engagebay can help you build stronger client relationships by automating processes and personalizing interactions. It provides a 360° view of customers, enabling you to track their needs, preferences, and behavior effortlessly. The tool offers powerful features such as marketing automation, appointment scheduling, deal management, and business analytics.
Key Features:
Find all emails, tasks, notes, files, social media information, etc., related to clients in one place

Client interactions are updated in the system in real-time

Craft automated email sequences to improve client follow-ups

Contact records are automatically populated with social media profiles and activity

Enable clients to schedule appointments and synchronize them with your calendar
Pros:
View and update client records from anywhere

Use predictive lead scoring to focus on the right accounts
Cons:
Setup is complex and time-consuming

Creating email templates can be challenging
Pricing:
Free plan available
Paid plans start from $12.74/user/month
14.
Honeybook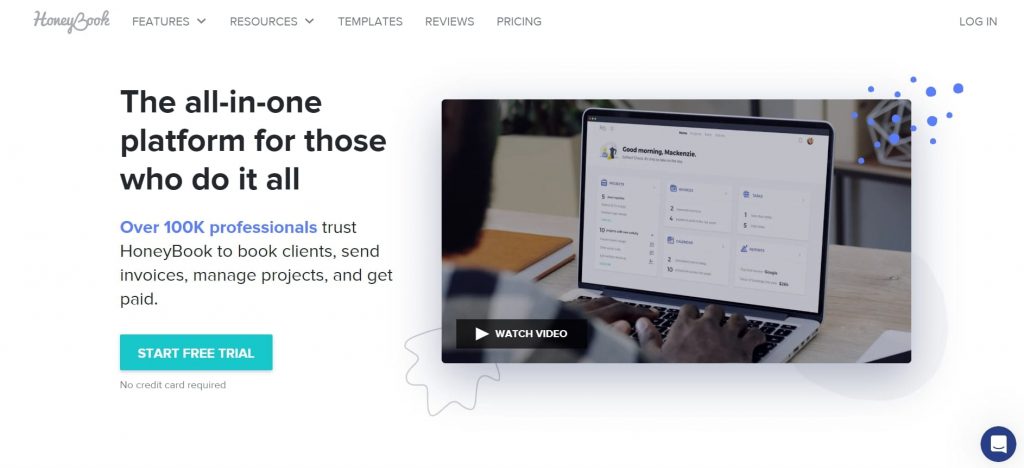 HoneyBook is a comprehensive tool for managing clients, payments, and projects. The tool can help you become more organized with your business data and build stronger relationships with clients. It can enable you to schedule appointments with clients and keep these events synchronized with your Google Calendar to avoid any no-shows.
Key Features:
Find important client data and files in one place and access them readily

Trigger automated actions such as email follow-ups and tasks

Collect e-signatures and payments from clients

Set your availability and share booking links with clients

Deliver customized invoices, proposals, and contracts
Pros:
Integrate with tools like QuickBooks, Calendly, Gmail, Outlook, etc.

Set up and deliver payment reminders automatically
Cons:
The mobile app offers limited features

Time zone synchronization is missing
Pricing:
Starts from $39/month
15.
WorkflowMax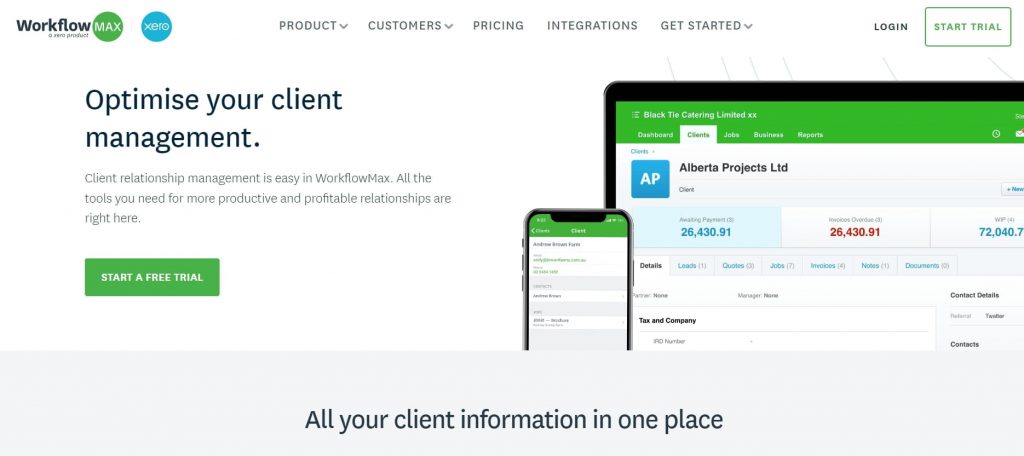 WorkflowMax pools all the client information in one place, enhancing its accessibility and helping you delight customers with personalized interactions. With this application, you can store essential information related to your clients and view it readily. You can also contact clients from within the system to save more time and enhance efficiency.
Key Features:
Store relevant details with custom fields

Track notes and documents related to your clients from a single location

Use the global search feature to locate the right client instantly

Segment clients using pre-built or custom filters

Enable client collaboration on projects
Pros:
Import client data in bulk with just a few clicks to avoid manual entry

Track client information even when you're out of the office with the mobile app
Cons:
Require advanced template customization features.

Reports cannot be dynamically altered.
Pricing:
Starts from $45/month
Build Long-Lasting Relationships With Client Management Software
There may be countless options for client management software, but the final decision comes down to one thing-
What are the unique pain points that you're looking to address?
Whether you need a tool that centralizes client details or automates processes like data entry, you can easily find a solution that suits your unique needs. Alternatively, you can opt for highly flexible software such as BIGContacts, which offers extensive customization options to align the tool with your specific requirements.
Finding the right client management software will transform your business relationships and help you acquire a more stable position in the marketplace. Focusing on building stronger client relationships will allow you to maximize your earning potential and help you accomplish your long-term growth objectives with ease.