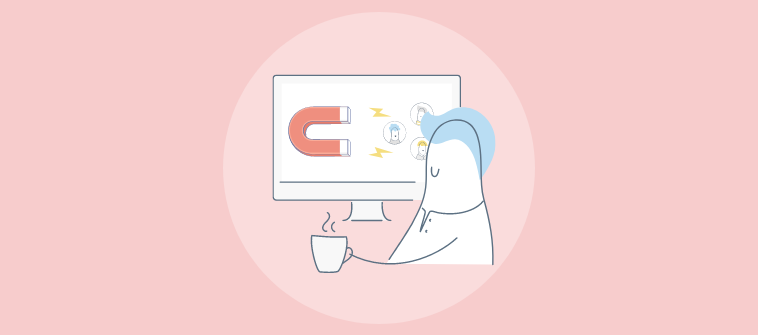 Customer acquisition is a long, hard-fought (and not to mention expensive) battle. But what do you do when the hard-acquired customers just won't stick around? You might be doing everything in your power to avoid customer attrition, but your churn numbers may not reflect the same. If this challenge hits close to home, it's time for you to rethink your strategy and invest in powerful customer retention software. Customer retention systems refer to all tools that can reduce churn. These can be CRM tools, customer service applications, survey tools, business intelligence applications, or loyalty gamification platforms. This guide will walk you through the significance of customer retention software. Then, it covers the 12 best customer retention tools with their features, pros, cons, and pricing. Explore these tools and their capabilities to find an optimal solution that improves loyalty and keeps your retention number high.
In a Nutshell
Customer retention encompasses strategies that keep customers with your business for an extended period.

A customer retention software can uncover trends, predict outcomes, and personalize experiences to reduce churn.

Refer to the following guide for a complete analysis of the functionality, pricing, pros, and cons of the tools mentioned above.
What Is Customer Retention Software?
Customer retention software keeps customers loyal to your business, thereby reducing churn. Such software empowers you to deliver satisfactory customer experiences that in turn boost your business's revenue and keeps customers with you for a long time. But how do such tools play out? The areas of implementation of customer retention software are plenty. Using a customer retention application such as a CRM can deliver personalized and relevant solutions to customers, keeping them from jumping ship. On the other hand, a live chat tool can deliver reliable support experiences, so customers feel valued. Furthermore, customer feedback software and analytics tools can help you identify patterns that cause churn and discover trends that can improve retention.
Benefits of Customer Retention Software
Customer retention is a high-stake business process. However, it is much less costly than acquiring new customers.
Investing in a powerful customer retention management system can keep customers with your brand for a long time to come.

Some of the most notable benefits that client retention software offers are listed below.
Upselling for Revenue Growth: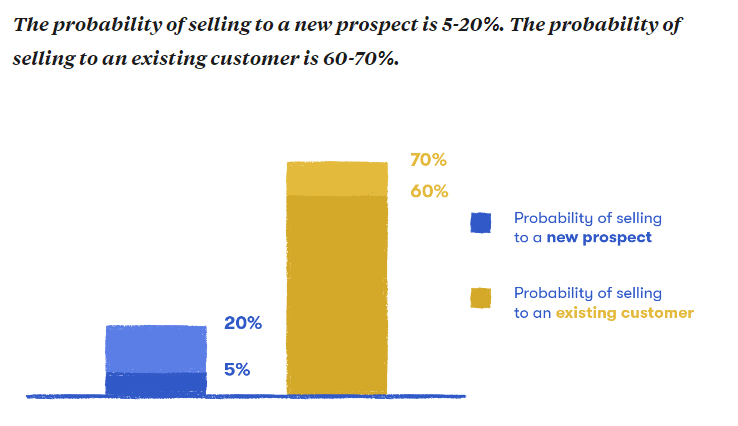 As per Marketing Metrics, the probability of selling to an existing customer is 60-70%! Upselling can expectedly boost your revenue because the customers have already made a purchase and place trust in your business. Moreover, 65% of a company's business comes from its existing customers. You must invest in a dynamic customer retention tool to leverage this and increase spending from existing customers.
Get Insights Into Customer Behavior:
A customer retention application with behavior reporting and analytics offers you the opportunity to keep track of what customers like and dislike. It can help you collect useful data, identify areas of improvement for your business and ensure that you are on the way to hitting your sales targets.
Identify Churning Customers:
Customer retention tools use insights and analysis to identify customers that are likely to churn. It lets you know who your unsatisfied customers are, what is causing churn, and what strategies can be implemented to prevent it. The tool provides you with the opportunity and channels to engage with them using personalized solutions, such as relevant offers or one-to-one calls.
Improve Customer Support Experiences:
A key aspect of customer retention is service management. An automated customer retention tool helps ensure that the customers receive adequate help as and when they need it, whether it is through a support executive or a self-service portal. Such a tool can optimize your support experiences, so customers get prompt responses to their concerns and do not feel stuck or unheard.
Capture Customer Feedback:
"The customer's perception is your reality." – Kate Zabriske, Marketing Consultant & Author Your retention strategy can be considerably improved when you have tangible customer data at your disposal. This is where retention software can come in handy by helping you collect and manage user feedback to gauge the effectiveness of your customer retention strategy.
The Best Customer Retention Platforms- At a Glance
Software
Key Features
Pricing
✔️BIGContacts

Automated follow-ups

Contact management

Reporting & analytics

Starts from $5/user/month
✔️HubSpot CRM

Universal inbox

Meeting scheduling

Email templates

Starts from $45/month

✔️ProProfs Chat

Automated chatbots

Real-time visitor tracking

Reporting & analytics

Starts from $20/month

✔️Qualaroo

Feedback survey templates

Advanced segmentation & targeting

Branching logic

Starts from $80/month

✔️ProfitWell

Benchmarketing audits

Real-time reporting

Customer insights

Custom pricing

✔️KissMetrics

Behavior analytics

Activity reports

Customer journey tracking

Starts from $299/month

✔️ServiceBell

Live video chat

Real-time activity tracking

Insightful analytics

Starts from $500/month

✔️Gainsight CX

Customer journey orchestration

Reports & dashboards

Feedback surveys

Custom pricing
✔️mixpanel

Custom dashboards

Real-time alerts

Data segmentation

Starts from $25/month

✔️Optimove

Predictive analytics

Custom dashboards

Conditional templates

Custom pricing

✔️Zendesk

Built-in routing

Multichannel support

AI-powered bots

Starts from $49/user/month

✔️Mambo.io

Customer loyalty gamification

Personalized dashboards

Time-bound rewards

Custom pricing
13 Best Customer Retention Software Tools in 2023
It's now time to look at the 12 best customer retention tools that could reduce churn and help you become a household name.
1.
BIGContacts
BIGContacts is a dynamic customer retention CRM application with robust automation workflows and capabilities that can significantly improve customer experiences. This intuitive platform lets you keep track of customer preferences and pain points, so you can deliver the most impactful messages and build relationships that stand the test of time.
Key Features:
Deliver personalized outreach with improved accessibility to customer data.

Monitor engagement levels with the help of in-depth reports and analytics.

Automate emails, tasks, and reminders to engage with customers at the most appropriate time.

Track upcoming tasks and deadlines with a comprehensive calendar view and to-do lists.

Automatically update client profiles with social media information gathered from multiple sources.
Pros:
Access customer data remotely using any mobile device.

Find all previous interactions and activity history within contact records.
Cons:
Some speed lags occur while using the tool.

It lacks advanced deduplication features.
Pricing:
Big- $5/user/month

Bigger- $15/user/month

Biggest- $25/user/month

Enterprise- Custom pricing
2.
HubSpot CRM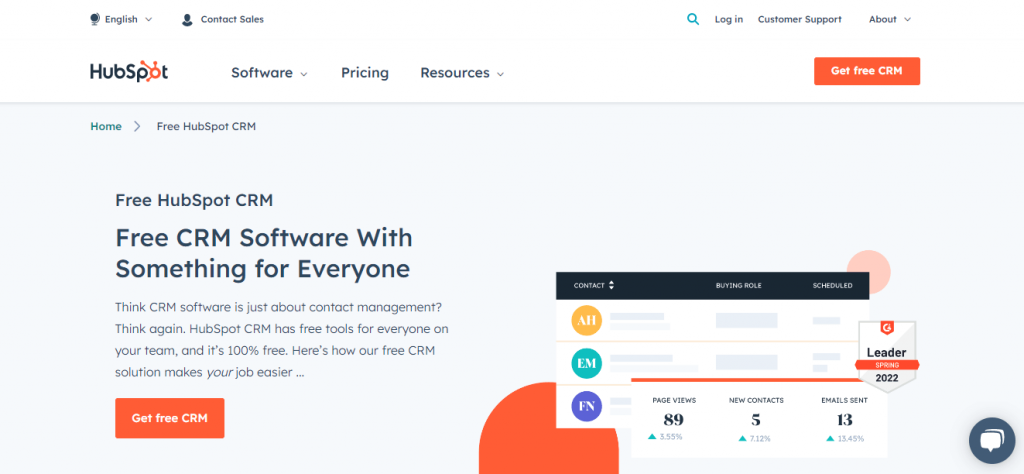 HubSpot is a comprehensive CRM solution that can help you retain more customers by delivering personalized experiences based on client data and actionable insights. This retention tool can be used for contact management, task tracking, appointment scheduling, and business reporting. HubSpot also offers a mobile application, so you can manage your customer relationships from any remote location.
Key Features:
Find contact details, previous touches, and tickets in one place.

Use a universal inbox to keep track of all client interactions.

Set up email templates and canned responses to reach out to customers instantly.

Get notified when customers engage with your outreach efforts.

Enable customers to book meetings with your team at their convenience using custom scheduling links.
Pros:
Organize and manage customer support tickets within the CRM system.

All interactions are logged automatically, eliminating the need for manual data entry.
Cons:
Reporting is limited.

The pricing structure is steep, and the overall cost increases quickly.
Pricing:
Free plan available

Paid plans start from $45/month
3.
ProProfs Chat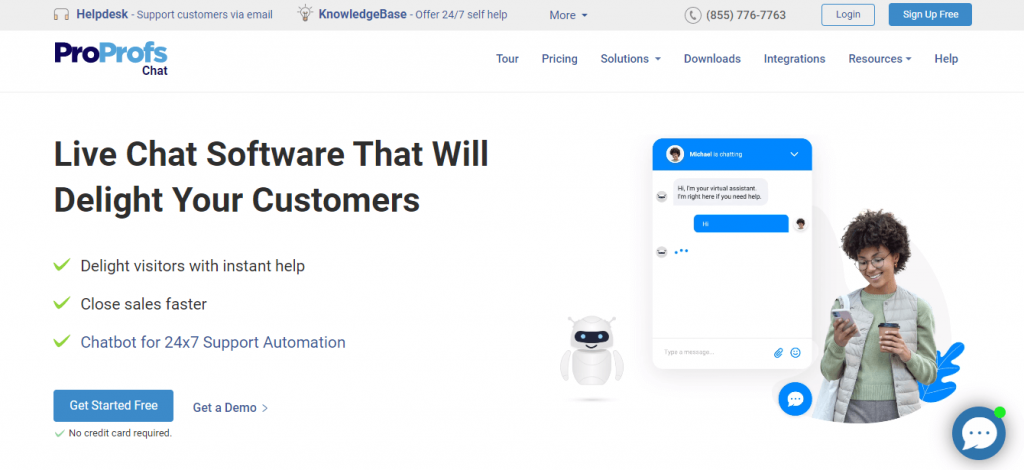 ProProfs Chat lets you deliver instant customer service using live chat, ensuring that clients have a satisfactory experience. You can track chat history, visitor behavior, contact details, and preferences to enhance personalization efforts. Moreover, ProProfs Chat automatically routes visitors to the correct department within your organization, contributing to an improved customer experience.
Key Features:
Automate your support with chatbots and intelligent routing.

Deliver more targeted messages with real-time visitor tracking.

Customize the live chat experience to match your branding.

Track performance and optimize future interactions using reporting and analytics.

Easily escalate and transfer chats or store them as transcripts.
Pros:
Use canned responses to answer customer queries faster.

Deliver post-chat surveys to gauge customer satisfaction.
Cons:
The chatbot lacks advanced conversational flows.

Tagging features need improvement.
Pricing:
4.
Qualaroo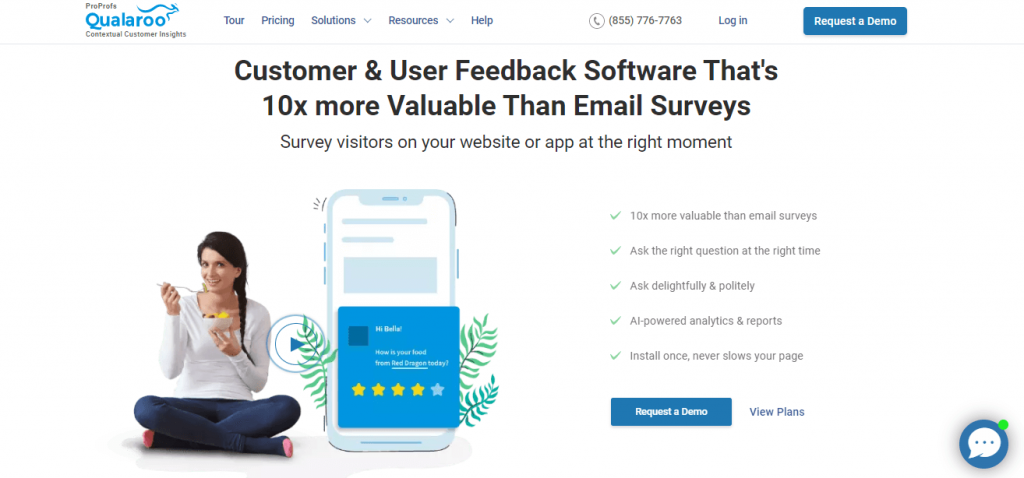 Qualaroo lets you gather feedback from your customers at the most opportune time using on-page surveys, so you can gather valuable insights into improving business processes. It offers survey templates, sentiment analysis, and customer experience management capabilities. Moreover, you can use the application to customize the branding of nudges according to your business.
Key Features:
Choose from pre-designed questions and templates for customer surveys.

Target specific website visitors based on source, time on page, visit number, etc.

Collect insights and share them with your team using meeting-ready reports.

Use branching and skip logic in your feedback surveys.

Automatically segment survey data into different sentiments.
Pros:
Display nudges on your websites, applications, prototypes, and public URLs.

Integrate the tool with a number of applications, including Zapier, Slack, Tableau, and Salesforce.
Cons:
Industry-specific templates are required.

AI sentiment analysis offers limited functionality.
Pricing:
5.
ProfitWell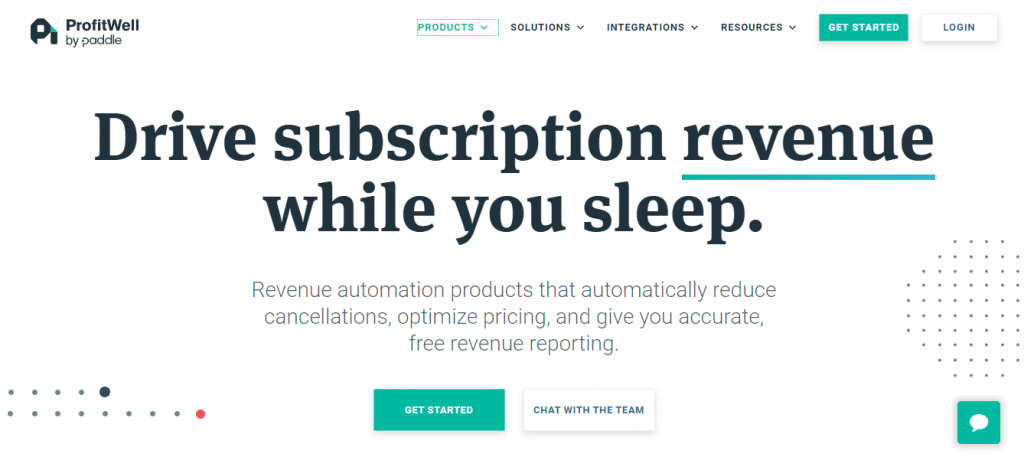 ProfitWell is a churn reduction software that uses a range of data points to deliver customers the most appropriate and well-targeted experiences to customers. It offers revenue recognition, price optimization, and customer insights. With ProfitWell, you can allow customers to retry failed payments with a single click, leading to an improvement in your recovery rate.
Key Features:
Deliver salvage offers to canceling customers based on their engagement data.

Keep track of your revenue and customer satisfaction with real-time reports.

Provide messages to customers with your custom branding using white labeling.

Use pricing and benchmarking audits to improve retention.

Manage customer data and get alerted remotely with the mobile application.
Pros:
The tool has a straightforward and easy setup.

Integrate the application with Databox, Intercom, Slack, Stripe, Zapier, and several other tools.
Cons:
The tool is lacking in advanced search and analytics.

Customer response times are high.
Pricing:
Free plan available

Custom enterprise plan available
6.
KissMetrics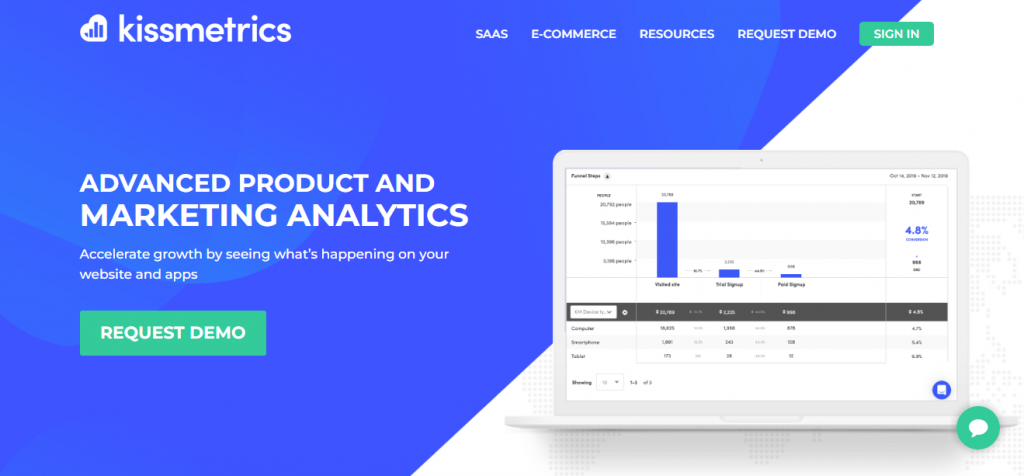 KissMetrics offers advanced product analytics so that you can optimize your customer offerings. It lets you make decisions based on user behavior, helping reduce churn and increase revenue per customer. The tool lets you segment users and create cohort reports, so you can track who your most loyal customers are and what they expect from your business.
Key Features:
View complete customer journeys and drop-off points.

Use behavioral analytics to improve business performance.

Generate detailed activity reports and export them to connect with other data sources.

Track the conversion and churn rate of customers by segment.

Make use of feature usage tracking to determine what features customers value most.
Pros:
Identify your most profitable customers and discover how you acquired and converted them.

Find customer lifetime value, customer count, friction points, most viewed pages, etc.
Cons:
Installation and setup are challenging.

Data visualization options are limited.
Pricing:
7. ServiceBell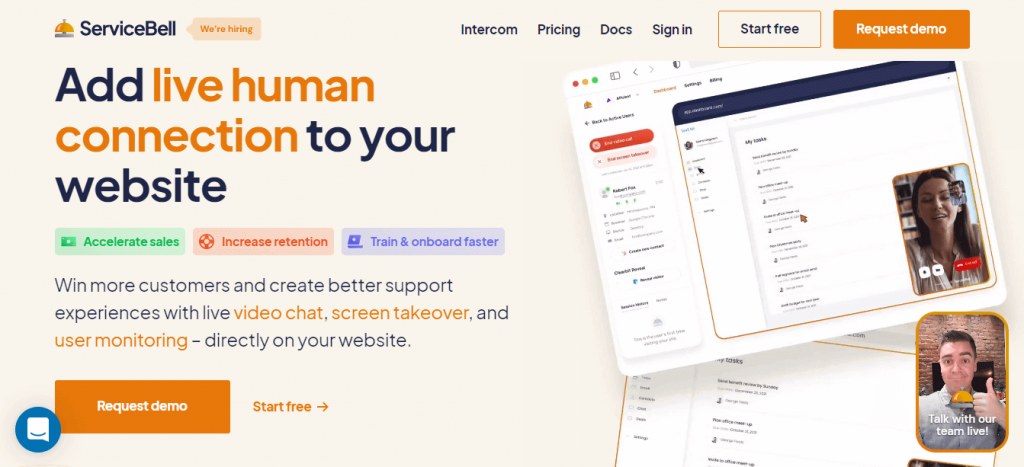 ServiceBell lets you enhance customer support experiences by adding live video chats to your website. The tool lets you build trust and loyalty by digitally delivering in-person support, contributing to an improvement in your retention levels. The tool notifies you about customer actions, so you can respond promptly and avoid attrition.
Key Features:
Include one-to-one live video chat and retroactive session replays in your support strategy.

Track your customers' activity in real-time and receive instant alerts.

Get access to insightful analytics data regarding customer activity and team performance.

Stay connected with customers from anywhere using the mobile application.

Gain insights into customer acquisition and behavior.
Pros:
Integrate ServiceBell with Calendly, Intercom, and Clearbit Reveal.

It can be installed quickly, with a single line of code, without affecting page loading speed.
Cons:
The tool lacks adequate training resources.

Glitches occur, which affect the tool's overall performance.
Pricing:
Free plan available

Paid plans start from $500/month
8. Gainsight CX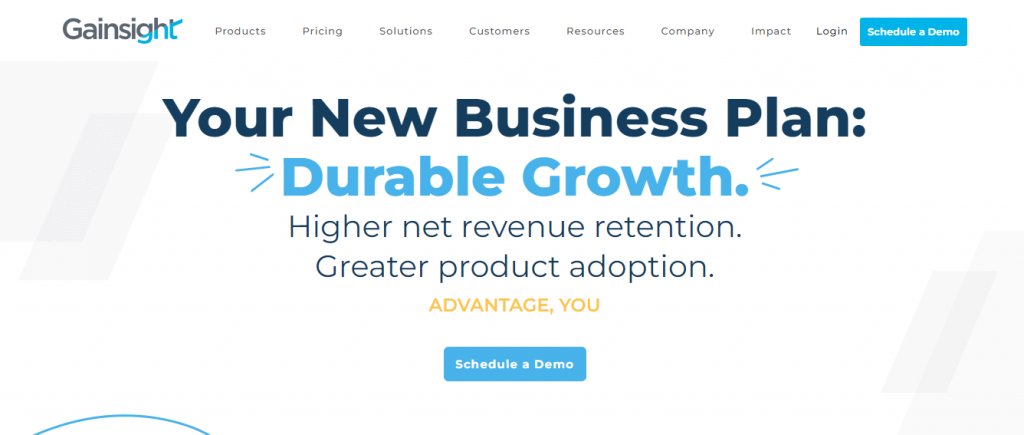 Gainsight lets you drive better business growth by providing enhanced visibility into customer health and usage. The tool offers detailed timelines of customer interactions and lets you create scorecards to track customer health. It also enables you to capture valuable customer feedback, so you can optimize your operations and boost retention.
Key Features:
Get access to a holistic view of customer information and journey.

Deliver personalized customer experiences with automated journey orchestration.

Improve team collaboration with notes and touch point tracking.

Use insightful reports and dashboards to track business performance.

Gather customer feedback using a variety of survey types, including NPS and CSAT.
Pros:
Expand the tool's functionality with integrations such as Salesforce, Google Analytics, Zapier, and Outlook.

Create playbooks and set up custom triggers to perform the most appropriate action at the right time.
Cons:
Reporting could be more advanced.

Slow load times can affect performance.
Pricing:
9.
Mixpanel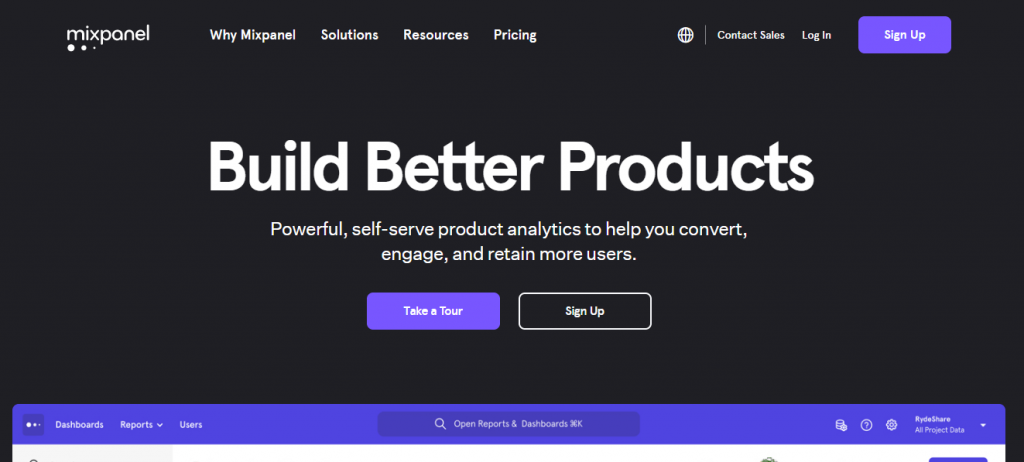 Mixpanel provides powerful product analytics to help boost customer retention. You can optimize your products and services with enhanced visibility into customer needs, behavior, and preferences. The tool lets you create in-depth reports, dashboards, funnels, cohorts, workflows, etc., in just a few clicks. You can also segment the collected data and leverage it to improve business performance.
Key Features:
Customize dashboards and share them with your team members.

Use interactive reports to track customers' likes and improve your retention rate.

Segment your analysis data to make it easier to track and manage.

Explore data from your stack without SQL using the tool's connectors.

Get alerted in real time when changes occur in your business data.
Pros:
Identify the most popular features of your products.

Integrate the tool with several applications, including HubSpot, AWS, Databox, Help Scout, HappyFox, etc.
Cons:
The application has a steep learning curve and is challenging for new users.

The interface can be hard to navigate.
Pricing:
Free plan available

Paid plans start from $25/month
10.
Optimove
Optimove lets you retain more customers by mapping out and personalizing customer journeys by leveraging AI-powered insights. It offers process automation and actionable one-click recommendations to improve experiences. The tool offers business intelligence and a real-time decision engine that enables you to optimize ongoing journeys and increase customer satisfaction.
Key Features:
Create multichannel campaigns to provide customers with information at the most convenient and appropriate time.

Use predictive analytics to create effective customer segments.

Track the most relevant business metrics using custom dashboards.

Craft and deliver effective emails using conditional templates, product recommendations, and delivery validation.

Map out and improve customer experiences based on relevant insights.
Pros:
Deliver personalized mobile push notifications to customers.

Integrate the tool with Jira, Salesforce, Zendesk, HubSpot, SugarCRM, etc.
Cons:
The tool's interface is clunky.

Exporting data is challenging.
Pricing:
11.
Zendesk
Zendesk provides a full suite of customer service features that help improve satisfaction and reduce churn. These include automated support, personalized solutions, self-help portals, and multichannel engagement. Zendesk can considerably improve your sales and support operations, so you can attract more customers while retaining the ones you already have.
Key Features:
Use built-in routing functionality to escalate tickets to the right support agents.

Deliver personalized and automated support experiences with the help of AI-powered bots.

Provide multichannel support, including email, live chat, call, and social media.

Improve your support experiences with enhanced and streamlined internal collaboration.

Enable self-help with customer forums and help centers.
Pros:
The setup process is quick and easy.

Choose from a vast library of integration options, including Jira, Asana, SurveyMonkey, and Trello.
Cons:
Customer support for the tool is substandard.

Triggers and automation are complicated to use.
Pricing:
Starts from $49/user/month
12. Mambo.io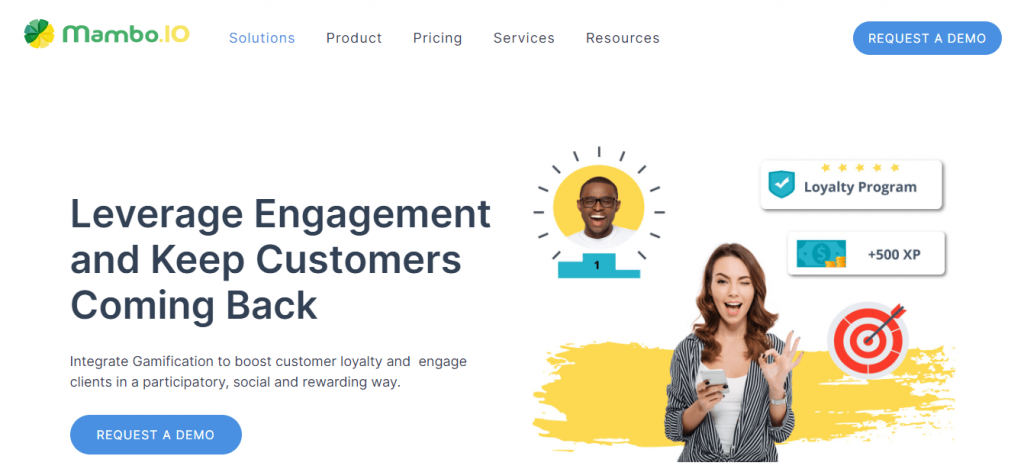 Mambo.io is a customer loyalty gamification platform that can keep customers coming back to your business. The tool can improve customer loyalty and employee efficiency by leveraging rewarding gamified experiences. You can use Mambo.io to easily track, analyze and reward user behavior, as well as track business performance.
Key Features:
Get access to real-time customer analytics data with customized dashboards.

Create time-bound rewards, VIP statuses, and custom gamification solutions for customers.

Use the gamification platform to train your customer support team.

Offer custom loyalty programs and rewards for repeat purchases to improve customer retention.

Build personalized dashboards to track essential metrics and group related data sets together.
Pros:
Track and reward user behavior to boost retention.

Access leaderboards and KPIs to improve your employee performance.
Cons:
The platform lacks user friendliness and requires advanced technical knowledge for configuration.

It needs to support more options for customer rewards.
Pricing:
13. Zonka Feedback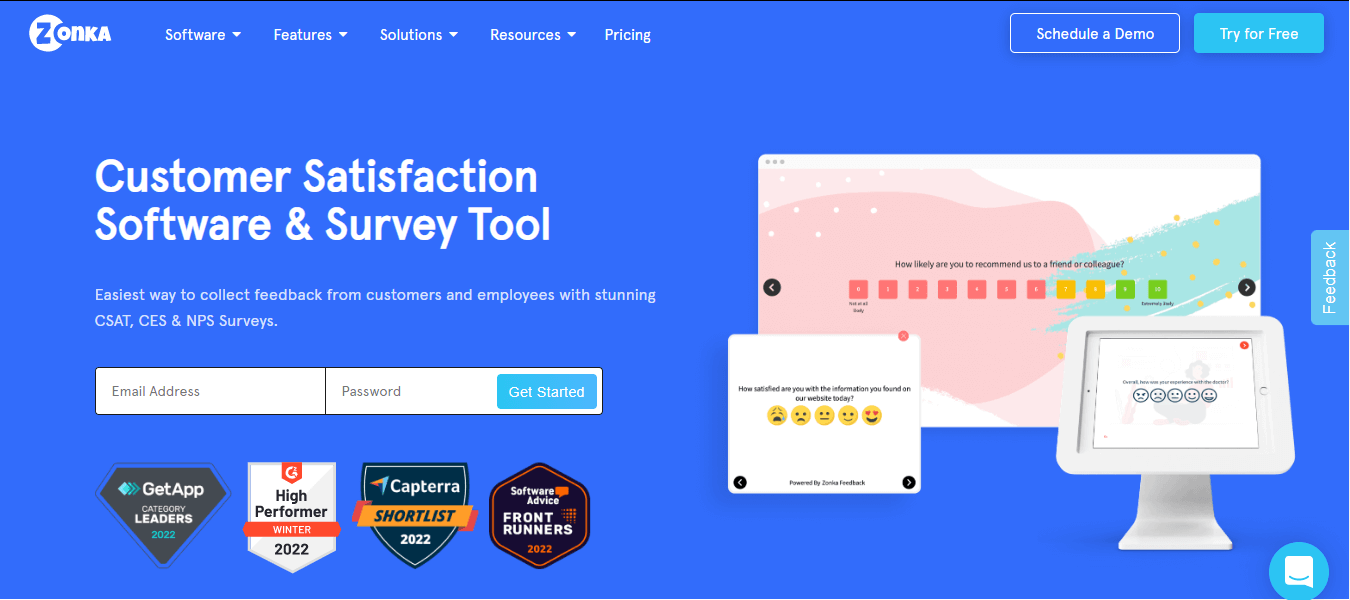 With
Zonka
, you don't just collect feedback; you also get real-time notifications of negative feedback and a platform to take action to improve feedback and customer experience. You'll be able to take feedback across multiple channels such as Tablets & Kiosks, Email, SMS, and Online.
Key Features:
Track feedback in real-time
Set negative feedback alerts
Create action tasks for the team
Reward loyal customers and address miffed customers
Take action to improve customer retention
Close the feedback loop
Pros:
The reporting and analytics around feedback are spot on.
Conditional logic & automation.
Customized survey URL.
Plenty of templates to choose from.
Cons:
Lacking a bit of flexibility in reporting.
More training videos.
Pricing:
Find the Right Customer Retention Software for Your Business
A powerful customer retention strategy doesn't just help in bringing the customers back but also encourages them to recommend your business, thereby increasing the number of new leads and conversions. A key component of such a strategy is robust customer retention software. Having listed the 12 best customer retention software options, we come to the critical question- Which tool is the right one for you? The answer is simple- the one that suits your specific needs. While you may be tempted to simply select the most popular retention tool available on the market, it may hamper your long-term success. Therefore, you must conduct a detailed analysis of the tools you choose to invest in. See how they stack up against the unique needs of your organization. Consider the specific hurdles that are causing churn for your business and invest in a tool that can mitigate them. For instance, if your customers complain about the lack of personalized solutions, BIGContacts CRM might be the one for you. It can allow you to track all customer details from a centralized dashboard, ensuring that every interaction you have with your clients is highly relevant and improves the overall experience, preventing them from churning.
Do you want to make more sales?
BIGContacts is the #1 contact management software & CRM to close more sales.