A salesperson has endless to-do lists. From timely follow-ups with clients to working in collaboration with team members, there's a lot to get done. At the right time!
Sales representatives have a lot on their plate. This can take a toll on productivity levels and jeopardize the overall business profitability. This obstacle can be overcome by investing in powerful sales productivity tools that enhance the day-to-day operations of sales teams.
If maximizing sales efficiency has long been on your team's vision board, here are 21 tools that you must consider. Choosing the right tool can be difficult, so, we have compiled a list of salient features, pricing, pros, and cons of each of these tools. Compare these attributes against the needs of your sales team to find the most optimal software for enhancing sales output.
What is a Sales Productivity Tool?
Putting it simply, any tool that contributes to enhancing efficiency for salespeople can be termed a sales productivity tool. The right software can transform a low-performing sales team into a highly productive and profitable team that can consistently meet targets.
Sales teams are responsible for finding leads, understanding their needs and intent, crafting effective follow-ups, and staying in touch with prospects. Productivity tools bring all the essential data pertaining to these activities to one place, enabling sales reps to close deals quickly. Such tools can help:
Collect and store

contact information

seamlessly

Keep all upcoming

tasks

well-organized using calendars

Automate redundant tasks

Follow up at the right time

Provide data-driven insights with

reports
Read More: 5 Effective Ways to Increase Sales Productivity
21 Best Sales Productivity Tools in 2023
Having the best sales tools in your company's tech stack can be a dealbreaker for positive business outcomes. With software that maximizes your sales effectiveness, you can be on the way to bringing in more revenue.
The following categories of software can save the day for sales representatives:
CRM Tools:
According to FinancesOnline, 50% of teams that use CRM tools see a boost in productivity. Customer Relationship Management or CRM tools bring all data and processes together, helping sales representatives drive more personalized interactions with their customers and consequently form long-lasting relationships.
Read More: What is CRM? A Complete Guide To CRM Software
1.
BIGContacts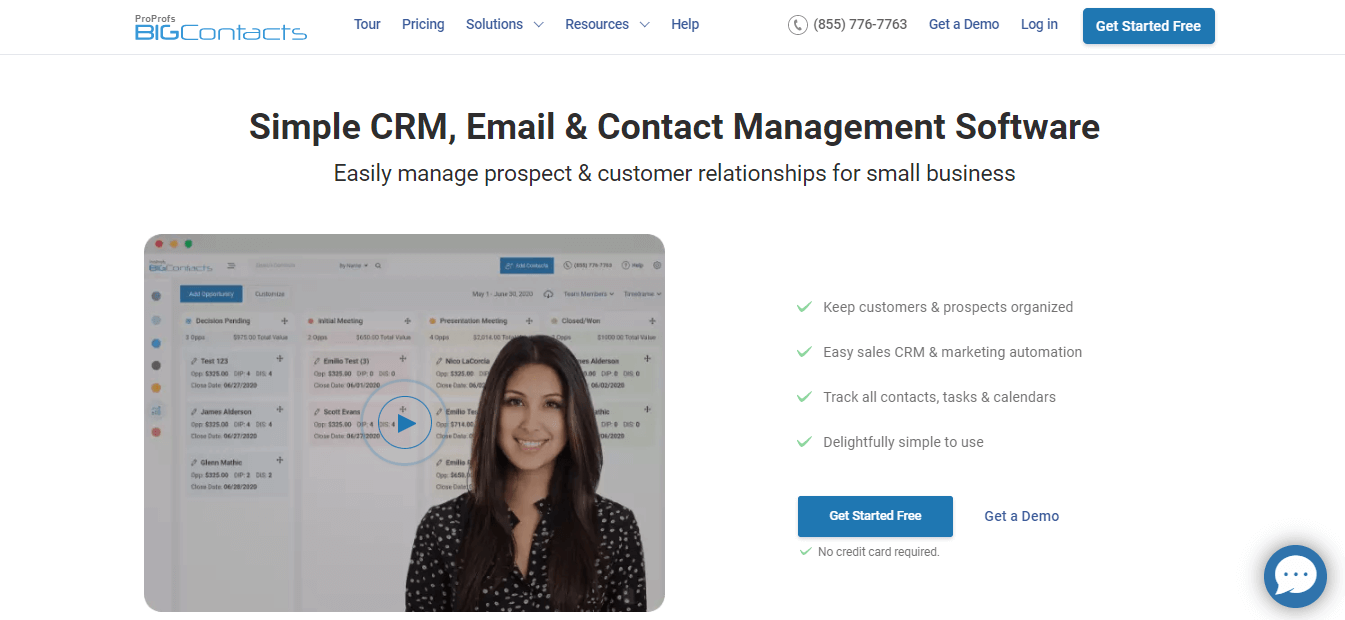 BIGContacts is a reliable sales productivity tool that offers pipeline management and process automation. You can build stronger relationships by delivering personalized services using this CRM application. BIGContacts helps sales representatives be more productive with improved task management and team collaboration. It also offers robust reporting tools to leverage business insights for improved performance.
Key Features:
Leverage detailed contact profiles with custom fields to create personalized customer experiences.

Track all leads and their position using a comprehensive sales pipeline.

Automate redundant tasks and set up reminders for important events.

Generate insightful reports to stay updated with business performance and make better decisions.

Set the priority statuses of tasks and monitor their progress.
Pricing:
Big- $5/user/month

Bigger- $15/user/month

Biggest- $25/user/month

Enterprise- Custom pricing
Pros:
The sales pipeline has a drag and drop interface, which makes its management easier.

Manage your upcoming tasks and to-dos using lists and calendars.
Cons:
Lacks AI-powered lead scoring and qualification.

Requires better deduplication functionality.
2. Salesforce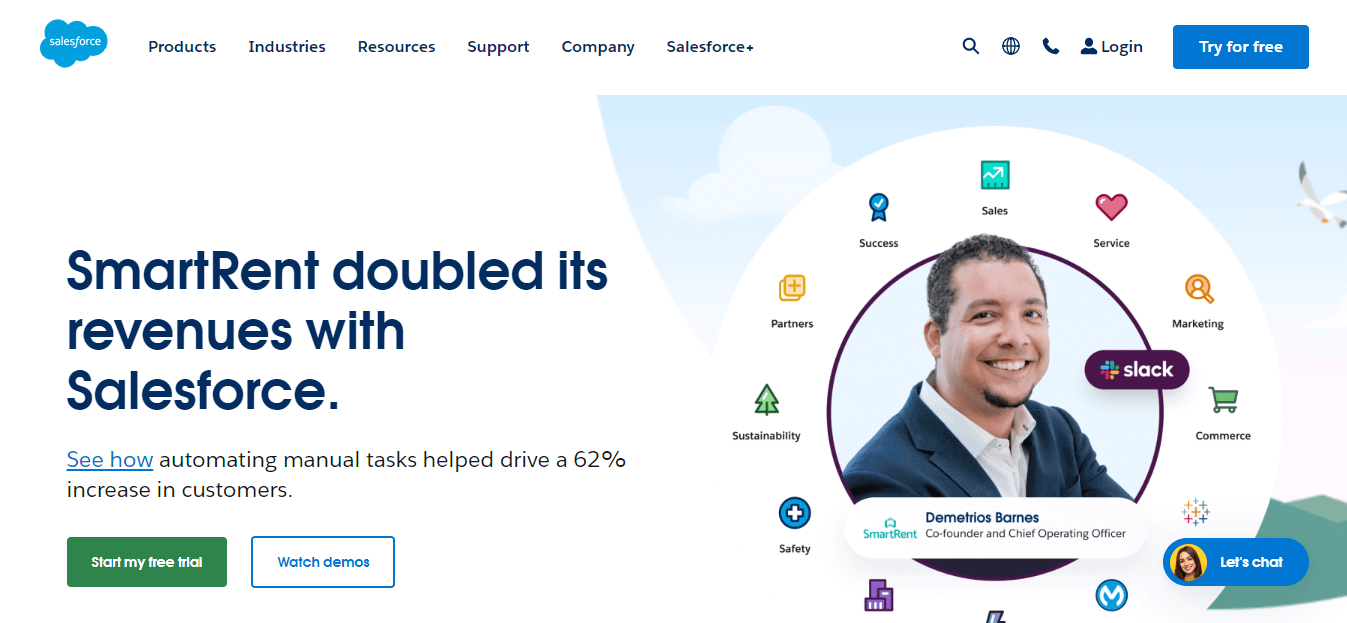 Salesforce is recognized as one of the top sales tools that can empower sales teams to deliver personalized customer experiences and achieve better revenue growth. The tool lets businesses automate manual tasks, helping close more deals quickly. It also offers intelligent insights into sales activities, improves your forecasting ability, and helps you manage leads efficiently.
Key Features:
Find complete contact history and details in one place to deliver more personalized solutions.

Get real-time visibility into your sales performance and make data-backed decisions for the future.

Make accurate forecasts and get intelligent recommendations to improve your sales processes.

Automate redundant activities and achieve better sales results by eliminating busy work from your workflow.

Notify sales representatives to get things done at the right time.
Pricing:
Starts from $25/user/month
Pros:
Log calls, access information, and track opportunities remotely using the mobile application.

Use the drag and drop builder to create custom workflows.
Cons:
The learning curve is steep.

Setup can be long and complicated.
3.
HubSpot CRM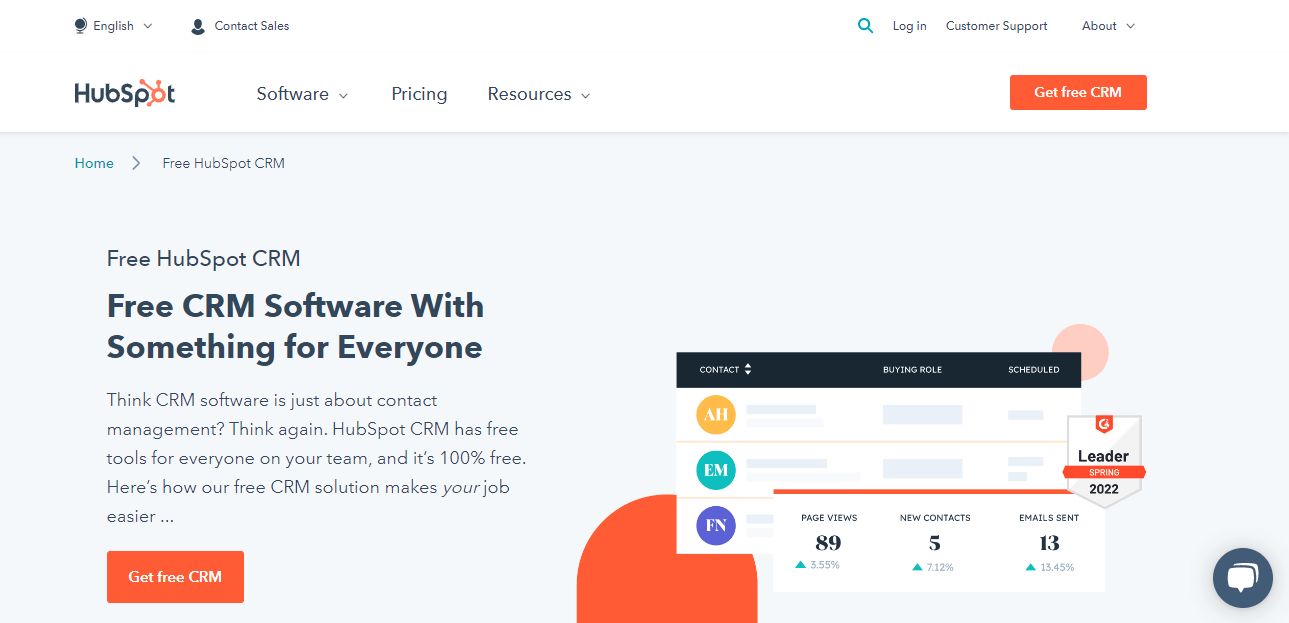 HubSpot is a comprehensive CRM platform that offers real-time visibility into sales opportunities and processes. The tool lets sales teams automate repetitive tasks and create personalized experiences for customers. It enhances productivity by bringing all essential information to a centralized, visual dashboard.
Key Features:
Track your sales opportunities using a visual pipeline.

Maintain comprehensive contact records that are automatically enriched.

Follow-up more effectively and quickly using customizable email templates.

Access essential information remotely using the mobile application.

Manage, prioritize, and synchronize your tasks and activities effortlessly.
Pricing:
Free plan available
Paid plans start from $45/month
Pros:
Get real-time notifications for client activity and set up reminders for important tasks.

Schedule appointments by sharing booking links with clients.
Cons:
The tool's pricing is steep.

Reporting is limited.
4. Zoho CRM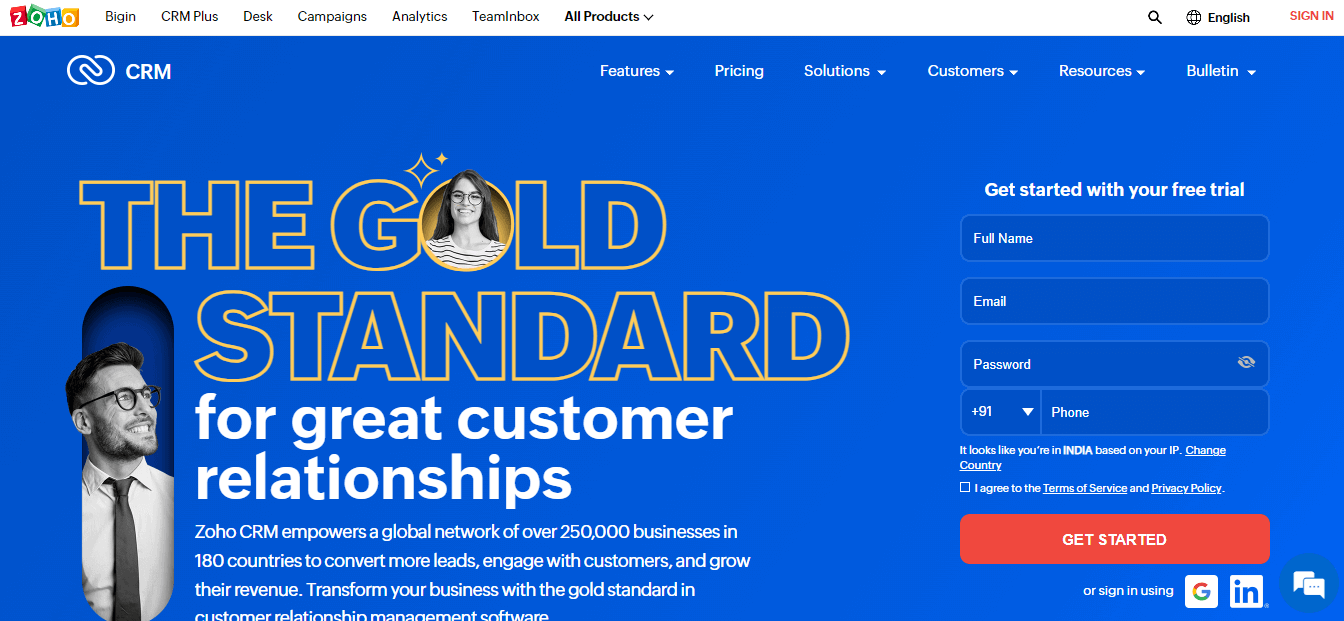 Zoho CRM empowers sales teams to automate routine tasks and achieve better results. Sales representatives can use this application to keep track of lead activity, interests, preferences, etc., and optimize their solutions accordingly. The tool also aids internal collaboration with features such as notes, tags, comments, etc.
Key Features:
Manage contacts efficiently and engage with them using multiple channels.

Automate workflows to reduce inconsistencies and enhance productivity.

Use advanced reporting & analytics tools to stay updated with your sales effectiveness.

Make accurate sales forecasts and disqualify leads that do not match your criteria.

Get AI-powered recommendations to improve sales performance.
Pricing:
Free plan available
Paid plans start from $14/user/month
Pros:
Customize page layouts, views, filters, forms, and other modules, as per your business needs.

Make use of predictive analytics to focus on more valuable deals.
Cons:
Tech support is lacking.

UI offers limited customization.
5.
EngageBay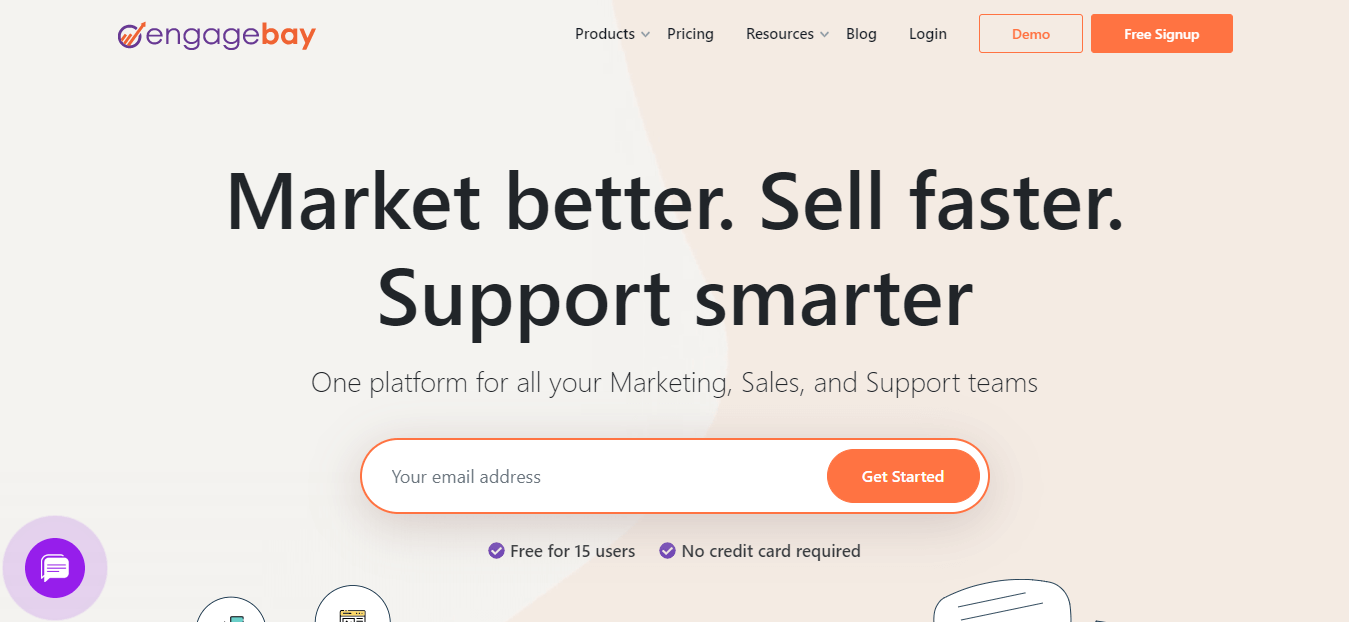 EngageBay is a powerful CRM solution offering contact management and lead scoring capabilities. Salespeople can benefit from this CRM application by managing contacts, team members, emails, projects, etc., from a single platform. The sales pipeline module of the tool makes it easier to manage opportunities and guide them toward conversion.
Key Features:
Automate lead capturing, distribution, and management.

Score leads using any criteria of your choice and focus on high-value prospects.

Make calls and send emails directly from the CRM tool to stay connected with clients.

Keep track of deal and individual team members' performance by tracking essential metrics.

Get a 360° view of contact records and leverage it for improved personalization.
Pricing:
Free plan available
Paid plans start from $11.99/user/month
Pros:
Set up email sequences and auto-responders.

Segment your clients effectively and keep them well-organized in the CRM system.
Cons:
Tracking previous interactions with prospects can be challenging.

UI lacks intuitiveness and needs improvement.
6.
Copper CRM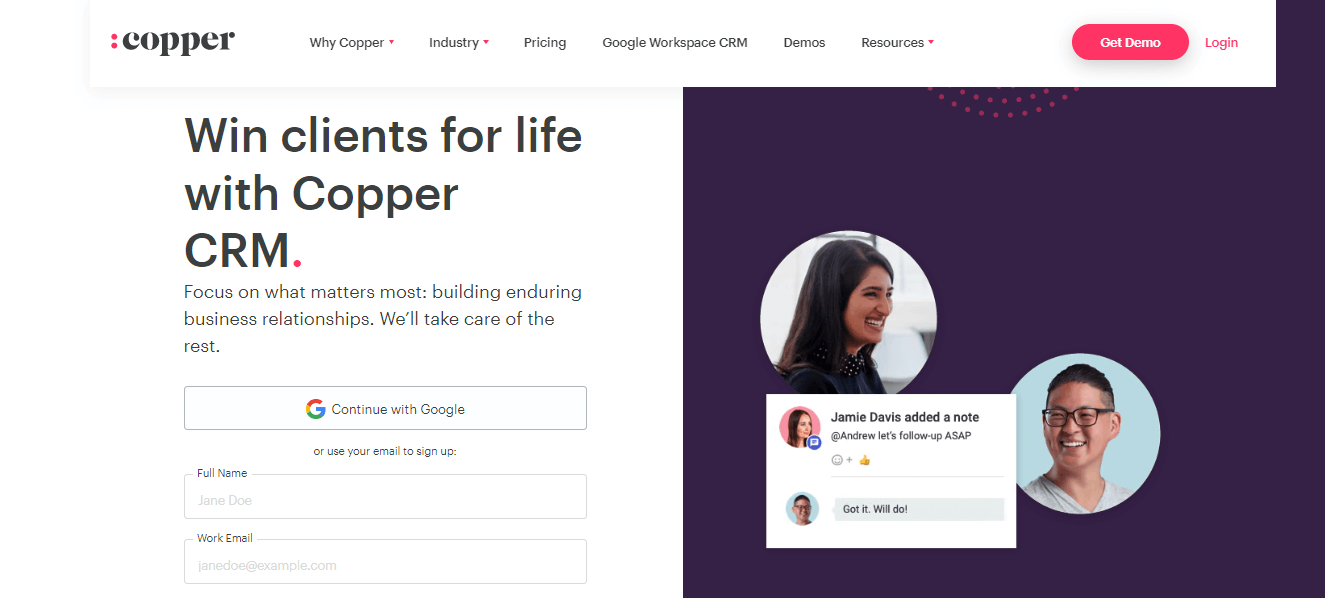 Copper CRM is essentially designed to work within the Google Workspace, making it a suitable choice for sales teams that rely heavily on G Suite applications. The tool offers integrated contact and project management, helping sales representatives get everything done from start to finish using a single platform.
Key Features:
Stay updated with the effectiveness of your sales performance with custom reports.

Create recurring tasks and set up automated reminders to boost efficiency.

Deliver personalized email follow-ups and respond to clients instantly using pre-built templates.

Set up a custom sales pipeline to visualize and track opportunities with ease.

Keep all the contact details well-organized and easily accessible.
Pricing:
Starts from $25/user/month
Pros:
Integrate the CRM application with tools such as Slack, DocuSign, Mailchimp, QuickBooks, etc.

View sales data even when you are out of the office using the mobile application.
Cons:
Reporting is limited.

Not a flexible solution for businesses working outside the Google Workspace.

7.
Agile CRM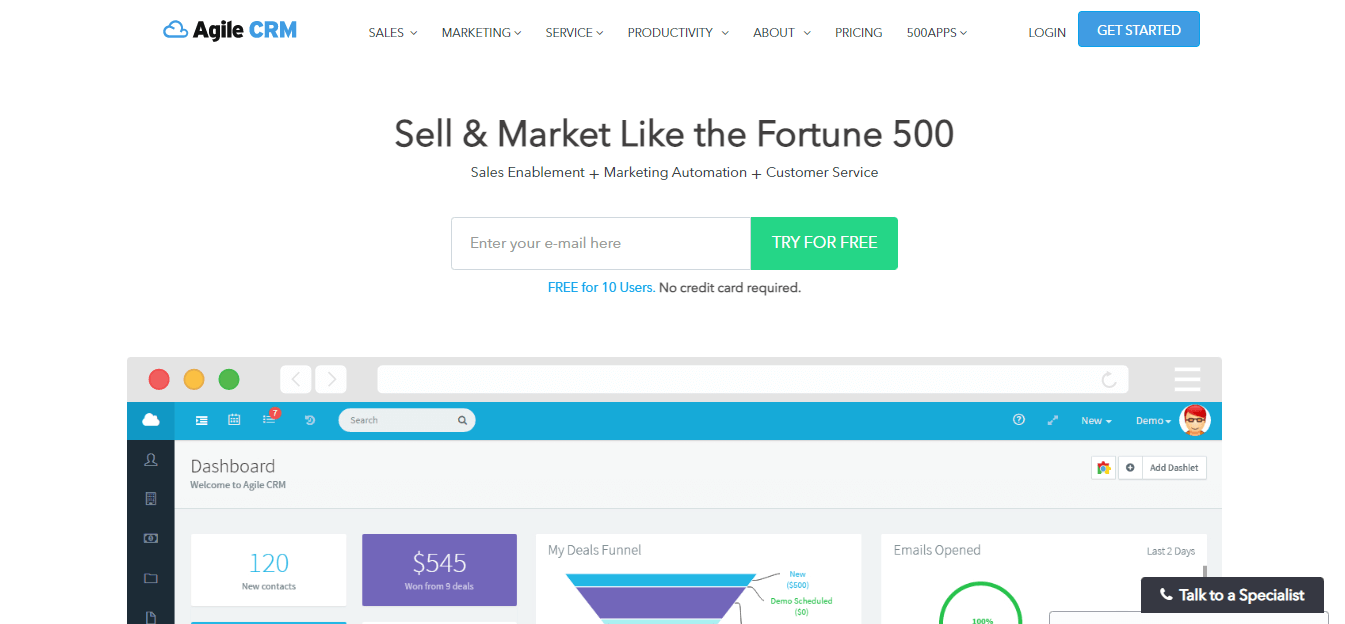 Agile CRM offers a 360° view of contact records, enabling salespeople to drive personalized interactions with prospects and customers. It helps manage projects, streamline internal communication, and make calls to clients with one click. The tool improves prospecting and lets you generate detailed reports for better insights into sales operations.
Key Features:
Use automated lead scoring to focus on the right prospects.

Schedule appointments with clients and synchronize them with your calendar.

Deliver e-docs and proposals to clients and collect their signatures digitally.

Become more efficient by using task lists with a drag and drop interface.

Improve team collaboration with easy file sharing, chat, and video conferencing.
Pricing:
Free plan available
Paid plans start from $8.99/user/month
Pros:
Improve sales performance with powerful third-party integrations and plugins.
Stay updated with business information on the go using the mobile application.
Cons:
Email deliverability needs improvement.

Customer support is inefficient.
Project Management Tools:
Salespeople can benefit from a dedicated tool for managing their tasks and projects. A powerful project management solution can help sales teams be more productive with their time and resources. Such a tool can ensure that important deadlines are met, and there is no delay in engaging with prospects.
Read More: What is Project Management Software and Why Do You Need One
8. Proprofs Project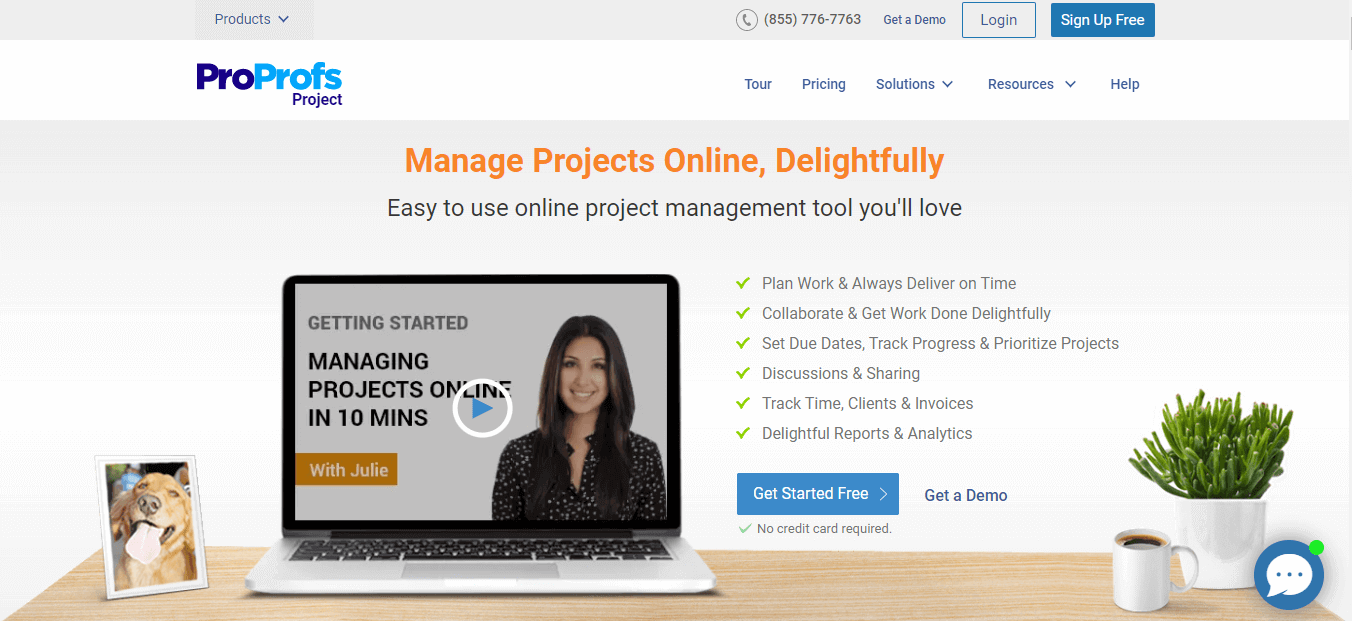 ProProfs Project helps you plan, track, and manage all tasks and subtasks diligently, so you can improve your sales outcomes. Sales managers can utilize this easy-to-use tool to keep track of task assignments, priority statuses, and team performance metrics. The software is highly customizable, so you can adapt it according to your sales team's workflow.
Key Features:
Plan and visualize tasks with the help of Gantt charts and Kanban boards.

Keep track of your sales performance and identify bottlenecks with detailed reports.

Automate recurring tasks, prioritize high-value activities, and track progress routinely.

Improve team collaboration with a shared calendar, easy file sharing, and effective task assignment.

Set up due date notifications, organize your tasks using color codes and labels, define the priority statuses, and get updates in real-time.
Pricing:
Starts from $2/user/month
Pros:
Track time spent on tasks and generate client invoices effortlessly.

Assign user roles and define permissions for team members.
Cons:
Mobile application needs improvement.

Lacks milestone tracking and baseline setting.
9. ProofHub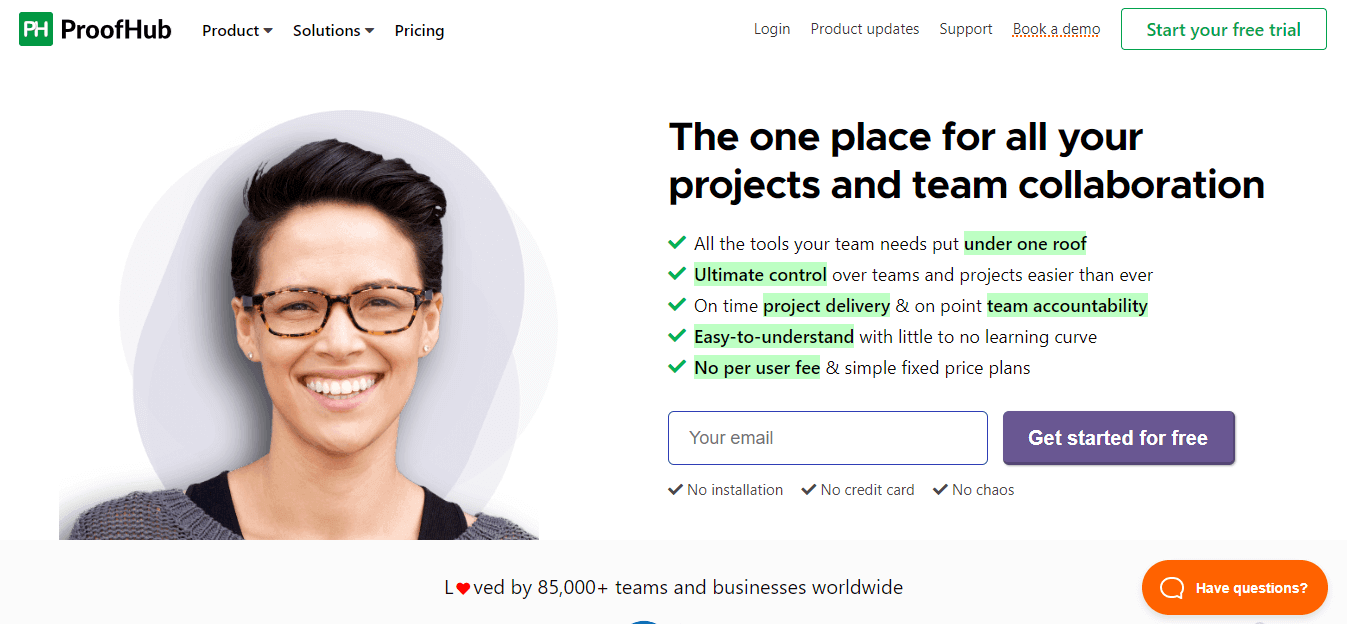 ProofHub is a powerful solution for online project management that lets you plan, visualize, delegate, categorize, and complete projects effectively. You can create custom workflows, manage your team, and track project progress using this tool. ProofHub also allows team members to collaborate and work collectively toward improved sales results.
Key Features:
Choose from tables, boards, and calendar views for project management.

Divide large tasks into subtasks, create dependencies, and set project milestones.

Use project templates to save time and include custom fields per your business needs.

Find all task history in one place and track the time spent on projects by your team members using timesheets and reports.

Share files, streamline approvals, and set up deadlines for tasks.
Pricing:
Starts from $45/month
Pros:
Visualize projects and identify roadblocks using Gantt charts.

Use a shared team calendar to improve project management.
Cons:
Recurring task scheduling needs improvement.

It lacks budgeting functionality.
10.
Basecamp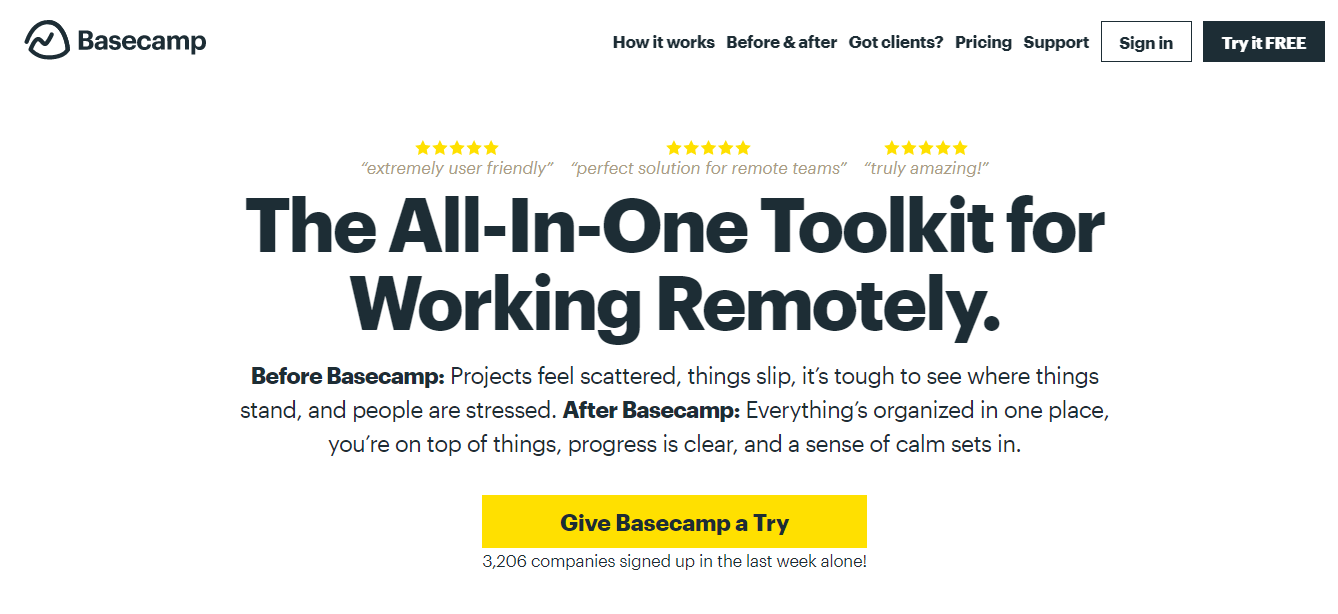 Basecamp is one of the best free productivity software for remote teams to make the most of their time and resources. This project management solution helps improve collaboration and accountability, contributing to an enhancement in your overall efficiency levels. It lets you create to-do lists to organize tasks efficiently and share files or other resources with team members effortlessly.
Key Features:
View information from anywhere using the web or from any iOS or Android device.

Use task lists and reminders to ensure that everything is done on time.

Keep track of the team's performance with automated check-ins.

Create message boards to post updates, encourage collaboration, and discuss feedback.

Use a shared calendar and synchronize it with Google Calendar, Outlook Calendar, or iCal.
Pricing:
Free plan available
Paid plan at $99/month
Pros:
Set up user roles and permissions for your team members.

Integrate the tool with a number of applications, including Toggl, Proposify, Worsktack, etc.
Cons:
Does not offer task dependencies.

Tagging functionality needs improvement.
11.
Trello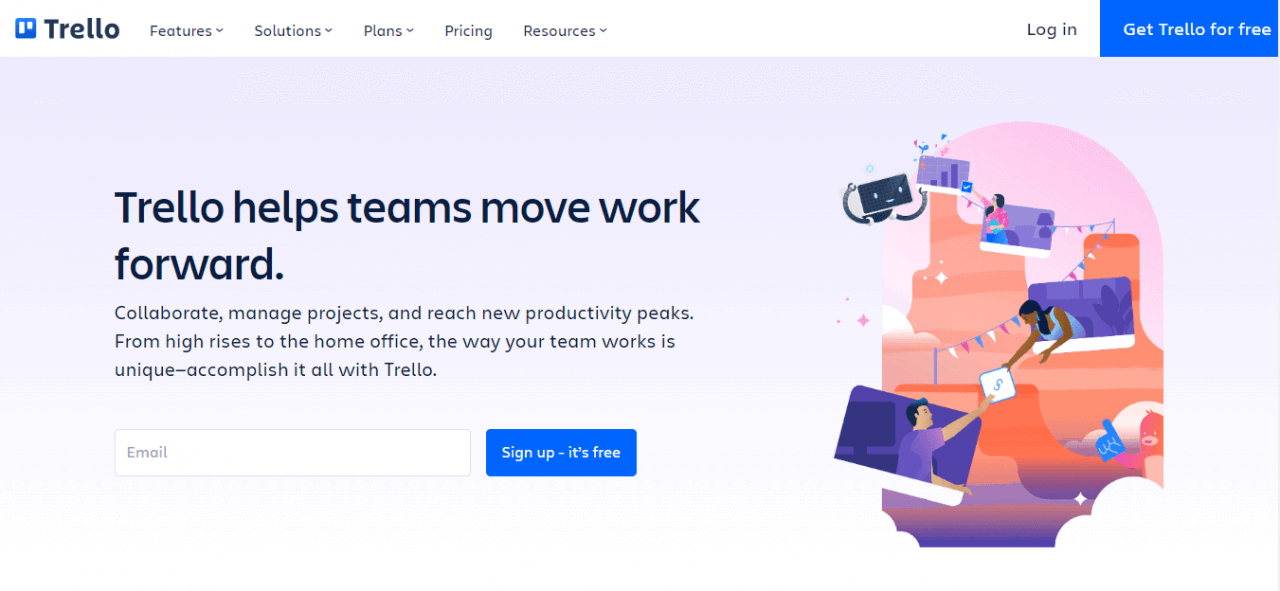 Trello is a reliable tool for sales teams to work more collaboratively and hit targets on time. You can use it to create automated rules and triggers, ensuring that the most appropriate actions are performed at the right time. Sales representatives can plan their work better using timelines, calendars, tables, custom dashboards, etc.
Key Features:
Organize your work efficiently using Trello boards, cards, and lists.

Automate tasks and workflows to achieve better sales outcomes.

Track relevant productivity metrics and make data-backed business decisions.

Easily get started with project management using pre-designed templates.

Assign tasks, visualize progress, and deliver feedback from the same platform.
Pricing:
Free plan available
Paid plans start from $5/user/month
Pros:
Track the tasks assigned to you using personal to-do lists.

Integrate Trello with a number of tools, including Slack, Confluence, Google Drive, etc.
Cons:
Does not display dependencies between tasks.

Attachments have a limit on file size.
12.
Asana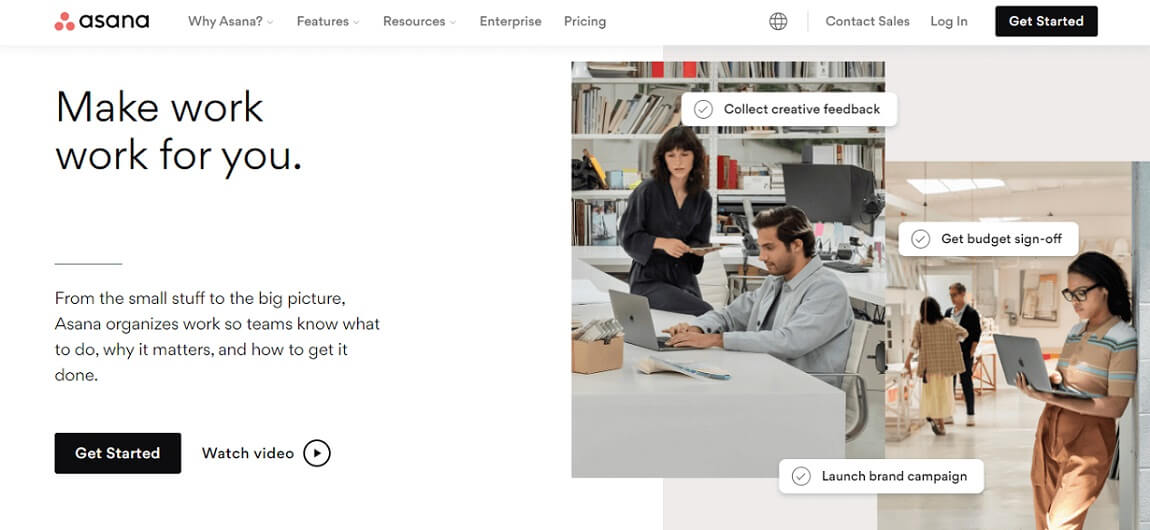 Asana helps sales teams plan and organize their work diligently to generate more revenue. The tool provides real-time visibility into tasks and their progress, so salespeople can prioritize their work accordingly. The tool also provides shared calendars, enabling sales teams to collaborate seamlessly.
Key Features:
Plan tasks efficiently using Gantt charts and Kanban boards.

Create automated workflows to reduce errors and boost sales efficiency.

Get insights into sales performance with detailed reports and dashboards.

Use custom forms to standardize the intake of work requests.

Work from anywhere using the desktop and mobile applications.
Pricing:
Free plan available
Paid plans start from $10.99/user/month
Pros:
Set clear goals and track their progress routinely.

Break down complex projects into simpler subtasks and establish dependencies.
Cons:
Lacks time tracking functionality.

Only offers single assignees for tasks.
13.
Wrike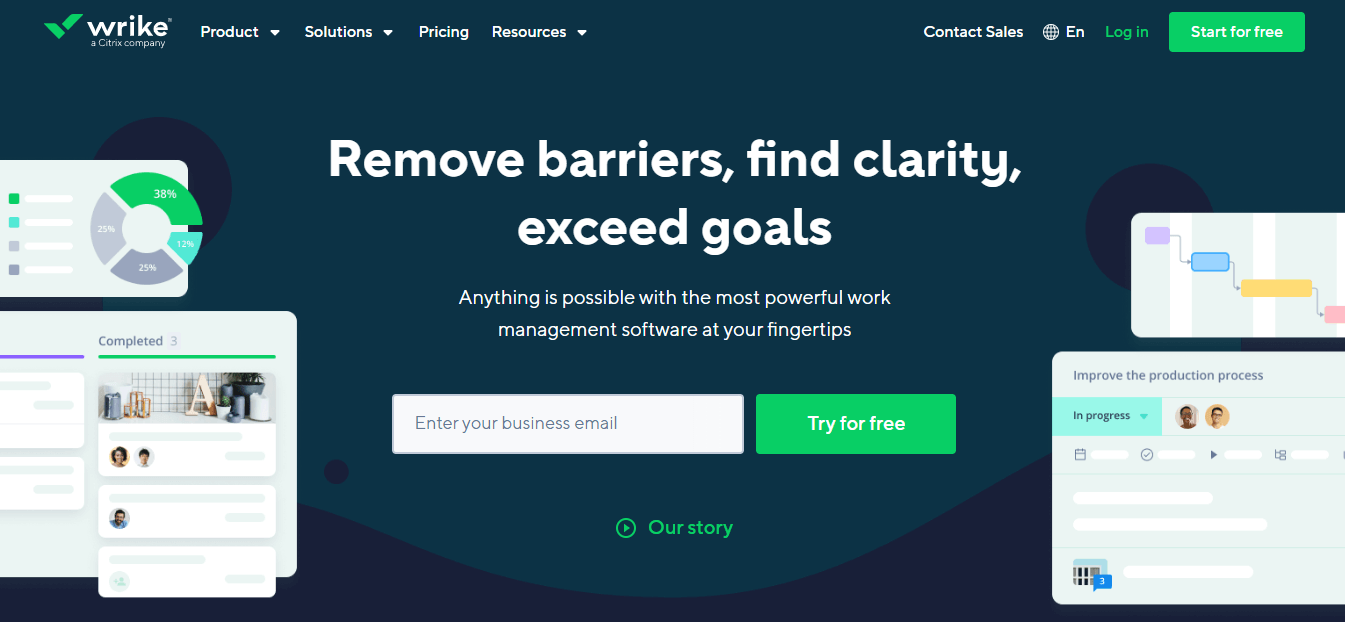 Wrike is a powerful work management tool for sales representatives to meet their targets with ease. It is a customizable tool with automation capabilities that helps sales teams become more efficient. The project management system can be utilized for planning, executing, and tracking the progress of sales operations.
Key Features:
Create custom dashboards to track and manage sales data effectively.

Automate workflows to save time and improve productivity.

Visualize projects using Gantt charts and Kanban boards.

Use pre-built templates to get started with project management.

Improve internal collaboration with file sharing, unified calendar, task management, and automated approvals.
Pricing:
Free plan available
Paid plans start from $9.80/user/month
Pros:
Integrate the tool with applications such as Jira, GitHub, Google, Microsoft, etc.

Get real-time notifications and updates for your projects.
Cons:
Lacks advanced filtering capabilities.

The speed of the tool is subpar compared to other options.
Field Sales Tools:
Undeniably, field sales tools are a life-saver for sales representatives. They help manage appointments, plan routes, take notes, and close deals faster. Automated field tools for sales reps can help conserve the time that goes into repetitive administrative tasks and help boost productivity in daily operations.
14.
Spotio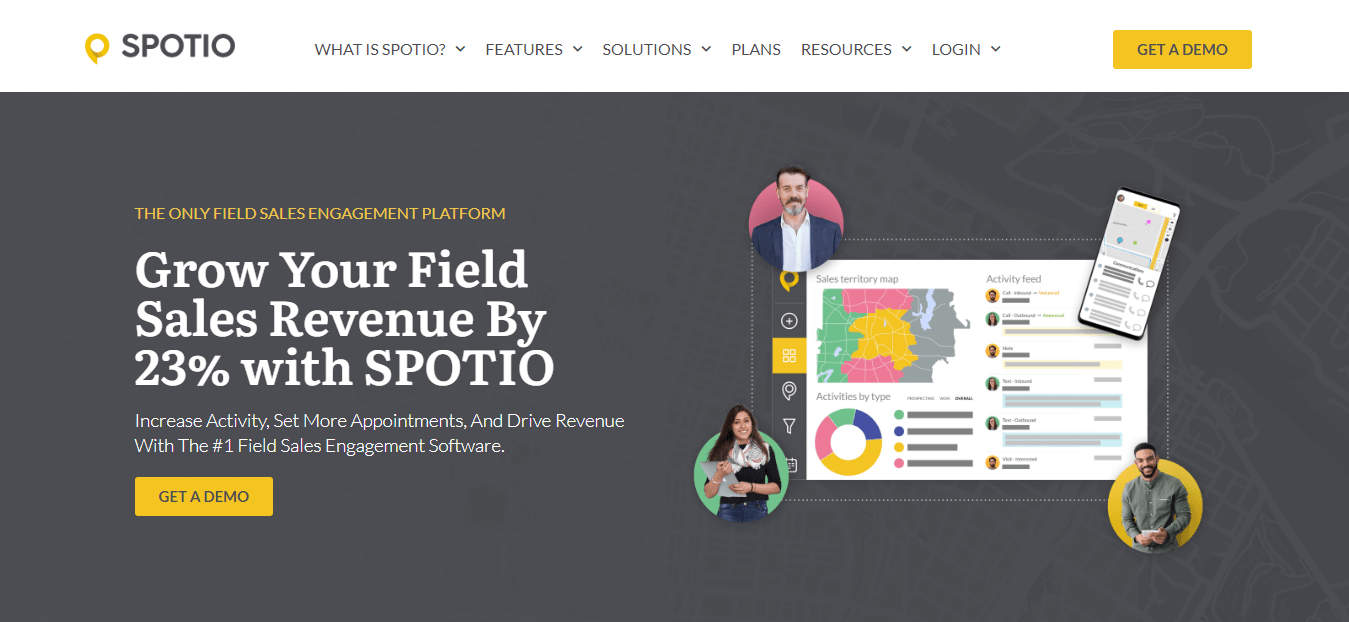 Spotio is a well-acclaimed field sales tool that can help sales representatives close more deals by providing enhanced visibility into business data. The tool can improve sales effectiveness by eliminating the need for manually logging sales data. Sales teams can also generate e-contracts, create regular routes, and make better business decisions using Spotio.
Key Features:
Automate redundant activities such as data entry and follow-ups.

Track interactions with prospects and customers across multiple communication channels.

Create customer maps using the stage of prospects, last touches, and CRM data.

Close deals faster with efficient document management.

Generate more leads for your business and schedule appointments with them effortlessly.
Pricing:
Available on request
Pros:
Integrate the sales engagement tool with Salesforce, SAP, Microsoft Dynamics, and several other applications.

Create sales routes and track mileage for expense reports.
Cons:
Speed lags and crashes occur frequently.

Requires advanced user roles and permissions.
15.
Skynamo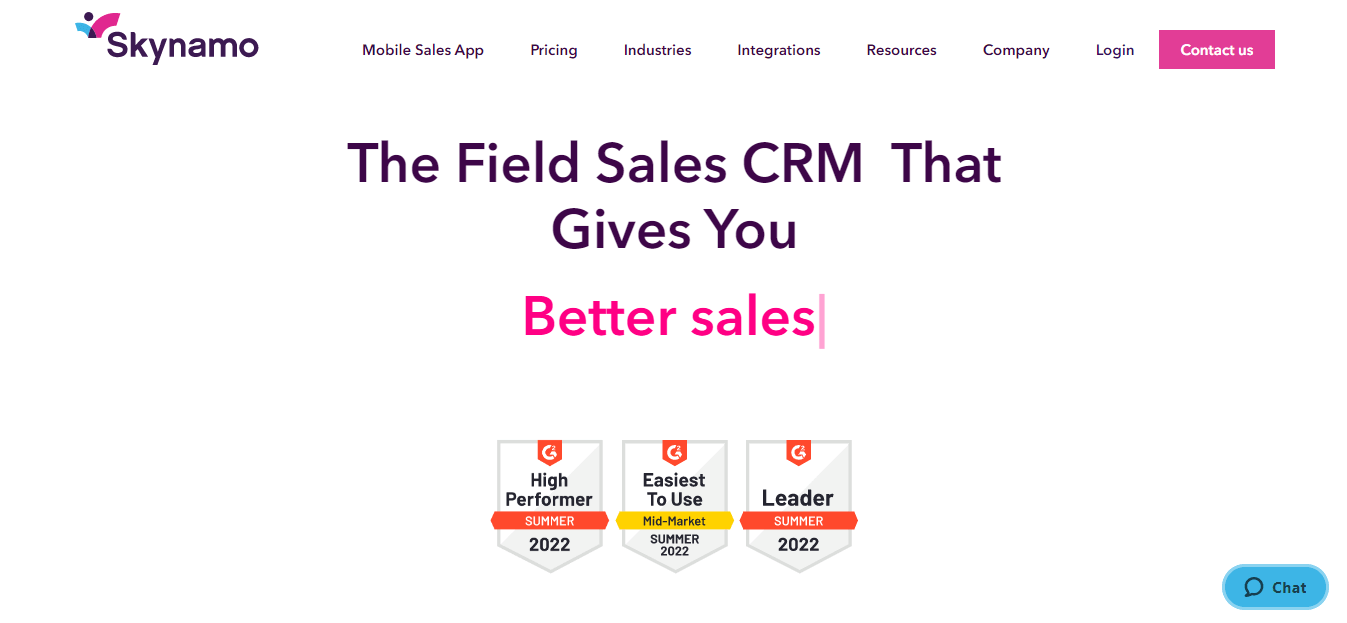 Skynamo is a dynamic sales productivity software that can increase your revenue. The mobile application lets you track field sales activity with ease. Skynamo can help both sales managers and representatives optimize performance and cut down the time that goes into performing repetitive tasks. It also provides real-time reporting and helps improve forecasting accuracy.
Key Features:
Automate routine administrative tasks such as data entry to free up more time for selling.

Take orders from the field, create digital catalogs, and set sales goals.

Get access to detailed contact profiles, including all previous interactions.

Use custom reports and analytics to stay updated with sales performance.

Plan sales routes and visits efficiently with access to maps with customer locations.
Pricing:
Available on request
Pros:
Manage your team, assign them tasks, and track their activity.

Integrate the tool with ERP and accounting software to improve its functionality.
Cons:
Customization options are limited.

Mobile app requires improved performance.
16. Badger Maps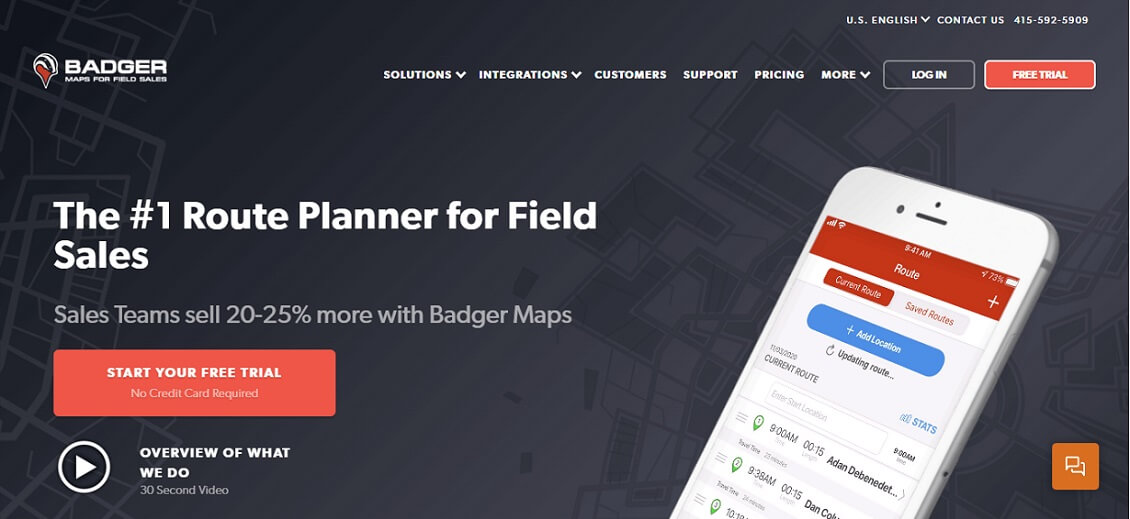 Badger Maps is a field sales tool that enables route planning, helping sales representatives save more time and close more deals. The tool can be used to plan daily sales appointments effectively. With Badger Maps, you can automate activities such as planning and reporting, which frees up more time for selling.
Key Features:
Plan sales visits efficiently by getting access to the shortest routes to your customer locations.

Track field performance of sales representatives with automated reports.

View your route and calendar remotely using the mobile application.

Filter through opportunities and prioritize important appointments.

Use interactive maps to keep track of all customers and their associated details.
Pricing:
Starts from $49/user/month
Pros:
Provide data-rich territory maps to sales representatives.

Enable team members to capture essential details on the field using custom check-ins.
Cons:
Lacks advanced filtering options.

Glitches occur in the mobile application.
17.
SalesRabbit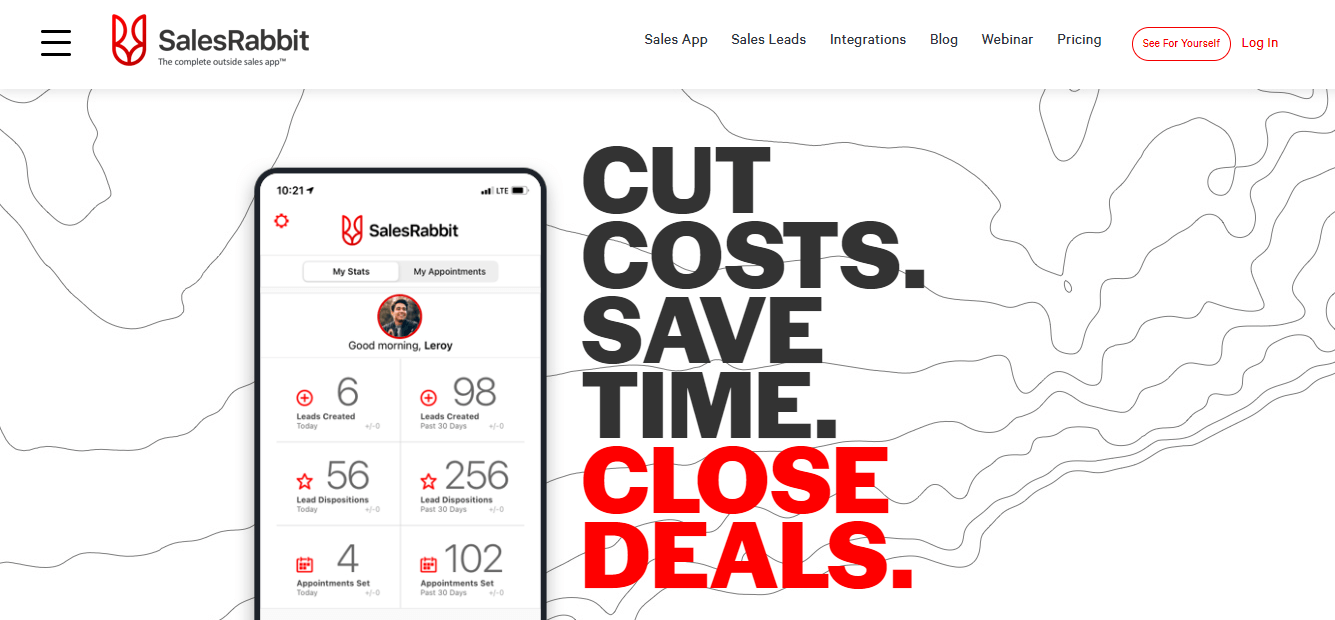 SalesRabbit helps sales teams establish automated processes to increase overall efficiency and close more deals. The tool enables sales teams to utilize their time and resources optimally. It helps grow your lead list with high-quality prospective customers. SalesRabbit also helps you manage your team, deliver proposals, and shorten the customer approval process.
Key Features:
Generate qualified sales leads for your business.

Improve team management and productivity by streamlining tasks and resources.

Automate redundant tasks to reduce costs and increase productivity.

Collect e-signatures for your contracts and proposals.

Create and deliver high-quality sales proposals and presentations to clients.
Pricing:
Starts from $35/user/month
Pros:
Qualify buyers using credit and title checks and focus on the right prospects.

Import your existing lead lists into the tool with ease.
Cons:
Android application is lacking.

Crashes and performance lags are frequent.
Scheduling Software:
One of the most critical categories of sales productivity tools is appointment scheduling software. Such applications help sales representatives schedule and manage client meetings effortlessly. These tools also empower clients to self-schedule appointments with sales representatives based on their availability.
18.
Calendly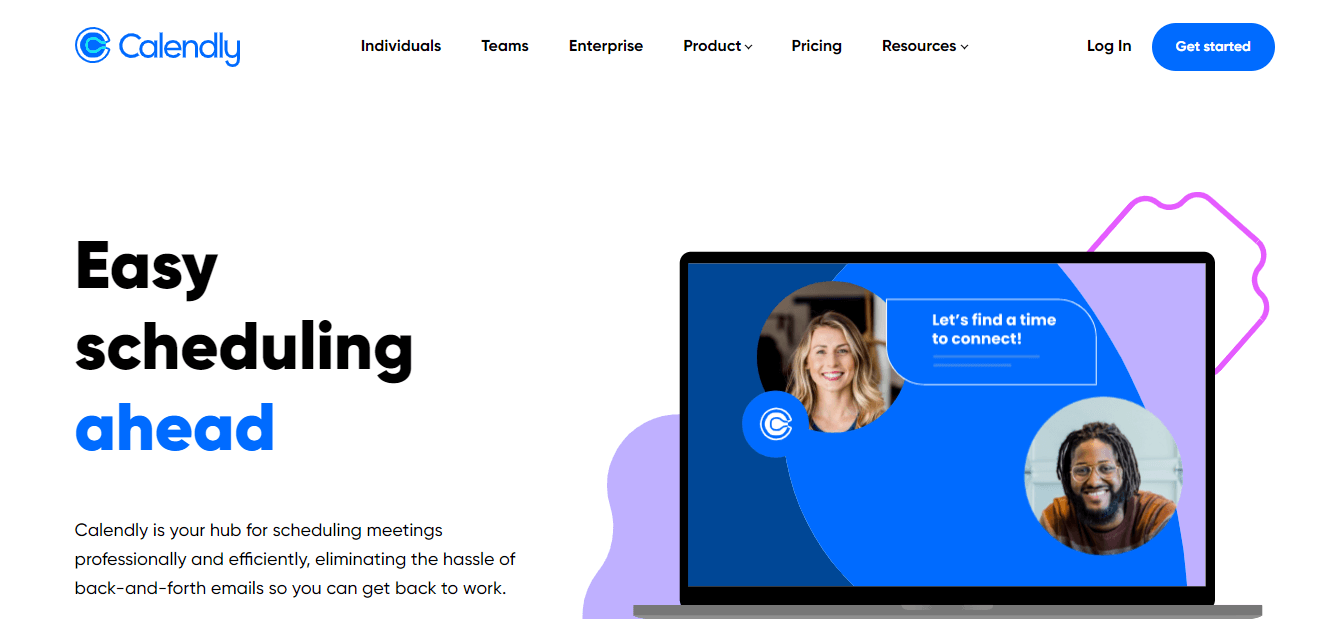 Calendly removes the back, and forth that goes into appointment scheduling, so you can maximize your sales efficiency. This tool helps automate meeting scheduling and helps you be more productive. With Calendly, you can display your availability to prospects and customers, enabling them to pick a meeting time that is convenient for them.
Key Features:
Automate reminders and follow-ups to improve your sales outcomes.

Check your availability intelligently by connecting multiple calendars.

Share meeting polls with participants to find a suitable time for everyone.

Add scheduling widgets to your website and make it easier for clients to book meetings.

Route people to the right representatives in your team using routing forms.
Pricing:
Free plan available
Paid plans start from $8/seat/month
Pros:
Book and track meetings on the go using the mobile version.

Offer multiple meeting options to invitees, enabling them to pick the most suitable type and time for the meeting.
Cons:
Lacks detailed training resources.

Auto-adjustment functionality for time zones is below par.
19.
Doodle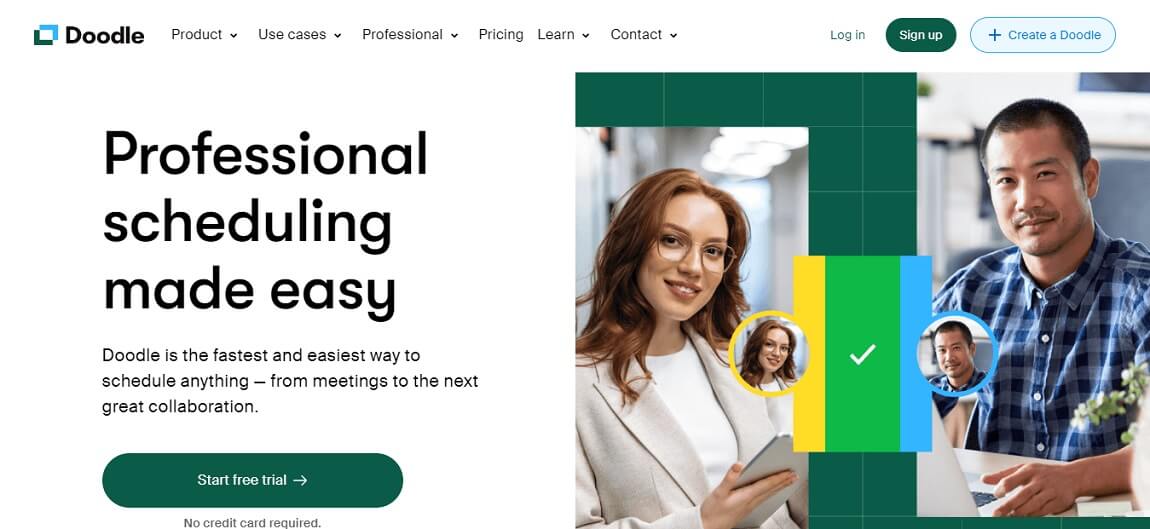 Doodle helps keep your calendar well-organized and empowers you to streamline your scheduling processes. It lets you share calendar invites with prospects and customers. With Doodle, you can create custom scheduling pages and share them with the right people. The tool also helps you schedule group meetings and generate activity reports.
Key Features:
Share booking pages with clients to help them schedule appointments.

Create group polls to find a suitable meeting time for multiple people.

Set up automatic reminders for all your appointments.

Pick time slots that suit you and share them with your clients to help them schedule a meeting.

Improve your internal team collaboration with the help of shared calendars.
Pricing:
Starts from $6.95/user/month
Pros:
Increase sales productivity

by integrating the tool with Google Meet, Outlook, Zoom, Microsoft Teams, etc.

Establish user roles and permissions for your team members.
Cons:
Requires better customization options for meeting polls.

Mobile responsiveness needs improvement.
20.
Acuity Scheduling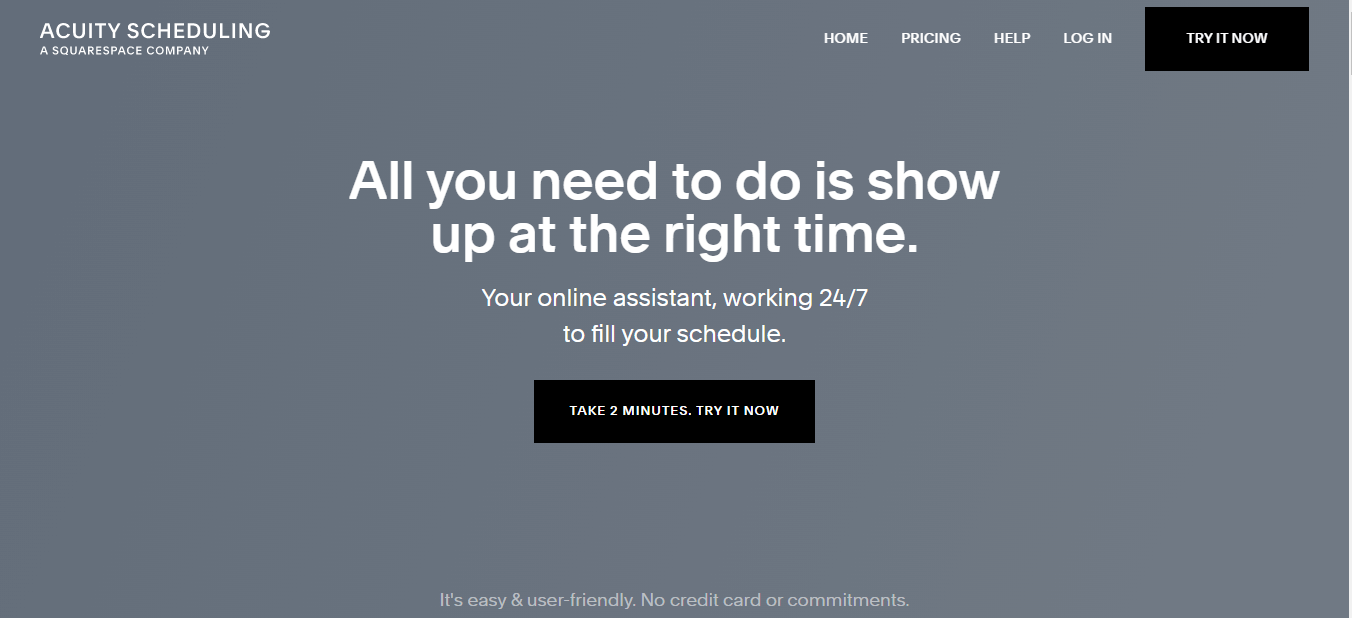 Acuity Scheduling enables you to schedule appointments and keeps your calendars synchronized. You can use the tool to create custom appointment scheduling pages that match your branding. Acuity Scheduling helps you share your availability via email, website, or social media, creating seamless booking experiences for clients.
Key Features:
Get notified about every booking and stay updated at all times.

Set up reminder emails or texts for your appointments.

Collect information from clients during booking with custom forms.

Display your real-time availability to clients and enable them to book appointments themselves.

Accept payments directly from the tool by integrating it with PayPal and Stripe.
Pricing:
Starts from $14/month
Pros:
The tool automatically detects and adjusts according to invitees' time zones.

Keep meeting schedules synchronized across multiple locations and team members.
Cons:
The interface is difficult to navigate.

Better customization options are required.
21.
Square Appointments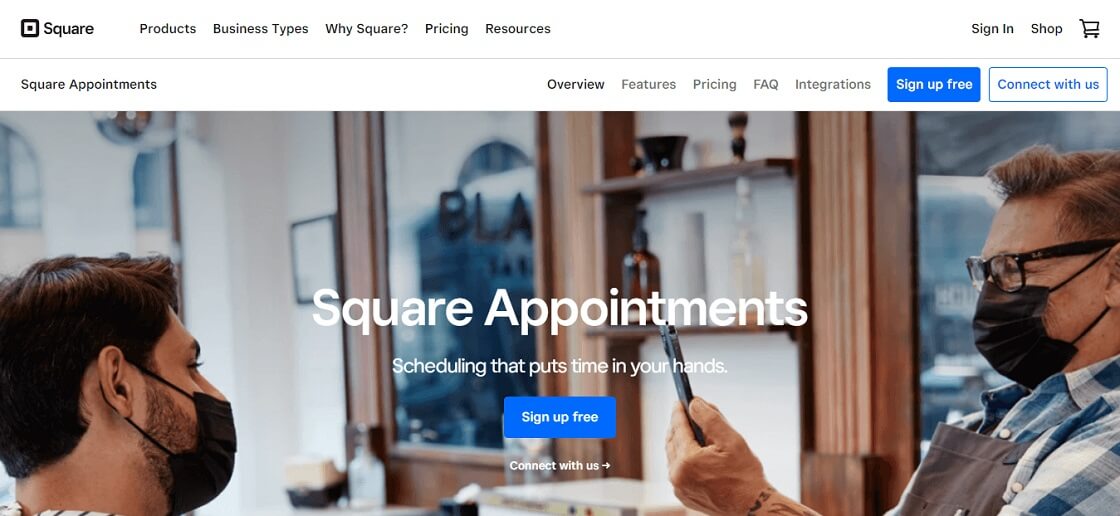 Square Appointments offers web-based appointment scheduling, helping your clients book meetings whenever suits them. The tool lets you avoid double bookings and keep your calendar well-updated, so you never miss an important appointment. It lets you automate the scheduling process, contributing to an improvement in sales and revenue.
Key Features:
Embed scheduling widgets to your websites and empower clients to book meetings easily.

Send appointment reminders to participants via text or email.

Respond to clients instantly with an automated messaging system.

Manage your team, resources, and appointments from the same place.

Share invoices and accept payments from clients.
Pricing:
Free plan available
Paid plans start from $29/location/month
Pros:
Maintain detailed contact records to keep track of previous appointments, special preferences, interactions, etc.

Connect the platform with tools such as Wix, JotForm, QuickBooks, etc.
Cons:
Needs more advanced customization options.

Lacks automatic time-zone synchronization.
Hit the Ground Running With the Best Sales Productivity Tools
Lackluster performance from your sales team can stunt your business growth and set you off your path to success.
This is why you must power up your efficiency by investing in the best sales productivity tools. These live sales tracker tools can help sales representatives avoid repetitive tasks such as data entry, prospecting, scheduling appointments, etc., thereby freeing up more time for engaging with prospects and making sales. Depending on your needs, you may require one or more tools from the categories mentioned above.
To find the most optimal solution, you must pay attention to the specific needs of your sales team. For instance, teams that need a one-stop solution for managing prospect data and sales pipeline can benefit from a CRM application like BIGContacts. On the other hand, teams that only require a way to log sales data on the field should invest in tools such as Spotio or Skynamo.