Networking isn't an easy task, especially when there's so much contact information to keep track of.
While large enterprises usually have a dedicated tool to manage their contact data, individuals usually resort to simple spreadsheets which can prove to be highly inefficient. Consequently, they struggle to make the most of their data and miss out on important opportunities. 
If these troubles sound familiar, you might be in need of a personal CRM. 
Personal CRM software makes it easy to expand your network and grow your business. Such tools act as a storehouse of information for all your contacts, allowing you to be more effective with your engagement. 
Finding the right CRM tool for personal use requires you to be aware of your needs and expectations. Moreover, before you start looking at top-rated solutions, you should have a good idea about what a personal CRM tool is and what advantages it can offer. 
This blog lists the 12 best personal CRM software that can be your perfect partner in building stronger personal relationships and professional success. 
What is Personal CRM?
Personal CRM tools can be utilized by individuals to manage their personal or professional contact records diligently. Such tools systemically maintain all your contact information in one place, saving you from the trouble of scouring multiple platforms. This enhances the quality of your interactions and helps you grow your network. 
CRM for networking help you automate and manage tasks, which in turn enhances profitability. Moreover, solo entrepreneurs can use it to keep track of the leads in their pipeline. It organizes all prospect and customer data in one place, making it easy to access. This drives more personalized interactions since 80% of customers are more likely to make purchases when they are offered personalized experiences.
Why Do You Need a Personal CRM Tool?
CRM tools serve as a repository of essential business data. A compelling use case of CRM technology is personal usage. 
Personal CRM software can be used to store essential information about anyone you interact with on a regular basis. This includes your professional contacts, associates, friends, acquaintances, etc. 
CRM not only acts as a database but also empowers you to take actions. The tool can be used to automate routine tasks, freeing up more time for you. It also allows you to reach out to contacts as and when they prefer, demonstrating that you pay attention to their needs.  
Here are some: benefits of an individual CRM tool:
It keeps all your data

well-organized

and readily accessible.

It ensures that you do not miss

important events

and opportunities.

It reduces the time wasted on repetitive tasks with

automation

. 

It helps you build

stronger relationships

by allowing you to stay connected with your contacts.

It allows you to measure your progress with

intelligent reports

. 

It enables you to

schedule appointments

and

manage task

s from a single place. 

It allows you to create a

plan of action

for the future.
Our Selection Criteria
For effective management of your personal network, you require an easy-to-use and customizable tool. To help you find such a tool, we have collated a list of the 12 best CRM for personal life available on the market today.
The selection criteria that we have used to create this list include:
Pricing:

The list contains cost-effective solutions that work well for single users. 
User reviews:

We have considered user reviews from real users of the products to identify if they are reliable. 
Functionality:

The list includes tools that offer a broad range of advanced features, including automation, reporting, remote access, etc. 
Ease of use:

We have taken the interface and user experience of the tools into consideration. 
Customer support:

We have also considered the quality of customer support offered for each tool.
A Quick Look at the Best Personal Crm Tools and Their Key Features
| | |
| --- | --- |
| ✔️BIGContacts | Email marketing, Contact Management, and Smart Automated reports |
| ✔️Hubspot | Task reminders, Contact management, and Email Tracking |
| ✔️Sellf | To-do lists, Email Tracking, and File Management |
| ✔️Streak | Gmail integration, Activity timelines, and Conversation threads |
| ✔️Pipedrive | Reporting & analytics, AI insights, and Communication Tracking |
| ✔️Freshsales | Contact Management, Insightful Reports, and Automated Sequences |
| ✔️Insightly | Customizable dashboards, Relationship linking, and Automated workflows |
| ✔️UpLead | Lead prospecting, Email verification, and Profile enrichment. |
| ✔️EngageBay | Email marketing, Appointment scheduling, and Contact management. |
12 Best Personal CRM Software in 2023
Managing your personal network can be simplified if you have the right tools at your disposal. 
Personal CRM software adds a new dimension to your professional relationships by making every interaction relevant and effective. To get these advantages, you must find a flexible tool that does not get in the way of your work and makes it easier to build stronger relationships. 
If you are on the search for CRM networking software, here are 12 options worth trying out:
1. BIGContacts
BIGContacts CRM essentially ticks all the right boxes for personal use. It is easy to implement, navigate and maintain. Individual users can easily leverage the intuitive interface and centralized contact data management to enhance their relationships. BIGContacts makes it easy to schedule meetings, automate reminders, and track important events such as birthdays. The tool also has delightful customer support available 24×7 via chat, call, and email.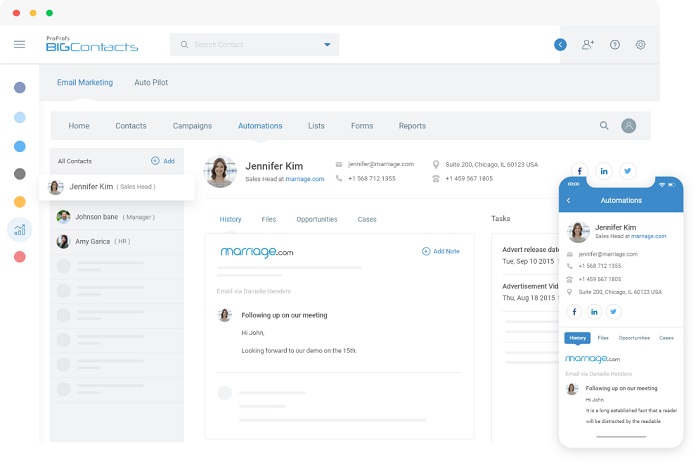 Key Features:
Track all leads effectively with a sales pipeline.

Track all upcoming events and tasks with the calendar module and to-do lists. 

Automate repetitive processes such as data entry or follow-ups and set up recurring reminders. 

Track your goals and measure performance with detailed reports. 

Enrich contact records with social media data and other public information. 
Pricing:
Big- $5/user/month 

Bigger- $15/user/month 

Biggest- $25/user/month 

Enterprise- Custom pricing
What is Unique About BIGContacts
It offers extensive customization for data fields, access permissions, layouts, views, dashboards, workflows, etc. 

View important information on the go using BIGContacts mobile version.
2. HubSpot
If you are tired of managing your data through spreadsheets, HubSpot could be a highly convenient option for you. It keeps your business data well-organized, so you can utilize it effectively. HubSpot automates a variety of manual tasks, helping free up time for you to work on more complex tasks.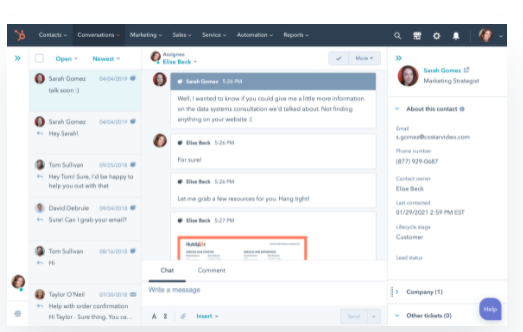 Key Features:
Bring all your inboxes to a single platform and never let important emails go unnoticed.

Enrich contact records automatically with data from multiple sources.

Use the appointment scheduling feature to set and manage meetings. 

Set reminders for important tasks and deadlines. 

Get instant alerts for contact activities to ensure that you are connecting with them at the perfect opportunity.
Pricing:
Free version available
Plans start from $45/month 
Why We Picked It, What is Unique About HubSpot
Track important information remotely with the mobile application. 

Reach out to several contacts instantaneously with bulk emails.
3. Sellf
Sellf allows you to be more productive by keeping all your contact data well-organized at all times. Along with proactive contact management, the tool also offers insightful reports and task management features. Sellf is highly effective as a mobile CRM that offers to-dos, notes, reminders, etc., to ensure that you never drop the ball with contacts.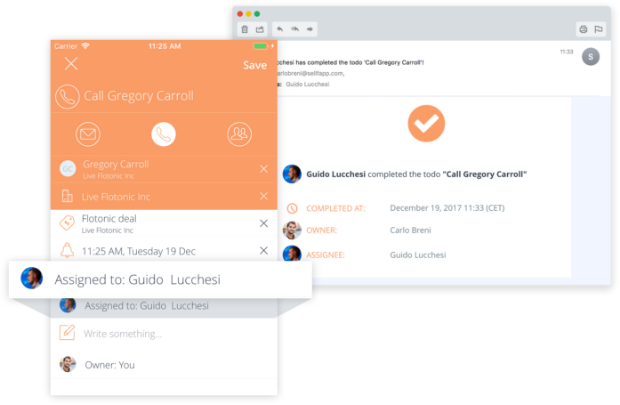 Key Features:
View all pending to-dos, meetings, events, calls, and emails in one place.

Log calls automatically, so you never miss out on essential details. 

Manage important files with ease. 

Share emails and track their engagement levels. 

Access visual reports to track performance. 
Pricing:
Contact Sellf team for pricing
Why We Picked It, What is Unique About Sellf
Get real-time updates and track your progress towards business goals.

The tool is easy to learn and has a highly intuitive interface.
4. Streak
If you work extensively with Gmail, Streak can be a great addition to your tech stack. This easy-to-use CRM offers a highly effective way to leverage your Gmail data to build stronger relationships. The tool provides you with the necessary context to drive meaningful interactions. Moreover, you can set up follow-up reminders and task notifications.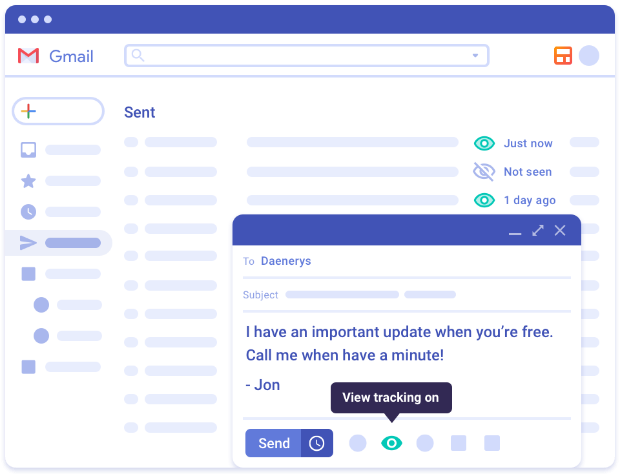 Key Features: 
Organize conversations into separate threads.

Use the mobile

personal CRM app

to stay updated with relevant information on the go.

Track schedules tasks for the day with the "Today" widget.

Track the delivered and read status of your emails. 

Get access to detailed communication timelines, including emails, calls, files, and notes. 
Pricing:
Free version available
Plans start from $15/user/month
Why We Picked It, What is Unique About Streak
Schedule email deliveries at the right time. 

Import and export of data are pretty straightforward.
5. Pipedrive
Pipedrive is essentially the most effective way for salespeople to manage their deals. This tool offers a robust CRM system that makes it easy to keep track of every interaction you have with contacts. Moreover, the tool offers several integrations, allowing you to manage all interactions and business activities without leaving the platform.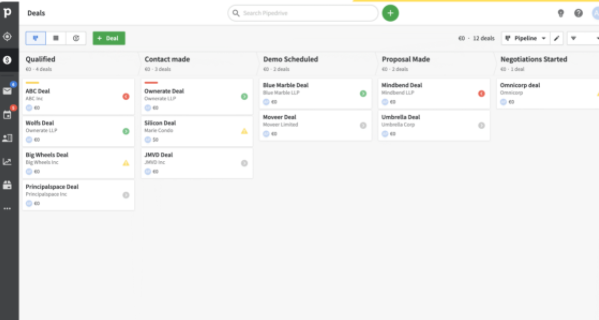 Key Features:
View a complete history of all communications with contacts, including calls, emails, meetings, notes, etc. 

Set up automatic reminders to ensure that tasks are completed on time. 

Track essential data even when you're away from your desktop with a mobile application. 

Use the AI-search engine to find high-quality leads.

Keep all emails synchronized by connecting your Pipedrive account with Gmail, Outlook, and other applications.
Pricing:
Plans start from $12.50/user/month
Why We Picked It, What is Unique About Pipedrive
Save time and cut costs by automating repetitive tasks. 

Leverage AI technology to identify the most engaged contacts.
6. Freshsales
Freshsales not only stores detailed contact records but also provides intelligent recommendations to enhance personalization efforts. The tool streamlines all your communications and helps your create detailed activity timelines. This provides you complete visibility into your interactions with prospects and customers. 
Moreover, you can schedule alerts for contact activities to ensure that important opportunities are not lost.  
Key Features:
Automate sequences to eliminate busy work and get things done on time.

Manage and track emails more effectively.

Customize data fields, views, layouts, workflows, etc., according to your needs. 

Get real-time insights into your performance with powerful reports and analytics. 

Make calls directly from the CRM and log them instantly.
 Pricing:
Free version available 
Plans start from $15/user/month 
Why We Picked It, What is Unique About Freshsales
Utilize insightful reports to gain more visibility into your data and make better decisions. 

Use an AI-powered tool to achieve more productivity.
7. Insightly
Insightly CRM enables you to reach the right people at the right time with highly personalized information. It allows you to create and maintain comprehensive contact profiles that strengthen relationships. This CRM tool also allows you to visualize important metrics with the help of reports so that you can make informed decisions.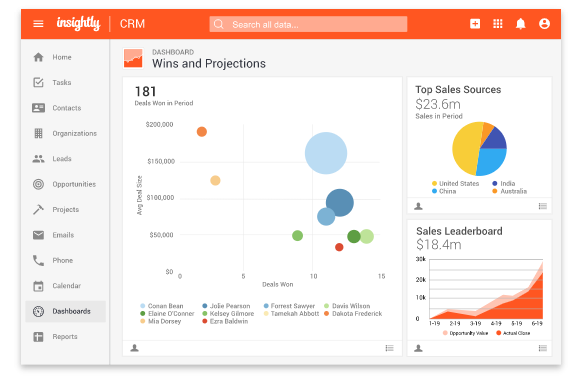 Key Features:
Customize workflows, views, or layouts according to your needs. 

Manage data remotely with a robust mobile application.

Use data points to get a comprehensive view of your contacts and their organizational structure. 

Keep your data secure with two-factor authentication and data encryption. 

Create automated workflows to ensure work gets done on time. 
Pricing:
Free for 2 users
Plans start from $29/user/month 
Why We Picked It, What is Unique About Insightly
Share bulk emails with a list of contacts.

Track project milestones within the CRM system.
8. UpLead
UpLead is a prospecting tool that can be used to collect data from a variety of online sources. It helps you find high-quality leads and their associated contact information. The tool empowers you to find accurate email addresses, phone numbers, social media links, etc. All of this information can be leveraged to drive more meaningful conversations.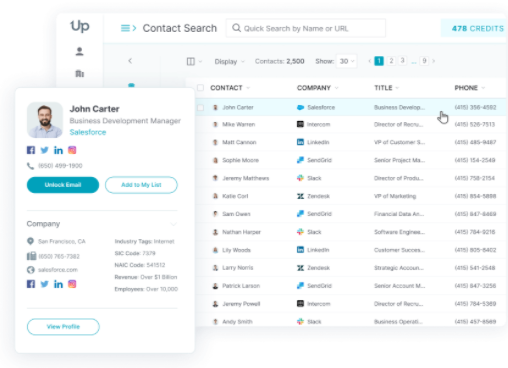 Key Features:
Find job title, location, email address, etc., for your contacts easily. 

Verify the email addresses of contacts to ensure that your messages are reaching the correct recipients. 

Gain insights into customer behavior and intent to take apt actions at the right time.

The credit system allows you to download the most relevant information.

Use technology data points to find the right prospects. 
Pricing:
Free version available
Plans start from $74/month
Why We Picked It, What is Unique About UpLead
The web-based platform allows you to access relevant information from anywhere.

Capture leads directly from your browser.
9. Dex
Dex is a reliable networking CRM system that empowers you to never lose touch with your contacts. The tool reminds you exactly where you left off in your last interaction, so there are no inconsistencies in your communication. It also generates smart reminders, helping you avoid no-shows or delayed responses.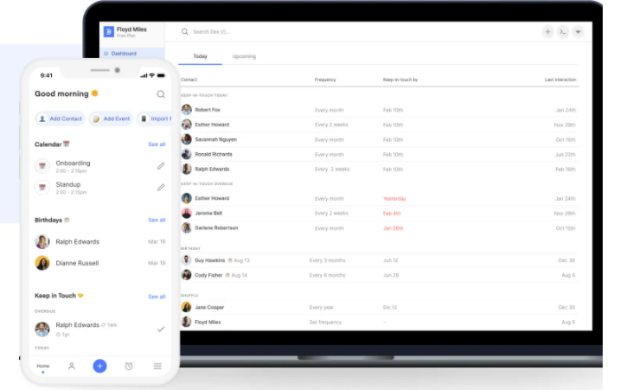 Key Features:
Automatically update your calendar and stay away from manual adjustments. 
Add contacts with ease with the Google Chrome extension 

Set up automated reminders to stay in touch with contacts. 
Take notes for your interactions and access them later.
Manage your calendar and connect with contacts remotely with the tool's mobile 
Pricing:
Free version available
Plans start from $10/month
Why We Picked It, What is Unique About Dex
Importing contacts from Facebook, Instagram, LinkedIn, etc., is highly straightforward.

The tool is simple to set up.
10.
EngageBay
EngageBay is an effective tool for managing multiple business operations from a single platform. It offers a 360° view of all contact details and activities, allowing you to take more relevant actions. This easy-to-use platform offers excellent marketing capabilities. Furthermore, advanced features such as lead scoring and automatic call logging make your customer relationship management efforts more effective.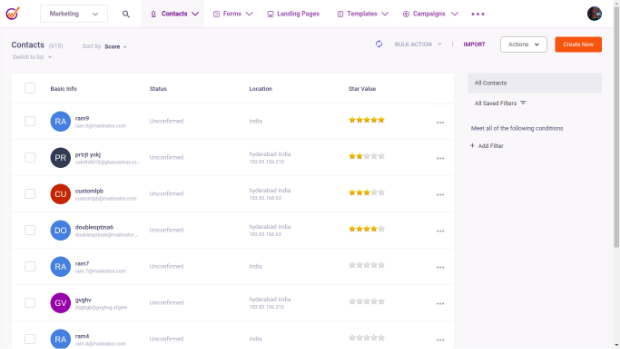 Key Features:
Schedule and manage appointments using the CRM system.

Make calls directly from contact records.

Get reminders for calls, events, and meetings to avoid missing out on important activities.

Set up automated email sequences for effective follow-ups.

Capture leads directly in the CRM system from your web forms. 
Pricing:
Free version available
Plans start from $11.99/user/month
Why We Picked It, What is Unique About EngageBay
This tool offers a range of email marketing features such as email templates, landing page builder, etc. 

The tool has highly reliable and professional customer service.
11. Keap
Keap is a powerful tool that allows you to automate repetitive tasks and organize contact data efficiently. Since all data can be found in one place, you can take relevant actions instantly. Keap automatically collects data from sources such as social media, web forms, landing pages, etc., eliminating the need for manual data entry.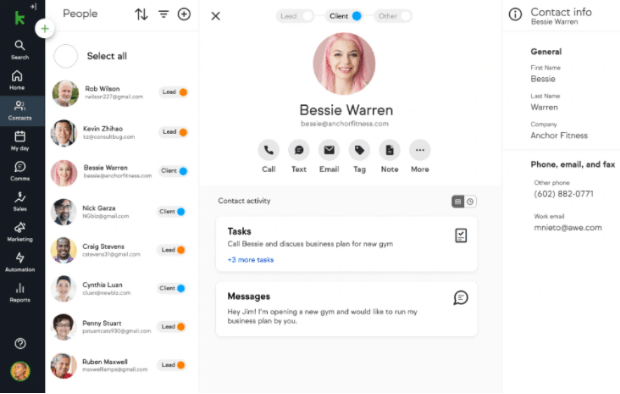 Key Features:
Schedule reminders for important events and tasks.

Visualize data effectively with powerful reporting & analytics tools.

Set up automated follow-up emails to save time. 

Connect with contacts via personalized text messages. 

Use contact actions as triggers for automated sequences. 
Pricing:
Plans start from $59/month
Why We Picked It, What is Unique About Keap
The tool offers both desktop and mobile access. 

You can manage meetings with ease with the appointment scheduling feature 
12. monday.com
monday.com is a highly effective and reliable personal CRM application that allows you to manage all interactions from a single place. The tool offers extensive customization, so you can adapt it according to your individual needs. Moreover, it offers offline and mobile access, enabling you to view essential data from any remote location.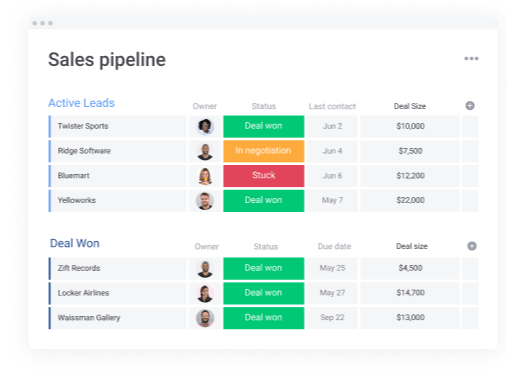 Key Features:
The drag and drop interface makes the tool easy to use.

Customize reports & dashboards to visualize the most critical metrics.

View detailed timelines to track when your projects are due.

Run email marketing campaigns from within the CRM application.

Automate notifications and workflows to ensure that things get done at the right time.
Pricing:
Free version available
Plans start from $8/user/month 
Why We Picked It, What is Unique About monday.com
The ready-made templates for the tool make it easy to get started. 

Monitor your performance with visual reports.
Choose the Right Personal CRM 
There is a vast range of affordable and secure tools on the market that can completely transform how you approach your personal and professional relationships. However, not every personal relationship management app will work out well for you.
Here are some of the essential features that you should consider when choosing a CRM for personal use: 
Easy data import 

Contact management 

Instant alerts and notifications

Calendar tracking 

Automation

Pipeline management 

Reporting & analytics
Once you find tools that offer these features, look into the following factors to select the most optimal solution:
Make use of the free trials to understand the functionality of the tool.

Check user reviews and ratings.

Focus on the customizability and scalability of the application.

Go for a tool that offers advanced automation and business intelligence features. 
Read More: Free CRM Comparison Spreadsheet (How to Choose a CRM)
Personal CRM- Your Key to Building Relationships 
Personal CRM is much more than just a virtual assistant keeping track of your data. It is an intelligent system that streamlines your engagement and empowers you to make the most out of every interaction. Such tools can benefit a variety of professionals, be it freelancers, entrepreneurs, or people simply looking for a way to expand their network.
A personal CRM gathers and brings all the information you need to a single place. This allows you to be more organized and competent. It keeps you updated in real-time, so you never miss an opportunity. Moreover, it equips you with insights to strengthen your connections with contacts. 
The 12 best personal CRM tools mentioned above are highly reliable solutions. These tools empower you to manage your contacts and connect with them more effectively. One tool that stands out in this list is BIGContacts. If you are in need of a CRM solution that builds your personal and professional credibility without being a hassle to manage, BIGContacts is the right solution for you.