What if you could bring the familiarity of your address book, task planner, and communication platform together? Sounds like a distant dream, right?
Not anymore! A personal CRM makes it possible.
Personal CRM tools act as a storehouse of information for all your contacts, allowing you to grow your network and be more effective with your engagement.
In this article, we compare the 12 leading personal CRM software options that are absolute game-changers. We will take a deep dive into their functionality as well as their advantages and disadvantages. Carry out a thorough analysis to find the perfect tool that unlocks your networking potential.
Ready to bid goodbye to scattered contacts and missed opportunities?
Let's go!
Our Top Picks
BIGContacts: Intuitive and user-friendly contact management system with powerful automation capabilities.
HubSpot: Feature-packed personal CRM with automated actions.
Zendesk Sell: Customizable CRM tool with sales pipeline management.
Monica: Simple and intuitive personal CRM designed specifically for individuals.
Nimble: Social media integration and advanced contact insights for effective relationship management.
What Is Personal CRM?
Personal Customer Relationship Management (CRM) tools help individuals centralize and manage information related to their contact records.
Whether you want to keep up with your clients or business associates, a personal CRM tool is the ultimate solution. This powerhouse of functionalities will help you build long-lasting relationships by facilitating personalized and timely communication.
With the help of a personal CRM tool, individuals across various roles and industries can stay organized, improve productivity, and enhance their overall business success. It brings all relevant information related to your contacts together, including their –
Contact details
Social media accounts
Previous touches
Notes
Transaction history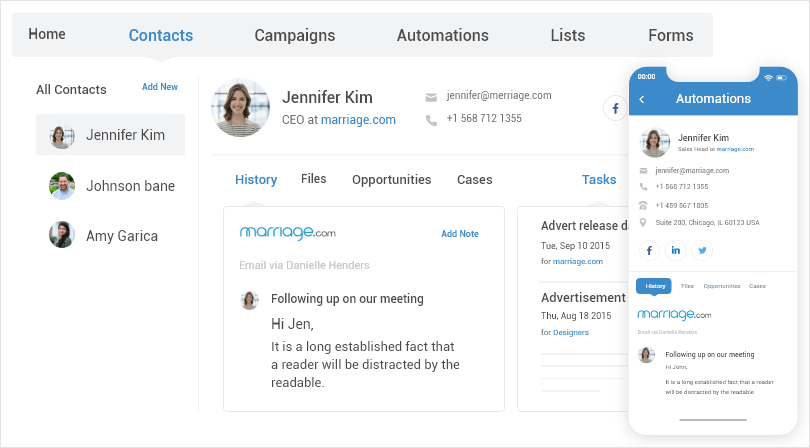 Personal CRM not only acts as a database but also empowers you to take action. The tool can be used to automate routine tasks, freeing up more time for you. It also allows you to reach out to contacts as and when they prefer, demonstrating that you pay attention to their needs.
Learn more about what a CRM is with this quick video –
Benefits of Personal CRM
The primary objective of personal CRM is to facilitate the growth of one's network. By having a comprehensive view of contacts from different applications, you can easily access important information, track interactions, and stay organized.
The following key benefits of personal CRM software make it a must-have.
Centralized Contact Management:
Personal CRM provides a single, centralized location to store and manage all contact information, eliminating the need to search through multiple platforms or devices.
---
Read More: From Chaos to Control: What Is Contact Management & How to Capitalize on It
---
Efficient Communication:
Personal CRM tools enable individuals to track interactions, including calls, emails, and meetings, ensuring they never miss an important conversation or follow-up.
Relationship Nurturing:
By maintaining a record of past interactions and important details, personal CRM helps individuals cultivate stronger relationships. They can recall key information, such as preferences or past conversations, fostering meaningful connections.
Task Management:
Personal CRM tools offer automated reminders and task management features, helping you stay on top of follow-ups, deadlines, and important dates.
Increased Productivity:
By automating repetitive tasks, personal CRM saves time and boosts productivity, allowing individuals to focus on core tasks and goals. It enables you to schedule appointments and manage tasks from a single place.
Actionable Insights:
Personal CRM tools may provide data insights and analytics, offering valuable information on contact engagement, communication patterns, and networking effectiveness.
Easy Opportunity Tracking:
Personal CRM allows users to manage opportunities, such as potential collaborations, job leads, or sales prospects. This ensures that no opportunity is missed or forgotten.
8 Essential Features to Look for in a Personal CRM
When choosing the perfect personal CRM, it's essential to consider some essential features that will empower you to manage contacts, nurture relationships, and maximize your personal network. Let's explore the must-have elements in a personal CRM.
1. Contact Management
A CRM system helps you store and update contact information, such as names, emails, phone numbers, birthdays, addresses, and social media handles. This centralization allows you to focus more on meaningful interactions and less on administrative tasks.
Contact management ensures that all relevant data is readily available and up to date, improving efficiency and saving valuable time previously spent on manual contact tracking.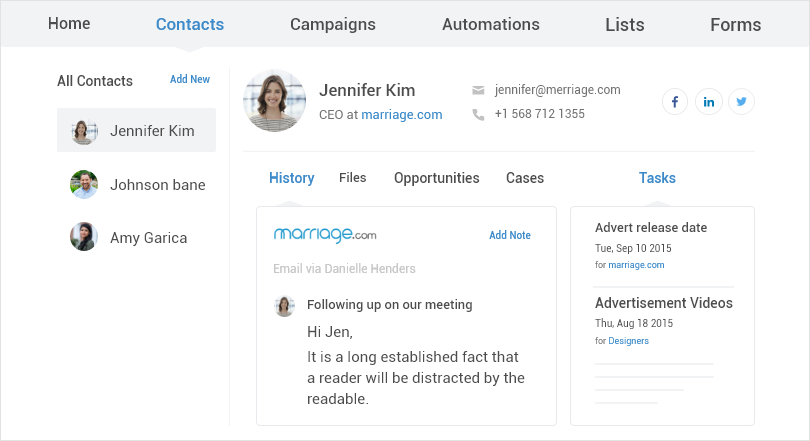 ---
Read More: 15 Best Contact Management Software Tools in 2023
---
2. Automation
By harnessing the power of automated workflows, you can streamline repetitive tasks and improve your productivity. It can help you achieve consistent and timely communication, reduce manual effort, and ensure no opportunity slips through the cracks.
From sending personalized follow-up emails to scheduling reminders and updating contact information, automation frees up your time and mental energy for more meaningful activities.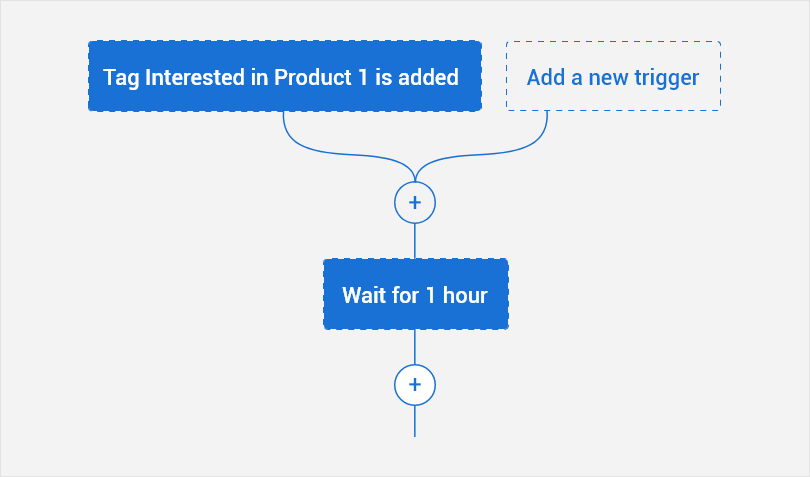 3. Reporting & Analytics
Through comprehensive reports, you can gain a deeper understanding of your interactions, engagement levels, and overall performance. These reports offer visual representations of key metrics, such as communication frequency, conversion rates, and pipeline progress.
By analyzing the data and trends presented in the reports, you can make data-driven decisions, identify areas for improvement, and refine your relationship strategies.
4. Communication Tracking
Communication tracking keeps a record of all your interactions, including emails, calls, and meetings. It helps you stay organized by providing a comprehensive history of your communications with each contact.
A complete view of your conversations facilitates effective follow-ups, progress tracking, and continuity in your relationships.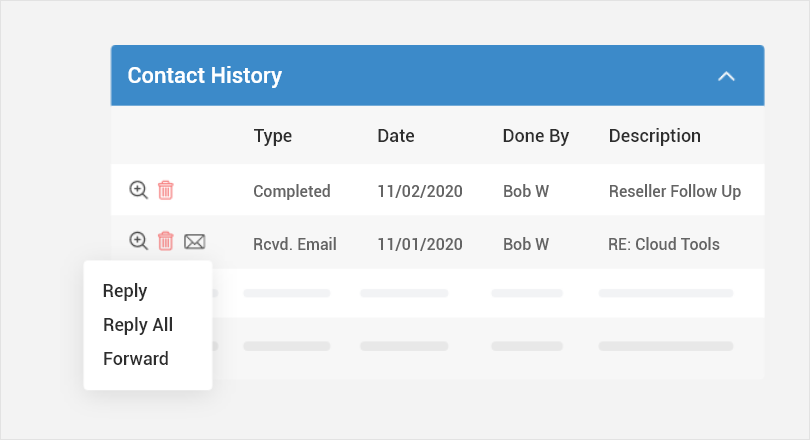 5. Remote Access
Remote access is a transformative feature that empowers you to manage your CRM data from anywhere, at any time. This helps you actively nurture relationships, even when you are away from your desk.
With mobile access, you can securely log into your CRM tool using various devices like laptops, smartphones, or tablets. Whether you're working from home, traveling, or attending meetings outside the office, your CRM will be just a few clicks away!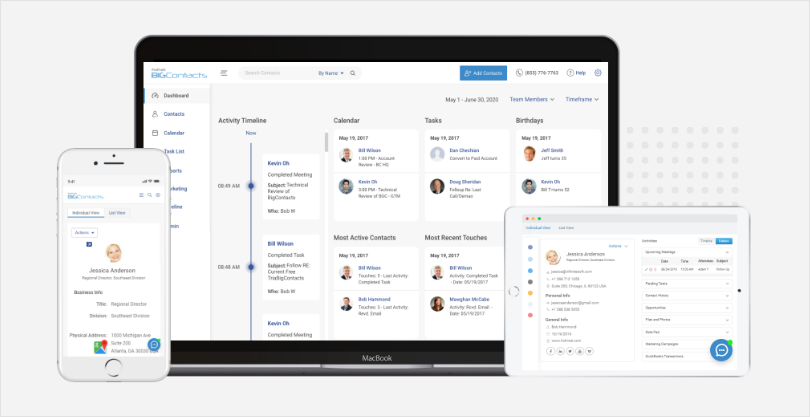 6. Segmentation
With segmentation, you can easily categorize your contacts based on specific criteria, allowing you to tailor your interactions and communication to their unique needs and interests.
With custom segments or lists, you can send targeted messages, offers, or content that resonates with each group. It enables you to deliver a more personalized and relevant experience to your contacts, fostering stronger connections and engagement.
---
Read More: Customer Segmentation Analysis [The Only Guide You'll Need in 2023]
---
7. Task Management
With task management, you can create, assign, and track tasks seamlessly within your CRM.
It acts as your personal task manager, allowing you to set due dates, prioritize activities, and even delegate tasks to others. This way, you can stay on top of your to-do list and track progress — all in one place.
You can also set up alerts for important tasks, events, and deadlines. Receive real-time notifications for upcoming meetings, pending tasks, or critical milestones in your customer relationships.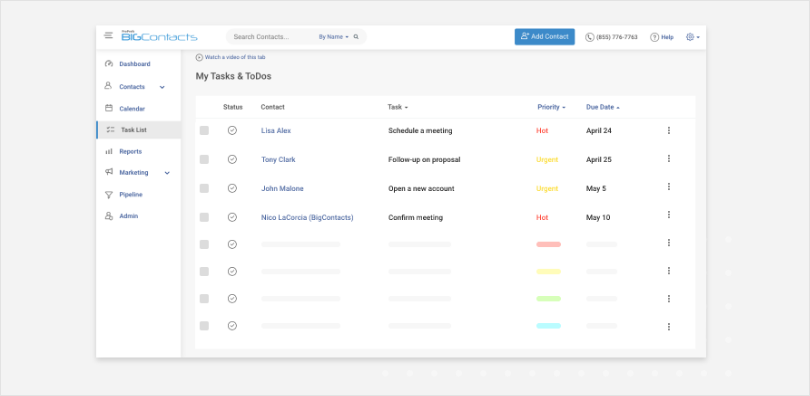 8. Integrations
With integrations, your CRM becomes a powerful hub that seamlessly interacts with your favorite apps and services.
Whether it's syncing your calendar, integrating with email clients, or connecting with project management tools, these integrations streamline your workflow and eliminate the need for manual data entry or switching between multiple applications.
Personal CRM in Action- Who Is It For?
Anyone who wants to maintain a well-organized contact list, nurture relationships, and maximize their networking potential can benefit from using a personal CRM tool.
It provides a systematic approach to contact management, enabling individuals to stay on top of their interactions and build stronger connections.
The following roles can significantly benefit from the implementation of a personal CRM application.
Small Business Owners:
Entrepreneurs and small business owners can leverage personal CRM tools to streamline contact management processes. The tools can also help track interactions with suppliers, partners, and customers, ensuring smooth communication and efficient operations.
---
Read More: 12 Best CRM for Small Businesses in 2023
---
Freelancers & Sole Proprietors:
Personal CRM tools can be highly valuable for freelancers and sole proprietors who need to manage their client contacts, track project details, and maintain a strong professional network. It helps them stay organized, nurture client relationships, and maximize their business opportunities.
Sales & Relationship Managers:
Personal CRM tools help sales representatives, client managers, account managers, and business development professionals manage customer and prospect interactions, track leads, schedule follow-ups, and close deals quickly.
Customer Support Representatives:
Personal CRM tools enable customer support and service teams to centralize customer information, provide personalized support, track feedback, and deliver a superior customer experience.
Marketing Professionals:
Marketers can use personal CRM tools to maintain a contact database, track campaign interactions, segment audiences for targeted communications, and optimize marketing strategies based on valuable insights.
12 Best Personal CRM Options
Personal CRM software adds a new dimension to your relationships by making every interaction relevant and effective. To get these advantages, you must find a flexible tool that does not get in the way of your work and makes it easier to build stronger relationships.
If you are on the search for CRM networking software, here are 12 options worth trying out.
1. BIGContacts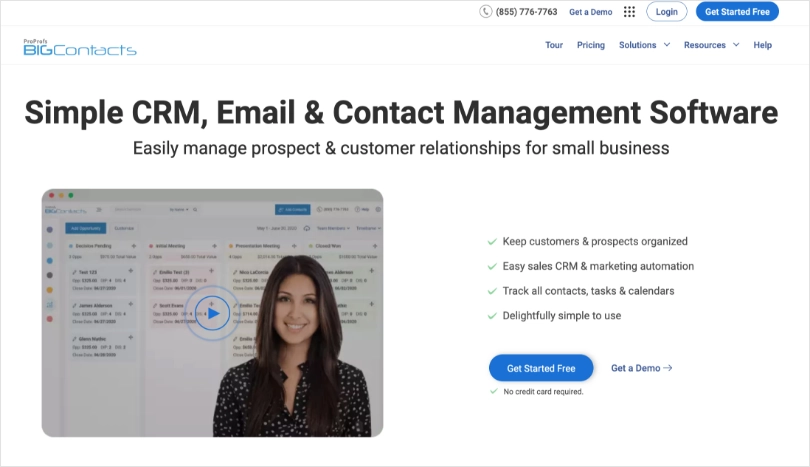 BIGContacts is a feature-packed personal relationship management software that enables users efficiently manage contacts and build stronger relationships. With its intuitive interface, you can easily store and organize contact information, track interactions, and set reminders.
The robust tagging and segmentation features enable targeted communication, while the integrated email marketing functionality allows for personalized campaigns.
Key Features:
Automate repetitive processes such as data entry or follow-ups and set up recurring reminders.
Track all upcoming events and tasks with the calendar module and to-do lists.
Contact records are automatically enriched with social media profiles.
Set up personalized drip email sequences to engage with contacts at the right time.
What is Unique About It:
Custom fields, automatic data logging, webform connection
Pricing:
BIG- $5/user/month
BIGGER- $15/user/month
BIGGEST- $25/user/month
ENTERPRISE- Custom pricing
G2 Rating:
2. HubSpot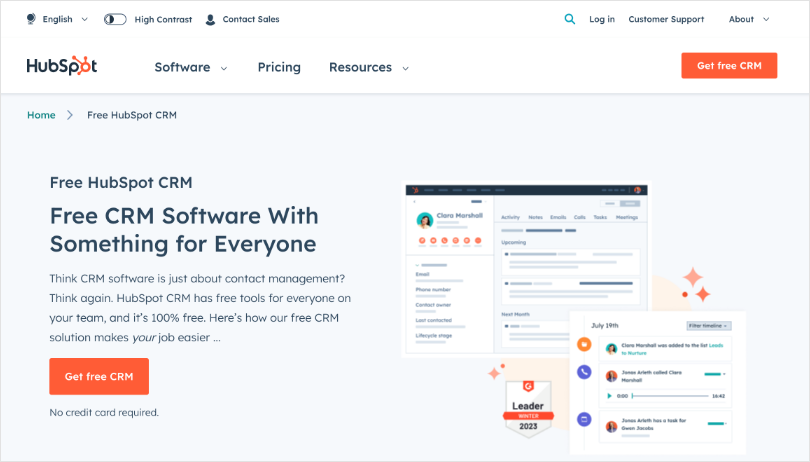 HubSpot is a robust CRM for personal contacts. With its suite of features, you can organize, track, and engage with your contacts.
Benefit from detailed contact profiles, seamless email integration, and automated task reminders. The robust reporting capabilities provide valuable insights for optimizing your interactions.
Key Features:
Bring all your inboxes to a single platform for easier tracking.
Automatically enrich contact records with data from multiple sources.
Facilitate appointment scheduling for your contacts.
Get instant alerts for contact activity to connect with them at the perfect opportunity.
What is Unique About It:
Email automation, mobile app
Pricing:
Free plan with limited features
Paid plans start from $30/month
G2 Rating:
3. Zendesk Sell
Zendesk Sell allows you to be more productive by keeping all your contact data well-organized at all times. You can use it to stay updated with upcoming events, manage your to-do lists, and engage with contacts effortlessly.
The platform works well for individual users that are looking to automate repetitive tasks and free up more time to strengthen their relationships.
Key Features:
Set up appointments and never miss a meeting with timely reminders.
Manage communications across multiple channels from a single place.
Generate detailed activity reports to track your effectiveness.
Enrich contact records with updated information automatically.
What is Unique About It:
Offline mobile access, pre-built dashboards
Pricing:
Starts from $19/user/month
G2 Rating:
4. Contacts+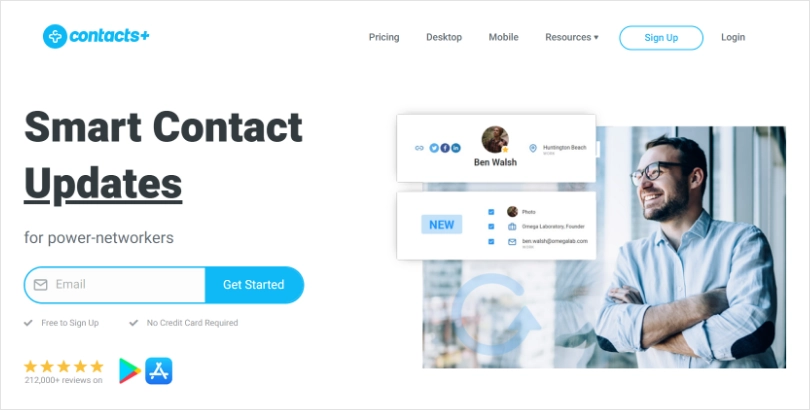 Contacts+ offers efficient contact organization, automatic data enrichment, and seamless integration with popular communication apps. This personal CRM also keeps your CRM data clean with easy deduplication and automated scans.
Use it to keep contact data synchronized across multiple devices and platforms. The tool also supports automatic profile enrichment based on email addresses, phone numbers, etc.
Key Features:
Enrich contact records with information from social media platforms.
Use smart tags to keep your contact database well-organized.
Identify outdated contact information to keep your contact records up to date.
Get alerts for important events to engage with contacts at the right time.
What is Unique About It:
Web & mobile application, social media connector
Pricing:
Free plan with limited contact capacity
Paid plans start from $9.99/month
G2 Rating:
5. Monica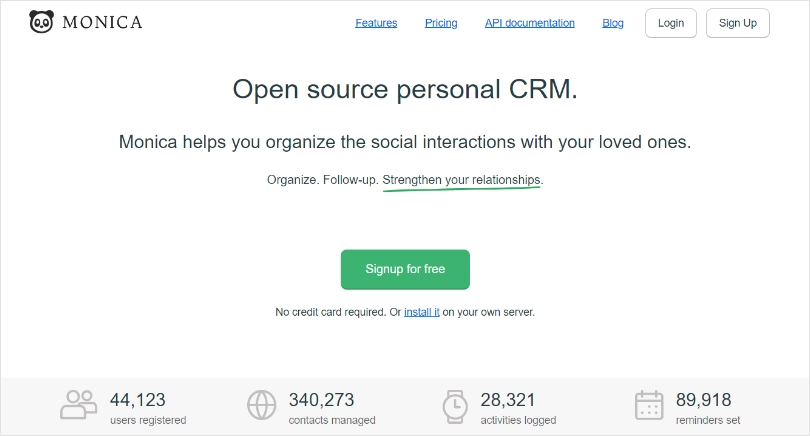 Monica is an open-source personal CRM tool that lets you keep track of important contact details, such as phone numbers, email addresses, social media profiles, and more. You can also add notes about your interactions with them and set reminders for follow-ups.
It is also available as a self-hosted CRM solution that helps you stay updated with all upcoming social events.
Key Features:
Access a detailed dashboard to track last touches and upcoming events from a single screen.
Set up reminders to never miss an important appointment.
Create notes to store additional details related to your contacts.
Use the journal to log all activities and interactions carried out.
What is Unique About It:
Web-based access, automatic activity logs
Pricing:
Free plan available for 10 contacts
Paid plans start from $9/month
G2 Rating:
6. Streak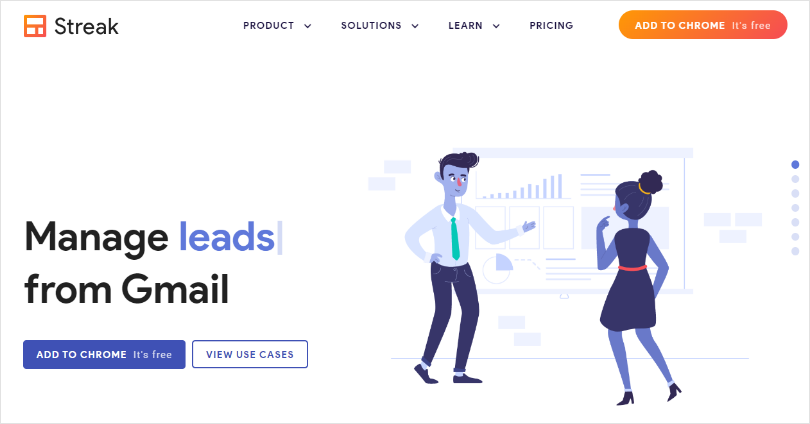 If you work extensively with Gmail, Streak can be a great addition to your tech stack. This easy-to-use CRM offers a highly effective way to leverage your Gmail data to build stronger relationships.
It provides you with the necessary context to drive meaningful interactions. Moreover, you can set up follow-up reminders and task notifications.
Key Features:
Use the mobile personal CRM app to stay updated with relevant information on the go.
Track scheduled tasks for the day with the "Today" widget.
Track the delivered and read statuses of your emails.
Get access to detailed communication timelines, including emails, calls, files, and notes.
What is Unique About It:
Gmail integration, easy import & export
Pricing:
Free plan available with limited contact capacity
Paid plans start from $15/user/month
G2 Rating:
7. Cloze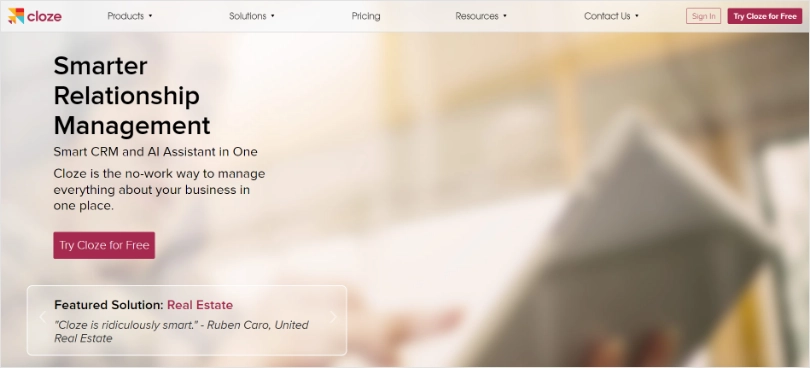 Cloze CRM is a powerful personal CRM tool that helps you manage your contacts efficiently. It offers advanced features such as two-way email syncing, social media integration, and smart reminders.
Cloze keeps track of your email, phone calls, text messages, meetings, documents, LinkedIn, Facebook, and Twitter, enabling you to stay on top of everything effortlessly.
Key Features:
Log all communication across multiple channels automatically.
Get automated reminders and alerts to connect with contacts at the right time.
Prepare for meetings by organizing all your notes and documents in one place.
Set up drip email campaigns to stay connected with your contacts.
What is Unique About It:
AI assistant, email tracking
Pricing:
G2 Rating:
8. Zoho CRM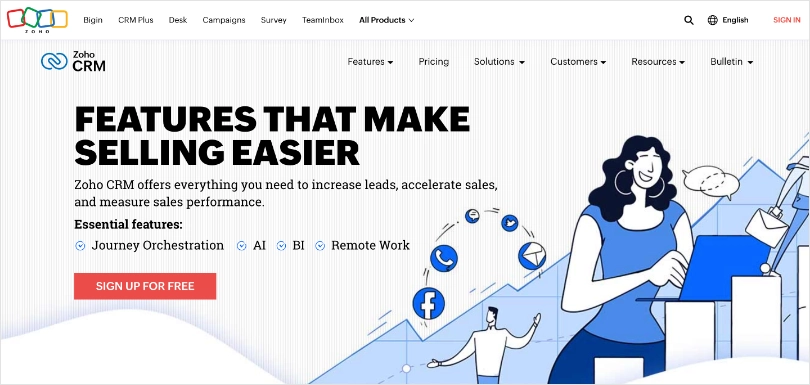 Zoho CRM is a reliable personal CRM tool offering a wide range of features to help you manage your contacts and sales pipeline. It is known for its ease of use, customization options, and automation features.
The tool enables you to create contact lists, customize attributes, and automate your workflow to boost productivity.
Key Features:
Create automated workflows to reduce busywork and enhance productivity.
Manage communication across multiple channels such as email, social media, calls, etc.
Use real-time reports to track the effectiveness of your networking efforts.
Customize views, layouts, fields, and various other modules.
What is Unique About It:
Pricing:
Free for 3 users
Paid plans start from$12/user/month
G2 Rating:
9. Freshsales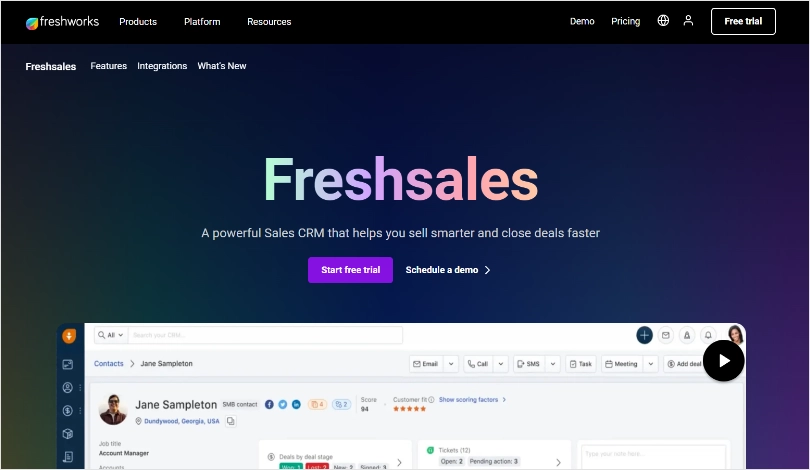 Freshsales not only stores detailed contact records but also provides intelligent recommendations to enhance personalization efforts. Moreover, you can schedule alerts for contact activities to ensure that important opportunities are not lost.
The tool streamlines all your communications and helps you create detailed activity timelines. This provides you with complete visibility into your interactions with prospects and customers.
Key Features:
Access comprehensive contact records and detailed activity timelines.
Customize data fields, views, layouts, workflows, etc., according to your needs.
Get real-time insights into your performance with powerful reports and analytics.
Create tasks and set reminders to stay on top of your work.
What is Unique About It:
iOS & mobile apps, auto-profile enrichment
Pricing:
Free for 3 users
Paid plans start from $15/user/month
G2 Rating:
10. Covve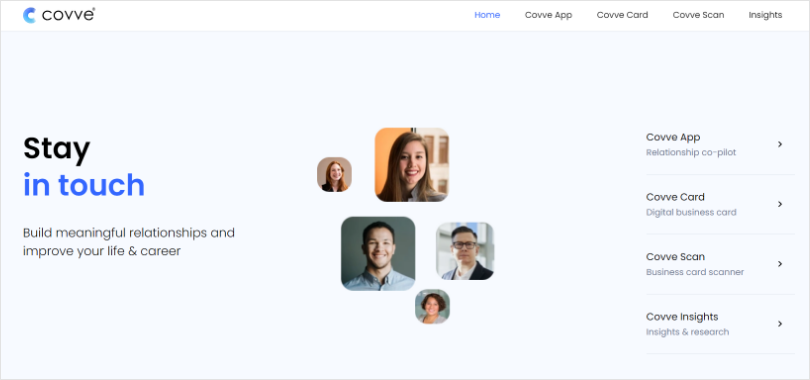 Covve is a personal CRM offering powerful such as contact organization, relationship management, and networking insights. It enables you to store and organize your contacts in one place, add notes and tags for easy reference, and sync your data across multiple devices.
The app also includes features like reminders and notifications to help you stay in touch with your contacts and build meaningful relationships.
Key Features:
Get smart reminders to engage with contacts at the most appropriate time.
Track your performance with in-depth networking analytics.
Use tags for the effective organization of your database.
Maintain notes and activity logs to keep track of important details and communications.
What is Unique About It:
Business card scanner, mobile app
Pricing:
Free plan available with limited features
Paid plans start from $9.99/month
G2 Rating:
11. Nimble

Nimble consolidate data from various sources, providing you with a comprehensive view of each individual, including their social media profiles and engagement history. Use it to manage your to-do lists and maintain a comprehensive calendar view for upcoming events.
The tool's intelligent algorithms generate valuable insights and provide timely reminders, helping you stay connected and build authentic connections.
Key Features:
Track contact activity to facilitate timely communication.
Add notes, social media accounts, deal status, etc., to enrich contact records.
Segment contacts into lists for better organization and management.
Find upcoming tasks, appointments, social signals, etc., from a single dashboard.
What is Unique About It:
Automated workflows, email synchronization
Pricing:
Starts from $24.90/user/month
G2 Rating:
12. Hippo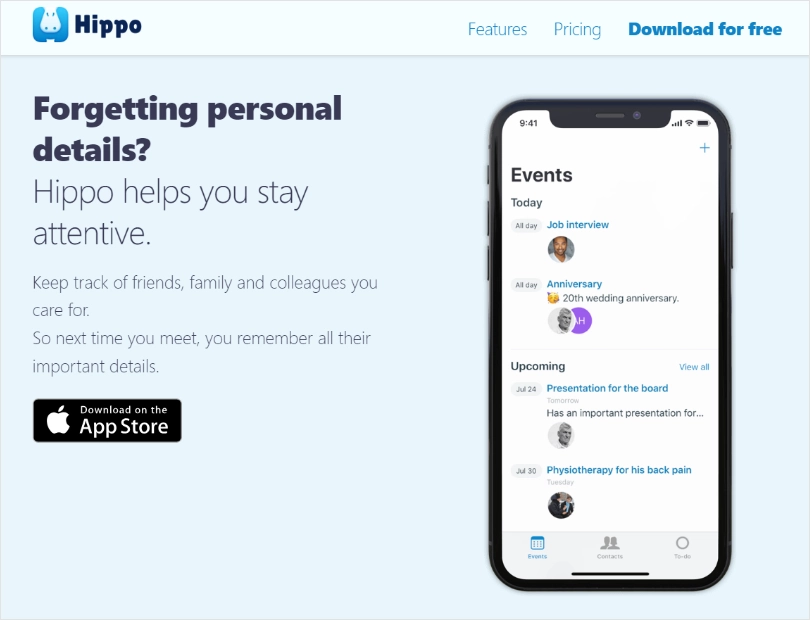 Hippo is a simple CRM tool for individual users to keep track of personal details for their connections. The application can be used to maintain comprehensive records, as well as to-do lists.
With this easy-to-use personal contact management system, you can avoid missing out on key events and get instant reminders.
Key Features:
Use notes to keep track of additional information related to contacts.
Create events and get reminded at the right time.
Ensure data privacy and security by storing it on your device instead of a third-party server.
Maintain detailed to-do lists to stay organized.
What is Unique About It:
Dedicated mobile application
Pricing:
G2 Rating:
How to Choose the Best Personal CRM – 8 Sure-Fire Tips
With numerous personal CRM software options available in the market, finding the best CRM for individuals can be challenging. Use this checklist to find a tool that checks all the right boxes.
Consider the features offered by the CRM tool, such as contact management, task tracking, email integration, reporting, and analytics.
Identify your unique business needs and ensure that the tool aligns with your objectives and existing workflow.
Look for a user-friendly interface and intuitive navigation. A personal CRM should be easy to set up and use without requiring extensive training or technical expertise.
Assess the level of customization available within the CRM tool. It should allow you to tailor fields, tags, and workflows to match your unique requirements.
Ensure that the CRM can accommodate your growing contact list and evolving needs. It should offer scalability options, such as adding users, storage capacity, or additional features as your requirements expand.
Evaluate the quality and responsiveness of the CRM provider's customer support. It is crucial to have reliable assistance when encountering technical issues or needing guidance.
Consider the affordability of the CRM tool and its value for money. Compare pricing plans, including any additional costs for advanced features or user licenses.
Make use of the free trials to understand the functionality of the tool.
---
Read More: How to Choose a CRM in 24 Ways (Step-by-Step Checklist + Free Guide)
---
Nurture Valuable Connections With Personal CRM
Personal CRM software can be used to store essential information about people you interact with on a regular basis. This includes your professional contacts, associates, acquaintances, clients, etc.
Out of the impressive selection of the 12 best CRM for personal use mentioned above, finding the perfect one boils down to your specific needs.
If you need a user-friendly tool with robust automation and extensive customization options, look no further than BIGContacts. This dynamic CRM software eliminates the hassle of tedious tasks, freeing up your time and keeping you on top of your relationship management game.
Choose wisely, and let BIGContacts be your secret weapon for building a network that propels you forward!