Staying updated with client statuses, managing documents, personalizing engagement, and streamlining internal processes- the list of tasks for an online agency to manage is endless.
Get one thing wrong, and you could be putting your agency's profitability in jeopardy!
Customer relationships lie at its core regardless of what your digital agency specializes in. Moreover, you need a way to streamline communication and track the progress of all your operations. This can be accomplished with intelligent CRM for digital agencies. Such a tool can keep the wheel turning in the background while you focus on serving clients efficiently.
We have put together the 15 best CRM software for digital agencies. Use this blog to find the key features, pricing, pros, and cons of these tools and select the best CRM for your agency.
Role of CRM in Digital Agencies
Before we get into the best CRM for agencies, let's focus on the more important question-
Do you even need such a tool?
CRM has become an indispensable tool for enterprises across industries. With the global CRM market size expected to reach USD 128.97 billion by 2028, there's no doubt that more companies are moving towards integrating CRM tools into their tech stack.
For agencies, CRM can offer a plethora of advantages. It helps plan operations, deliver proactive customer service and pave the way for business growth. Here are some benefits that CRM offers to agencies:
Facilitates Communication
The tool enhances real-time communication with all team members and clients. This speeds up processes and helps you connect with the right stakeholders at the right time. The CRM tool can act as a unified platform for collaboration between departments, contributing to high-quality deliverables.
Automates Repetitive Tasks
CRM can be a powerful tool for boosting organizational productivity. It can be used to automate repetitive administrative tasks. This frees up time for other activities and contributes to reduced costs. Furthermore, automation also reduces manual errors or inconsistencies.
Keeps Data Organized
A study revealed that getting a holistic view of customer interactions across multiple channels is one of the most worrying challenges faced by 47% of marketers. CRM helps overcome this challenge by providing a 360° view of all customer data and interactions in one place.
Better Task Management
It is highly likely to miss out on important tasks with so many things to manage. CRM helps avoid this by aiding task management. Agencies can use this tool to set priority statuses and schedule task reminders to ensure that important deadlines are met.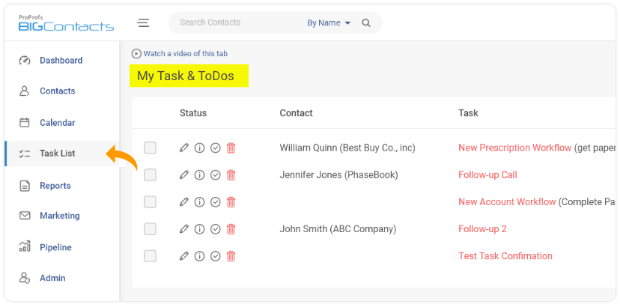 Improves Marketing
CRM can effectively enhance lead generation and nurturing efforts. The data from CRM can be leveraged to plan and execute personalized marketing campaigns. Moreover, it helps track the performance of these campaigns by monitoring relevant metrics and identifying areas of improvement.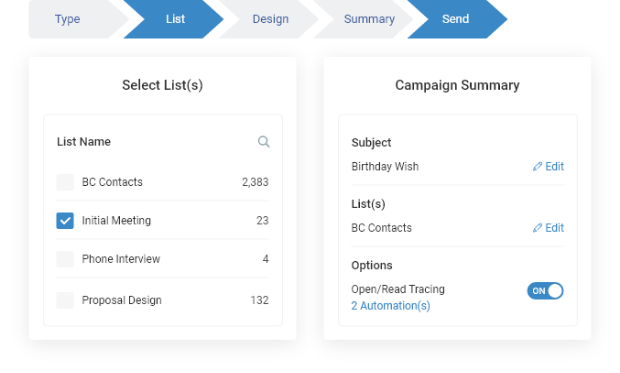 How to Use an Agency CRM for Business Growth
Let's approach this from an application perspective. The best CRM for digital marketing agency can help accomplish various results. These range from improved customer retention to better brand positioning.
To achieve the intended results, you must set clear objectives and expectations. Define a clear implementation strategy and customize your CRM tool to align with your business goals. Here are some actions that can help grow your agency using CRM:
Bridge the gap between sales and marketing teams by establishing uniform processes and objectives.
Set reminders and manage tasks seamlessly.
Optimize and enhance customer journeys to boost your ROI.
Leverage reports and analytics to make better business decisions.
Automate redundant tasks to improve overall productivity.
Get a competitive advantage by staying current with market trends and offering exceptional customer experiences.
Stay connected with clients across multiple channels, including social media platforms.
Work remotely with mobile access to essential data.
Retain more customers by improving your customer satisfaction score

.
Finding the Right CRM for Your Agency
Choosing CRM for digital agencies isn't a straightforward decision. It requires adequate time and a thorough analysis of your requirements.
While it is easier to find any top-rated application and run with it, the tool will prove to be inefficient for your organization in the long run. Therefore, to avoid wasting your time and resources on any run-of-the-mill CRM software, you must:
Focus on ease of use and customization.

Be aware of the functionality you require.

Ensure that the tool offers collaborative features.

Make use of free trials.

Find out the type of integrations available.

Check user reviews on credible sources.

Include the end-users in the decision-making process.
A Quick Look at the Best CRM Software for Agencies
Software
Key Features
Pricing
BIGContacts
Marketing automation
Pipeline tracking
Contact management
Reporting & analytics
Starts from $5/user/month
Drag CRM
Workflow automation
Email sequences
Kanban boards
Reporting & analytics
Starts from $8/user/month
monday.com
Contact management
Lead management
Email templates
Automated processes
Starts from $8/user/month
HubSpot
Pipeline management
Helpdesk integration
Lead generation
Email marketing
Starts from $45/month
Zoho CRM
Contact management
Sales forecasting
Workflow automation
Reporting & analytics
Starts from $14/user/month
Pipedrive
Pipeline management
Marketing automation
Visual reports
Lead qualification
Starts from $12.50/user/month
Copper CRM
Automated tasks
Deal tracking
Custom reports
G suite integration
Starts from $25/user/month
Freshsales
Contact management
Pipeline management
Automated rules
AI-powered insights
Starts from $15/user/month
EngageBay
Marketing automation
Lead scoring
Appointment Scheduling
Deal management
Starts from $11.99/user/month
ConvergeHub CRM
Lead management
Marketing campaigns
Billing & payment tracking
Case management
Starts from $9/user/month
Salesforce
Personalized marketing
Automated processes
Intelligent recommendations
Opportunity management
Starts from $25/user/month
Keap
Pipeline management
Reporting & analytics
Marketing automation
Appointment tracking
Starts from $79/user/month
Apptivo
Lead capturing
Win/loss analysis
Performance reports
Email marketing
Starts from $8/user/month
NetSuite CRM
Marketing automation
Reporting & analytics
Campaign management
Sales forecasting
Custom pricing
Agile CRM
Automated workflows
Appointment scheduling
Reporting & analytics
Lead scoring
Starts from $8.99/user/month
Top 15 CRM for Digital Agencies
Here's a detailed analysis of the 15 best CRM for digital agencies to help you make a well-informed decision.
1. BIGContacts
BIGContacts CRM simplifies contact management, task tracking, pipeline management, and email marketing with its intuitive interface. It is one of the best CRM for marketing agencies to delight clients by providing highly personalized experiences. The tool can be used to create automated sequences of marketing emails and analyze their performance. All the contact data, emails, tickets, notes, and tasks are stored in one place, making it easy to access relevant information at the click of a button. BIGContacts also offers mobile access to the data, contributing to enhanced customer experiences.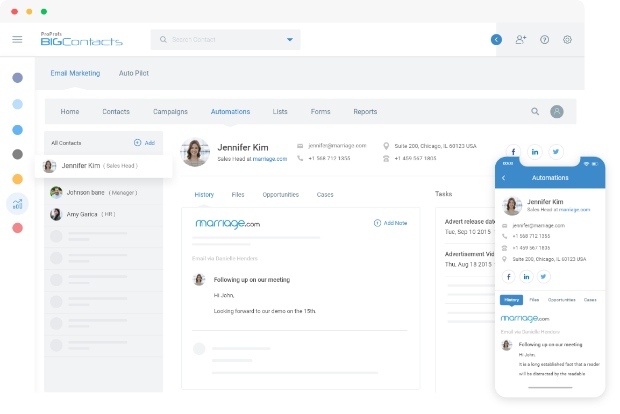 Pricing:
Big- $5/user/month

Bigger- $15/user/month

Biggest- $25/user/month

Enterprise- Custom pricing
Key Features:
Create intelligent drip email campaigns that automatically adjust based on contact activity.

Manage all leads with a visual and customizable sales pipeline.

Customize your reports or choose from standard reporting templates.

Perform advanced searches for your contact records and save the filters for future use.

Segment customers into lists and share targeted bulk emails with these lists.
Pros:
The software's interface is incredibly simple and easy to navigate.

The customer support is professional and prompt. A highly useful knowledge base is also provided.
Cons:
A simpler way of finding and removing duplicate contact records is required.

More fully-featured integrations with tools such as Slack, Trello, etc., are needed.
2. Drag CRM
If you struggle with keeping your email organized, Drag CRM can be the perfect solution for your agency. It lets you get everything done from Gmail without toggling between multiple screens. The collaborative features of Drag, including boards and automated workflows, contribute to improved organizational efficiency. All the essential information is stored centrally, eliminating the need for cc-ing multiple people. Drag also helps group related emails together, helping you stay more organized.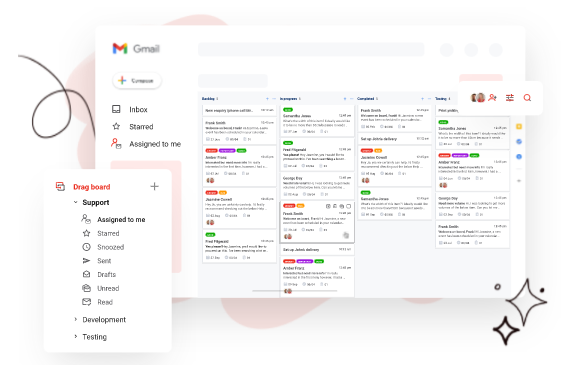 Pricing:
Free version available

Plans start from $8/user/month
Key Features:
Visualize work with boards that help view available opportunities, upcoming tasks, and previous interactions.

A shared inbox allows each team member to access essential information from a single place.

Create email templates for frequent use and track important metrics for your email campaigns.

Get better insights into team performance with reporting and analytics.

Automate email sequences to follow up with prospects and customers at the right time.
Pros:
Manage tasks, to-dos, and deadlines with ease.

The tool considerably improves team collaboration by bringing the entire team to a unified inbox and providing a real-time team chat feature.
Cons:
It does not function on web browsers other than Google Chrome.

It currently lacks a way to add subfolders on the Kanban boards.
3. monday.com
monday.com offers a versatile range of features that allow digital agencies to manage all aspects of customer relationships from a single platform. These include lead capturing, contact management, pipeline tracking, and project management. This agency CRM enables you to schedule reminders for tasks, track progress and gain relevant business insights. monday.com instantly notifies you when recipients open emails or take any actions, helping you to engage with them at the right time.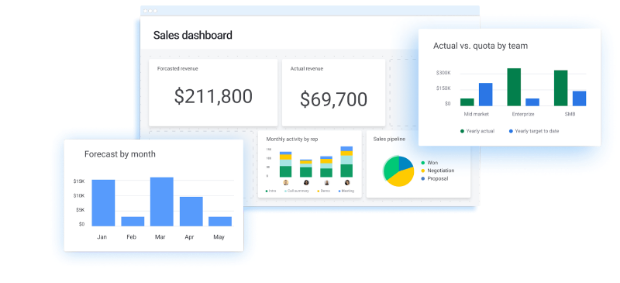 Pricing:
Free for 2 users
Plans start from $8/user/month
Key Features:
Build multiple custom sales pipelines for managing sales opportunities.
Automatically log interactions in individual contact records to keep everyone updated.
Use personalized email templates to save time.
Customize dashboards to track the progress of deals, analyze performance and plan ahead.
Capture more leads with webforms and log them into your database automatically.
Pros:
Synchronize your inbox with Gmail or Outlook to manage all emails from the CRM system.
Monitor team performance, make forecasts, and track goals with the tool's powerful reporting and analytics capabilities.
Cons:
You cannot add recurring tasks to your workflow using monday.com.
Creating custom workflows requires technical expertise and is challenging for beginners.
4. HubSpot
HubSpot is a CRM application that empowers businesses to be more efficient and productive. It provides a centralized channel for tracking and optimizing communication with clients. Digital agencies can track what sources bring in the most qualified leads and what actions drive these leads towards conversion using HubSpot's built-in analytics tools. Furthermore, it provides powerful email marketing features to help acquire, delight, and retain more customers.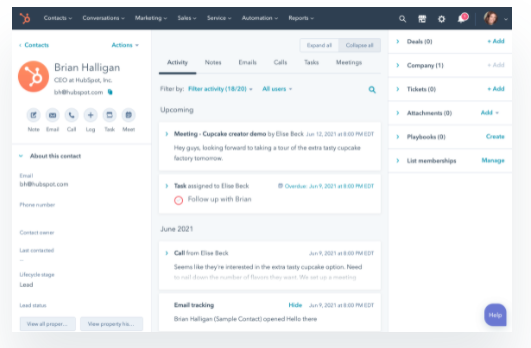 Pricing:
Free version available
Plans start from $45/month
Key Features:
Get more leads with the tool's ad management features, web form connections, and landing page builder.
Craft personalized email marketing campaigns with an easy drag-and-drop interface.
Use built-in analytics to spot trends, monitor campaign performance, and identify areas of improvement.
Find all necessary information about your opportunities in a visual sales pipeline.
Work remotely with a fully-featured mobile application.
Pros:
The tool automatically enriches contact profiles with information from multiple sources and website activity.
Use bulk emails with optimized and targeted content to nurture more leads.
Cons:
The pricing model is steep.
Limited customization is available.
5. Zoho CRM
Zoho CRM is a top-rated sales management and marketing automation tool. It empowers agencies to engage with their customers using multiple channels, which contributes to enhanced experiences. Moreover, the tool makes it easy to promptly address and resolve customer queries. With Zoho CRM managing your sales data, you can rest assured that it is well-organized and updated at all times. Furthermore, the AI capabilities of the tool improve forecasting and provide insightful recommendations.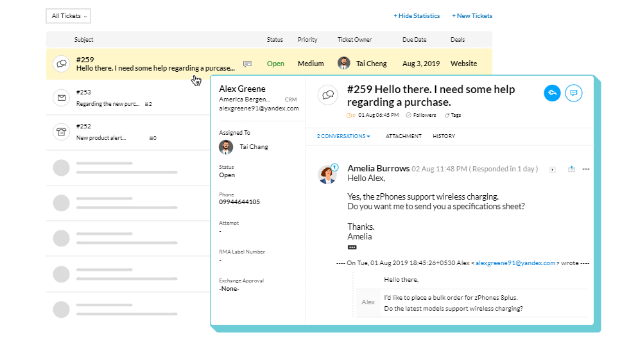 Pricing:
Free for 3 users

Plans start from $14/user/month
Key Features:
View all customer information and interactions from a single screen.

Lead scoring enables you to assign and prioritize deals effectively.

The AI assistant- Zia, makes it easy to navigate the tool and get the most out of it.

Bring every team member together and make collaboration easier with notes, tags, chat, etc.

Segment customers into groups to run well-targeted campaigns.
Pros:
Rely on AI-powered predictions to focus more attention on high-value deals.

Create automated workflows with multiple rules and conditions.
Cons:
Better customer support is required.

The tool requires better integration with applications outside the Zoho ecosystem.
6. Pipedrive
Pipedrive is a sales CRM that makes tracking leads with custom sales pipelines easy. The tool also offers detailed reports and powerful analytics, providing you with better visibility into your business data. Pipedrive also allows you to manage user roles and permissions to ensure the security of your data. Additionally, you can use the tool to set reminders for your team and meet deadlines effectively.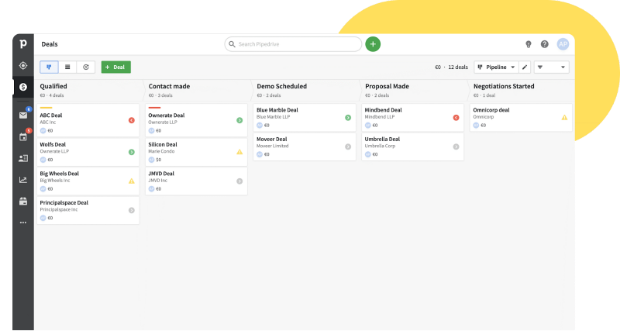 Pricing:
Plans start from $12.50/user/month
Key Features:
Add custom stages to the sales pipelines to align them with your organization's sales process.

Make accurate sales and revenue forecasts. These forecasts are updated automatically based on deal statuses.

Synchronize your email inboxes with the CRM system to manage all emails from a single platform.

Get a complete view of all interactions, additional notes, and essential contact details in one place.

Manage your CRM on the go with a mobile application.
Pros:
Automatic reminders and instant alerts help keep sales activities on track at all times.

Categorizing leads into segmented lists helps personalize follow-ups with them.
Cons:
Customer support requires improvement.

The mobile application has frequent bugs and needs better functionality.
7. Copper CRM
Copper CRM is known for its fully-featured Google Workspace integration that allows you to manage all operations from within the Google ecosystem. It helps create long-lasting customer relationships, resulting from highly personalized and effective engagement. With Copper CRM, your team can collaborate seamlessly and achieve higher productivity levels. The tool can also be used to automate repetitive admin tasks, freeing up more time for driving meaningful interactions with clients.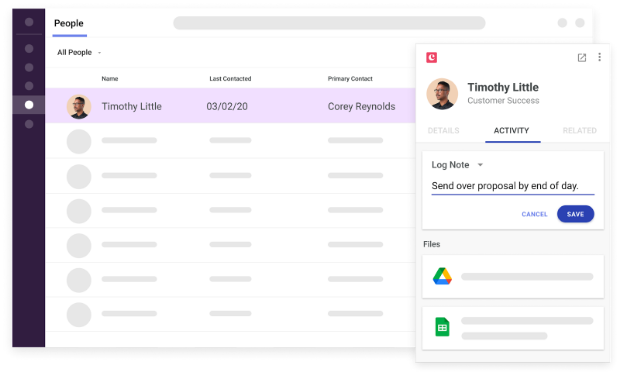 Pricing:
Plans start from $25/user/month
Key Features:
Create an uninterrupted workflow by keeping CRM data synchronized with Google applications, including Gmail, Calendar, and Drive.

Set up custom triggers for automation or schedule time-based activities.

Track the position of every lead and sort them with a visual sales pipeline.

Use ready-to-use templates or create custom reports from scratch.

Manage projects within the CRM system to avoid delays and ensure seamless handoffs.
Pros:
Automate recurring tasks to save time and enhance daily productivity.

Use the mobile app to manage your CRM data remotely.
Cons:
Essential features, including bulk emails and reporting templates, are not offered in the lower-priced versions of the tool.

The G Suite integration makes the tool restrictive for businesses looking to work with other applications.
8. Freshsales
Freshsales is an effective CRM tool for growing sales by personalizing customer experiences. It provides detailed activity timelines for client interactions across multiple channels, helping you stay on top of all your customer engagement efforts. The tool enables you to craft automated workflows with custom triggers. Moreover, the AI-powered CRM system offers recommendations and forecasts to help you make the right decisions for your agency.
Pricing:
Free version available

Plans start from $15/user/month
Key Features:
Automated sales sequences keep things moving forward and close deals quickly.

Get AI-powered predictive scoring and insights to focus on the most valuable deals.

Choose from pre-built templates or customize reports to get more visibility into your business processes.

Manage deals in your pipeline with drag-and-drop functionality.

Contact profiles are automatically enriched to enhance personalization.
Pros:
Freshsales offers the ability to customize various modules, views, fields, user roles, etc.

Engage with customers using their most preferred channel, including email, call, chat, WhatsApp, SMS, etc.
Cons:
The speed of the software can be slow at times.

Better technical support is required for the software.
9. EngageBay
EngageBay is an integrated sales, marketing, and support solution for businesses to drive stronger customer relationships. This agency CRM software can be used to automate routine sales activities, marketing campaigns, and support workflows to increase overall productivity. It offers insights into customer behavior and engagement, helping you optimize your offerings. Along with helping track customer activities, EngageBay also helps segment clients to improve personalization efforts.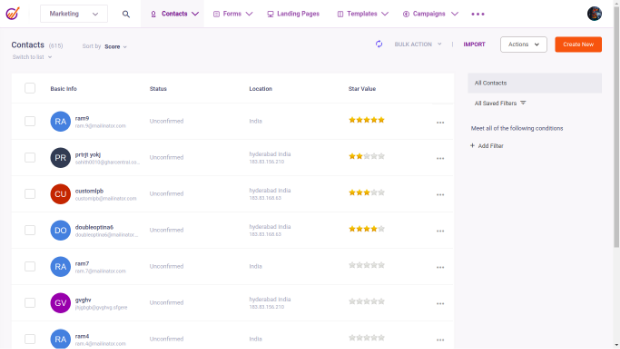 Pricing:
Free for 15 users

Plans start from $11.99/user/month
Key Features:
The contact management capabilities allow you to view all the essential information for clients on a single screen.

Synchronize your email inboxes with the CRM to manage all emails from one place.

Automate lead capturing and distribution to save time.

Connect with clients via multiple channels directly from the CRM system.

Automate email sequences to follow up with prospects at the right time.
Pros:
The appointment scheduling feature helps you schedule and manage your appointments directly from the CRM system.

Use the lead scoring system to identify the most valuable opportunities.
Cons:
Limited documentation is offered.

The UI of the tool could use some updates.
10. ConvergeHub CRM
ConvergeHub CRM brings sales, marketing, support, and accounting to one platform. It offers a centralized platform for managing client interactions and activities. This CRM for advertising agencies can help craft and execute personalized marketing campaigns to boost ROI. It also helps track payments and manages support tickets without leaving the platform. Furthermore, ConvergeHub offers powerful reporting and analytics to identify actions that drive conversions and discover areas of improvement.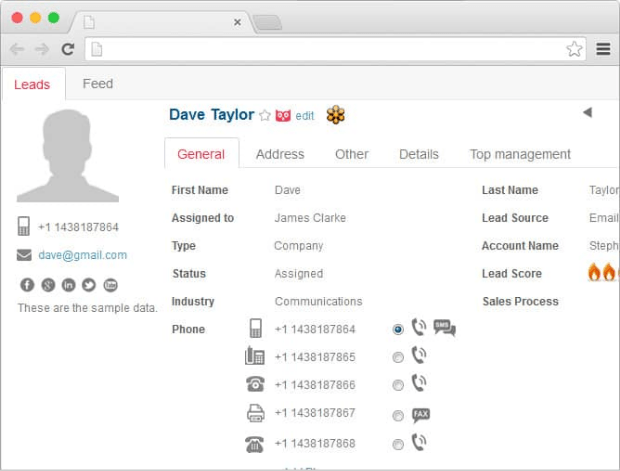 Pricing:
Plans start from $9/user/month
Key Features:
Personalize email marketing campaigns to improve your conversion rate.

Manage expenses and invoices from the CRM tool.

Automate redundant tasks to improve your organizational productivity.

Analyze the performance of marketing campaigns to identify areas of improvement.

Find all essential details for opportunities, including lead source, close data, deal size, etc., in a comprehensive deal management module.
Pros:
All the client information can be accessed from a single place. This helps deliver consistent experiences and eliminates any inconsistencies in communication.

Task reminders are delivered over email, which ensures that important deadlines are not missed.
Cons:
The UI feels outdated and requires updates.

More native integrations are required for the tool.
11. Salesforce
Salesforce is an enterprise-grade CRM that offers extensive customization and powerful automation features. The tool helps transform your customer relationship management efforts by providing a 360° view of all data from a unified platform. Use the tool to manage your deals effectively with actionable insights into client behavior and preferences. Monitor your team's performance and stay on top of all business operations with detailed reports.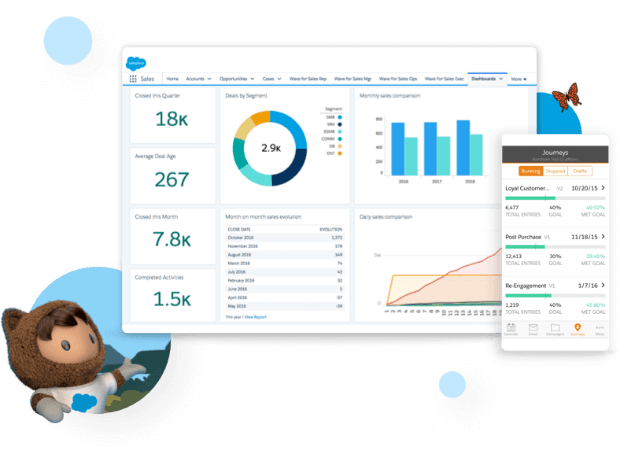 Pricing:
Plans start from $25/user/month
Key Features:
Track the sales pipeline and move deals forward effortlessly.

Drive multichannel engagement with prospects and customers from a single platform.

Customize reports and dashboards with drag and drop functionality.

Use the mobile application to log changes instantly and work on the go.

Get intelligent recommendations and alerts to make better decisions for your organization.
Pros:
Cloud-based access ensures that you can work from any remote device and reduce operational costs.

Use macros to perform several tasks in one go and enhance day-to-day productivity.
Cons:
The wide range of features makes the tool overbearing and leads to lower user adoption.

Add-ons, customization, and additional user costs make the overall CRM expensive.
12. Keap
Keap is an integrated platform for CRM, email marketing, and sales management. It brings all your business data to a single place, which can be accessed from any device, anytime. Along with helping capture leads from various sources, Keap also enables you to automate key sales and marketing activities. This can contribute to enhanced customer experiences and more sales.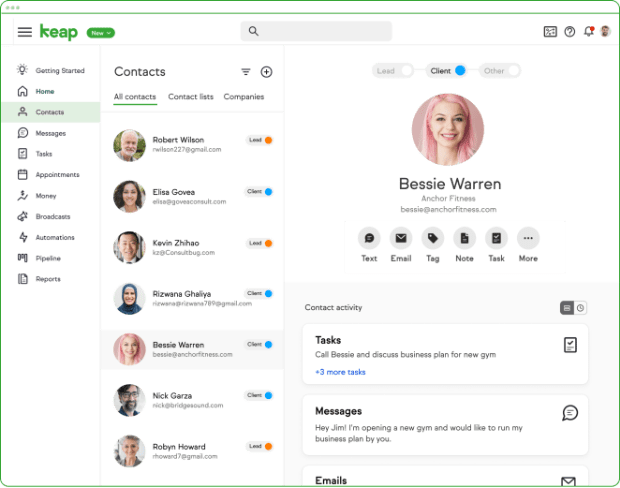 Pricing:
Plans start from $79/user/month
Key Features:
Trigger custom automation based on contact activities.

Access pre-designed email templates to reach out to prospects and customers instantly.

Use A/B tests, reports, and analytics to make better business decisions.

Allow clients to schedule appointments with your team.

Manage invoices and payments from within the CRM system.
Pros:
Capture leads easily and segment them for improved targeting.

Set up automated follow-ups and reminders for enhancing team productivity.
Cons:
The tool's pricing is expensive.

The user interface needs improvement.
13. Apptivo
Apptivo is a reliable CRM solution offering a complete view of your clients in one place. This central access translates into improved customer engagement. The CRM tool is also highly customizable, which adds to its usability. Apptivo also offers robust reporting capabilities, including performance dashboards and win/loss analysis reports. Use the tool to segment your leads based on defined criteria and deliver personalized services to these groups.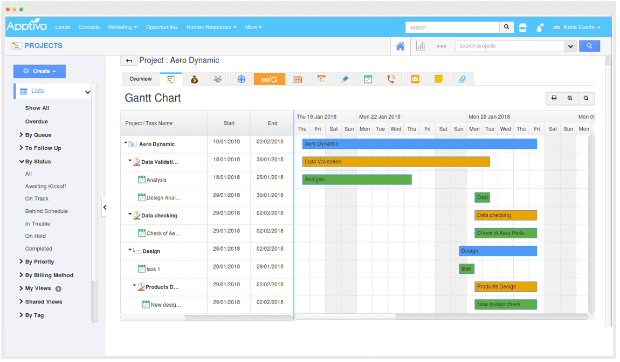 Pricing:
Plans start from $8/user/month
Key Features:
Capture leads automatically from your website by adding web forms.

Track and manage all your leads in one place.

Customize fields and views to make your CRM database clutter-free.

Create and save professional-looking email templates to save time.

Increase team productivity with an all-in-one mobile application.
Pros:
Synchronize data automatically between your Apptivo and Google account.

Set realistic sales targets and measure the performance of your sales team in real-time.
Cons:
Importing data is not very easy.

The tool's interface is clunky and needs to be updated.
14. NetSuite CRM
NetSuite is one of the best CRM for marketing agencies that strive to deliver exceptional customer experiences. The tool helps you support clients throughout their journey from lead acquisition to post-sale support. Enhanced access to customer data improves sales performance and helps craft more targeted marketing campaigns. Furthermore, you can measure the performance of marketing campaigns in real-time using NetSuite.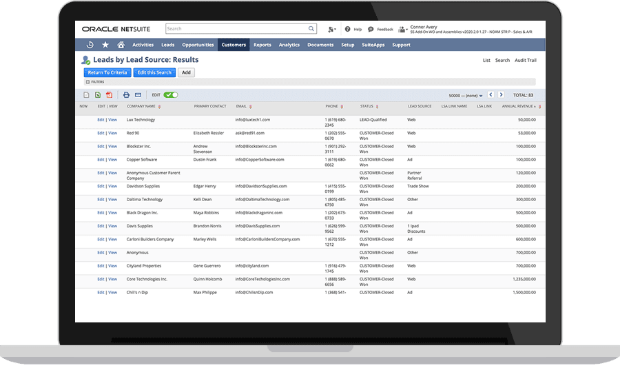 Pricing:
Custom pricing available on request
Key Features:
Score, qualify, and route leads more effectively.

Set up an online knowledge base and automate case management to help your customers resolve queries promptly.

Monitor performance with real-time analytics and detailed reports.

Segment customers to run more targeted marketing campaigns.

View relevant information remotely with any mobile device.
Pros:
Manage marketing campaigns across multiple channels from a single platform.

All the customer interactions can be tracked from one place, contributing to more personalized customer experiences.
Cons:
Creating custom reports is not user-friendly.

The implementation process can be complex and long.
15. Agile CRM
Agile CRM presents a comprehensive range of features for digital agencies to build stronger relationships with their clients. These features include sales management, marketing automation, and customer service enhancement. It offers a 360° view of contacts from a single screen, helping personalize customer experiences. The tool also offers functionality such as email tracking, web form connection, and project management, which contribute to enhanced business outcomes for agencies.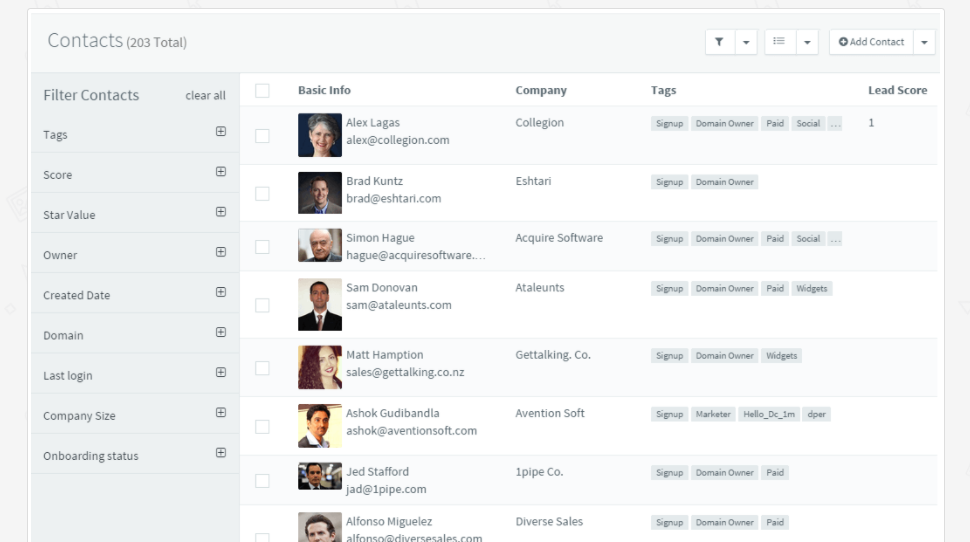 Pricing:
Free for 10 users

Plans start from $8.99/user/month
Key Features:
Run multichannel marketing campaigns to engage with prospects using their preferred medium.

Score leads automatically and hand them off to the right sales representatives.

Set up automated workflows to enhance organizational productivity.

Schedule and manage all appointments directly from the CRM software.

Improve visibility into business data with visual reports and advanced analytics.
Pros:
The software's interface is intuitive and easy to navigate.

The set-up process is quick and easy.
Cons:
Customer service can be slow.

The tool's knowledge base requires improvement.
Support Your Clients Effectively With CRM!
CRM for digital agencies helps support and delight customers in the most effective way possible.
However, to find the best agency CRM, you must be aware of your required functionality. Take your existing processes, current challenges, and long-term growth strategy into account when making the decision. Also, seek feedback from all your stakeholders when choosing the tool. This will help you land the most effective tool that ticks all the right boxes for your agency.
Investing in a feature-rich and configurable CRM such as BIGContacts can considerably strengthen your agency's position in the marketplace. It empowers you to personalize customer experiences to boost retention and accelerate business growth. Furthermore, BIGContacts can bring your team to a unified platform, to work together without any hassle.
FAQs
Q. What is CRM?
CRM or customer relationship management encompasses tools and techniques employed to drive stronger relationships with customers. It acts as a central platform for team members to access customer data, craft meaningful messages and share essential information. It helps streamline business processes and foster internal collaboration.
By enhancing access to customer data, including buying behavior and preferences, CRM helps build more personalized buyer journeys. It also helps boost the quality of customer support. All of these coalesce into satisfactory customer experiences.
Q. How to determine if a CRM tool is right for my business?
The following factors can help you determine if a CRM application is the right fit for your organization:
Does it fit the specific needs of your team?

Does it align with your current objectives and growth strategy?

Is it easy for team members to use?

Is the tool scalable and capable of growing with your business?

Does it have reliable customer support and adequate documentation?

Does it meet your budgetary requirements?

Q. How does BIGContacts stand apart from other CRM for digital agencies?
BIGContacts is an intuitive and scalable CRM platform that empowers businesses to strengthen client relationships. It is easy to use and offers powerful automation tools that enhance organizational productivity.
Some of the most powerful features of this tool include:
Custom data fields to store the most relevant data

Automatic profile enrichment with social media tracking

Drip email campaigns to connect with contacts at the right time

Automated tasks and reminders that ensure that important deadlines are met

Email and reporting templates to save time

Powerful analytics tool to gain more visibility into business processes