Are you worried about a drop in your sales numbers despite putting in so much effort?
A sales management tool might just be what your business needs!
Designed to help track opportunities, sales management tools empower organizations to take better control of their sales operations. These tools provide an expansive list of features that boost conversion rates. They help track every incoming lead and optimize the sales process for converting them into customers. With a centralized place for storing all leads, it becomes easier to prioritize and engage them.
While the benefits of sales management software are plenty, finding the most suitable solution for your business can be an ordeal.
To help you, we have provided a detailed comparison of the 12 best sales tools currently available on the market. Explore the various pros, cons, and pricing of these tools to select the most optimal tool for your organization.
However, before we begin with the comparison, let's take a closer look at the significance of these tools.
What is a Sales Management Tool?
A sales management tool is a platform that helps businesses manage the eternity of the sales cycle. By tracking opportunities, automating repetitive tasks, and coordinating the activities of sales representatives, sales management tools help convert more leads into customers.
These tools keep your sales process aligned with the long-term growth strategy of your company. Your team can hit targets easily and devise plans to scale their operations with the help of an effective sales management system.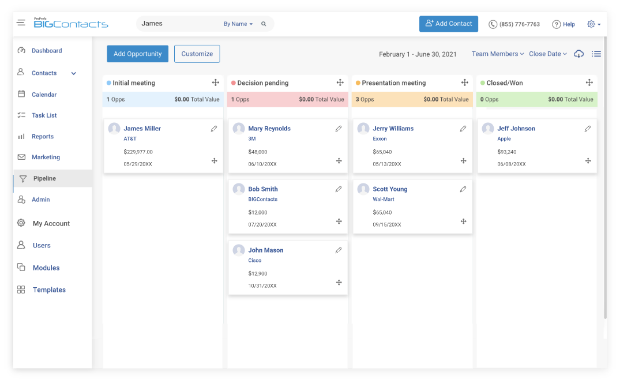 Benefits of Sales Management Tools
Simply put, sales management tools are the perfect companion for your sales representatives to work more efficiently.
Here are some of the ways these tools can help a business-
1. Managing Pipeline
A fundamental feature of any sales management software is pipeline tracking. These pipelines act as a visual representation of all sales opportunities, their deal value, and the current stage. Sales representatives can use the pipeline to track their leads and keep them moving forward in the sales funnel.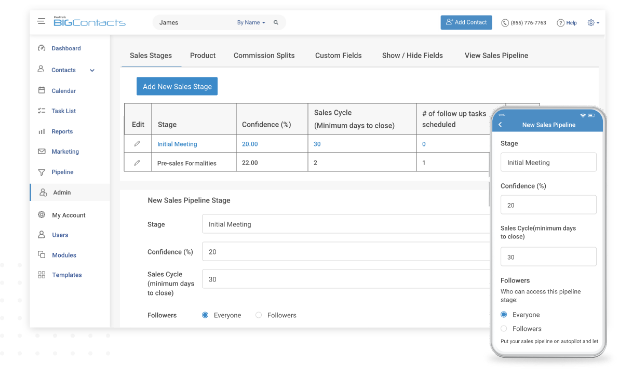 2. Personalized Experiences
Since all the information related to prospects and customers is well-organized in the lead tracker and sales tracker tool, businesses can deliver more personalized experiences. This helps strengthen relationships and boost customer retention.
3. Saves Time
One of the most significant advantages of sales management software is the efficient utilization of time. With all essential data easily accessible, you can save a considerable amount of time, which can be used for fostering better relationships with customers. Sales management tools also offer automation capabilities, which contribute to improved efficiency and reduced costs.
Read More: Top 14 Best Sales Automation Software in 2023
4. Accurate Forecasting
Did you know that 20% of organizations have less than 75% sales prediction accuracy?
If your business falls under this category, you need a powerful sales tool that can help you be better prepared for the future. Sales managers can use this tool to track goals, make business forecasts, and monitor progress routinely. With the right data available at your fingertips, your sales team can function more efficiently.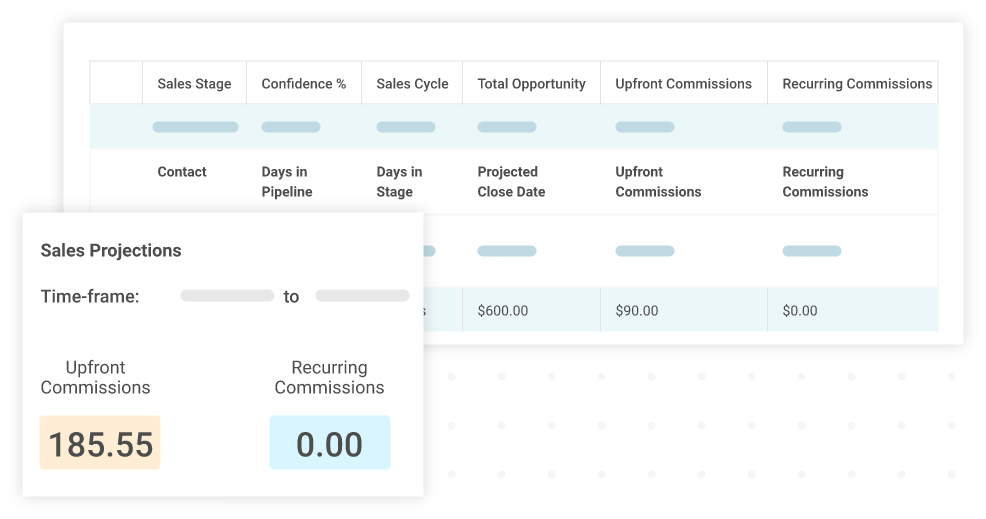 5. Boost Collaboration
Features such as shared access, custom user roles, real-time communication, and instant updates can foster team collaboration. With real-time access to updated sales data, all the business divisions can work in perfect synchronization. There is no room for inconsistencies since the data is stored centrally and updated instantly.
6. Improved Visibility
Improved visibility into the sales process helps your team discover opportunities that require immediate action. You can easily track the priority status and scores of leads to dedicate your time and resources accurately. Additionally, reporting and analytics can help you make data-driven decisions for your business.
A Quick Look at the Best Sales Management Tools
Software
Key Features
Pricing
BIGContacts
Email marketing
Automated tasks & reminders
Customizable sales pipeline
Starts from $5/user/month
HubSpot
Activity tracking
Reporting dashboard
Contact management
Starts from $45/month
Salesforce
Lead management
Sales forecasting
Workflow automation
Starts from $25/user/month
Zoho CRM
Contact management
Workflow automation
AI insights
Starts from $12/user/month
Pipedrive
Sales pipeline management
Reports & analytics
Automated processes
Starts from $12.50/user/month
Freshsales
Lead scoring & management
Email marketing
Sales reports
Starts from $15/user/month
Insightly
Lead management
Workflow automation
Business intelligence
Starts from $29/user/month
UpLead
Lead prospecting
Email verification
Profile enrichment

Starts from $74/month
Copper
G Suite integration
Custom reports
Automated tasks
Starts from $25/user/month
EngageBay
Automated sequences
Contact management
Lead scoring
Starts from $11.99/user/month
Keap
Sales automation
Reporting & analytics
Email marketing
Starts from $79/month
monday.com
Customizable automation
Real-time insights
Sales pipeline management
Starts from $8/user/month
12 Best Sales Management Tools
Let's explore each of these 12 best software for sales management in more detail.
BIGContacts is a leading CRM application that comes with an intuitive interface and easy implementation. It is one of the best CRM management tools offering advanced features to improve sales performance. These include a customizable sales pipeline, drip emails, and automated tasks.
Along with helping you track the performance of your sales representatives, BIGContacts also helps identify possible bottlenecks in the sales process. Furthermore, the mobile CRM allows you to manage your sales from anywhere, ensuring that important opportunities are never missed.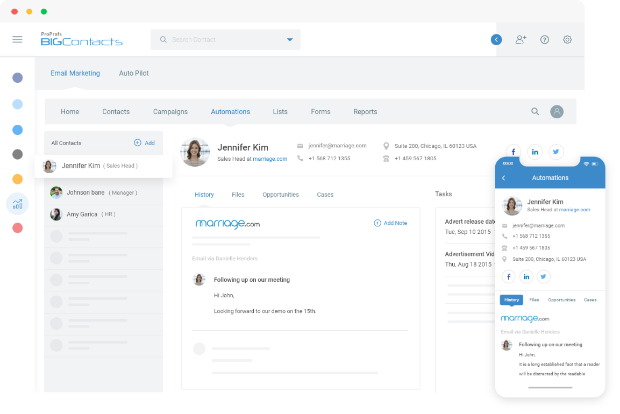 Key Features:
Customize the pipeline stages according to your existing sales process

Capture leads and their associated information automatically

Leverage ready-to-use reporting templates to monitor sales performance

Share personalized emails with prospects at the right time with drip campaigns

Automate task reminders for your team members
Pricing:
Big- $5/user/month

Bigger- $15/user/month

Biggest- $25/user/month

Enterprise- Custom pricing
Pros:
The tool has an easy-to-use interface, making it a reliable way for managing sales opportunities

Delightful 24×7 customer support and extensive training resources are available
Cons:
Deduplication of contact records could be simplified

It currently lacks AI-powered lead scoring
Suitable For:
While it is designed for small to medium-sized businesses, BIGContacts is extremely scalable. This means that it works well for businesses of all sizes and types.
HubSpot offers a suite of sales management tools that help businesses be more productive and profitable. With this all-in-one CRM system, your team can manage all tasks, conversations, marketing campaigns, and tickets in one place.
HubSpot also helps you share emails in bulk to save time. Additionally, detailed reports help keep track of your business goals and team performance. The mobile application of the CRM allows you to access essential contact information on the go, so no opportunity slips through the cracks.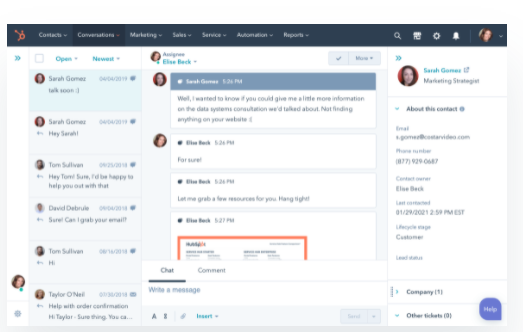 Key Features:
Email templates can save time and help you reach contacts more effectively

Capture new leads and keep them organized with the help of a sales pipeline

View all previous interactions with prospects and customers in one place

Create reminders to never miss out on important deadlines

Get instant notifications to engage with leads at the perfect moment
Pricing:
Free version available
Plans start from $45/month
Pros:
The reporting dashboards help track team productivity and individual performance

Automatic enrichment of contact records with data from multiple sources
Cons:
The starter plan only offers limited features

The overall cost increases quickly since the pricing structure is quite steep
Suitable For:
The free sales management software is great for beginners. However, you have to upgrade to the higher-paid versions to access better features once your business begins to grow.
Salesforce, a globally leading CRM platform, is a powerful tool for businesses to grow their sales. The dashboards provide real-time visibility into the current position of leads, helping your sales representatives make better decisions regarding them. This cloud-based sales software empowers businesses to be more productive and foster long-lasting relationships with their customers.
This intelligent software for sales team empowers you to forecast revenue and optimize your sales process. Furthermore, the tool helps you craft customized experiences for prospects and customers, which translate into more profitable sales outcomes.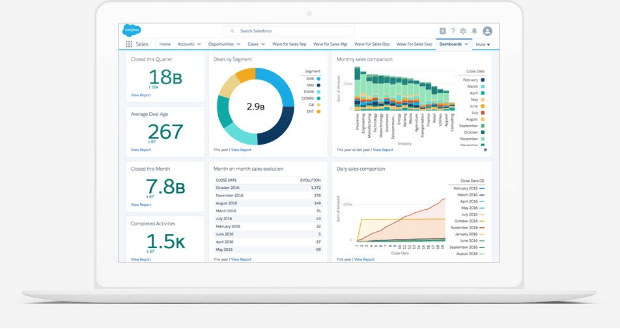 Key Features:
Automate repetitive tasks for your sales team

View detailed activity timelines for contacts to discover their preferences and needs

Predict revenue and sales outcomes using artificial intelligence

Manage sales remotely using the mobile application

Get real-time visibility into available opportunities with sales pipelines
Pricing:
Plans start from $25/user/month
Pros:
Fully-cloud based solution which reduces costs and increases efficiency

Use data-driven insights to improve your business processes
Cons:
The pricing of the tool is expensive

The tool has a steep learning curve
Suitable For:
Salesforce is suitable for large teams managing multiple projects and a high volume of lead information.
Zoho CRM is a reliable solution for businesses looking to automate routine sales tasks and build stronger customer relationships. This is one of the top sales software offering powerful contact management and opportunity tracking features. This easy-to-use CRM platform is highly customizable and can be easily adapted according to your business needs.
Zoho CRM offers intelligent predictions to help you utilize your time and resources more efficiently. Use the tool to track and visualize sales data to gain actionable insights.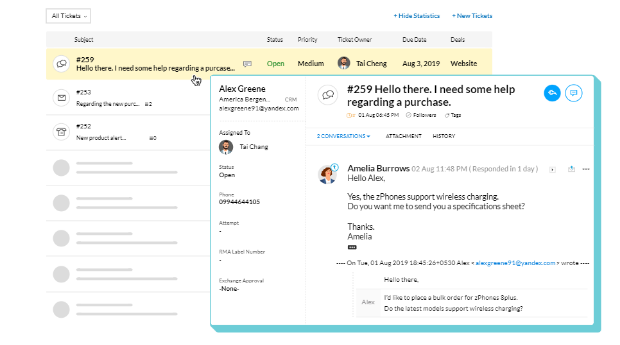 Key Features:
Automate your sales workflow for enhanced productivity

Use multi-channel engagement to strengthen your customer relationships

Segment your leads to nurture them effectively

Get notified about customer actions in real-time

Score and prioritize leads efficiently to improve your conversion rate
Pricing:
Free for 3 users
Plans start from $12/user/month
Pros:
AI-powered insights help you improve your business performance

Lead and deal prediction allow sales representatives to focus on the right prospects
Cons:
Better technical support is needed for the software

The free version offers limited functionality
Suitable For:
The pricing and easy interface of Zoho CRM make it a suitable choice for small and medium businesses.
Pipedrive offers a wide range of sales management features to increase your business's profitability. It allows you to set up multiple sales pipelines to visualize the movement of leads through the sales process. Use the tool to automate email follow-ups and stay connected with your prospects.
Pipedrive analytics allows you to discover actions that strengthen your sales outcomes. This sales team management software can be integrated with various applications, enabling you to manage everything related to your business from a single platform.

Key Features:
Visualize your sales opportunities with a custom pipeline

Set up custom triggers for your automated workflow

Reports and dashboards allow you to obtain better visibility into your business data

Track all interactions and log them against the respective contact record

Store all your leads and their associated information in one place to make management easier
Pricing:
Plans start from $12.50/user/month
Pros:
AI-powered recommendations for improving sales performance

The pipeline's drag and drop interface allows you to

manage sales opportunities

easily
Cons:
The tool lags when working with large data volumes

Limited customization options are offered
Suitable For:
Pipedrive is one of the most effective tools for small and medium businesses looking for a way to manage their sales pipelines.
Freshsales is a sales process management software that allows you to manage and track your deals effortlessly. You can use the tool to capture leads for your business and predict the outcomes of deals. This popular tool also enables you to set up email campaigns to enhance customer engagement.
Freshsales offers AI-based insights to help you improve your sales performance. In addition to this, the tool empowers you to analyze your team's performance and forecast revenue.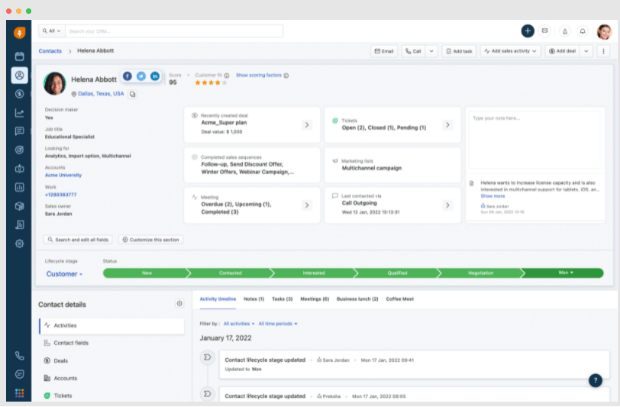 Key Features:
Automated lead assignment ensures that leads are contacted without any delay

Use email templates to reach out to your prospects and customers instantly

Create custom pipelines with stages that match your sales process

Predictive lead scoring allows you to focus on the most qualified leads for your business

Sales activity reports help track how many leads convert into customers
Pricing:
Free version available
Plans start from $15/user/month
Pros:
AI-powered recommendations to help you make better business decisions

Customize your sales process stages, data fields, and user-roles
Cons:
The interface needs to be more intuitive and easy to navigate

Better technical support is required
Suitable For:
Freshsales is suitable for growing sales businesses that are in search of a CRM tool offering sales automation and lead management capabilities.
Insightly helps you build long-lasting relationships by streamlining customer journeys. With a single place storing all essential information, all your business divisions can work more efficiently. Insightly allows you to customize data fields, page layouts, and workflows, helping you adapt the tool according to your existing business processes.
Access detailed activity timelines, including lead sources, emails, and touchpoints to offer personalized experiences. Insightly also provides advanced analytics to help you track your sales and marketing performance with ease.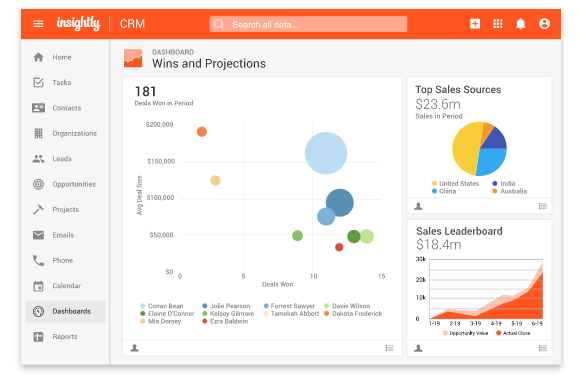 Key Features:
Automatic lead assignment ensures that leads are contacted at the right time

Bulk emails help you reach out to a large number of prospects quickly

Set up roles and permissions for various users

Track and visualize your performance with reporting dashboards

Android and iOS mobile applications help you

manage sales

from any device
Pricing:
Plans start from $29/user/month
Pros:
Set up automated workflows with custom steps to help your team be more efficient

Monitor the open and click-through rates for the emails your share with your prospects
Cons:
Better technical support is required for the tool

Limited task and project management capabilities
Suitable For:
Insightly is a reliable small business sales management software that helps craft exceptional customer experiences.
UpLead is a sales prospecting tool that allows you to build lists of prospects who can be easily approached by your business. This lead intelligence software enables you to take better control of your lead generation and management efforts.
With UpLead, you can build lists of leads with their data sourced from various platforms, including LinkedIn and their websites. Your sales representatives can work more efficiently with a steady influx of leads in the sales pipeline and detailed background information for these leads. UpLead ensures the accuracy of this data, so your time and resources are not wasted.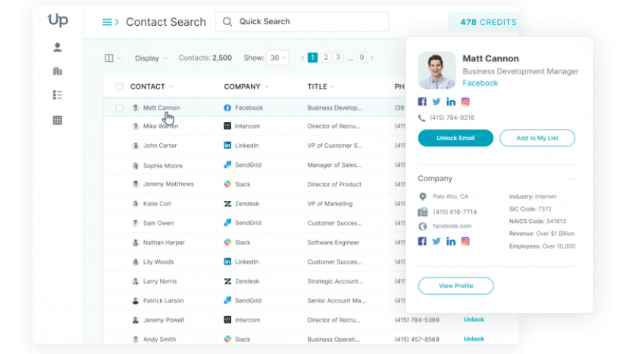 Key Features:
Enrich contact profiles with information, including company URL, email addresses, and social media profiles

Email verification to ensure a low bounce rate

Export leads directly to your CRM or download them as CSV files

Segment and prioritize leads more effectively

Find your most engaged leads and reach out to them with personalized information
Pricing:
Free version available
Plans start from $74/month
Pros:
The tool's interface is quite easy to navigate

Reliable support and help resources are available
Cons:
The search feature is limited

The pricing is a bit expensive
Suitable For:
UpLead is a great tool for generating high-quality leads for B2B businesses.
Copper is a CRM that works in perfect synchronization with Google Workspace. The tool allows you to customize the sales pipeline in a way that works best for your organization. Furthermore, Copper offers a powerful reporting module, including pre-designed templates and custom filters.
With complete visibility into available sales opportunities offered by the CRM tool, you can ensure that no deal falls through the cracks. You can also use Copper CRM to automate repetitive tasks that take up most of your time.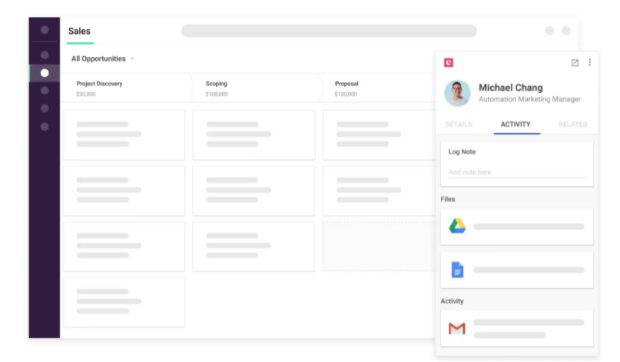 Key Features:
Access email templates to follow up with your leads quickly

Set up automated reminders for tasks

Use the visual sales pipeline to track and sort your deals

Ready-to-use reporting templates to analyze business data easily

Store all contact details, emails, files, social profiles, and notes related to leads in one place
Pricing:
Plans start from $25/user/month
Pros:
Connect with various Google tools, including Gmail, Calendar, Drive, etc., to manage everything from the CRM system

Set up recurring tasks and alerts to improve daily productivity
Cons:
Offers limited flexibility for using tools outside G Suite

Many essential features are not offered for the lower-priced version
Suitable For:
Copper works well for businesses that extensively depend on the Google workspace. The seamless integration between the two platforms ensures that you can work without worrying about data synchronization.
EngageBay brings sales, marketing, and support to a combined platform. This all-in-one tool can work as a reliable sales management solution with powerful features, including contact management, lead nurturing, and custom reporting.
EngageBay allows you to set up automated email campaigns to ensure that the leads are contacted at the right time. The predictive lead scoring system helps you pay more attention to high-quality prospects. The tool also enables you to establish custom workflows for your sales team to utilize their time more productively.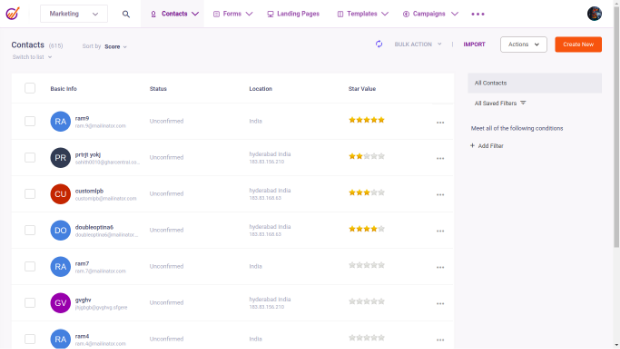 Key Features:
Customer behavior tracking to personalize future interactions

Automate email sequences to make following-up more efficient

Capture leads easily by connecting your webform with the tool

Get notified instantly with lead activity to connect with them at the perfect time

Customize reports to track relevant performance metrics for your sales team
Pricing:
Free for 15 users
Plans start from $11.99/user/month
Pros:
Get a 360° view of all leads, including social media profiles, contact history, tasks, emails, and notes

Intelligent appointment scheduling and tracking functionality
Cons:
The training resources need improvement
Limited landing pages templates are available
Suitable For:
EngageBay works as a powerful solution for SMBs looking for an integrated sales, marketing, and support platform.
Keap is a CRM application offering a range of advanced capabilities that can aid sales management. These include a custom sales pipeline, email marketing, and robust analytics. The tool helps capture and store leads in one place. Additionally, it makes it easier to segment these leads, allowing you to personalize your outreach.
Keap eliminates the need to manually follow-up with leads by automating your follow-up process. By keeping all information accessible in one place and automating repetitive processes, it can help your sales team work more efficiently.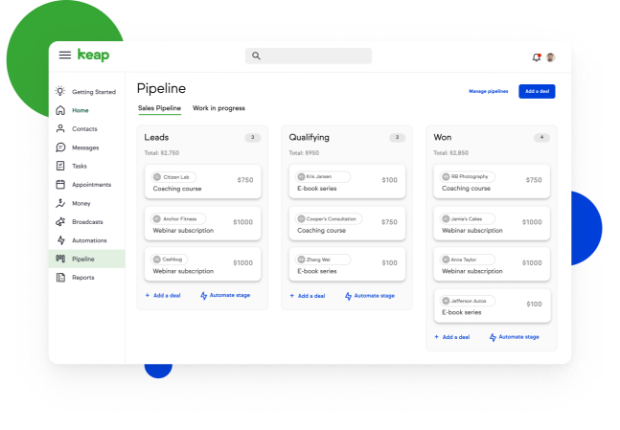 Key Features:
Visual analytics dashboard to track performance and get better insights

Select from a range of email templates to save time

Native appointment scheduler to book and track meetings

Set up automated follow-ups to nurture more leads

Automatic lead capturing from web forms, social media platforms, and lading pages
Pricing:
Plans start from $79/month
Pros:
Powerful integrations, including Outlook, BigCommerce, and Leapages

Drag and drop UI of the sales pipeline for easy management of opportunities
Cons:
The starter plan offers limited functionality and lacks most of its advanced features

The tool's pricing makes it unsuitable for startups with a limited budget
Suitable For:
Keap is an excellent choice for companies looking for advanced features, such as automation, invoicing, and pipeline tracking.
monday.com is a well-recognized name in the CRM industry, offering a powerful suite of tools for managing business operations. By automating repetitive tasks, the tool provides more time for your sales team to form better relationships with customers.
Since all the data, including contact information, files, tasks, emails, etc., are stored in one place, you would not have to spend time switching between multiple applications. You can use monday.com to view the priority status and deal sizes of opportunities to focus on the most important prospects.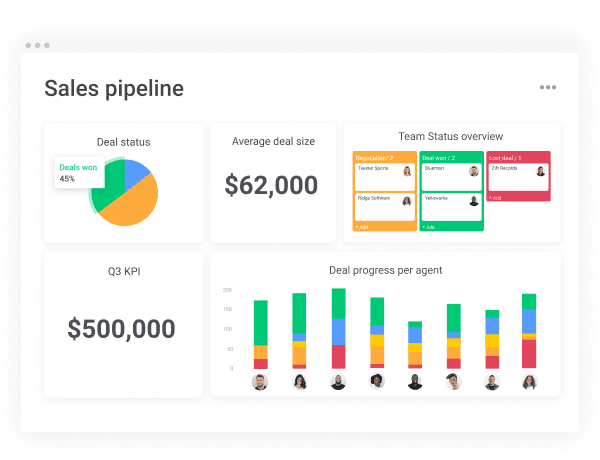 Key Features:
Visualize and manage opportunities with easy-to-use sales pipelines

Track goals and performance with customizable reporting dashboards

Move deals in your pipeline with a simple drag and drop UI

Access pre-built templates to create your workflows with ease

Store detailed contact cards to find all the required information in one place
Pricing:
Free for 2 users
Plans start from $8/user/month
Pros:
Create custom and automated workflows to help your team work faster

Detailed customer activity timelines help you obtain necessary information for improving upcoming interactions
Cons:
The interface is a bit cluttered, making the tool difficult to use for beginners

The mobile application needs significant improvements
Suitable For:
monday.com can work as a reliable sales management tool for businesses looking for a centralized platform offering complete visibility into all sales activities.
Choosing The Right Sales Management Tool
Every business has varying requirements and expectations.
This implies that a one-size-fits-all tool does not exist. Therefore, you must consider your unique needs when making the selection.
Start by identifying the most significant areas of problem for your sales team. Understand what challenges they frequently encounter when managing sales. Seek their input about essential features to find suitable solutions.
Once you get a better idea of the functionality your team requires, begin by comparing the top-rated sales planning tools against your requirements.
Grow Your Business with the Best Sales Management Solution
There you have it!
These are the 12 best sales management tools that you should consider when finding the right tool for your business. Our comprehensive list of sales management solutions offers a bundle of features that strengthen team productivity and maximize efficiency. You can automate routine tasks and allow your representatives to focus on more critical sales activities.
Finding the most suitable sales management tool requires you to carry out a deep analysis of your business needs. This ensures that you only invest in a tool that produces reliable results for your organization.
If simplicity and straightforward implementation are what you're after, BIGContacts can be the most reliable solution for you. This easy-to-use and scalable CRM tool is perfectly suited for businesses of all scales and industries. The software offers powerful automation capabilities that can empower sales teams to utilize their time and resources efficiently. Grow your business by choosing BIGContacts for managing your opportunities!
FAQs
1. What is sales management?
Sales management encompasses all the activities that help convert opportunities into customers. The process requires a well-defined strategy and a powerful tool that streamlines various aspects of the sales cycle.
Sales management also involves coordinating the activities and tasks for sales representatives. It helps ensure that all sales processes align with business objectives. Organizations can close more sales and grow significantly with an effective sales management tool.
2. How can you find the best tool for your business?
Here are some ways to ensure that you find the best sales management software for your business:
Involve your sales team in the decision-making process.

Use the free trial of the tool before investing in it.

Focus on the affordability and scalability of the tool.

Keep your unique needs in mind throughout the selection process.
3. What features are essential for a sales management CRM tool?
For any CRM software to be reliable for sales management, it must offer the following features:
A customizable sales pipeline

Communication and activity tracking

Performance reports

Lead management and scoring

Sales and revenue forecasting

Automated processes

Mobile access