Millions of people use Microsoft Outlook day in and day out to send emails.
While it is a highly effective tool for managing communications and staying on top of important appointments, there are several areas where Outlook offers limited functionalities. The most significant of these is- customer relationship management.
You cannot perform advanced data searches, use custom fields for better targeting, or create hyper-personalized experiences transcending across multiple engagement channels with Outlook.
This is where an Outlook-integrated CRM can help!
Avoid the back-and-forth between your CRM and email solution with this integration. Keep track of contacts, tasks, and emails from a single platform.
If you require a similar solution, look no further. Your search for the best CRM application that works within your Outlook account ends here. Use this in-depth comparison of the 10 most effective CRM for integrating with your Outlook account.
In a Nutshell
Outlook is an email and calendar management tool that helps you be more productive. This application lets you stay on top of all important tasks and communications from anywhere.
To improve the effectiveness of Outlook, you can connect it with a powerful CRM application.
This connection will enable you to deliver more personalized emails at scale, enhancing your business profitability. It will also help you meet deadlines easily with improved calendar management, internal communication, and automated reminders.
In this guide, we compare the 10 best customer relationship management software options that integrate with Outlook seamlessly.
To select the most effective tool from this list, consider your specific needs, budget, implementation scope, and customization extent.
What Is CRM?
Customer Relationship Management (CRM) technology involves managing and optimizing interactions with prospects and customers to drive more substantial relationships.
A CRM application consolidates all the business data and processes, making it easier to personalize experiences and meet customer expectations. You can find all the contact information, emails, tasks, and other essential information related to customers in one place.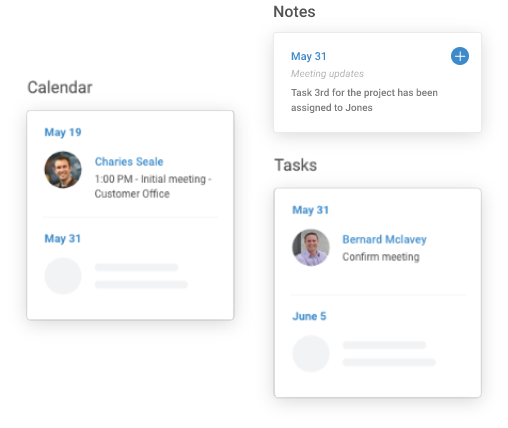 You can also utilize a CRM application for:
Collaborating and sharing information with team members
Automating repetitive activities and creating workflows with custom triggers and actions
Managing sales opportunities using a pipeline
Assigning and tracking tasks
Crafting automated email marketing campaigns
Analyzing business performance with reporting and analytics
Read More: What is CRM? A Complete Guide to CRM Software
5 Reasons Why You Need a CRM for Outlook
While Outlook is an effective tool for managing emails and calendars, it fails to meet needs such as creating comprehensive contact records that enhance the accessibility to relevant information.
Connecting your Outlook with a powerful CRM application that offers seamless integration can help keep your contacts, calendar, and communications well-organized. You can synchronize emails, meetings, and tasks between both accounts without hassle. This integration will also enable you to find information instantly and leverage it for better personalization.
Here are some instances where you can benefit from CRM Outlook integration.
1. Managing Documents
Finding the documents associated with clients can be a hassle with Outlook since you would have to look through long conversation threads to locate the required files. Document management can be simplified with a CRM that keeps all files well-organized under the respective contact records.
2. Automating Tasks
You cannot create elaborate automation sequences and workflows with Outlook. But when integrated with a CRM system, you can automatically create and enrich contact profiles, set reminders, and send out personalized email campaigns from within your Outlook inbox.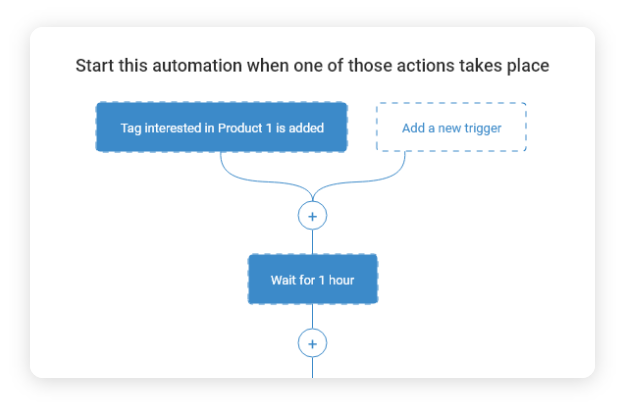 3. Reporting & Analytics
Outlook does not offer detailed reports for tracking the effectiveness of your operations. On the other hand, an Outlook-integrated CRM application can help you generate customized reports to stay updated with relevant metrics, allowing you to gain better visibility into business processes.
4. Pipeline Tracking
Another area where Outlook proves to be limiting is managing the pipeline. You require a powerful CRM solution with a robust pipeline module to keep track of prospects and monitor their progress through the sales funnel.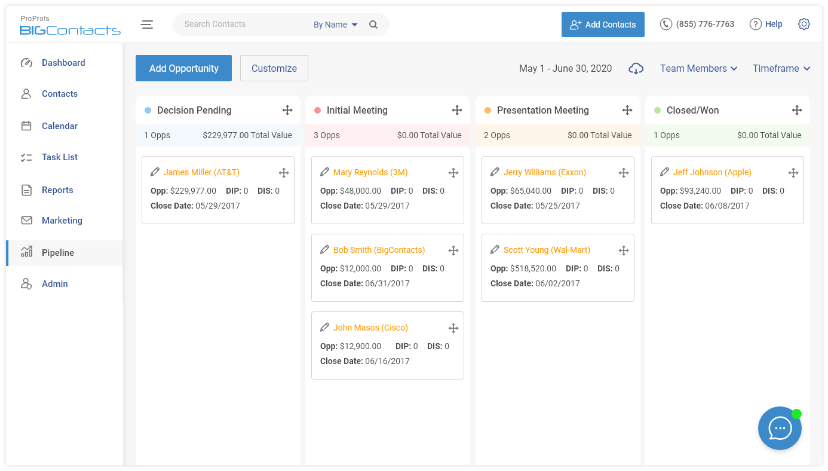 5. Collaboration
Collaboration with other team members becomes pretty restrictive if you rely solely on Outlook. On the other hand, a CRM system lets you keep the entire team on the same page by providing easy access to updated information. You can also use tags and notes to enable your team to work together.
10 Best CRM for Outlook Integration
Manage your emails and calendar efficiently with CRM integration with Outlook. Explore and compare the functionality of the following 10 reliable CRM tools that work well with Outlook.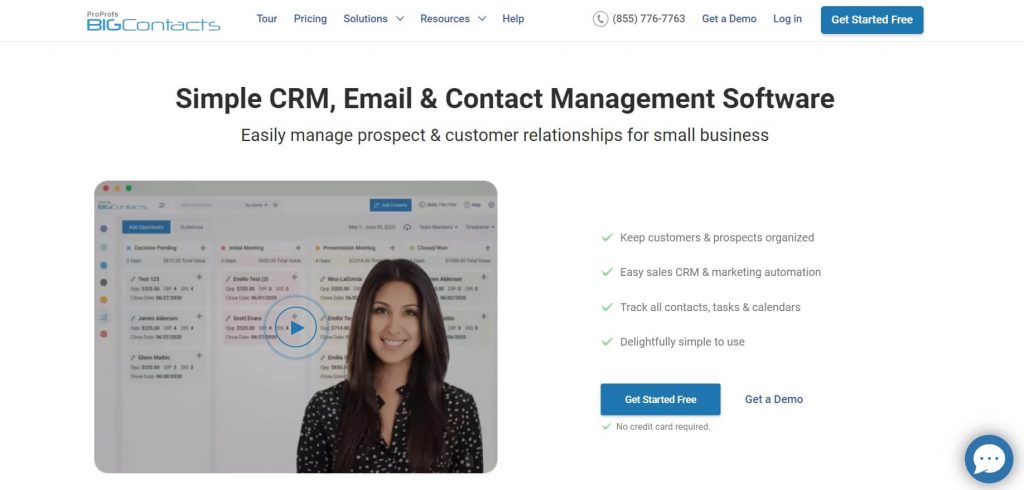 If you need an intuitive SaaS CRM application that positively impacts your customer relationships and business productivity, BIGContacts is the one. This easy-to-use CRM tool offers extensive customization, so you can adapt it according to your team's needs. Moreover, the extraordinary automation capabilities of BIGContacts can augment all the business processes that you carry out through Outlook.
Key Features:
Get a 360° view of all contacts, including all the activities associated with them
Find all your emails from Outlook and BIGContacts in one place
Set up automated email sequences and task reminders
Generate custom reports to track the effectiveness of your processes
Use tags to sort or sync specific contacts
Pros:
Create recurring tasks and workflows to save time
Track all meetings and tasks using daily, weekly, and monthly calendar views
Cons:
Requires more advanced contact deduplication
Loading speed occasionally drops
Pricing:
Big- $5/user/month
Bigger- $15/user/month
Biggest- $25/user/month
Enterprise- Custom pricing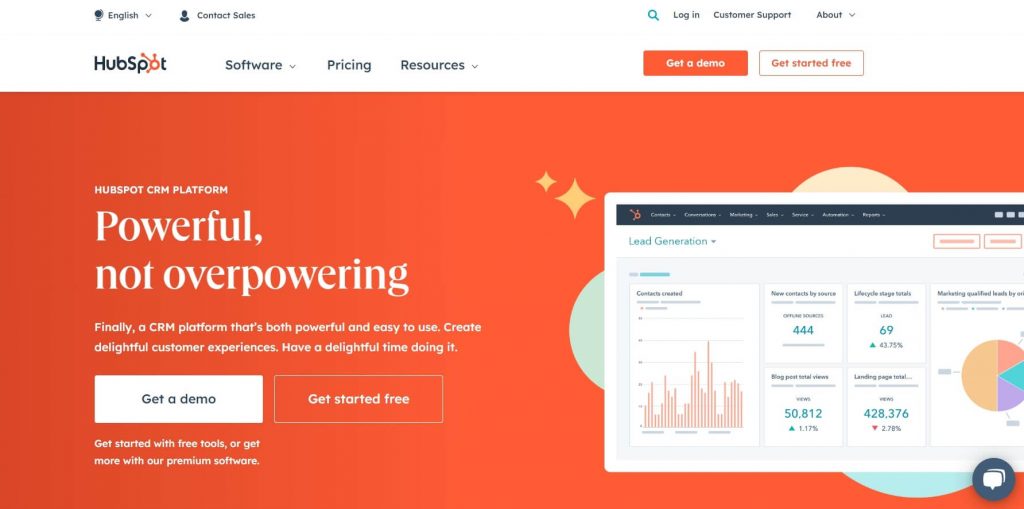 HubSpot CRM is a dynamic application that can keep your customer data clean and well-organized. This CRM integrates with Outlook to streamline your business operations, contributing to enhanced productivity. It enables you to view and manage all your previous customer interactions from a single platform so you do not lose context when engaging.
Key Features:
Create automated email sequences and workflows
Use built-in reports to track business activities and team performance
View timelines for contact activity and interactions
Choose from pre-designed email templates or craft your own with a drag-and-drop editor
Run personalized bulk email campaigns to nurture more leads
Pros:
Contact records are automatically updated with website activity and lead form data
Access data on any mobile device using the CRM app
Cons:
Lacks advanced options for reporting and analytics
The interface for task management is cluttered
Pricing:
Free plan available
Plans start from $45/month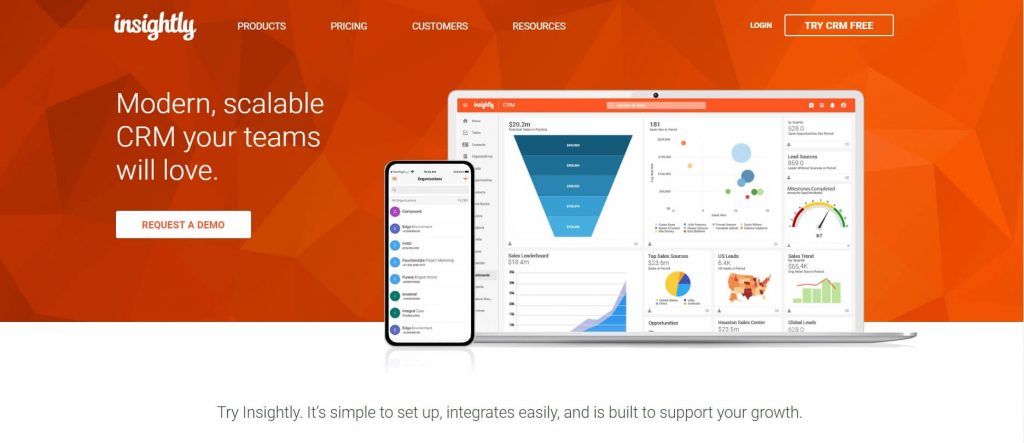 Insightly is an automated platform that enables you to create and send personalized emails that yield a positive impact on your bottom line. Get alerted instantly when these emails are opened and connect with recipients at the most effective time accordingly. Insightly also offers workflow automation, lead routing, and mobile access, which make it a highly effective CRM option for Outlook integration.
Key Features:
Craft multi-step, automated workflows to get things done without any delays or inefficiencies
Run A/B tests to drive more effective customer engagement
Monitor the health of business processes with in-depth reports and analytics
Create segmented lists and deliver personalized emails at scale
Track email delivery and engagement metrics in real time
Pros:
Use intelligent routing to connect prospects with the right representatives
Define custom user roles and permissions for your team members
Cons:
Support is inadequate and slow
A steep learning curve is associated with the application
Pricing:
Free plan available
Plans start from $29/user/month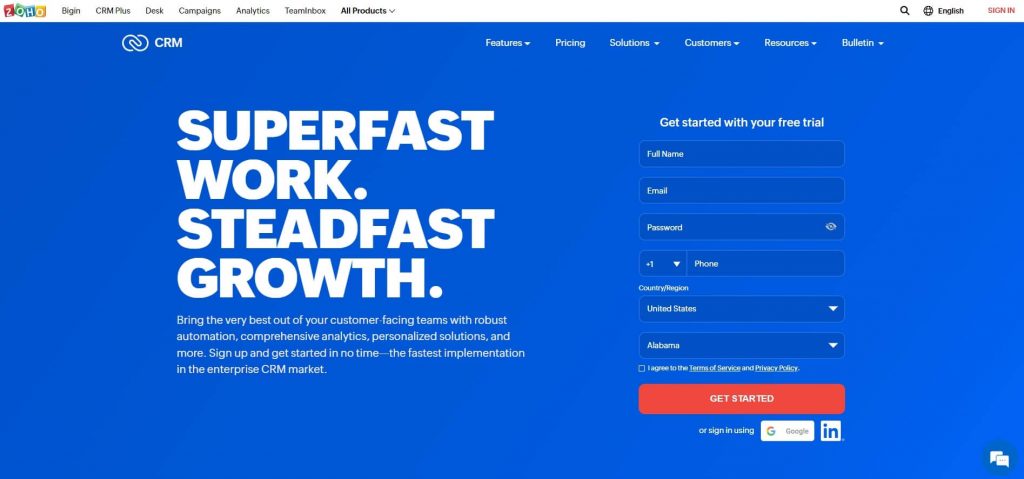 Zoho CRM lets you drive omnichannel engagement with prospects and customers. This customizable CRM solution works effectively with Outlook, so you stay on top of all your interactions and tasks without any back and forth. You can also automate processes and workflows, segment contacts, and use predictive intelligence to build stronger customer relationships.
Key Features:
Automate workflows and campaigns to reduce manual busywork
Analyze opens, clicks, bounces, and response rates for your emails
Prioritize, tag, and segment leads for better targeting
Keep your team updated at all times using feeds, chats, notes, tags, and groups
Use AI-powered predictive analytics and forecasting to make better business decisions
Pros:
Get real-time notifications for customer activity
Access customer data remotely using the mobile app
Cons:
Customer support is substandard
The interface is clunky
Pricing:
Free plan available
Plans start from $14/user/month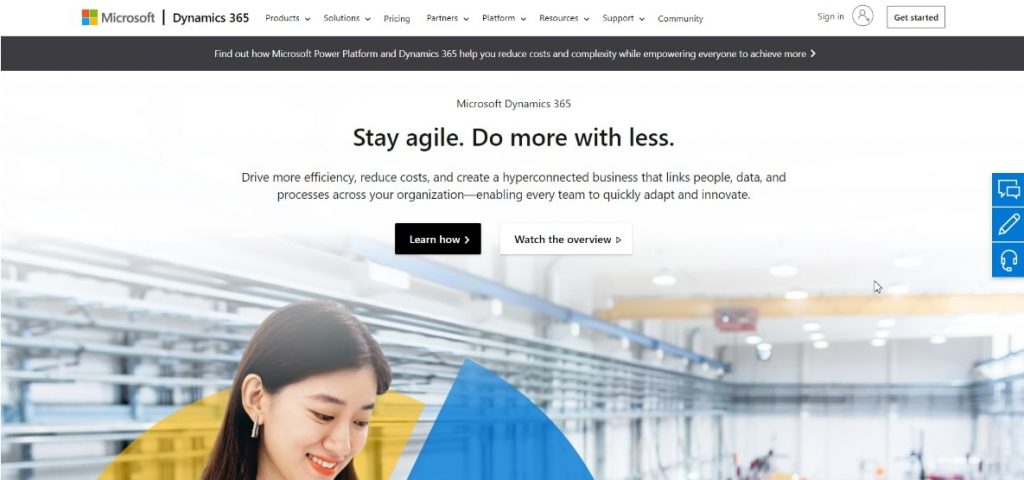 Microsoft Dynamics 365 lets you leverage AI-powered insights and customer sentiment analysis to drive stronger relationships. By connecting this CRM tool with your Outlook account, you can drive more contextual conversations with prospects and customers. It lets you gain better visibility into customer needs and preferences to improve the outcomes of your business processes.
Key Features:
Get a 360° view of your customers and optimize their experiences with actionable insights
Automate processes to improve business performance
Track relevant KPIs to monitor your progress toward meeting business objectives
Craft personalized customer journeys across multiple touchpoints
Use built-in Microsoft Teams chat to collaborate with your team
Pros:
Stay updated with customer information remotely using the mobile application
Create custom contact segments based on AI-based recommendations
Cons:
Mobile app requires better performance
Additional data storage and customizations are expensive
Pricing:
Starts from $1,500/user/month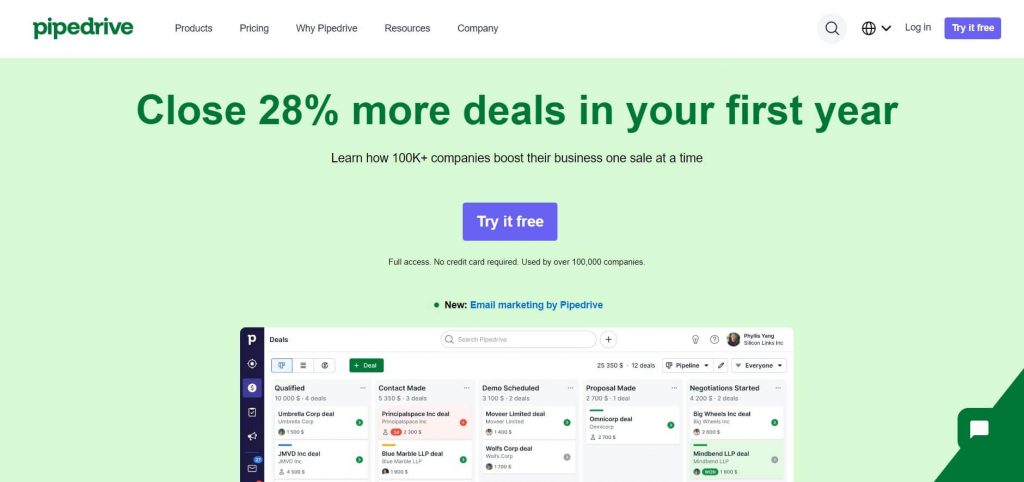 Pipedrive is a flexible CRM solution with an extensive scope of customization, so you can adapt it according to your enterprise's specific needs. The tool centralizes all the information associated with contacts, including their calls, emails, and notes. You can automate processes, collaborate with team members, segment contacts, and generate detailed reports using Pipedrive.
Key Features:
Populate contact records automatically with data sourced from the web and social platforms
Automate repetitive admin tasks to boost productivity
Access visual activity timelines for your contacts
Keep your email inbox synchronized with Outlook and Gmail
Get instant notifications for email opens and clicks
Pros:
Use the native Android and iOS mobile app to work on the go
Enable customers to schedule meetings at their convenience by sharing your availability with them
Cons:
Customer support for the tool is ineffective
Reporting capabilities are not up to par with other options
Pricing:
Starts from $9.90/user/month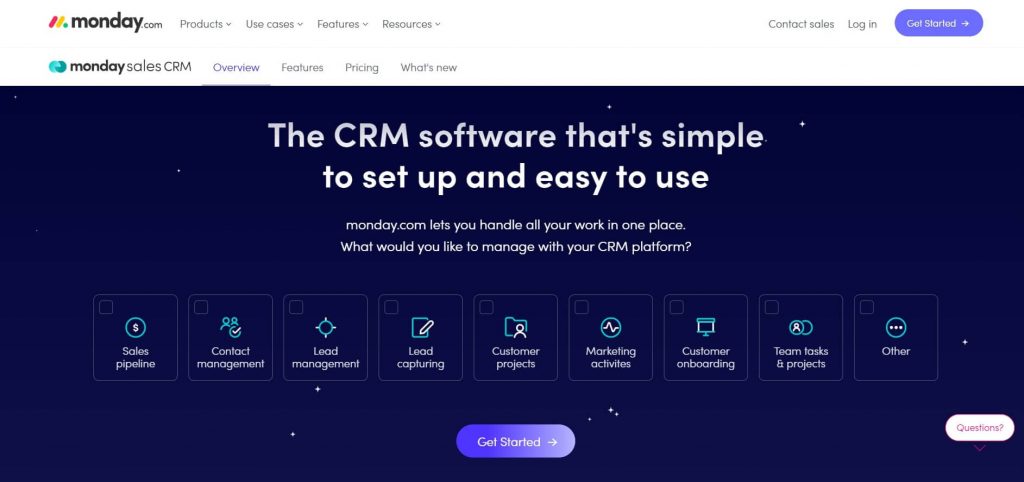 Centralize your client communication and automate redundant activities with monday.com CRM. The tool provides a 360° view of contact information, allowing you to effortlessly stay on top of all your business data. You can set reminders, manage your sales pipeline, create custom automation flows, and track business performance with monday.com.
Key Features:
Synchronize emails with Outlook and Gmail to stay on top of all conversations
Automate tasks and reminders to save time and meet deadlines
Track all activities, such as calls and meetings for your team members from a single location
Use email templates that autofill based on the recipient's information
Log all interactions automatically to create comprehensive contact records
Pros:
Create custom dashboards for monitoring the most relevant business data
Receive immediate alerts for duplicate contact records to avoid any redundancy
Cons:
Dashboards require more advanced data filters
The mobile version offers limited functionality
Pricing:
Free plan available
Plans start from $10/user/month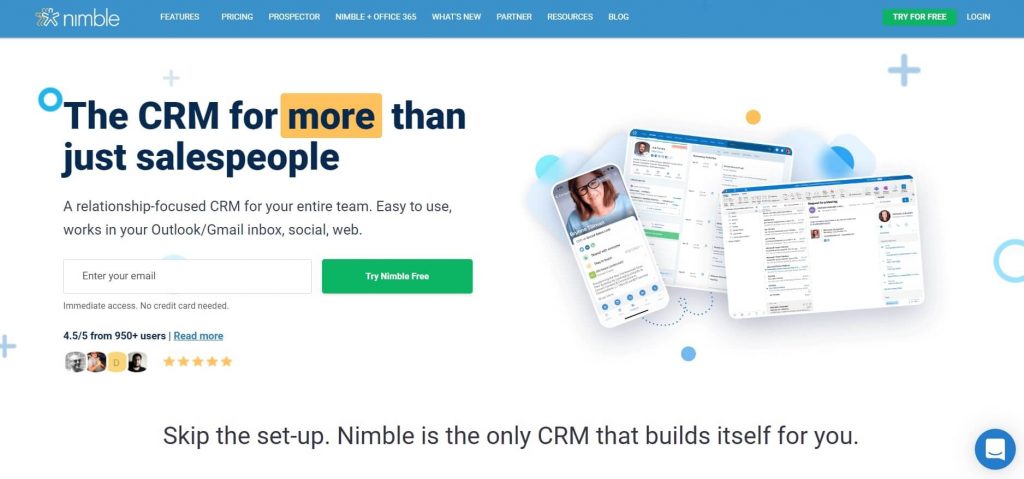 Nimble CRM works within your Outlook inbox. This allows you to drive more effective and personalized client communication. You can get a 360° view of your contacts, including their current status, social media profiles, and notes. The CRM also offers a Today Page, which tracks the events, tasks, and deals scheduled for the day.
Key Features:
Get an overview of all completed and scheduled activities for your team members
Segment contacts into lists and deliver targeted emails
Track email opens and clicks to gauge the effectiveness of campaigns
Unify your team's calendars and to-do lists for more efficient tracking
Visualize all available opportunities and their associated details using the pipeline view
Pros:
Native Android and iOS mobile apps are available
Contact records are populated with social media profiles automatically
Cons:
The interface is hard to navigate
Contact storage is limited
Pricing:
Starts from $19/user/month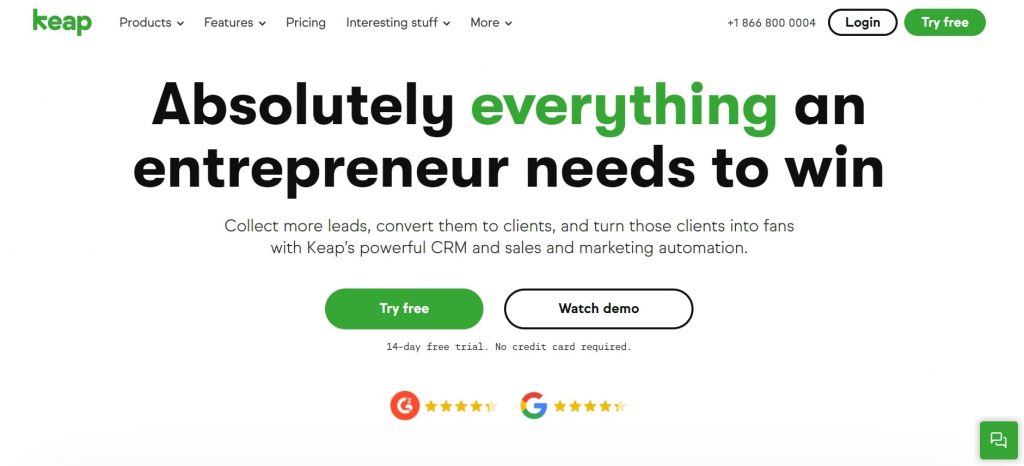 Keap is an intuitive CRM with sales and marketing automation capabilities that can enhance your business profitability. Connecting Keap with Outlook can keep your contacts and tasks synchronized, enabling you to be more productive. You can use the CRM to drive more personalized conversations using customized templates and segmented lists.
Key Features:
Create automated email sequences to follow up with prospects and customers effectively
Gain better insights into the effectiveness of business operations with in-depth reports, A/B testing, and powerful analytics
Track and manage sales opportunities using a visual sales pipeline with drag and drop interface
Tag and segment contacts into lists to improve targeting
Enable clients to schedule appointments and deliver reminders to reduce no-shows
Pros:
Use the mobile app to access relevant business data remotely
Generate invoices and accept payments without leaving the CRM system
Cons:
Lacks advanced contact deduplication features
The setup process can be complex and time-consuming
Pricing:
Starts from $129/month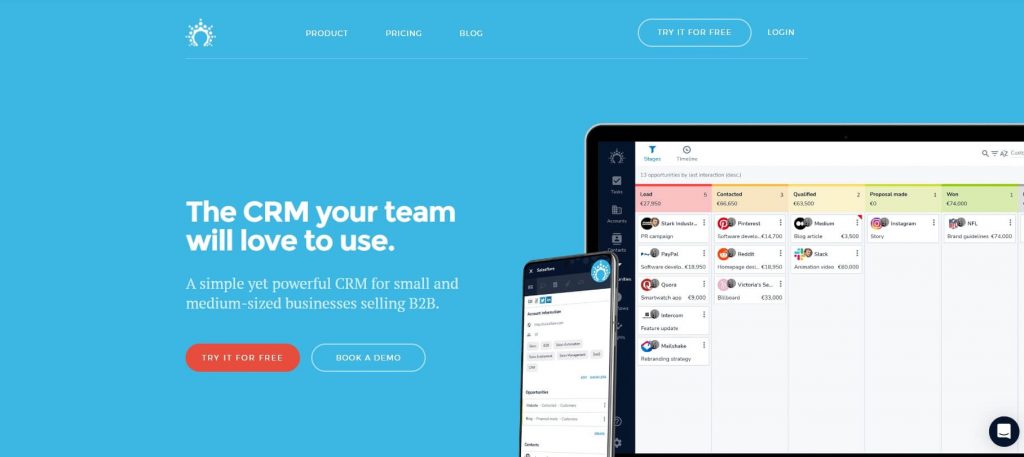 Salesflare effectively reduces the amount of time that goes into manual data entry, making it a powerful CRM tool to connect with Outlook. It populates contact records with email addresses and social profiles, so you can improve the quality of your interactions. Salesflare works within your Outlook inbox, so you can stay on top of all your client communications.
Key Features:
Contact profiles are automatically enriched with phone numbers, email addresses, & LinkedIn profiles
Understand customers better with email, link, and website activity tracking
Access a comprehensive overview of all sales opportunities
Activities that require immediate attention are surface intelligently
View all information remotely with the mobile app.
Pros:
Phone calls and meetings with customers are logged automatically
Find all the documents and files associated with contacts in a single folder
Cons:
The interface is not intuitive
Glitches occur in the mobile application
Pricing:
Starts from $29/user/month
CRM for Outlook: Finding the Right Tool
Having compared the features of the top 10 CRM for Outlook, we come to the final question-
How to find the Outlook-integrated CRM that works well for your needs?
The simplest answer to this question is to focus on your unique requirements.
When choosing the CRM, make sure to consider how easy the tool is to deploy and use. Also, take into account the learning curve associated with the tool and the quality of customer support provided by the vendor.
An effective CRM tool with easy implementation and extensive customization capabilities will help your team better utilize Outlook's features. For example, a dynamic CRM like BIGContacts can help you schedule the delivery of our Outlook emails and track their performance using reports, so you can foster better engagement with your customers.
FAQs
Is there a CRM in Outlook?
Outlook is a powerful solution for managing emails and calendars. However, it offers limited functionality to keep track of contact data and automate business processes. To make the most of your CRM efforts, you must implement a dedicated CRM application that integrates with Outlook. This will allow you to improve the effectiveness of your emails and drive more profitable outcomes for your business relationships.
What other tools integrate with CRM software?
CRM software integrates with a range of business applications, including:
Email marketing & automation tools
Sales management software
Accounting software
Social collaboration tools
Ecommerce tools