What does it take to delight customers?
While the question may bring forth a number of factors that influence customer satisfaction, all of them have one thing in common- they rely on you knowing your customers well.
Customer tracking software, therefore, occupies an important place in any business's tech stack. Such tools help businesses effectively manage customer interactions and to identify areas for improvement, enabling them to provide better customer service and ultimately retain more customers.
According to Chris Pemberton-
"Customer experience is the new marketing battlefront."
And in order to create impactful and effective customer experiences, you need a powerful tracking software that lets you keep information well-organized and easily accessible.
However, finding the best customer tracking software can be challenging with a heap of options available. To make this selection easier, we have put together a list of the 12 best customer tracking software you can consider for your business. Find a comprehensive comparison of these tools below and determine which of these would be the most effective solution based on your needs.
In a Nutshell
Customer tracking is an essential business process that lets you optimize your offerings and deliver more appropriate solutions to your customers.

Customer tracking software help businesses understand customer needs as well as deliver more reliable and satisfactory experiences, resulting in enhanced retention.

Some key features that make a customer tracking tool worth your while including contact management, interaction tracking, ticketing, and team collaboration.

In this blog, we compare the 12 best customer tracking software that you can choose from.
What Is Customer Tracking Software?
Customer tracking software enables businesses to effectively track, manage and analyze customer interactions and activities. This type of software allows businesses to keep a record of customer inquiries, complaints, and requests for assistance and helps monitor customer interactions across different channels such as email, phone, and social media.
Additionally, customer tracking software typically includes automation features that can streamline customer service processes and improve overall efficiency. For example, it can help with ticketing, routing, and prioritizing customer inquiries and also automate tasks such as sending follow-up emails or setting reminders for customer interactions.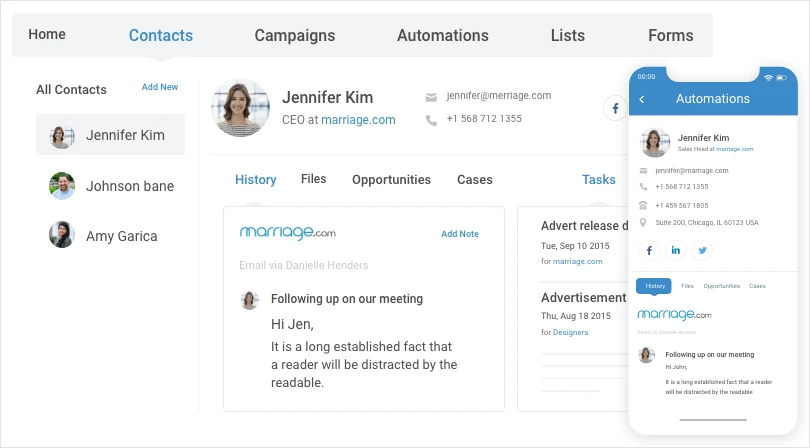 Take this dashboard of BIGContacts CRM for example. It presents a comprehensive view of the customer. It brings all emails, files, open cases/tickets, social media profiles, notes, and other relevant details to one place. You can use this enhanced visibility into the customer journey to identify patterns, trends, and areas for improvement.
How Customer Tracking Software Is Helpful For Businesses?
Customer tracking tools are a powerful resource for businesses looking to improve customer service, increase customer satisfaction, and gain insights into customer behavior. If you are still on the fence about investing in customer tracking software, here are some of the most significant advantages that await you.
1. Improved Productivity
Customer tracking software can automate and streamline a number of tasks, including ticket routing, setting reminders, etc. Moreover, since everyone can readily access updated information, there is lesser room for inconsistencies or errors in operations, contributing to enhanced organizational efficiency.
2. Better Customer Satisfaction
Customer tracking software provides a comprehensive view of the customer journey, from initial contact to post-sales support. This helps identify patterns and trends in customer behavior and to gain insights into customer preferences to deliver more satisfactory experiences.
3. More Cross-Sells & Upsells
By tracking customers efficiently, you can uncover better opportunities for upselling and cross-selling. This way, customer tracking software can help maximize the overall profitability of your business.
4. Better Collaboration
Customer tracking software makes it easier to share information within the organization. Different business divisions can easily track relevant data and communicate with each other to deliver top-notch customer service.
5. Drive Omnichannel Communication
A customer tracking tool makes it easy to monitor customer interactions across different channels such as email, phone, and social media. This helps respond to customer inquiries and complaints in a timely manner and to improve overall communication.
6 Key Features of Customer Tracking Software
Before we delve into the comparison of the best customer tracking software, let's take a look at essential features that we have taken into consideration.
1. Contact Management
The tool should centralize all relevant contact information for customers. This includes their communication and activity history, preferences, previous purchases. Such a centralized data repository makes it easier to optimize future interactions.
2. Automation
Automation is a crucial aspect of customer tracking. The tool should offer the functionality to set up automated workflows, deliver instant notifications for customer activity, and keep data seamlessly updated at all times.
3. Ticketing
Customer tracking tools typically include a ticketing system that enables you to view all open and closed customer queries and complaints in one place. This consolidated view of customer tickets and support interactions history allows agents to personalize future communication.
4. Mobile Access
A crucial feature of any customer tracking system is remote access. Making it possible to track where customers stand from any device, anytime, will keep your processes running smoothly without any delays.
5. Reports
In-depth reports enable businesses to analyze data, identify areas for improvement and make data-driven decisions. This is why you must opt for a tool that offers a suite of reporting capabilities that enhance visibility into the effectiveness of your customer tracking and management processes.
6. Integrations
The customer tracking software should offer seamless integration with other business applications, such as helpdesk systems, business intelligence tools, email marketing solutions, team communication tools, etc.
Comparison Of The Best Customer Tracking Software
Software
Key Features
Pricing
BIGContacts
Contact management
Pipeline tracking
Automated workflows
Starts from $5/user/month
Hiver
Contact segmentation
Rule-based workflows
Reporting & analytics
Starts from $15/user/month
Zendesk
Request management
Custom reports
Automated follow-ups
Starts from $19/user/month
Engagebay
Ticketing
Automated alerts
Customer segmentation
Starts from $13.79/user/month
Tenfold
Automated workflows
Chrome extension
Reporting & analytics
Custom pricing
Kayako
Shared inbox
Automatic routing
Custom user roles
Starts from $125/user/month
HubSpot
Activity timelines
Shared inbox
Detailed reports
Starts from $45/month
Bitrix24
Segmented lists
Automated workflows
Pipeline tracking
Starts from $49/month
LiveAgent
Behavior tracking
Customer segmentation
Detailed reports
Starts from $15/user/month
Keap
Customer segmentation
Reports & dashboards
Pipeline tracking
Starts from $129/month
Apptivo
Automated workflows
Instant alerts
In-depth reports
Starts from $10/user/month
Zoho CRMZoho CRM
AI recommendations
Real-time alerts
Ticketing
Starts from $14/user/month
12 Best Customer Tracking Software
Explore the key features, pricing, pros, and cons of the 12 leading customer tracking software that can result in enhanced customer satisfaction and improve retention. Compare these tools against the unique needs of your business to find the most effective software solution.
1.
BIGContacts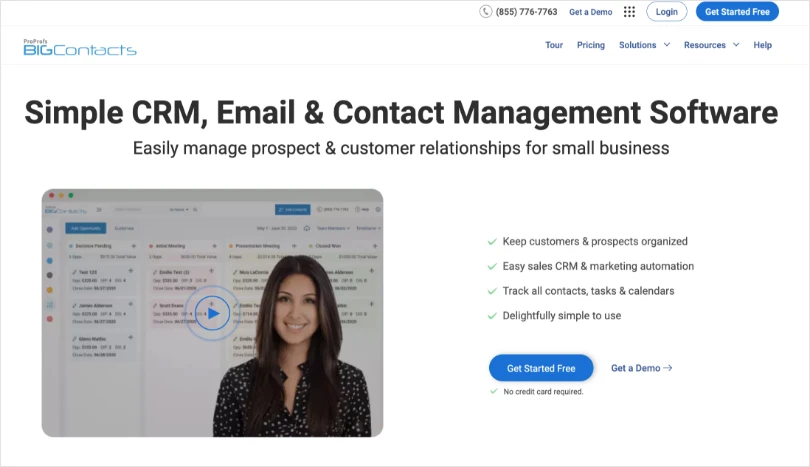 BIGContacts is a powerful customer tracking and management software that enables you to leverage personalized experiences for stronger customer relationships. Use it to keep customer data centralized and instantly accessible. You can also track the position of sales opportunities using a visual sales pipeline view. Get more done by automating redundant tasks like data logging and follow-ups.
Key features:
Track all customers and their related information with a comprehensive dashboard

Automate workflows by defining tasks and triggers

Track sales opportunities using a custom pipeline

Create and manage contact lists for improved targeting

Generate detailed reports and analyze business performance with ease
Pros:
Use the mobile version to track customer requests and data remotely

Set up drip email sequences for timely follow-ups with customers
Cons:
Cannot score and prioritize leads intelligently

The loading speed can be below par at times
Pricing:
Big- $5/user/month

Bigger- $15/user/month

Biggest- $25/user/month

Enterprise- Custom pricing
2.
Hiver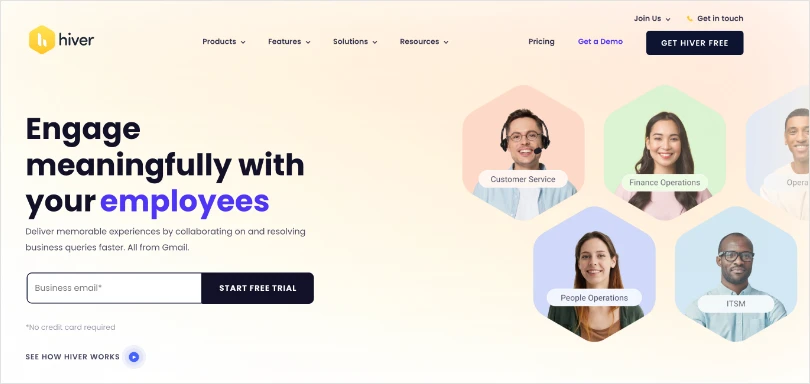 Hiver makes it easy to track customers and craft personalized experiences for them. Use it to identify trends from customer conversations and optimize future engagement based on customer sentiment. The platform enables you to enhance team collaboration, making customer tracking a shared undertaking. Hiver also offers lets you generate in-depth reports to monitor performance.
Key features:
Create rule-based automation to get repetitive work done quickly

Categorize contacts using tags and filter through data with ease

Analyze customer sentiment and modify responses accordingly

Improve team collaboration with notes, mentions, unified inbox, and shared drafts

Gather actionable insights from reporting and analytics
Pros:
Offers seamless integration with Asana, Jira, Slack, WhatsApp, and other applications

Turn incoming emails into action items instantly
Cons:
More advanced automation capabilities are required

The setup process is complicated
Pricing:
Starts from $15/user/month
3.
Zendesk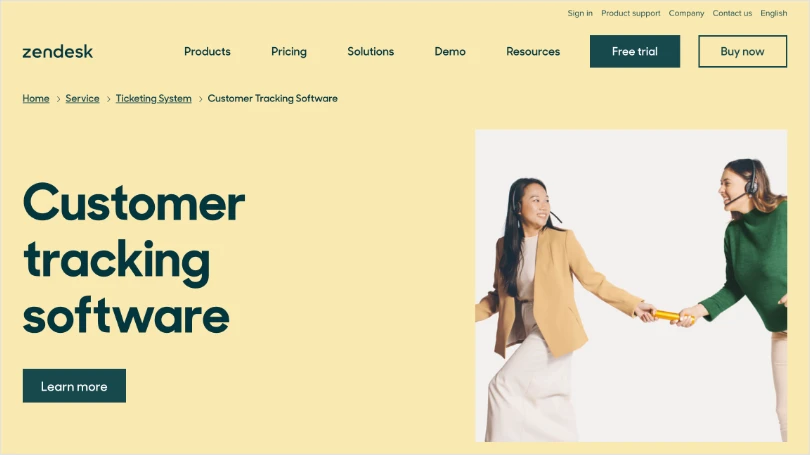 Zendesk enables you to track all interactions with current as well as potential customers, so you can stay on top of all accounts with ease. It lets you enhance your sales and support performance by bringing all customer data and requests to the same platform. You can track incoming queries and respond to them instantly using this feature-packed software solution.
Key features:
Track customer data and issues from a single place

Reply to customers instantly on real-time channels like chat and email

Monitor business performance with custom reports

Create custom roles for team members and assign tasks efficiently

Automate request management and customer follow-ups
Pros:
Connect with your email account and track essential metrics, such as open rate, click-throughs, etc., for all emails

Pool all customer-related data in a centralized location
Cons:
Customer support falls short of expectations

Limited flexibility for creating automation workflows
Pricing:
Starts from $19/user/month
4.
EngageBay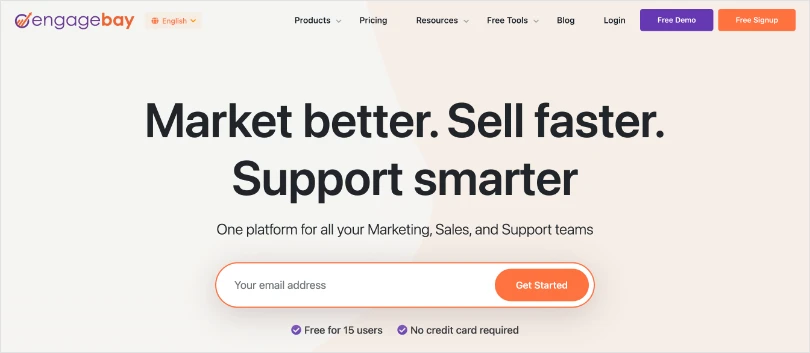 EngageBay is a powerful customer tracking solution offering features such as contact management, appointment scheduling, and ticketing. Use the tool to get a 360° view of customers and strengthen relationships with more targeted interactions. The tool lets you enhance your sales, marketing, and customer support operations, enabling you to get more customers and retain them for a long time.
Key features:
Group customers into groups based on any criteria of your choice

Track all support tickets from a single dashboard

Schedule appointments with customers from within the system

Set up autoresponders and automated email sequences for better engagement

Get real-time alerts for customer activities to interact at the right time
Pros:
Create custom web forms using a drag-and-drop editor

Score leads intelligently to focus on the right accounts
Cons:
Better training resources are required

UI needs enhancement
Pricing:
Free plan available

Paid plans start from $13.79/user/month
5.
Tenfold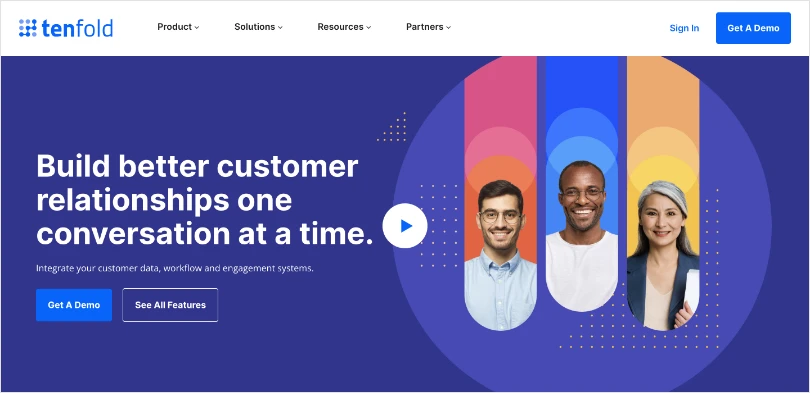 Tenfold facilitates customer experiences, improves support agent productivity, and helps businesses maximize their revenue. The tool lets you gather better insights from collected data and leverage them for enhanced business performance and customer satisfaction. Use automation to eliminate time-consuming tasks like data entry and create rule-based logic to make customer tracking effortless.
Key features:
Get a comprehensive view of customers and associated cases

Set up automated workflows to improve productivity

Track key performance metrics and make accurate forecasts based on historical data

Use the Chrome extension to capture and track data from anywhere

All customer interactions are logged in the system automatically
Pros:
Configure user roles and permissions

Integrate with a number of business applications, such as Salesforce, Microsoft Dynamics 365, Avaya, Cisco, etc.
Cons:
Better customization options are required

Bugs and crashes are a frequent occurrence
Pricing:
6.
Kayako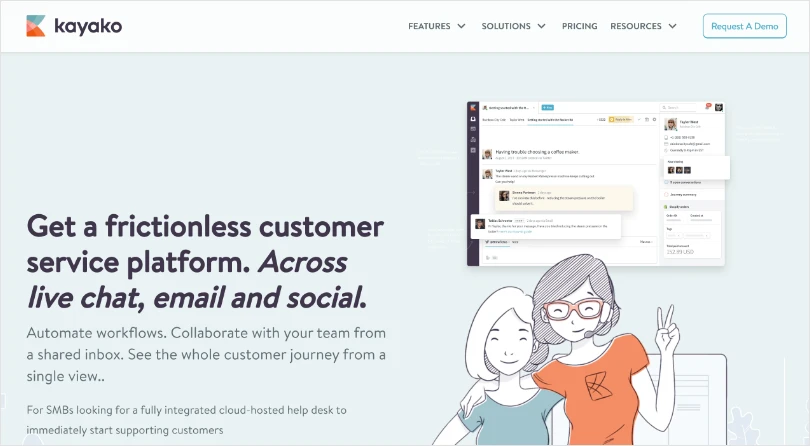 Kayako is a powerful helpdesk solution that can be leveraged to make customer tracking a breeze. The tool enables you to offer real-time support across channels, contributing to delightful customer experiences. Get a comprehensive view of customer journeys, including all previous interactions with them, to provide more relevant solutions.
Key features:
Deliver more personalized solutions with access to detailed customer records

Use a shared inbox to stay on top of all customer conversations

Track customers and connect with them across multiple channels, including email and social media

Automatically route customers to the right representative

Enable better team collaboration with custom user roles
Pros:
Track customer activity in real-time

Connect the application with Slack, Stripe, Salesforce, and a number of other business applications
Cons:
Customer support is substandard

More advanced reporting options are required
Pricing:
Starts from $125/user/month
7.
HubSpot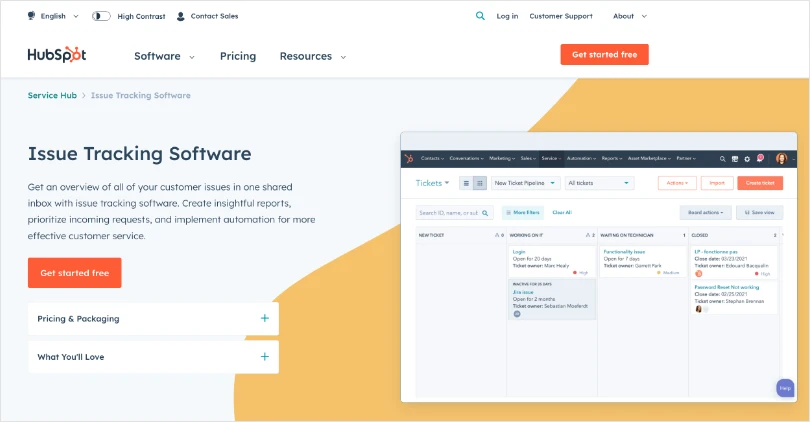 HubSpot pools all your customer requests in one place, making it easier to stay organized. The tool lets you automate ticket routing and prioritization, so you can offer instant support to your customers. It eliminates the need to manually track customer data and tickets, which can lead to inefficiencies or delayed response times.
Key features:
Stay on top of all interactions with a shared inbox

Get access to unified customer data for personalizing experiences

View detailed activity timelines for customers to drive contextual interactions

Assign statuses to issues for better organization

Track relevant performance metrics with detailed reports
Pros:
Route tickets to the right agent automatically

Identify and focus on high-priority accounts
Cons:
Reporting is limited

The tool's pricing model is steep
Pricing:
Free plan available

Paid plans start from $45/month
8.
Bitrix24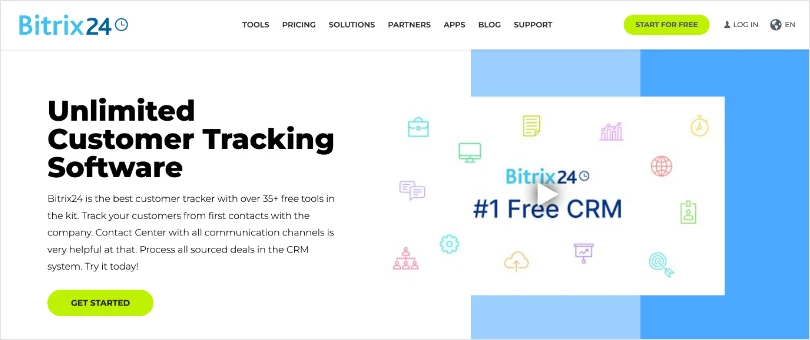 Bitrix24 lets you track customers right from the first touch to post-sale interactions. Maintain a detailed database of customers and leverage it to personalize your business outreach. Track sales, deliver marketing campaigns, and provide reliable customer service from a single platform. Bitrix24 also enables you to automate processes by defining custom rules and triggers.
Key features:
Maintain detailed contact records for current and potential customers

Create segmented static or dynamic customer lists

Create automation workflows to improve business efficiency

Set up a custom pipeline for sales tracking

Deliver highly personalized customer service solutions
Pros:
Identify inactive clients and use re-engagement campaigns to connect with them

Track purchase history for existing customers and offer relevant deals
Cons:
Setting up alerts is complex

The user interface needs improvement
Pricing:
Free plan available

Paid plans start from $49/month
9.
LiveAgent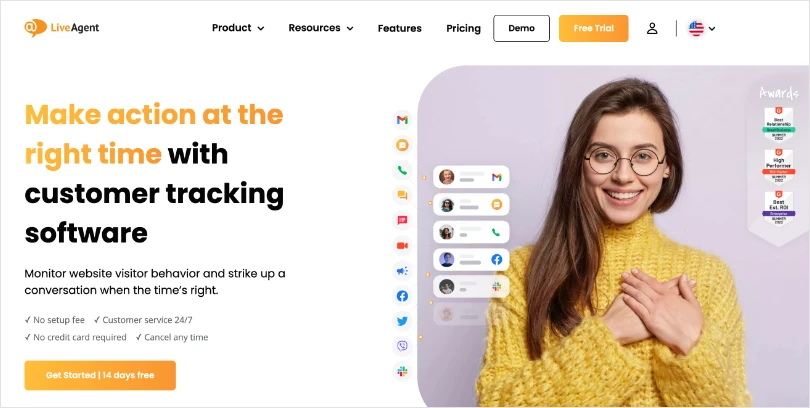 LiveAgent is an all-in-one help desk solution that lets you track customer tickets and offer omnichannel support. Use it to track unique keywords on social media platforms to participate in conversations relevant to your business. Store all collected insights in your CRM records and use them to improve customer experience.
Key features:
Drive omnichannel engagement with customers across email, phone, and social media

Track customer behavior, lead source, online activity, communication preferences, etc.

Answer customer questions instantly with canned responses

Segment customers into distinct categories based on any attribute

Generate reports for tracking essential metrics such as agent rating, effective engagement channels, etc.
Pros:
Integrate with Salesforce, WordPress, Magento, Shopify, and a range of other business applications

Monitor visitor behavior on websites in real-time
Cons:
The tool is difficult to navigate

Lacks detailed reporting options
Pricing:
Free plan available

Paid plans start from $15/user/month
10.
Keap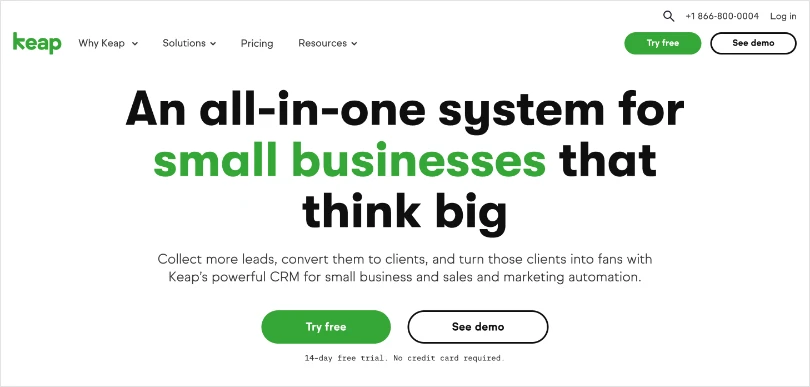 Keap is a reliable tool for customer tracking with advanced features such as sales automation, email marketing, and business intelligence. Eliminate busy work with custom automation and get more done in less time with Keap. The tool lets you visually track and manage leads using a pipeline with a drag-and-drop interface.
Key features:
Tag and segment customers for more effective tracking

Use a custom sales pipeline to keep track of sales opportunities

Stay connected with customers using automated email sequences

Visualize business performance with reports and dashboards

Enable customers to schedule appointments at their convenience
Pros:
Keep information synchronized with software such as Gmail, PayPal, QuickBooks, etc.

Track customers on the go with a powerful mobile app
Cons:
More advanced search capabilities are required

The tool has a steep learning curve
Pricing:
11.
Apptivo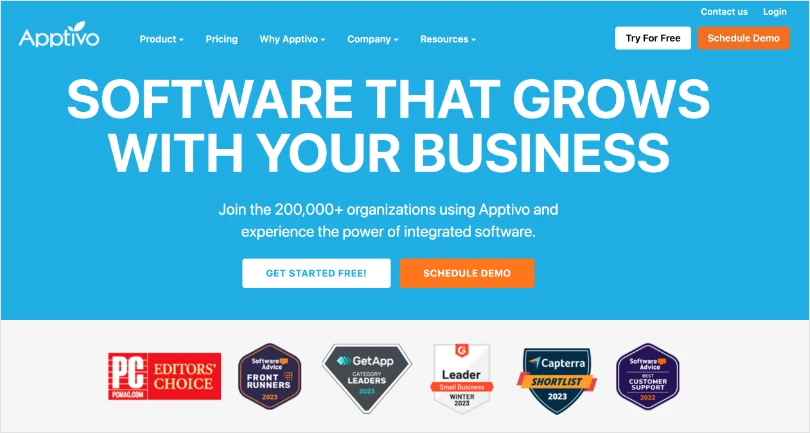 Apptivo facilitates customer tracking and management, allowing you to build long-lasting relationships that translate into improved profitability. Use it to enhance customer engagement with automated email campaigns and make better business decisions with in-depth reports. The tool allows you to maintain a detailed database of customer information and utilize it to deliver highly personalized experiences.
Key features:
Use the Kanban view to get a real-time view of all leads and opportunities

Customize views, layouts, and workflows with a drag-and-drop ease

Get instant notifications for customer activity

Send personalized bulk emails to improve conversions

Generate in-depth reports to track customer data
Pros:
Import a large number of customers in one go

Track customers on the go with the mobile application
Cons:
Some templates are difficult to modify

Lacks an intuitive and easy-to-navigate interface
Pricing:
Starts from $10/user/month
12.
Zoho CRM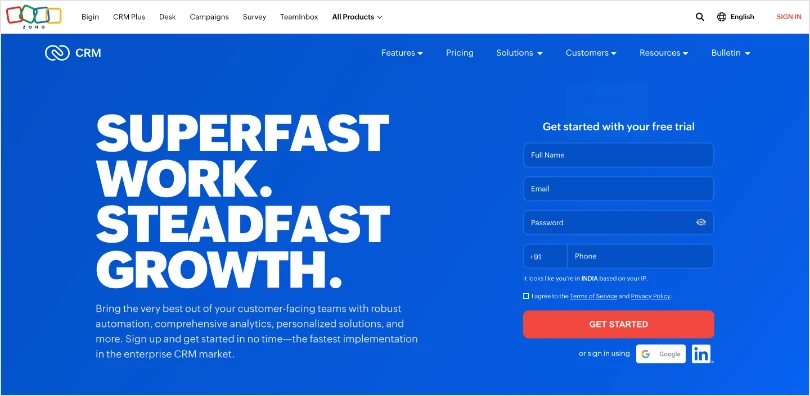 Zoho CRM is a reliable tool for customer-facing teams to work more efficiently. It can be used throughout the customer lifecycle- from acquisition to conversion. The tool offers intelligent recommendations and insights to make customer tracking easier for your business. You can easily segment customers and receive instant alerts for activities to stay on top of important accounts at all times.
Key features:
Access all relevant customer data and associated tickets from a single place

Set up automated workflows to save time and maximize efficiency

Get AI-powered recommendations and deal predictions

Monitor business performance with in-depth reports and analytics

Receive real-time notifications for customer activity
Pros:
Customize modules like views, filters, layouts, etc.

Stay on top of customer data from anywhere with the mobile app
Cons:
Customer support requires improvement

The interface is clunky and difficult to navigate
Pricing:
Free plan available

Paid plans start from $14/user/month
Customer Tracking Made Easier With the Right Software
Customer tracking tools help businesses improve customer service, increase efficiency, and gain a better understanding of customer needs. Additionally, they can help reduce costs, increase revenue, and improve overall profitability. Using customer tracking tools, businesses can gain a competitive edge and ultimately drive growth and success.
There are many customer tracking software options available on the market, each with their own unique features and benefits. The 12 options listed in this blog are some of the best and most popular choices for businesses of all sizes and industries. Choose the most effective solution out of these by considering the unique needs of your organization.
The specific requirements of your team should be the primary consideration factor when choosing customer tracking software. For instance, if you need a reliable solution with a user-friendly interface, opt for an uncomplicated solution such as BIGContacts. The tool, with its comprehensive set of features, will allow you to track customer information and interactions in one place. Sign up for a free trial to experience the benefits for yourself.